These pan fried potatoes are the perfect bestie for any main dish or breakfast menu! Plus, there's no need to pre-cook, soak, or otherwise baby these taters. This simple method equals a mouthwatering result.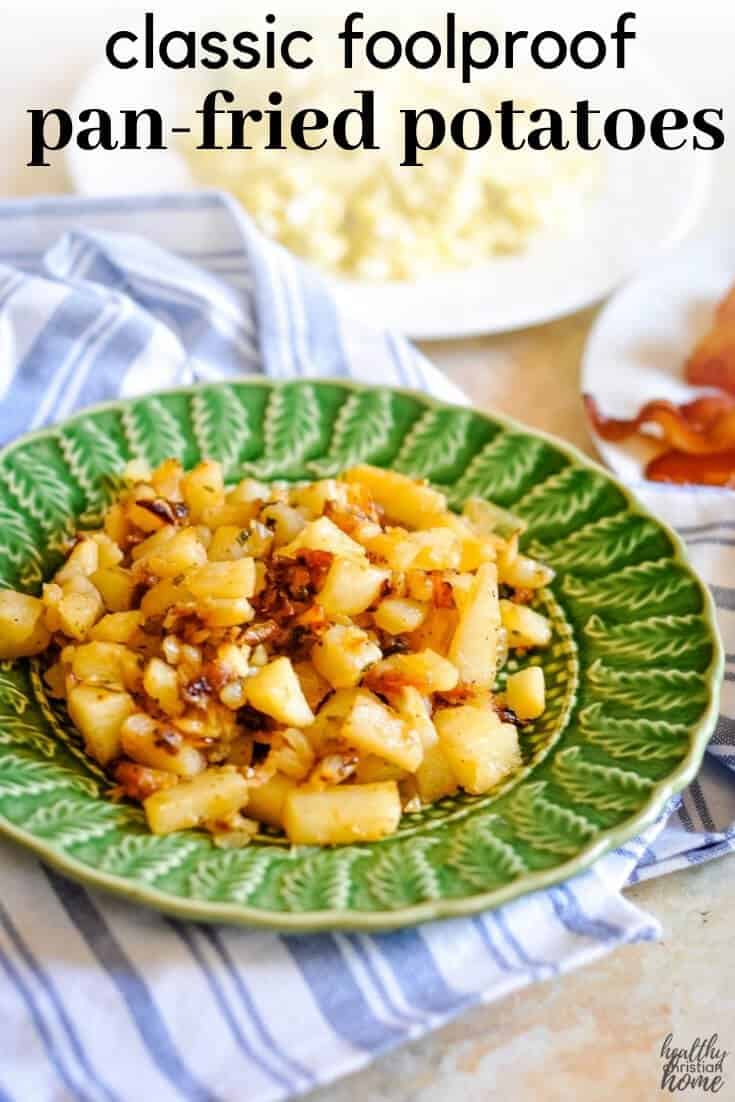 My mama makes the best fried potatoes with sauteed veggies. This side is a combination of potatoes and whatever vegetables are left in the fridge, which are somehow transformed into a heavenly medley (and covered in cheese, of course.)
While these classic fried potatoes may not be quite as good as hers, they come pretty close.
I remember my first experience trying to make fried potatoes as a newlywed – those stinking potatoes wouldn't cook! They took like an hour to soften, and I vowed never to make them again.
Then, I discovered the magic of lids. It's the simple things, guys.
And today, I'm going to teach you 2 easy methods (mine and my mom's) for making mouthwatering home fried potatoes!
Tender with crispy bits and caramelized onions, these taters go perfectly with pretty much any meal you can think of. (Can you say breakfast? BTW, here's how to make the fluffiest scrambled eggs to go with these taters.)
2 Easy Ways to Make Home Fries
We are learning how to make fried potatoes 2 simple ways – with cooked and uncooked potatoes.
Pre-baked Potatoes: The easiest way to make fried potatoes is to use leftover, pre-baked potatoes (my mama's method). This method ensures your potatoes are cooked through, and it's easy to get the outside crispy instead of soggy. Plus, they fry up really fast! Simply bake extra potatoes while you're already making them for a meal, and save in the fridge for making fried potatoes that week.
Raw Potatoes: If you're not much of a pre-planner, making fried potatoes using raw potatoes is easy too. The KEY is steaming the potatoes for a few minutes with a lid over the pan. But, you have to be careful using a lid because you still want crispy potatoes that aren't soggy. So we are going to steam for part of the cook time and remove the lid for the last few minutes. It's simple!
3 Keys to Amazing Fried Potatoes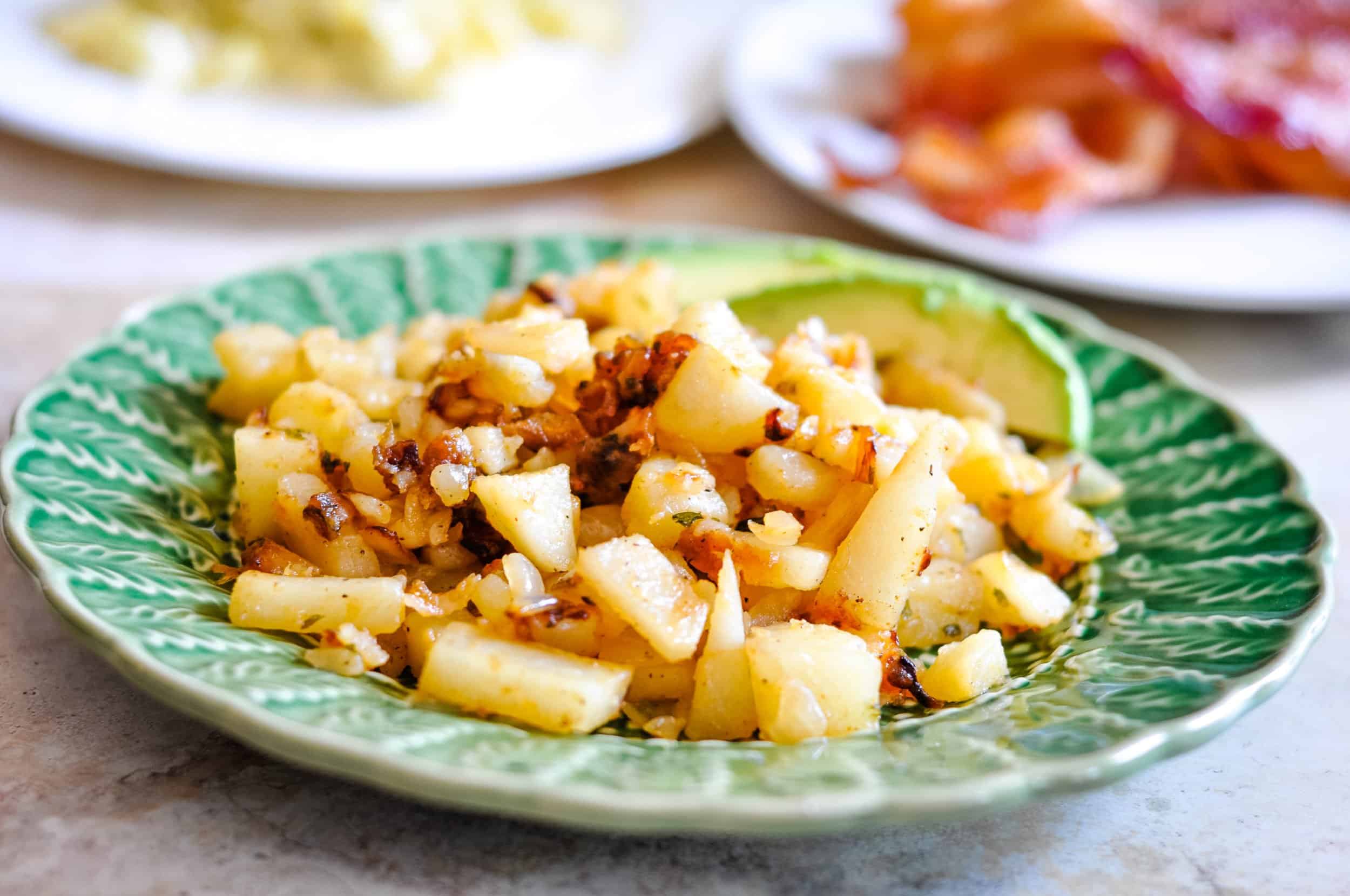 One thing I love about both of these recipes is that you don't have to "baby" these potatoes. A lot of other recipes call for pre-soaking or boiling the potatoes, which takes a lot of time and simply isn't necessary.
Not only am I sharing 2 methods for yummy home fried potatoes, here are 3 keys to making sure they turn out great.
1. Don't overcrowd the pan.
Dice or slice your taters in a similar size and make sure they're spread evenly around the pan. If you try to squeeze too many potatoes into the pan, they're more likely to get soggy (guilty).
2. Use enough oil and butter.
Now is not the time to skimp on the oil to save calories or whatever. Oil is key to the flavor of these potatoes, plus it helps make sure they don't stick.
3. Get your pan nice and hot before frying.
Better yet, heat your skillet BEFORE adding the oil. Make sure it's hot, but not smoking. Apparently, adding oil to a cold skillet and then heating can cause food to stick.
Want more tasty side dishes to try?
Pan Fried Potatoes Recipe Notes
Here are some more simple tips to ensure fried potato success:
Be sure to cut all your potatoes close to the same size. This ensures even cooking (especially important if you're using raw potatoes).
Use whatever potatoes you prefer, but note that some people think yukon gold are superior for frying and that russet potatoes are more likely to stick because they're starchier. But I'm using russets today, so… it's your choice.
This recipe calls for half vegetable oil (I like using fractionated coconut oil – it's healthy and easy to pour but doesn't taste coconutty) and half butter. The butter adds a wonderful depth of flavor – don't skip it!
Get creative and add whatever veggies that strike your fancy. Some great additions include peppers, squash, and garlic. I'm simply using onions here. If you're using raw potatoes, it's best to cook them a few minutes before adding other softer veggies like onions (you don't want them to burn).
Seasoned fried potatoes are the best! You can use a variety of spices and herbs. Some nice ones include parsley, rosemary, turmeric, and red pepper flakes. In this recipe, I'm simply using paprika and a bit of salt & pepper.
Both of my fried potato recipes are listed below. We're starting with the classic version, so scroll to the bottom if you also want the quick, pre-baked fried potatoes!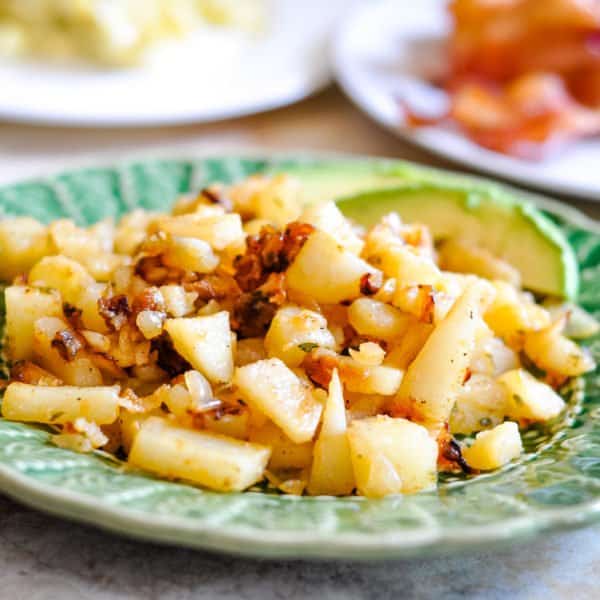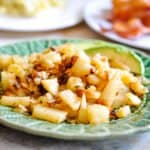 Perfect Classic Pan Fried Potatoes
The ultimate comfort food, these pan fried potatoes are soft, yet crispy with caramelized onions and warm seasonings.
Prep Time 5 minutes
Cook Time 15 minutes
Total Time 20 minutes
Servings 4
Calories 250 kcal
Ingredients
4-5 potatoes large
1 onion diced
2 TBSP butter
2 TBSP coconut or grapeseed oil
1 dash paprika
1 dash parsley
salt & pepper to taste
Instructions
Heat oil & butter together in a large cast iron skillet. Dice 4-5 large potatoes.

When oil is hot, scatter the potatoes evenly across the skillet and allow to cook. Add spices and cover with a lid. After potatoes have cooked for several minutes, flip them with a spatula.

Add the onions. Put the lid on for several more minutes to help the potatoes cook through.

Stir and flip the potatoes once more, and allow to cook a few more minutes with the lid off so they get crispy and not soggy. Once they're tender and starting to brown, they're done!
Recipe Notes
For a vegan option, omit the butter and replace with additional vegetable or coconut oil.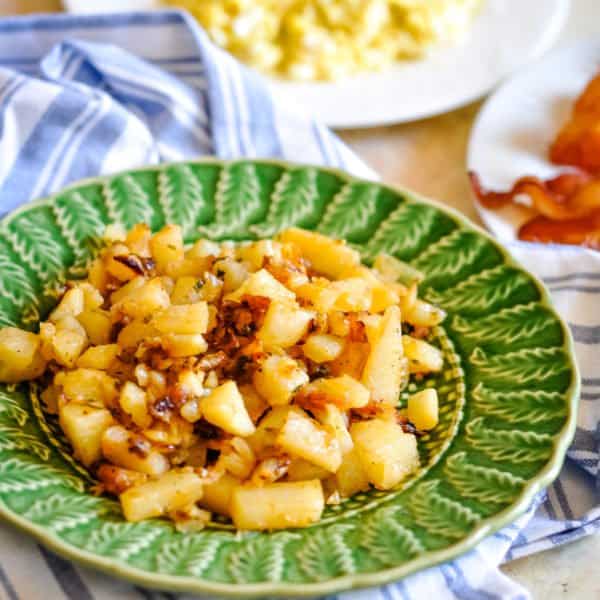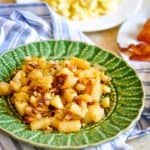 Super Quick Home Fried Potatoes
These lightning-quick home fried potatoes feature pre-baked potatoes, which help them cook up in a flash! Soft and buttery inside, crispy outside.
Prep Time 5 minutes
Cook Time 8 minutes
Total Time 13 minutes
Servings 4
Calories 250 kcal
Ingredients
4-5 potatoes pre-baked & diced into 1/2″ squares
1 onion diced
2 TBSP vegetable oil like coconut or grapeseed
2 TBSP butter
1 dash paprika
salt & pepper to taste
Instructions
Pre-bake 4-5 large potatoes beforehand and refrigerate. You can make a big batch of baked potatoes for another meal and set some aside.

Heat a large frying pan on medium heat until hot, but not smoking.

Peel the cold baked potatoes and dice into 1/2 inch squares. Add vegetable oil and butter to the hot skillet.

Scatter potatoes and onions evenly across the skillet and allow to cook for several minutes, until the undersides start to turn golden brown.

At this point, add seasonings. Flip potatoes and cook for several additional minutes until heated through and crispy. Stir & serve.
Recipe Notes
For a vegan option, omit the butter and replace with additional vegetable or coconut oil.
What's your favorite comfort food?
PIN IT!