Wondering what to do with those sad leftover baked potatoes hanging out in the fridge? Make these mouthwatering crispy potato fritters! You can make them with any type of potatoes you have on hand, and they're even more delightful with fresh rosemary sprinkled in.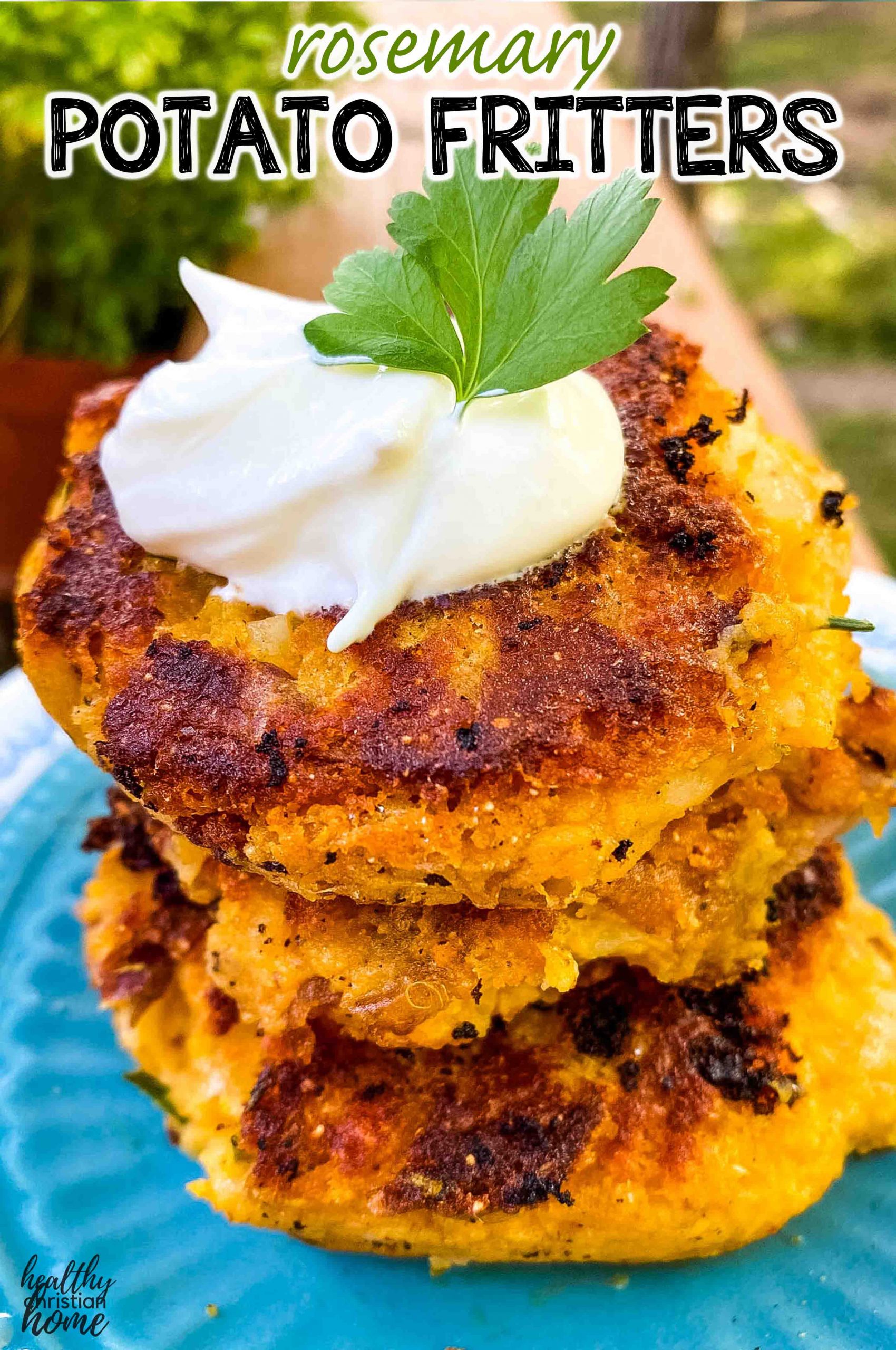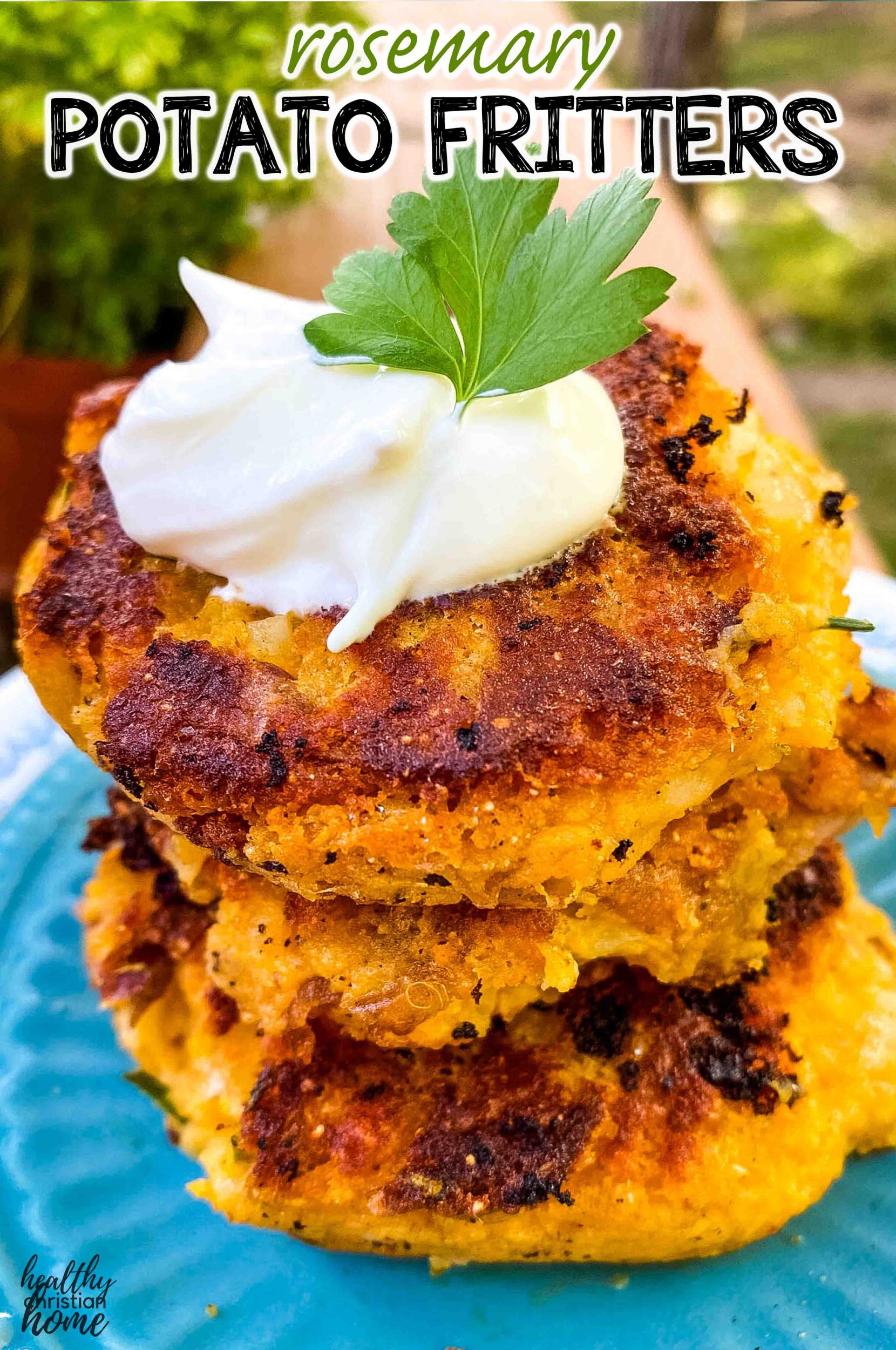 When we lived in Scotland, we picked up one of the retired church members for bible study on Wednesday nights. After class, he typically wanted to stop by his favorite mom & pop "chip shop" for fish & chips.
The best part was, they still cooked with old-fashioned lard. Every week, the owner gave Richard a free potato fritter which he called a "tattie fritter." Heaven!
Potato fritters are SO simple to make, and ridiculously flavorful! We love serving these as an easy, impressive side dish. They go with just about anything.
My favorite way to make them is using leftover baked potatoes, if I haven't already made fried breakfast potatoes. It makes the prep super easy!
Potato pancake, potato latke, or potato fritter?
There are several different terms used to describe these little patties of pancake heaven. But they're all basically the same thing, except latkes traditionally include Matzo, baking powder, and occasionally milk.
Potato fritters and pancakes are basically a potato and egg mixture fried in oil – although, fritters might typically use a bit more oil than pancakes.
I like frying in shallow oil – not too deep to waste oil and make the fritters greasy, but just enough to give them a nice crispy skin and flavor.
Crispy potato fritters ingredients
If you have just a few simple ingredients in your pantry, you can make these fritters. Here's what you need:
Potatoes (see section below on what type is best)
Egg – helps hold the fritters together and adds a bit of protein
Flour – also helps the fritters keep their shape (feel free to use gluten free flour as an alternative)
Rosemary – absolutely makes these fritters SING!
Oil for frying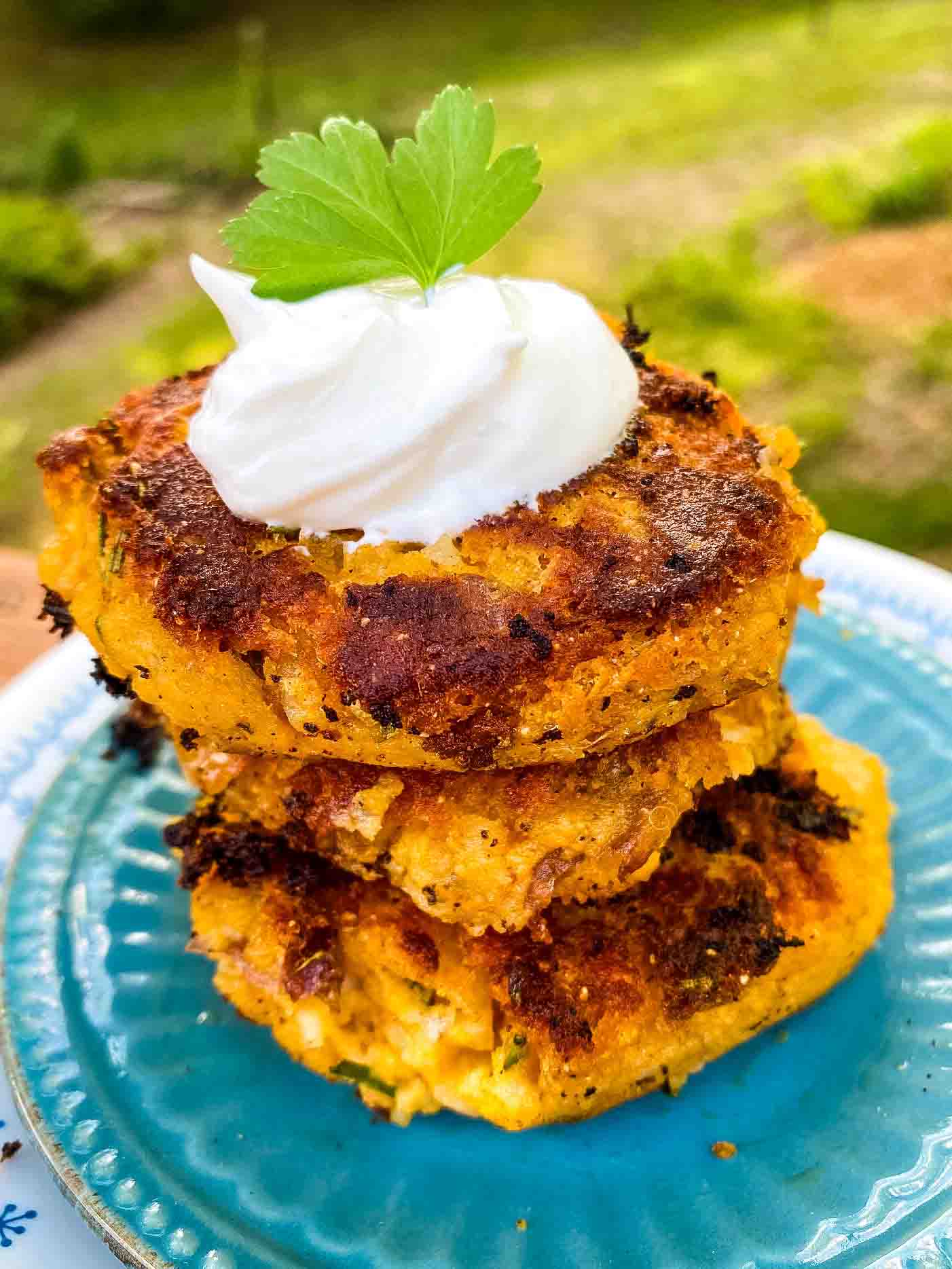 What kind of potatoes should I use?
You can use any type of potato you have on hand to make these fritters: russet, yukon gold, or red potatoes.
Ideally, it's nice to recycle leftover baked potatoes in this dish because you can skip the pre-cooking step. And, it's the yummiest way to transform leftovers in my opinion!
But of course, if you don't have any pre-baked potatoes, you can easily steam or boil some before making this dish.
Pro Tip: I LOVE adding one sweet potato to the mix! It adds a special layer of flavor and also a beautiful color to the fritters.
Can I use other types of herbs in these potato fritters?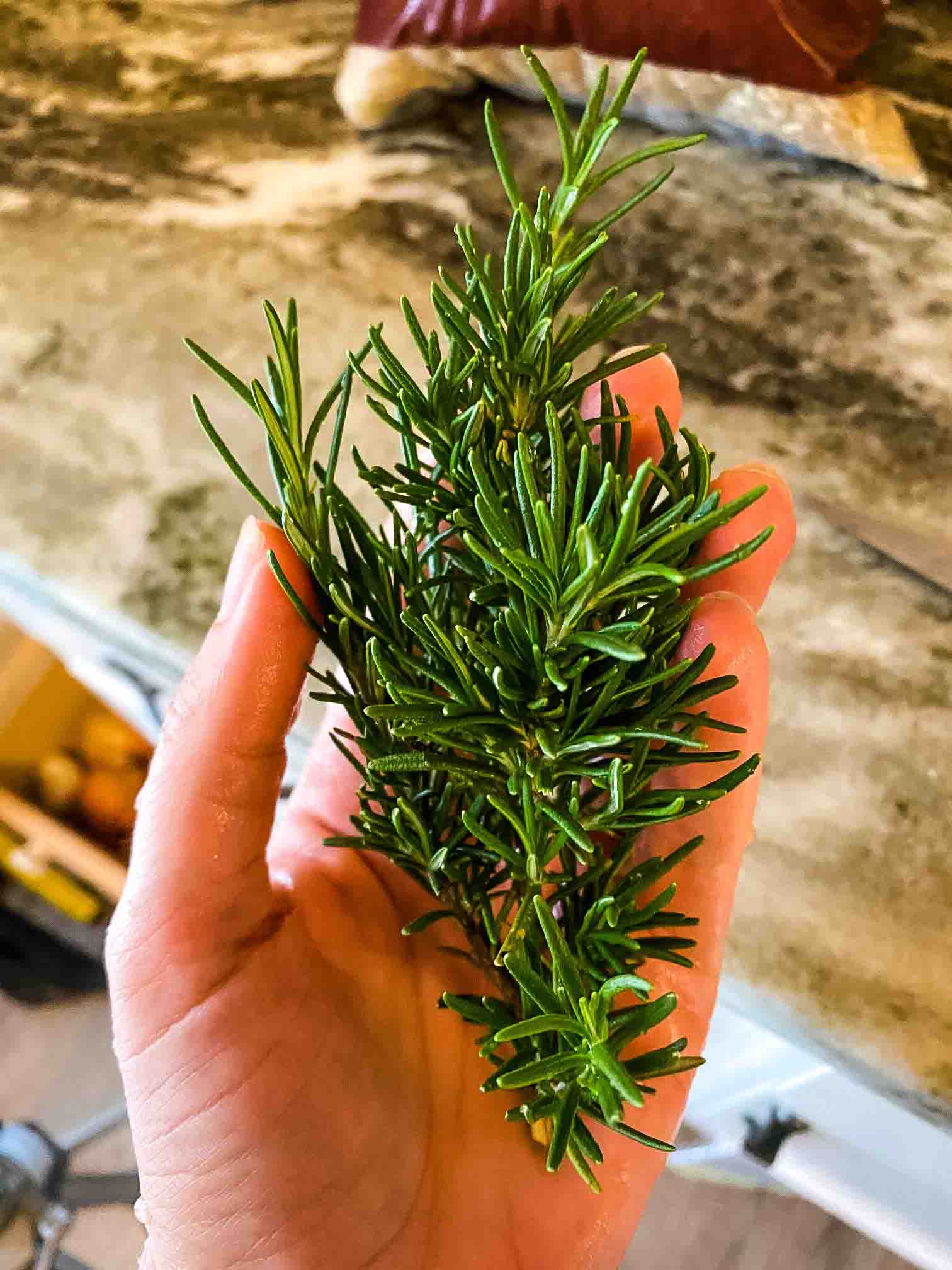 Of course! I just adore the earthy flavor of fresh rosemary and how beautifully it complements the potatoes. Plus, we are fortunate enough to have a huge rosemary plant in the garden.
But you could use any of your favorite herbs: parsley, thyme, basil, etc.
What oil should I use to fry potato fritters?
If you hang around this blog, you'll know we are proponents of REAL FOOD, and that includes what kinds of oils to cook with!
We only want to be eating foods recognizable by the body (think traditional foods your ancestors ate). Vegetable oil like canola doesn't fit that category – it is a modern processed oil that is inflammatory.
I recommend frying in animal fats like lard or coconut oil – not only will your fritters taste better, they'll be better for you!
How do you make potato fritters from scratch?
First, add your pre-baked potatoes to a large bowl (if you don't have pre-cooked potatoes, you can steam or boil some first). Mash thoroughly.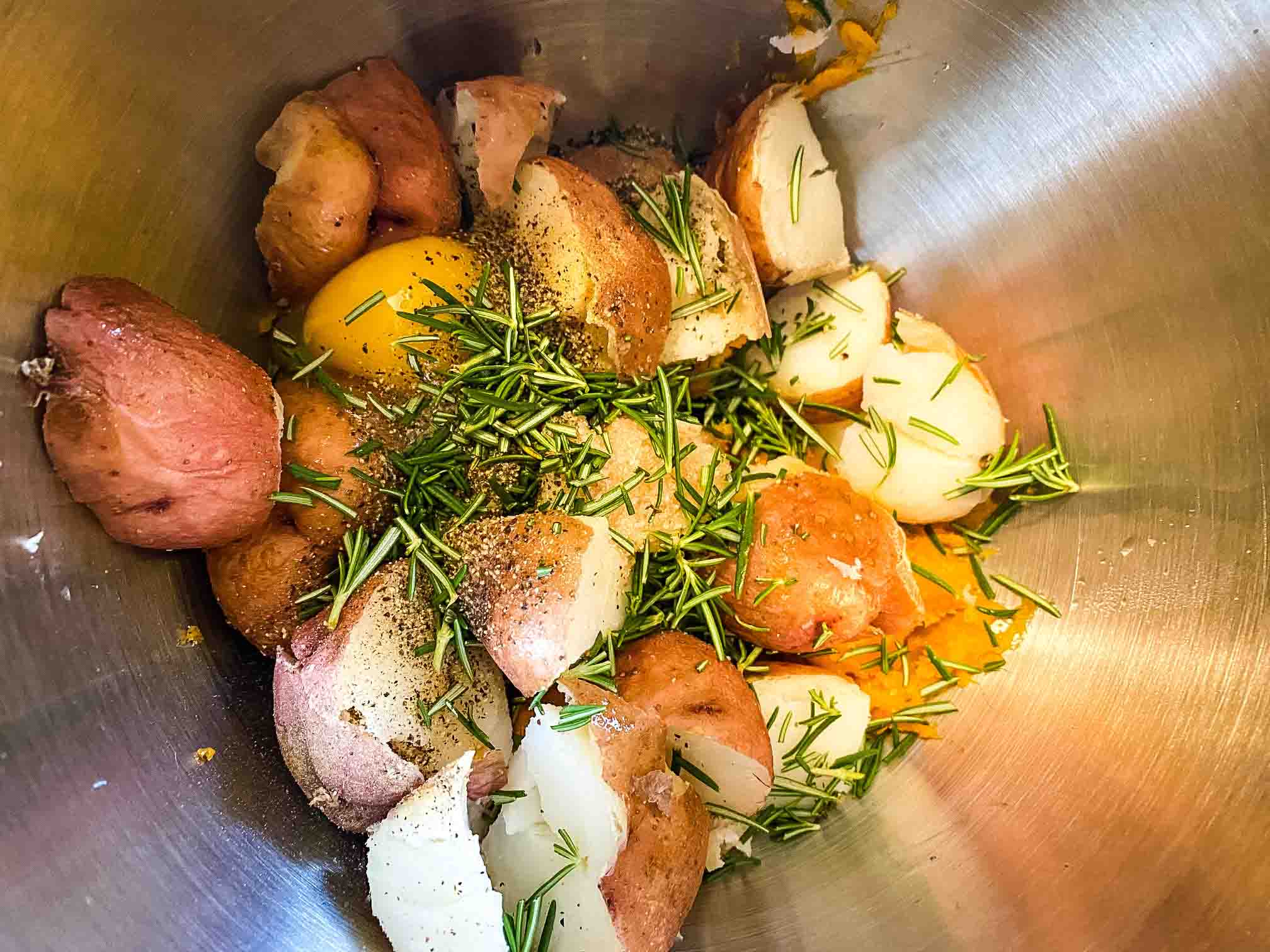 Heat about 1/2 inch of oil in a large skillet (preferably cast iron) on medium heat. Let the oil get nice and hot before adding your fritters to the pan.
To the cooked potatoes, add an egg, some flour, fresh chopped rosemary (or herbs of your choice), and salt & pepper. Mix/mash everything together until it's all nicely mixed. You can even do this in a stand mixer if you prefer.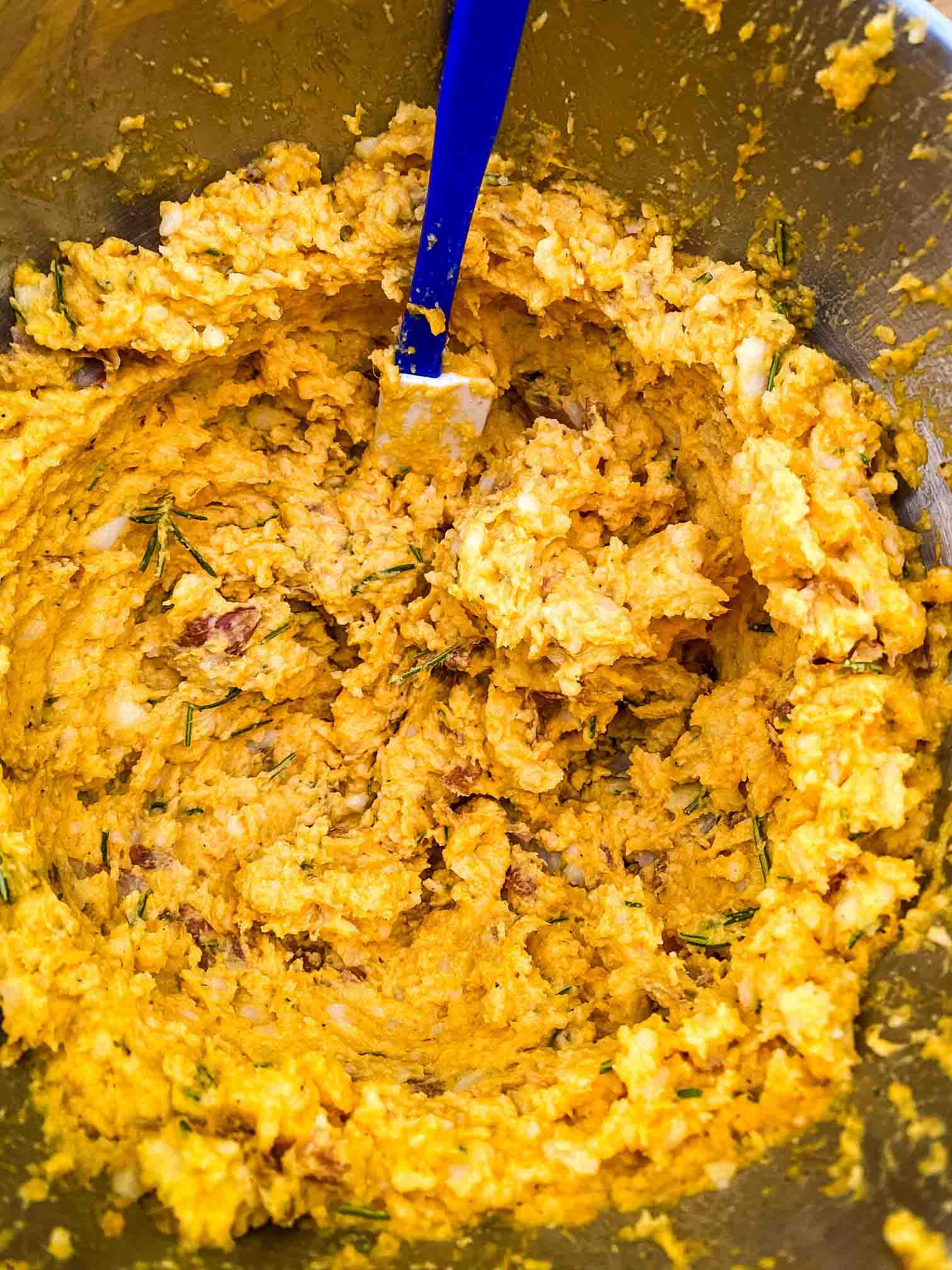 Once the oil is hot and begins to "dance" in the skillet, it's time to add your fritters. I like shaping mine into a ball and then flattening them, similar to how I make hamburger patties.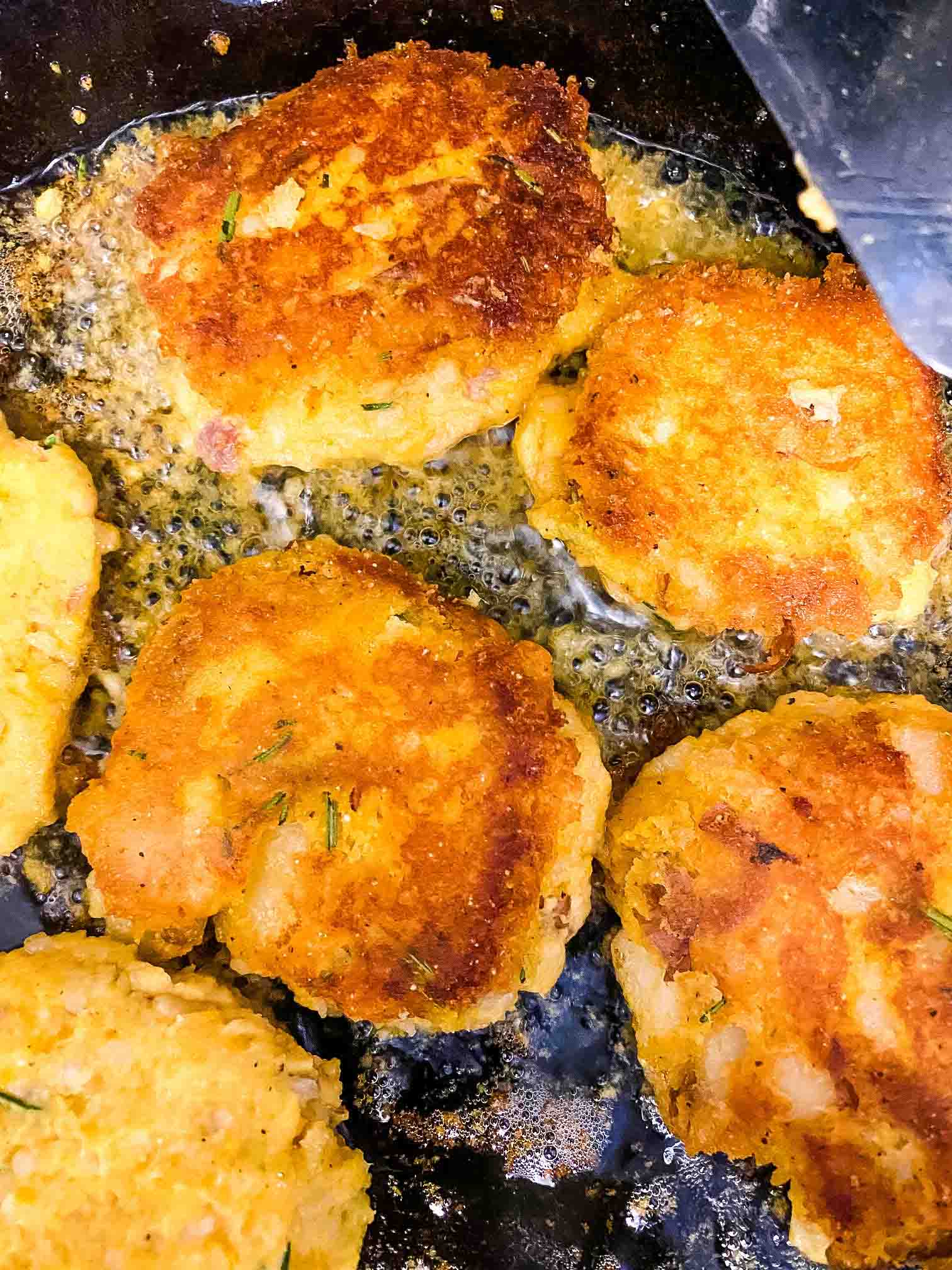 Fry for several minutes until golden brown, then flip and fry on the other side until golden brown. Transfer to a plate lined with paper towels for serving.
Dipping sauce ideas for potato fritters
There are so many dips to serve up with these fritters. Try organic ketchup, sour cream, homemade ranch, fry sauce, some people even like them with applesauce!
What goes with potato fritters?
These are so versatile and can be served with a myriad of dinner options! Here are some perfect main dishes to serve them with:
Storage & reheating ideas
If you have leftovers (highly unlikely!), you can store them in the fridge for up to 3 days. Our favorite way to re-heat them is in a toaster oven or on a sheet pan in the oven at 400 F for a few minutes. This keeps them nice and crispy instead of soggy.
Potato Fritters Variations
Omit the white potatoes and use extra sweet potatoes to make special sweet potato fritters – yum!
Transform your leftover mashed potatoes into mashed potato fritters.
Try making these in the air fryer instead of pan-frying.
Add extra grated veggies to these fritters like carrots, onion, zucchini, or squash.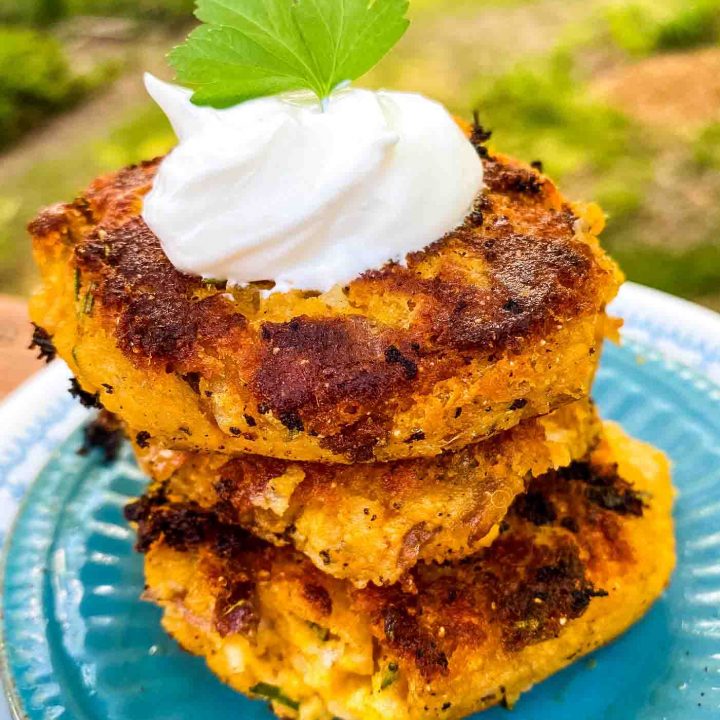 Yield: 6 servings
Crispy Rosemary Potato Fritters
Prep Time: 10 minutes
Cook Time: 15 minutes
Total Time: 25 minutes
Wondering what to do with those sad leftover baked potatoes hanging out in the fridge? Make these mouthwatering crispy potato fritters, of course! You can make them with any type of potatoes you have on hand, and they're even more delightful with fresh rosemary sprinkled in.
Ingredients
4 white or yellow potatoes
1 sweet potato
1 egg
2 Tbsp. flour
2 Tbsp. fresh rosemary, chopped fine
Salt, pepper to taste
Instructions
1. Boil potatoes until soft, or use pre-baked potatoes from a previous meal. Heat a large skillet on medium heat and add about 1/2 inch frying oil like coconut or lard.

2. To a bowl, add cooked potatoes, egg, flour, salt and pepper. Chop fresh rosemary fine and add to batter, mashing and mixing everything together thoroughly.

3. When oil in the skillet is hot and starts to 'dance', it's time to try the fritters. Shape into 2" balls and flatten between your hands, carefully adding fritters to the hot oil.

4. Fry several minutes on each side until golden brown. Serve with organic ketchup or dipping sauce of your choice.
Recommended Products
As an Amazon Associate and member of other affiliate programs, I earn from qualifying purchases.
Nutrition Information:
Yield:
6
Serving Size:
1
Amount Per Serving:
Calories: 67
Total Fat: 1g
Saturated Fat: 0g
Trans Fat: 0g
Unsaturated Fat: 1g
Cholesterol: 31mg
Sodium: 119mg
Carbohydrates: 12g
Fiber: 2g
Sugar: 2g
Protein: 2g
PIN IT!