Juicy & flavorful, these classic baked hamburgers include garlic and a few other special ingredients to make them mouthwatering! You don't even need a grill to make the best burgers ever – these are perfect baked in the oven!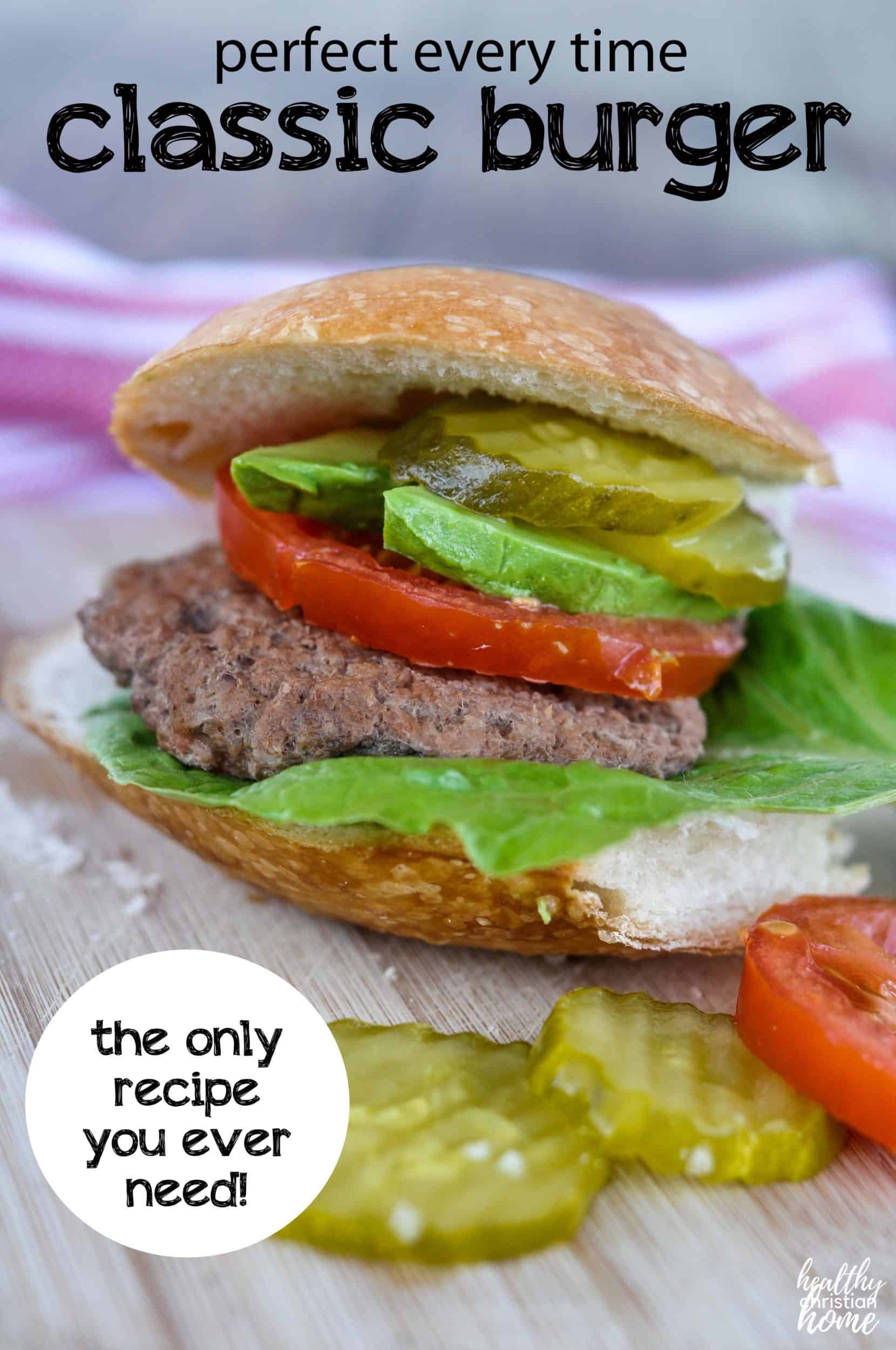 Oven Baked Hamburgers to the Rescue!
Everyone needs a few tried-and-true recipes that can be pulled out for any occasion and always win. This classic burger is at the top the list. Make sure to serve them with my easy oven fries!
This recipe is great because you can have the flavor of grilling out, even in winter! These hamburgers bake in the oven on a chilly day and come together really quickly. A true 30-minute meal!
Plus, there's no need to stand over a grill and get all hot & sweaty. Just make the patties, bake them in the oven, and flip halfway through!
Is it better to cook burgers in the oven or on the stove?
Either method you prefer is delicious. For a long time, I have cooked burgers in the oven since my husband doesn't grill out very often.
Recently, I started cooking these burgers in a cast iron skillet on medium heat for around 3 minutes on each side for a medium burger. They turned out awesome!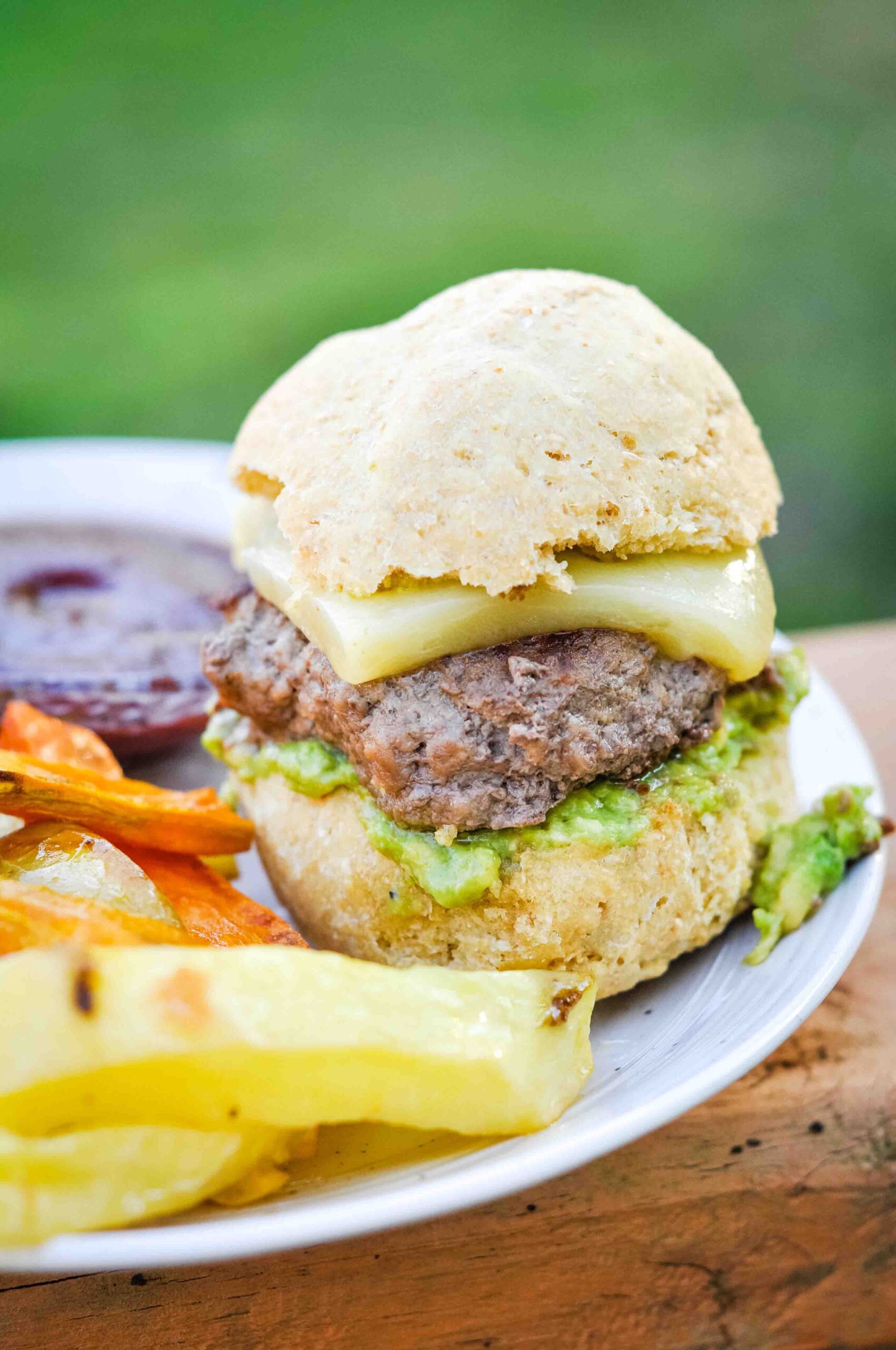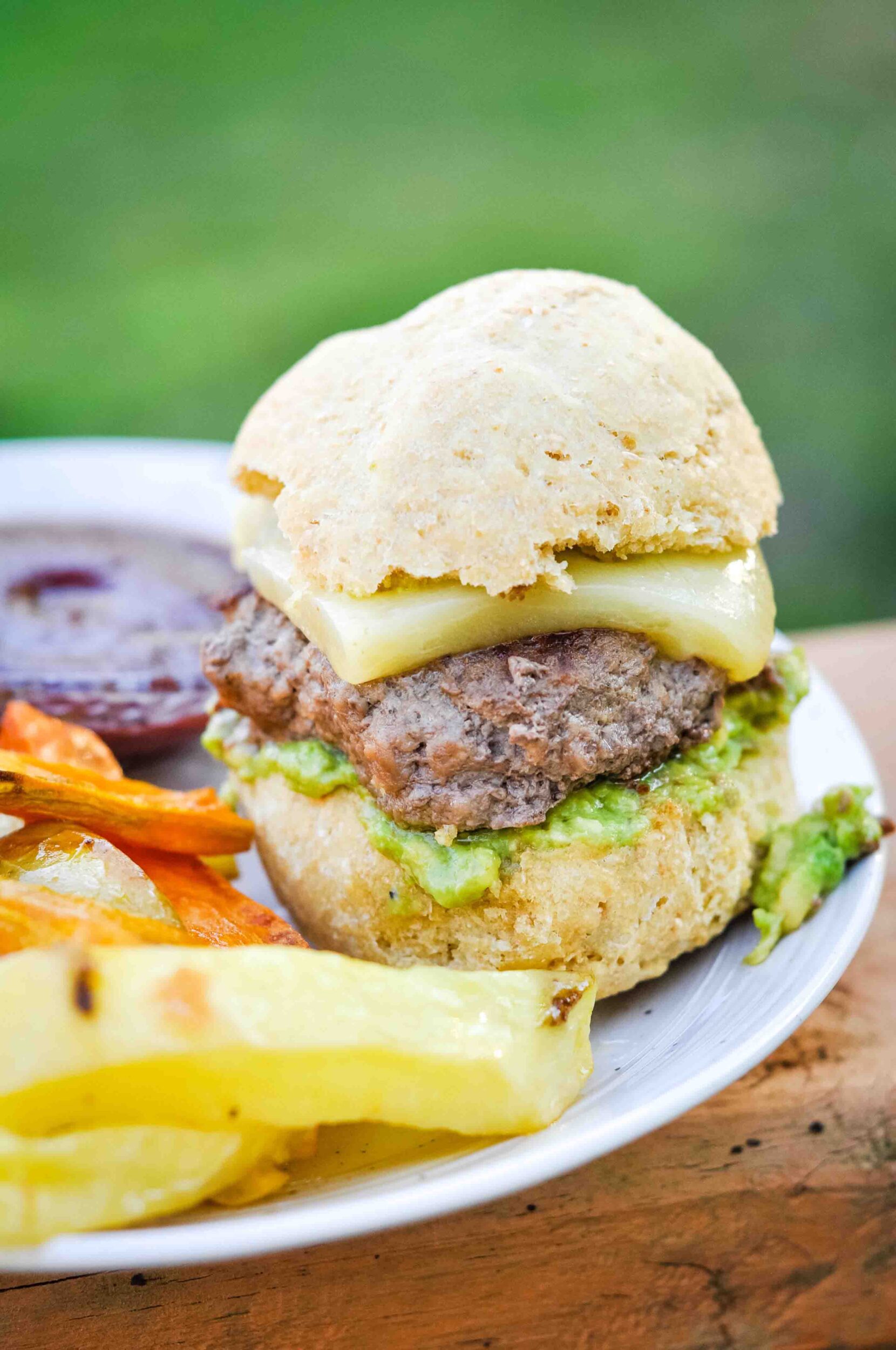 This Hamburger Tastes So Good — Even Without Condiments
I haven't always been a huge burger fan. Burgers can be lacking in flavor sometimes. A plain patty of squished meat that needs to be 'doctored up' with cheese and sauces before it tastes good.
So, I wanted to create a burger recipe that tastes wonderful on its own – no boatloads of ketchup and mayo required.
Yes, it's possible!
If you add the correct seasonings, burgers taste amazing even on their own. This recipe will not disappoint!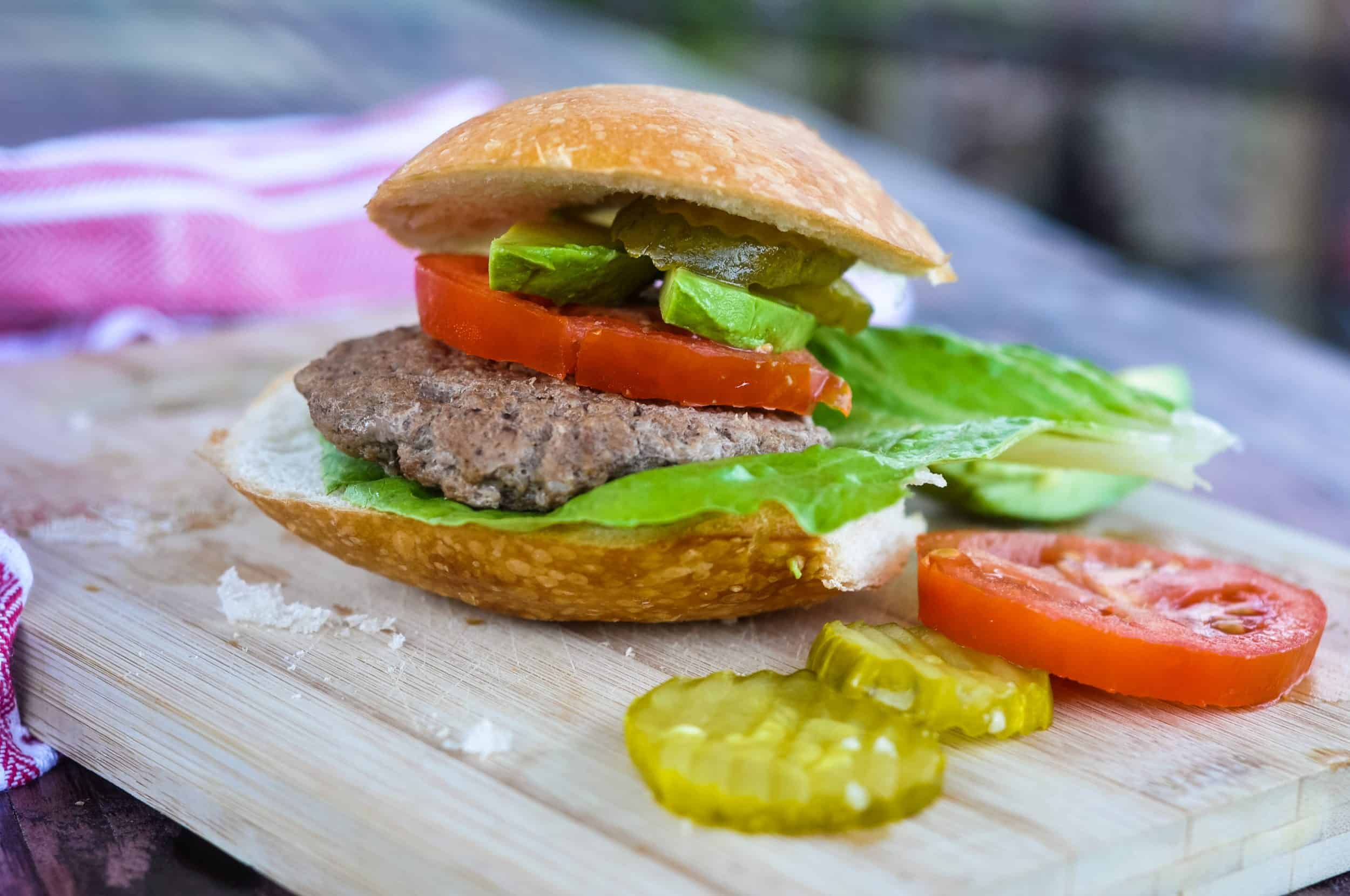 Classic Burger Secret Ingredients
Here's what transforms a plain burger into something you'll want to make again and again:
Quality ground beef and/or lamb: For best results, we love using 1 lb. lean beef and ground lamb. Lamb can be more difficult to find in some areas (and more costly), so feel free to use all beef. Make sure it's lean so your burgers aren't swimming in fat while they bake. I love using grass fed beef from ALDI.
Egg: This helps bind everything together.
Garlic: Minced garlic is KEY to the incredible flavor of these burgers. Don't skimp on it!
Mustard: Use a bit of classic yellow or dijon mustard to add an extra bite to your burgers!
Liquid Aminos: Bragg liquid aminos is a healthier alternative to soy sauce with 16 amino acids. A liquid protein concentrate made from soybeans, they are gluten free, non-GMO and with lower sodium than soy sauce.
Hot sauce: Sometimes we add hot sauce because it gives the burgers extra flavor and a little kick!
Worcestershire sauce: This savory blend of vinegars, onions, garlic, molasses, adds a perfect flavor boost to these burgers. Find out more the history of worcestershire sauce.
Seasonings: There's plenty of leeway here, so get creative and use your favorite seasonings or even cayenne to spice things up! I used a simple blend of paprika, salt, and pepper.
Need some top-notch side dishes for your burgers? Try these:
How to Make Baked Hamburgers
Prep everything. First, preheat the oven to 400° F and make sure you have quality meat, thawed and ready to use. This is the most important element for a great burger.
Make your hamburger patties. Add your ground meat to a large mixing bowl along with whatever seasonings you want to use. Make sure to use enough salt, plus special add-ins for flavor.
We like using garlic, worcestershire sauce, mustard, liquid or coconut aminos (or soy sauce), a splash of hot sauce, and a bit of paprika and black pepper. I also add an egg to help bind everything together.
Mash everything together with your hands, then shape into patties. Make them a little larger than bun size – the burgers will shrink some as they cook. Each patty should be about a quarter pound in weight.
Bake the burgers. Place the burgers on a baking sheet. The best way to do this is to use a metal rack sitting on top of the baking sheet, so the grease can drip to the bottom as the burgers cook
Bake for 15-20 minutes, and flip once halfway through baking. Top with your favorite toppings and enjoy!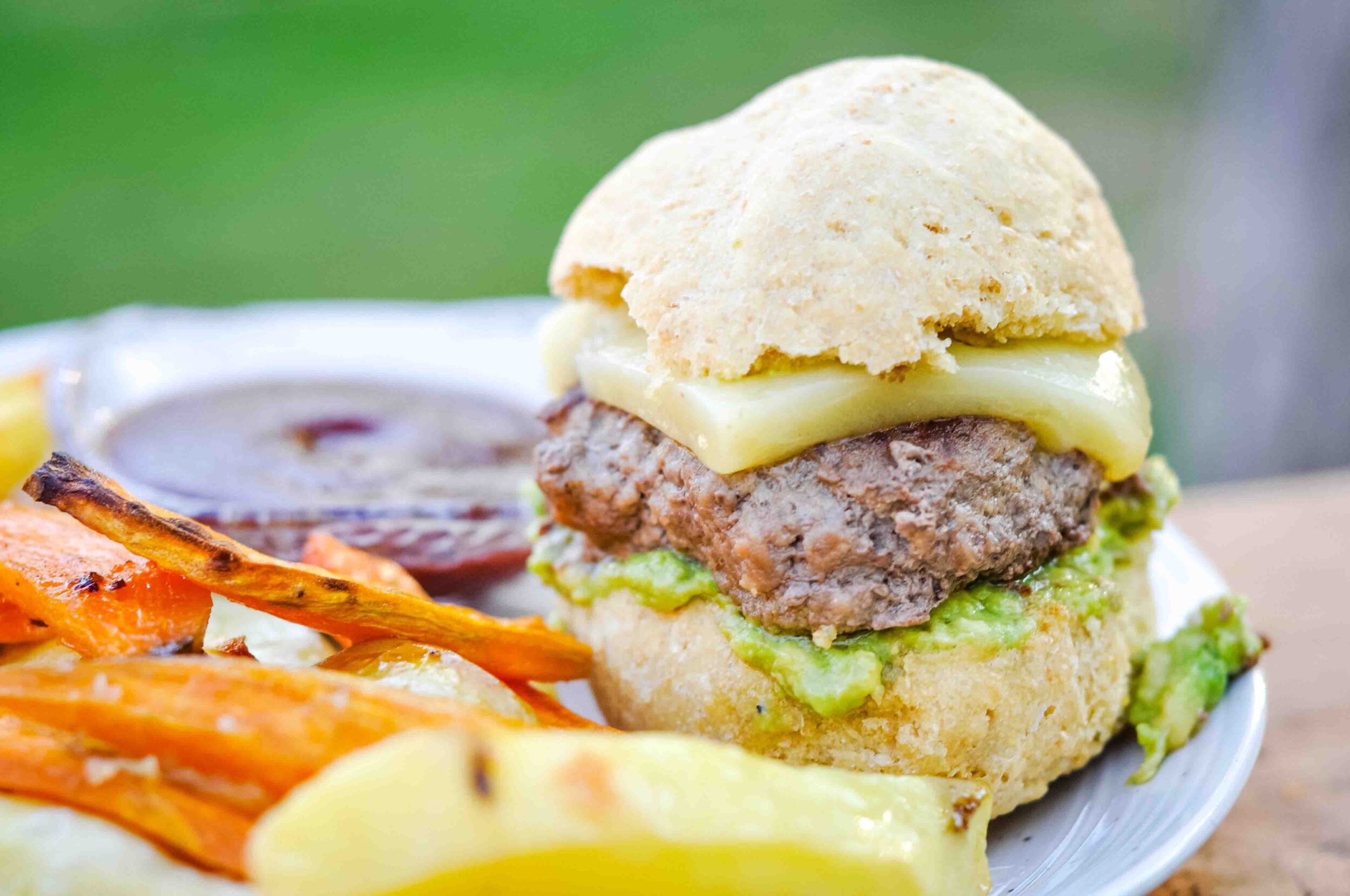 Do you have to flip burgers in the oven?
Yes, the burgers need to be flipped halfway through cooking to ensure they are baked evenly.
How do I cook a burger without a rack in the oven?
I'll be honest — even though I know I'm "supposed" to cook burgers on a rack over the baking sheet, I didn't have a rack for a long time. Plus, sometimes I'm too lazy to wash it.
So, I bake my burgers straight in a casserole dish — one that has sides wide enough to catch all the juices. It just means the burger is sitting in it's juices while it cooks, so it might come out even more juicy! After baking, I transfer the burgers to a large paper towel lined plate to allow them to drain.
Baked Burger Topping Ideas
There are so many yummy ways to top your burgers! Such as:
A myriad of sliced cheese
Romaine lettuce
Mashed avocado
Sliced onion
Fresh tomatoes
Caramelized onions
Baked Hamburger Recipe Notes
Here are a few tips and tricks for making a wonderful hamburger:
Remember to make your patties larger than you want the final result to be – they will shrink somewhat as they cook.
Flip halfway through cook time to ensure even cooking.
These burgers can be made on a grill or in the oven. We love oven baked burgers since they can be made any time of year! No need to fire up the grill.
A sheet pan with baking rack (like this) is a wonderful tool to have for making these hamburgers – any excess grease can drip to the bottom during cooking.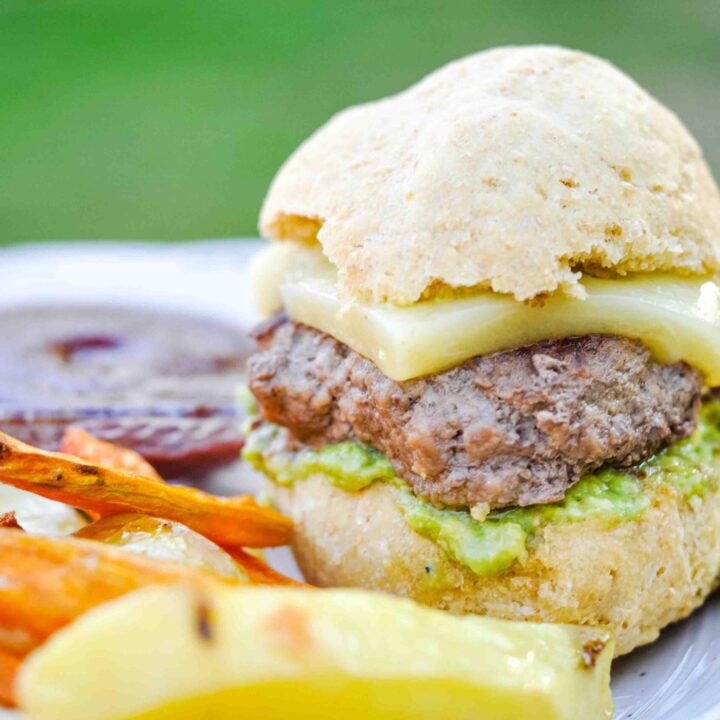 Yield: 8
Classic Oven Baked Hamburgers
Prep Time: 5 minutes
Cook Time: 20 minutes
Total Time: 25 minutes
Juicy & flavorful, this classic oven baked hamburger recipe includes garlic and a few other special ingredients to make a mouthwatering burger. You don't even need a grill to make the best burgers ever!
Ingredients
2 lbs. lean ground beef and/or lamb
1 egg
2-3 cloves minced garlic
1 TBSP liquid aminos
1 TBSP mustard
1 tsp. worschestire sauce
1/2 tsp. paprika
1/4 tsp. salt
1/4 tsp. pepper
1 tsp. hot sauce
Instructions
Preheat oven to 400° F. Hand mix all ingredients in a large bowl, ensuring that everything is mixed thoroughly.
Form into quarter pound patties and place on a baking sheet. For best results, use a metal rack over a baking sheet so the juices can drip to the bottom of the pan.
Bake for 15-20 minutes, turning once halfway through.
Notes
This recipe is written for oven baked burgers, but they can also be grilled or cooked in a cast iron skillet. To grill or cook on stovetop, cook for 3-4 minutes per side on medium heat.
Nutrition Information:
Yield:
8
Serving Size:
1 grams
Amount Per Serving:
Calories: 306
Total Fat: 17g
Saturated Fat: 6g
Trans Fat: 0g
Unsaturated Fat: 8g
Cholesterol: 134mg
Sodium: 322mg
Carbohydrates: 1g
Fiber: 0g
Sugar: 0g
Protein: 36g
PIN IT!