Have you ever wondered about the Psalm 23 meaning or wanted to hear Psalm 23 explained beautifully? You may be wondering, "What does Psalm 23 mean? And how does it relate to us as children of God today?"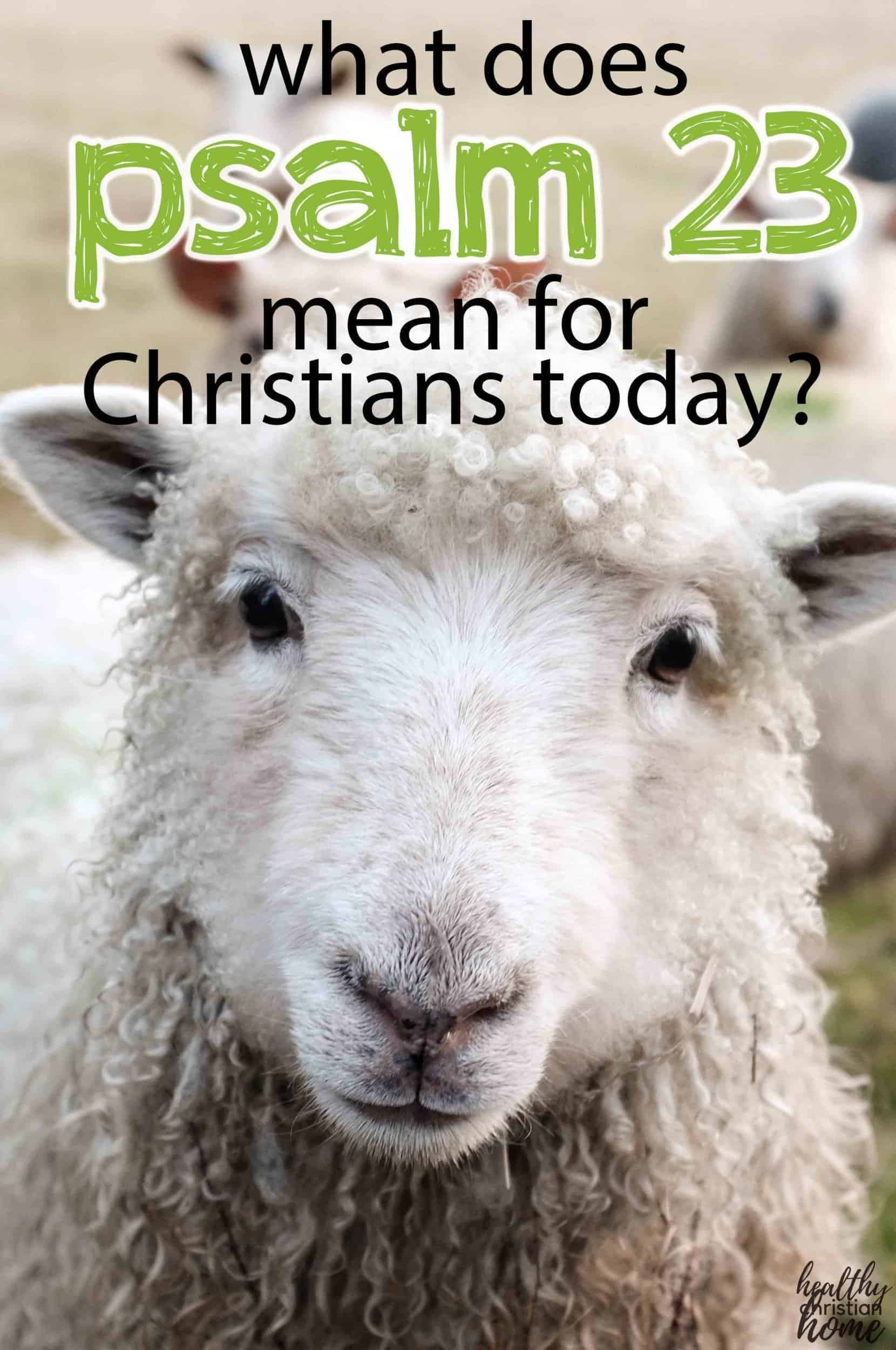 This psalm of David is loved the world over for its calming and healing wisdom. A study of Psalm 23 is sure to leave you feeling secure and wrapped in God's loving arms.
Diving deep into each line of Scripture, we see a picture of a loving father who cares for His children in precious ways. If you're wondering what is Psalm 23 all about, let's take a close look at this amazing part of God's word by breaking it down, verse by verse.
Special Note: Are you a Christian? If you want to make sure you are a child of God (ready for heaven), read our post How to Be Saved According to the Bible.
Post updated on July 17, 2020
When Psalm 23 became personal
While meditating on Psalm 23 today, I gained some brand new insights. I've read and listened to this Psalm all my life, so popular that it is the passage of Scripture known by most everyone, even non-believers.
While this is a Psalm 23 commentary of sorts, I've put a personal spin on this passage and the way it hit my heart personally. Each verse has a deep meaning for me, and I pray it will resonate with you, as well.
After experiencing some difficulties in my life, I saw this Psalm from a different perspective. May you identify with it and be encouraged. I've paraphrased each bible verse in my own words, then added some additional thoughts.
Below is my personal interpretation of this beloved Psalm. Scriptures are in bold & italics, my words are in regular font.
Read Next: How to Trust in the Lord with All Your Heart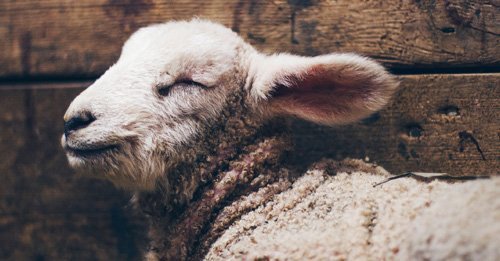 Psalm 23 Meaning Explained Beautifully
♥A Personal Narrative of Psalm 23♥
verse 1: "The Lord is my shepherd, I shall not want."
My words: God is taking care of and watching over me. I have everything I need now, and everything I need in the future will be provided.
Since God is our Father, we have assurance He will provide and no need to fear any danger.
verse 2: "He makes me lie down in green pastures, he leads me beside the still waters."
My words: God gives me blessing upon blessing – physical provisions and spiritual salvation. He has laid the groundwork in my life to endure whatever I am led through.
Not only does He give me what I need, He gives even more. Green pastures. Still waters. The best of the best. This verse reminds me of my absolute favorite Scripture of all time, Psalm 103.
Verses 2-5 state, "Bless the Lord, O my soul, and forget not all his benefits, who forgives all your iniquity, who heals all your diseases, who redeems your life from the pit, who crowns you with steadfast love and mercy, who satisfies you with good so that your youth is renewed like the eagle's." I engraved this passage recently on my new silver ring to remind me of God's goodness toward me.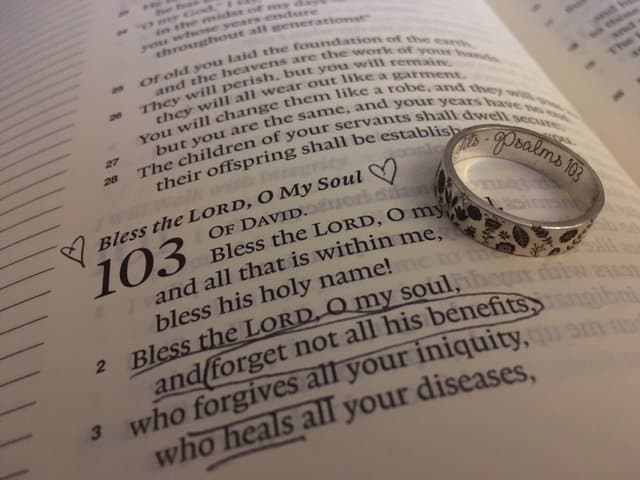 verse 3: "He restores my soul. He leads me in the paths of righteousness, for His name's sake."
My words: God is the only one who can refresh my soul and spirit. He led me to Him through His Word and those who taught it to me. I am so thankful He gave me instruction on how to live a godly life to glorify Him.
verse 4: "Yea, though I walk through the valley of the shadow of death, I will fear no evil; for You are with me, Your rod and Your staff, they comfort me."
My words: Even though I go through darkness and difficulties painful to bear, I am not afraid of Satan. You have defeated him and You are on my side. Day by day, You provide whatever I need to endure any pain or difficult I encounter. Simply having your presence beside me is everything I need for comfort in the storm.
verse 5a: "You prepare a table before me in the presence of my enemies."
My words: You are using these struggles to prepare me for something great. Satan sees You changing his evil plan into something good instead. Anyone who would laugh at or mock me for being a Christian, they will one day see me blessed and honored as your child.
verse 5b: "You anoint my head with oil, my cup runs over."
My words: You honor me when I am brought through the darkness into the light. I realize how many amazing blessings I have and how Your love and faithfulness sustain me. If I try to count all your blessings toward me, they are more than can be numbered.
verse 6: "Surely goodness and mercy shall follow me all the days of my life, and I will dwell in the house of the Lord forever!"
My words: Here's what I have learned – no matter the situations I find myself in, God is good all the time! I am with Him now and will forever be in His presence of peace.
To sum up the entire Psalm 23 meaning: God is good. Always.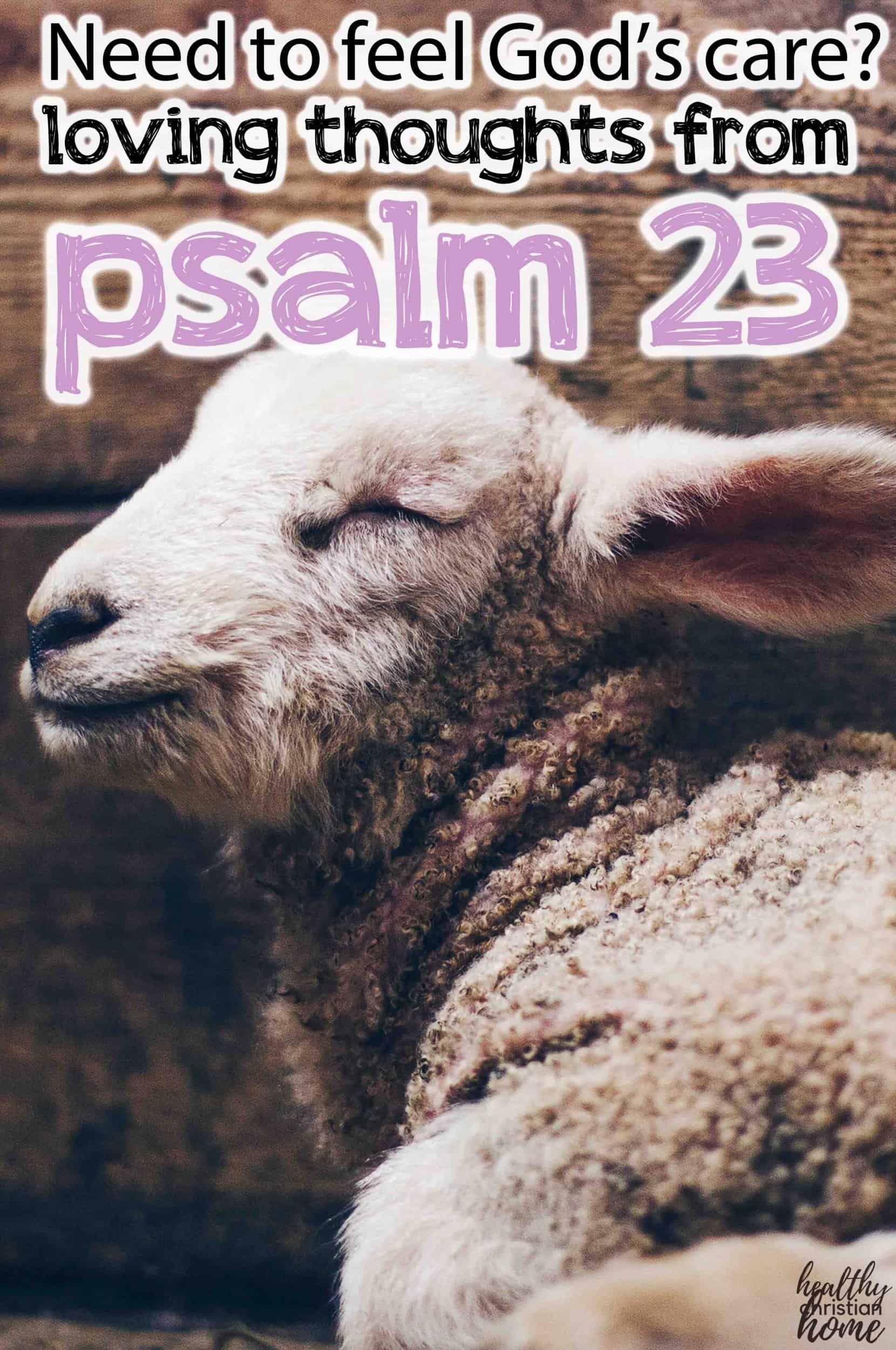 What is the primary theme of Psalm 23?
The main theme of Psalm 23 is about God's loving care for his children. The shepherd and sheep analogy is used to depict God's gentleness and guidance throughout our lives, and the love of a Shepherd who is willing to lay down His life for his sheep.
Who wrote Psalm 23?
King David of Israel, the youngest son of Jesse, wrote this beloved Psalm. He was anointed as king of Israel as a young boy. David was chosen by God because God saw the goodness of his heart. When selecting who would be the king and passing over one of the older brothers, God stated to Samuel "Do not look on his appearance or on the height of his stature, because I have rejected him. For the Lord sees not as man sees: man looks on the outward appearance, but the Lord looks on the heart" (1 Samuel 16:7).
David was also a shepherd boy who took care of sheep for years, and it shows a depth of humility for him to use a metaphor of himself as a sheep and God as the Shepherd.
Why is Psalm 23 meaningful for Christians today?
This Psalm teaches us how to be content in any circumstance— whether in a valley of difficulty or in green pastures of ease. No matter what we are going through, we can trust the Shepherd's plan for us.
For a vivid and encouraging story that makes Psalm 23 come to life, check out Hinds Feet on High Places by Hannah Hurnard. It is a touching story that follows a wounded character who wants to leave the valley and go to the High Places, but has to go through a long journey and trials (with the Shepherd always there to guide). The watercolor illustrated version is beautiful.
The reason Psalm 23 is used so often at funerals?
Psalm 23 applies both to the loved one who has passed away, and those are who are still living. In a few short verses it covers the needs of all.
If we walk through the valley of death, God is there. If we are alive and facing challenges or peaceful times, God is there. And He helps us face the difficult valley of losing a loved one.
Additional Resources:
You might also like: Trusting God – 5 Ways You Try But Fail (+ how to fix it)
What meaning from Psalm 23 have you gained from this study?
PIN IT!