If you've ever thought, "Will God really come through for me?", you're not alone. Find out why you can trust the Lord, what it really means to trust in the Lord with all your heart, and how to trust God more every single day.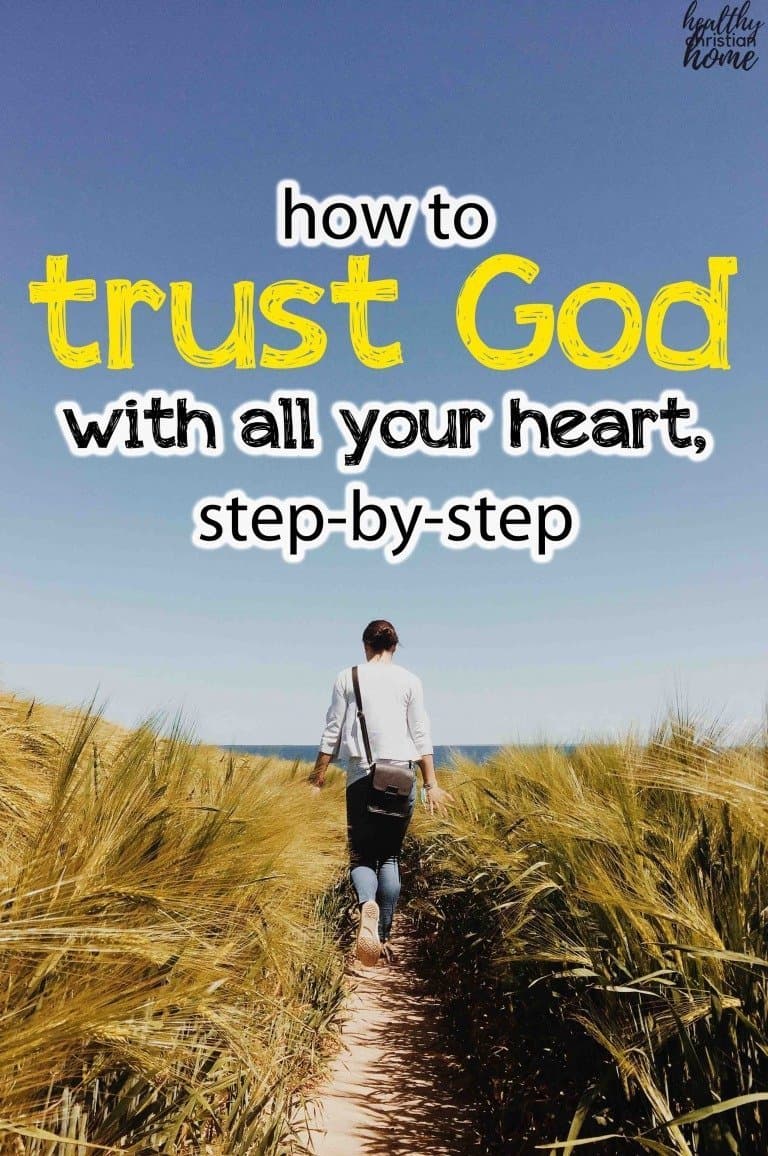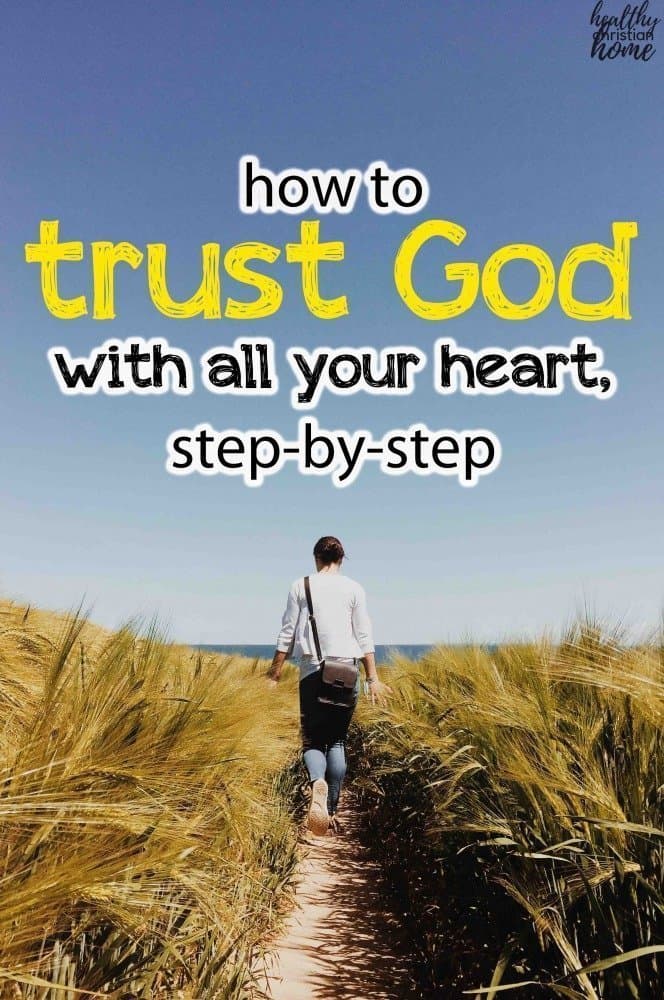 He's answered them all. Every. Single. Prayer. And 99% have been answered "my way," or even better than I could have imagined.
But that mysterious 1%. The prayers that I pray for years, over and over, followed by what feels like silence. The answers I search so desparately for, but can't find.
How can I trust God in these moments?
My human brain wants God to be figure-outable. My quest to answer perplexing questions is my futile attempt to understand God and put Him in a box.
But that's not the God of the Bible.
For my thoughts are not your thoughts,
neither are your ways my ways, declares the Lord.
For as the heavens are higher than the earth,
so are my ways higher than your ways
and my thoughts than your thoughts.

– Isaiah 55:8-9
Do you struggle to trust God when you can't figure Him out or understand His plan?
Especially in these moments, we must trust Him. But how?
First, let's get clear on why He's worthy of our trust.
Why do I struggle trusting God? (He is trustworthy)
Do you ever wonder, "Why do I struggle trusting God?" Many times, deep down, our question is really, "How do I trust God when everything is going wrong?" Because it's a lot easier to trust Him when everything is going right.
Before we discuss how to trust God, we need to know why (which really is the heart of the matter).
It boils down to this: I can trust God because He's proven Himself to me.
When you trust someone in your everyday life, what do you base that trust on? The fact that they've treated you well and shown you honesty over and over. They've earned your trust.
It's similar with God. So, how does God prove His trustworthiness to us?
Through His character qualities in the Bible. When you study, you learn the character of God and how He cares for His people. "The LORD is merciful and gracious, slow to anger and abounding in steadfast love" (Psalm 103:8).
Through His care for you in your life. Looking back on your life to this point, can you count the ways God has shown care for you? Taking time to reflect will help you see that God is worthy of your trust.
Through the cross. If nothing else, the cross is more than enough proof that God has earned your trust. He will was willing to die so you might live. There is no greater love!
"I know now, Lord, why you utter no answer. You are yourself the answer. Before your face questions die away. What other answer would suffice?"
– C.S. Lewis
Related Post: 30 "God is Faithful" Bible Verses to Build Your Confidence
What does it mean to trust in the Lord? (A Look at Proverbs 3)
Now that we know who God is and that we can trust Him, let's look at what that means from a Biblical standpoint. Let's study the context of Proverbs 3, where we are admonished to "trust in the Lord with all your heart."
My son, do not forget my teaching,
but let your heart keep my commandments,
for length of days and years of life
and peace they will add to you.
Let not steadfast love and faithfulness forsake you;
bind them around your neck;
write them on the tablet of your heart.
So you will find favor and good success
in the sight of God and man.
Trust in the Lord with all your heart,
and do not lean on your own understanding.
In all your ways acknowledge him,
and he will make straight your paths.
Be not wise in your own eyes;
fear the Lord, and turn away from evil.
It will be healing to your flesh
and refreshment to your bones.

– Proverbs 3:1-8
The chapter begins with encouragement to remember God's teachings – a major theme of the entire book of Proverbs.
This is a big part of trusting – knowing what God says, believing it to be true, and obeying Him (even when we don't get it).
In fact, one of the biggest mistakes humans often make is trusting their own heart or feelings instead of God alone. Jeremiah 17:9 says, "The heart is deceitful above all things, and desperately sick; who can understand it?"
So we know that we can't trust our own heart – instead, we must trust in the Lord with all our heart. This means listening to what HE says, believing it, and acting on it! That's how to trust God completely.
When we take God at His word, we acknowledge that He knows better than us. We stop trying to "figure Him out" and start accepting that He's got it all figured out.
How to Trust in the Lord with All Your Heart, Step-by-Step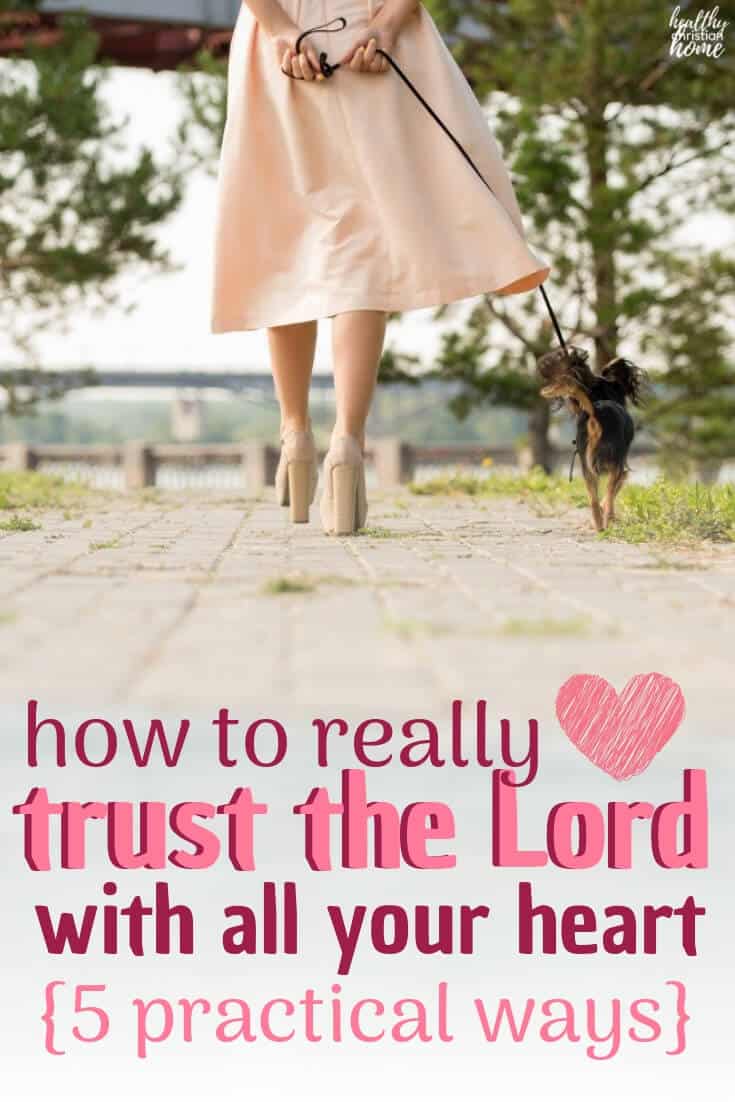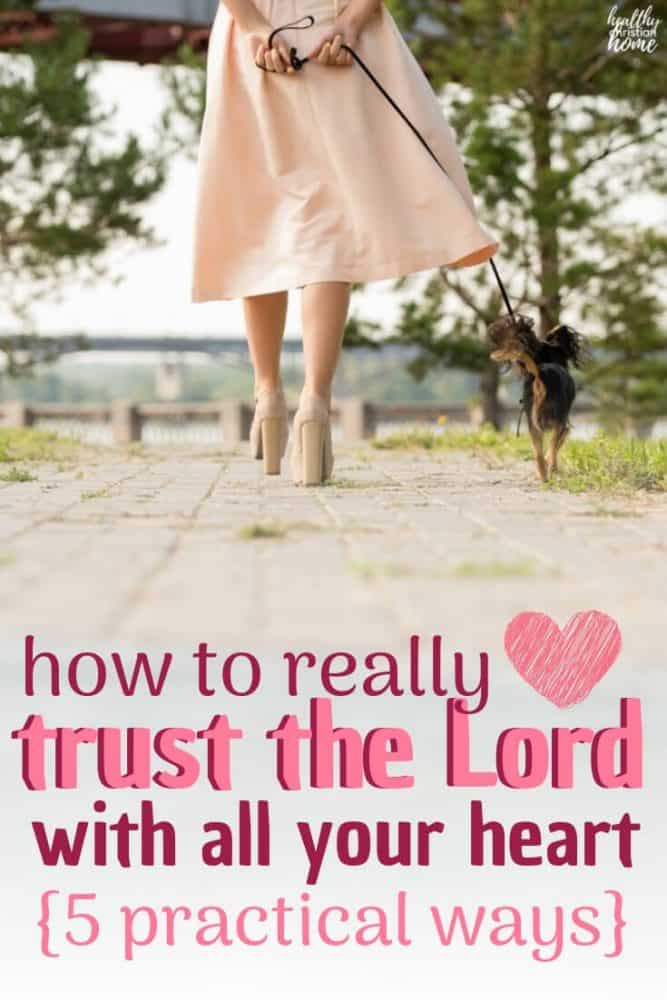 Now that we know God is trustworthy, and that trusting means taking God at His word, let's talk about some practical ways we can demonstrate our trust every. single. day. How do you truly trust God?
1. Acknowledge God's sovereignty
The foundation of trust is knowing. With God, it's knowing His BIG-ness. That He is utterly in control of all things. And that He knows so much better than us.
When we begin to understand this, we take the first step toward genuine trust.
Think about how children trust their parents. They don't need to know how the parents do everything – they simply rest in the knowledge of that they are bigger, stronger, wiser.
Action Step: Say this prayer, "Dear Lord, You are high above all. There is none like You. Forgive me when I lose sight of your amazing power. I know Your ways are so much higher than mine, and I can never understand You. Today I acknowledge that You know better than me. Help me to submit to Your wisdom."
2. Look for God's goodness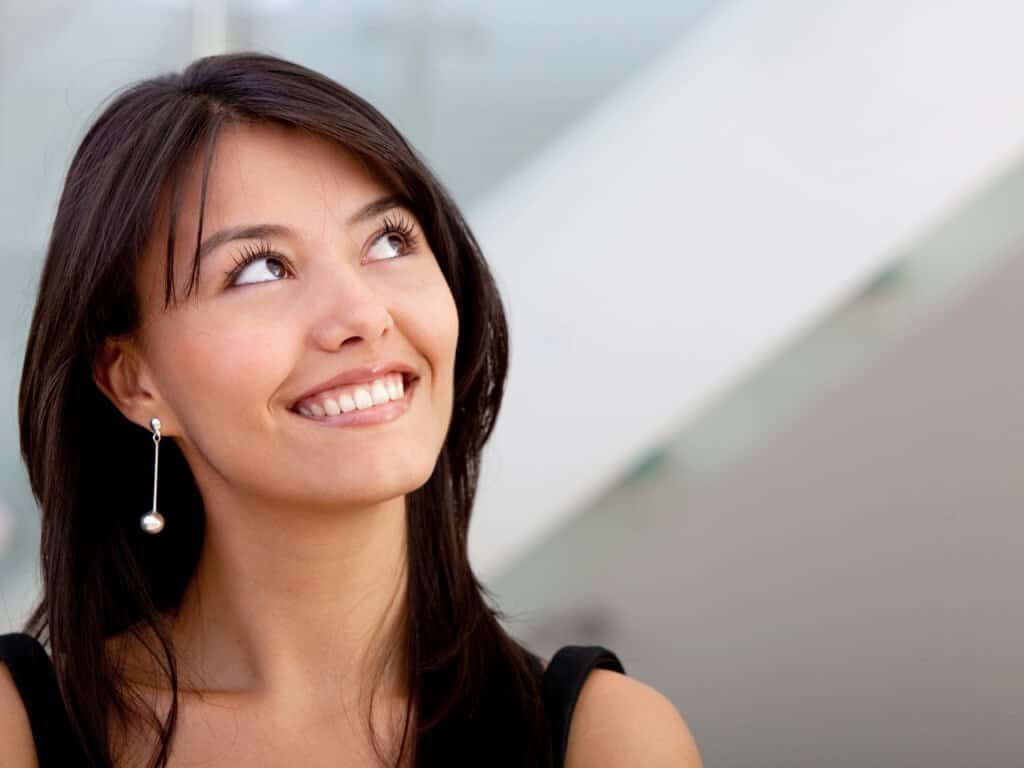 After understanding God's sovereignty, we must also believe in His goodness. Not only is He in control, He exercises that control for good.
If you don't quite believe that God is good, you will have a hard time trusting Him fully.
Joseph is a perfect example of trusting God's goodness. While no one would describe the circumstances of his life as "good," Joseph never lost faith in God's goodness. He knew that God worked even bad situations for His ultimate good.
Listen to how Joseph responds to His brothers years after they sell him into slavery and hardship:
Do not fear, for am I in the place of God? As for you, you meant evil against me, but God meant it for good, to bring it about that many people should be kept alive, as they are today.

– Genesis 50:19-20
If you're struggling to see God's goodness, remember Joseph. Think about how God can create beauty from ashes. And if doubt is one of the reasons you're struggling to trust God, be sure to read my post Dear Christian Struggling with Doubt.
Action Step: As you go through your day, keep track of your blessings. A gratitude journal is great for this. When God works in your life, record His providence. Even in hardships, realize that good may come even from that, in ways you might never see.
3. Trust in the Bible & Study With Intent
Friend, the bible IS trustworthy! You can trust in the Bible, and studying it leads to greater trust in God.
There are many proofs that the Bible is the infalliable word of God, and one of the most important things you can learn as a Christian is how to follow God through the Bible instead of simply "following your heart."
It takes more effort, but when you approach bible study with a genuine intent of seeing God's character, you'll begin to trust Him more.
For me, it's easy to view bible reading as a "to-do" item on a checklist. But when I approach God's Word as something to take in slowly, digest, and enjoy, I come away with a deeper understanding.
This type of study helps you form a more complete picture of who God is, which helps you feel closer to Him.
And the more you know God's word, the more you'll be able to trust Him – because you'll have the knowledge of His will for your life! After all, you can't trust the design if you don't know the Designer.
Do you need help with this kind of in-depth, genuine bible study?
I know you'll benefit from the "Woman After God" printable pack. It is the perfect resource for any woman who is chasing God.
With 20+ pages of resources, you'll learn to study the Bible effectively and answer deep burning spiritual questions.
This printable pack includes the "What Should I Study?" guide, which holds your hand teaches you exactly how to create a study plan based on your questions. Also included is a real-life study example, so you can watch the process unfold step-by-step.
It also includes prayer resources that will spark your communication with God and keep your dialogue going throughout the day.
If you ever think, "I want to grow closer to God, but I have no idea where to start," this printable pack will absolutely help.
4. Ask God to help you trust Him more
The very fact that you are reading this post shows your heart's desire to trust God more. This makes Him very happy!
But inside, you may be asking, "How do I stop being scared and trust God?"
Let's face it, God knows everything. He knows if you are struggling to trust Him and grow your faith. And He wants to help!
Related post: The Ultimate Prayer Journaling Guide to Ignite Your Prayer Life
So, be honest with Him. Tell Him everything you're feeling, whether you're scared, sad, mad, or frustrated. Let Him know where you need help, and how you want to grow.
To help you in your quest, grab these beautiful "My God & I" prayer prompt cards below!
5. Act in Trust
Finally, as you continue your journey to know God better and discover His trustworthiness, it's time to act on that trust! Show God you believe Him by obeying Him in your actions.
Put into practice Psalm 37:3, "Trust in the LORD, and do good; dwell in the land and befriend faithfulness."
How can you "trust in the Lord and do good" today? Are you sure you're living your life in obedience to Him? Here are some thoughts to consider:
Have you studied what the Bible says about how to be saved, and followed through on those instructions? Here's a free online study course that will help you understand the Bible.
Are you worshipping in a way that makes Him happy?
Is there sin in your life that's gone unchecked? Do you need help conquering it?
What's that one thing you know God wants you to do that you haven't done because you're afraid? Do you trust Him enough to act on it?
Trust in the Lord Bible Verses
Now that we've discussed what trusting God is and how to trust Him step-by-step, I wanted to give you some of the best bible verses about trusting God to carry with you on your journey. Post these around your home and meditate on them throughout the day!
Isaiah 26:3 – You keep him in perfect peace whose mind is stayed on you, because he trusts in you.
Psalm 28:7 – The Lord is my strength and my shield; in him my heart trusts, and I am helped; my heart exults, and with my song I give thanks to him.
Psalm 9:10 – And those who know your name put their trust in you, for you, O Lord, have not forsaken those who seek you.
Psalm 112:7 – He is not afraid of bad news; his heart is firm, trusting in the Lord.
Joshua 1:9 – Have I not commanded you? Be strong and courageous. Do not be frightened, and do not be dismayed, for the Lord your God is with you wherever you go.
Psalm 37:4-6 – Delight yourself in the Lord, and he will give you the desires of your heart. Commit your way to the Lord; trust in him, and he will act. He will bring forth your righteousness as the light, and your justice as the noonday.
Isaiah 41:10 – Fear not, for I am with you; be not dismayed, for I am your God; I will strengthen you, I will help you, I will uphold you with my righteous right hand.
I pray that these tips have helped you learn how to trust God completely and gain confidence in the Lord in a deeper way. If you found it helpful, would you mind sharing it using the social share buttons at the bottom of your screen?
Want some more encouragement on trusting God? You'll like:
What's the hardest part about learning to trust God? Do you have any insight to share?
PIN IT!