A healthy pumpkin roll recipe with non-GMO flour, less sugar, lighter cream cheese, and fewer calories is just what you need for your holiday table! A few slight alterations make this easy pumpkin roll recipe much healthier and lighter, but it tastes just as good as the original!
This recipe uses non-GMO white whole wheat flour, coconut sugar, neufchâtel cheese filling sweetened with maple syrup, and homemade powdered coconut sugar for dusting! Doesn't that sound yummy?
One thing I love about this pumpkin roll recipe is that it's not overly sweet. I love desserts, but if they are too sugary-sweet they aren't quite as enjoyable. Am I the only one?
This healthy pumpkin roll satisfies my sweet tooth and pumpkin craving in the best way!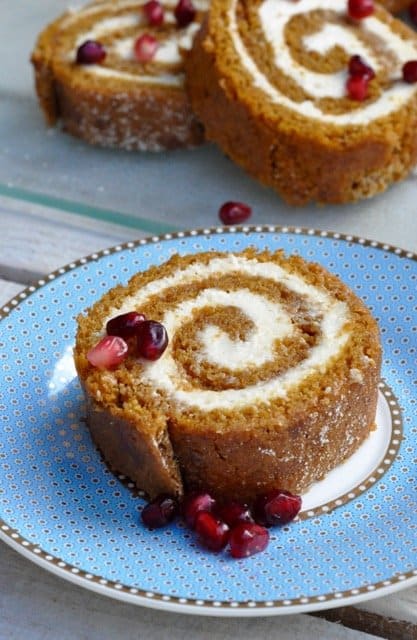 Pumpkin roll and I go way back. This is my Grandma Trisha's prized dessert at every childhood Thanksgiving meal, when everyone made a beeline for her plate of pumpkin goodness.
Normally, I don't waste my dessert calories on anything but chocolate. I choose chocolate every single time when given an option – with the exception of pumpkin roll. It is heaven, and the thing I look forward to most at holiday dinners!
More pumpkin recipes to try:
While living in Scotland during the holiday season, I was determined that we would have pumpkin roll, no matter what kind of scavenger hunt I'd have to go on to find the ingredients. I knew pumpkin wasn't super easy to find there, since Thanksgiving isn't celebrated.
Alas, I still underestimated the lengths I'd have to go to in order to have pumpkin roll on my holiday table.
First, the pumpkin. There wasn't any canned. So we bought a large pumpkin, roasted it, and pureed it. It was a little less concentrated and dense than canned pumpkin, but did the job adequately.
Next hurdle: the jelly roll pan. This is crucial for the perfect pumpkin roll. I wasn't worried – I had brought mine (a gift from my Grandma) all the way from the States, so I knew all would be well.
Wrong.
What I hadn't considered was the size of my teensy British oven. I should have realized this, since we downgraded from a full-size turkey to a small chicken (the turkey wouldn't fit).
But after the arduous task of roasting/pureeing pumpkin, mixing up the pumpkin roll cake batter, carefully pouring it into my prized jelly roll pan, and placing it into the oven, I was shocked when the oven door wouldn't shut.
Our taste of home, it seemed, would not be.
But, my husband (king of ingenuity) came to the rescue. That Thanksgiving, I was particularly thankful for him. He took out the inner glass panel of the double-paneled oven door, which helped it *almost* shut. He sealed the crack with a rolled up towel saturated with water to keep the heat in.
The pumpkin roll we worked so hard for that day tasted sweeter than ever!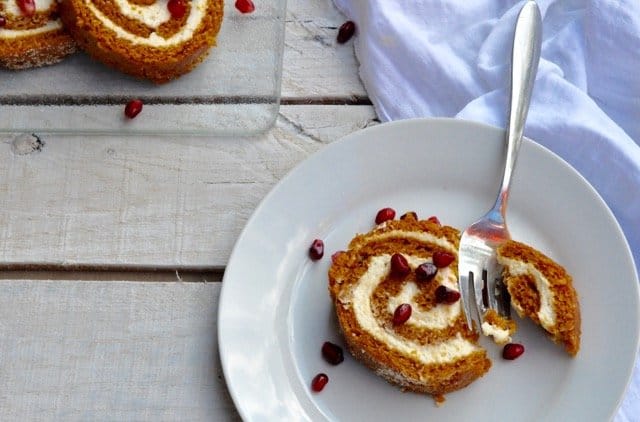 Oh, the lengths we go to for our tradition-keeping.
This season, start a new tradition with this mouthwatering, easy pumpkin roll that's actually pretty good for you! Shock of all shocks!
When I set out to make a healthy version of the traditional pumpkin roll loaded with powdered sugar, I had a few doubts about the end result. I must say, I'm pretty proud of this recipe and the way it turned out. It's just as good as the original, really!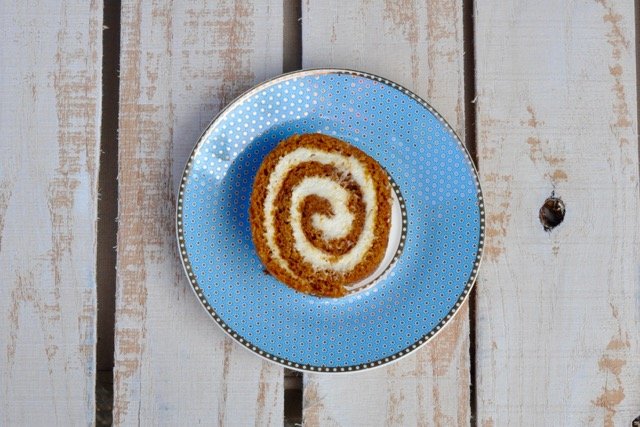 This post is sponsored by Wheat Montana Farms & Bakery.
Healthy Pumpkin Roll Ingredient Swaps
Check out the ingredients I swapped to make this recipe healthier without sacrificing flavor.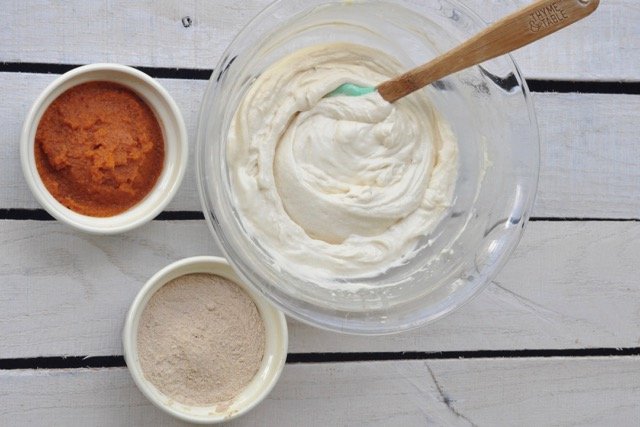 Half coconut sugar and half organic granulated sugar sweeten this pumpkin roll perfectly. No refined white granulated sugar needed! Here's the nutritional rundown from Not Enough Cinnamon: "Coconut sugar has a much lower glycemic index than white sugar. It means that it won't make your blood sugar spike, like normal sugar does. It's also a bit more nutritious. When white sugar basically provides empty calories, coconut sugar contains a small amount of minerals like zinc, iron, calcium and potassium."
Homemade powdered coconut sugar (made with coconut sugar and a bit of cornstarch processed in my high speed blender) only took a couple of minutes to make! And it's so much healthier than powdered white sugar from the grocery store. Here's the easy recipe from Whole New Mom (I used coconut sugar instead of xylitol).
Neufchâtel cheese is a soft cheese very similar to cream cheese, but a little less heavy and fattening. (It has 70 calories per serving as opposed to 90.) Find it right next to the cream cheese in the dairy aisle. You can still use regular cream cheese if you like – I tried both with success.
Maple syrup is the perfect way to sweeten the creamy filling without (again) all that yucky powdered sugar! Here are some of the benefits of maple syrup.
Non-GMO, Prairie Gold White Wheat flour from Wheat Montana instead of all-purpose flour! I'm literally obsessed with this flour. It is 100% whole grain, but it's finely ground which gives it a light and sweet taste almost identical to regular all-purpose.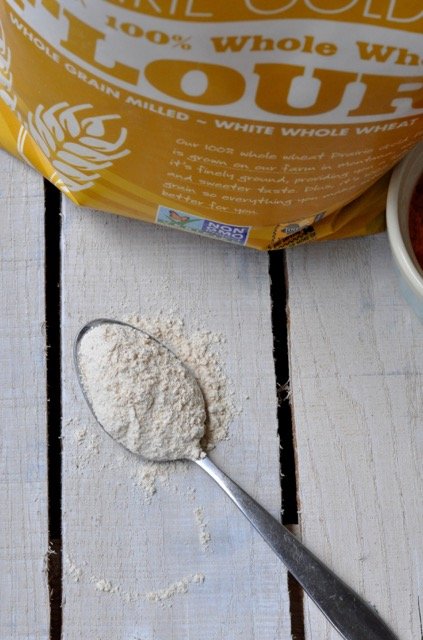 I highly recommend using the Wheat Montana Prairie Gold flour for this recipe. Made from hard white spring wheat, it's more nutritious because it's milled on-site with a natural process that captures 100% of the wheat's nutritional value.
If you're gluten free (but not Celiac), you might be interested to discover that the reason most people are gluten intolerant is the herbicide (glyphosate) sprayed on the wheat, not the wheat itself. Read this article from the Healthy Home Economist for more info. Wheat Montana has their wheat certified chemical-free by an independent lab.
I use this flour for all my cooking and baking, including Chocolate Chip Peanut Butter Muffins and Homemade Buttermilk Biscuits
You can find it at many TJ Maxx, Ross, and Marshall's locations, as well as Sprouts and Dutch Valley Foods. It's also available at many Wal-Mart stores. If yours doesn't carry it currently, just ask and they should be able to ship it since it's in the Wal-Mart system. You can also find it on Amazon.
Healthy Pumpkin Roll Baking Tips & Tricks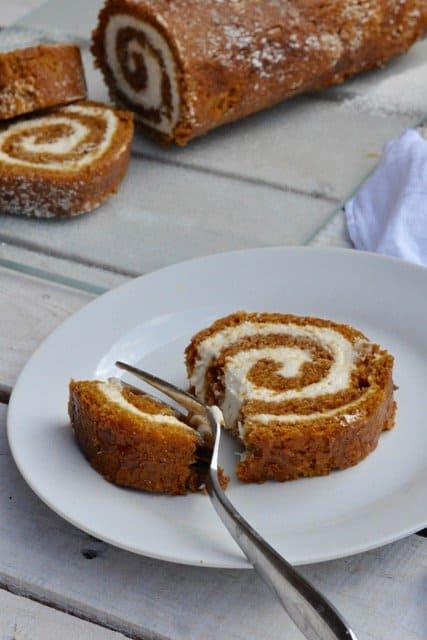 You'll find the full recipe below, but I just wanted to give you a few tips and tricks to make your pumpkin roll recipe simple and easy.
Make sure to grease the jelly roll pan, add wax or parchment paper, plus grease and flour the paper! This will make removing your cake from the pan so much easier. (Here's the kind of pan I use.)
Dust your thin kitchen towel thoroughly with the homemade powdered sugar so the cake doesn't stick. You can also use flour, if you wish.
Use 100% pure pumpkin, NOT pumpkin pie filling (this has extra sweeteners and additives). I like Libby's.
When you're ready to turn your cake onto the towel, loosen the wax paper from the pan first. Gently peel off the paper.
One mistake I made with my first batch of filling is that it was too runny. Since this filling uses maple syrup instead of powdered sugar, it's naturally a bit less stiff. After mixing your filling, refrigerate it while your cake is cooling for easier spreading and rolling.
For this recipe, I used half coconut sugar and half organic granulated. I also made another roll with granulated only. You could also try 100% coconut sugar. I decided to mix the two so the final result would be very close to the original recipe. If you use coconut sugar, you may want to pulse it in the food processor or blender for a few seconds if it's really grainy.
Make sure your cake and filling are thoroughly cooled before attempting to fill and roll. It will make for a prettier final result and reduce cracking.
For aesthetic purposes, you can add a final dusting of homemade powdered sugar or flour before serving. Garnish with your favorite fruit, too! I chose pomegranate.
Pumpkin roll can be wrapped in a layer of plastic wrap and a layer of aluminum foil and frozen for up to one month. It's actually really easy to slice straight from the freezer!
Update: I found an easier method for rolling that eliminates the need for flipping and using a towel. Check it out over at Gimme Some Oven. And let me know how this method works for you!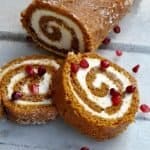 Healthy Pumpkin Roll Recipe (Less Calories & Sugar, Same Flavor!)
This healthy pumpkin roll recipe tastes just as good as the original with less calories and sugar. With ingredients like non-GMO flour, coconut sugar, neufchâtel cheese, and maple syrup, you'll feel lighter while still enjoying your favorite holiday treat!
Prep Time 45 minutes
Cook Time 13 minutes
Total Time 58 minutes
Ingredients
For the Cake:
1/4 cup homemade powdered sugar or flour (to sprinkle on towel)
3/4 cup Prairie Gold non-GMO flour
1/2 tsp baking powder
1/2 tsp baking soda
1 tsp. pumpkin pie spice
1/4 tsp salt
3 eggs
1/2 cup coconut sugar
1/2 cup organic granulated sugar
2/3 cup pure pumpkin
For the Filling:
1 pkg. (8 oz.) neufchâtel soft cheese softened
4 TBSP pure maple syrup
6 TBSP butter softened
1 tsp. vanilla extract
Instructions
For the Cake:
Preheat oven to 375° F. Grease 15 x 10-inch jelly-roll pan and line with wax or parchment paper. Grease and flour paper. Sprinkle a thin, cotton kitchen towel with powdered sugar or flour.

Mix together flour, baking powder, baking soda, salt, and pumpkin pie spice in a mixing bowl. In a separate bowl, beat sugar and eggs together until thick. Add pumpkin and mix well.

Bake for 12 to 15 minutes or until top of cake springs back when touched. Loosen and turn cake onto prepared towel immediately. Peel off paper carefully. Starting with the narrow end, roll up cake and towel together. Cool on a wire rack or in the refrigerator.
For the Filling:
Beat soft cheese, maple syrup, butter and vanilla extract in small mixer bowl until smooth. Chill in the fridge until cake is cool.

Carefully unroll cake. Spread cream cheese mixture over cake. Reroll cake. Wrap in plastic wrap and refrigerate at least one hour.

Sprinkle with homemade powdered sugar or flour before cutting and serving, if desired.
Recipe Notes
Adapted from LIBBY'S® Pumpkin Roll Recipe.
If you enjoyed this recipe, would you please share it on Facebook or Pinterest using the share buttons on the bottom of your screen? I would really appreciate it!
After making this recipe, post it on Instagram and tag me or use the hashtag #healthychristianhome! I'd love to see it!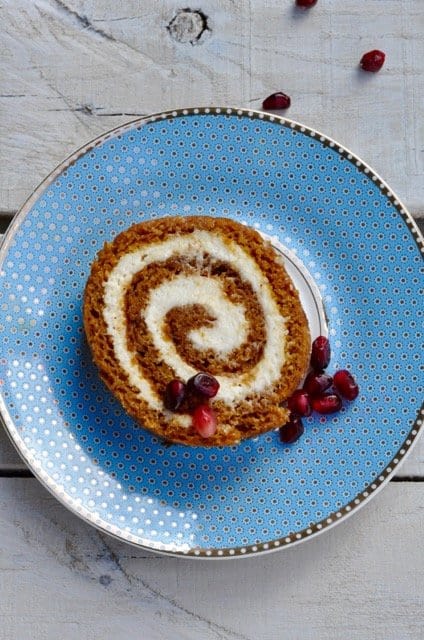 Want some more yummy holiday inspired baking recipes? Try this Spiced Fruit and Nut Cake, Flourless Brown Sugar Shortbread Cookies, or Almond Flour Sugar Cookies!
What's your favorite pumpkin-flavored something?
With Joy,

PIN IT!