Traditional Scottish mince and tatties is a hearty, easy weeknight dinner! It's also a unique ground beef recipe when you want something a little different.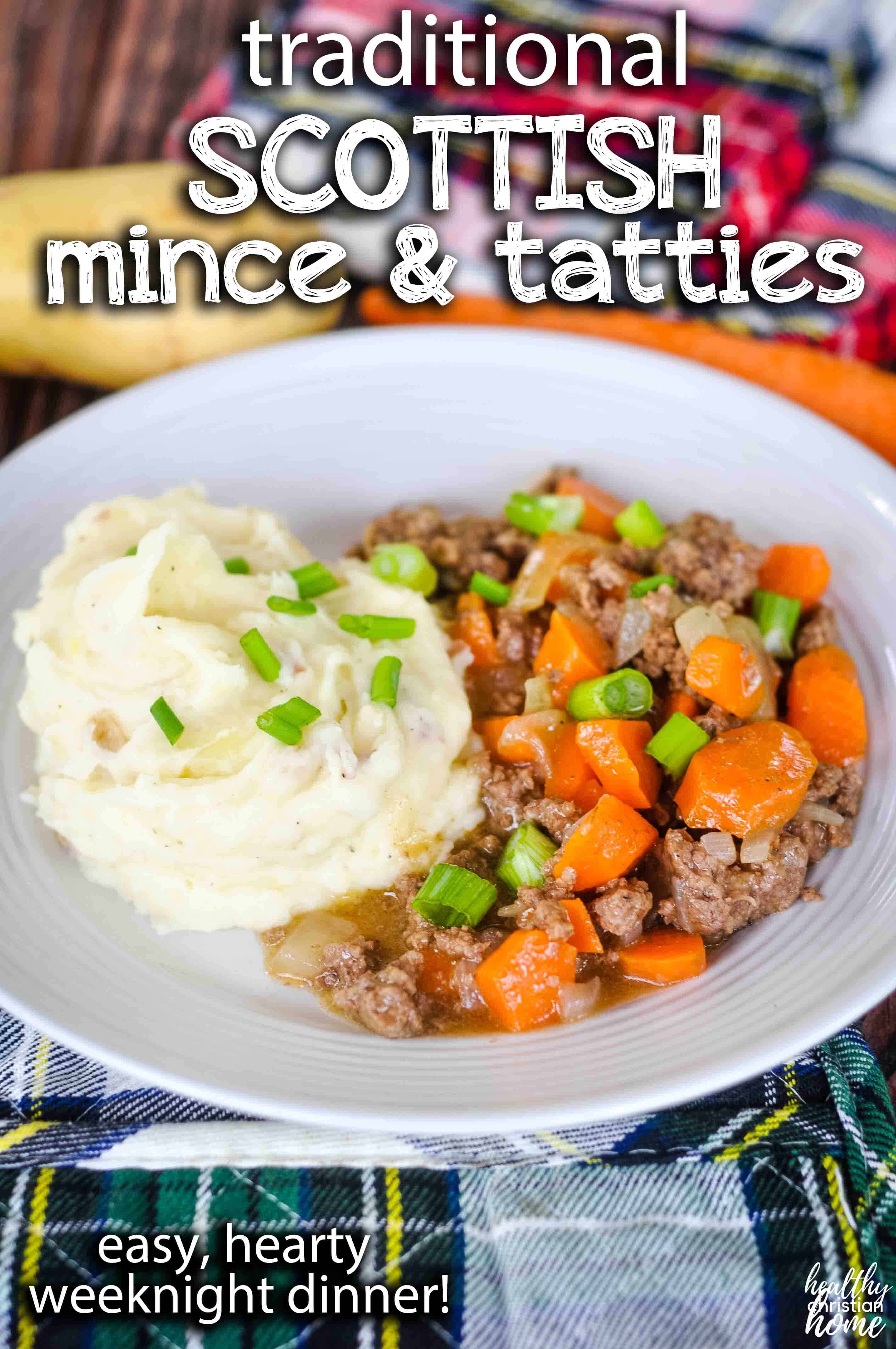 What is Scottish Mince and Tatties?
I'm starting to feel a keen sense of nostalgia for Scotland… so I thought I'd whip up a skillet of the most traditional Scottish fare I could think of. Mince and Tatties!
If you haven't heard of mince and tatties, it's basically ground beef and root vegetables in a hearty gravy with mashed potatoes. When we lived in Scotland for 3 years, this dish was the most frequently consumed meal (aside from sausage rolls) that friends made for us. Simple, down to earth comfort food!
It seemed easy enough, and ingredients are super simple, so I thought I'd give it a go in our wee Scottish kitchen.
It was so easy to make, hearty, and delicious, we made this recipe over and over throughout that 3 year span. And we continue to make this (or Cullen Skink smoked fish chowder) every few months or so, anytime that Scotland nostalgia starts to hit.
Another reason I love this recipe is that it gives me something else to do with my ground beef besides tacos, spaghetti, and chili when I get stuck in a dinnertime rut. Plus, I always have these ingredients on hand.
More beef dinner recipes to try: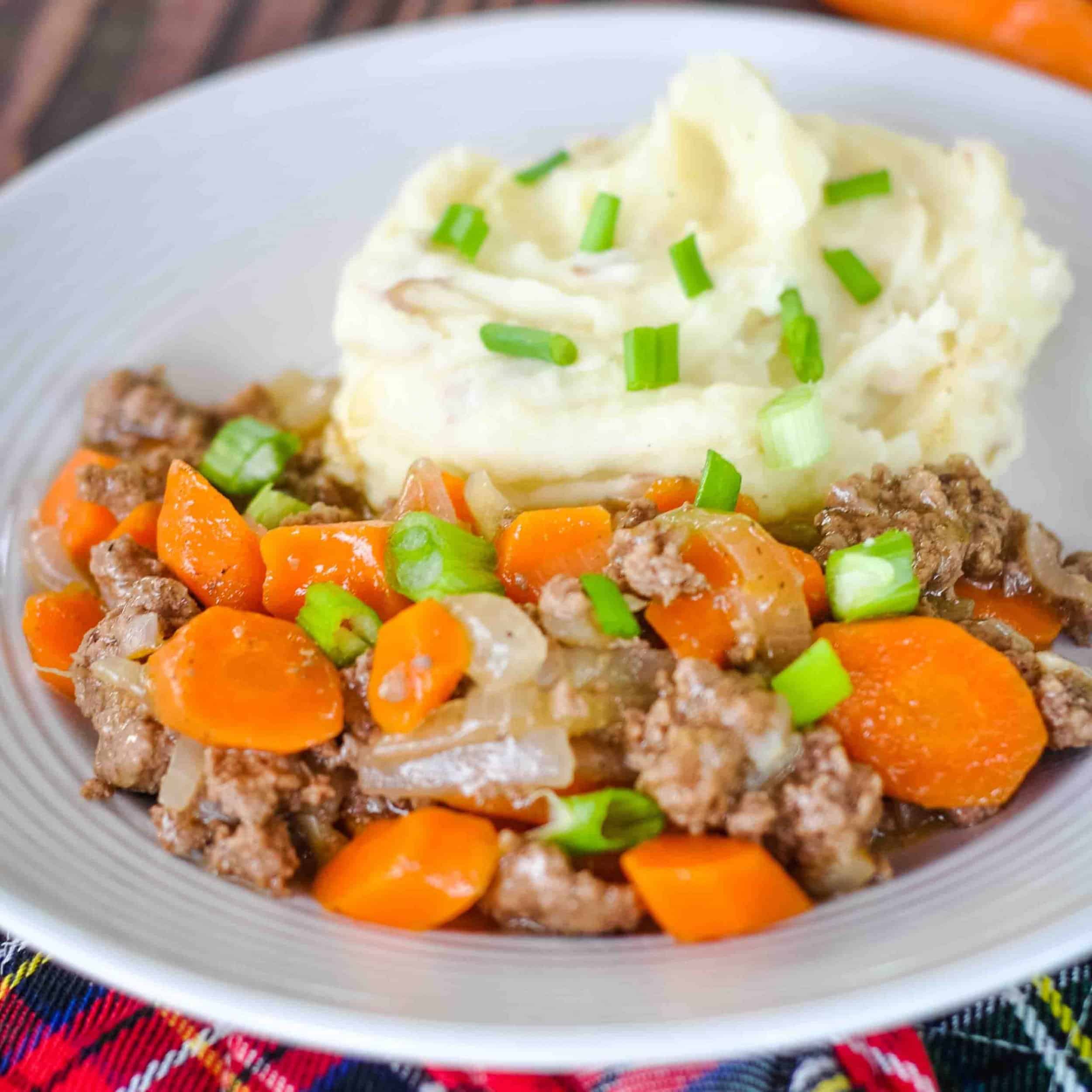 Mince and Tatties History
A funny thing: my mom actually made a very similar recipe for us growing up in Arkansas. She learned it from my grandma, who called it "ground beef and gravy." When I Googled that term, recipes for old fashioned hamburger gravy popped up. I guess there are variations of recipes with mince and potatoes all over the place, and it's fun to try to piece together a bit of history!
I wonder if these Americanized recipes of ground beef over mashed potatoes are actually passed down through generations of our British ancestors, without us realizing it?
Although I can't quite find exactly how this dish originated, I found an interesting quote that cements this dish's popularity in British culture:
A survey by the Scottish Express in 2009 found that it was the most popular Scottish dish, with a third of respondents saying that they eat mince tatties once a week. This placed it above other dishes such as smoked salmon, haggis, Scotch pies and Scotch broth. An annual competition is held in Tobermory on the Isle of Mull, to determine the best mince and tatties.

– Alchetron, Mince & Tatties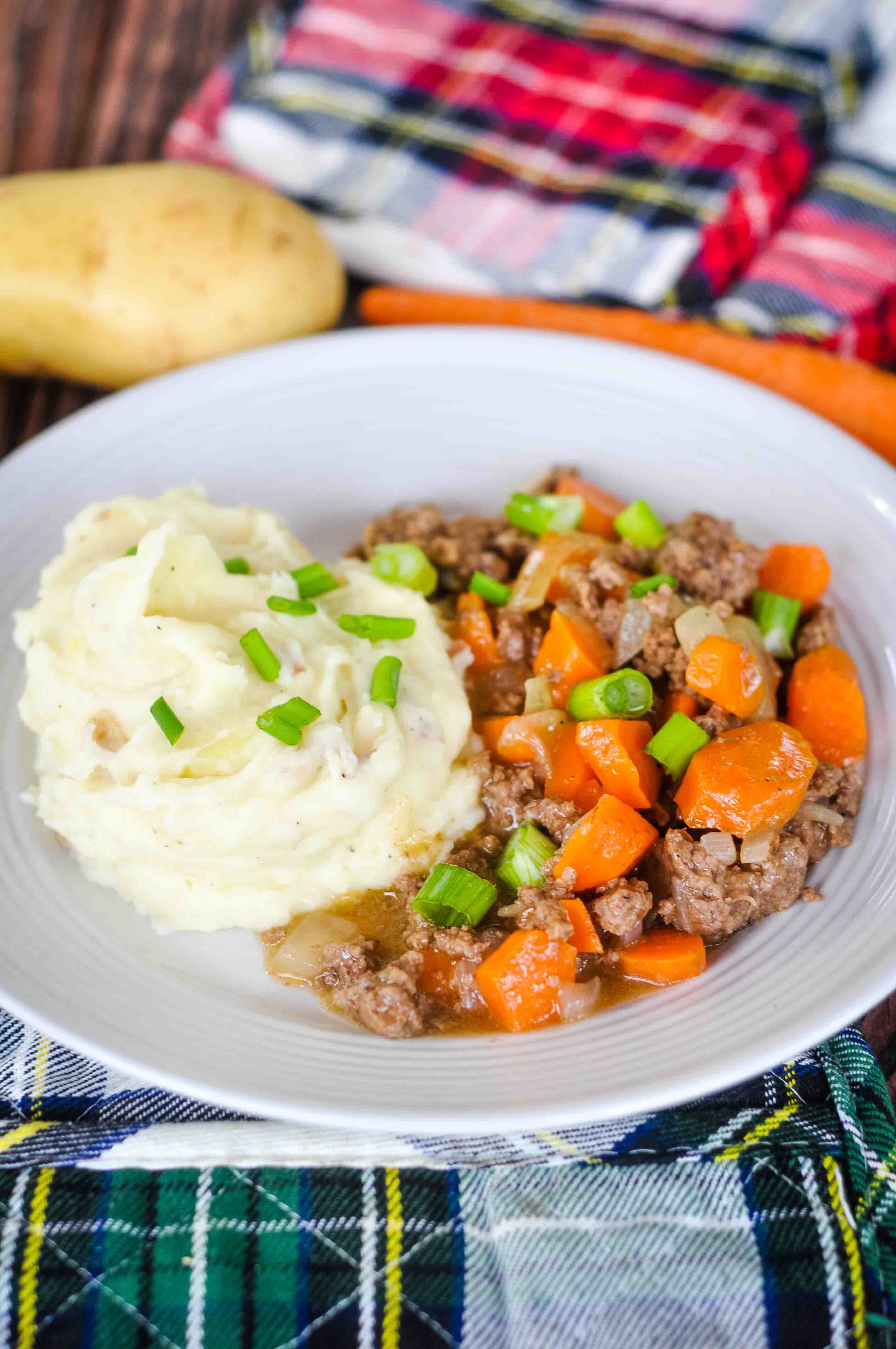 The difference between beef mince & ground beef
Before writing this post, I had no idea there was a difference between the two, but apparently there is. Traditional beef mince is actually beef muscle meat, hand cut very fine by a butcher using a knife.
Ground beef processing is different. The beef is forced through a metal plate with lots of litttle holes in it. Ground beef retains more fat in the final product, but yields a slightly different result.
At any rate, it seems that the British term "beef mince" is interchangable with "ground beef", at least in most British beef mince recipes I've seen. Whether it's in mince & tatties, spaghetti bolognese, or chili con carne (very similar to their American counterparts), ground beef and beef mince are basically the same thing.
As far as I know, nowadays most people make this recipe for mince with regular ground beef. Unless you regularly visit a butcher, ground beef (preferably grass fed) is the way to go. For this recipe, I'm using grass fed ground beef from ALDI.
Side note: In Scotland, all the beef was grass fed. I miss it!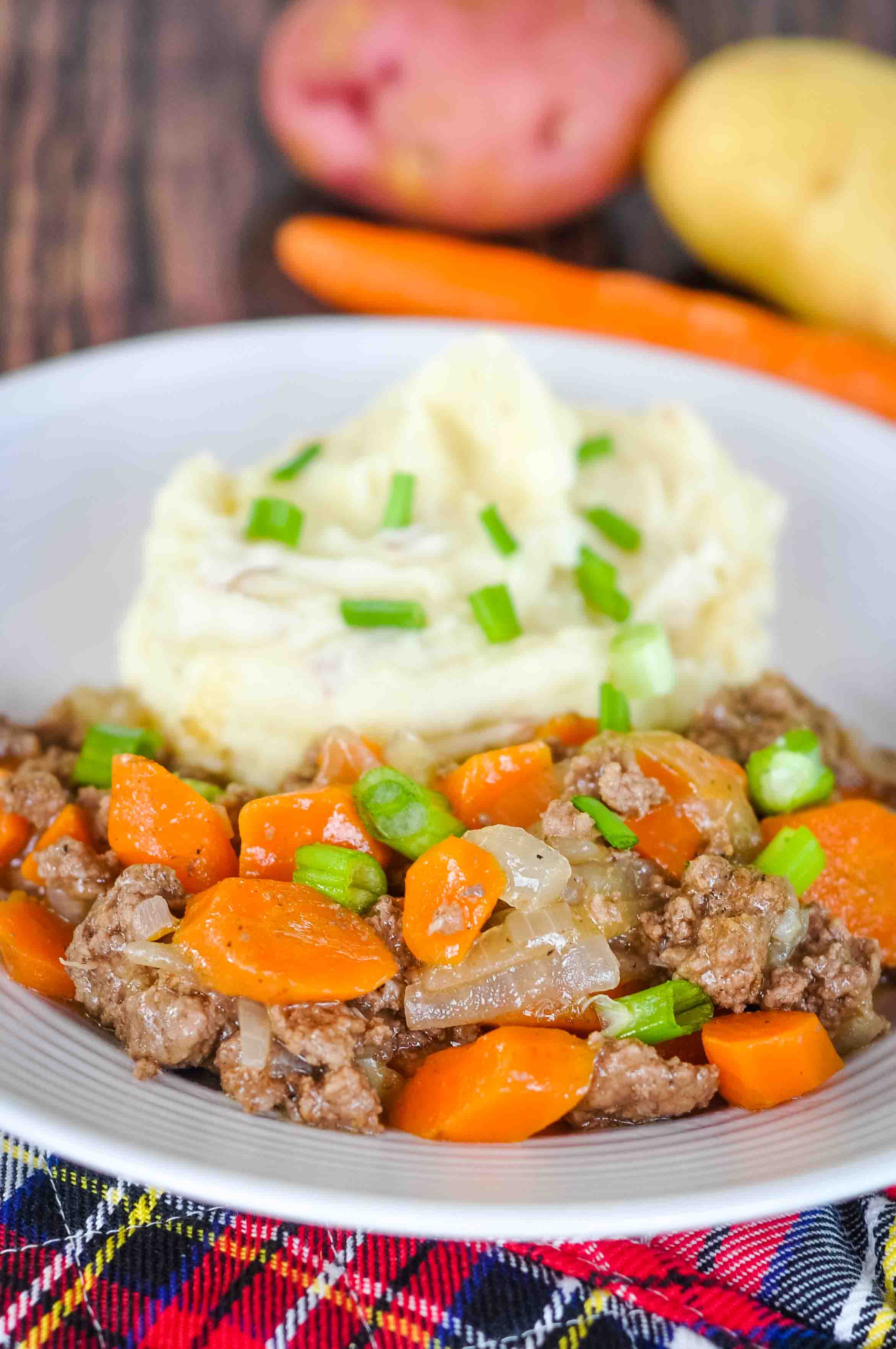 Mince & Tatties Recipe Notes
Here are some tips for a successful skillet of mince & tatties:
Most British recipes include processed gravy granules like Bisto (similar to OXO cubes). But we are making this a healthier, real food version by omitting them and making our own gravy. To give it extra flavor, I'm adding a homemade bouillon cube. (They're so easy to make and keep in the freezer!) But, this is entirely optional. Homemade gravy makes this dish more traditional (cooks didn't have granules and cubes a hundred years ago!)
I'm thickening the gravy with non-GMO cornstarch. But if you're paleo or keto, you can either omit or sub arrowroot powder.
While I'm using onion & carrots for the veg, you can sub any type of veggie you like. Root vegetables like turnips (very traditionally Scottish) or squash are also a great option. English peas served on the side are great with this meal, too!
Salt the meat while it cooks for optimum flavor, and allow to simmer to get it nice and tender.
If you have leftovers, layer the mince in a casserole dish and top with potatoes and shredded cheese before baking. Enjoy Scottish mince and potatoes pie the next day!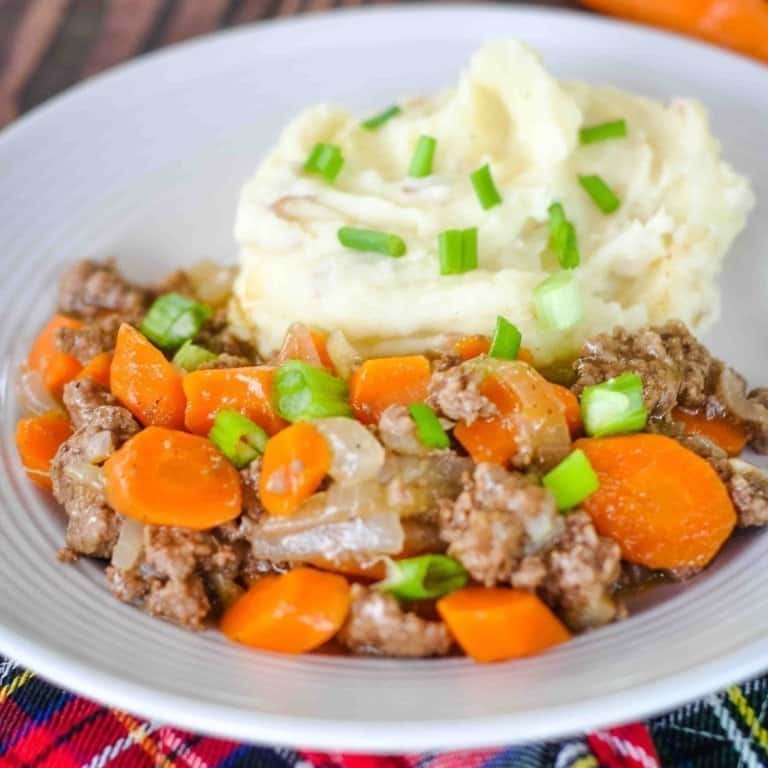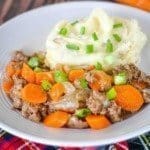 Traditional Scottish Mince & Tatties
Traditional Scottish mince and tatties is a hearty, easy weeknight dinner! It's also a unique ground beef recipe when you want something a little different. Ground beef, homemade gravy, and root vegetables make this a hearty and satisfying meal for the entire family.
Prep Time 20 minutes
Cook Time 40 minutes
Ingredients
For the Beef Mince & Gravy:
1 lb. lean ground beef grass fed preferred
1 onion finely chopped
5 carrots chopped
2 cloves garlic minced or pressed
3 cups beef or chicken broth
1 tsp white pepper
1 homemade bouillon cube * optional
2 tbsp. non-GMO cornstarch sub arrowroot for paleo, omit for keto
salt & pepper to taste
For the Potatoes:
5-6 large potatoes, any variety cut into 2" cubes
4 tbsp. butter
1/2 cup sour cream
milk or chicken broth to thin the mash, if needed
salt & pepper to taste
Instructions
In a large skillet over medium heat, brown the beef mince (ground beef) with 1/2 tsp. salt. When the beef starts to release some of its juices, add the chopped onions and carrots and saute until onions are starting to look translucent. Add garlic and saute for an additonal minute. Add the frozen bouillon cube * , if using.

While the beef and veggies are cooking, make the gravy. To a large mason jar, add chicken broth, cornstarch (or arrowroot powder), white pepper, salt, and pepper. Shake well to combine and pour into the skillet with beef and veggies.

Stir gravy mixture and beef mixture together well, making sure to scrape any brown bits from the bottom of the pan.

Turn the heat down to low or medium low, until mince and gravy starts to gently simmer. Place the lid on the skillet and allow to cook slowly for 30-40 minutes. This will help the beef get really tender and the gravy to thicken.

While the mince & gravy simmers, make the mashed potatoes. Boil potatoes in a large pot of water until fork tender.

Drain well. Add butter, sour cream, salt, and pepper to the potatoes and mash to desired consistency. If you like your mashed potatoes a bit thinner, add some milk or chicken stock until the potatoes reach the desired texture.

Serve the beef mince over potatoes and enjoy!
Recipe Notes
* Here's the easy recipe for homemade bouillon cubes, made with leftover meat and veggies from homemade stock. However, using bouillon cubes in this recipe is optional.
PIN IT!