Bacon wrapped jalapeno poppers – affectionately named "Snakebites" – are the perfect real food appetizer for game days and parties. These mouthwatering little bites have a kick to them, so keep a drink handy!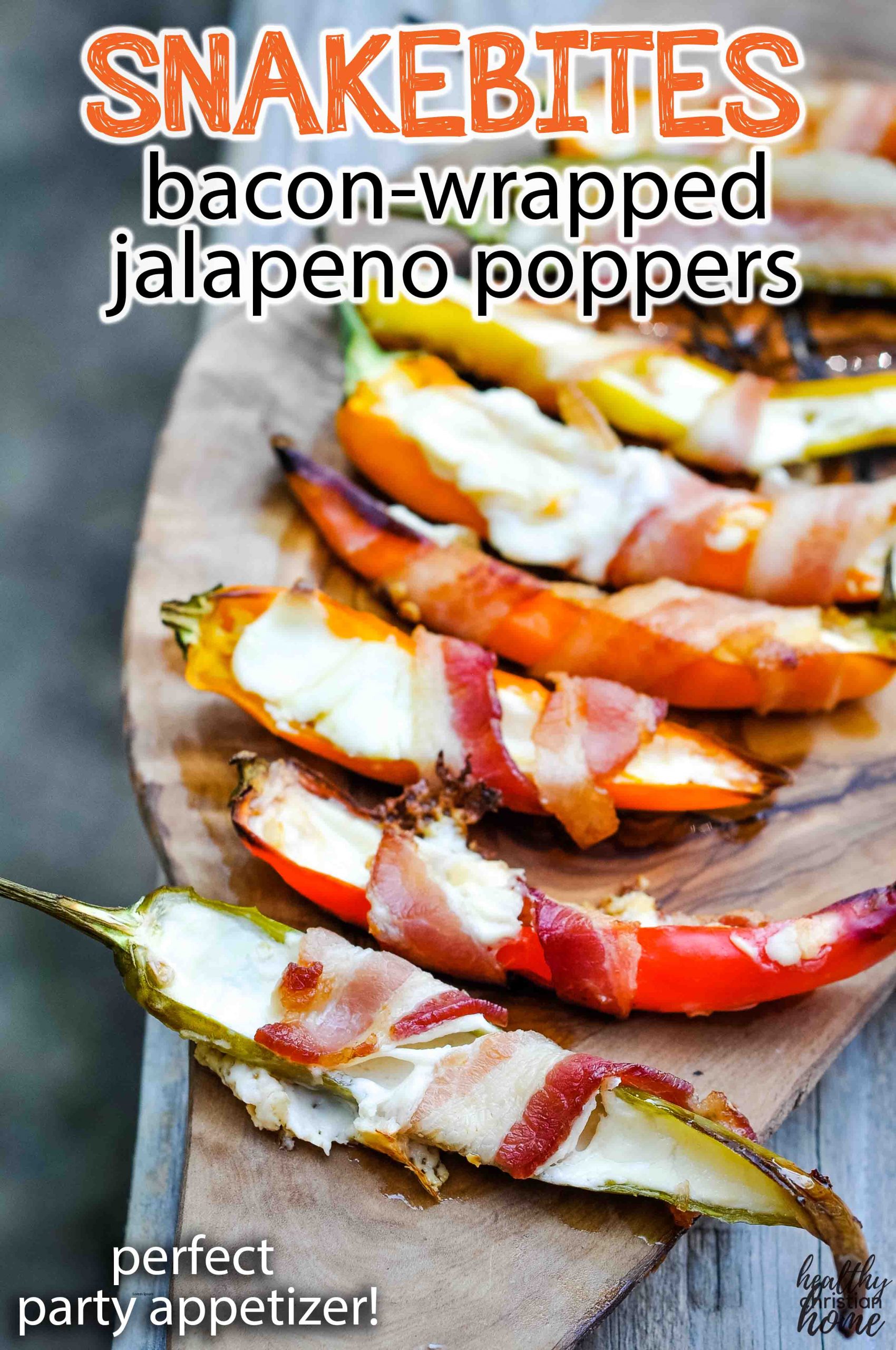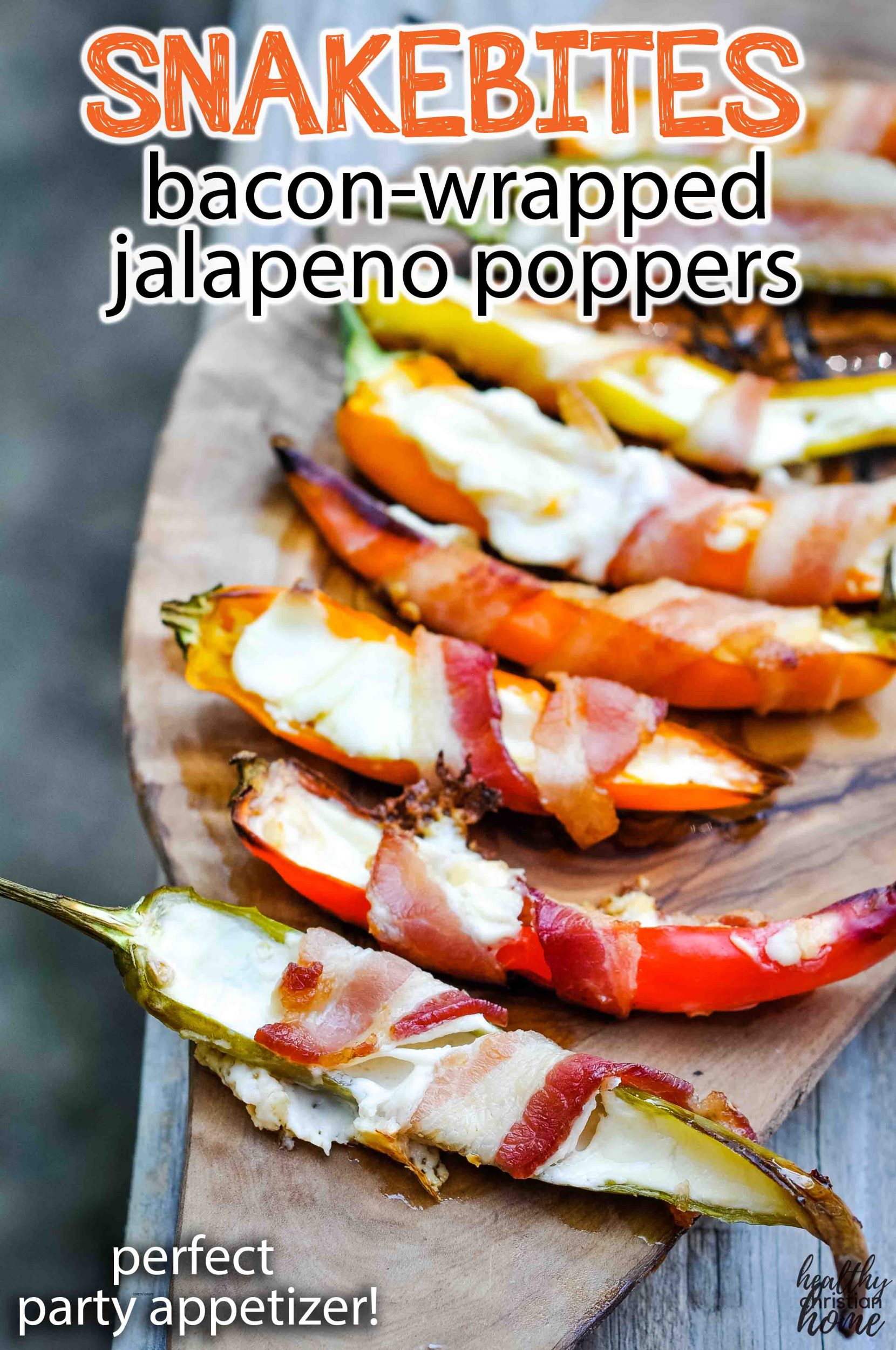 Snakebites (Spicy Bacon Wrapped Jalapenos) – the BEST appetizer for any gathering
It may seem odd, but in our family these snakebites are a Christmas tradition as unyielding as eggnog and chocolate chip cookies. My Uncle Joe originally came up with this recipe, but there are variations of it all over the internet.
And they're one of THE MOST delicious foods I've ever tasted.
If you like spicy food, these snakebites will be your new favorite recipe. And, you'll impress all your friends at your next gathering!
Snakebites are similar to jalapeno poppers, but instead of being coated in breadcrumbs and deep fried, they are wrapped in bacon and baked in the oven. Spicy, cheesy, creamy, savory heaven!
Today, I'm making them with Pure Flavor Stingray hot peppers. These peppers are similar to jalepeno in spice factor, but they also have a delicious sweetness to them.
This post is sponsored by Pure Flavor. All opinions are 100% my own.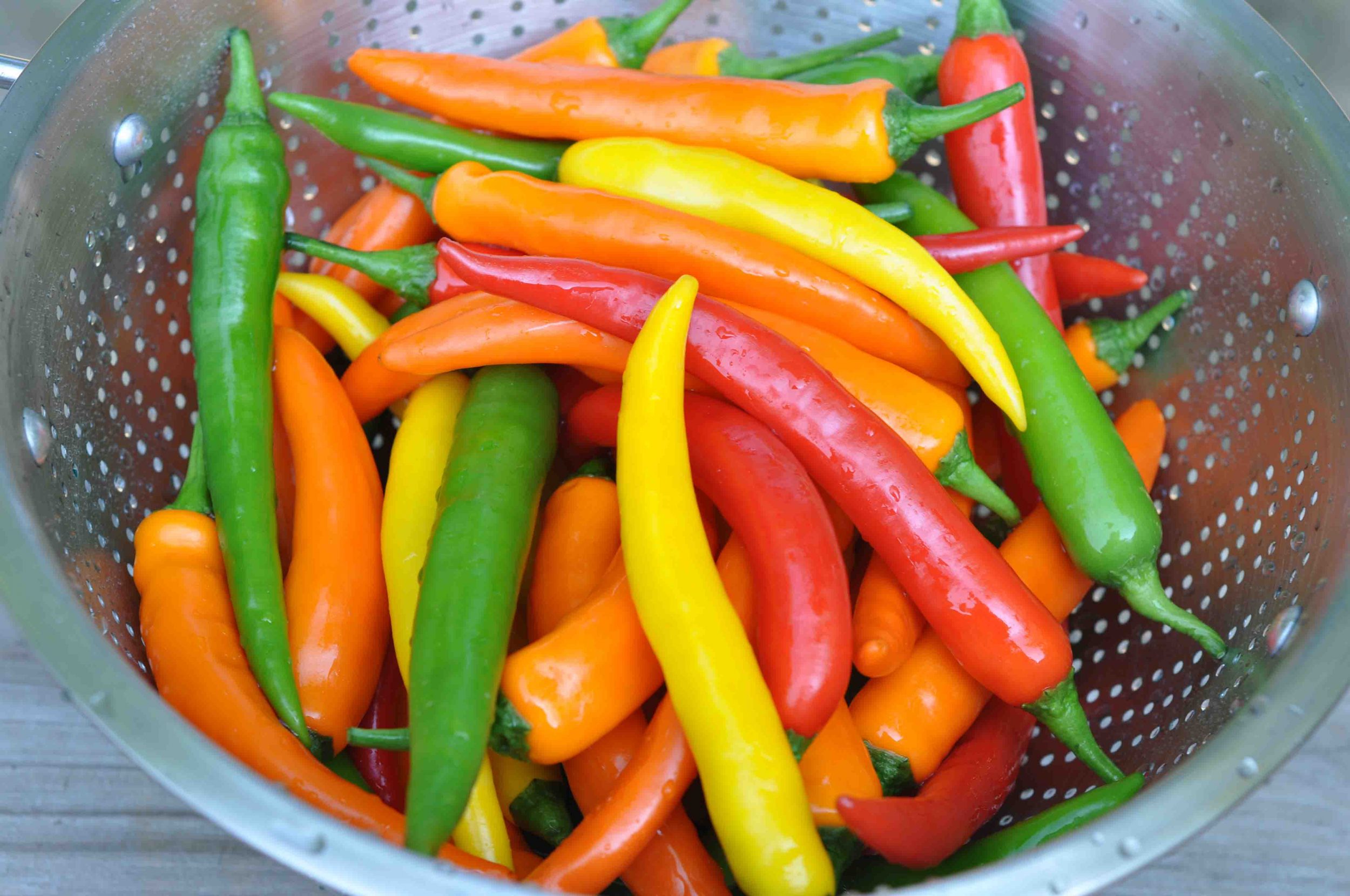 Aren't they so beautiful and colorful?
We recently used the Stingray peppers to make homemade hot sauce too – perfect for baked buffalo chicken wings!
The skins on these peppers are a little thicker than traditional jalapenos, so keep that in mind.
This recipe works great with Stingray peppers, jalapenos, pablanos, or pretty much any spicy hot pepper you can think of. (Just make sure you're able to handle the heat!)
Or, if you don't like spicy food, you can totally make these with mini sweet peppers or bell peppers instead. I won't judge.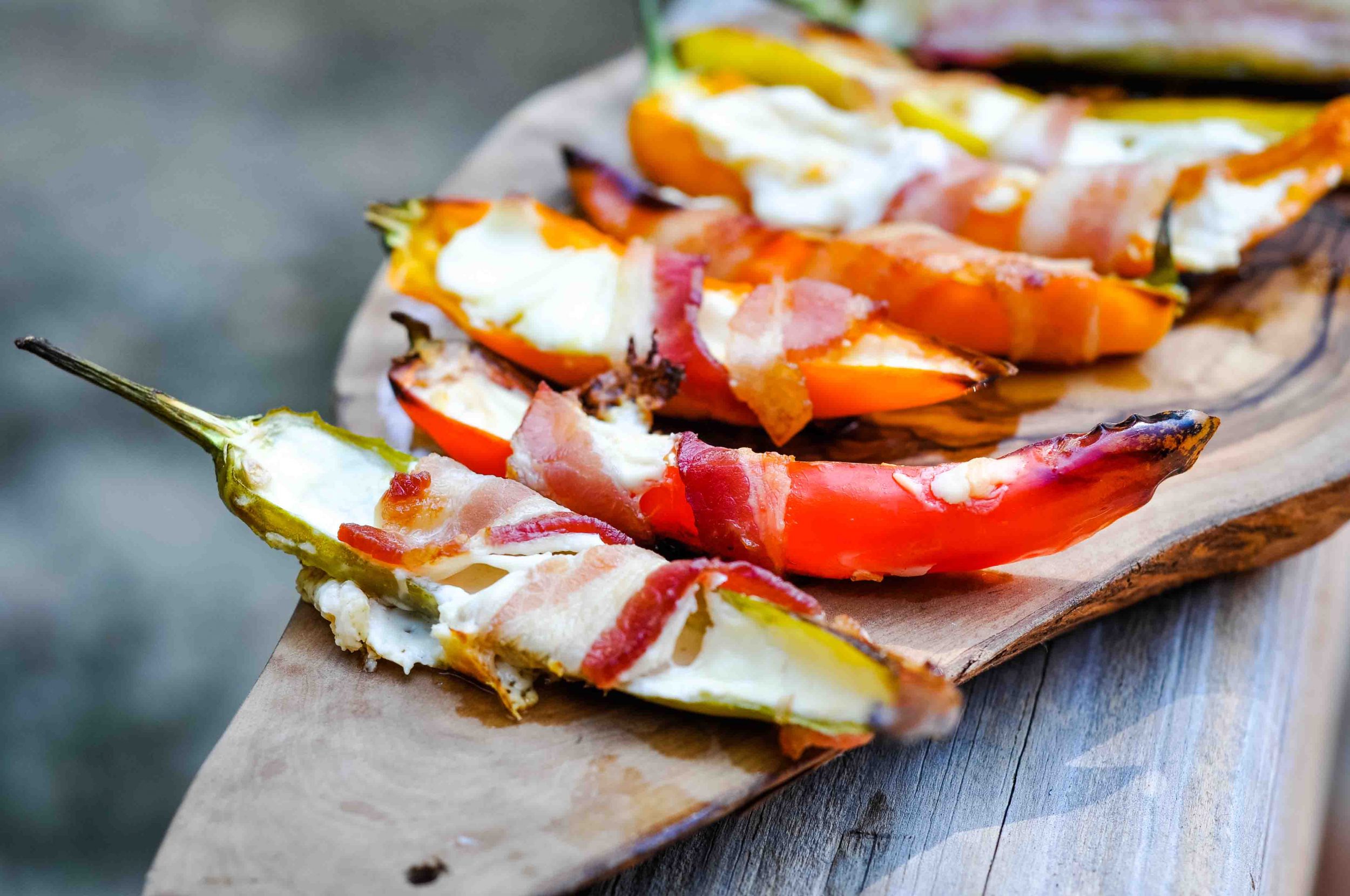 How to Make Bacon Wrapped Jalapeno Poppers
These snakebites are a super simple process to make, but they do require a bit of time. The most important tip I can give you is this one:
WEAR GLOVES FOR DE-SEEDING THE PEPPERS.
Take it from someone who has done this entire process glove-free. The oil from the peppers will transfer onto your skin, causing your fingers to burn for the rest of the day. And, you especially don't want this if you remove contacts at night! Not recommended!
So, just do yourself a favor and wear food prep gloves when you make these. Mmmkay?
Okay, are your gloves securely in place? Good.
Cut peppers in half length-wise and use a spoon to scoop out the seeds and the rib/vein from inside the peppers. Basically, any white bits need to be removed so you can stuff the peppers and reduce the heat somewhat.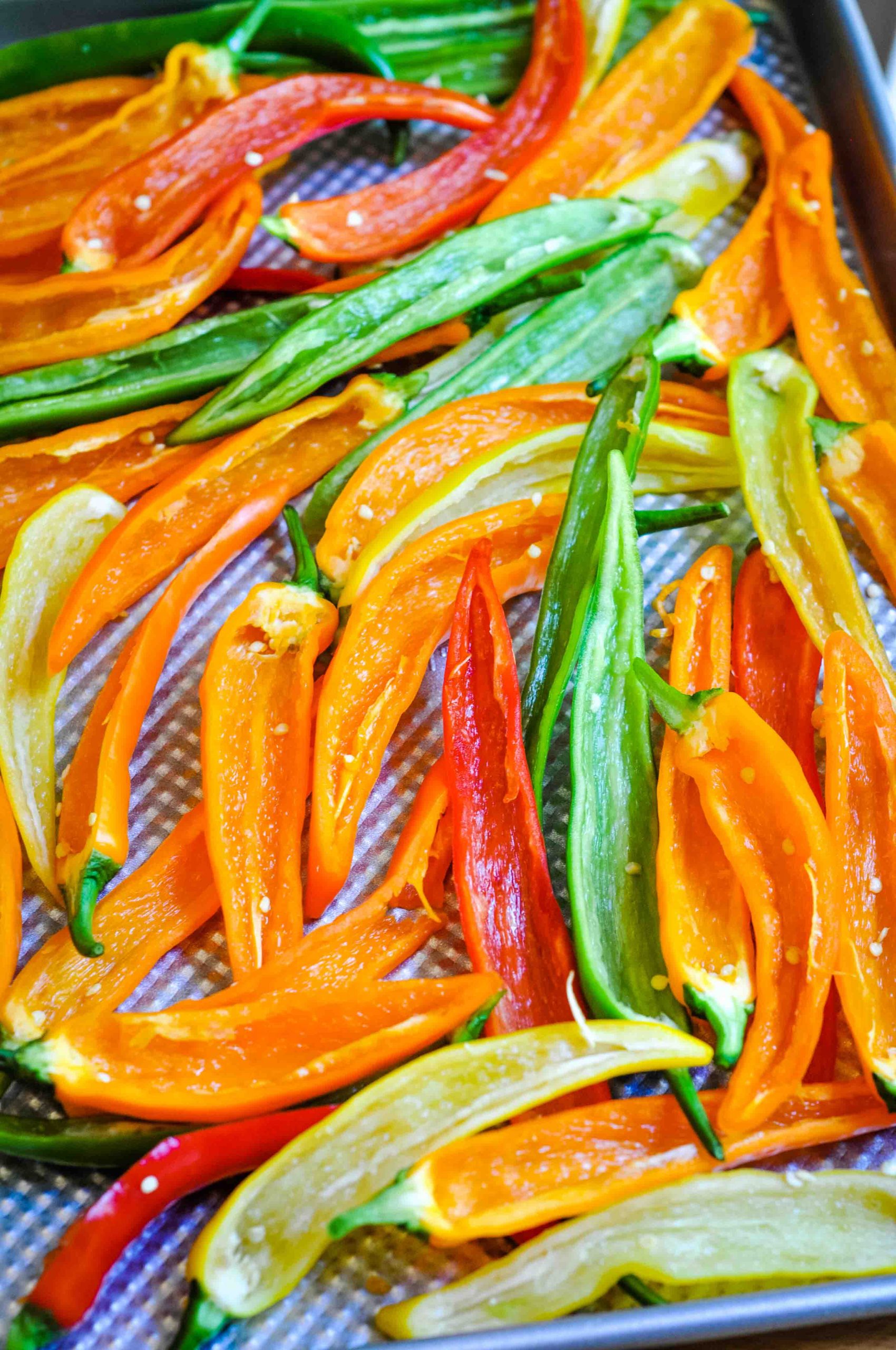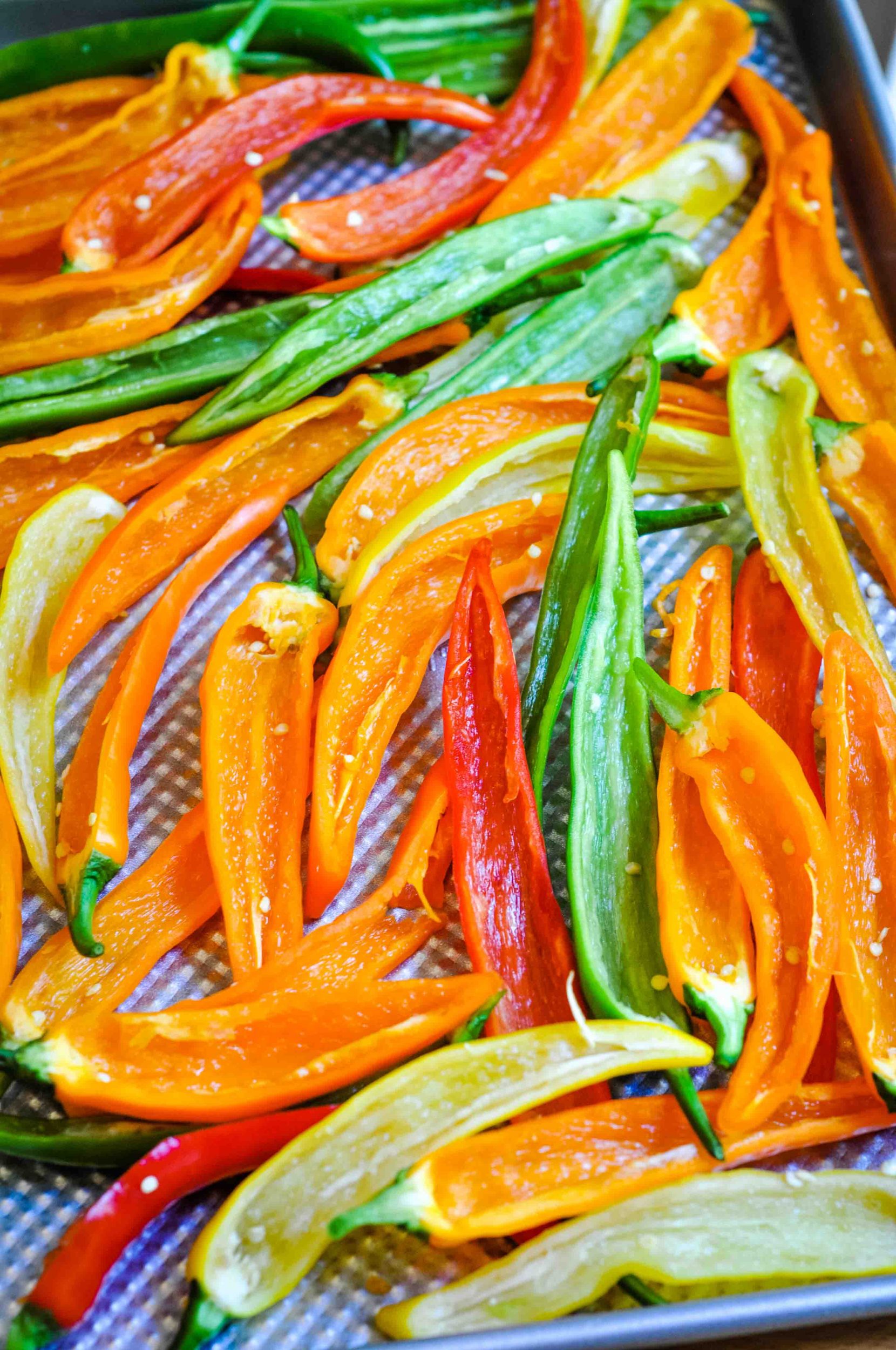 Apparently, this Christmas I didn't scrape the inside of the peppers very well and left some of the vein behind. Some sweaty-faced relatives let me know about it, too – ha!
If you love spicy food, you don't have to be quite as meticulous. You can even leave some of the seeds and vein in there if you handle heat well. That's the way my husband Richard likes them! The spicier, the better.
Next, mix softened cream cheese with parmesan and garlic (if using). Additional ingredients are optional – they add extra flavor but you can totally just use cream cheese straight from the block.
Spoon cream cheese into the center of each pepper. Don't overfill the peppers – you don't want them oozing all over the place while they bake. Filling them level is good enough.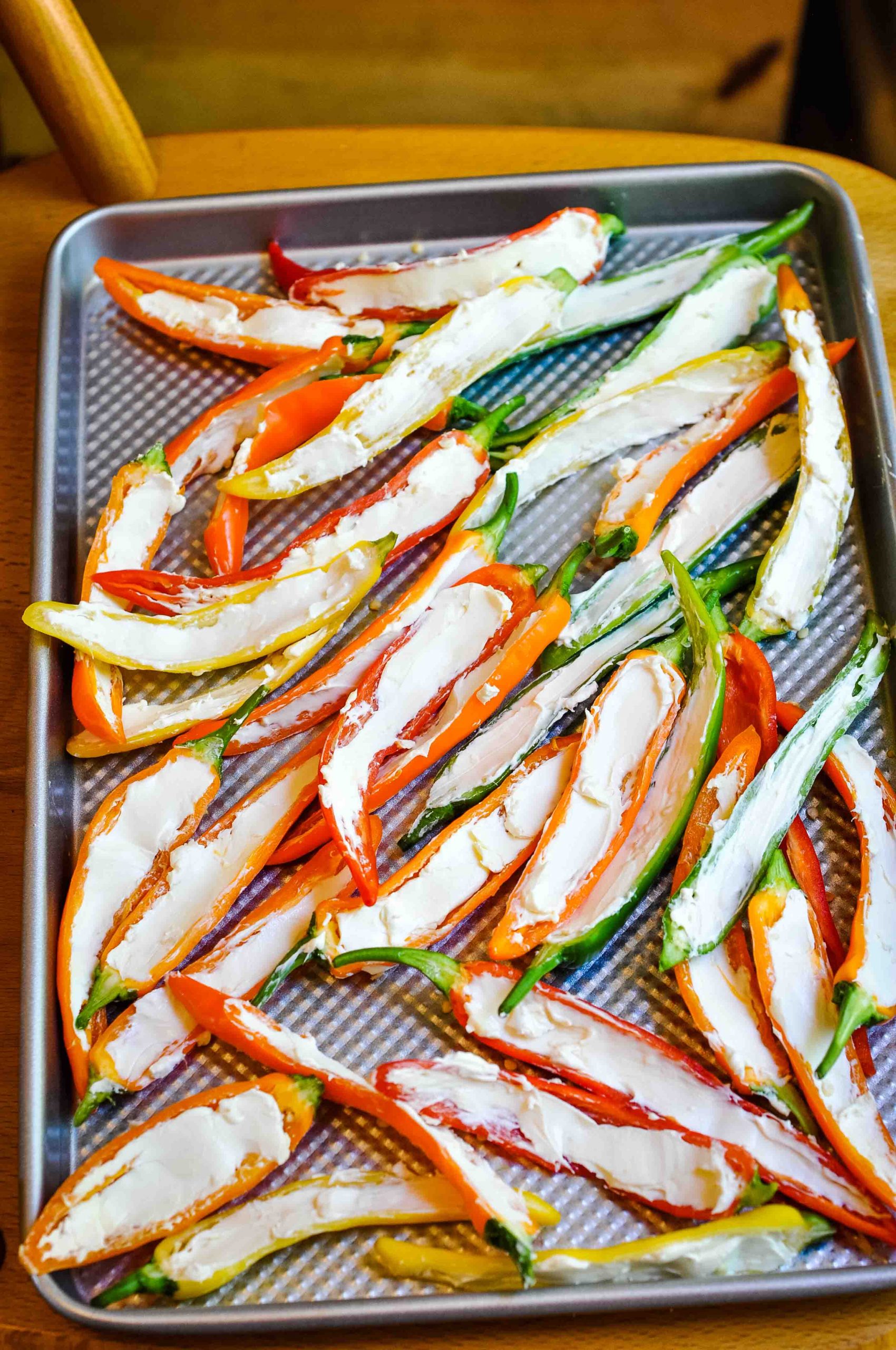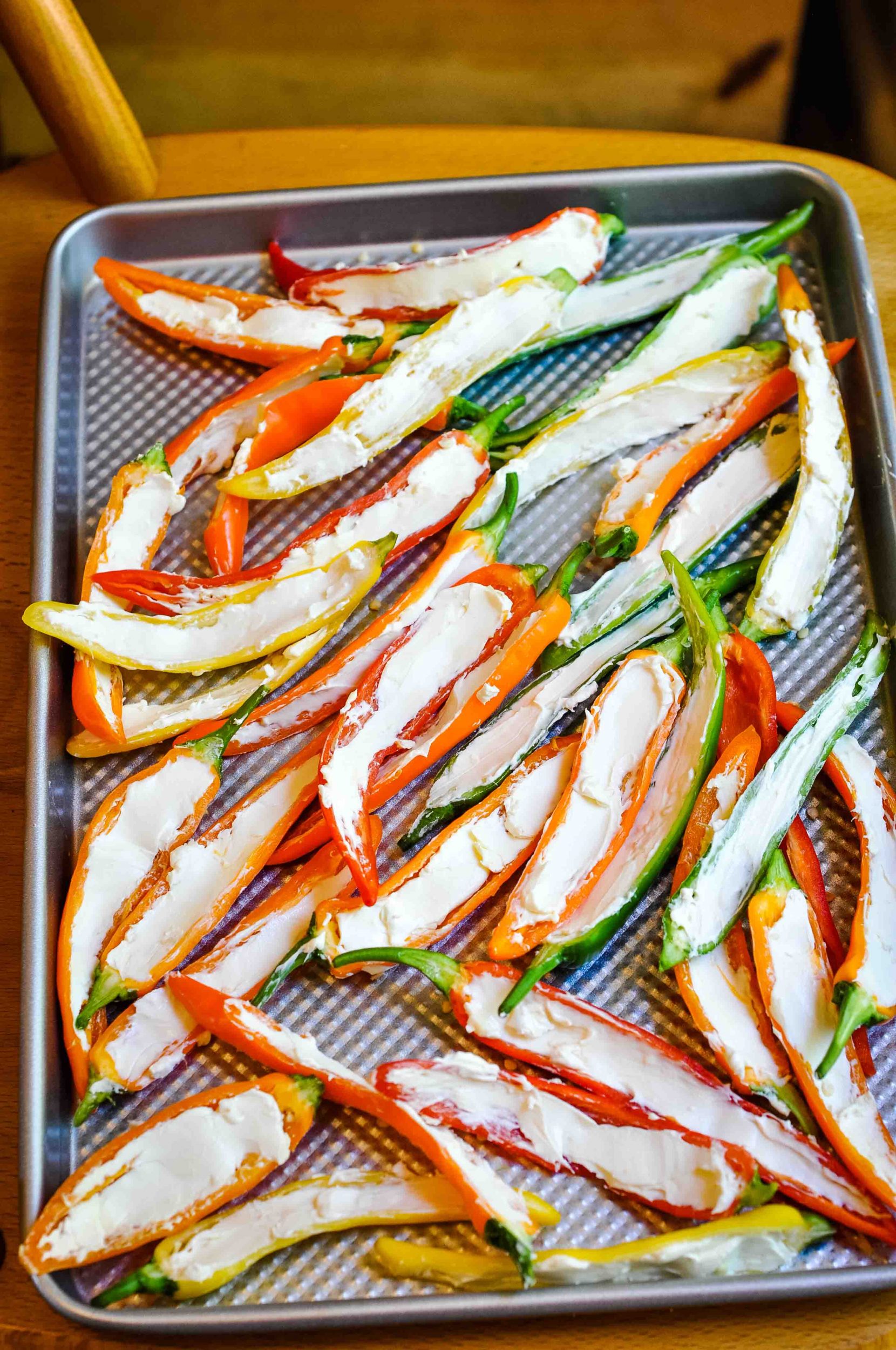 Then, cut bacon strips in half and wrap around each stuffed pepper before placing on a baking sheet. Using thin-cut bacon is best since it's easier to wrap and goes further.
Wrap the bacon fairly tightly so it stays in place during baking. You can secure it with toothpick if you like, but if you wrap the bacon tightly have the bottom ends of the bacon underneath the pepper, it stays in place nicely.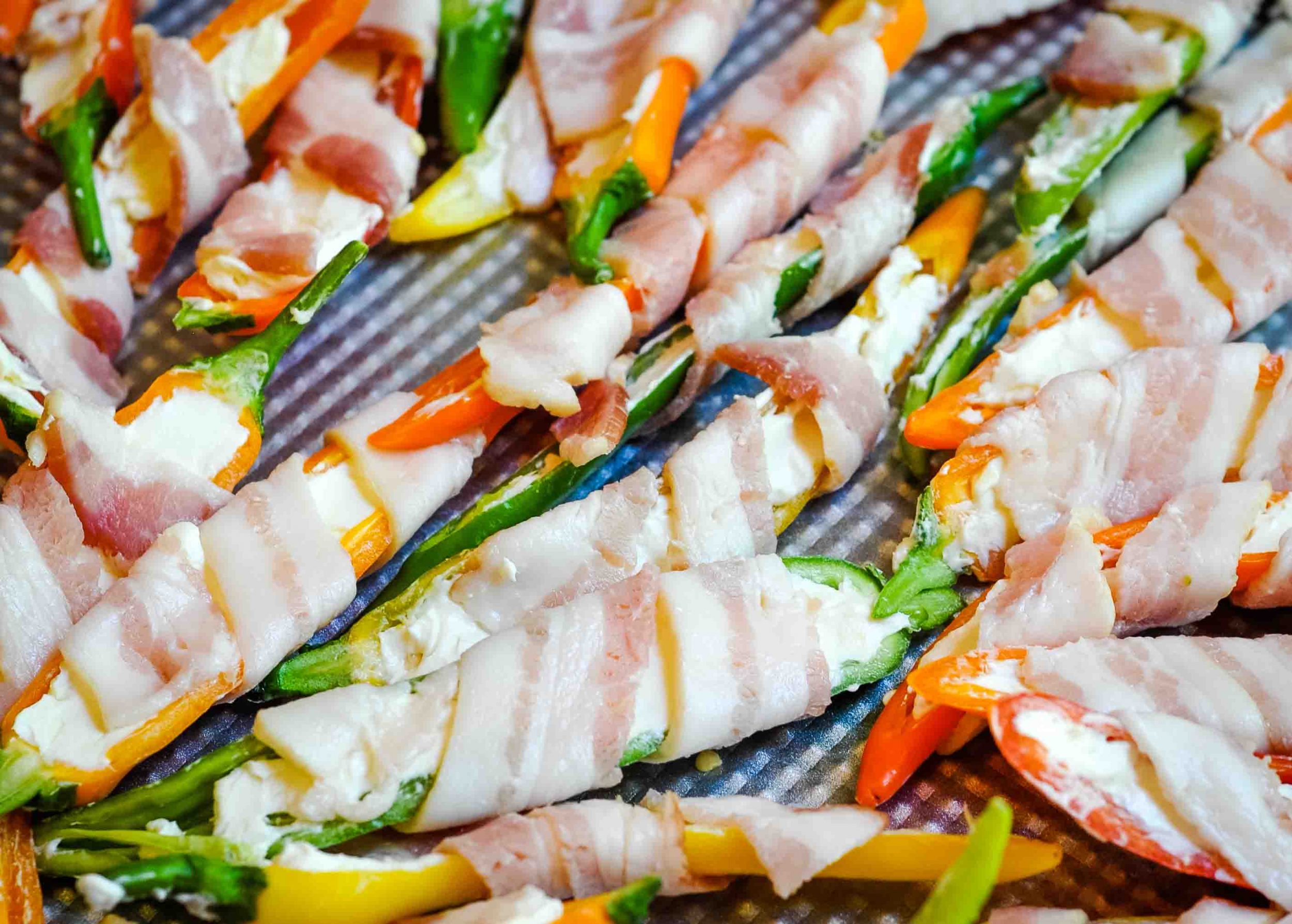 Put a metal baking rack on top of a large sheet pan. I didn't have one, but got one recently and it's super helpful! This will allow the bacon grease to drip down and keep your peppers from swimming in grease. Line the sheet pan with foil for easier cleanup.
I also want to get a large sheet pan like the one below that's stainless steel instead of aluminium, as it's non-toxic and much healthier.
Arrange bacon wrapped peppers on the rack and bake at 400 F for 25-35 minutes, until bacon is starting to look crisp.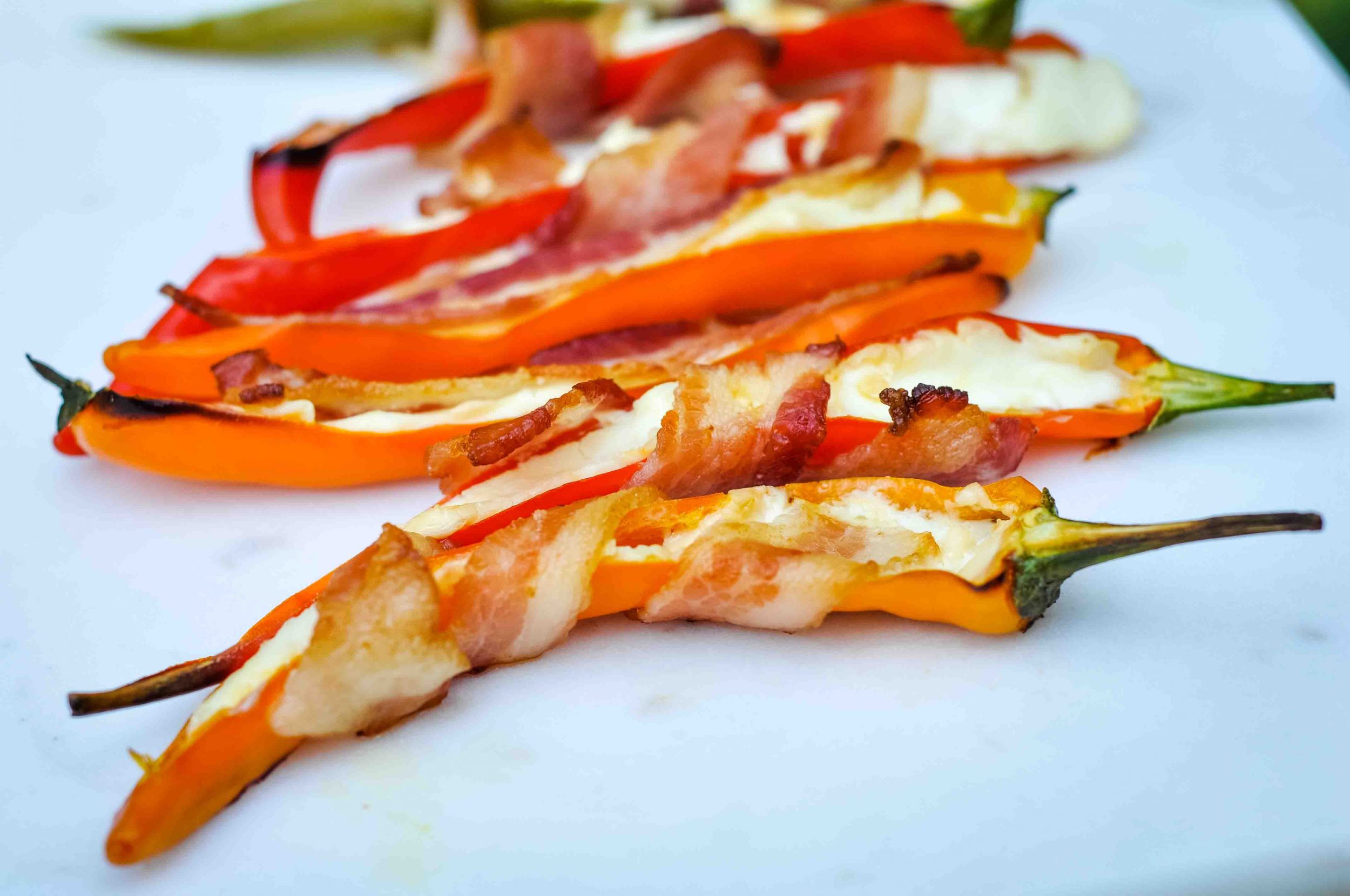 Snakebites Recipe Variations
Because this is such a well-worn recipe in my family, we've perfected it over the years and come up with some wonderful variations.
Instead of wrapping the bacon around the pepper, try using a smaller piece and simply laying it on top of the pepper before baking.
Add other flavors to the cream cheese filling. We like mixing in some grated parmesan cheese and minced garlic!
To make this process super-simple, pre-cook the bacon and crumble. Mix crumbled bacon into the cream cheese filling – no need to wrap! Not quite as pretty, but easier and just as delicious.
Or, use cooked sausage instead of bacon in your filling. This jalapeno popper filling recipe is pretty versatile!
Snakebites Jalapeno Poppers Serving Ideas
Not only are bacon wrapped jalapeno poppers the perfect appetizer for a special event, there are some other great ways to serve snakebites, too!
Dunk in dipping sauce like healthy homemade ranch dip
As a side dish for any Mexican-inspired meal to spice things up
Chopped up into plain rice & beans for a delicious lunch bowl (with crispy cornbread on the side!)
Serve leftovers along with scrambled eggs in the morning for a spicy, memorable breakfast
As a side dish for any plain-jane meal (like sandwiches at lunch)
Chopped up and sprinkled inside a fancy grown-up grilled cheese sandwich
More decadent, yet healthy recipes: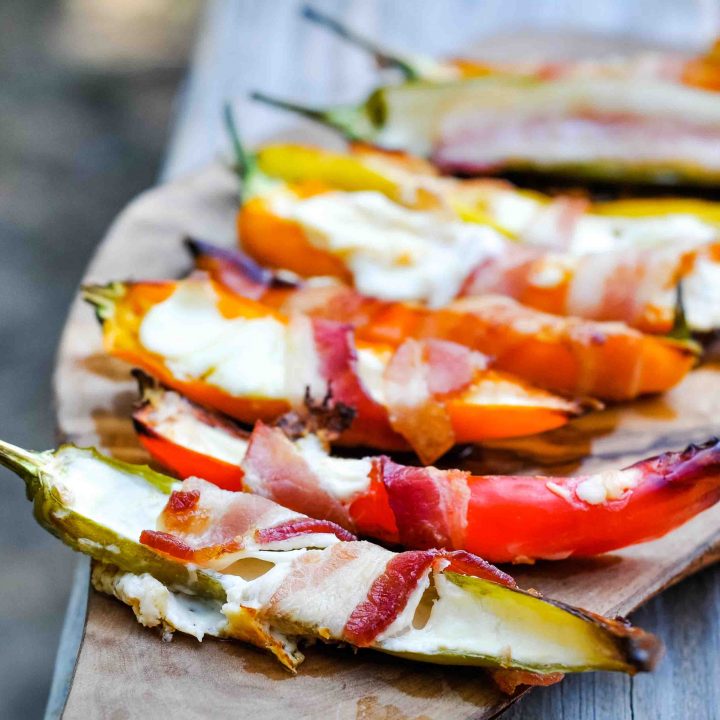 Yield: 15 servings
Snakebites (Bacon Wrapped Jalapeno Poppers)
Prep Time: 30 minutes
Cook Time: 30 minutes
Total Time: 1 hour
Snakebites are an impressive party or game day appetizer everyone will love! Spicy peppers are stuffed cream cheese and wrapped in savory bacon. Simple, yet unforgettable!
Ingredients
15 hot peppers (like Pure Flavor © Stingray peppers, or jalapenos, or pablanos)
1 (8 ounce) block cream cheese, softened
½ cup parmesan cheese (optional)
2 cloves garlic, minced (optional)
1 (16 ounce) pkg. bacon (thin cut)
Instructions
Preheat oven to 400 F. Place a metal baking rack on top of a sheet pan (line sheet pan with foil with easy cleanup).
IMPORTANT - Use food prep gloves to handle these hot and spicy peppers! If you don't, the oils from the peppers will transfer to your skin, which may burn. This also really hurts if you touch your eyes later!
Slice peppers lengthwise. With a small spoon, carefully scoop out seeds and vein/membrane inside pepper. This reduces spicy-ness and also makes the peppers easier to fill. If you can handle hot and spicy food, feel free to leave part of the membrane inside.
Mix cream cheese with parmesan cheese and garlic, if using. Or just use plain cream cheese, straight from the block.
Fill peppers with cream cheese filling, spreading evenly. Do not over-fill.
Cut bacon slices in half crosswise. Wrap peppers tightly in bacon (you can also simply lay strips of bacon on top of the peppers instead of wrapping). Secure with a toothpick if desired.
Arrange snakebites on baking rack. Bake at 400° F for 25-35 minutes, until bacon is fully cooked and starting to look crisp.
Notes
* You may want to double the recipe if you're feeding a crowd. These go fast!
** To make this process super-simple, pre-cook the bacon and crumble. Mix crumbled bacon into the cream cheese filling - no need to wrap! Not quite as pretty, but easier and just as delicious. Or, use cooked sausage instead of bacon in your filling.
Recommended Products
As an Amazon Associate and member of other affiliate programs, I earn from qualifying purchases.
Nutrition Information:
Yield:
15
Serving Size:
1
Amount Per Serving:
Calories: 50
Total Fat: 3g
Saturated Fat: 1g
Trans Fat: 0g
Unsaturated Fat: 1g
Cholesterol: 7mg
Sodium: 109mg
Carbohydrates: 5g
Fiber: 1g
Sugar: 2g
Protein: 3g
Leave a star rating and comment how your recipe turned out! And, snap a photo and tag @healthychristianhome on Instagram so I can see the yummy-ness.
PIN IT!
If you're on Instagram, share a photo of your recipe and tag @healthychristianhome so I can give your post some love! Follow Healthy Christian Home on Facebook and Pinterest too for more healthy delicious recipes!
What's your favorite real food recipe for parties or game day?
PIN IT!