Did you buy too many pantry staples that need to be used up? Try these 59 unique, incredible pantry recipes featuring rice, beans, and pasta!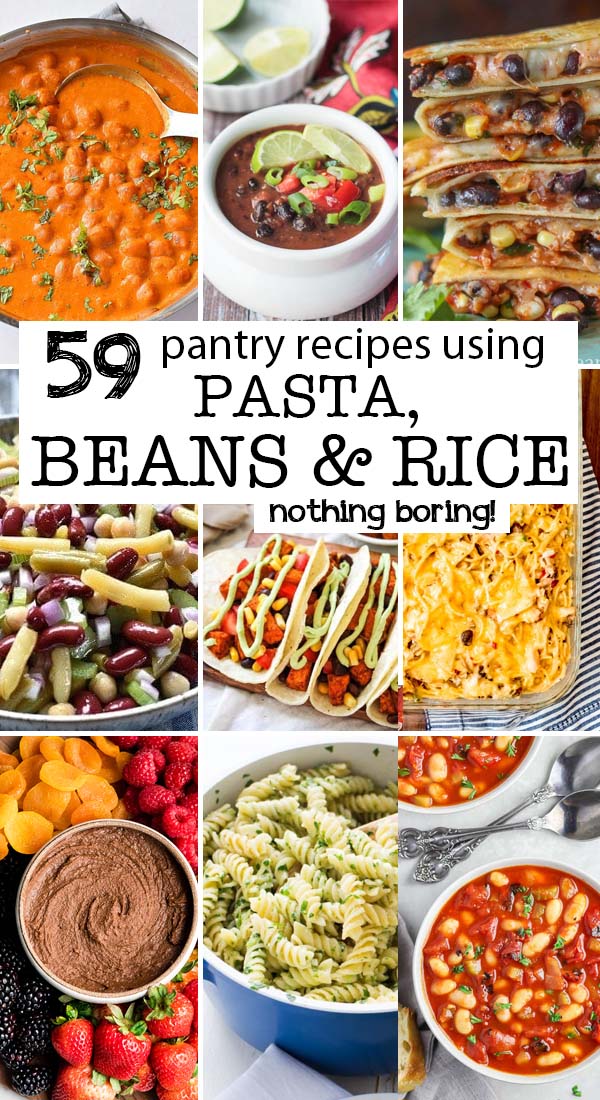 When hubby came home from Wal-Mart toting 3 bags of dried beans and brown rice, I knew I needed to widen my recipe base. I had already bought these items a couple of weeks before!
If you're reading this post, you're probably in the same boat. It's easy to over-buy in the dry goods section and be left wondering, "What should I do with all this?"
Rice, beans, and pasta sometimes get a bad rap for being bland and tasteless. None of that here! Each of these recipes is mega flavorful – no more boring rice n' beans.
Not to mention – these are some seriously cheap meal ideas too! Many of these dirt cheap meals cost less than a few dollars a plate. And every recipe is made using real food ingredients – nothing artificial allowed.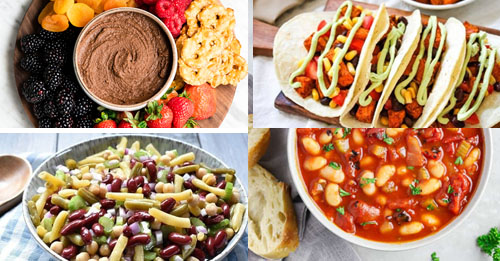 Are rice and beans healthy?
Absolutely! The biggest thing to keep in mind is that rice and beans need to be soaked overnight before cooking for optimum mineral absorption. Soaking for 8 hours reduces phytic acid in grains and legumes so they impart the most nutrition.
For more info on why soaking grains and legumes is so important, read this post.
Rice contains lots of B vitamins, which are great for stress (and most of us don't get enough of). It also has a high amount of manganese and magnesium.
Beans are incredibly nutritious too – especially for how cheap they are! Nutrition profile varies depending on the type of bean used, but most beans are packed with folate, iron, potassium, magnesium, and other B vitamins (1). They're also rich in fiber and protein.
What's the best way to cook rice?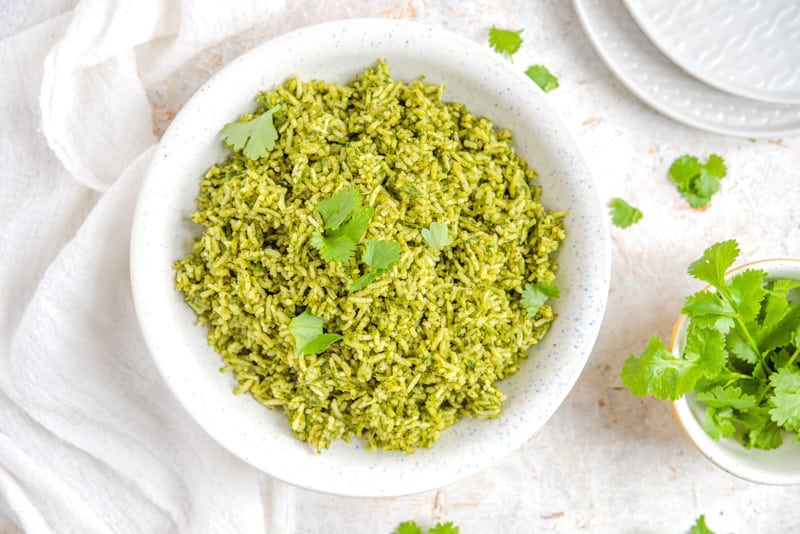 Soaked brown rice obviously has more nutrition than white rice which has the bran and germ removed. But some people avoid it because they find it tricky to cook (mushy brown rice is a common complaint).
It took me a few years to learn, but here's my fail proof method:
Cover rice with several inches of water and a tablespoon of apple cider vinegar. Soak for 6-12 hours.
When ready to cook, drain the rice and cover with fresh water to ½ inch above the rice. No measuring cups needed – just add enough water to submerge the rice plus an extra ½ inch.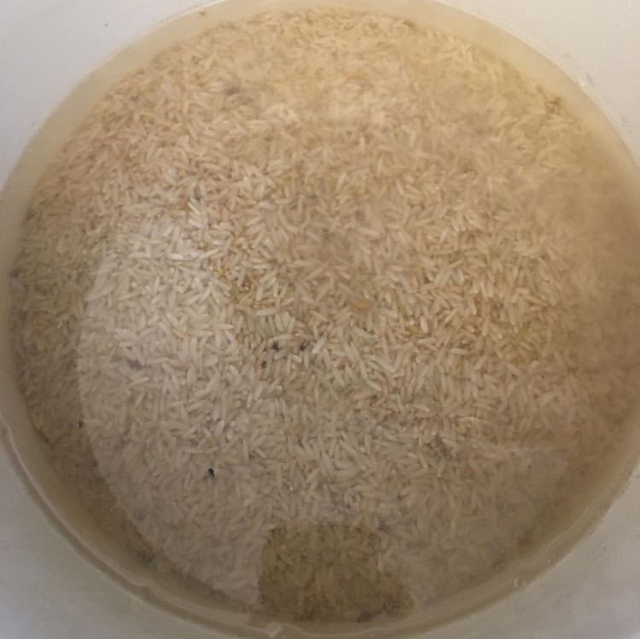 If you prefer to measure, the correct ratio is 2:1 – 2 parts water, 1 part brown rice. So if you're cooking one cup of rice, add 2 cups water. This will yield 2 ½ cups cooked rice.
Bring to a boil, stir gently, then reduce heat to a gentle simmer (medium low). Allow to simmer with a lid on, undisturbed for around 30 minutes or until all liquid is absorbed. Don't stir too often, as this can contribute to sticky rice.
Remove from heat and let rice sit for an additional 30 minutes to absorb any excess liquid. This will reduce sticky-ness.
Fluff with a fork and enjoy your PERFECT brown rice!
Note: If you're totally against brown rice, white basmati rice is a good alternative that's easy to cook.
What's the best way to cook beans?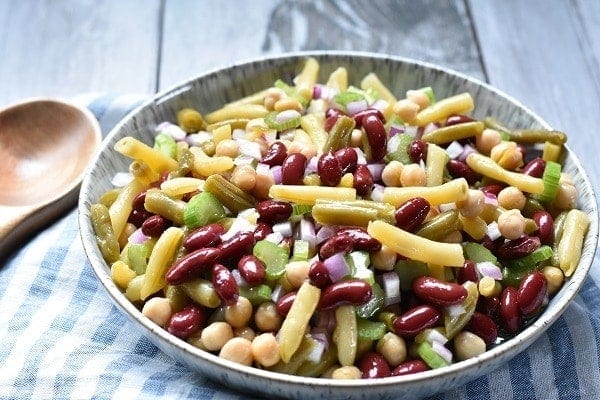 Again, cover with water to several inches above the beans of your choice. Add an acidic medium like apple cider vinegar or lemon juice and allow to soak overnight, up to 36 hours.
After soaking, drain and add fresh water to a couple of inches above the beans. Bring to a boil and reduce heat to medium, boiling gently until beans are soft (45 minutes or more) and skimming off any foam on top of the beans.
Depending on the size of your beans, you may need to cook them longer. Test the beans to ensure they are very soft before serving. Nobody wants crunchy beans!
One helpful tip for delicious beans is to add homemade broth or bouillon to the cooking water, and a bit of chopped onion or garlic while they cook.
What's the healthiest type of pasta?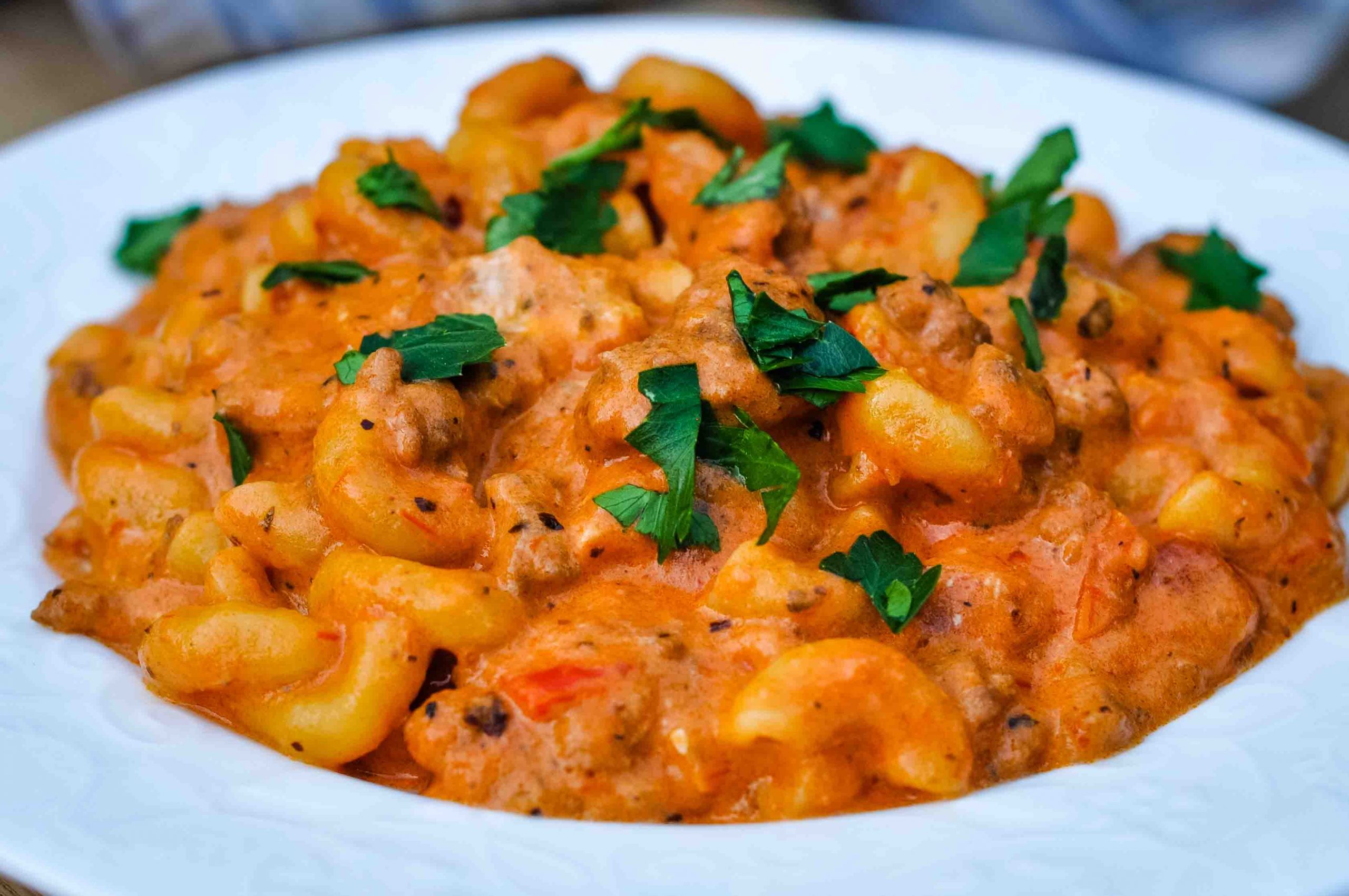 There are so many varieties of pasta, it can be tough to choose — and to know which type is healthiest.
When selecting regular durum (wheat) pasta, I always to try to get a whole wheat version instead of refined white pasta. Again, whole grains = more nutrition!
I also really like Barilla's Protein Plus pasta – it includes extra protein from chickpeas, lentils, and peas.
Bean pastas are really popular right now, but can be a bit problematic since the beans used to make the pasta are not soaked beforehand (hence, they are high in phytic acid). Here's a post on why bean pastas may not be healthy.
If you really want a gluten free pasta, brown rice pasta is a wonderful choice! It has a similar profile to wheat pasta and is low in phytic acid, thus more nutritious. Be sure not to overcook to avoid mushy pasta.
Now, it's time for our roundup of the BEST bean, rice, and pasta recipes! There are 59 wonderful, non-boring options to choose from so you can use up that pantry hoard.
Healthy Bean & Rice Recipes
These healthy bean, rice, and lentil recipes are economical, unique, nutritious, and extremely tasty too!
Healthy Pasta Recipes
These simple yet special pasta recipes are great when you want an easy meal that everyone loves.
This beefy, cheesy lasagna mac is sure to be your family's new favorite Instant Pot meal! Hearty and filling, this dish can be made even healthier using gluten free pasta.
Top your favorite pasta with this dreamy sauce. Made with real butter, cream, and parmesan cheese, this really is the BEST alfredo sauce recipe, so be sure to save it for later!
Photo Credit: thetoastykitchen.com
It only takes thirty minutes and a single sauté pan to make this Chicken Bacon Ranch Pasta. Chicken, bacon, and penne pasta are coated in a creamy cheese sauce with tangy ranch seasoning.
Photo Credit: brooklynfarmgirl.com
Parsley Parmesan Pasta recipe that takes 15 minutes to make and costs less than $4.  Blend the parsley with other simple ingredients to make a nut free pesto sauce and then pour on top of pasta! 
Photo Credit: bootsandhooveshomestead.com
This caramelized onion pasta is the perfect under 30 minute dinner. It is slightly sweet from the caramelized onions and tangy from the addition of the gorgonzola cheese.
Photo Credit: www.beyondthechickencoop.com
Pasta e Fagioli is an Italian soup with pasta and beans is a delicious and hearty meal perfect for lunch or dinner. 
Photo Credit: www.bucketlisttummy.com
This Veggie Pasta Bake is a perfect easy and comforting vegetarian pasta casserole. With a variety of veggies and cheese, this vegetable pasta bake is great for crowds, easy to freeze and reheat, and convenient for meal prep! 
Photo Credit: houseofnasheats.com
This cheesy baked spaghetti casserole is kid-friendly, filling, and perfect for feeding a crowd.  Melty cheese, meaty sauce, and al dente pasta make this a great weeknight meal!
Photo Credit: mondayismeatloaf.com
A creamy Instant Pot Ziti recipe with a meat sauce loaded with sausage and ground beef this traditionally baked cheesy pasta dish will amaze you with how easy this is to make in the pressure cooker. 
Photo Credit: www.scrappygeek.com
Easy cheesy chicken pasta recipe made in one pot. Simple to do in the slow cooker!
Photo Credit: houseofnasheats.com
 Perfectly al dente pasta combine with a made-from-scratch cream of mushroom soup sauce with chopped green pepper, pimentos, diced onion, and a generous amount of shredded cheddar cheese.  
Photo Credit: 4sonrus.com
A wholesome, real food version of a much loved favorite children's pasta.
Which of these rice, bean, and pasta recipes are you trying next?
PIN IT!