This mixed berry smoothie bowl is bursting with antioxidants and nutrients to start your day refreshed! It also has a nice helping of protein in nuts and collagen to complement the fruits.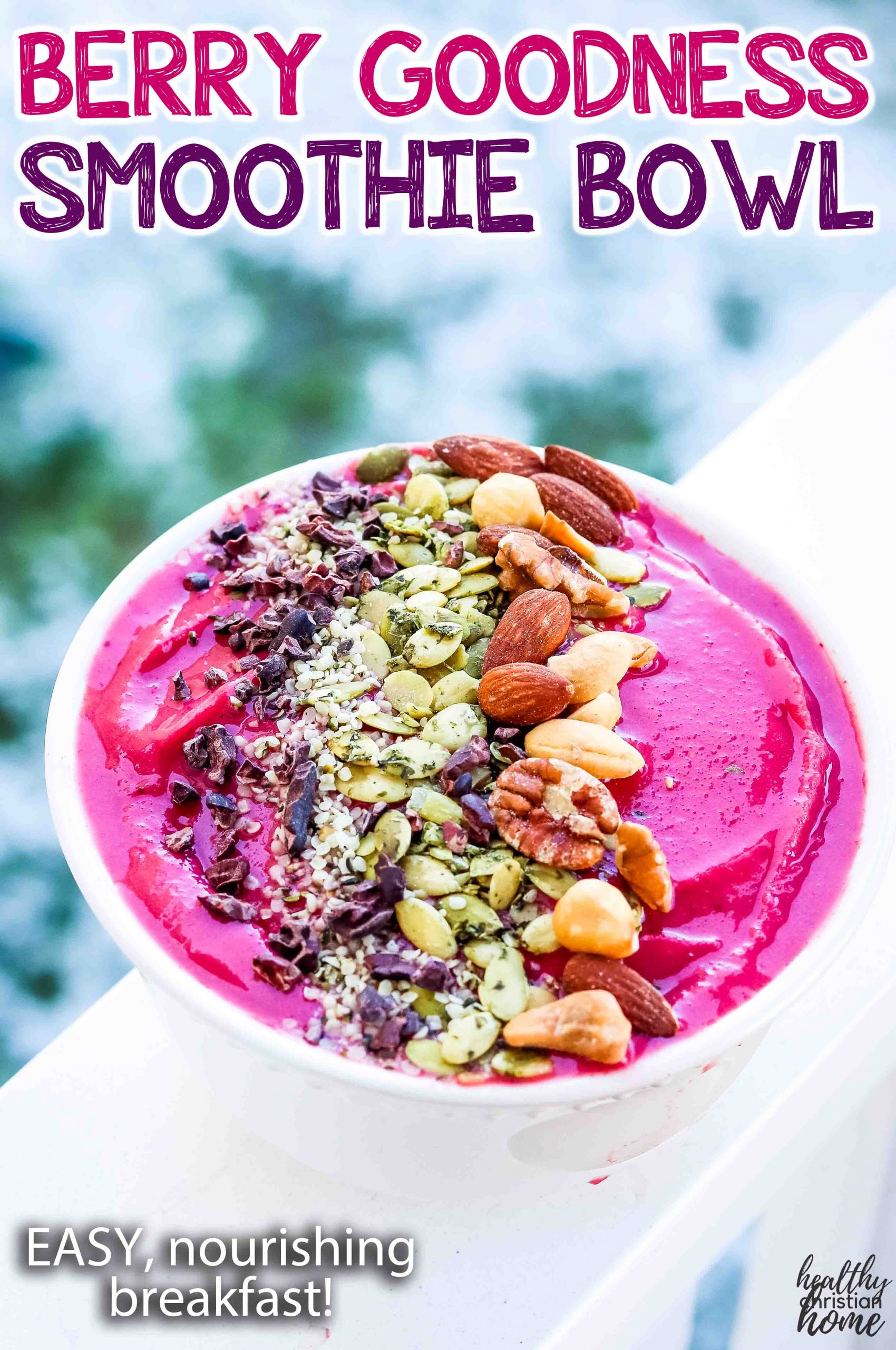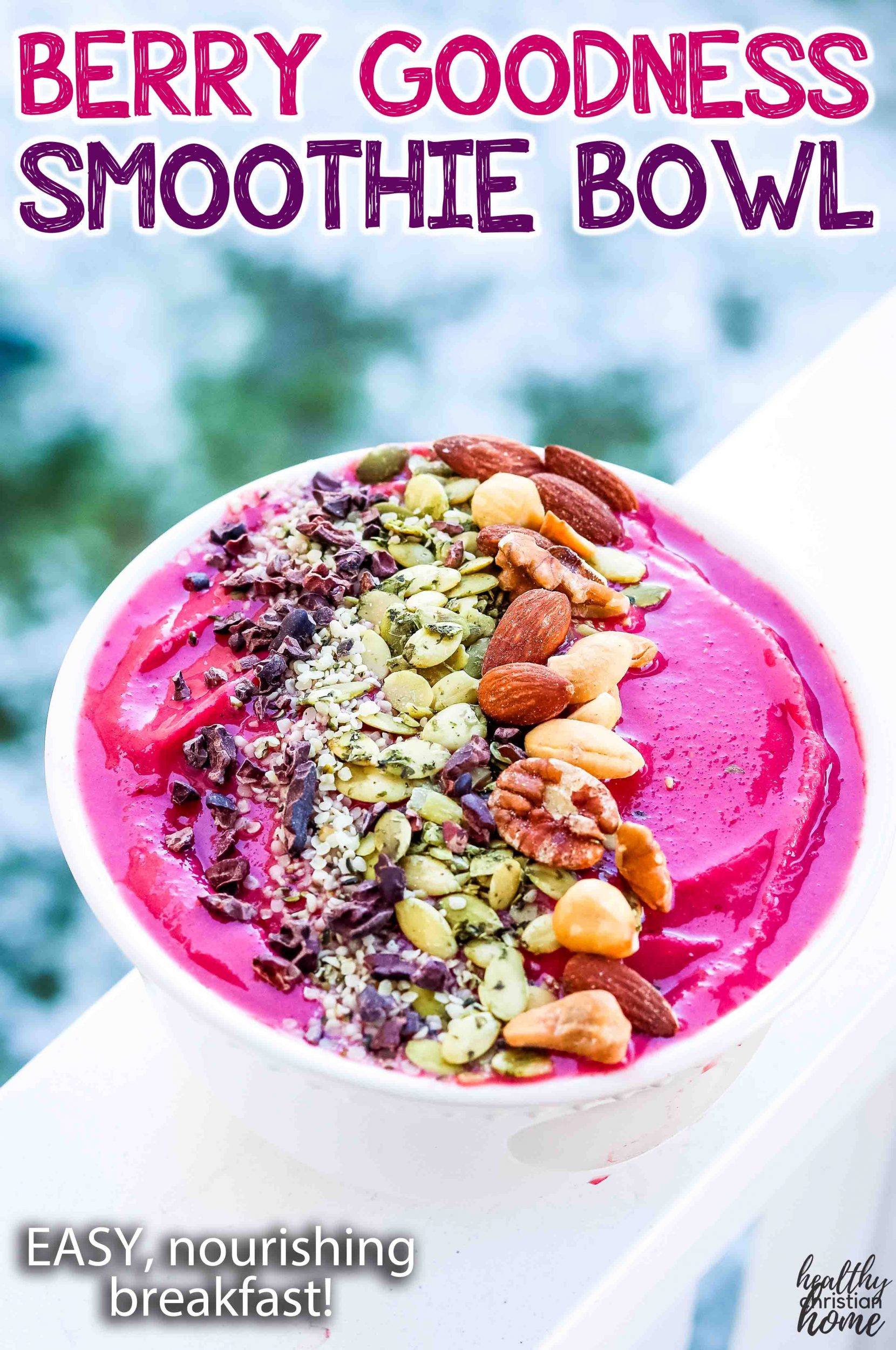 It's a little warmer outside, so smoothie bowls cravings are in full force! I'm loving the colors and combos of this bowl. If you need some blender ideas for beginners, this smoothie bowl is so easy to make.
It's a great go-to option for a quick breakfast, snack, or post workout meal! The creamy sweetness of the fruit combined with the nutrient-dense toppings makes for the perfect textured balance.
I always try and sneak in collagen peptides whenever I can to promote gut health, bone, joint, and immunity benefits. I use is collagen from Perfect Supplements – it's certified glyphosate free and from grass fed cows.
Hope you love this smoothie bowl as much as I do!
(Today's recipe was created by Lindsey at God Given Goodness – so happy to have her share this delicious breakfast idea today! Go follow her for more healthy yummy recipes!)
What is a smoothie bowl and why make one?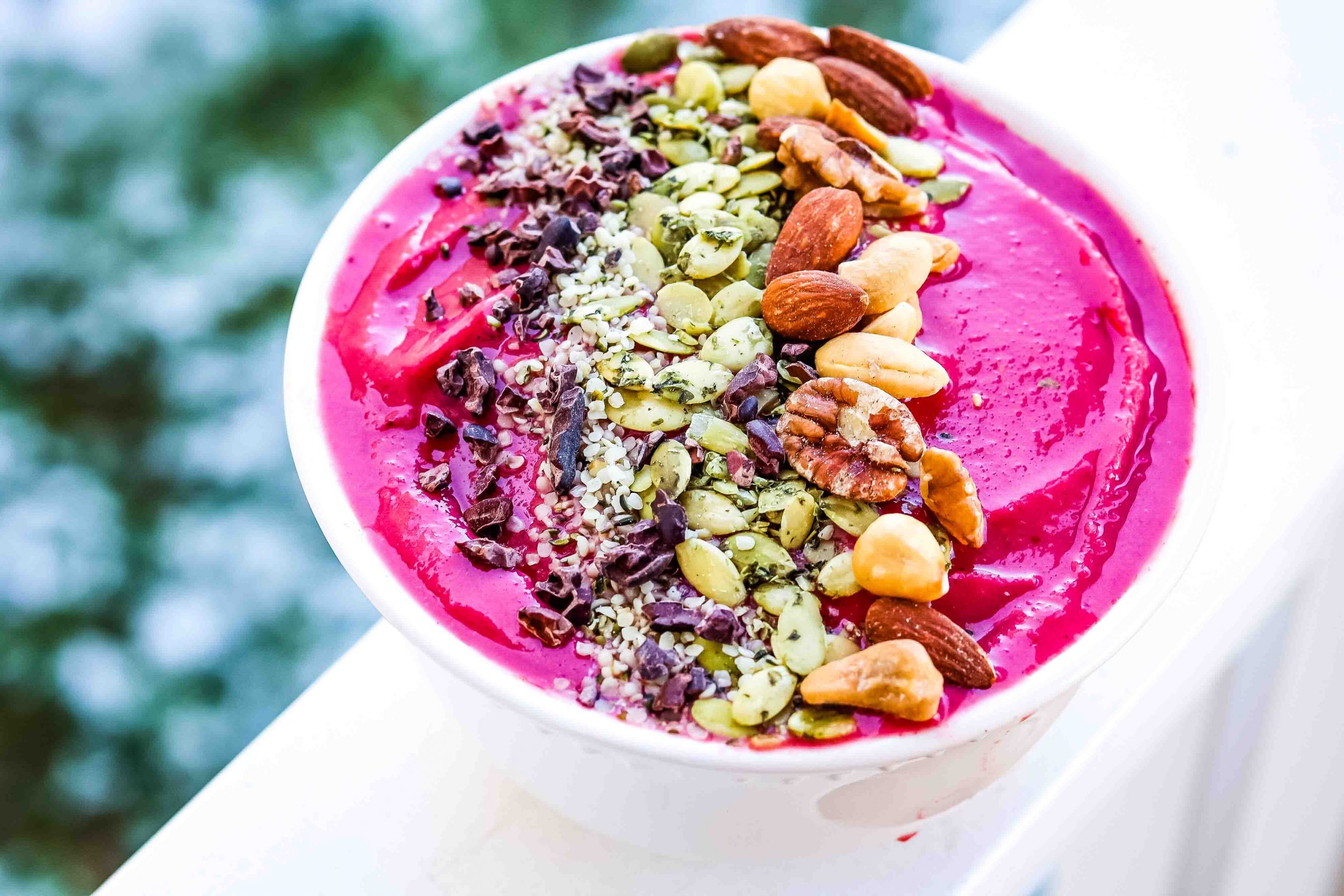 A smoothie bowl is basically like a regular smoothie, but slightly thicker so it can be eaten in a bowl with a spoon. They are a great alternative to a not-so-nourishing bowl of cereal.
The reason so many people love smoothie bowls as opposed to regular smoothies is that they are perfect for adding lots of toppings to. You can load them with healthy smoothie bowl toppings like nuts, coconut flakes, fresh or dried fruits, seeds, granola, or whatever strikes your fancy.
Are smoothie bowls healthy?
Absolutely! If you're wondering what to make in a blender, smoothie bowls are one of the easiest nutritious recipes. As long as you use whole food ingredients, smoothie bowls are one of the healthiest breakfast ideas to try.
Just make sure to avoid processed protein powders with fake ingredients. If you want to add a protein powder, use pure collagen peptides (it's made from collagen of grass fed cows).
When making smoothie bowls, be sure to add a protein source like collagen, nut butter or egg yolk to balance out the natural sugars in the fruit. This will make it a more balanced breakfast.
If you're trying to reduce your sugar/carb intake, you can make this berry smoothie bowl without banana. You can also vary the types of fruit according to what you have on hand.
More smoothie recipes to try:
Are smoothie bowls good for weight loss?
Yes they are, especially if you eat this as a full meal. Loading it with fiber rich fruits and maybe even sneaking in some veggies will make this even more weight-loss friendly.
If you're eating this berry smoothie bowl along with a cooked breakfast, keep in mind this will add to your overall caloric load. This smoothie bowl is best eaten as a full meal for weight loss, or a healthy snack to fill you up.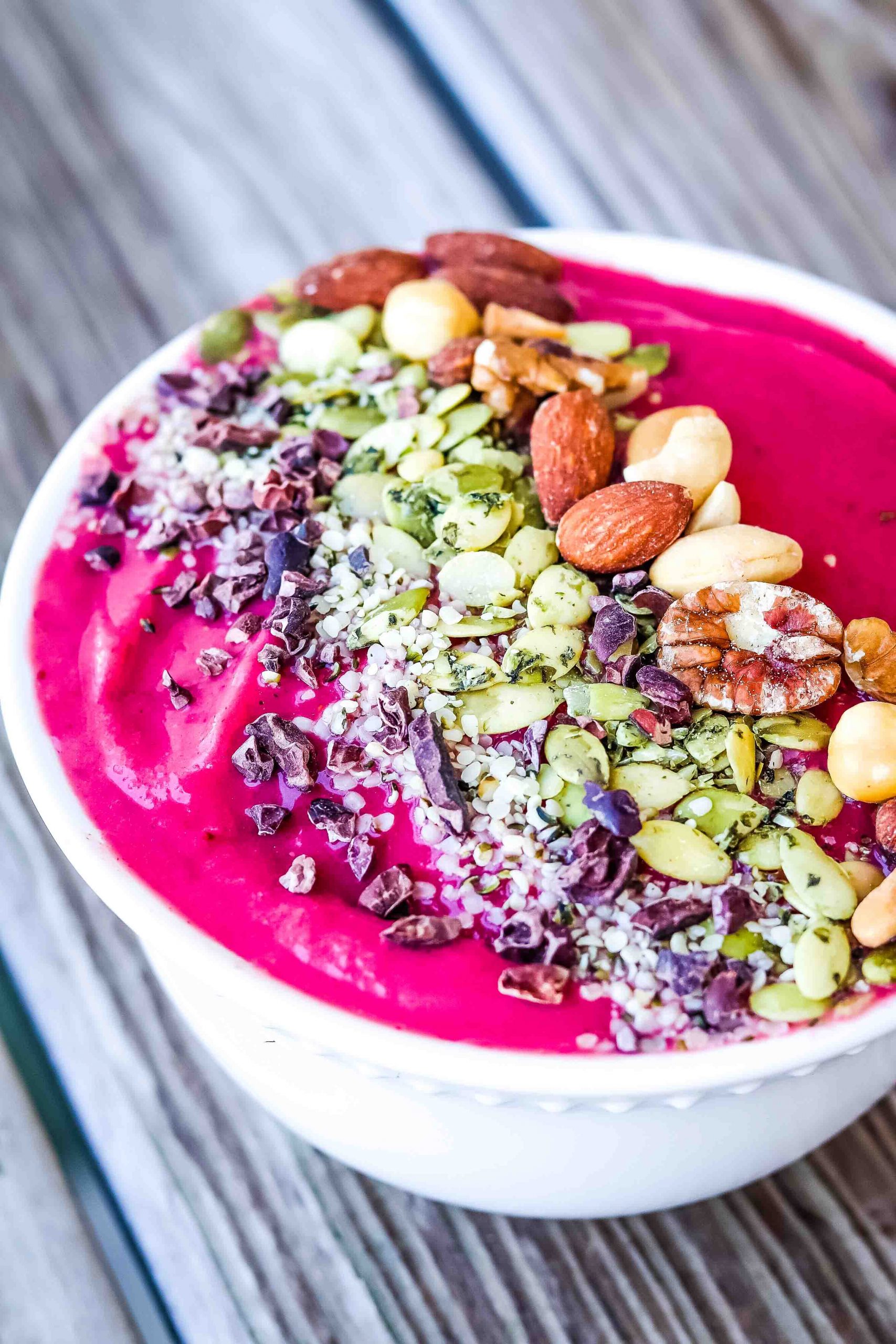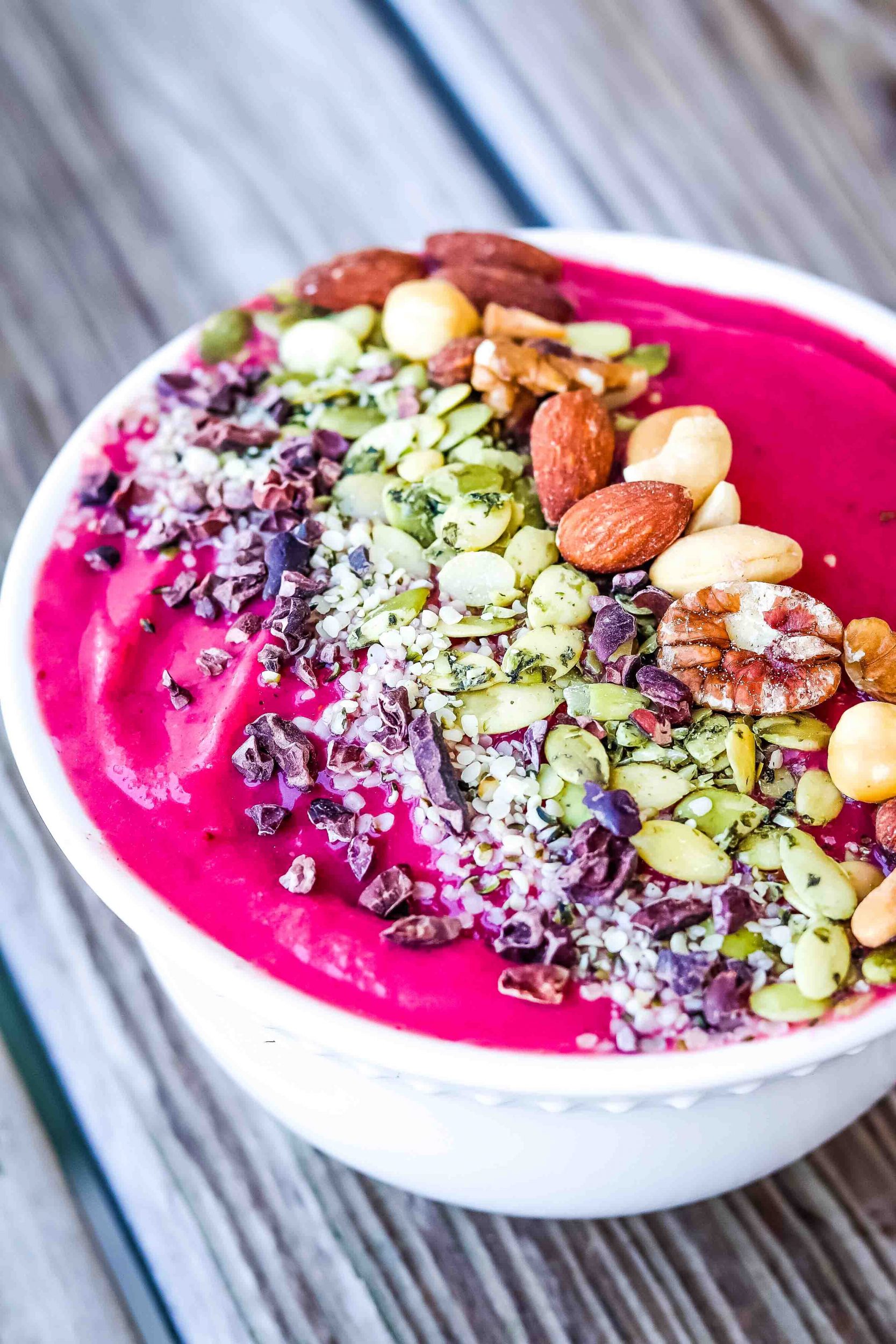 How can I make my smoothie bowl thicker?
If your smoothie bowl is thinner than you prefer, simply add less liquid next time or use a little more frozen fruit. This recipe is really versatile and there are so many ways to change it up!
Berry Smoothie Bowl Recipe Varaitions
Use frozen mixed berries or any berries you have on hand
You can also use the same basic recipe and use any other fruit like mango instead of berries
Use homemade coconut milk or dairy kefir instead of almond milk
Make this a mixed berry smoothie bowl with yogurt by adding whole milk yogurt
You may omit the banana and maple syrup/honey if you want it less sweet
Add mild tasting veggies like raw carrot, cauliflower, avocado etc. for a nutrient boost
Use different toppings like shredded coconut, dried fruit, or a variety of nuts and seeds
Yield: 2 servings
Berry Goodness Smoothie Bowl
Prep Time: 5 minutes
Total Time: 5 minutes
This mixed berry smoothie bowl is bursting with antioxidants and nutrients to start your day refreshed! It also has a nice helping of protein in nuts and collagen to complement the fruits.
Ingredients
1/3 cup frozen blueberries
½ cup frozen strawberries
½ frozen banana
2 scoops collagen peptides
1 tbsp nut butter (I used almond butter)
1/2 cup unsweetened almond or coconut milk (add more for a thinner texture)
1 tsp honey or maple syrup (optional, for extra sweetness)
Healthy toppings: Nuts, seeds, hemp hearts, & cacao nibs
Instructions
1. Add all ingredients (except toppings) to a blender and blend until smooth.

2. Top with raw activated (soaked & deyhdrated) nuts, hemp hearts (for extra protein), cacao nibs, and raw pumpkin seeds.
Notes
Feel free to change the toppings and add whatever you desire such as coconut flakes, chia seeds, dried fruits, etc.
Or, use different frozen fruits in the smoothie bowl.
Recommended Products
As an Amazon Associate and member of other affiliate programs, I earn from qualifying purchases.
Nutrition Information:
Yield:
2
Serving Size:
1
Amount Per Serving:
Calories: 378
Total Fat: 25g
Saturated Fat: 7g
Trans Fat: 0g
Unsaturated Fat: 17g
Cholesterol: 15mg
Sodium: 114mg
Carbohydrates: 30g
Fiber: 5g
Sugar: 18g
Protein: 16g
Have your ever made a smoothie bowl? What's your favorite combination?
PIN IT!