As school bells begin to ring, meditate on these 37 encouraging bible verses for teachers. Send them to a special teacher you care about! Also be sure to say this special prayer for teachers below and bless the educators in your child's life.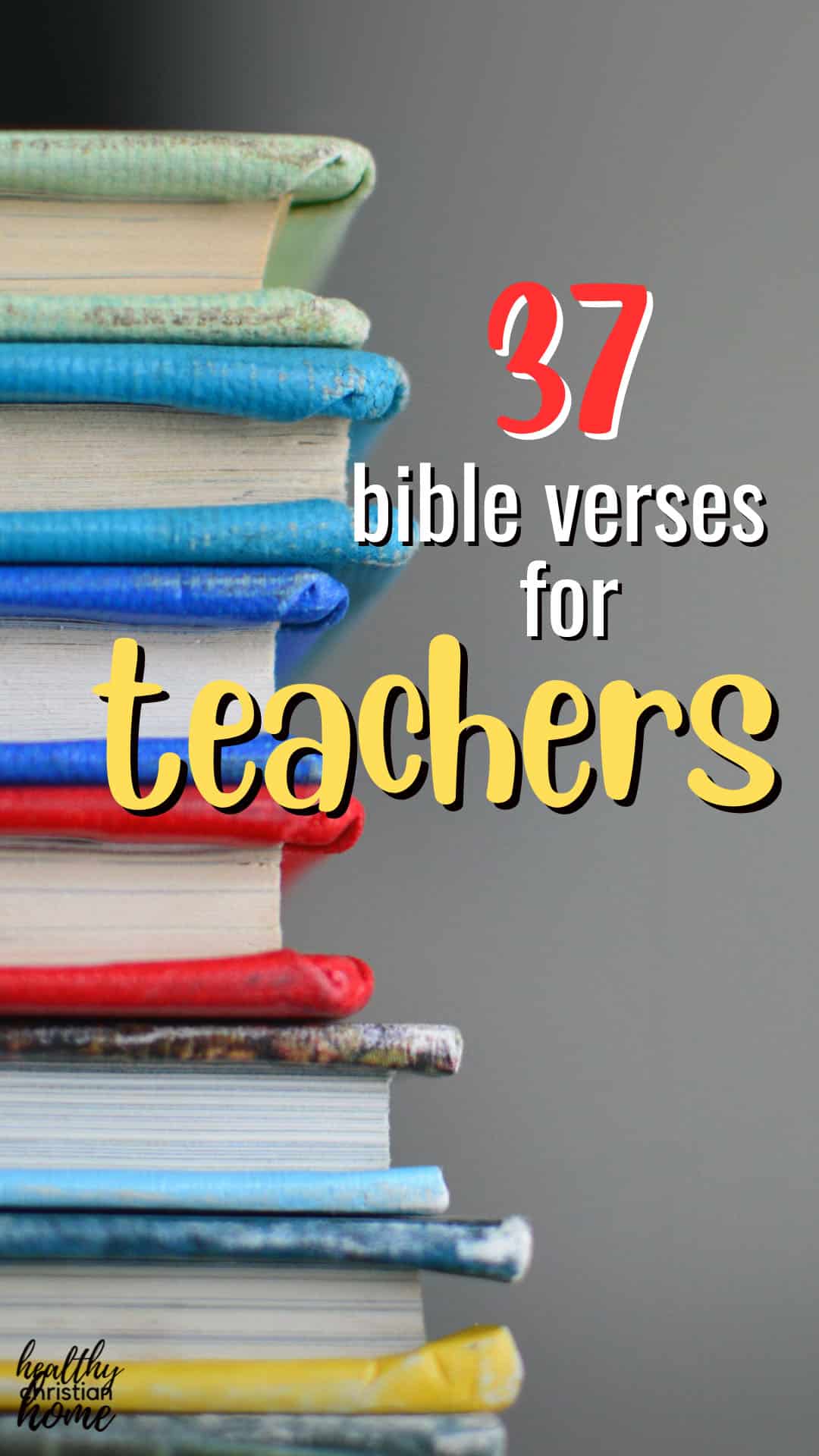 Teachers deserve our respect
After a short stint in the education world completing my student teaching assignment for a semester, as well as a couple of months filling in for a teacher on maternity leave, I have a whole new respect for teachers and how incredibly hard they work. It takes a special individual to commit their life to teaching young people.
Teachers need incredible amounts of patience, compassion, determination, and care for their students. Especially today, teachers face unique challenges of safety in the classroom, crumbling family units, and the influx of technology.
Some parents choose to teach their children at home — homeschool parents are just as important and also need these encouraging bible verses about teaching! (Yes, Sunday school teachers are included in this, as well!)
Why teachers are so important
Without teachers, the next generation cannot thrive and society we know it will cease to exist. Every profession that makes our society work begins with a teacher.
Maybe you can think of a teacher in your young life that made an imprint on your heart and mind. These types of educators are truly special and don't often get the recognition they deserve.
Teaching is one of the most challenging, yet under appreciated professions in our culture. We need to show appreciation to our teachers and thank them for the indelible mark they make on the world!
Enjoy these bible verses for teachers, and please share the graphics created within this post with a teacher you love — you can text them, share them on social media, or even print/frame or make them into bookmarks! These verses are perfect for back to school, teacher's appreciation week or any time you want to show a teacher they are loved.
Best Bible Verses for Teachers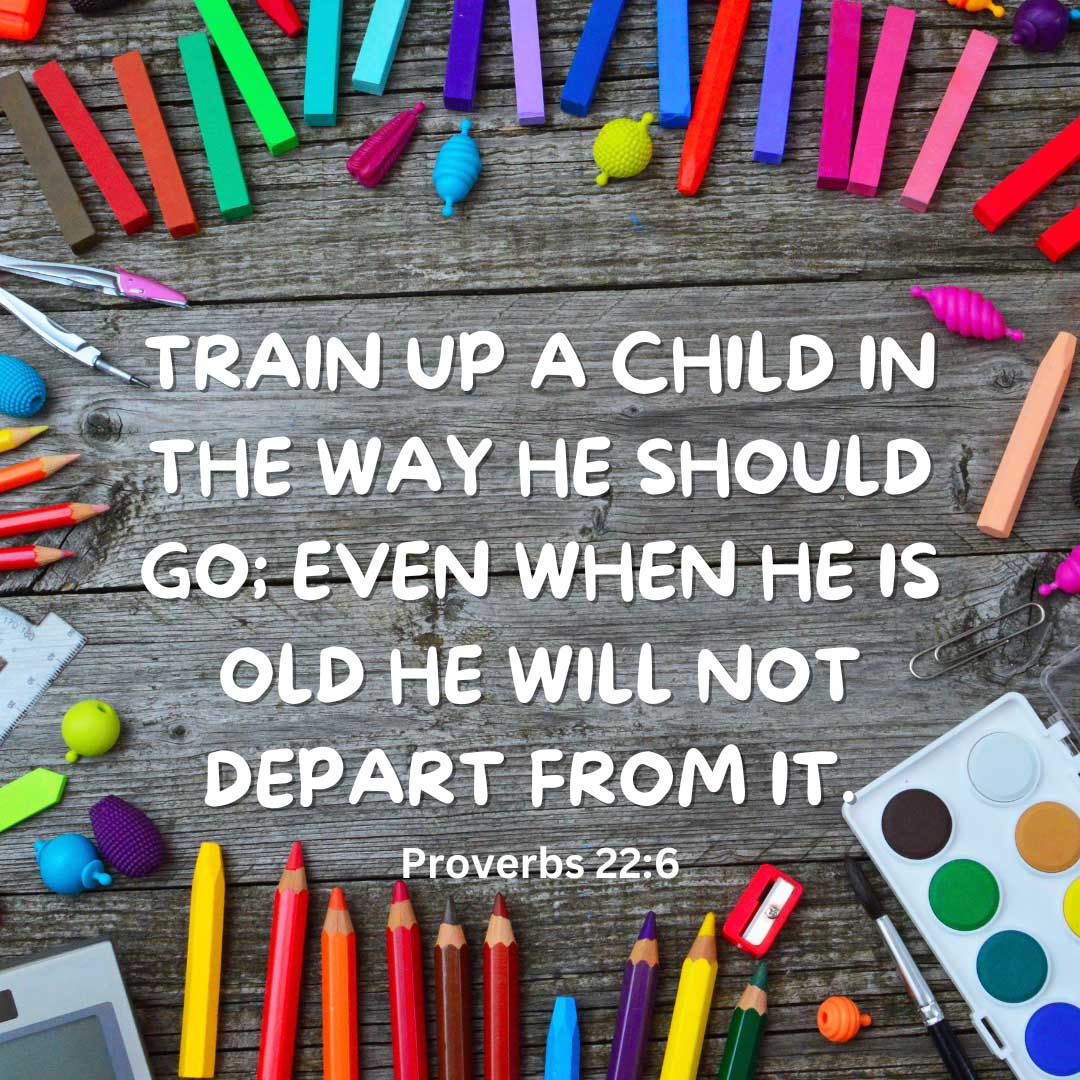 Proverbs 22:6
Train up a child in the way he should go; even when he is old he will not depart from it.
1 Peter 4:10
As each has received a gift, use it to serve one another, as good stewards of God's varied grace…
Proverbs 31:26
She opens her mouth with wisdom, and the teaching of kindness is on her tongue.
Galatians 6:9
And let us not grow weary of doing good, for in due season we will reap, if we do not give up.
Proverbs 11:25
Whoever brings blessing will be enriched, and one who waters will himself be watered.
2 Timothy 1:7
…for God gave us a spirit not of fear but of power and love and self-control.
Deuteronomy 32:2-3
May my teaching drop as the rain, my speech distill as the dew, like gentle rain upon the tender grass, and like showers upon the herb. For I will proclaim the name of the Lord; ascribe greatness to our God!
Romans 12:6-7
Having gifts that differ according to the grace given to us, let us use them: if prophecy, in proportion to our faith; if service, in our serving; the one who teaches, in his teaching…
Bible Verses on Teaching Children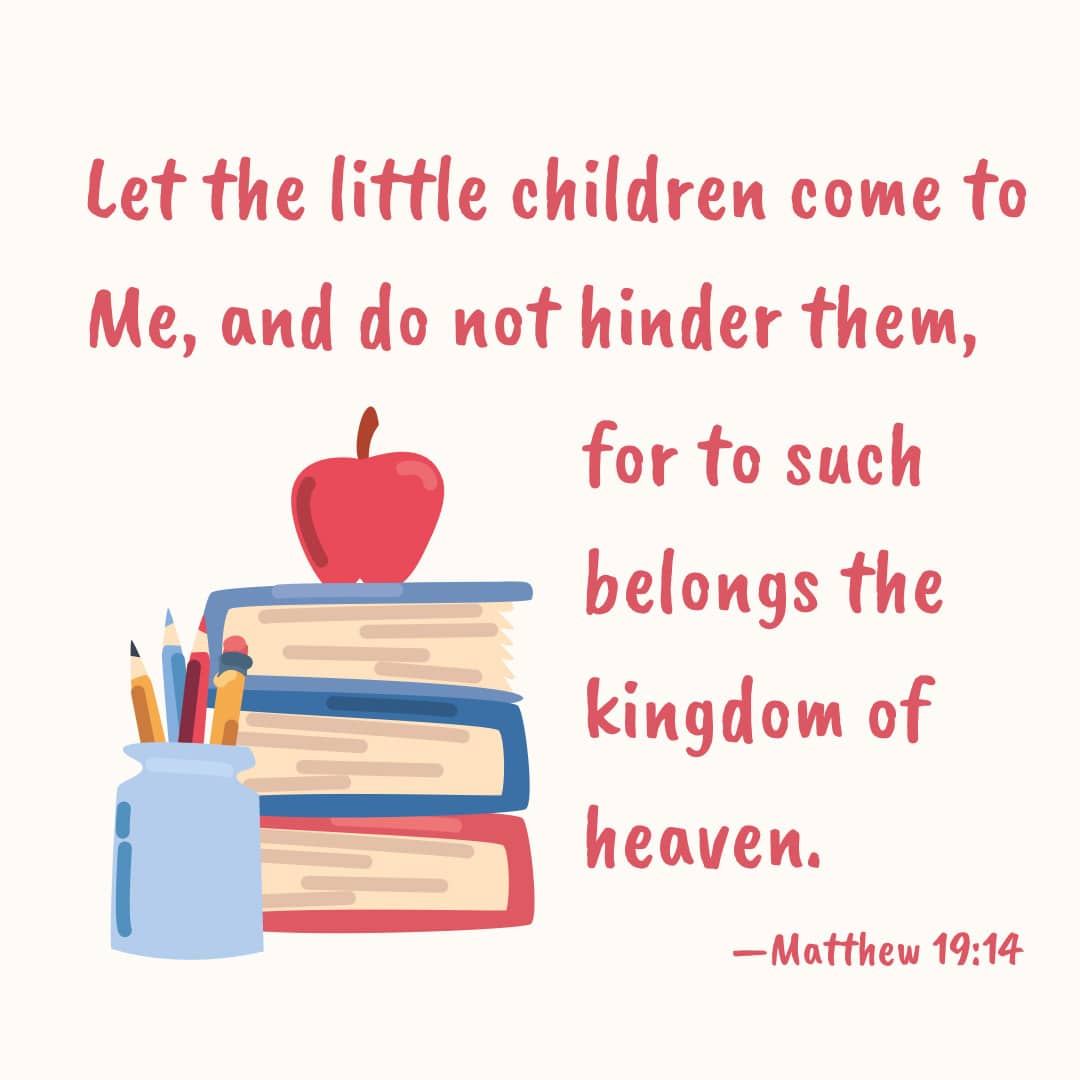 Matthew 19:14
…but Jesus said, "Let the little children come to me and do not hinder them, for to such belongs the kingdom of heaven."
2 Timothy 3:14-15
But as for you, continue in what you have learned and have firmly believed, knowing from whom you learned it and how from childhood you have been acquainted with the sacred writings, which are able to make you wise for salvation through faith in Christ Jesus.
Deuteronomy 4:9
Only take care, and keep your soul diligently, lest you forget the things that your eyes have seen, and lest they depart from your heart all the days of your life. Make them known to your children and your children's children…
Deuteronomy 11:18-19
You shall therefore lay up these words of mine in your heart and in your soul, and you shall bind them as a sign on your hand, and they shall be as frontlets between your eyes. You shall teach them to your children, talking of them when you are sitting in your house, and when you are walking by the way, and when you lie down, and when you rise.
1 Corinthians 12:28
And God has appointed in the church first apostles, second prophets, third teachers, then miracles, then gifts of healing, helping, administrating, and various kinds of tongues.
2 Timothy 2:15
Do your best to present yourself to God as one approved, a worker who has no need to be ashamed, rightly handling the word of truth.
2 Timothy 4:2
Preach the word; be ready in season and out of season; reprove, rebuke, and exhort, with complete patience and teaching.
1 Timothy 4:12-13
Let no one despise you for your youth, but set the believers an example in speech, in conduct, in love, in faith, in purity. Until I come, devote yourself to the public reading of Scripture, to exhortation, to teaching.
Bible Verses on the Influence of Teachers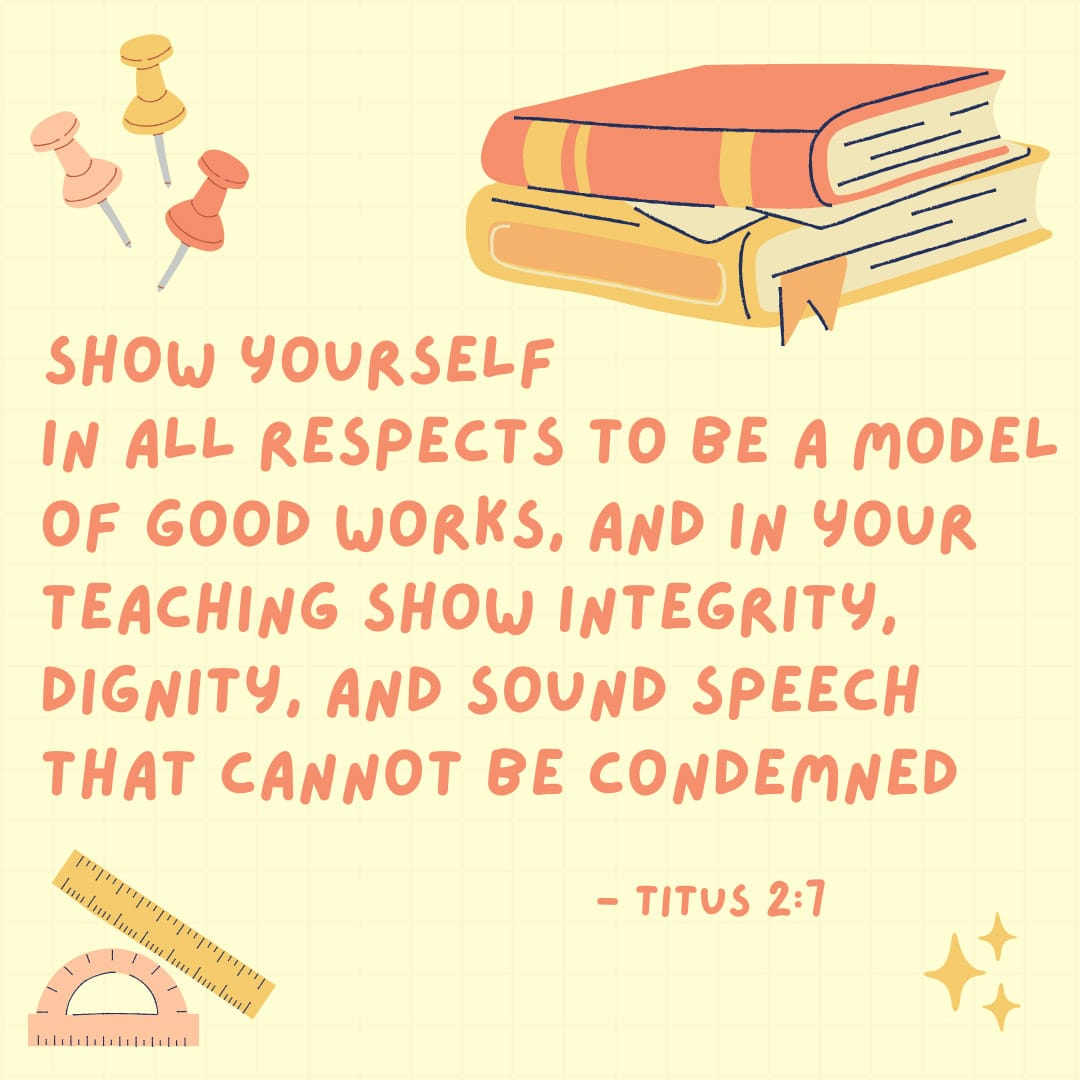 Luke 6:40
A disciple is not above his teacher, but everyone when he is fully trained will be like his teacher.
Titus 2:11-12
For the grace of God has appeared, bringing salvation for all people, training us to renounce ungodliness and worldly passions, and to live self-controlled, upright, and godly lives in the present age…
2 Timothy 3:16-17
All Scripture is breathed out by God and profitable for teaching, for reproof, for correction, and for training in righteousness, that the man of God may be complete, equipped for every good work.
Psalm 32:8
I will instruct you and teach you in the way you should go; I will counsel you with my eye upon you.
Pslam 37:30-31
The mouth of the righteous utters wisdom, and his tongue speaks justice. The law of his God is in his heart; his steps do not slip.
John 13:14-15
If I then, your Lord and Teacher, have washed your feet, you also ought to wash one another's feet. For I have given you an example, that you also should do just as I have done to you.
Isaiah 50:4
The Lord God has given me the tongue of those who are taught, that I may know how to sustain with a word him who is weary. Morning by morning he awakens; he awakens my ear to hear as those who are taught.
James 3:1-2
Not many of you should become teachers, my brothers, for you know that we who teach will be judged with greater strictness. For we all stumble in many ways. And if anyone does not stumble in what he says, he is a perfect man, able also to bridle his whole body.
Titus 2:7-8
Show yourself in all respects to be a model of good works, and in your teaching show integrity, dignity, and sound speech that cannot be condemned, so that an opponent may be put to shame, having nothing evil to say about us.
1 Peter 3:15
…but in your hearts honor Christ the Lord as holy, always being prepared to make a defense to anyone who asks you for a reason for the hope that is in you; yet do it with gentleness and respect…
Read next:
Top 40 Motivational Bible Verses
Encouragement for Teachers to Rely on God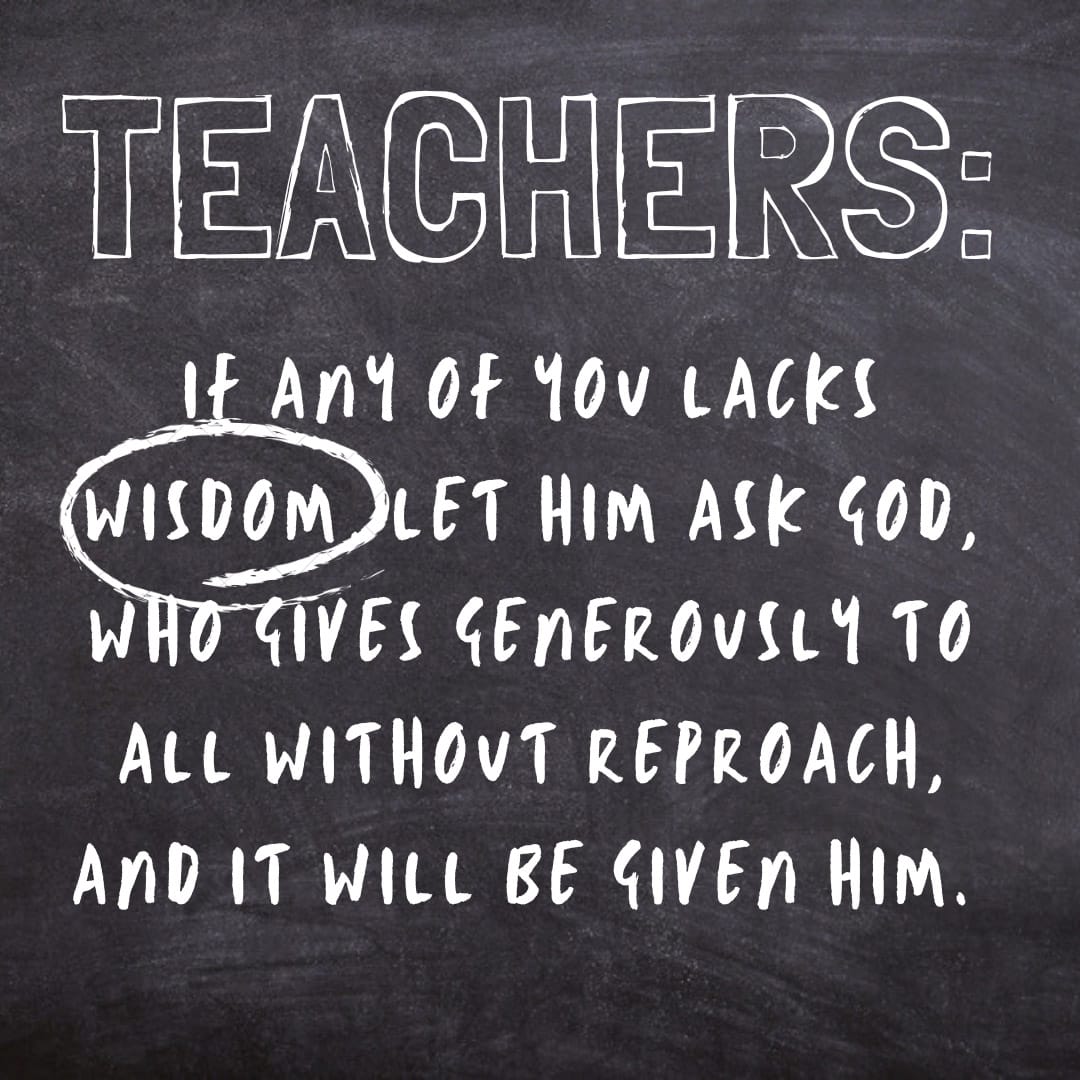 Romans 15:4
For whatever was written in former days was written for our instruction, that through endurance and through the encouragement of the Scriptures we might have hope.
James 1:5
If any of you lacks wisdom, let him ask God, who gives generously to all without reproach, and it will be given him.
1 Corinthians 15:58
Therefore, my beloved brothers, be steadfast, immovable, always abounding in the work of the Lord, knowing that in the Lord your labor is not in vain.
Philippians 4:13
I can do all things through him who strengthens me.
1 Chronicles 16:11
Seek the Lord and his strength; seek his presence continually!
Isaiah 41:10
Fear not, for I am with you; be not dismayed, for I am your God; I will strengthen you, I will help you, I will uphold you with my righteous right hand.
Proverbs 3:5-6
Trust in the Lord with all your heart, and do not lean on your own understanding. In all your ways acknowledge him, and he will make straight your paths.
Bible verses for Teachers Appreciation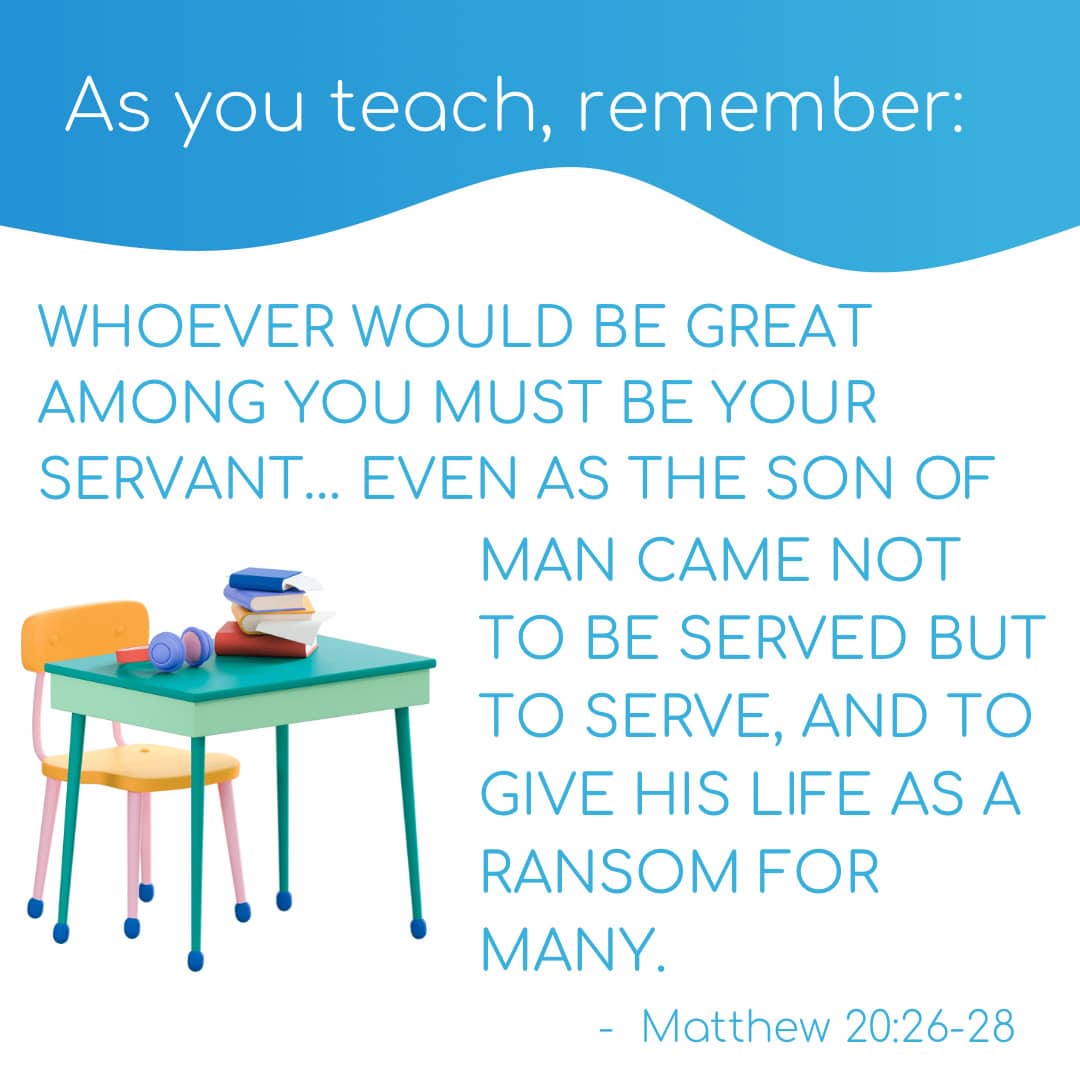 Proverbs 3:1-4
My son, do not forget my teaching, but let your heart keep my commandments, for length of days and years of life and peace they will add to you. Let not steadfast love and faithfulness forsake you; bind them around your neck; write them on the tablet of your heart. So you will find favor and good success in the sight of God and man.
Jeremiah 17:7-8
Blessed is the man who trusts in the Lord, whose trust is the Lord. He is like a tree planted by water, that sends out its roots by the stream, and does not fear when heat comes, for its leaves remain green, and is not anxious in the year of drought, for it does not cease to bear fruit.
Matthew 20:26-28
It shall not be so among you. But whoever would be great among you must be your servant, and whoever would be first among you must be your slave, even as the Son of Man came not to be served but to serve, and to give his life as a ransom for many."
Proverbs 9:9
Give instruction to a wise man, and he will be still wiser; teach a righteous man, and he will increase in learning.
Special Prayer for Teachers
Say the prayer below for all educators on the first day of school and beyond. Send it to a teacher friend to encourage and inspire!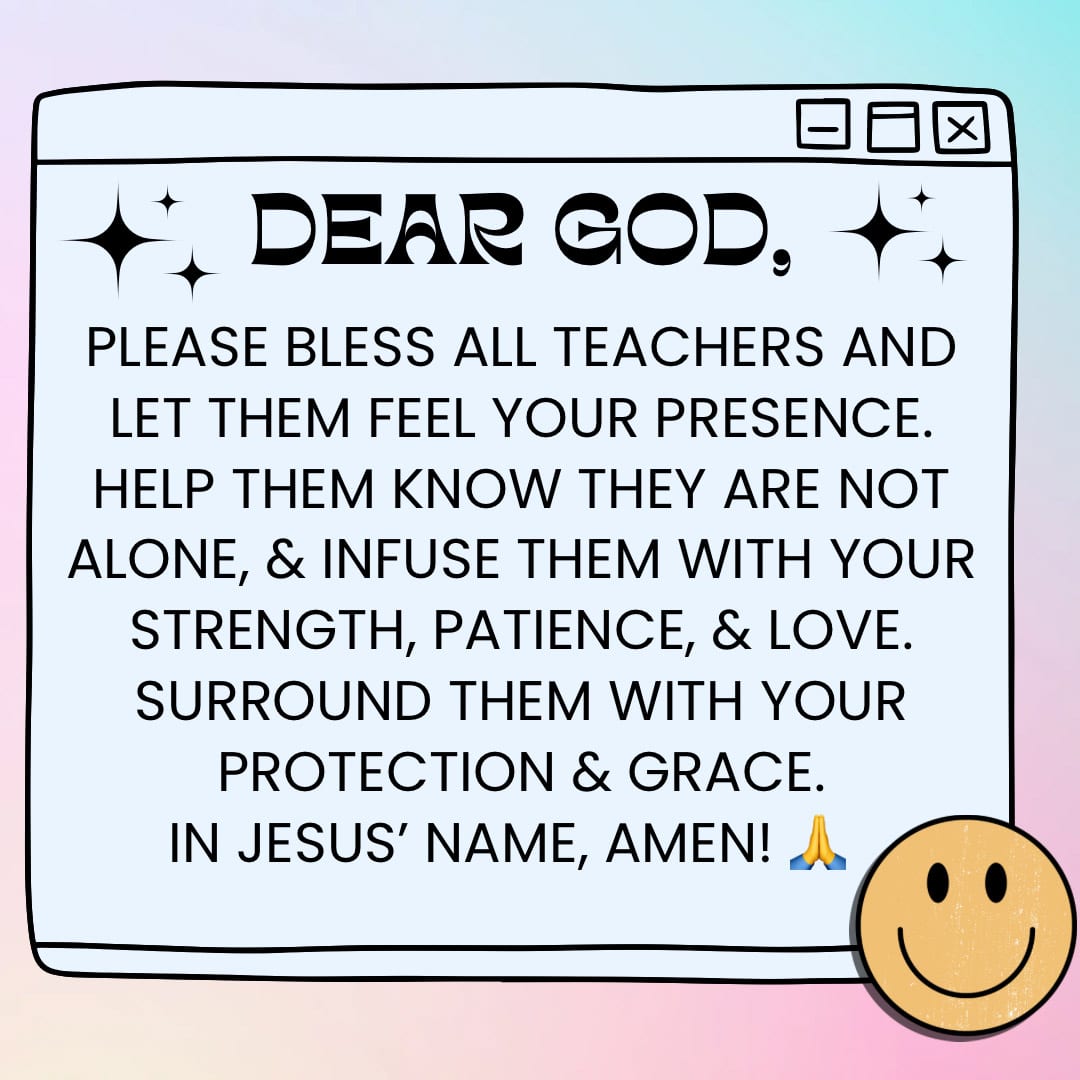 Dear God, Please bless all teachers and let them feel your presence at school each day. Help them know they are not alone, and infuse them with your strength, patience, and love. Surround them with protection and grace, and help them know the eternal influence they have. In Jesus' Name, Amen.
Share your favorite bible verses for teachers below! And tell me: who was your favorite teacher, and what did you learn from them?