Characteristics of a godly woman are clearly outlined in God's word. Do you want to be the woman God created you to be? In this post, discover 12 characteristics of a woman of God to cultivate in your life every day.
While researching for this post, I enlisted the help of Christian friends to create a comprehensive list of the must-have qualities of a wise woman of God.
Even more important, each of these qualities is backed up by Scripture. After all, it doesn't matter what we think we are "supposed" to do unless it's what God actually wants us to do.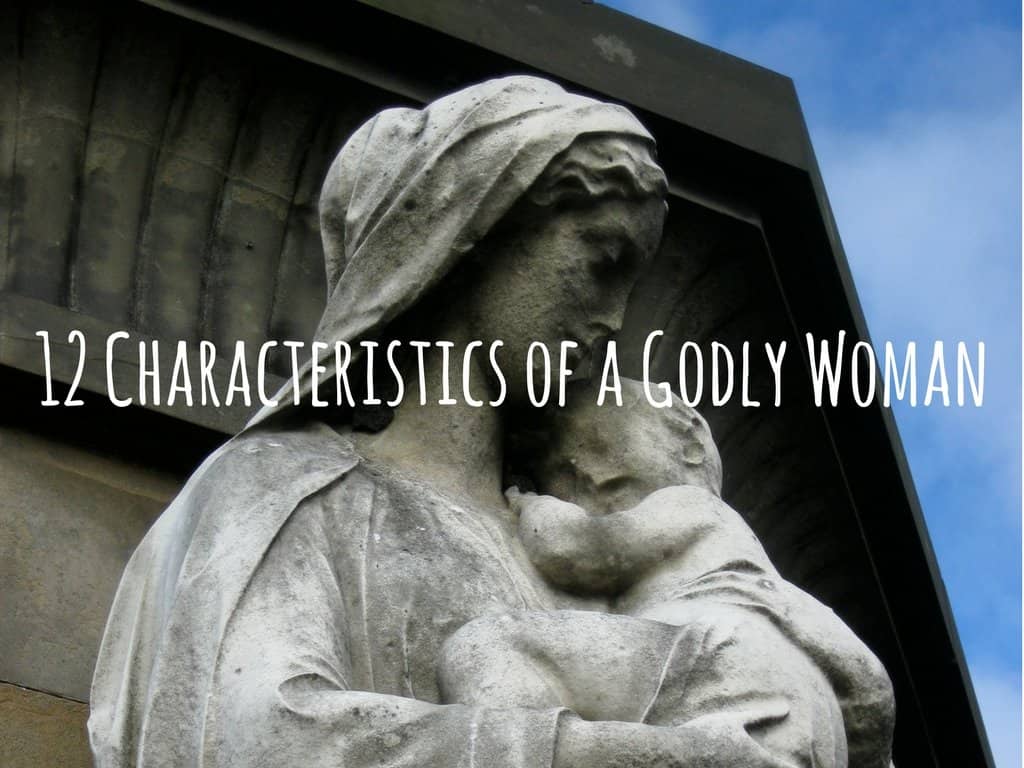 Unrealistic Expectations as a Godly Woman
As a minister's wife, I have the privilege of being in a really cool "preacher's wives" group on Facebook. Since it's a private group and everyone has been in each other's shoes, it's a great place to share ideas, ask advice, and pray for one another.
Recently, I asked this group of wise women their advice on how to handle the guilt when, as a preacher's wife, I am unable to participate in every event I want to. A wise woman responded and recommended that I look up every instruction to women in the New Testament. She said,
Have you ever gone through the epistles and written down every verse specifically addressed to or about women? It was an eye opening exercise for me. The emphasis is definitely on home… rather than congregation. Your home will automatically be a huge asset to that church if you are being a Titus 2 woman…
Another point these ladies brought up is that sometimes the expectations we have for ourselves are not really the expectations that God has for us.
This applies to every Christian woman, not just minister's wives.
We sometimes create "rules" for ourselves that God never gave, and then neglect to do things He has outlined in His Word.
I'm Simply a Christian
So, I have determined to simply focus on being a Christian, rather than a preacher's wife. My wise mother in law (who is a minister's wife as well) has said to me many times, "Your title is not 'preacher's wife'. Your title is just CHRISTIAN."
What a refreshing focus!
That's one reason I'm writing this post – it's an exercise in searching God's word to find out what a godly woman truly is.
Of course, most of the instructions God gives to His children about being a Christian example apply to women as well. But there's not enough room to list all of them here. So, we are just going to focus on the bible verses for women specifically.
Let me preface this list by saying: writing it is a humbling exercise. It shows me many ways I need to improve as a Christian woman, wife, and mother. But it has encouraged me that tomorrow is a new day, and God's grace covers it all.
Special Note: Before you tackle the characteristics below, evaluate your life and make sure you are a true Christian based on God's word! Everyone should read our post How to Be Saved According to the Bible to ensure you are ready for heaven. There are a lot of misguided teachings out there about this topic!
12 Characteristics of a Godly Woman (to be a TRUE woman of God!)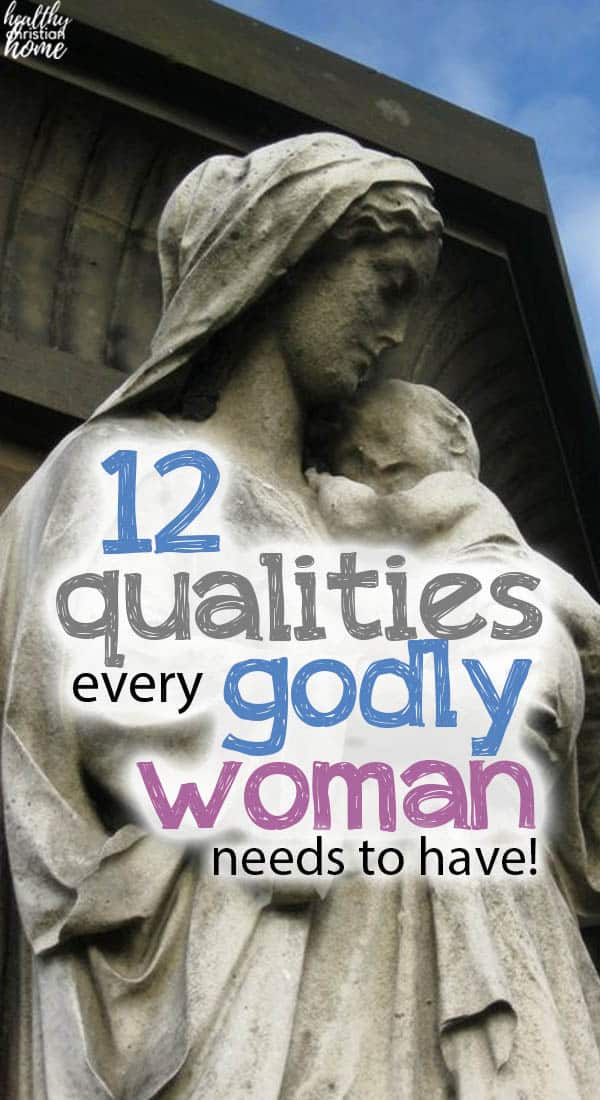 Our first few qualities come from 1 Timothy chapter 5, which discusses the care of widows. Criteria is given for the widow to be assisted, and describes her as:
"…well reported for good works: if she has brought up children, if she has lodged strangers, if she has washed the saints' feet, if she has relieved the afflicted, if she has diligently followed every good work." – I Timothy‬ ‭5:10.
Let's look at these in detail.
1. A Godly woman raises children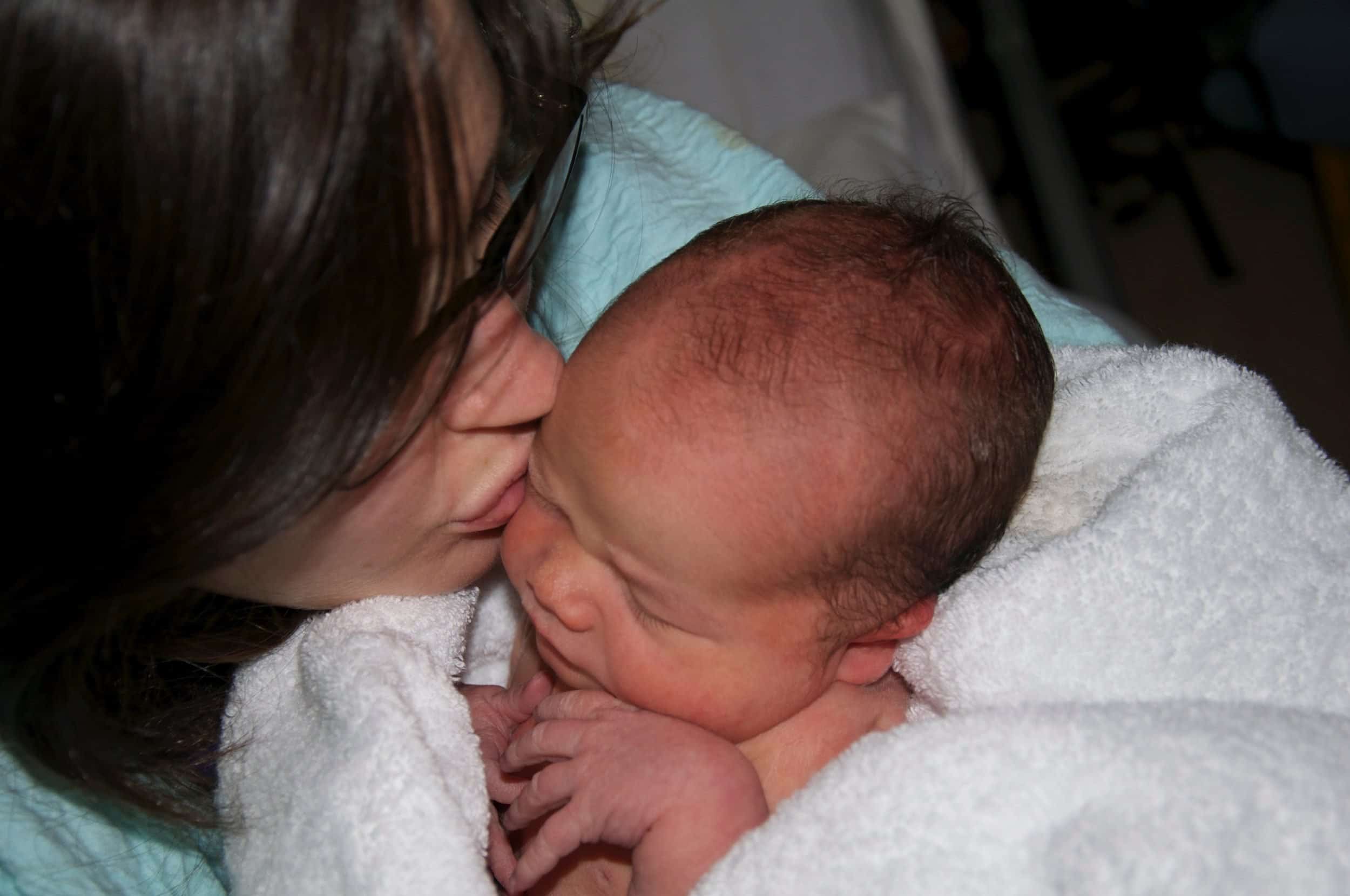 God commends women for bringing up children in this passage and others, including Proverbs 31 and Titus 2. Paul praises Timothy's mother and grandmother for the genuine faith they instill in Timothy.
Although in the world's eyes motherhood might not be the most revered of positions, in God's book it is HUGE. And it's no surprise, since Jesus showed His love for children often and said, "Let the little children come to me, and do not hinder them, for of such is the Kingdom of heaven."
It's easy to think that becoming a great woman of God involves grand gestures – but that's not God's way. His way is often the most humble and unassuming.
Be assured, mama — the act of raising children, which is at times belittled in the eyes of society, is one of the most Godly acts of service you can do. You change the world every day in the heart of your child.
As William Ross Wallace wisely said, "The hand that rocks the cradle is the hand that rules the world."
Even if you don't have children of your own, there are plenty of ways you can be a role model and supporter in the lives of kids around you by simply taking time for them. Leading little children to Christ is definitely the greatest honor on earth!
Related post: Mama, You Are Irreplaceable – Bible Verses About Mothers
2. A Godly woman shows hospitality
God views the act of hospitality as precious, and He praises women of the Bible for their welcoming sprit (such as Lydia in Acts 16).
Hospitality doesn't have to be complicated. An invitation for coffee and a chat is just as meaningful as a 4-course dinner. When it comes to hospitality, less is more – connection is what counts.
Remember 1 Peter 4:9 which says, "Offer hospitality to one another without grumbling." I think one of the biggest reasons we are tempted to grumble is our high standards — we think that unless our home is Pinterest-perfect, it's embarrassing to invite guests.
So, in turn, we get overwhelmed every time we invite someone into our home. It's helpful to remember that no home is perfect, and people won't remember the state of the home nearly as much as the people in it.
For more advice on hospitality and service, read 10 Ways to Glorify God in the Kitchen.
3. A Godly woman is a servant
The final part of 1 Tim 5:10 is "…if she has washed the saints' feet, if she has relieved the afflicted, if she has diligently followed every good work." Having a servant heart is described as one of the greatest indicators of the character of a woman of God.
This verse describes service in three different areas: toward fellow Christians, toward those in need, and in "good works". Now, this isn't saying you have to go out conquer the world.
Instead, brainstorm little ways you can serve – these often become big things to the recipients.
Are you creative? Help beautify the church building or send beautiful cards or crafts to fellow Christians. Are you an amazing cook? Take a meal to a shut-in or struggling young mother. Are you outgoing, or a "talker"? You are perfectly suited for teaching kids and other ladies.
Think about your personal talents and how they are used to help others. When you serve in the areas you are good at (your comfort zone), you will enjoy the act of service greatly and motivated to serve in the future.
God has a special purpose and plan for your life, and when you use your talents for His glory, you are playing a part in the greatest Story on earth.
Related Post: Proverbs 31 Woman – Don't Be Intimidated. Be Inspired.
4. A Godly woman is modest and humble
Modesty is a popular topic when discussing characteristics of a godly woman. But let's look at it from a different perspective.
Dressing modestly is definitely a must for the woman of God, but we should also possess a spirit of modesty. "Charm is deceitful, and beauty is vain, but a woman who fears the Lord is to be praised" – Proverbs 31:30.
Possessing a spirit of modesty means fearing the Lord. This spirit values the commands of God and the needs of others. In day-to-day life, it means choosing clothing that keeps you covered – but it goes even deeper than this.
Care for others with a humble attitude motivates our clothing choices and all our other decisions.
This means dressing, speaking, and acting in ways that will benefit those around us. This includes the ability to see and admit wrong, asking forgiveness when needed. It means doing jobs that need doing because you are able, not because it will bring you praise.
Since we are accountable to other Christians (Matt. 18:15; Heb. 10:24), we treat them as we want to be treated (Lk. 6:31). This goes along with having a humble spirit and also a love that moves us to help keep one another faithful (Col. 3:12-17).
This is further emphasized in 1 Timothy 2:9-10, "…likewise also that women should adorn themselves in respectable apparel, with modesty and self-control, not with braided hair and gold or pearls or costly attire,but with what is proper for women who profess godliness—with good works."
5. A Godly woman is submissive and respectful
The act of submission is very unpopular in today's society, but we must remember that Jesus Christ Himself submitted to the Father. To submit is to simply acknowledge another person's authority in a matter – it is not assigning value. A soldier with lower rank in the Army is no less valuable as a person than a Captain, but he has a different role and must submit to his superior.
This is conveyed perfectly in Ephesians 5:22-24: "Wives, submit to your own husbands, as to the Lord. For the husband is the head of the wife even as Christ is the head of the church, his body, and is himself its Savior. Now as the church submits to Christ, so also wives should submit in everything to their husbands."
In the same way, as women, we submit and show respect with a full knowledge of our worth in Christ. As we do so, it brings us closer to the heart of Jesus. Even if you are unmarried, you have an opportunity to serve those in authority over you with a Christlike spirit. This is illustrated beautifully in Philippians 2:5-8:
Have this mind among yourselves, which is yours in Christ Jesus, who, though he was in the form of God, did not count equality with God a thing to be grasped, but emptied himself, by taking the form of a servant, being born in the likeness of men. And being found in human form, he humbled himself by becoming obedient to the point of death, even death on a cross.
To dive deep into this topic, read 5 Ways to Be a Submissive Wife When It Doesn't Come Naturally.
The next few traits of a godly woman come from Titus 2:3-5:
Older women likewise are to be reverent in behavior, not slanderers or slaves to much wine. They are to teach what is good, and so train the young women to love their husbands and children, to be self-controlled, pure, working at home, kind, and submissive to their own husbands, that the word of God may not be reviled.
6. A Godly woman teaches what is good
God instructs older women to teach "what is good" to the younger women. The truth is, no matter your age, you are always an "older woman" to someone – even if they are a teen.
The example of your life teaches others. Teaching through conversations and ladies prayer groups/Bible classes is a great blessing as well. Making an effort to be a mentor to someone – to go out of your way to reach out to a younger lady – will be a huge blessing to you both.
Look around and see if there is a woman a few (or many) years younger than you who needs a new Christian friend. Start a conversation with her, ask her out for coffee, or invite her into your home. Then model how to be a godly woman as you get to know her in everyday life.
7. A Godly woman loves her husband and children
Observing the lives of women in the Bible shows that family love is key. God instructs Christian women to love their husbands and children – this is our principal aim, mission, and career.
Focusing on the home is the greatest thing we can do to build the church. When the home is strong, the church will be strong.
In contrast, when the home breaks down, the church will begin to break down as well.
First, God exhorts us to love our husbands. This seems pretty straightforward, but there's one area in particular I think we sometimes miss.
We should always speak well of our husbands in front of others and on social media.
Sometimes I hear wives "joking" in a derogatory way about their man, something dumb he did, or subtle put-downs. A man's number one need is respect, and if we dishonor him in our speech (even if it's not a big deal to us), it is one of the worst ways to undermine our love for him.
Next, God encourages us to love our children. This comes easily and naturally to us. But today, the biggest obstacle to this comes in the form of distraction.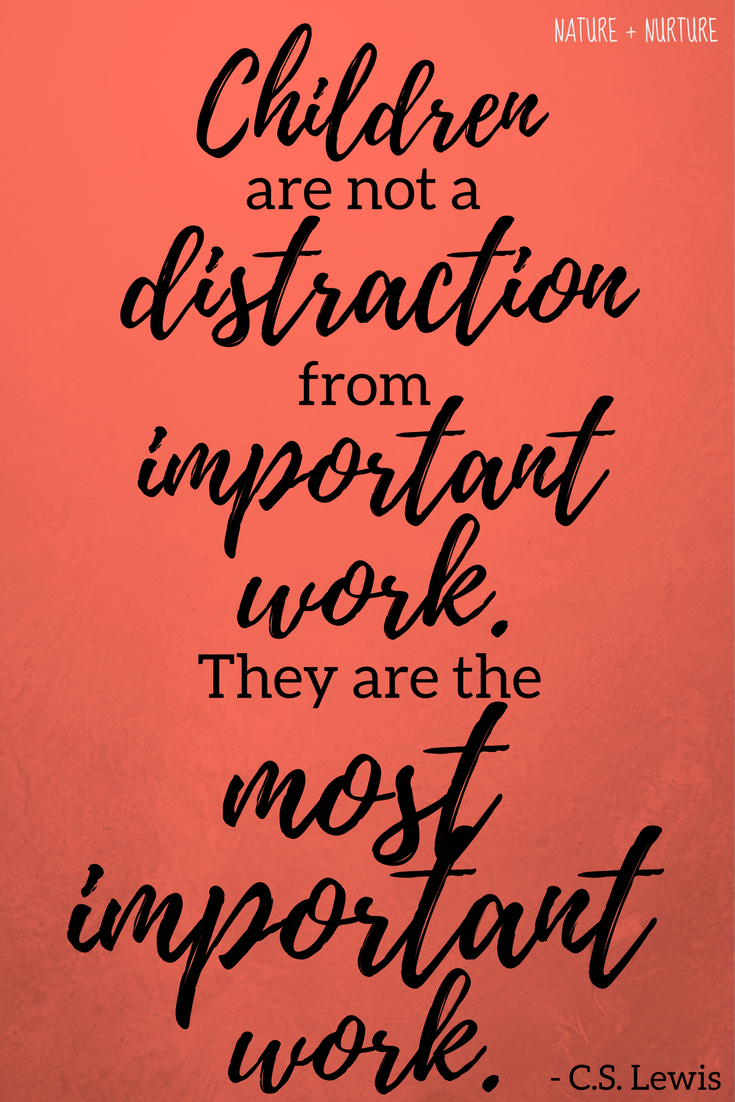 Surely every generation of parents has dealt with distractions taking the focus away from their children. But today this is even more prevalent, our smart phones and screens a constant temptation for distraction.
This is a huge struggle for me as a blog owner, since there is always something I "need to do" for the website. This can potentially tear my attention away from the most important thing. It is something I have to always be conscious about.
As C.S. Lewis said, "Children are not a distraction from the most important work, they are the most important work."
Related post: How to Teach Your Child to Love God
8. A Godly woman exercises self-control
Self-control is often an ignored virtue in our society, but it is such a crucial one. Women who lack self control destroy many things – whether through gossip, anger, or selfishness.
As women, we often lack self-control in our speech.
Personally, I lash out with my words when exhaustion and stress get the better of me. Patience is something I'm constantly working toward.
Whether it's counting to 10 when angry, whispering a prayer, or going for a walk – have a strategy in place for when your emotions threaten to overwhelm you. Ask God to help you bridle your tongue and respond in a loving way, no matter what.
Gossip is another area where self-control is a must. A godly woman must be trustworthy – a listening ear, a confidant in time of need. If people know you as someone who is quick to spread a rumor or laugh behind someone's back, they won't open up to you.
"Discreet" is another way to translate the word for self control in Titus 2. I love the chapter in one of my favorite books, Created to be his Help Meet, that speaks about discretion. The author describes it as "having good tastes, good judgment, useful, to be of good understanding." She further states:
God says that a woman who lacks discretion is like a jewel in a pig's nose (Prov. 11:23). She is ridiculous, out of place, embarrassing, a joke. Something otherwise lovely is rendered ridiculous in the context of indiscretion. She might be pretty, a real jewel of a beauty, but if the jewel is in the nose of a pig, what good is it?
Basically, showing self-control and discretion boils down to being thoughtful. It means being holding your tongue when necessary and listening to the needs of others.
9. A Godly woman is a keeper at home
Our society often downplays the importance of home-keeping, but not God! Making our home a special priority is God's will for us.
If the walls of your home could talk, would they speak of a loving family, conversations, games, and laughter? Or would they describe it as simply a place to crash for the night before everyone goes their separate ways?
Let's strive to make our homes a place of connection and not let the outside world crowd out our family time. This might look like making family meal times a priority, starting a family devotional tradition, or enjoying a family game night.
Another aspect of keeping the home has to do with home management – cooking, cleaning, and the like. In today's modern families we divide responsibilities between husband and wife most of the time, but our heart centers on the care of our home even if we share the work load. Remember Proverbs 31:27, "She looks well to the ways of her household and does not eat the bread of idleness."
Anyone who knows me well knows I am not the greatest housekeeper – I battle the clutter monster and do not keep things as clean as I would like. But I'm working on it, and can honestly say I'm getting better as the years go by. These 13 housekeeping hacks to spend less time cleaning have really helped me!
Another great resource is the book FlyLady Sink Reflections book by Marla Cilley. If you struggle with managing your home, it's a must read!
Sometimes those of us who are stay-at-home moms struggle with being at home in body, but not in mind. Debi Pearl describes this phenomenon well:
Modern inventions have provided a way for a woman to stay at home and still not be a keeper at home. We can sit at home in body while traveling in spirit by means of the telephone and the computer. You cannot keep your home and everybody else's at the same time…Keeping the home is more than staying at home; it is having a heart that is fixed on the home.
Proverbs 13:1 is a great reminder of this: "The wisest of women builds her house, but folly with her own hands tears it down."
Read Next: I'm a Keeper at Home, and Proud of It
10. A Godly woman is kind
Kindness is the very essence the character of a godly woman, and seems simple and straightforward. But it's difficult to display at times.
I've noticed that when men have disagreements, they often get over them quickly and move on. Women sometimes hold more tightly to grudges. Maybe it's because we are more connected to our feelings and emotions, but we must be willing to set these aside for the virtue of kindness.
Remember Euodia and Syntyche in Philippians 4? Paul encourages these quarreling women to "agree in the Lord." Although commended for their hard work for the Gospel, they are remembered for their contentious spirit with one another.
Do you work hard in the church but find it difficult to forgive and show love to those who have wronged you? It may be that, like Euodia and Syntyche, people will remember your unkind attitudes more than your acts of service. Don't let unkindness reign in your spirit and ruin your influence.
Meditate on the list of heavenly clothing which will make you truly beautiful in Colossians 3:12-14:
Put on then, as God's chosen ones, holy and beloved, compassionate hearts, kindness, humility, meekness, and patience, bearing with one another and, if one has a complaint against another, forgiving each other; as the Lord has forgiven you, so you also must forgive. And above all these put on love, which binds everything together in perfect harmony.
11. A Godly woman is thankful
A godly woman must always possess a spirit of thanksgiving. She is grateful and strives to count her blessings in every situation.
"Rejoice always, pray without ceasing, in everything give thanks; for this is the will of God in Christ Jesus for you" (I Thessalonians 5:16‭-‬18) has become her mantra.
Thanksgiving comes naturally when our lives are smooth, but becomes a challenge during difficulty. For encouragement in this area, read How to Grow Spiritually When You Don't Feel Close to God.
12. A Godly woman loves God first
Most important of all, a godly woman must love God with all her heart, soul, mind, and strength. Her relationship with the Lord comes first in her life, even before her beloved husband, children, family, and friends.
There are so many wonderful responsibilities and roles for women to focus on, and it can sometimes seem like we're being pulled in a hundred different directions. But we must nurture our relationship with God above all else.
We must be like Mary and "choose the good part" when she sat at the feet of Jesus in Luke 10:42. As mothers, wives and servants we can become too busy. But please, friend – take time to sit at His feet.
This is something I have struggled with, in particular, since becoming a wife and mother. To help with this, I've created a resource called the "Woman After God" printable pack. It is the perfect resource for any woman who is chasing God.
With 20+ pages of resources, you'll learn to study the Bible effectively, answer deep burning spiritual questions and dive deep into the realm of prayer.
Make this year the one in which you decide to make your relationship with God your #1 priority. This, in turn, will help you to embody all the characteristics of a woman of God discussed here.
>>Explore the Woman After God Pack!<<
Hopefully, this post has encouraged you in your pursuit to demonstrate characteristics of a godly woman. Choose a couple of the virtues listed in this post, and resolve to cultivate them in your life.
For further reading:
If you enjoyed this post, please share it on social media! What characteristics of a godly woman would you add to this list?
PIN IT!