Chicken liver patè is the perfect introductory recipe if you're new to organ meats. The butter topping and infusion of rosemary & mushrooms make it utterly delicious!
Discovering chicken liver patè
Did you know organ meats are absolute nutrition BOMBS? Gram for gram, organ meats (like chicken liver) beat out practically every other food in terms of vitamins and minerals.
Our ancestors knew this. They'd go for the organ meats first, revering them as "nature's multivitamins."
Actually incorporating them into our modern diets, though? A little tricky.
If you were raised in a typical American home like me, you probably didn't encounter this fare often. Since organ meats are unfamiliar and even have a reputation of being "gross", you may have never tried them. They definitely taste different and have a strong flavor if you're not used to them.
I have been a bit squeamish to add more organ meats to our family's diet, although I recently mixed beef liver into a meatloaf and the kids didn't notice (shhhh, don't tell!). I also sometimes add them to broth or homemade bouillon cubes.
Although I knew we should be eating organ meats from time to time, I rarely cooked with them and relied more often than not on my desiccated beef liver pills from Perfect Supplements instead.
Then one day, I encountered a chicken liver patè recipe from the Nourishing Traditions book which consequently changed my taste for organ meats. Dare I say, this patè is even crave-worthy?
If you're new to organ meats, this is the perfect recipe for you. It has an incredible herb-y, buttery flavor that complements the chicken livers so well and makes them utterly delicious!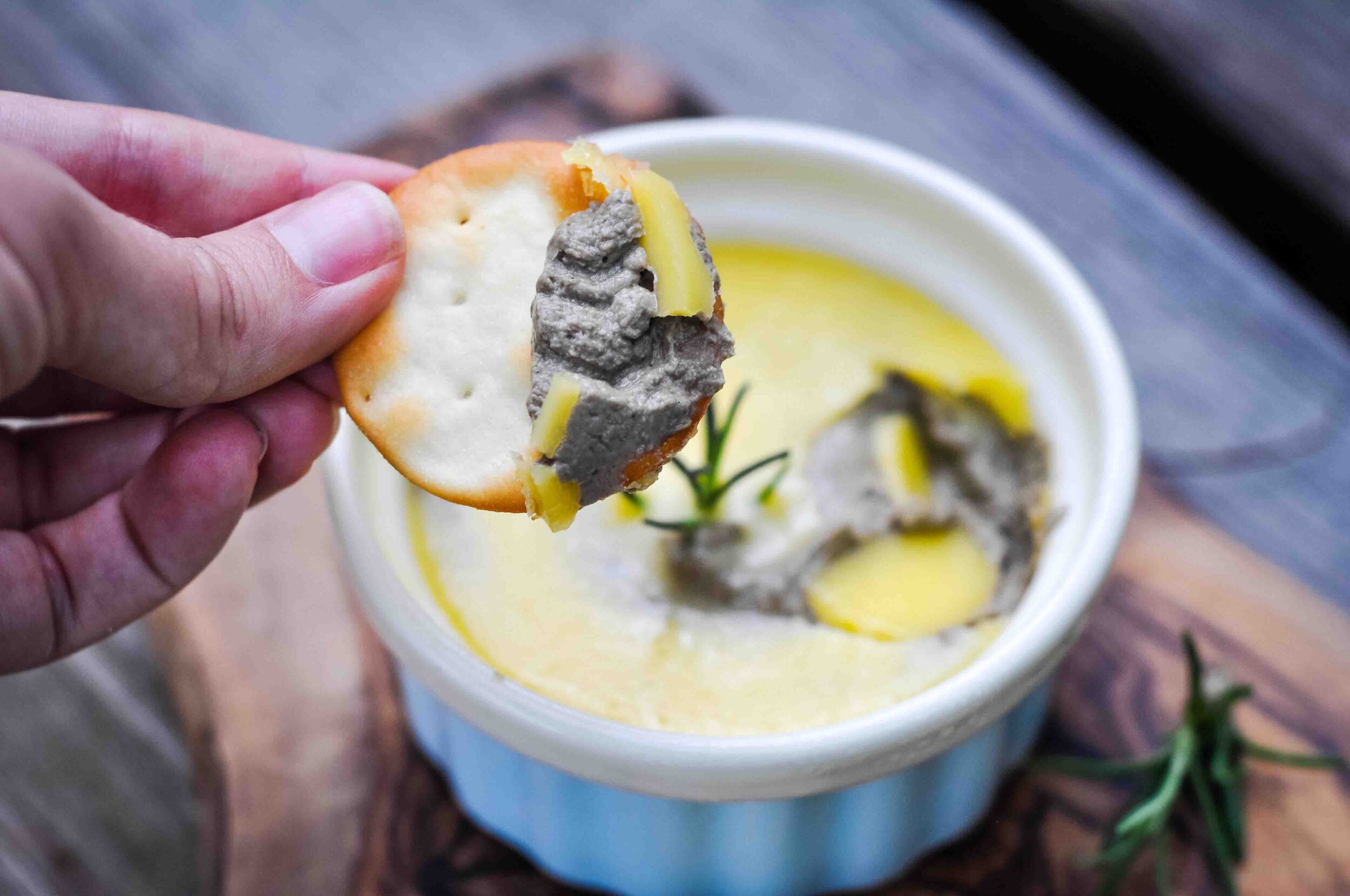 Is chicken liver patè good for you? Nutrition facts
Granted, it doesn't look super appetizing, but chicken liver patè is one of the healthiest foods you can eat. Liver blows fruits and vegetables out of the water when it comes to vitamins and minerals.
Remember when I said that liver is the worlds most nutrient-dense food per gram? Here's proof.
One 100-gram serving of chicken liver contains:
281% RDA of vitamin B12
267% RDA of vitamin A
144% RDA of folate
117% RDA of vitamin B2
118% RDA of selenium
65% RDA of iron
41% RDA of phosphorous (source)
According to Healthline, "A small amount of liver provides well over 100% of the RDI for many essential nutrients. It is also rich in high-quality protein and low in calories."
What is patè?
Patè is a traditional dish that has been around for centuries, originating in northern European countries. It was invented as a way to use the "whole animal" (not just the muscle meats) and is still very popular around the world. In fact, 68% of the French population eats patè at least once per month!
Roughly translated from French, pate means "a paste or coarse mixture… of ground meats and fat to which other savory herbs and spices are added (source)."
It is usually eaten as an hors d'oeuvre, spread on top of toasted bread or crackers. (Try it with my yummy sourdough discard crackers!)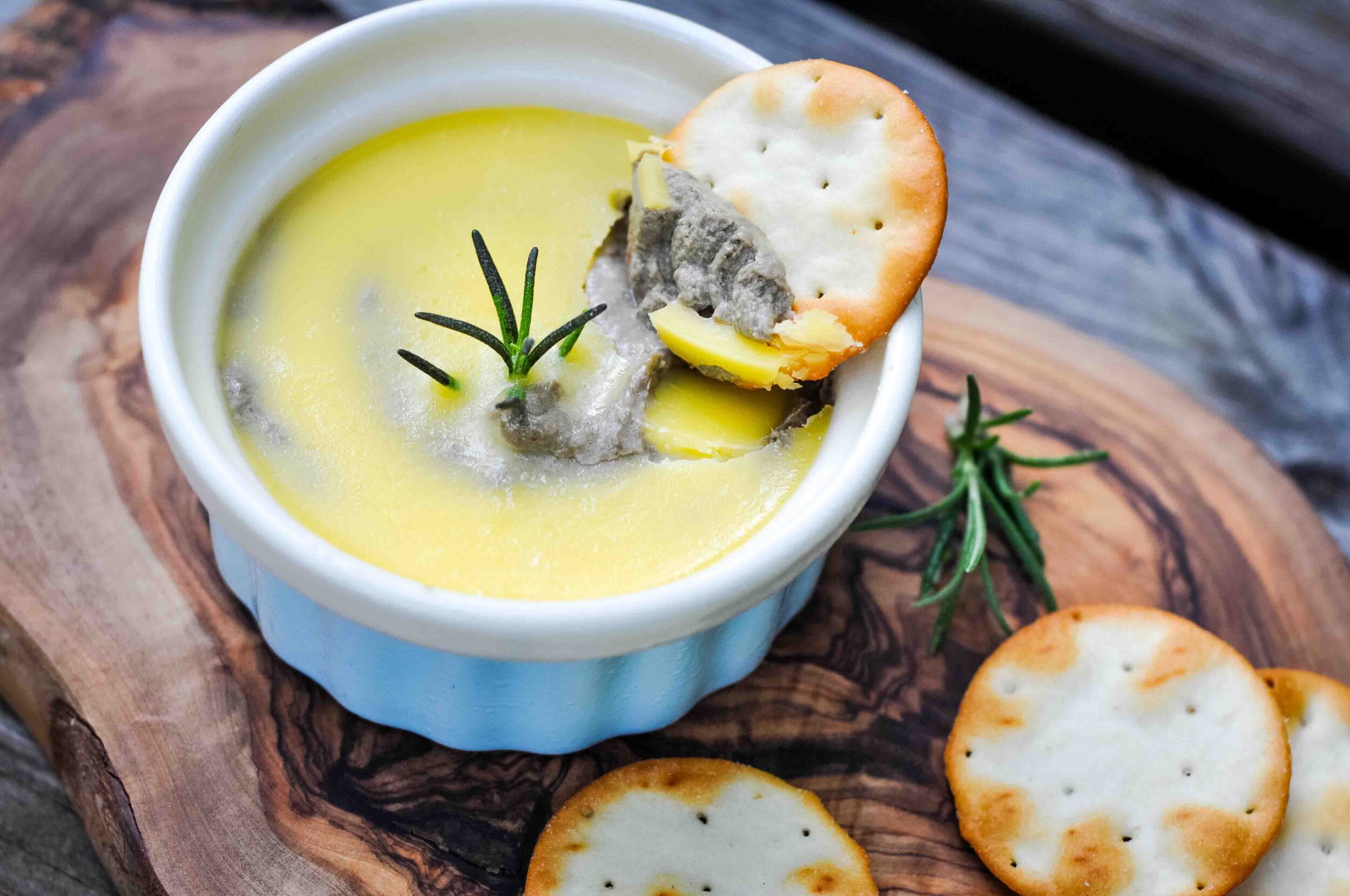 What is chicken liver patè made from?
Here are the typical ingredients in chicken liver patè:
Chicken livers – try to make sure they are from organic pastured chickens, if possible. I found some for a good price at my local farm. If you don't have a farm near you, most grocery stores also have chicken livers.
Mushrooms – these give the patè such a rich, aromatic flavor! I like using baby bella mushrooms, but feel free to use any variety.
Chicken broth – Many recipes use white wine to cook the livers in. You can definitely do that, but since we don't drink we never have wine in the house. So I use chicken broth instead, which complements the chicken livers so well! If you are looking for a chicken liver patè with no alcohol, this is the recipe for you.
Rosemary – I love the flavor of fresh rosemary in this recipe, but you can use other fresh herbs that you like. The most important thing is to use fresh herbs – dried won't work quite as well for this recipe. It's really important to the overall taste.
Butter – There is a lot of butter in this patè, which has a lot to do with why it's so delicious! I love using grass fed butter like Kerrygold, which you can find anywhere now.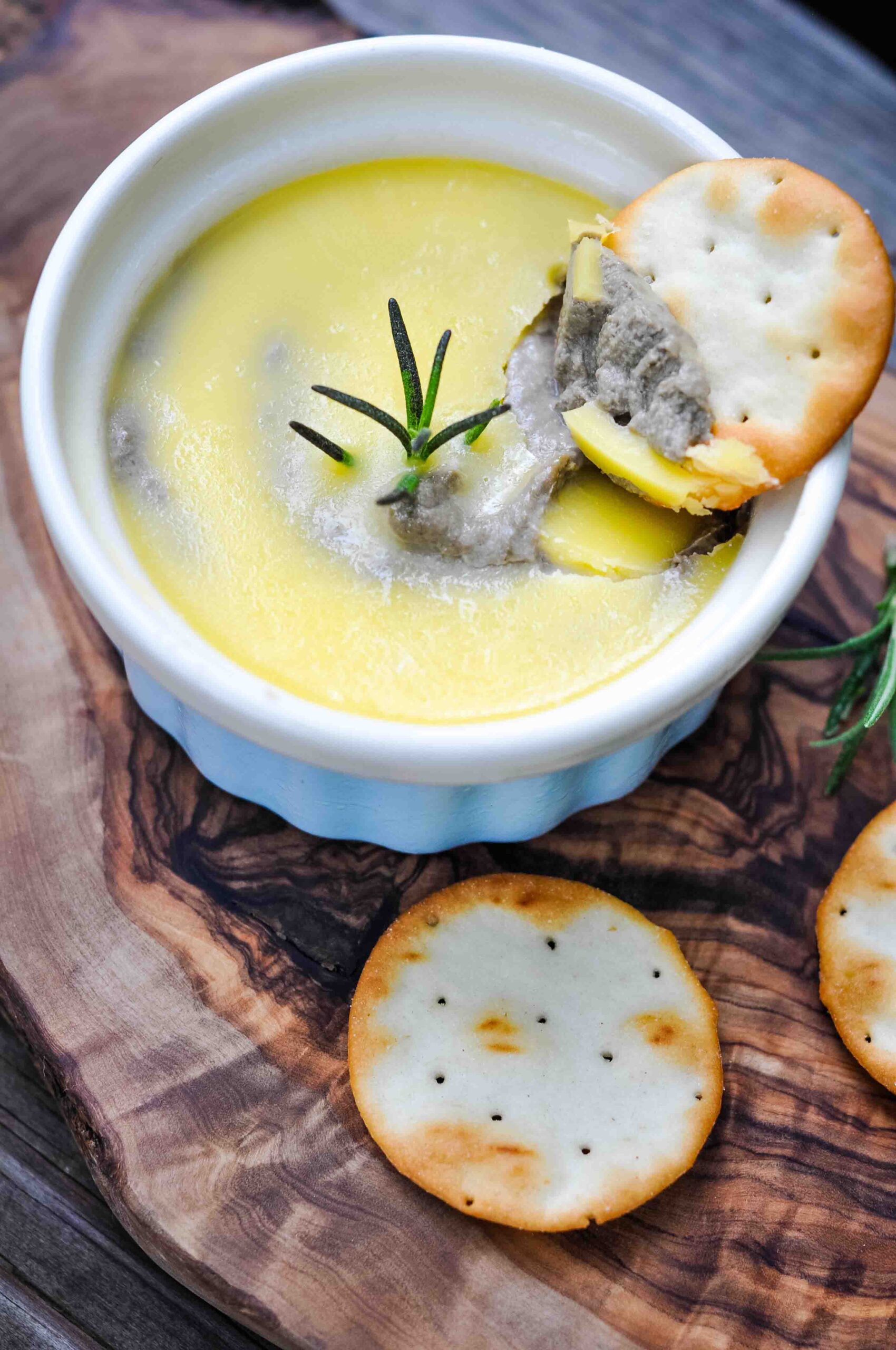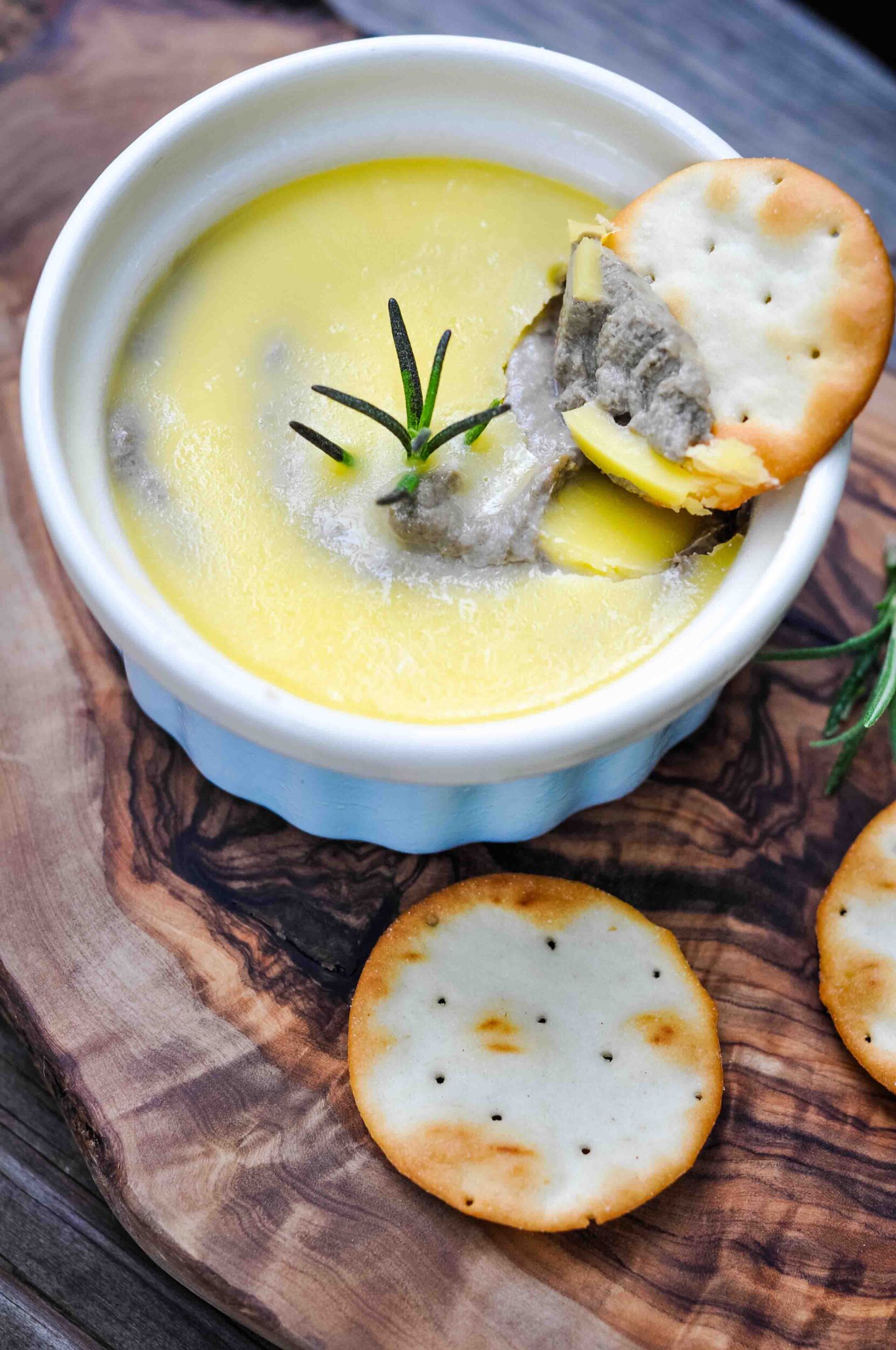 Easy chicken liver pate method
Okay, you've got your chicken livers and you're ready to roll. Trust me, this recipe is so easy and incredibly yummy too! My youngest son loves this so much, he chooses it over cheese dip!
First, rinse the chicken livers thoroughly to make sure they are clean. Melt butter in a large skillet on medium heat. Add the livers, chopped mushrooms, and green onions.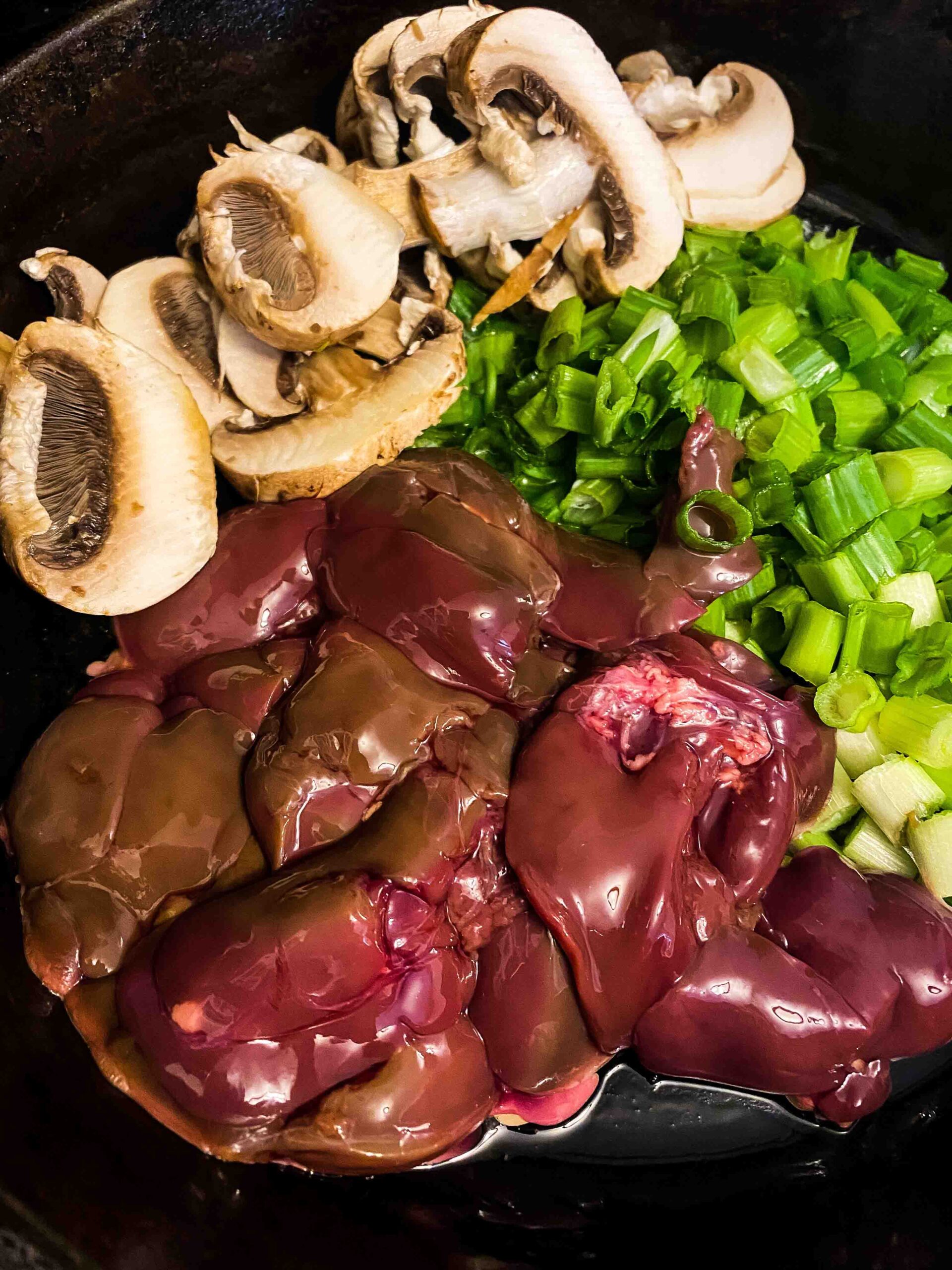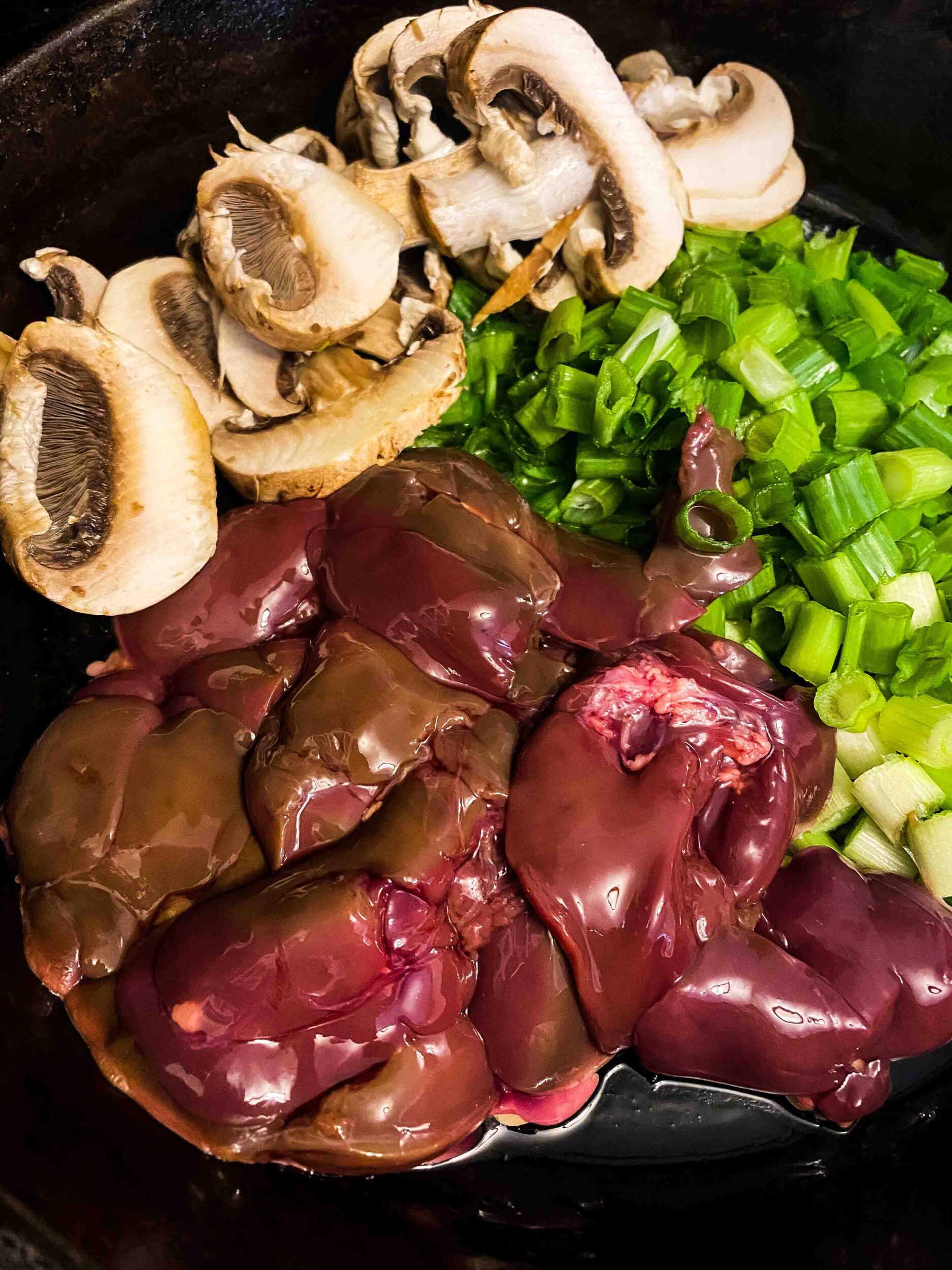 Stir occasionally and allow to cook for about 5-10 minutes. You want the livers to be browned on the outside but still a tad pink on the inside.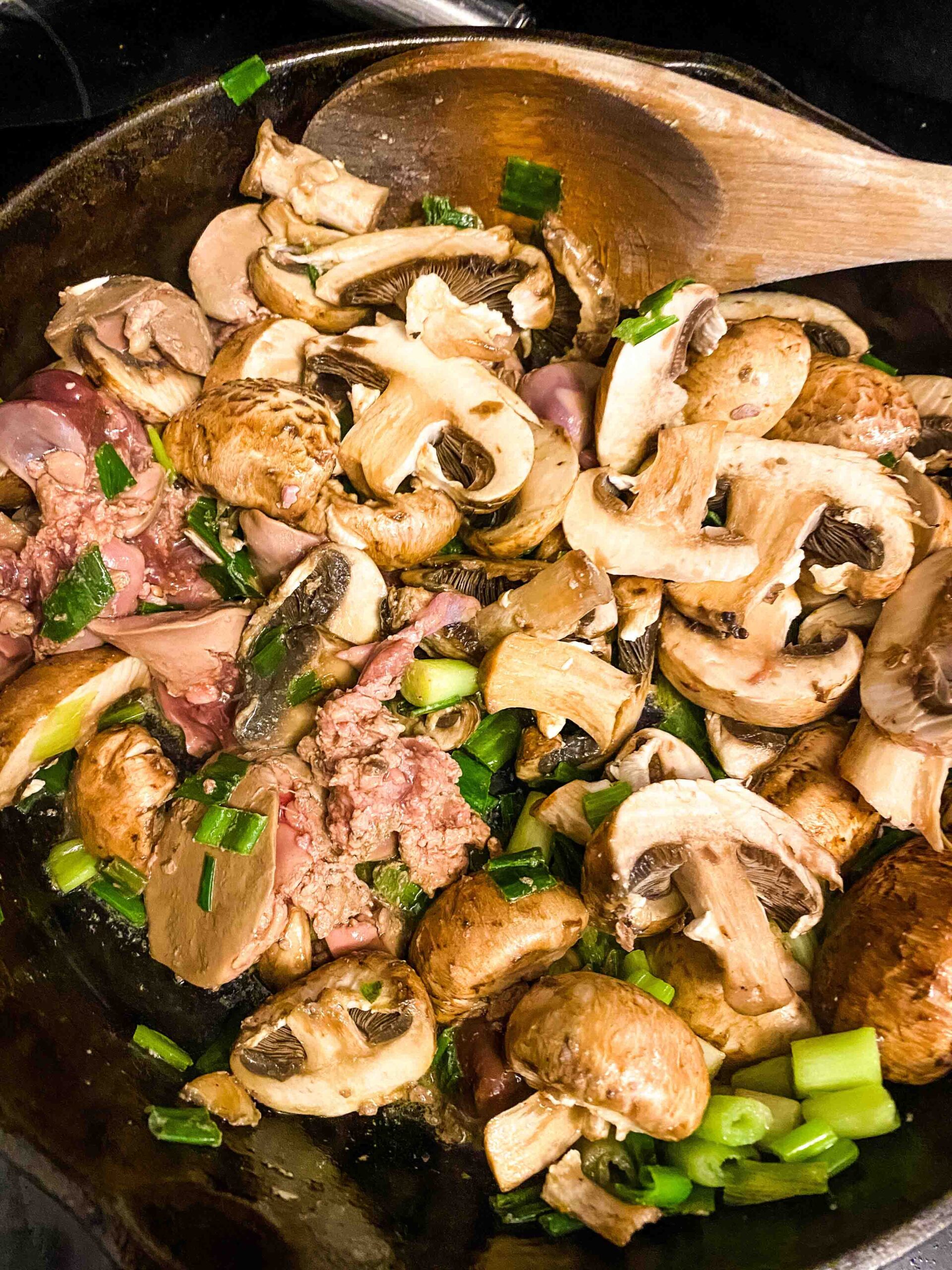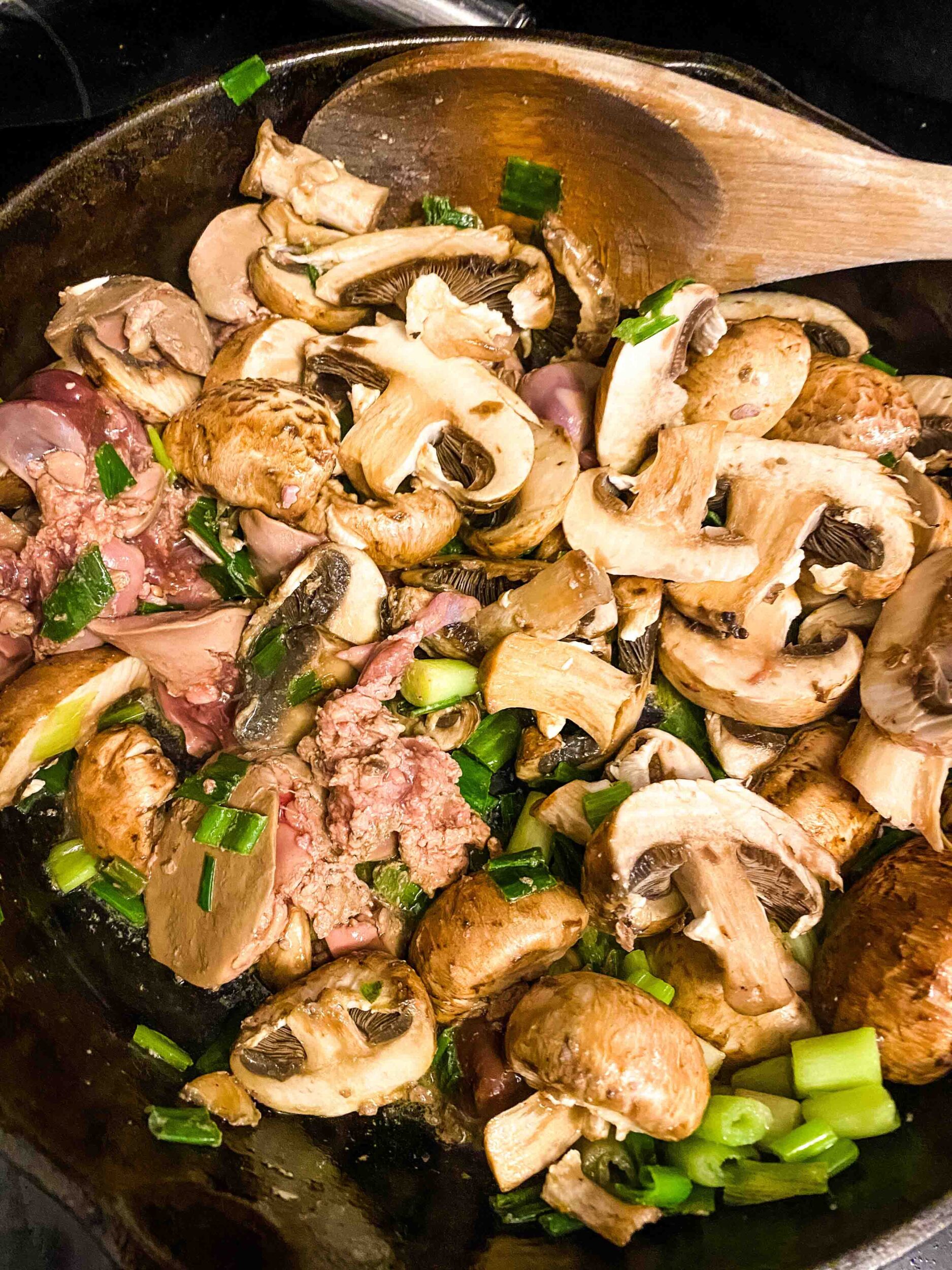 Next, add the garlic, broth, mustard, lemon juice, and herbs and bring to a gentle boil.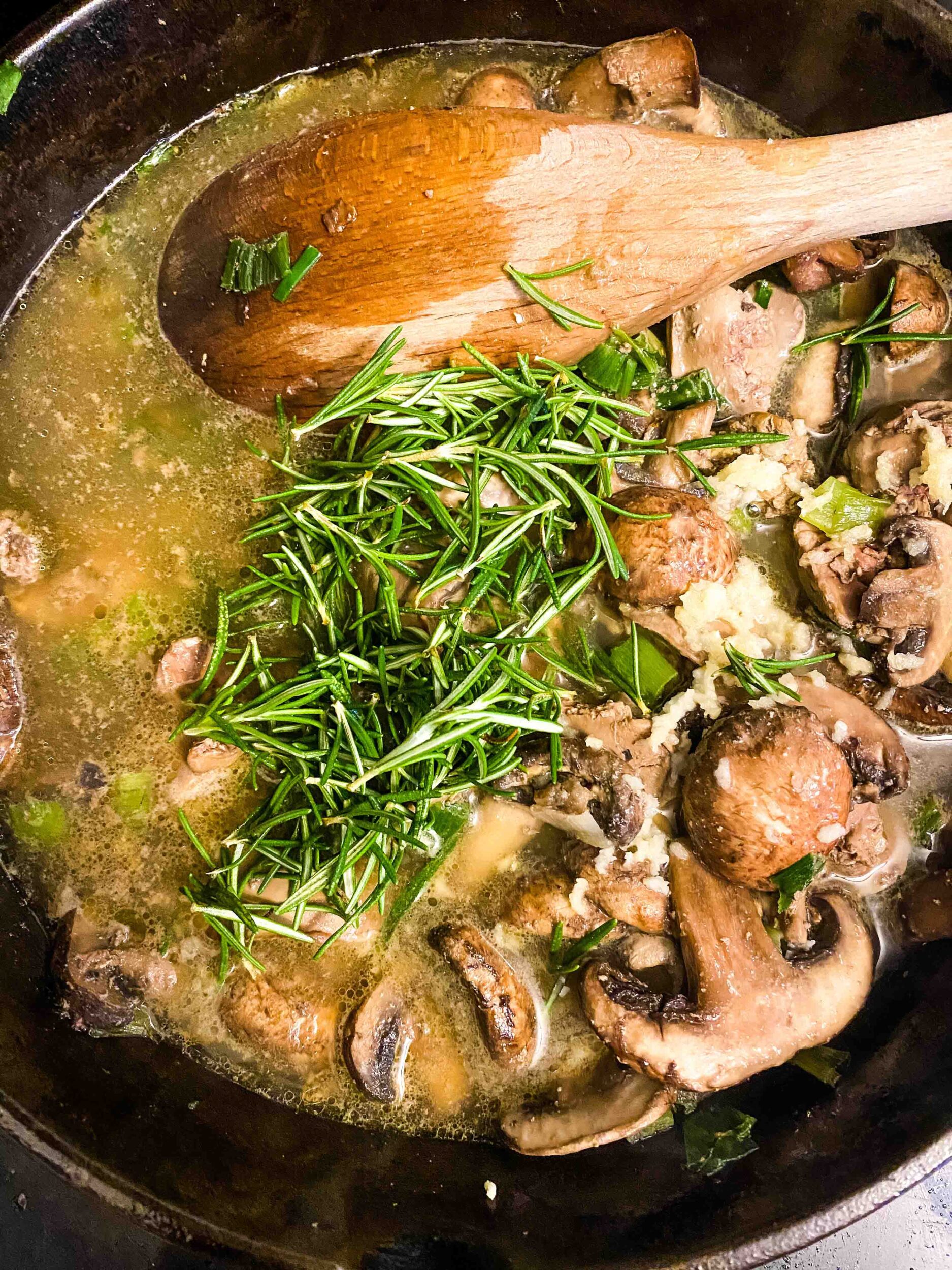 Allow to cook uncovered until liquid is almost evaporated. Set aside and allow to cool.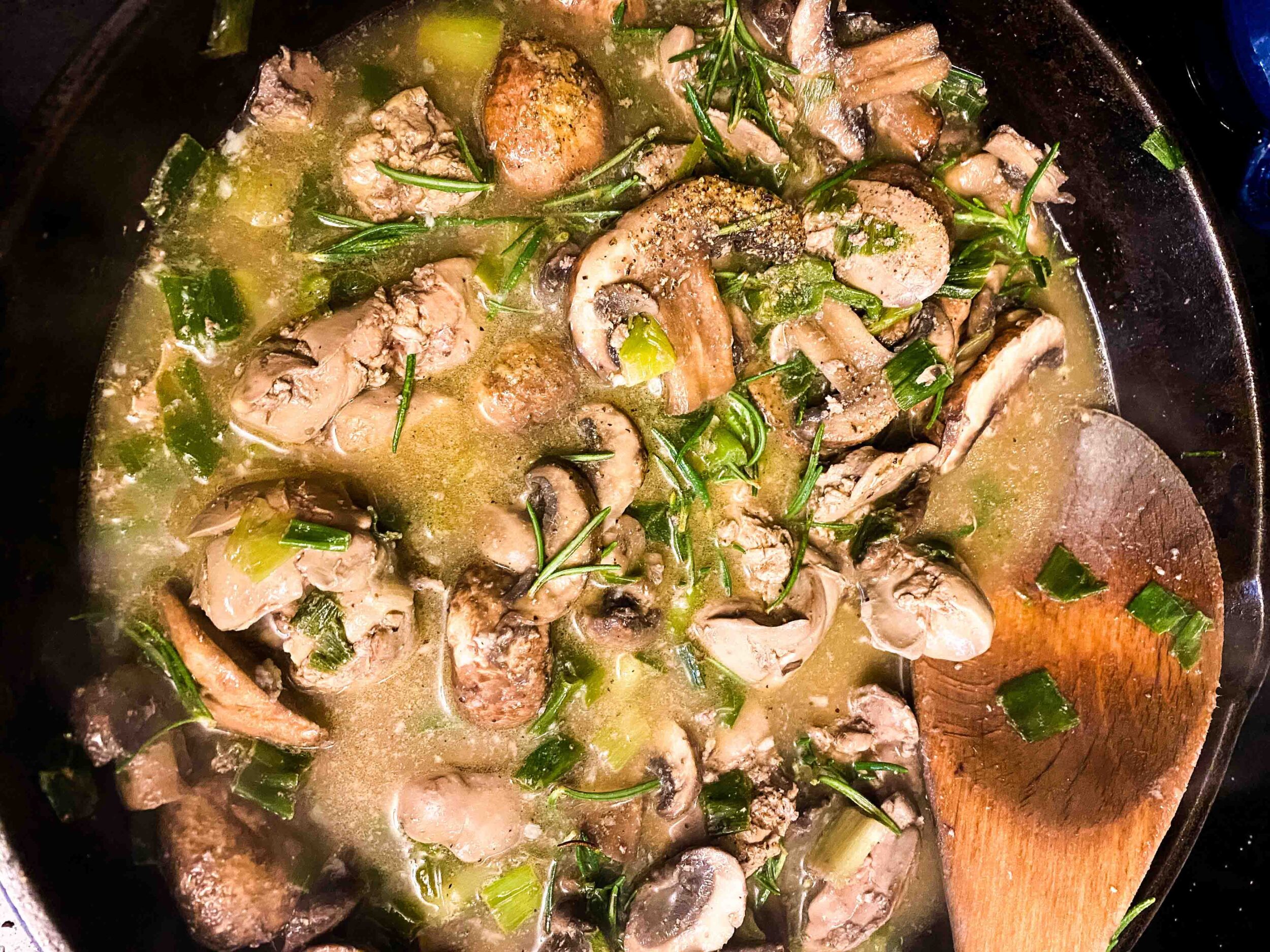 Add everything to a food processor or blender with an additional 1/4 cup of softened butter, salt, and pepper.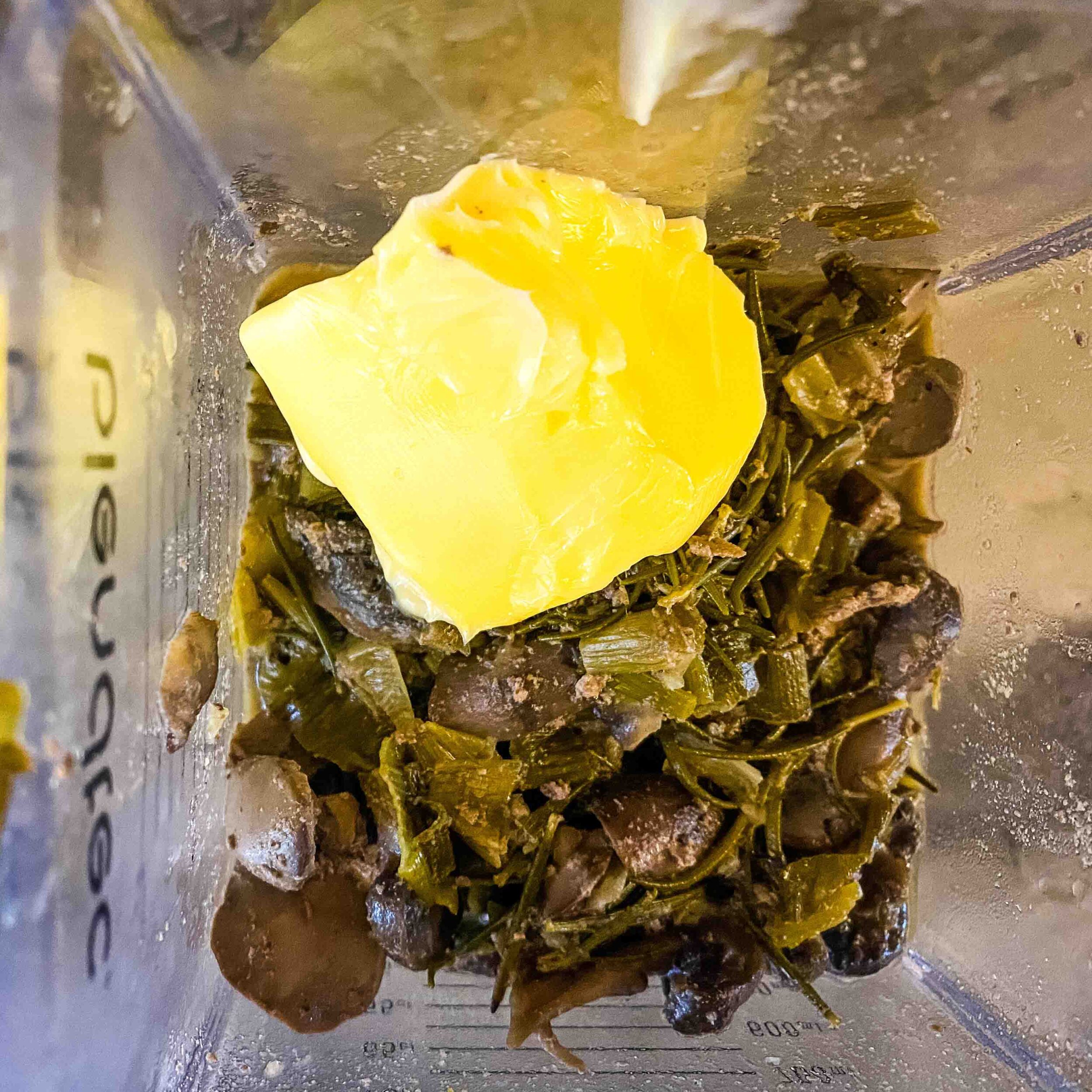 Blend or process until smooth.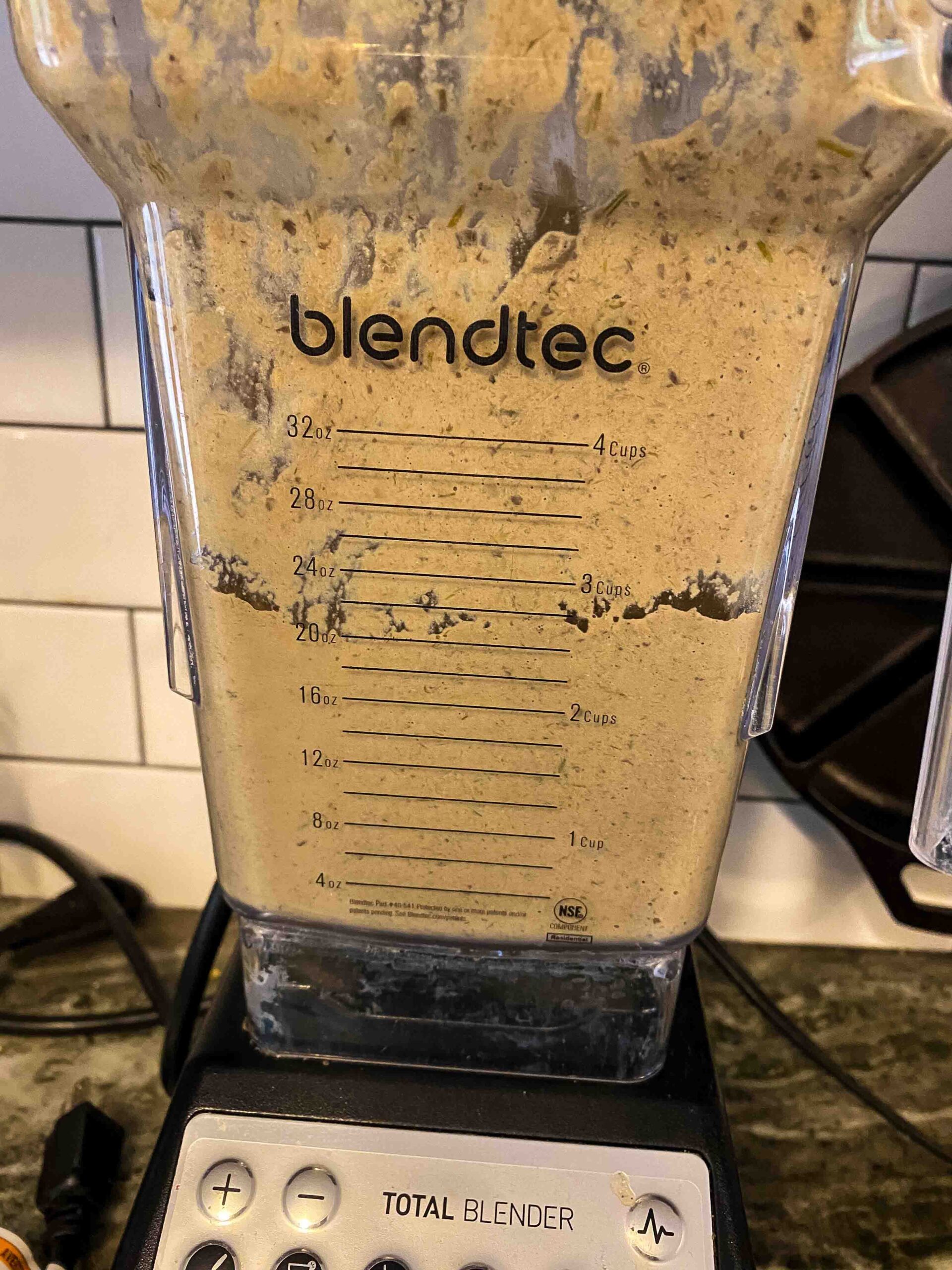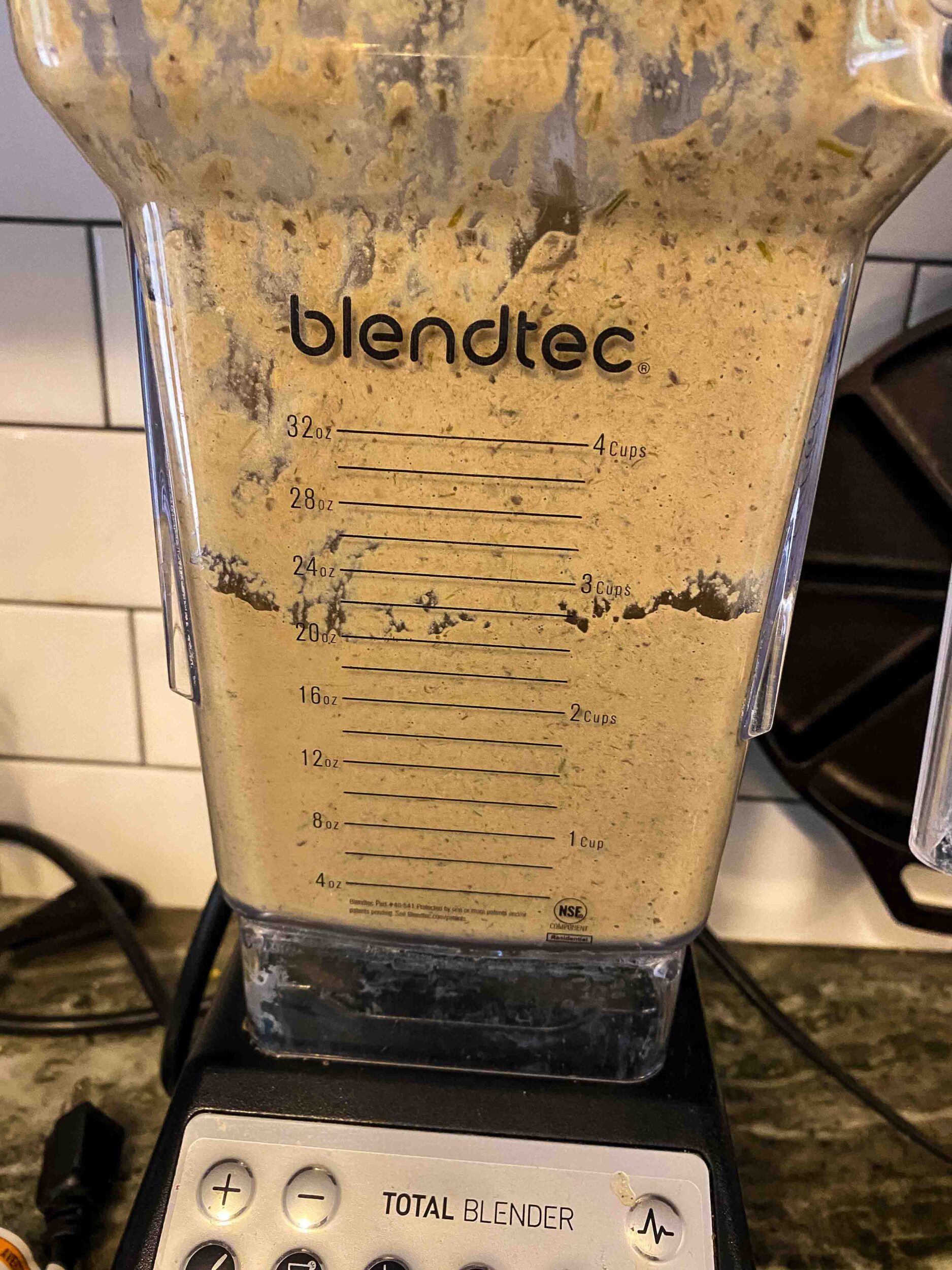 Transfer pate to containers and pour additional melted butter on top to preserve. I like using small jars or ramekins for this. Then you can freeze the ones you aren't currently using for later.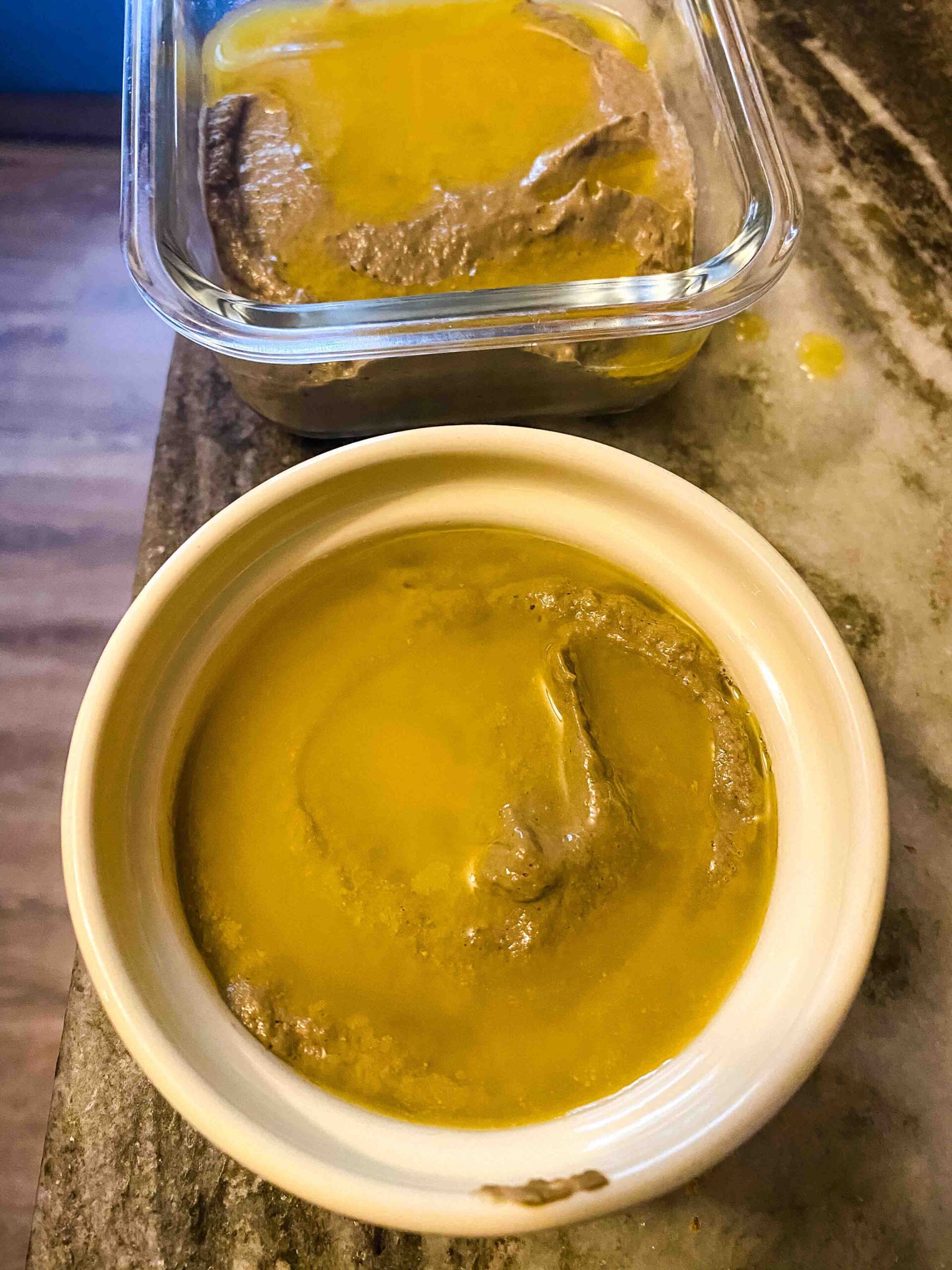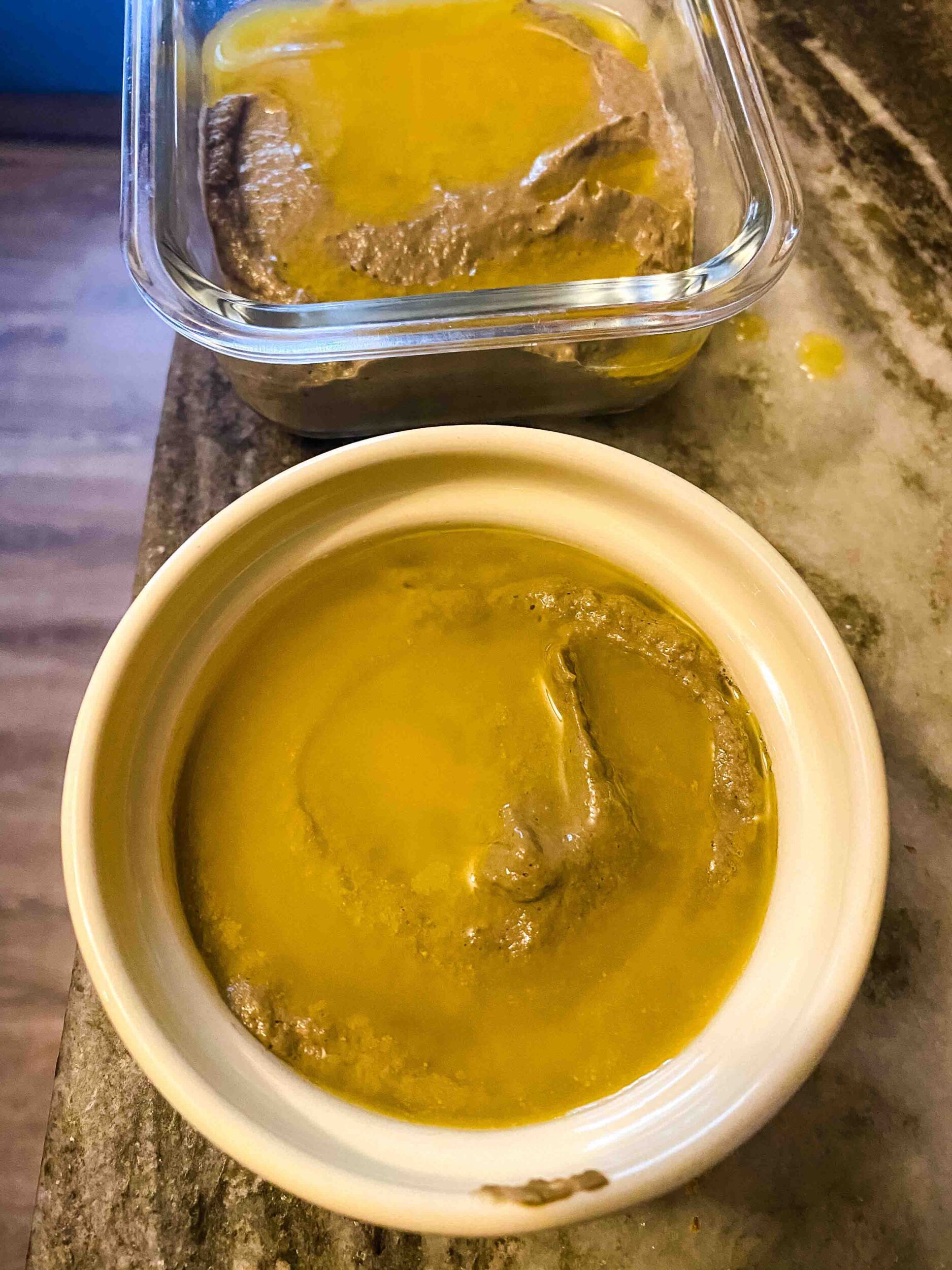 Store pate in the fridge and consume within five days. It's the perfect dip for chips or spread for toast and crackers!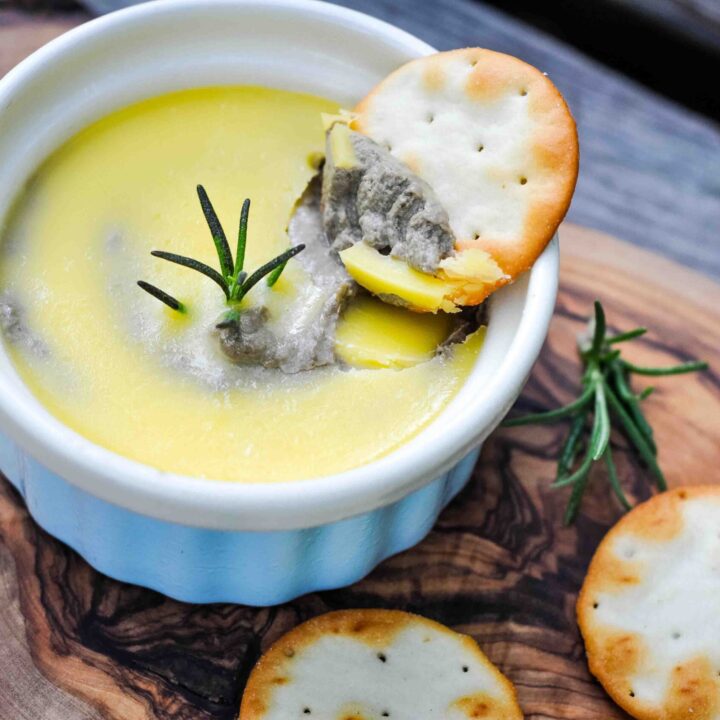 Yield: 3 cups
Mushroom & Rosemary Chicken Liver Pate
Prep Time: 10 minutes
Cook Time: 15 minutes
Total Time: 25 minutes
Chicken liver patè is the perfect introductory recipe if you're new to organ meats. The butter topping and infusion of rosemary & mushrooms make it utterly delicious!
Ingredients
1 lb. chicken livers, rinsed
2 Tbsp. butter
1 cup green onions, chopped
1 pint mushrooms, chopped
2 cloves garlic, minced
2/3 cup chicken broth
1/2 tsp. dry mustard
2 Tbsp. lemon juice
1 handful fresh rosemary, chopped
1/4 cup butter, softened (plus extra for melting on top)
Salt & pepper to taste
Instructions
Melt 2 Tbsp. butter in a large skillet on medium heat. Rinse chicken livers, pat dry, and add to skillet with mushrooms and onions.
Cook for 5-7 minutes until livers are browned (they should still be slightly pink in the center.)
Add garlic, broth, mustard, lemon juice, and rosemary and bring to a gentle boil. Allow to cook, uncovered until most liquid is evaporated (about 10 minutes).
Let the mixture cool. Add to a food processor or blender along with 1/4 cup softened butter, plus salt & pepper to taste.
Process or blend until smooth.
Pour patè into small jars or ramekins, then pour some additional melted butter on top to preserve.
Chill thoroughly and consume within 5 days. Or, you can freeze individual jars or ramekins and use within 6 months.
Recommended Products
As an Amazon Associate and member of other affiliate programs, I earn from qualifying purchases.
Nutrition Information:
Yield:
24
Serving Size:
2 Tbsp.
Amount Per Serving:
Calories: 66
Total Fat: 4g
Saturated Fat: 2g
Trans Fat: 0g
Unsaturated Fat: 2g
Cholesterol: 114mg
Sodium: 77mg
Carbohydrates: 2g
Fiber: 1g
Sugar: 0g
Protein: 5g
How do you preserve chicken liver pate?
Butter is traditionally poured on top of the pate, both for preservation purposes and also because it is beautiful and delicious. It's so nice to get a creamy bite of butter in between the yummy pate flavors.
This pate freezes extremely well also. You can freeze it for up to 6 months in a jar with an airtight lid.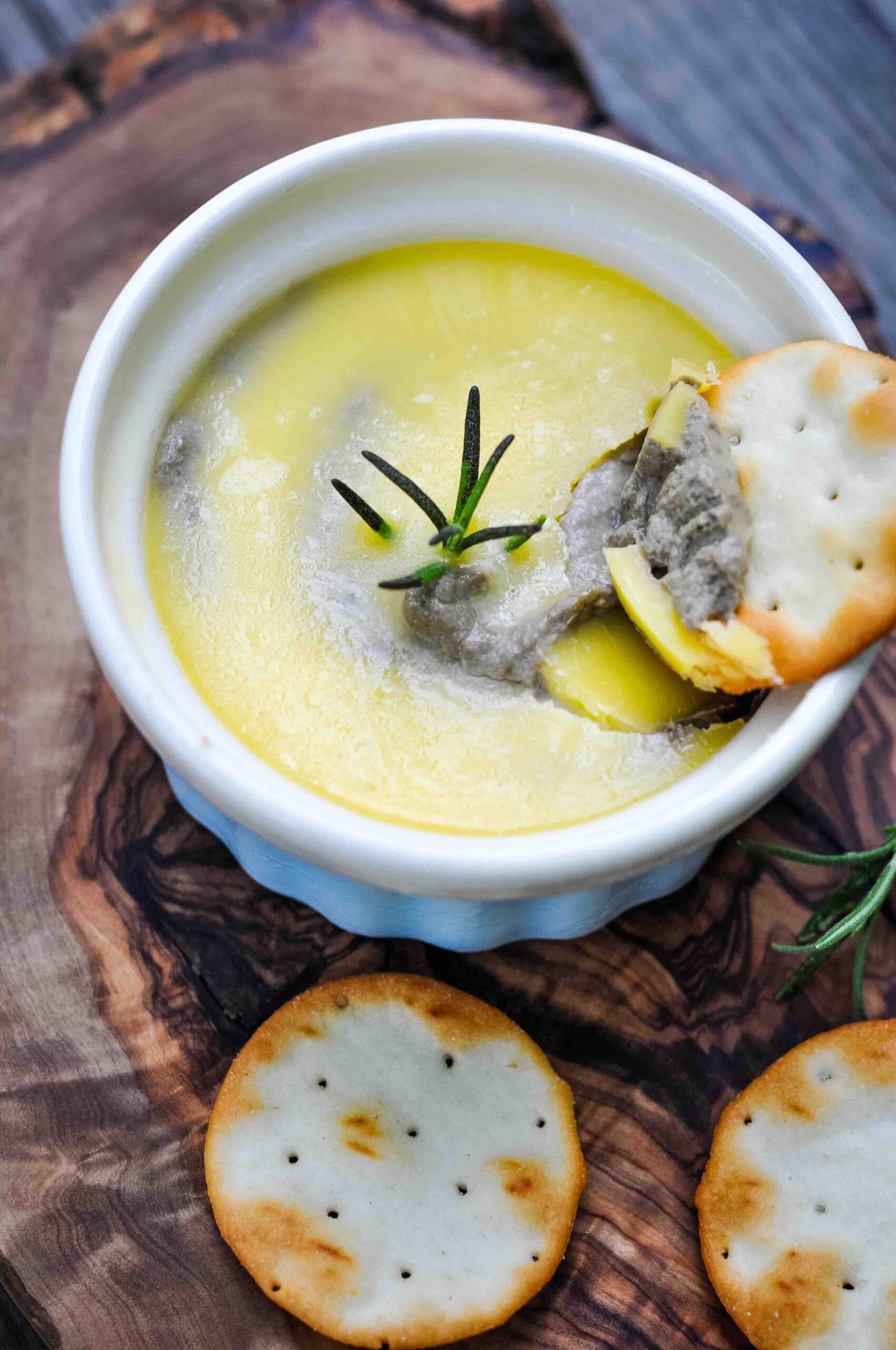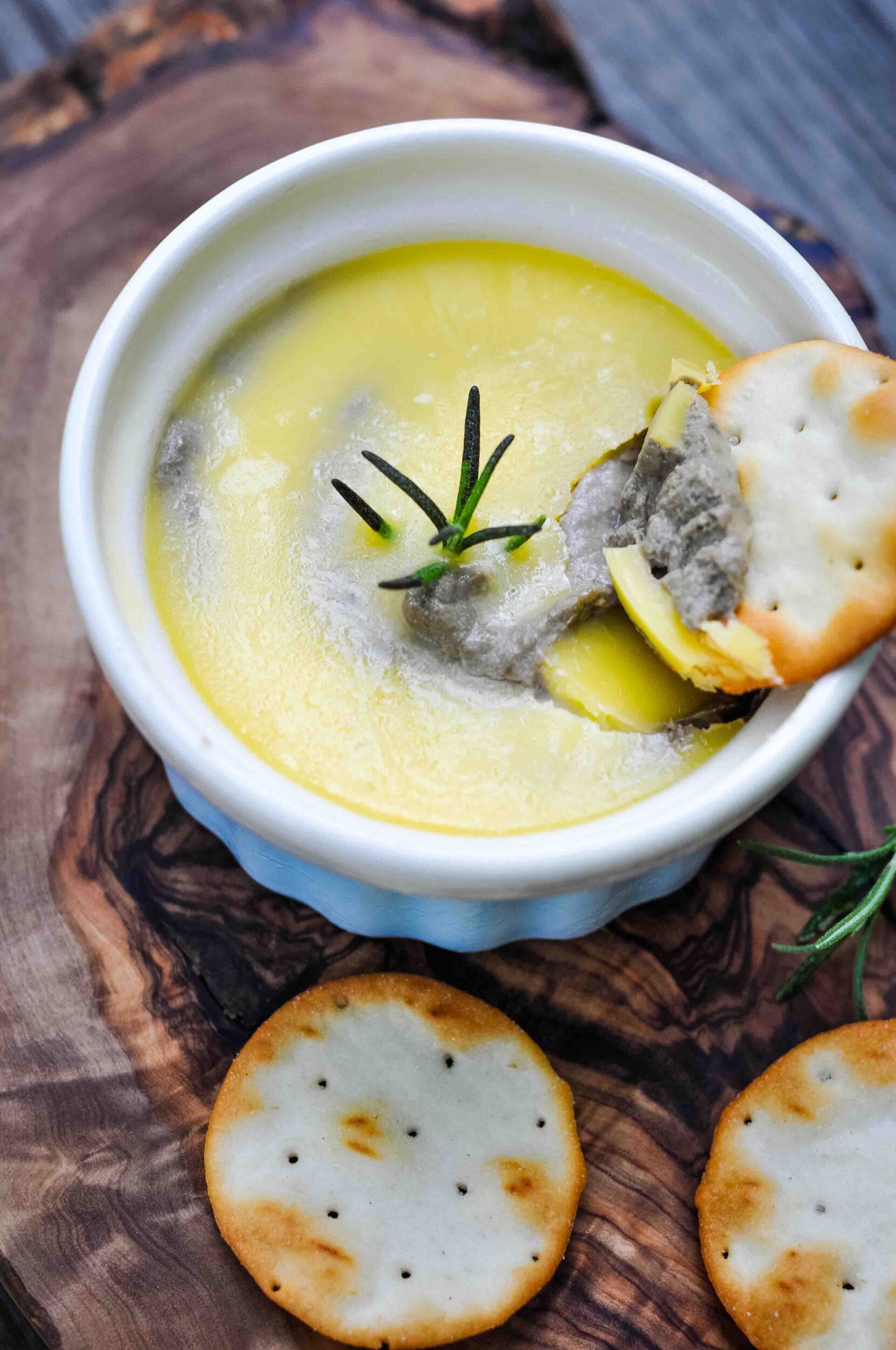 Does your family eat organ meats? What are your favorite ways to use them?
PIN IT!