Have a bunch of sourdough starter discard, and not sure what to do with it? Try making these easy and delicious crackers! All you need is leftover starter, butter, parmesan cheese, and herbs.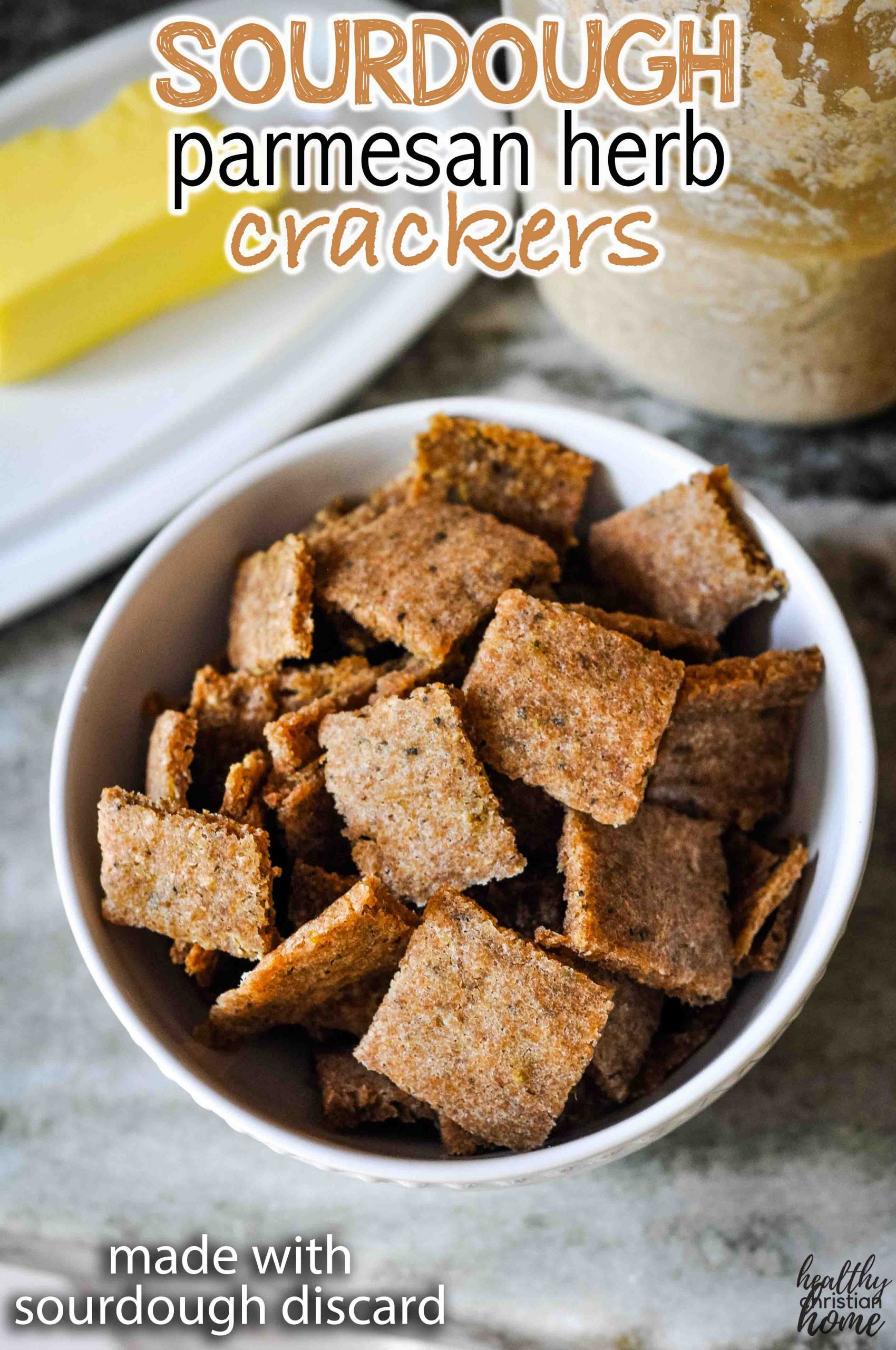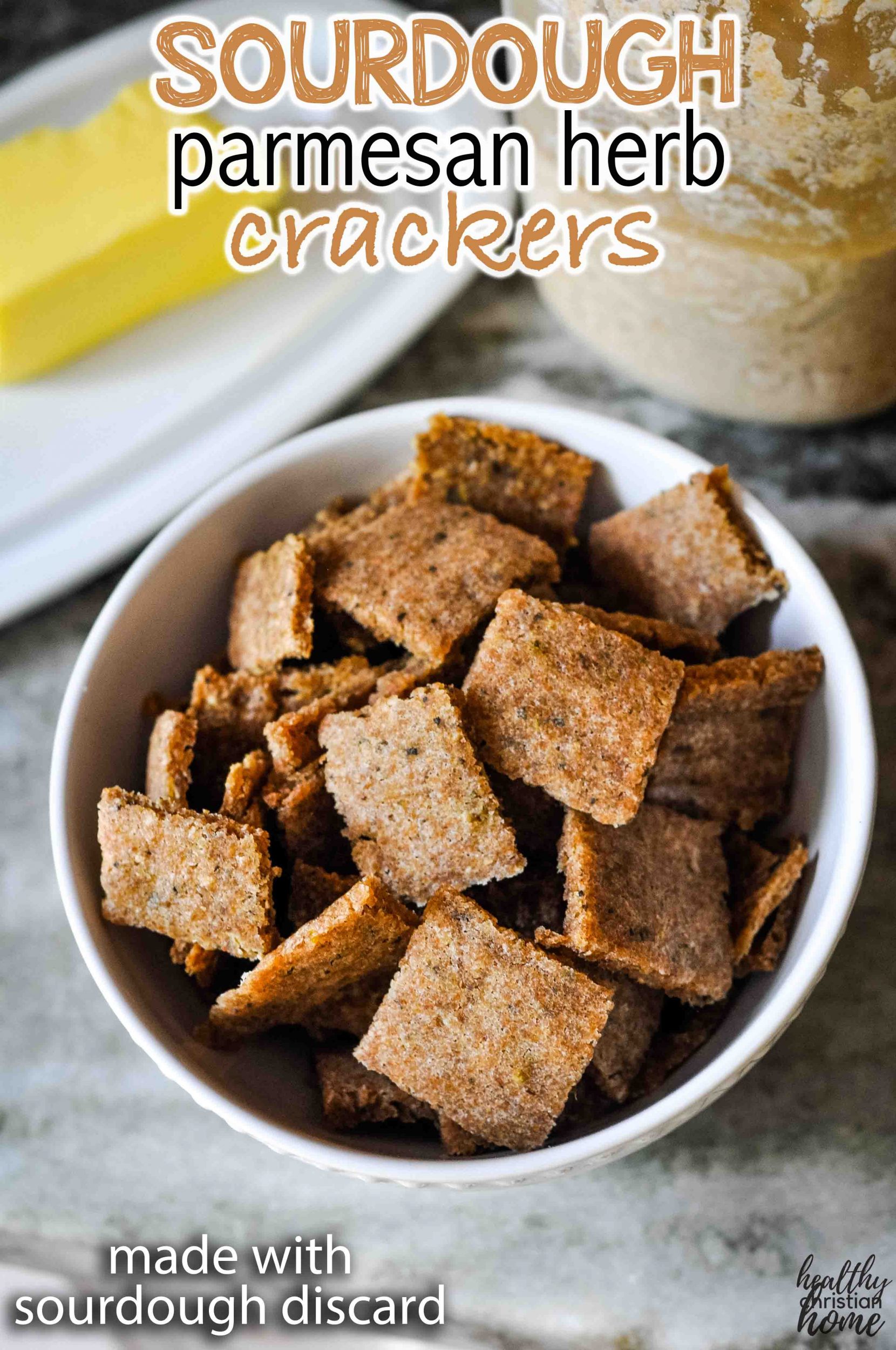 These cheesy, herby crackers made with sourdough starter will become your new favorite way to use your discard! They only take a few minutes to mix up and are great to throw in lunchboxes or for a quick snack.
When I started working with sourdough this year, it took awhile to get my starter established and going strong. During that time, I had to feed her – A LOT. And sadly, I wasted some flour in the process.
What is sourdough discard?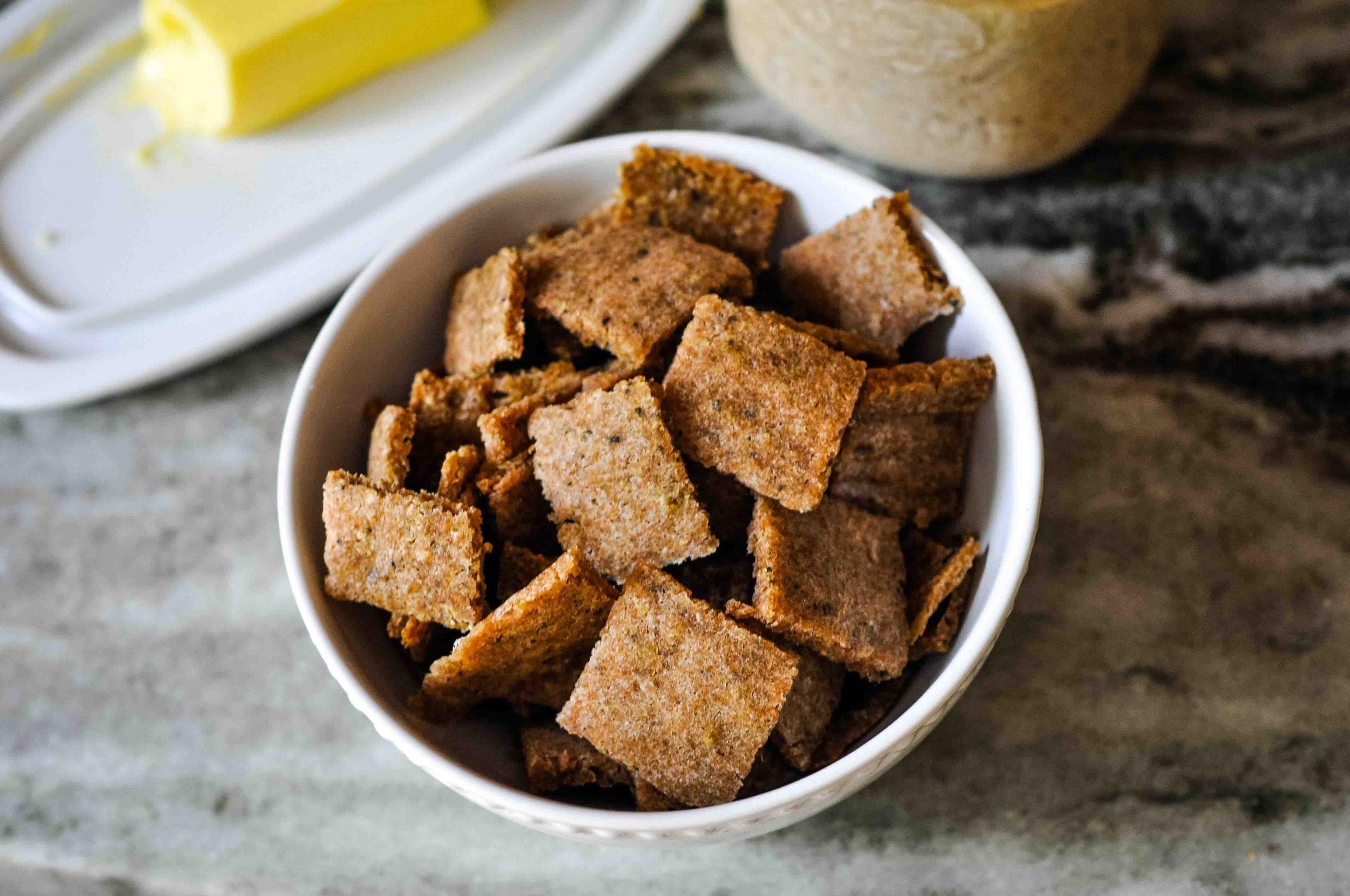 Every time you feed a sourdough starter (for things like whole grain sourdough bread), you have to discard some of the starter you've already built up in your jar. This is because your starter needs at least one part flour and one part water added to it in order to keep the microorganisms alive and fed.
If you keep too much starter because you're sad to throw some away, you're going to have to feed it exponentially more flour to keep it alive. Then you're using more and more flour every time and it becomes this crazy, wasteful cycle.
When I first began, I wasn't feeding my starter nearly enough flour and almost choked it (sad). Thankfully, I changed my approach.
So you (eventually) learn to let go of starter to keep it healthy and happy. And you come up with a myriad of recipes to use your starter discard and avoid throwing it in the trash!
That's how my faaaaavorite sourdough oatmeal pancakes were born. Believe it or not, this recipe is even easier!
Obtaining a Sourdough Starter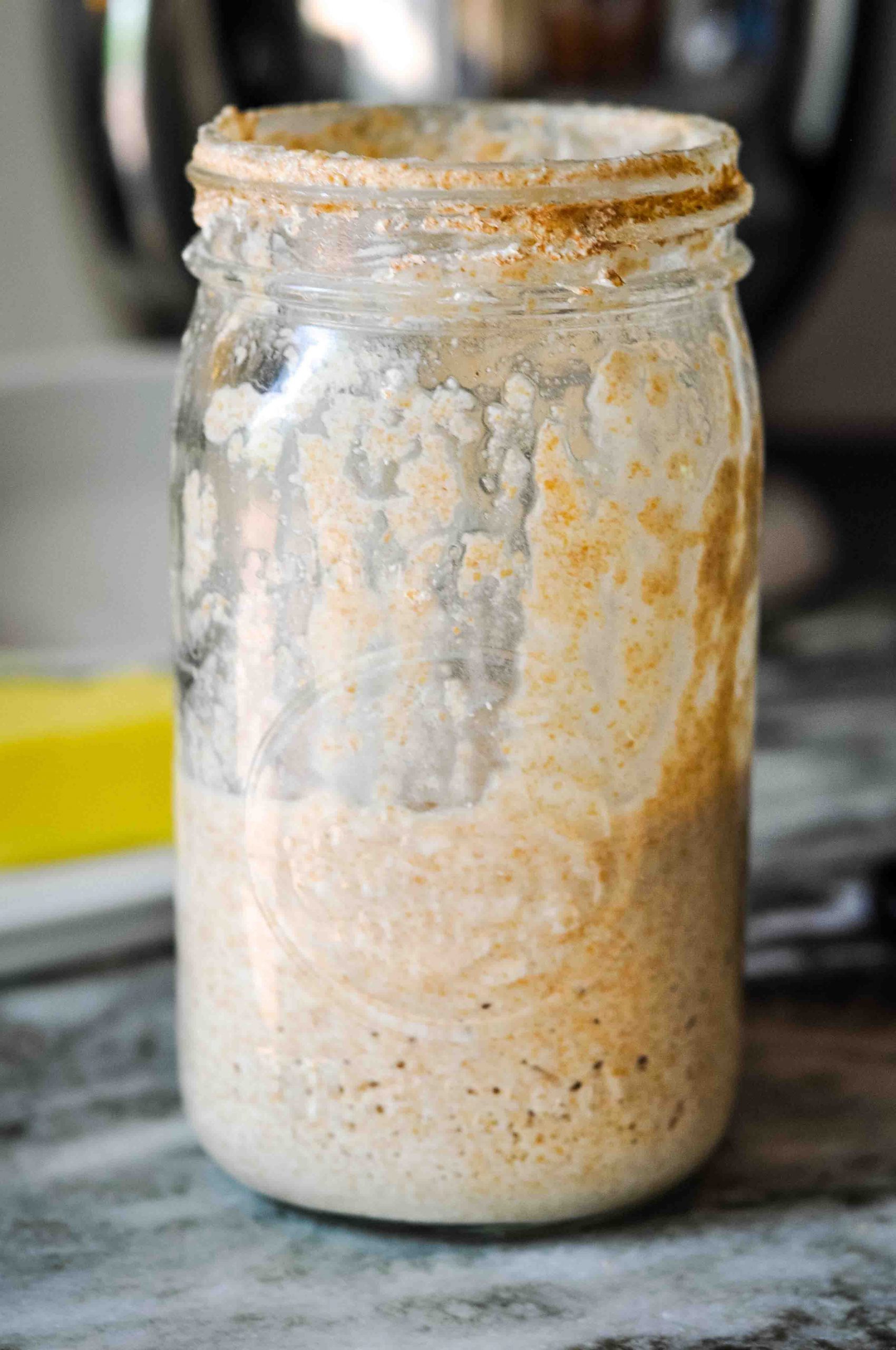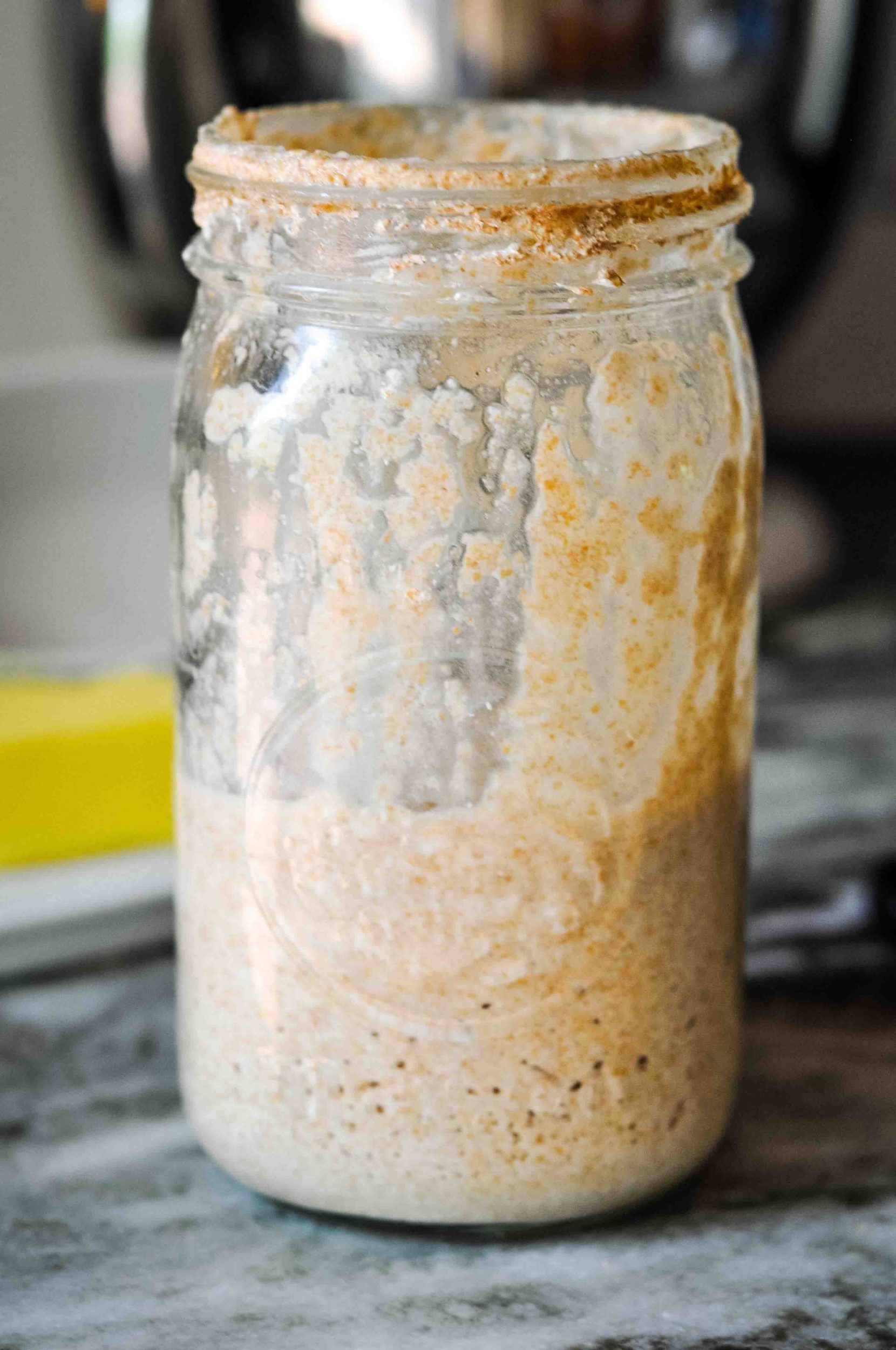 I found my San Francisco sourdough starter online, and there are lots of places to find your own. Cultures for Health has some lovely starters to choose from.
It's usually shipped to you in a powder form, and you feed it flour and water, stir well, and let it ferment in a warm place.
In the first few days, it's simply a matter of feeding it a couple times daily and keeping it in a warm place to get it going. When your starter is well established, you can store it in the fridge to take a break and then take it out and feed it any time you're in the mood to bake.
If you're feeling really adventurous, you can actually make a sourdough starter yourself with just flour and water. Here's a tutorial from The Clever Carrot.
More healthy snack recipes:
Sourdough Discard Crackers Ingredients
First off, to make these crackers, you need plenty of sourdough starter discard. The whole point of this recipe is to provide a solution for when you have a lot of starter to use up. You can use it ALL up in this recipe, and there's no need to add any additional flour.
It's just starter, butter, cheese, and herbs. As you can see, I like using freshly ground whole grain flour so my crackers are a dark color. You can use any type of flour you like, which will change the color.
The perfect time to make these crackers is when you've overestimated the amount of starter you need for a recipe and you're left with waaaay too much (who, me?).
Or, plan ahead and feed your starter enough so you'll end up with a lot of discard to work with. Believe me, your kids will love these crackers so you'll want to make them regularly!
How to Make Sourdough Discard Crackers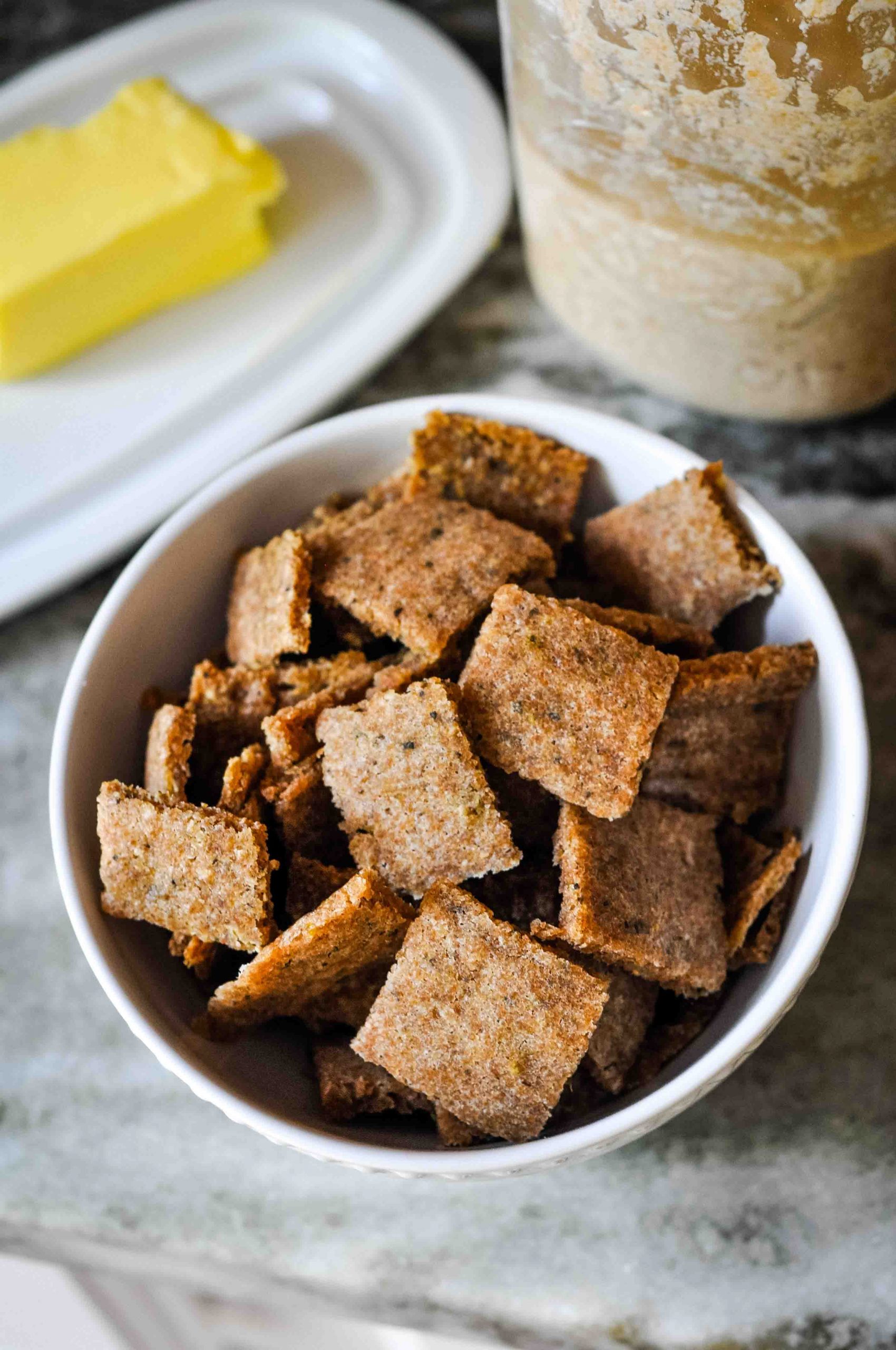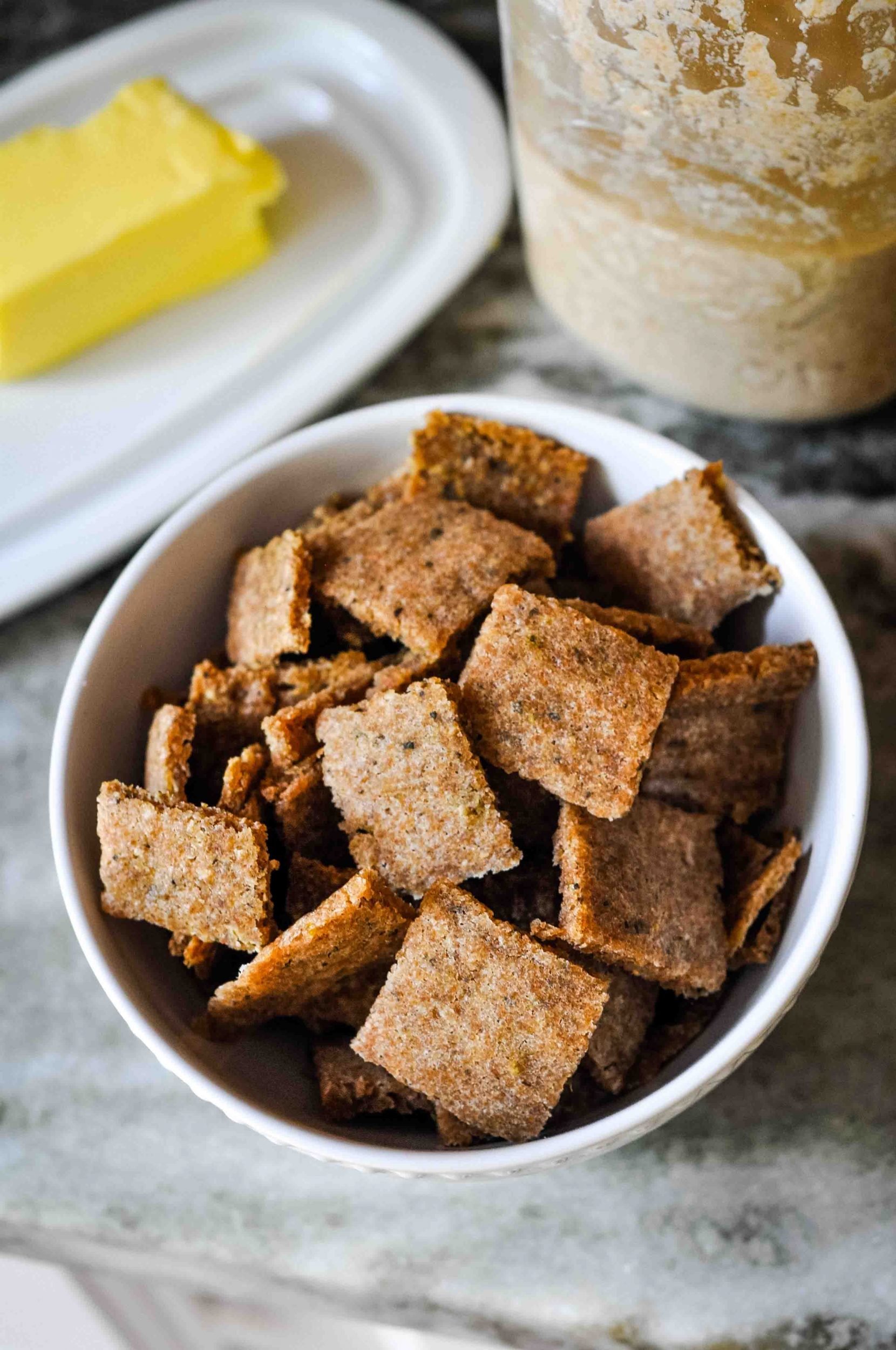 First off, here's a tip to help you "save up" enough starter for this recipe. Every time you have leftover starter from a recipe, add it to a jar in the fridge until you have enough to make crackers. You can keep starter in the fridge for up to 2 weeks without feeding it.
To make the crackers, preheat your oven to 325 F. Measure out 1 1/2 cups of starter into a mixing bowl.
Add in melted butter, herbs, parmesan (optional), and salt. You can use any variety of herbs you like, such as Herbs de Provence. Mix thoroughly until everything is fully incorporated and there's no more butter floating on top of the starter.
Line a baking tray with parchment paper and spread starter onto it with a rubber spatula. Spread it in a THIN layer. Like really, really thin.
If you don't spread the cracker batter thin enough, these will turn out soft and cakey instead of crispy. We're going for crispy and crunchy here.
It's okay if you don't spread it 100% evenly. They'll bake up nicely anyway. This cracker recipe is super forgiving!
Transfer to the oven and bake for 10 minutes. Remove for oven and 'score' the crackers (lightly cut into squares).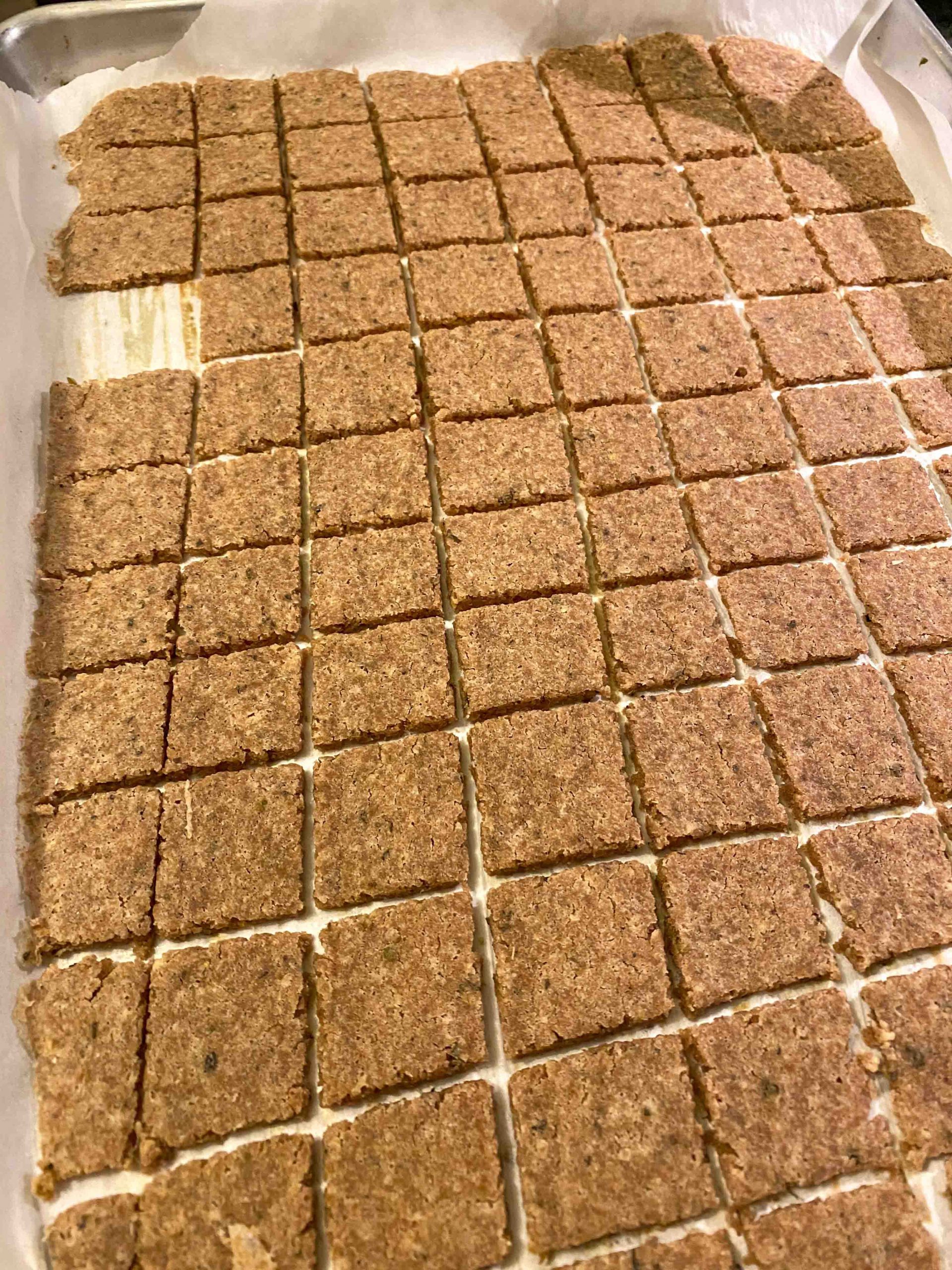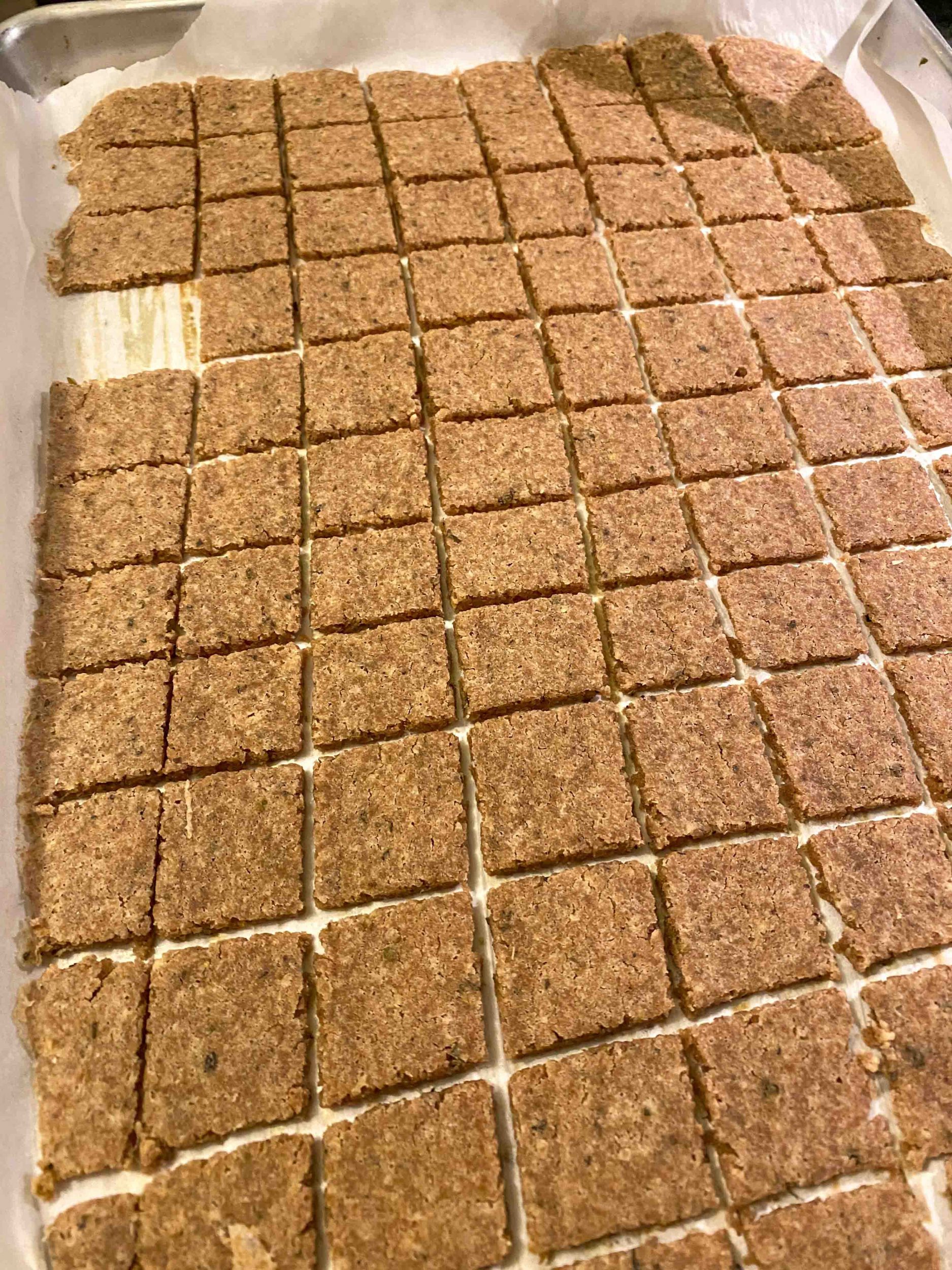 Return crackers to oven and bake for an additional 35-45 minutes, until they are lightly browned and crispy.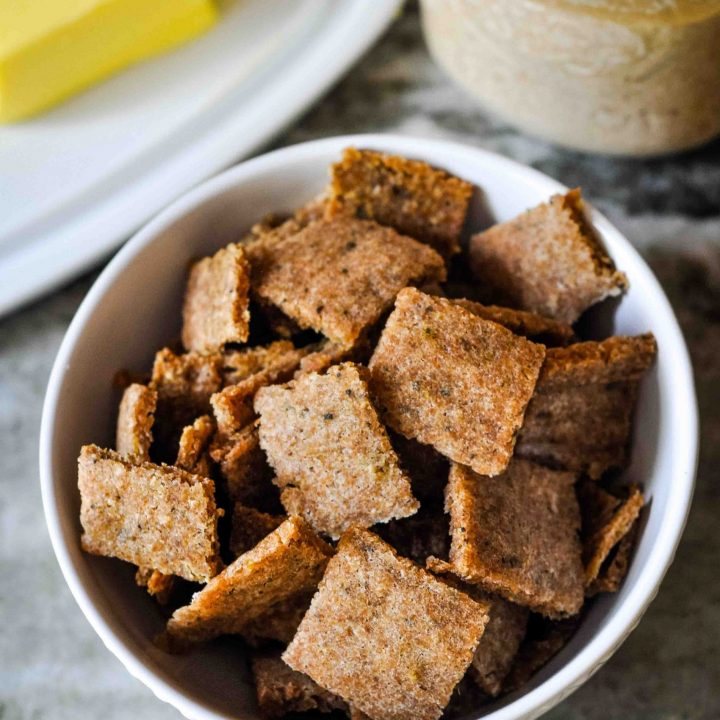 Yield: 6 servings
Sourdough Parmesan Herb Crackers
Prep Time: 5 minutes
Cook Time: 45 minutes
Total Time: 50 minutes
These cheesy, herby crackers made with sourdough starter will become your new favorite way to use your discard! They only take a few minutes to mix up and are so great to throw in lunchboxes or for a quick snack.
Ingredients
1 1/2 cups sourdough starter discard
3 Tbsp. butter, softened
1 tsp. salt
2 Tbsp. grated parmesan cheese
1/2 tsp. dried basil
1/2 tsp. dried oregano
Instructions
Preheat oven to 325 F. To a large bowl, mix all ingredients together thoroughly.
Line two 9x13" baking trays with parchment paper.
Spread cracker mixture into each tray with a rubber spatula in a THIN layer. It should be spread very thin - the thinner you spread the batter, the crunchier your crackers will be.
Bake for 10 minutes and remove from oven. Score your crackers into small squares and return to oven.
Bake for an additional 30-40 minutes until lightly browned and crunchy.
Allow to cool before removing from tray. Store in an airtight container for up to a week at room temperature.
Recommended Products
As an Amazon Associate and member of other affiliate programs, I earn from qualifying purchases.
Nutrition Information:
Yield:
6
Serving Size:
1
Amount Per Serving:
Calories: 168
Total Fat: 7g
Saturated Fat: 4g
Trans Fat: 0g
Unsaturated Fat: 2g
Cholesterol: 17mg
Sodium: 471mg
Carbohydrates: 23g
Fiber: 2g
Sugar: 0g
Protein: 4g
Sourdough Cracker Serving Ideas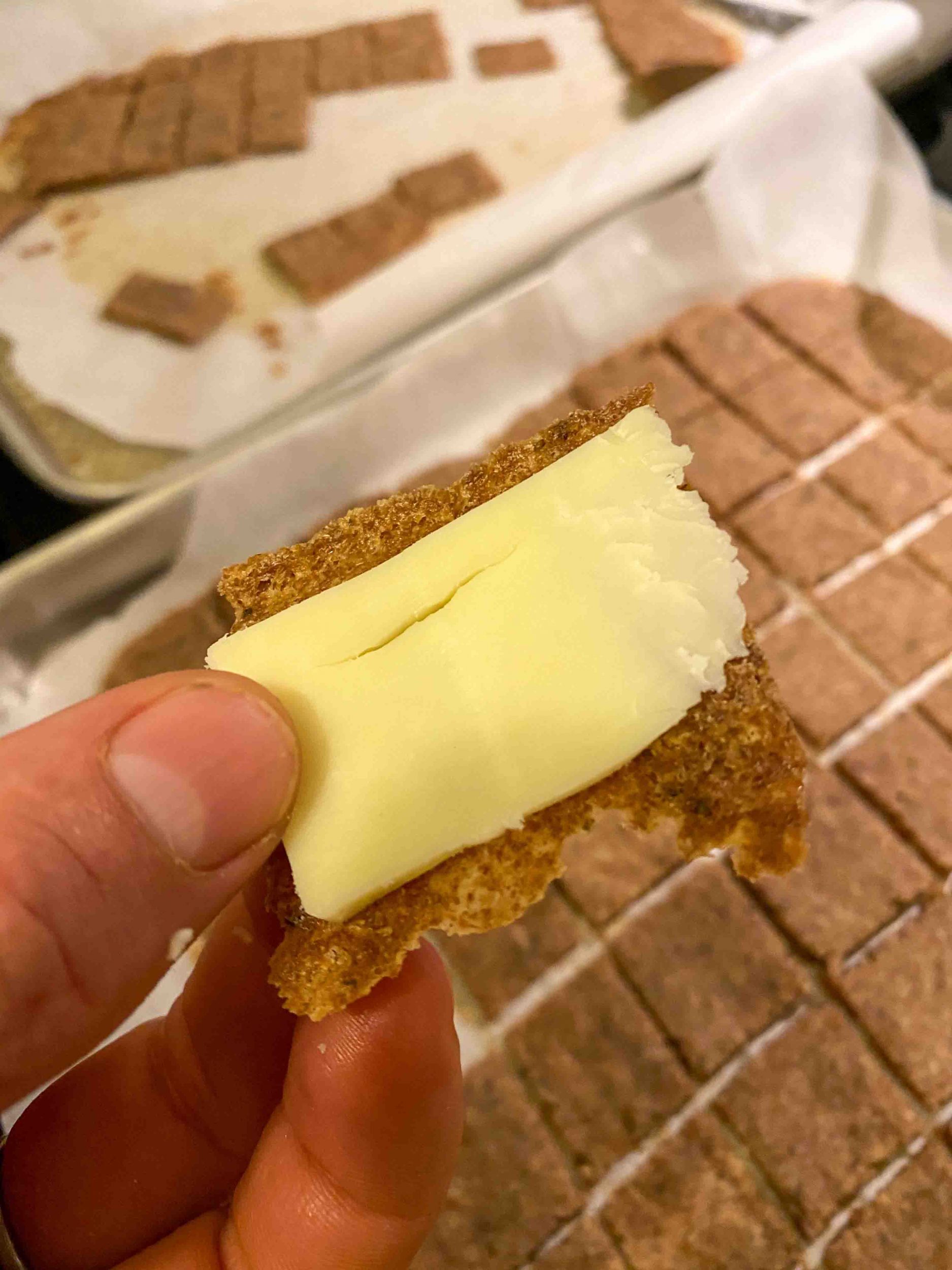 You'll fall in love with the taste of these crackers. They're SO tangy and flavorful, the starter makes them taste almost cheesy even without the parmesan added! I like adding a bit of parm, but it's optional.
There are so many fun ways to eat these crackers!
Add to your child's bento box to make homemade "lunchables"
Create an impressive appetizer tray along with cheeses and meats
Spread with cream cheese and add creative toppings (olives, chives, cucumber, etc.)
Crumble into your favorite soup like vegetable beef or chicken tortilla
Use as a replacement for croutons in salad. My husband even adds them to scrambled eggs which makes them taste even more awesome. We do this instead of toast with eggs.
Just eat them plain because they're so addictive!
Storage Tips for Sourdough Crackers
These are really easy to store – simply keep them in an airtight jar or container at room temperature for up to a week. They only last a few days in our house!
If you make a huge batch and want to save some for later, you can also freeze them in a freezer bag.
Will you make these sourdough crackers? What's your favorite sourdough recipe?
PIN IT!