If you're currently enduring a season of chronic illness, know that God wants to meet you even here. I've experienced a prolonged illness, and at times it was difficult to find hope. But God! He is with me every step of the way, in sickness and in health.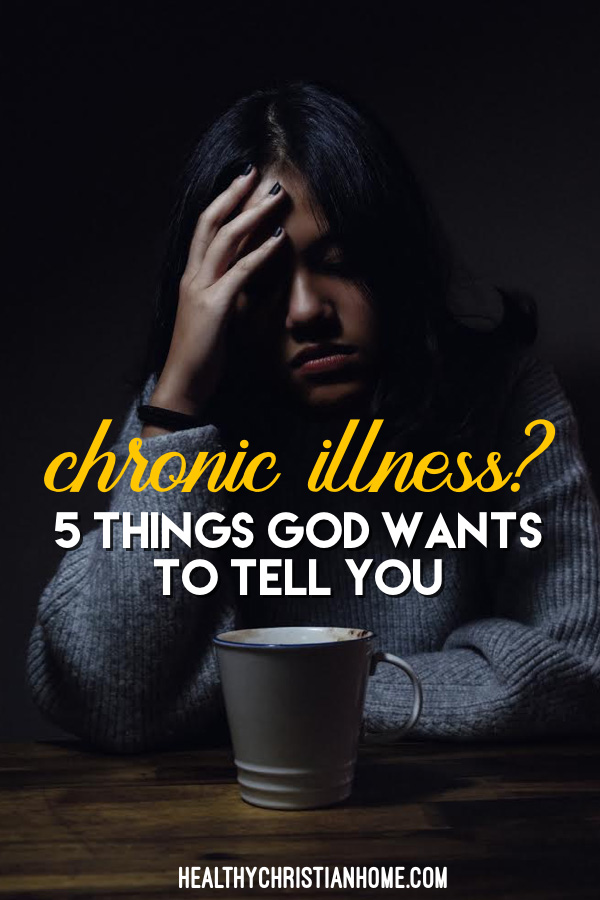 Today I'm honored to have Kiki from Chronically Healed sharing what she's learned from a decade of dealing with chronic illness. May you be blessed by her wisdom, as I am.
Living with Chronic Illness
Hi, my name is Kiki. My life came crashing down when I became chronically ill at 15 years old. For the next ten years, I struggled with exhaustion, nausea, anxiety, disability, insomnia, and social isolation.
I was diagnosed with Postural Orthostatic Tachycardia Syndrome, Chronic Fatigue Syndrome, Generalized and Social Anxiety, and Lyme Disease. I felt alone, broken, and hopeless.
But God was with me the whole time. I grew closer to Him and He taught me insights about myself, others, and Himself.
Then, He called me by a new name: Healed! I had no idea when or how I would be healed, but I knew that nothing was going to stop God's promise of healing!
Through the setbacks, disappointments, and heartbreaks, I was determined to get better. God led me to the right doctors and the right treatments to heal me physically, and he continued to work on my soul to heal me spiritually.
Today, I am completely healed and thriving! I no longer experience symptoms! My new life's mission is to raise awareness, advocacy, and God's hope for people with chronic illness disabilities.
I love to share what God has taught me through my healing journey to others who are on a similar journey. For more information on my healing journey, check out my website, ChronicallyHealed.com or my Instagram, @chronicallyhealed
5 Things God Says to the Chronic Illness Sufferer
Now, allow me to share with you insights I gained about God during my struggle with chronic illness. I think that if God could speak directly to you, this is what He'd say.
1. You are important!
Our society today emphasizes achievement and prefers ability. Having a chronic illness can make you feel inadequate, like you are not good enough. You might ask yourself: How can I do great things when I feel so sick?
But God is not like society, He does not determine worth based on ability or achievements. And guess what?
God has ultimate say in your worth, not society! God says you are valuable because you are you!
You are worthy of love because you are a human. God specifically made you in his image (Genesis 1:26). You are fearfully and wonderfully made (Psalm 139:14).
God created you because He loves you and Jesus died on a cross to save you. If the God of the universe thinks you are important, then you are important, indeed!
You belong here, illness and all.
2. I am with you.
Having a chronic illness can make you feel alone. Being isolated and home-bound can definitely cause a lonely life. You might feel abandoned by friends or rejected by family who may not understand your situation.
Where is God in all of this? Right next to you!
He is with you through the diagnosis, the uncertainty, and the loneliness. God is not a genie, bound to do your will. Instead, God is your friend through the ups and the downs.
When no one else is there, God is.
"If I rise on the wings of the dawn, if I settle on the far side of the sea, even there your hand will guide me, your right hand will hold me fast." – Psalm 139:9-10
Focus on developing that friendship with God. God is about relationships, not religion. Spend time with Him like a friend.
What if your friend only spent time with you whenever she needed something, to get something out of you? That would not be a strong friendship.
Instead, be with God. Talk with him and get to know Him through stillness, Scripture, and worship. You are never alone.
Read Next: How Prayer Journaling Helped Me Grow Spiritually
3. No one is exempt from suffering.
Has anyone ever told you to "just pray harder" in response to your chronic illness?
This phrase is full of blame, shame, and insecurity. It wrongly assumes that the illness is your fault and that you have not "convinced" God to heal you yet. Where is the love in that?
"Suggestions" like this often come from a hidden fear of your illness. The person would not know how to cope if their body became severely ill.
So out of this insecurity, they like to think that they are "spiritual
enough" or "good enough" to easily and deservedly get themselves out of suffering.
But this is not how suffering works. You did not commit some unforgivable sin that caused this illness as punishment. Also, God's healing is about grace, not works of the Law.
God is not waiting around for you to pray the most eloquent prayer in order to "unlock" a get-out-of-suffering-free card.
Even Jesus suffered. The world's most perfect and loving person suffered horribly at the cross. Anticipating this, Jesus experienced such anguish that his sweat became like drops of blood (Luke 22:44).
Do you think people went up to Jesus at his time of suffering and said, "You just need to pray harder"? Of course not!
God never promised us an easy, happy life. Jesus once said, "In this world you will have trouble…" But there is hope! He finishes, "…But take heart! I have overcome the world." (John 16:13)
Remember, chronic illness is not your fault.
4. You have purpose.
Suffering exists because we live in a fallen world (Genesis 2). Many think that because evil exists, that God cannot exist. Why would he allow us to suffer with a chronic illness?
There is something suffering can do that a world of happiness could never do — deepen your soul.
Enduring suffering can strengthen your character and capacity for compassion, service, peace, joy, and love (Romans 5:3-4).
Many think suffering is the worst thing that can happen to you and happiness is the best thing that can happen to you. But after living with a chronic illness, I discovered that separation from God is the worst
and unity with God is the best.
What if we can know God's love more intimately through suffering?
How can one know healing without first being sick?
How can someone experience the peace of freedom without first experiencing the anxiety of oppression?
How can one truly understand the depths of joy without understanding how dark depression can be?
And isn't healing, peace, joy, and love better than happiness?
God takes all that is wrong and makes it right. What was meant for evil, God uses for good. God takes suffering and uses it to deepen your soul to experience more love and give more love to others.
"And we know that in all things God works for the good of those who love him, who have been called according to his purpose." – Romans 8:28.
Your purpose is love.
5: I am good.
I used to rate God's goodness based on how well my life was going.
Obviously, God was not very good if I had a chronic illness, right? Or, certainly God was going to reward me for all this suffering I had to go through.
I felt entitled to a better life, and if God did not bow down to my will then I judged that he was not a good God.
But God's goodness is not dependent on your emotions. God's goodness is not determined by your experiences. God's goodness is not decided by your life or body.
God is good, all the time, no matter what.
I learned that I could still live a meaningful life of love even with a chronic illness, because I could still find deep joy in praising God's goodness! (Psalm 135:3).
It was not about my will, but God's will (Matthew 26:39). Delighting myself in the Lord filled the desires of my heart! (Psalm 37:4).
Sometimes God strips you down to nothing for you to know that He is all you need (Acts 17:25).
God is the answer!
Have you experienced a chronic illness? What did you learn in your battle?
PIN IT!