If you're wondering what to do with lots of pears, this easy cinnamon pear sauce is the perfect solution! Sweet and gently spiced, this pear sauce is great on its own or as a spread/dip for a variety of foods.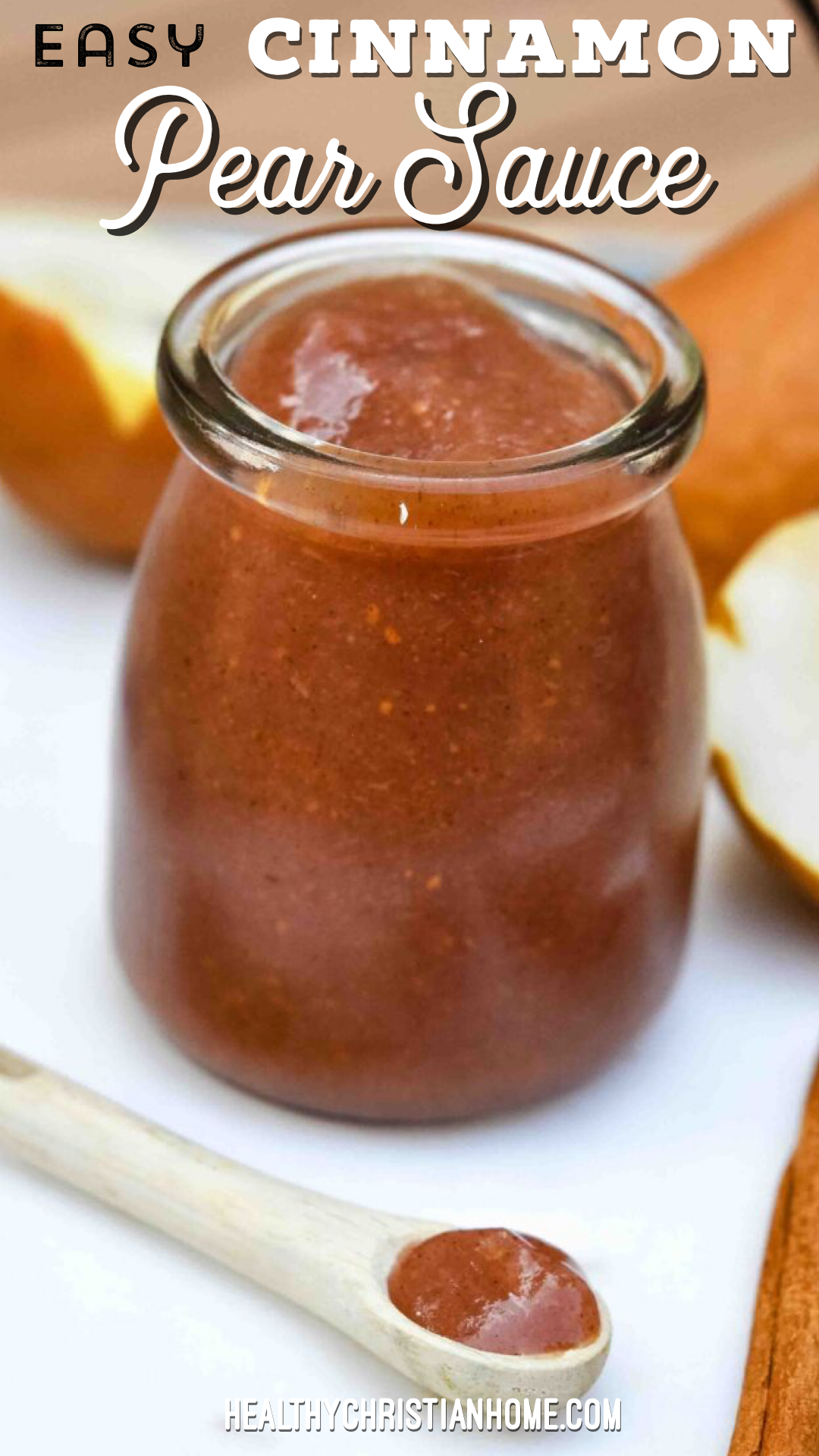 What to make with pears from a tree?
We have about 6 pear trees in our yard that started to produce fruit last year. We waited patiently for that first pear to ripen…..and waited….and waited some more.
Somehow, the pears stayed rock hard for months. Then went rotten. Sigh.
We decided that the trees were possibly too young to produce good fruit. This year, I kept my fingers crossed that we'd get at least one good pear.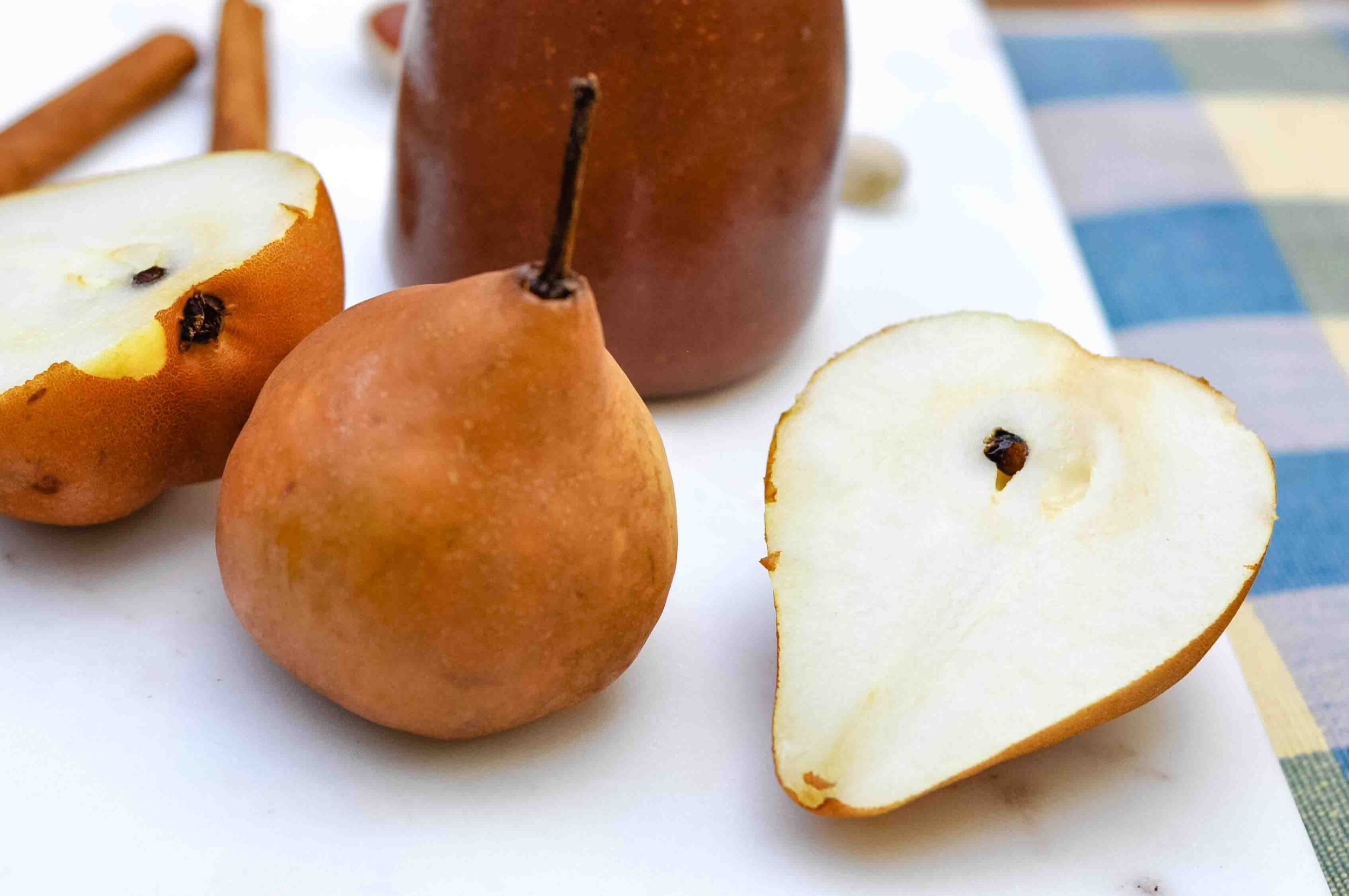 And the pear trees produced bountifully! So bountifully, in fact, that the birds had a feast on half of the fruits in the backyard before we could harvest them.
But at least we were able to salvage a few pounds of pears. They were still rock hard, so I tried not to get my hopes up.
Then, I read this tip about exposing your pears to a cold temperature for a few days in the fridge or freezer before transferring to room temp storage. The cold is supposed to somehow trigger the ripening process.
Guess what? It worked!
I was so excited to use them and wanted to do something special with them. Since the pears were quite small, I decided to use them to make cinnamon pear sauce. A perfect decision!
I love how the rich cinnamon changes the color of this sauce from a pale cream to a deep mauve.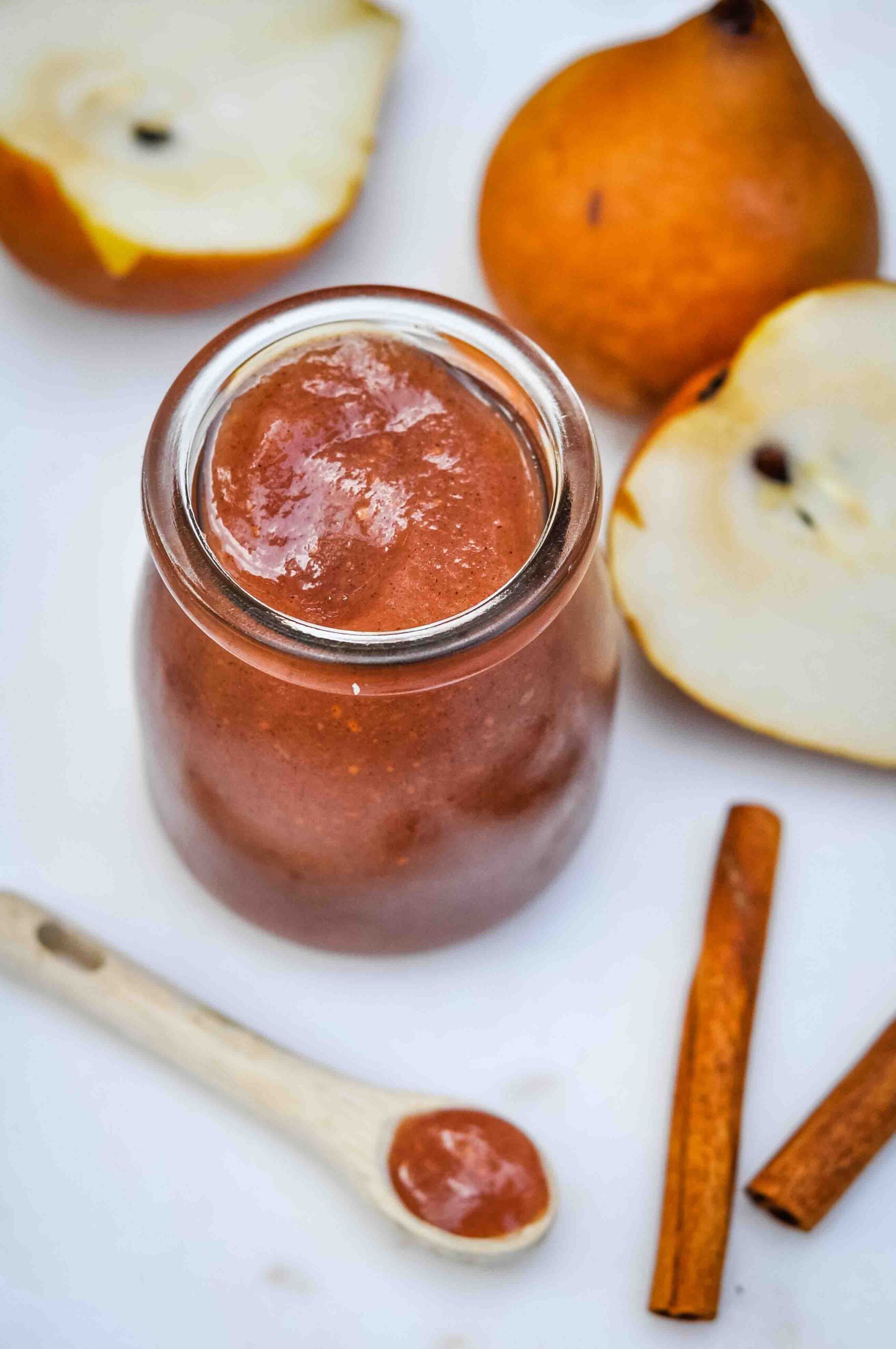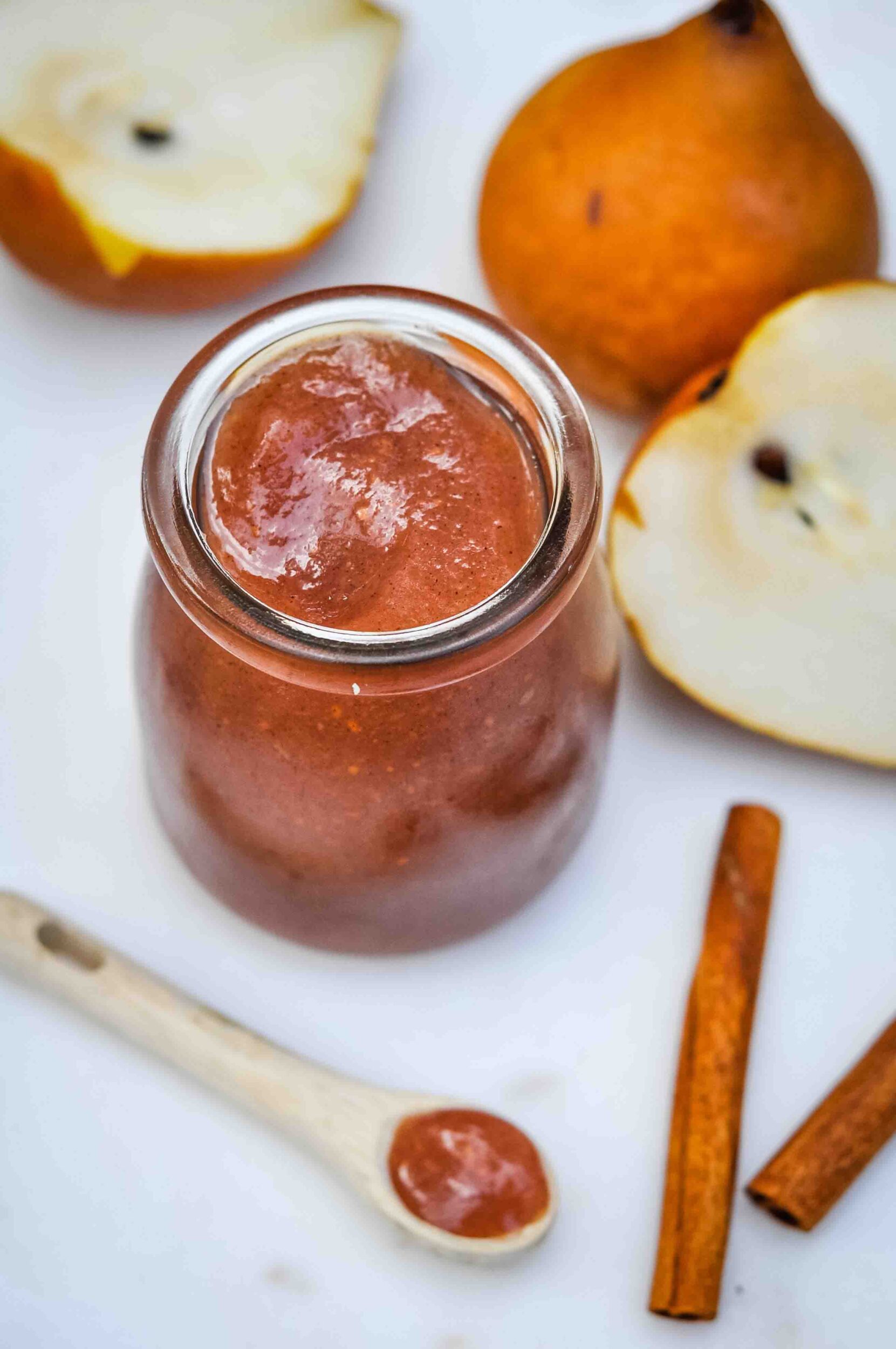 How to Make Cinnamon Pear Sauce from Scratch
This recipe is so simple!
First, wash and prep your pears. You can choose to peel your pears or leave the peels on, it's up to you.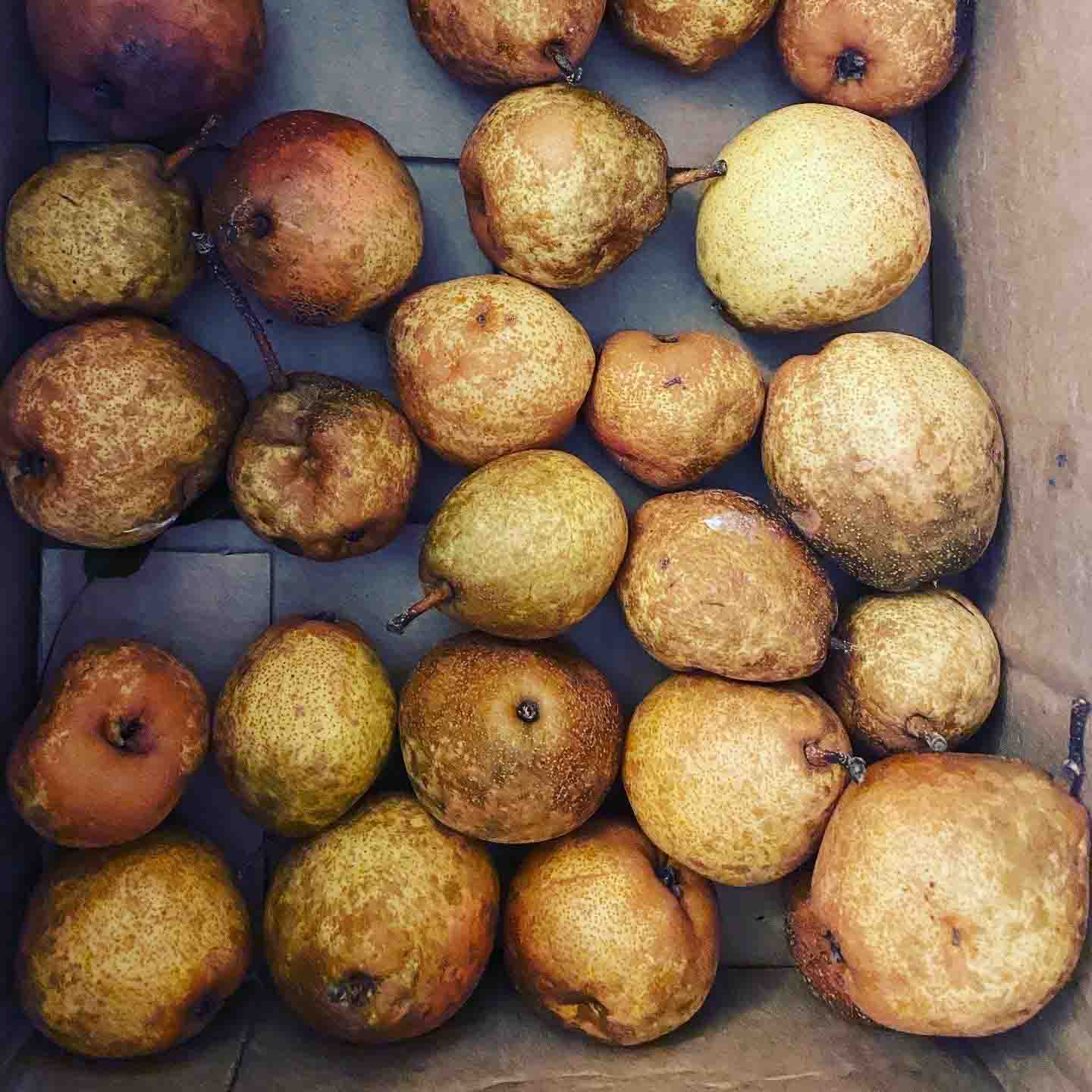 Carefully slice as much fruit as you can from the pears, while being careful not to include the core (there are some small hard pieces you don't want to end up in the sauce).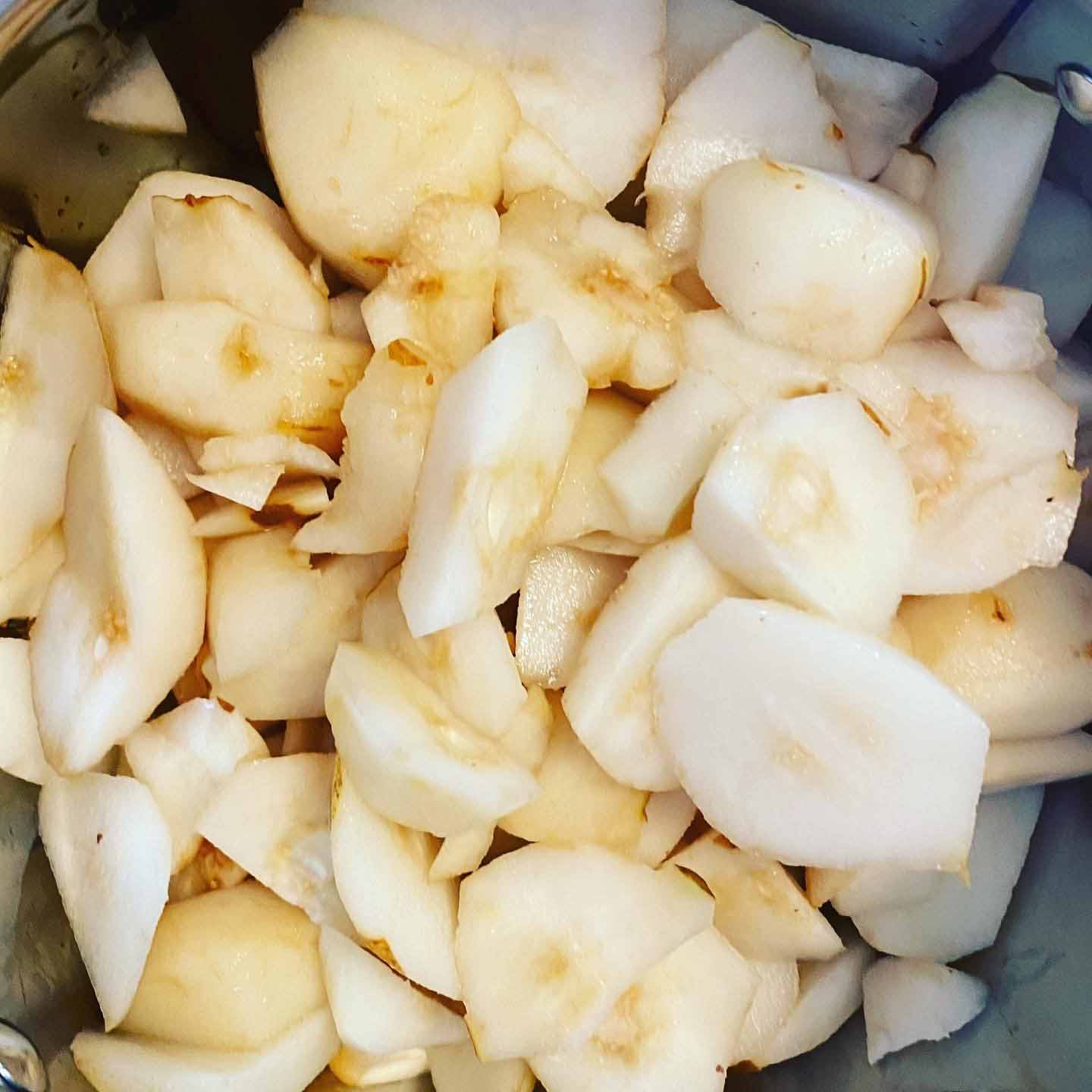 Add all the pear pieces to a medium saucepan. Add 1/2 cup water, lemon juice, and cinnamon. Bring to a boil. Cover with a lid and reduce heat to simmer. Allow to cook gently for 25 minutes.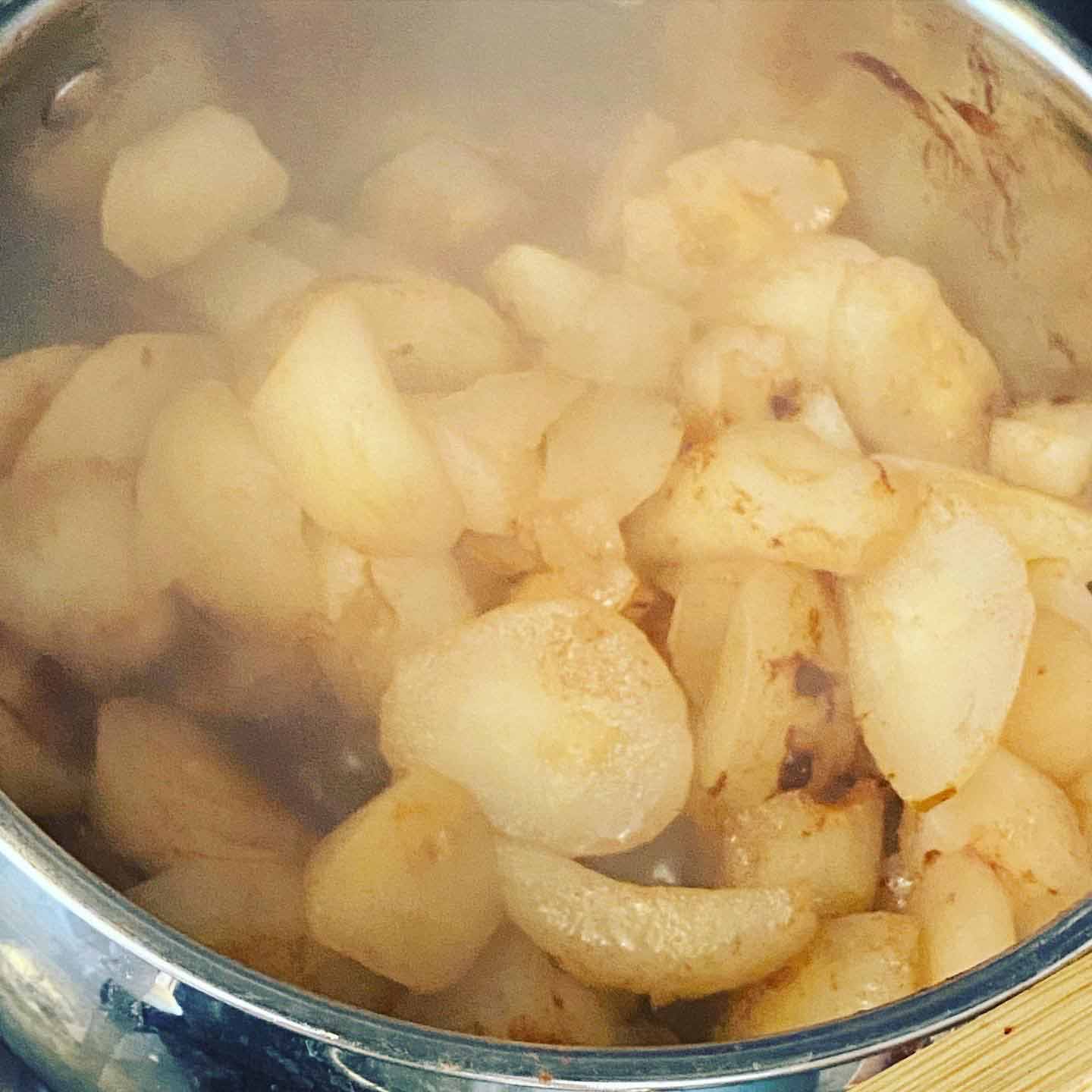 Once the pears are soft, use an immersion blender to blend the sauce until smooth. Alternatively, you can allow the pears to cool a bit and process in a regular blender. (To cook in a slow cooker or Instant Pot, see section on adapting this recipe.)
At this point, you can add a sweetener if you wish. Some good options are a couple tablespoons of sucanat, honey, or maple syrup. Or, if your pears are really sweet, you can leave it out altogether.
Transfer to jars and it's ready to use or store!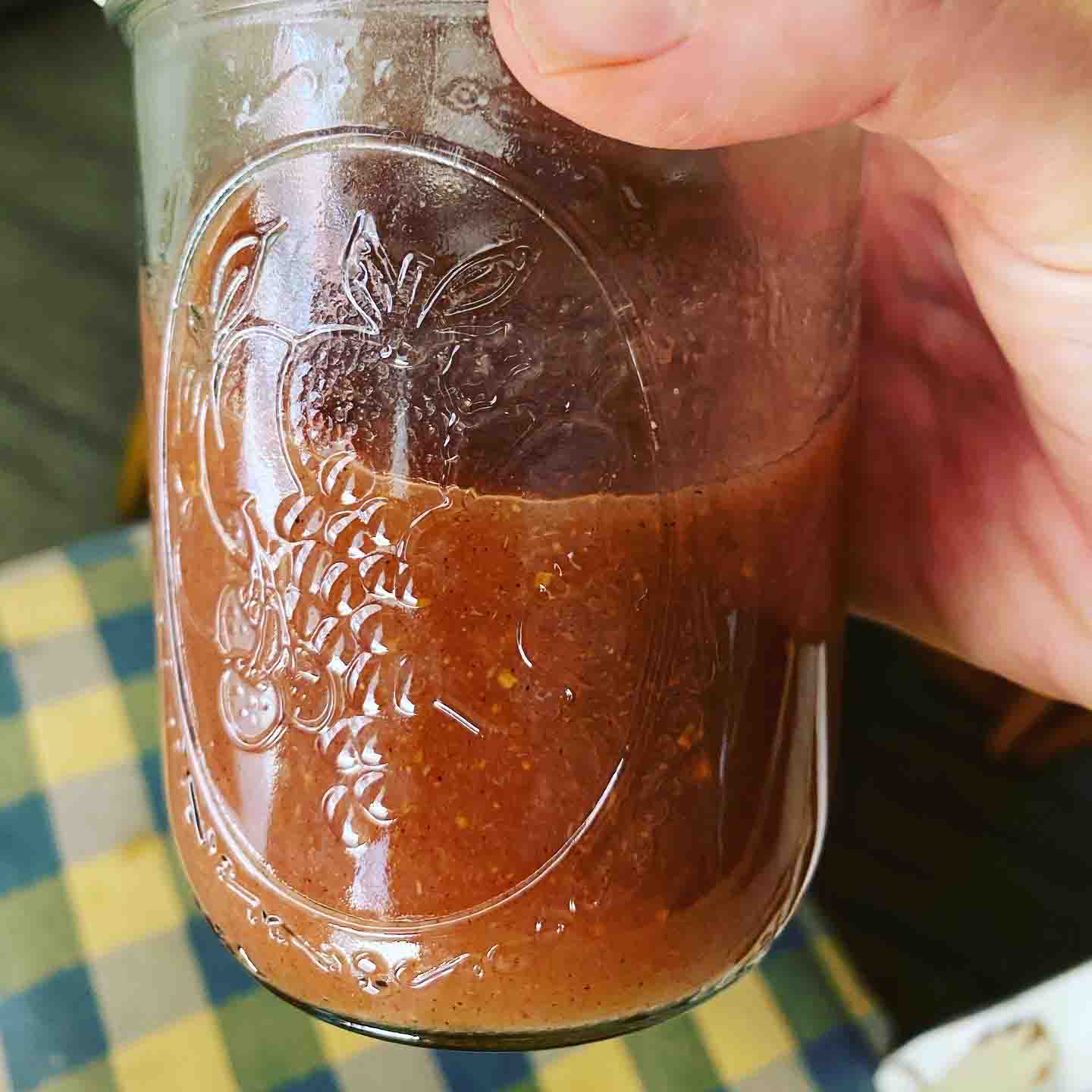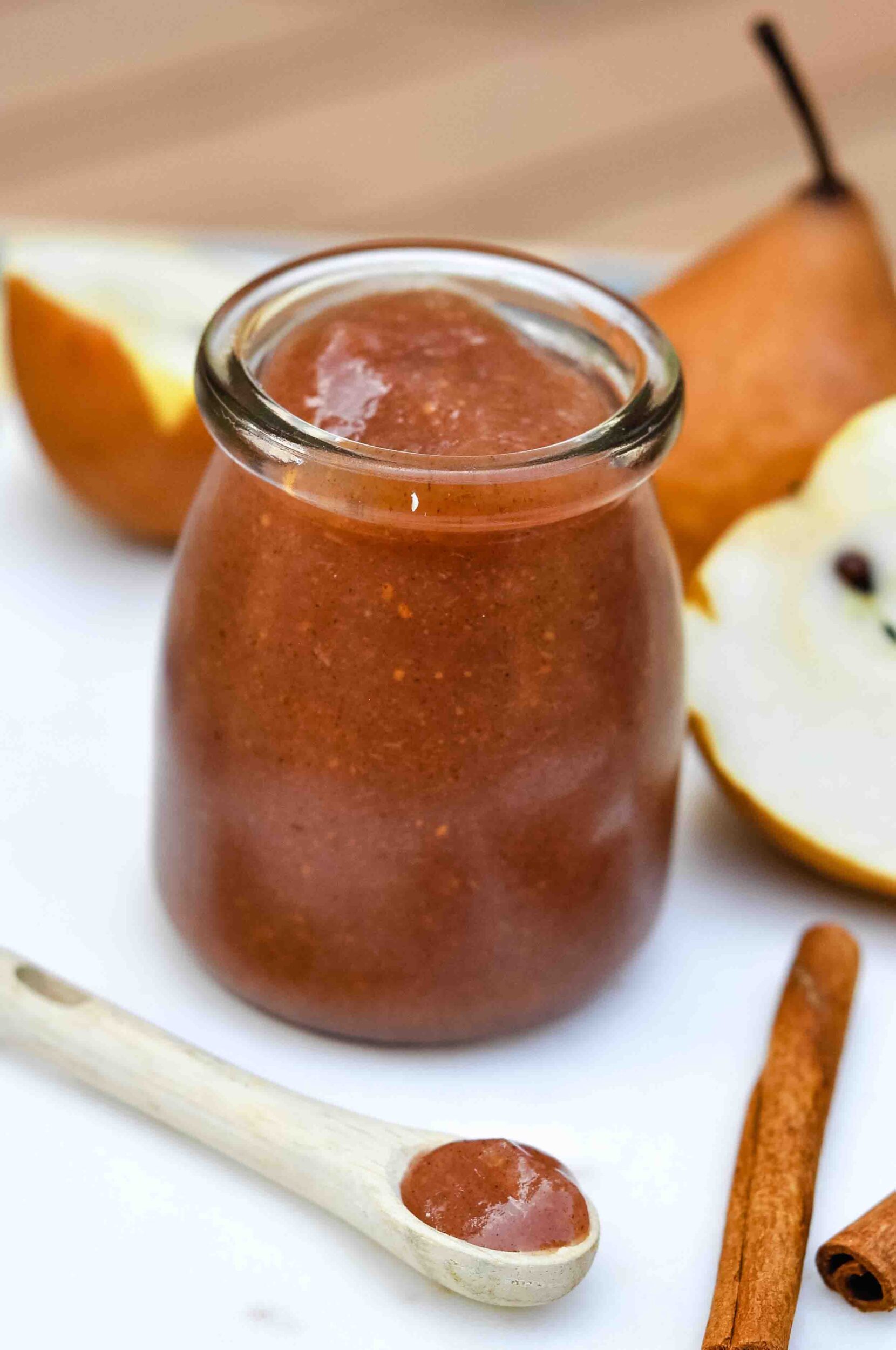 How do you thicken a pear sauce?
There's no need to add any thickeners – this spiced pear sauce recipe is perfectly thick already by simply blending up the cooked pears. If your sauce is too thin, you can simply allow it to reduce on a low heat with the lid off until it reaches your desired consistency.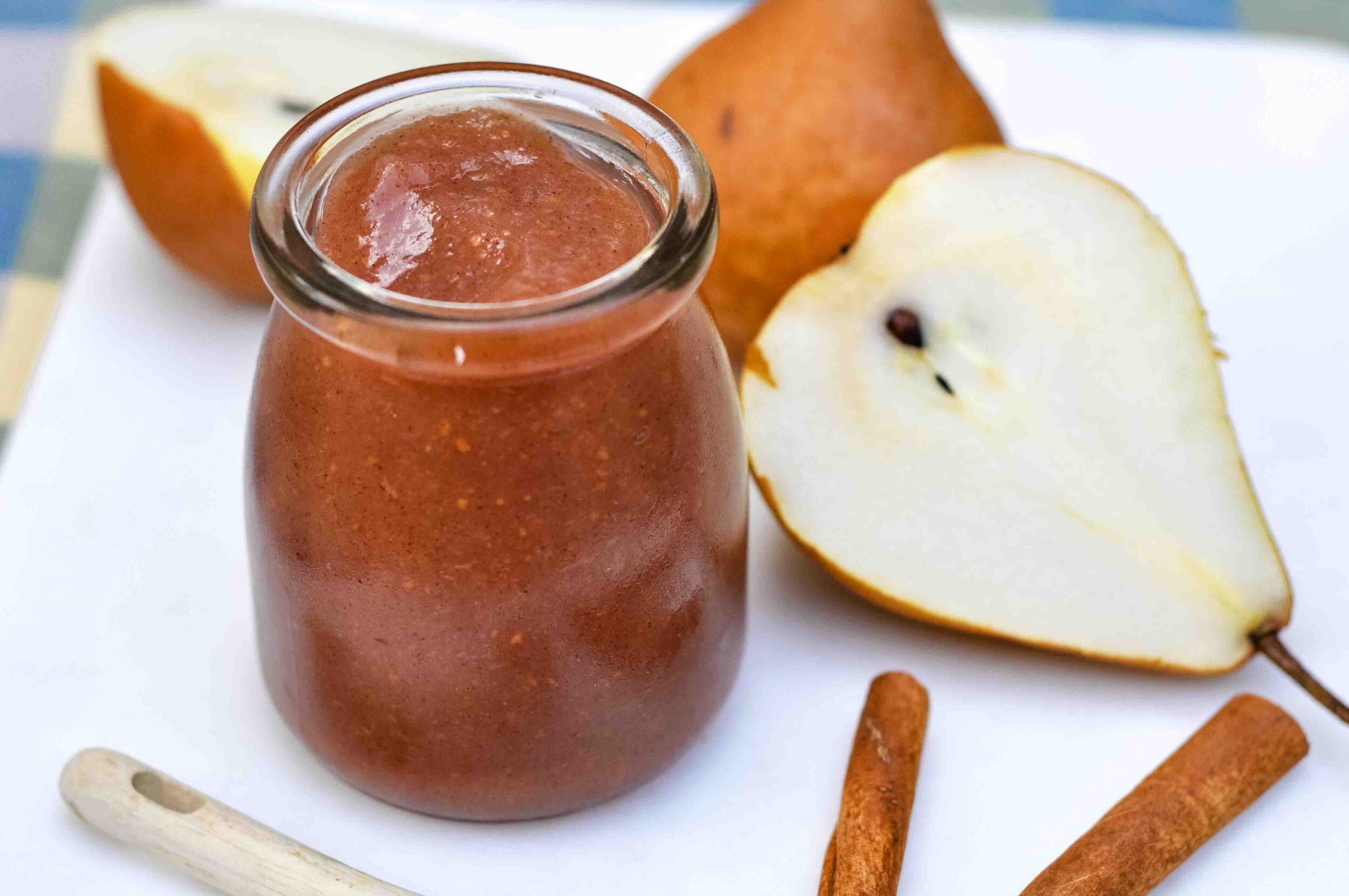 How to Preserve Your Pear Sauce
To preserve this pear sauce, you can freeze or can it.
To freeze, allow sauce to cool and leave 1-2 inches at the top of each jar for expansion before transferring to the freezer. Freeze for up to one year.
This recipe is good for water bath canning since it uses lemon juice for acidity. Here's a good guide on canning for beginners.
How many pears do I need for a quart of sauce?
It depends on the size of your pears. Four pounds of pears yields about a quart of pear sauce.
We had around 5 pounds of pears, so I was able to make a quart of pear sauce plus an additional 8 oz. jar.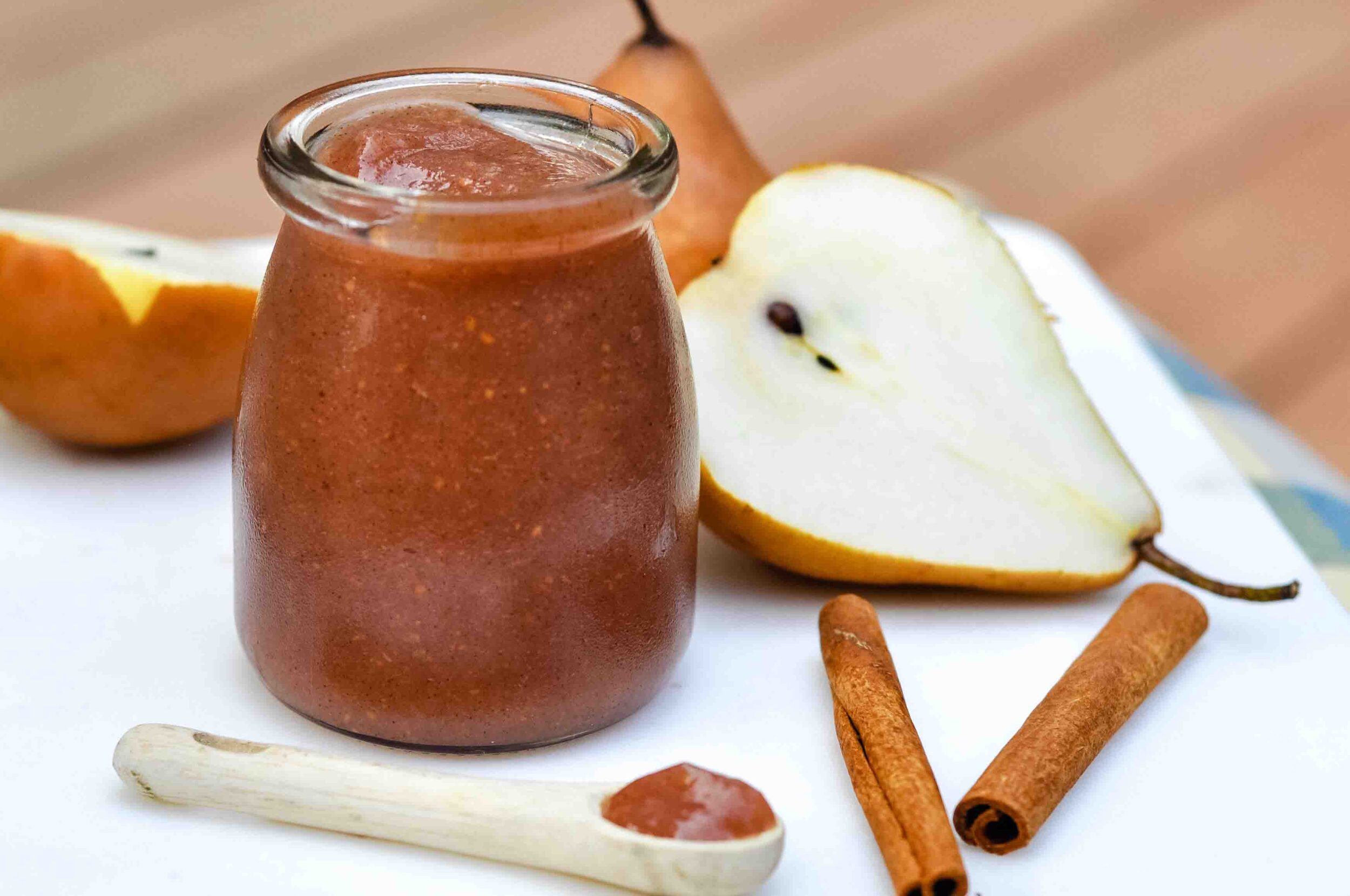 Adapting for the slow cooker or Instant Pot
You can easily make this pear sauce in the slow cooker or Instant Pot! Just follow these directions:
Slow Cooker: Add all ingredients into slow cooker and cook on HIGH for 2 hours. Puree with an immersion blender or regular blender.
Instant Pot: Add all ingredients to the Instant Pot and lock lid in place/seal valve. Set to Manual, high pressure for 7 minutes. Do a quick pressure release then puree sauce with immersion or regular blender.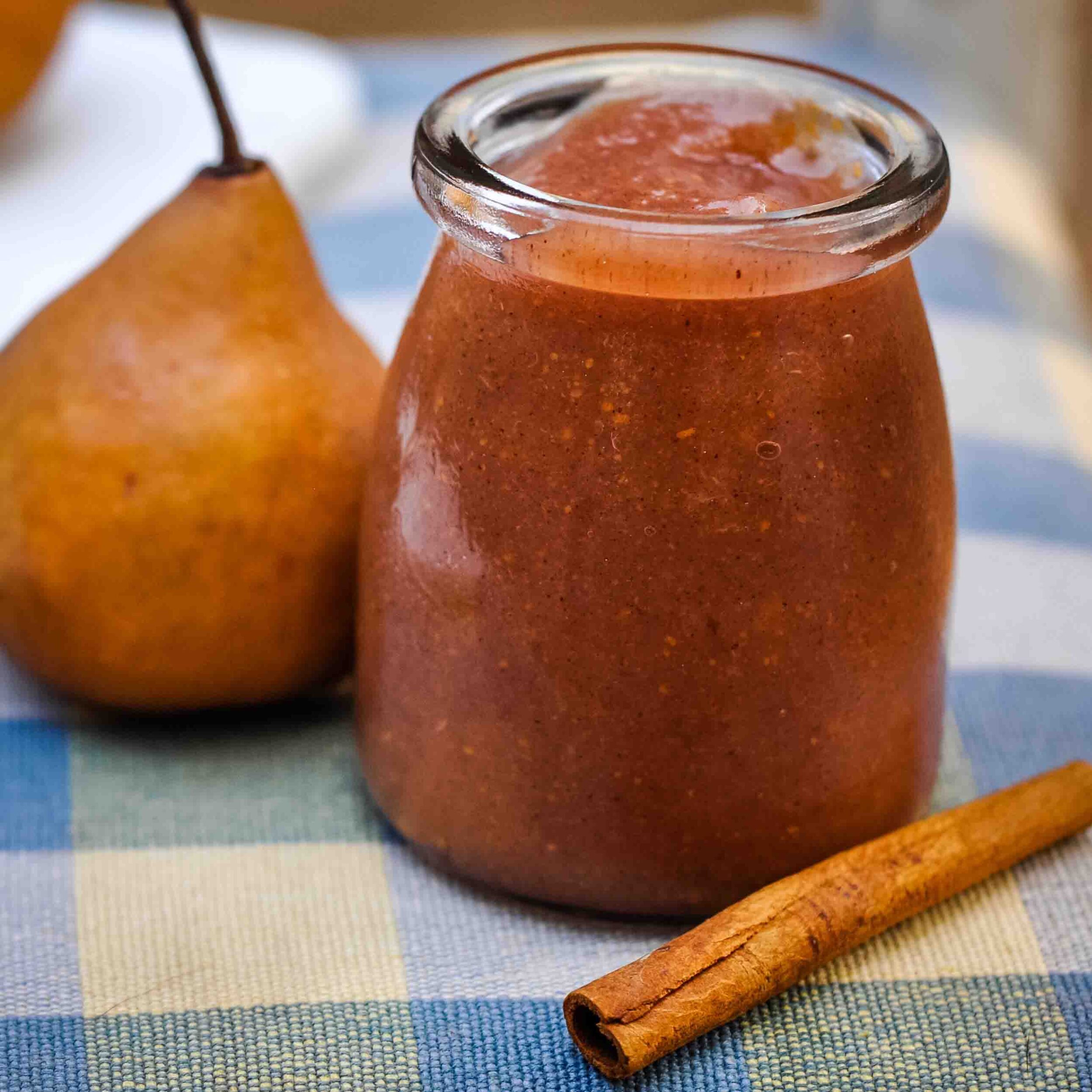 Recipes for using pear puree sauce
There are lots of yummy ways to use your pear sauce, such as:
Use in place of jam on your favorite sandwiches or biscuits
Spread on pancakes instead of syrup
Stir into plain yogurt
Use pear sauce for pork – it's a great accompaniment!
Make pear sauce muffins by adding a dollop in the middle of plain muffin batter as you fill the muffin cups
Or just eat plain! I love adding this pear sauce to my kids' lunchboxes.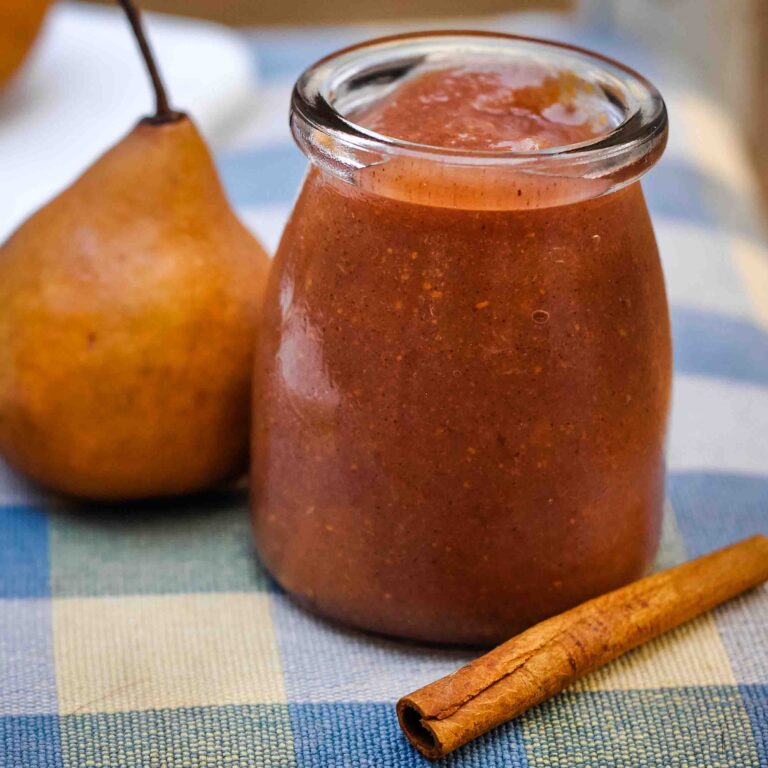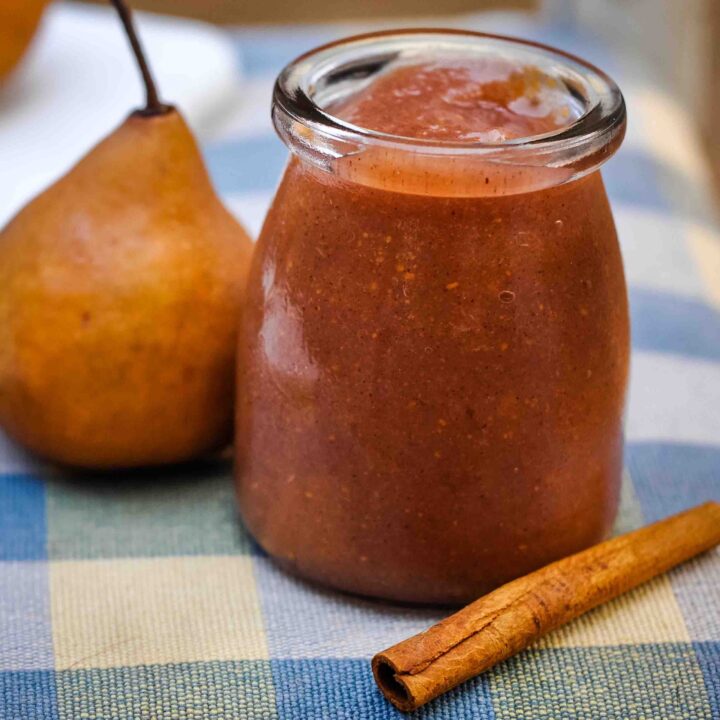 Yield: 1 quart
Cinnamon Pear Sauce
Prep Time: 10 minutes
Cook Time: 20 minutes
Total Time: 30 minutes
If you're wondering what to do with lots of pears, this easy cinnamon pear sauce is the perfect solution! Sweet and gently spiced, this pear sauce is great on its own or as a spread/dip for your a variety of foods.
Ingredients
4 pounds of pears (around 10 medium pears), sliced
1/4 cup water
2 tsp. lemon juice (juice from one lemon)
1 1/2 tsp. cinnamon
1 tsp. vanilla extract
Instructions
Wash and slice pears and add to a large saucepan. You may choose to peel the pears or leave the peels on.
To the saucepan, add water, lemon juice, cinnamon, and vanilla extract.
Stir and cover with a lid, bring to a boil. Reduce heat to simmer and cook for 20-25 minutes.
Once pears are soft, blend with an immersion blender. Or, allow pears to cool and blend in a regular blender until smooth.
Add sweetener of choice if desired. Transfer to jars for storage. You may freeze or can the sauce.
Recommended Products
As an Amazon Associate and member of other affiliate programs, I earn from qualifying purchases.
Nutrition Information:
Yield:
32
Serving Size:
1
Amount Per Serving:
Calories: 33
Total Fat: 0g
Saturated Fat: 0g
Trans Fat: 0g
Unsaturated Fat: 0g
Cholesterol: 0mg
Sodium: 1mg
Carbohydrates: 9g
Fiber: 2g
Sugar: 6g
Protein: 0g
Will you try this homemade pear sauce? What's your favorite way to use fresh pears?
PIN IT!