Learn how to make flour at home (whole grain) with this easy method! All you need is a grain mill, coffee grinder, or high speed blender and some whole wheat berries.
Let's dive in and learn all the health & nutrition benefits of home ground flour, plus a full tutorial on how to do it yourself!
Is grinding your own flour healthier?
Yes! SO MUCH healthier! First, a little background…
Whole wheat berries are one of the only food items you cannot find in grocery stores. To be honest, I never gave any thought to how to how flour is made. You may be like me, wondering, "What is flour made of?"
In my mind, it just magically appeared on the grocery store shelf. I didn't even know what wheat was supposed to look like before becoming flour for sourdough bread.
But fresh ground flour from whole wheat berries is an entirely different product from the refined, white stuff at the grocery store. It is rich in nutrients and has a sweet, nutty flavor.
There's a reason why none of us know what whole wheat berries look like, and accept flour as something we'd never consider making. There's also a reason that large numbers of people are running away from gluten due to sensitivities. And a lot of it has to do with the history of flour.
(Most of the information comes from Sue Becker's Essential Home Ground Flour Book.)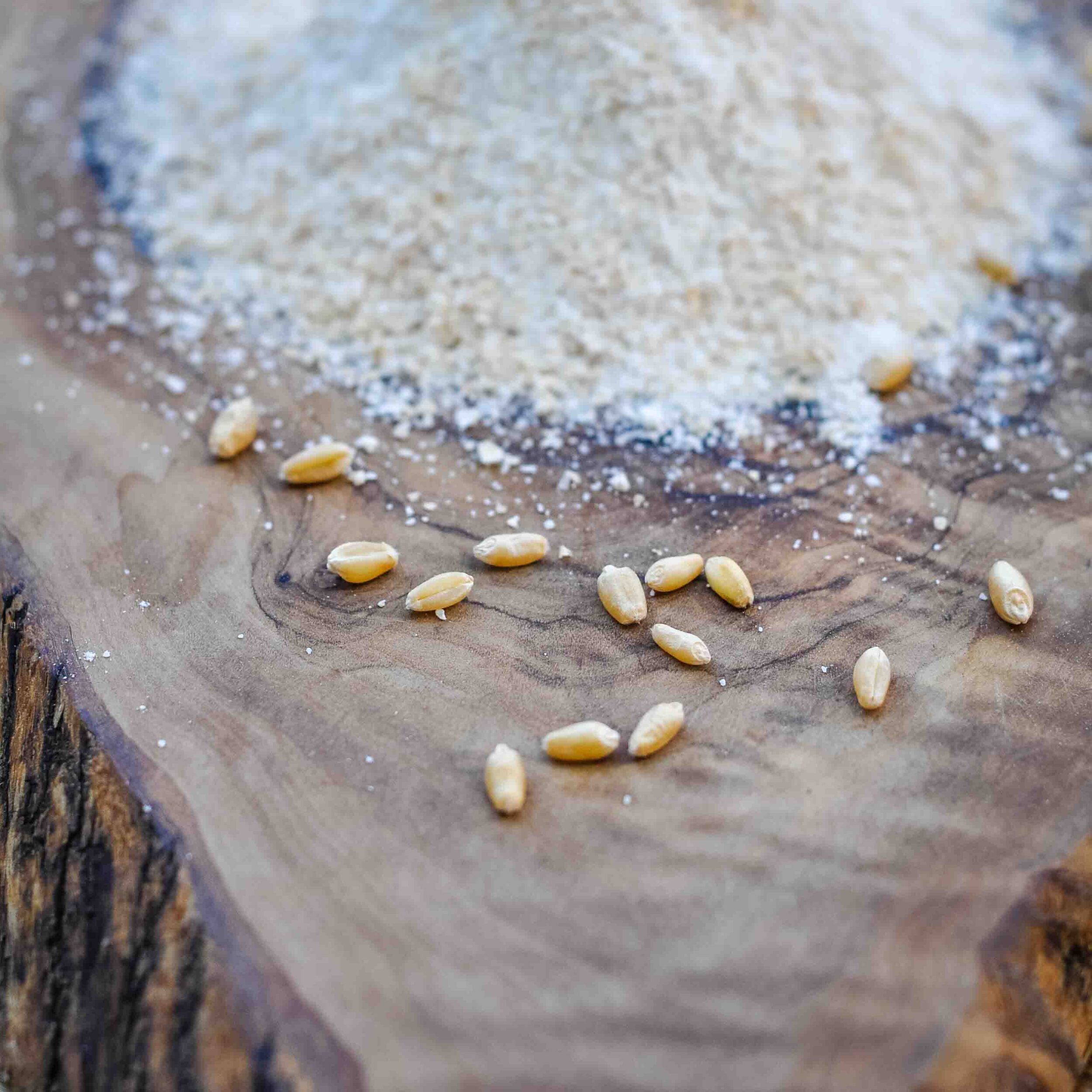 The History of Flour Making
Generations ago, the local Miller had a very important job. In fact, many villages and towns were built up around the mill, because that was the only way people could get their flour. Wheat had to be ground fresh every day to keep families fed.
But then came the industrial revolution. We industrialized everything, including flour-making. But big companies couldn't ship large quantities without the flour going bad quickly.
But they noticed that when they sifted and refined the flour (a.k.a removed the bran and germ), the flour lasted much longer and was shelf stable for months.
So what did they do?
They removed nutrient rich bran and germ. Customers loved it because it made their baked goods lighter and fluffier.
But this came at a great cost to the health of our nation.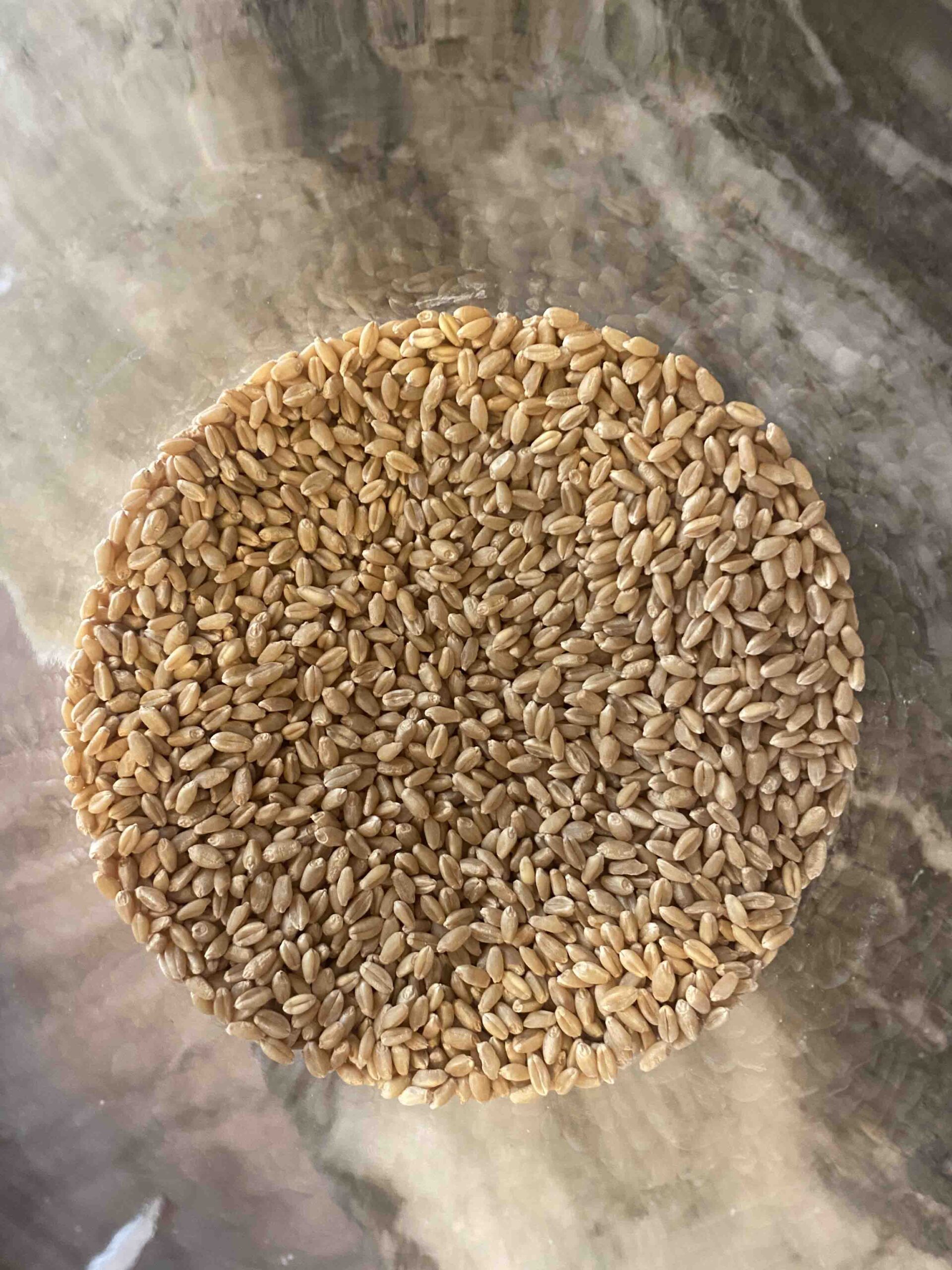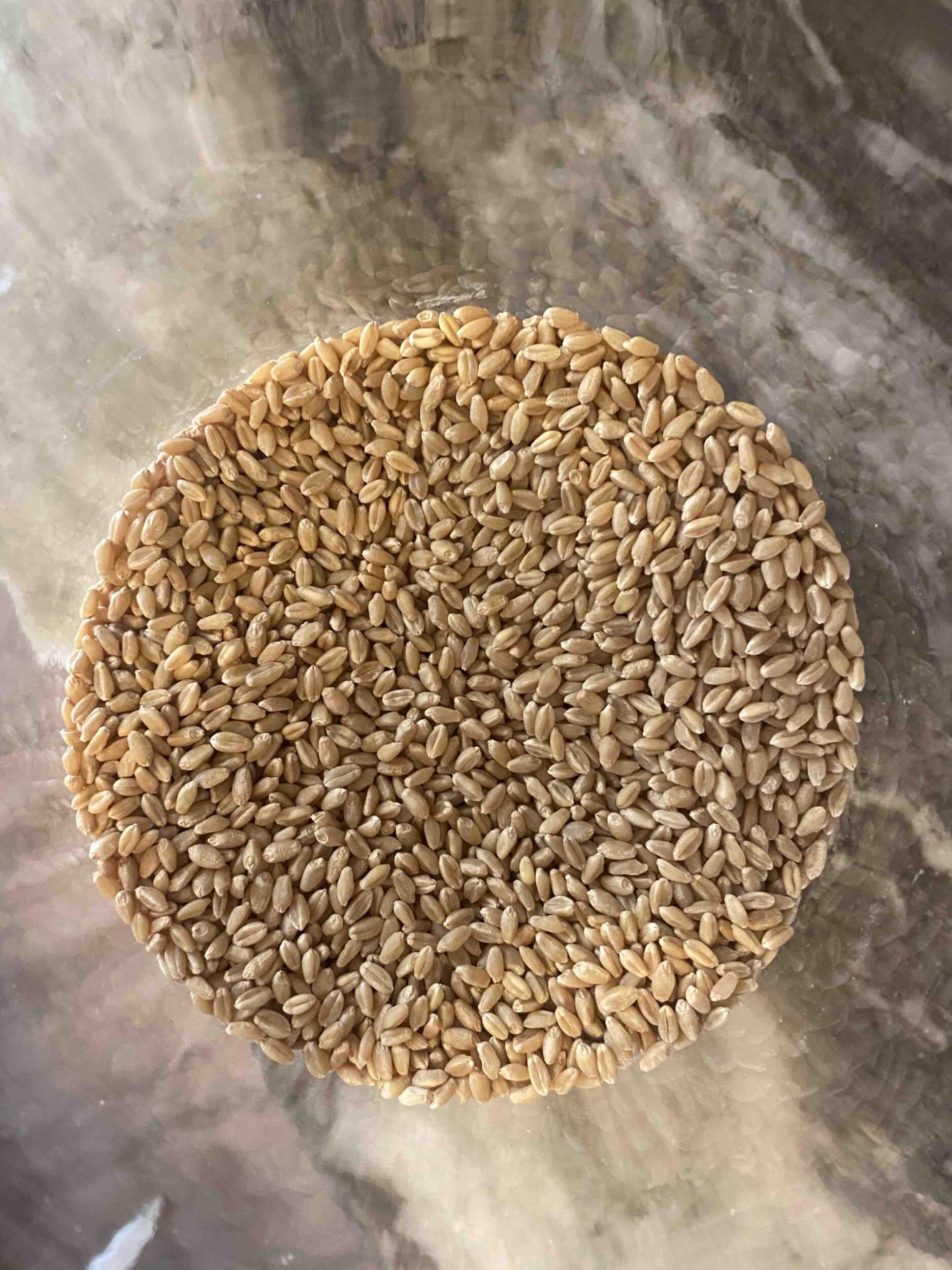 After a time, reports started coming out about health epidemics that started raging.
"In the 1900s, white bread and flour became foods of choice in the general population. 3 diseases in particular- beriberi, pellagra, & anemia- rose to epidemic proportions…Health officials worked tirelessly to discover why the incidence of these diseases was rising so dramatically.

The problem was traced to the increase in consuming predominantly white flour and bread — more specifically decreased consumption of B vitamins and iron that are lost when the bran and germ are removed from commercially milled grains….

The enrichment of commercially milled flour supposedly ended the epidemics of beriberi, pellagra and anemia, but as more and more nutritionally deficient commercially processed foods are being consumed daily, questions must be asked. How many people suffer from neurological disorders, bowel disturbances, skin eruptions and mental instability?"

– Sue Becker of breadbeckers.com , author of The Home Ground Flour Book
People also loved all the pre-baked, shelf stable breads that started appearing in grocery stores. Since bread-baking is a time consuming process, home cooks were relieved but many didn't realize that the bread they were buying was very nutritionally inferior.
Things got so bad that in 1941 and beyond, the government recommended that a few vitamins (thiamin, niacin, riboflavin, folic acid, and iron) be added back into commercially milled white flour, which helped a little bit with these of diseases (1). However, it did not even come close to replacing all of the vitamins and minerals that are lost.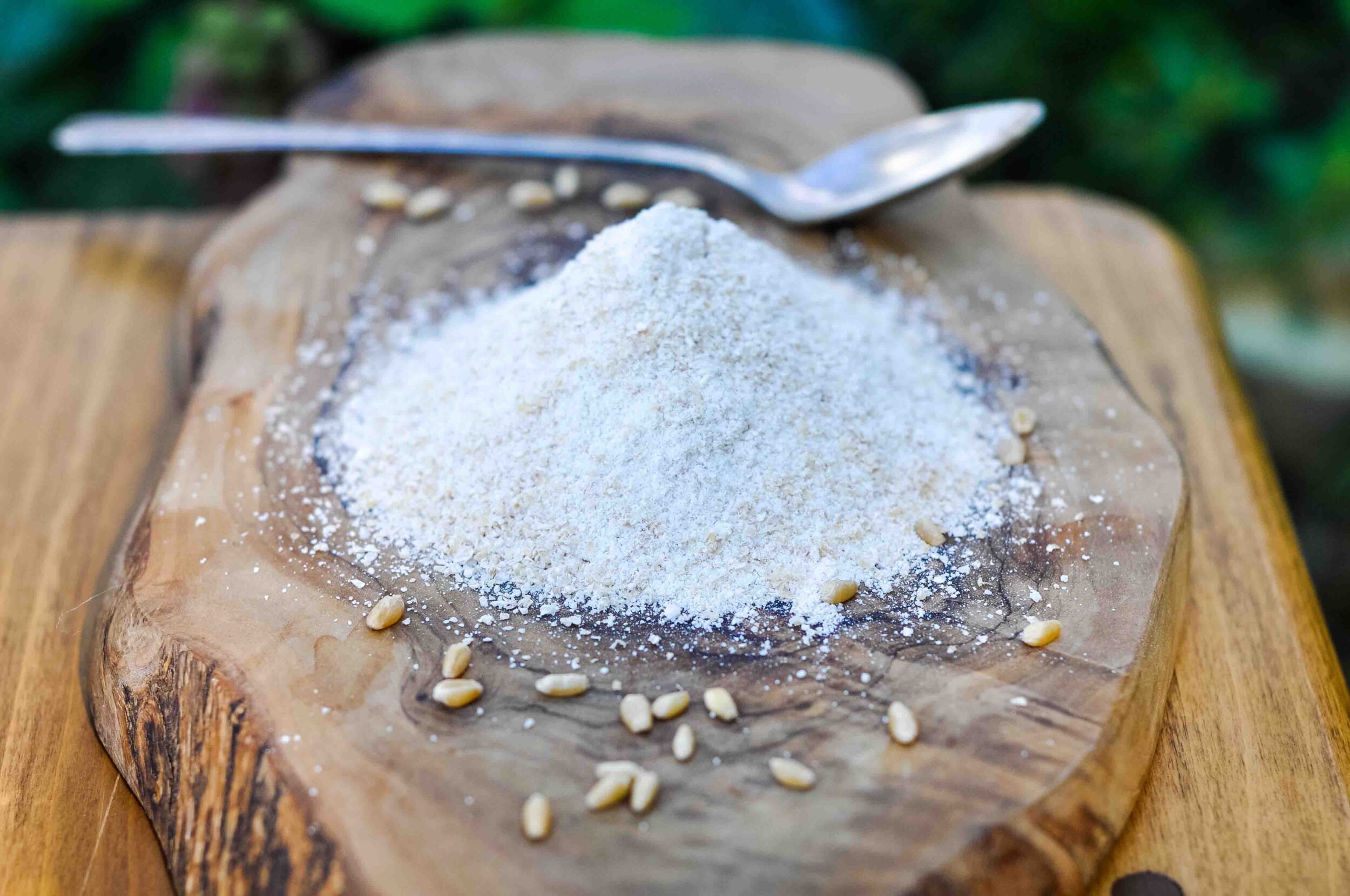 Homemade Flour Nutrition
Only 5 nutrients are added back into enriched-flour products, while over 30 are naturally occurring. Essentially, we are cheating nature and hoping it doesn't come back to bite us.
One vitamin they don't add to enriched four is vitamin E.
Freshly ground flour is one of the riches food sources of Vitamin E. This nutrient is essential for skin health, pituitary function, and reproductive health (fertility). There are many couples experiencing issues with fertility, and this may be a contributing factor. Vitamin E is a powerful antioxidant, which aids female reproductive health (2).
Freshly ground flour also contains the entire B complex spectrum of vitamins, with the exception of B12. It also includes naturally occurring vitamin C and K, minerals like iron, and trace minerals like manganese, zinc, calcium, copper, iodine, and more (3)!
It also contains lots of fiber to cleanse the colon and pre-biotics, which help feed good bacteria in the gut.
So instead of demonizing wheat products, let's prepare them properly the way God intended for them to be consumed and celebrate the amazing nutrition they give us.
How do you make all-purpose white flour?
It is possible to make popular "white flour" if you are baking something special like a birthday cake. All you need to do is sift the flour, preferably twice, to remove the heavier bran and germ which can weigh down baked goods somewhat.
But don't discard that nutrition! Keep your homemade "wheat germ" and sprinkle it into oatmeal, a batch of homemade cream of wheat, or onto homemade pizzas. Be creative!
Is it cheaper to make your own flour?
It depends on the quality of the wheat you buy. For example, organic and non-GMO whole wheat is more pricey than the cheapest bag of white, bleached flour at the grocery store. But you get what you pay for.
Here's a breakdown of what it costs:
I buy whole wheat berries at $35 for a 25 lb. bag, which is about $0.15 per ounce.
When the wheat berries are ground, they make slightly more flour than berries. For example, grinding 3/4 cup of wheat berries results in around 1 cup of flour. So each cup of home ground flour costs approximately 57 cents.
In contrast, the cheapest bleached white flour from ALDI costs around 13 cents a cup. But, if you buy a better quality brand of flour that's whole wheat and organic, it can cost 88 cents per cup.
I just discovered Azure Standard, which sells organic non-GMO wheat at significantly cheaper prices than Amazon! You have to pick up your order at a drop location, but I may start doing this instead to save money.
So home ground flour falls somewhere in the middle, price wise. But there's no comparison when it comes to nutrition.
Where to buy whole grains for grinding
I prefer non-GMO hard white wheat for most of my baking needs. Hard red wheat is a bit darker in color with a nuttier flavor, and soft white wheat is a bit lighter and great for things like cookies or cupcakes.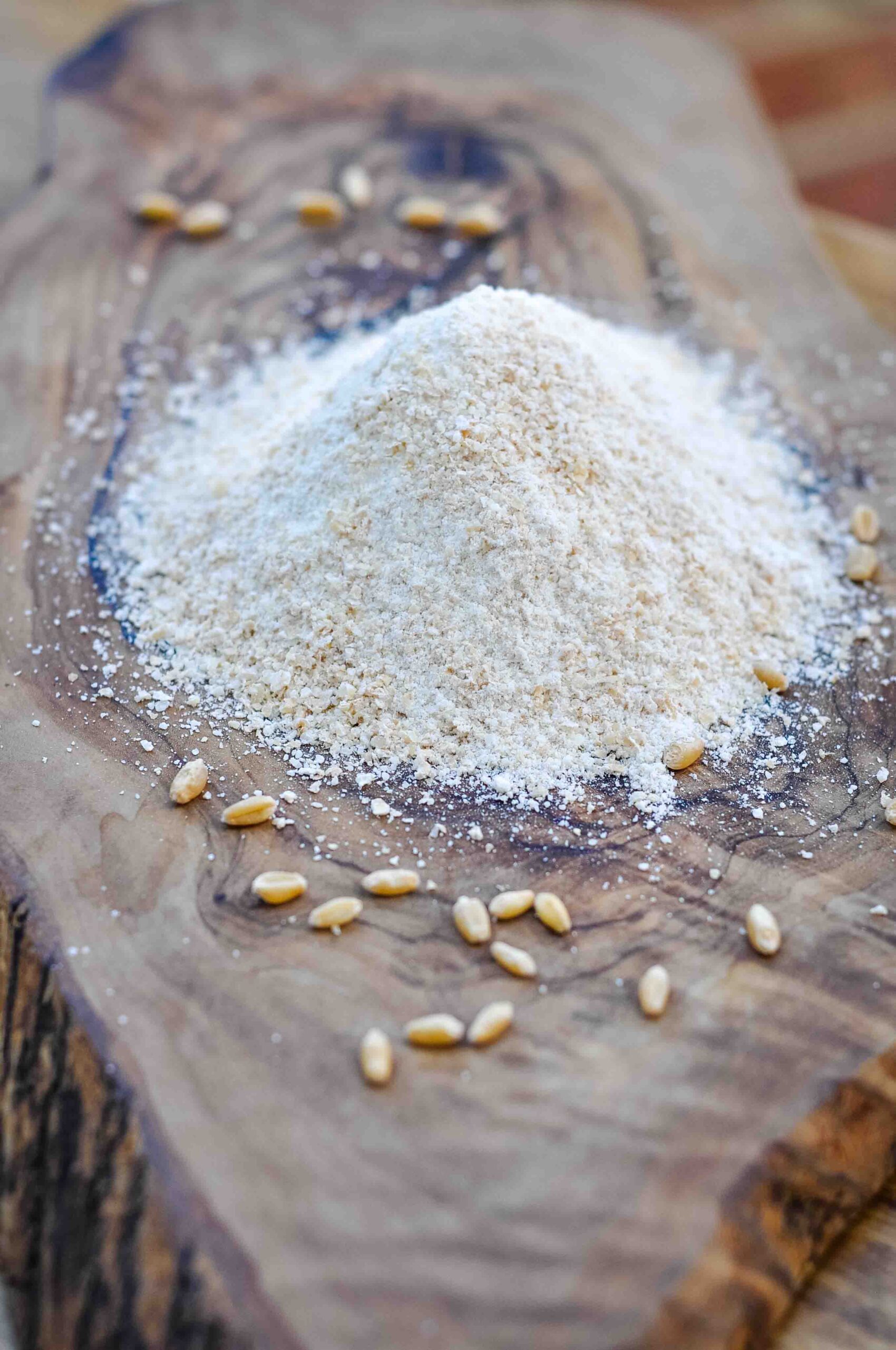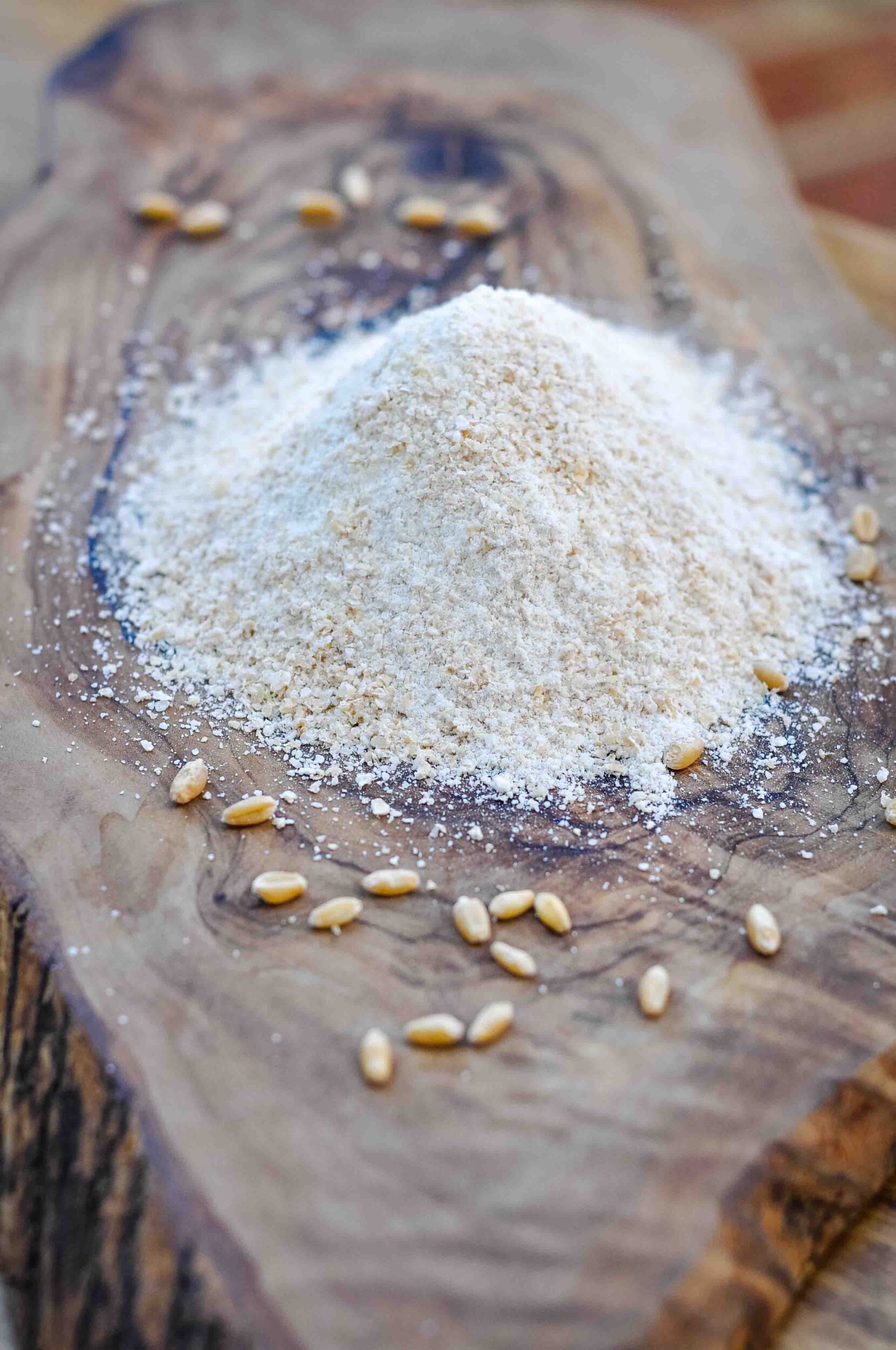 Hard white contains more gluten and is perfect for breadmaking. Depending on what types of things you enjoy baking, there are a multitude of wheat types to fit your needs. Wheat is considered either "hard" or "soft" based how much protein or gluten is found within the grain.
Hard white wheat is a great kind to get started with, and it works well with pretty much any recipe. It's my personal favorite. You can purchase on Amazon.
Or, for a cheaper option to get organic wheat berries, Azure Standard has a great selction.
Necessary equipment for making homemade flour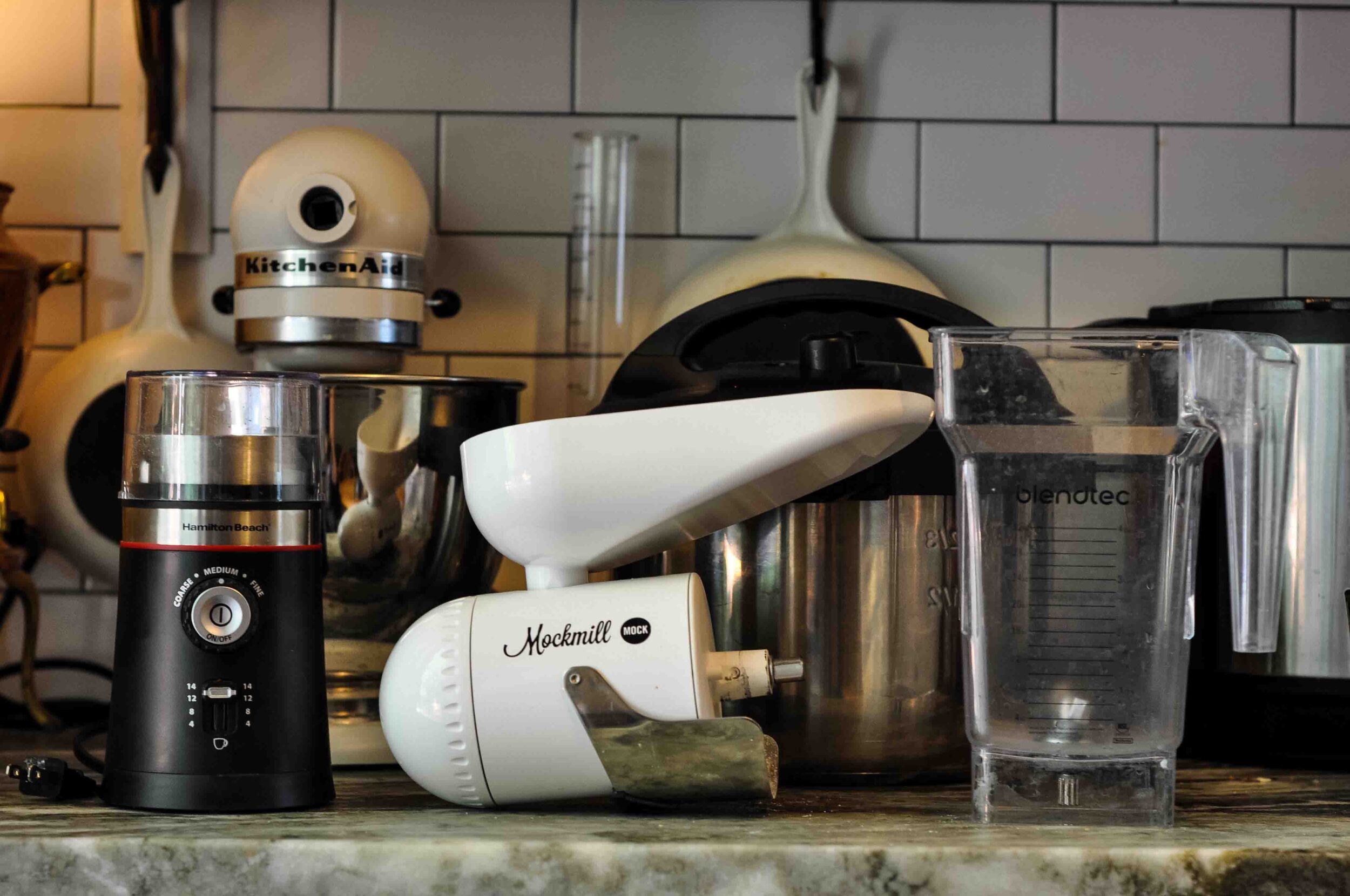 If you want to make flour at home, you have several options for grinding your own wheat:
High speed blender or food processor – You can use a high speed blender such as a Blendtec or Vitamix, or even a food processor to grind wheat berries. Cons: it's REALLY loud, and may run down your machine over time. I noticed that after several months of doing this with my Blendtec, it started to damage my machine a bit so I opted for a grain mill instead. But it works great if you only want to grind flour occasionally.
Coffee grinder – You can use a small coffee grinder to grind your own flour simply and easily. It's simple and straightforward, but you may need to pulse it more than once to grind it as fine as you need. You are also limited to grinding small quantities at a time.
Grain mill – This is obviously the best choice. A real grain mill will allow you to grind the flour as fine as you need, and allow you to mill larger quantities of flour. If you plan on using fresh ground flour regularly, a dedicated flour grinder is definitely the way to go.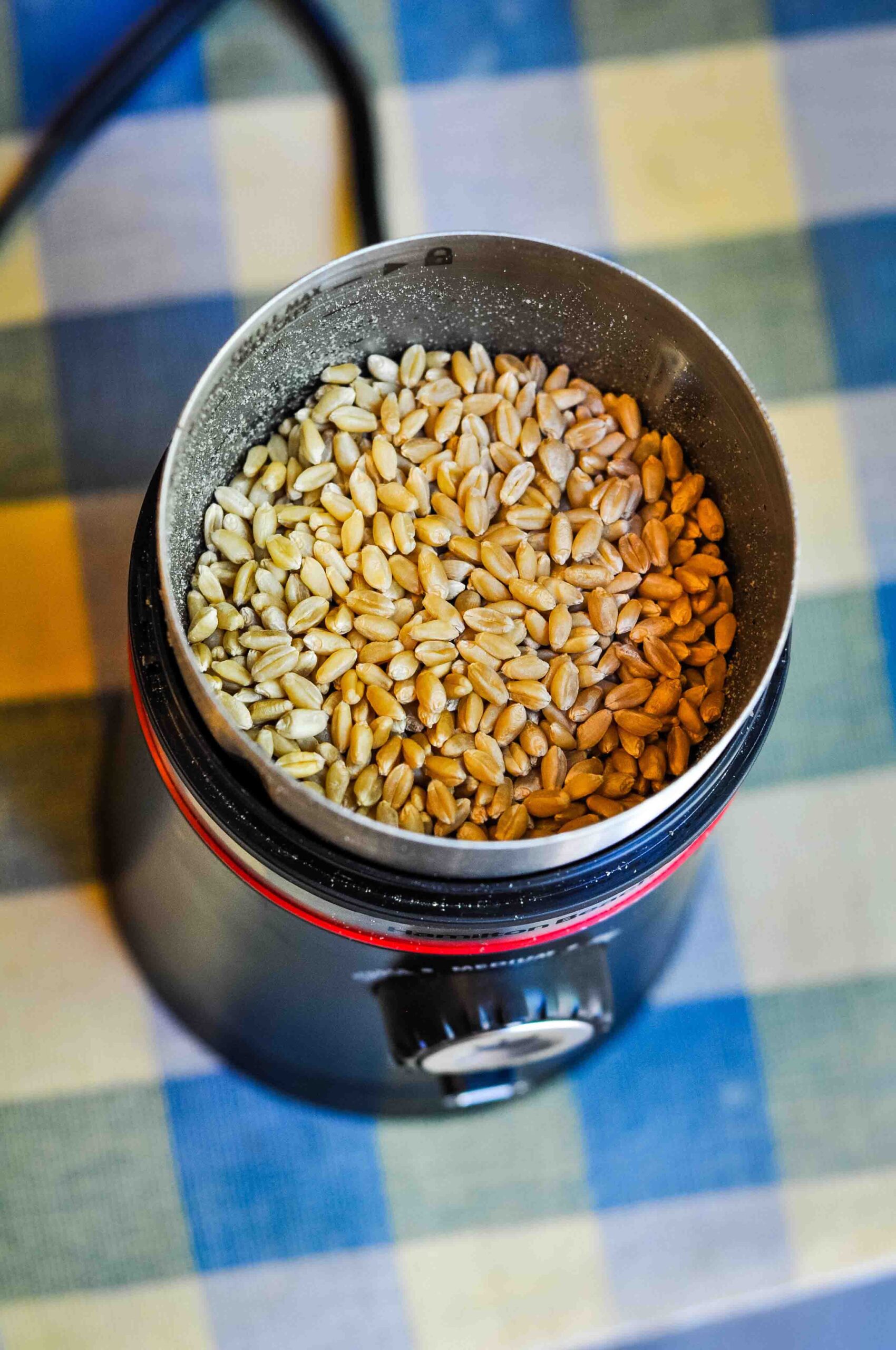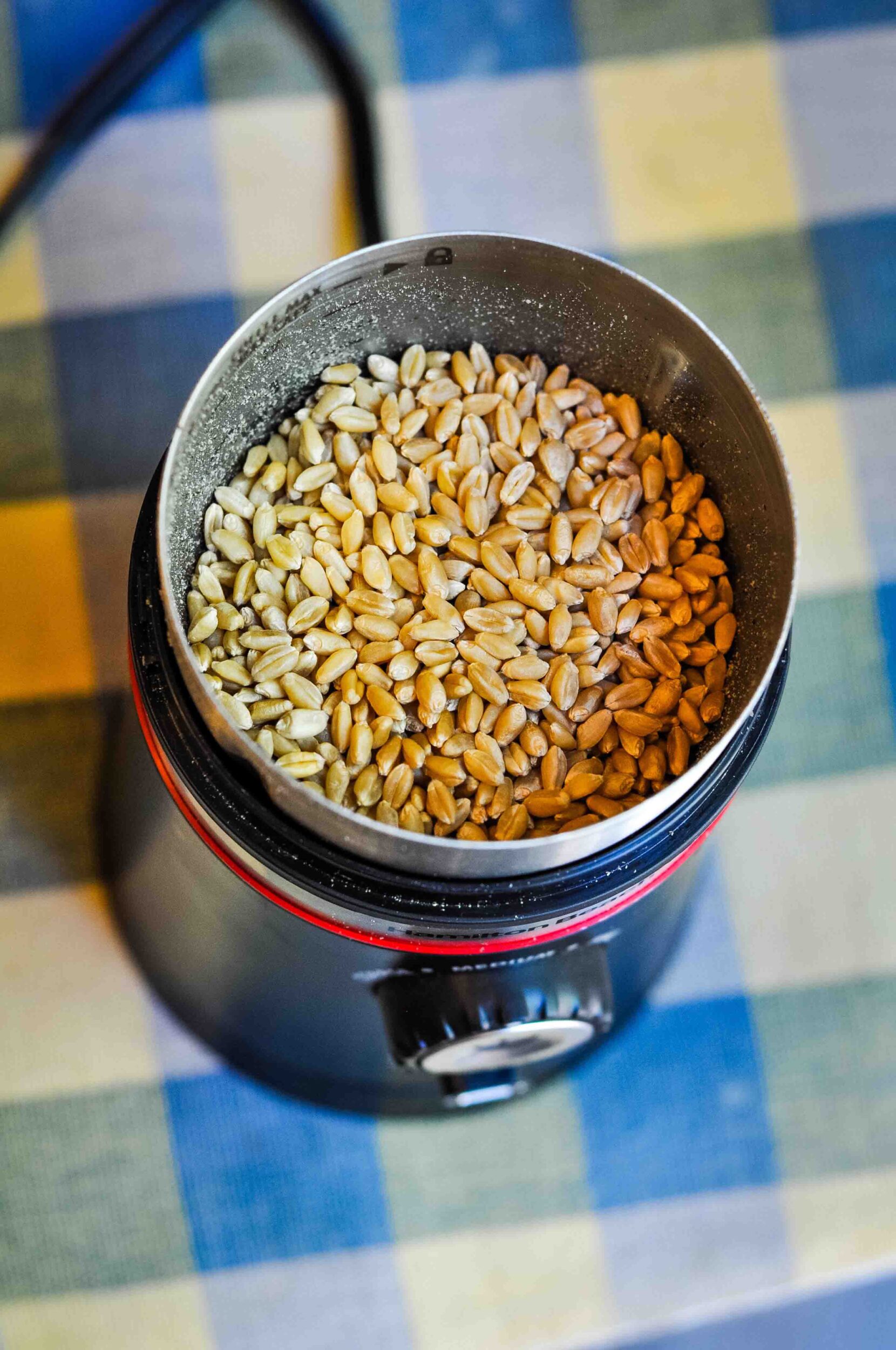 All about grain mills & different varieties:
There are several high-quality grain mills on the market and they are all great for different reasons.
Impact grain mills such as the Nutrimill use stainless steel rings to grind the flour. They are quite loud, and can cause a bit of flour dust in the air during use, but produce fine flour very quickly.
Cast iron or stainless steel burr grinders like the Wondermill grind flour a bit more coarsely between cast iron or steel burrs.
Stone burr grain mills are my personal favorite. We chose the Mockmill for our family for several reasons.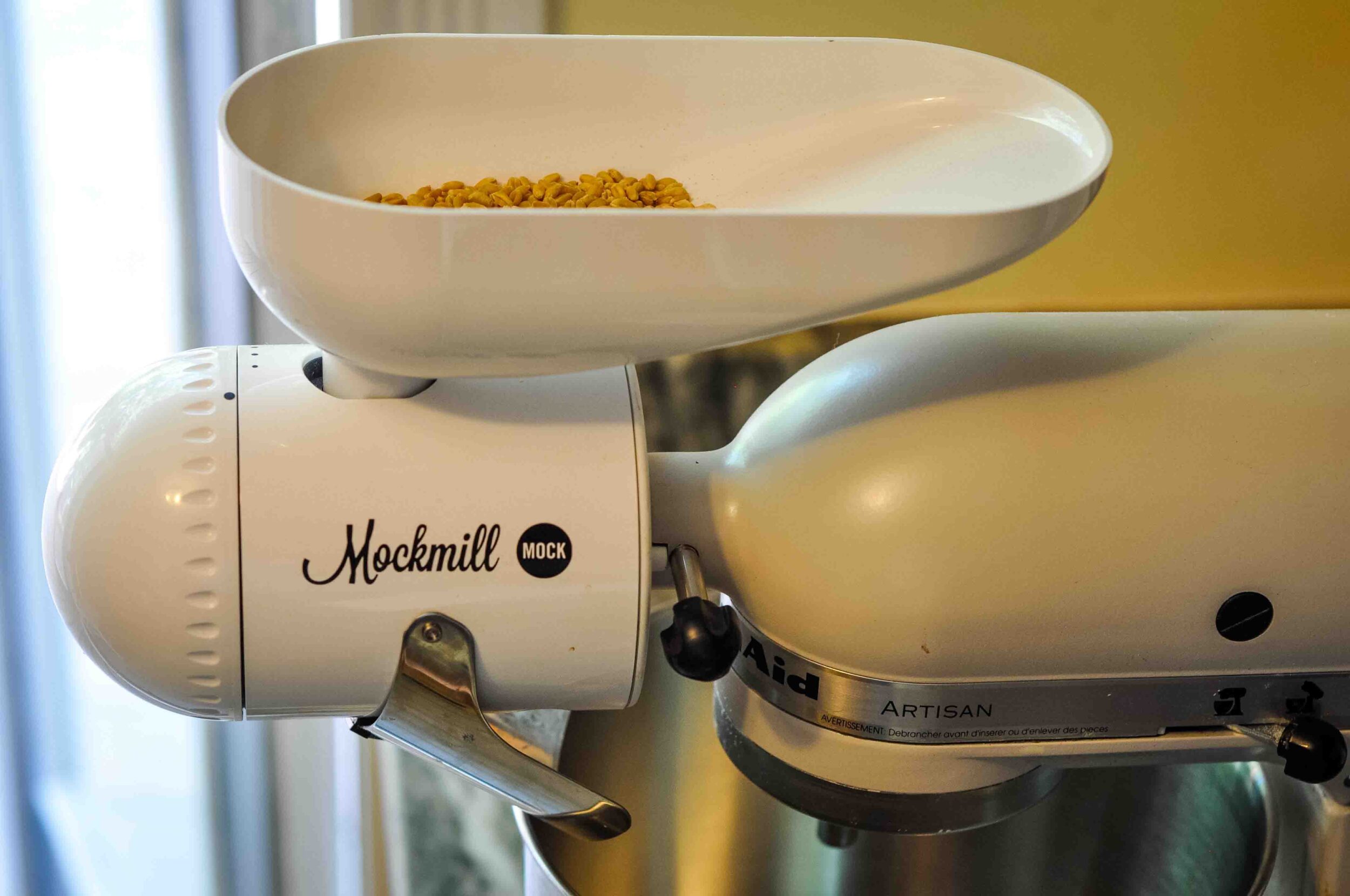 Since it uses the traditional stone burr grinding method, it keeps the flour at a low heat to possibly preserve more nutrients. It's also quieter than some of the other models out there, and is built to last. It can grind a variety of different grains, including gluten free grains, beans, nuts, seeds, or spices. You do have to stay away from any oily grains or seeds, as these can block the grain mill.
(BTW, my readers can save 5% on the Mockmill by clicking this link!)
How flour is made, step-by-step
To make flour at home, first gather your materials: whole wheat berries and your grinder of choice: grain mill, high speed blender, or coffee grinder. Today I'm using the Mockmill Stone Grain Mill Attachment for Stand Mixers.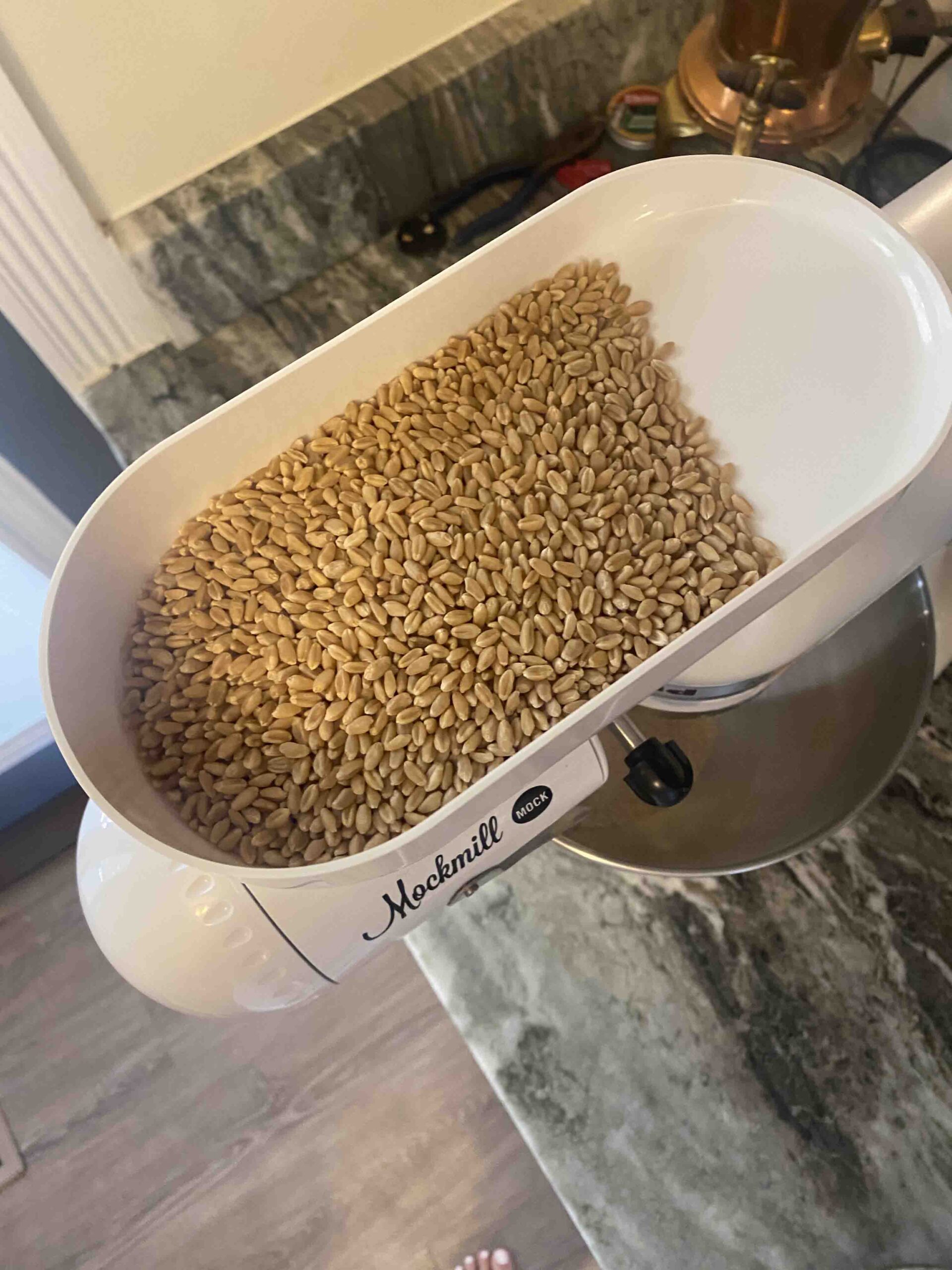 Pour your desired amount of wheat berries into the top of your grain mill. Keep in mind that once it's ground, you'll end up with a little more flour than whole berries by volume. This is because of the air that is incorporated into the flour as it is milled. For example, grinding 3/4 cup of wheat berries results in about 1 cup of flour.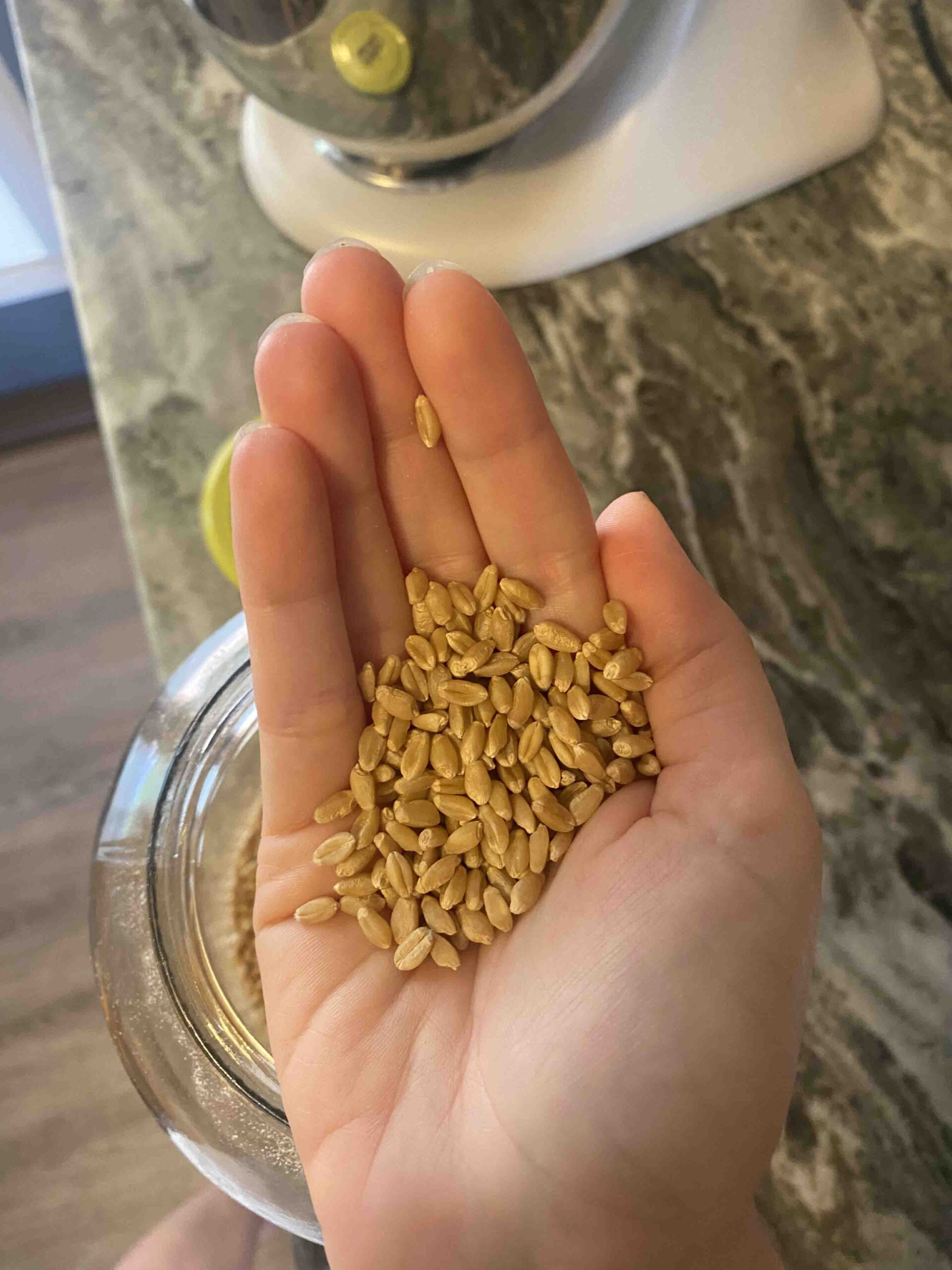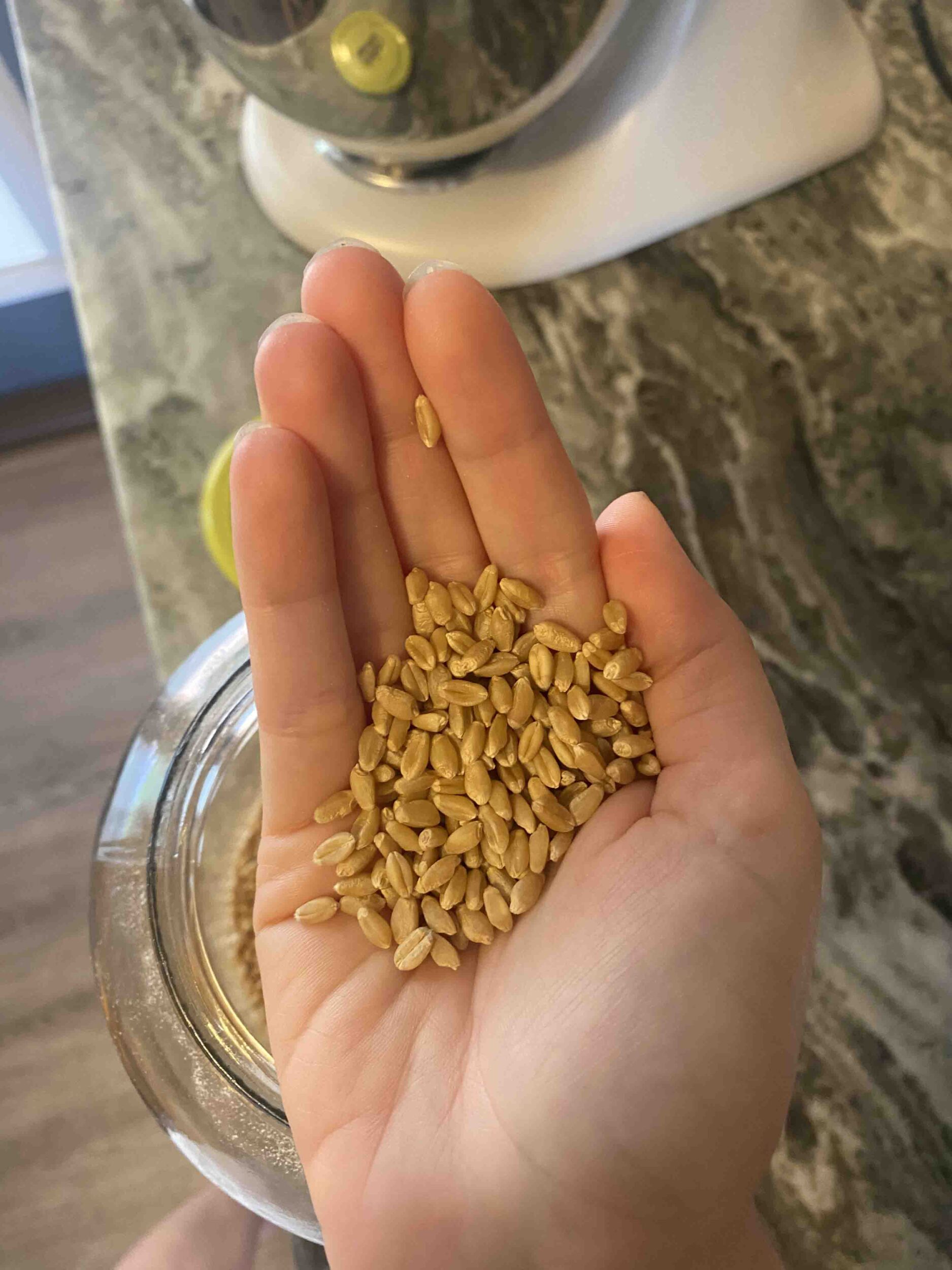 Adjust the grain mill to how coarse or fine you want your flour to be. I typically keep mine on the finest setting to make it most like the store bought flour texture.
Turn on the grain mill, starting at a slow speed and adjusting to a higher speed. The grain mill will do its thing and spit out your freshly ground flour below. Depending on how much you're grinding, this usually only takes a few minutes. The whirring sound changes to a lower-pitched hum when it's finished grinding…. best to keep an eye on it.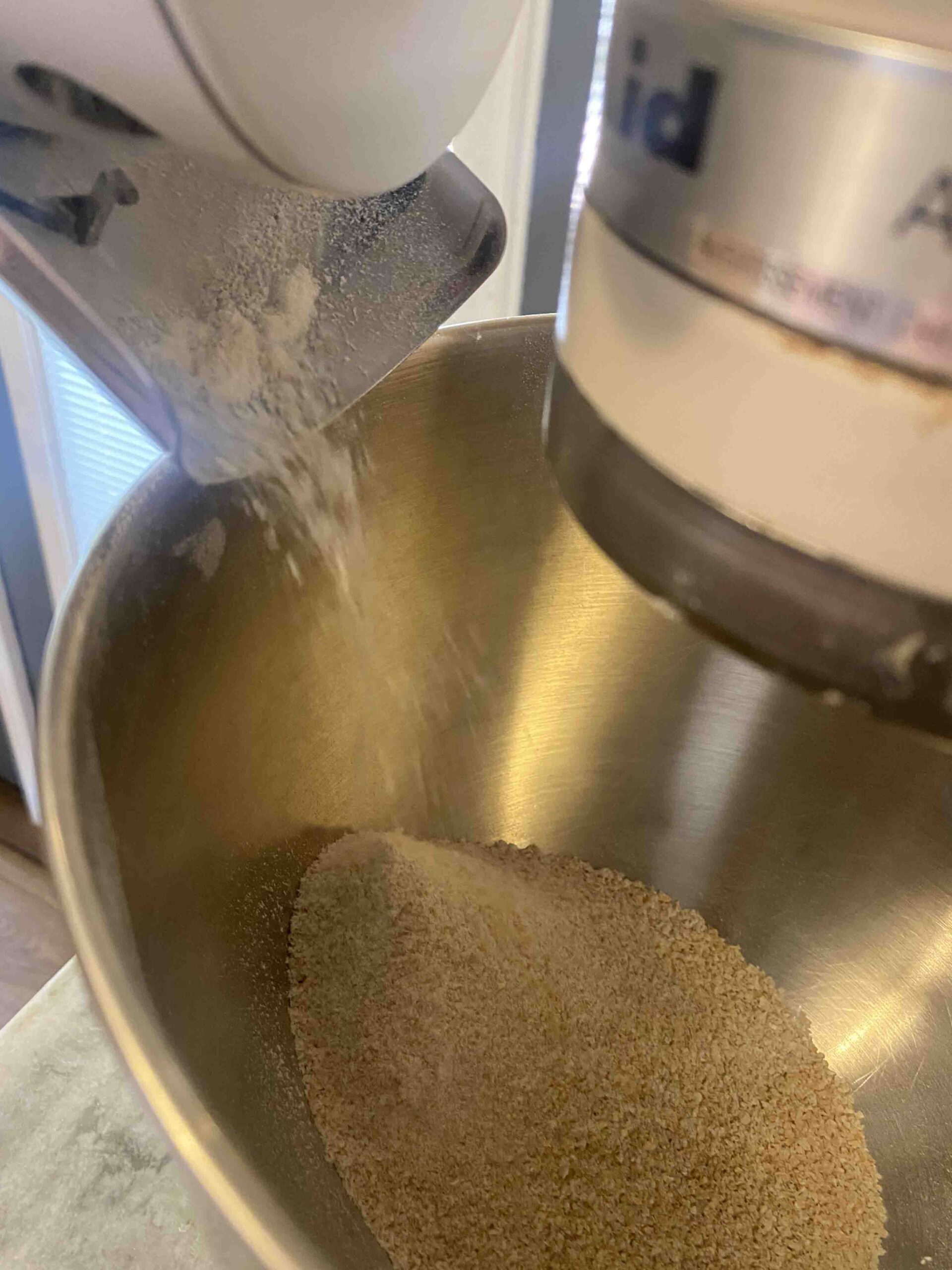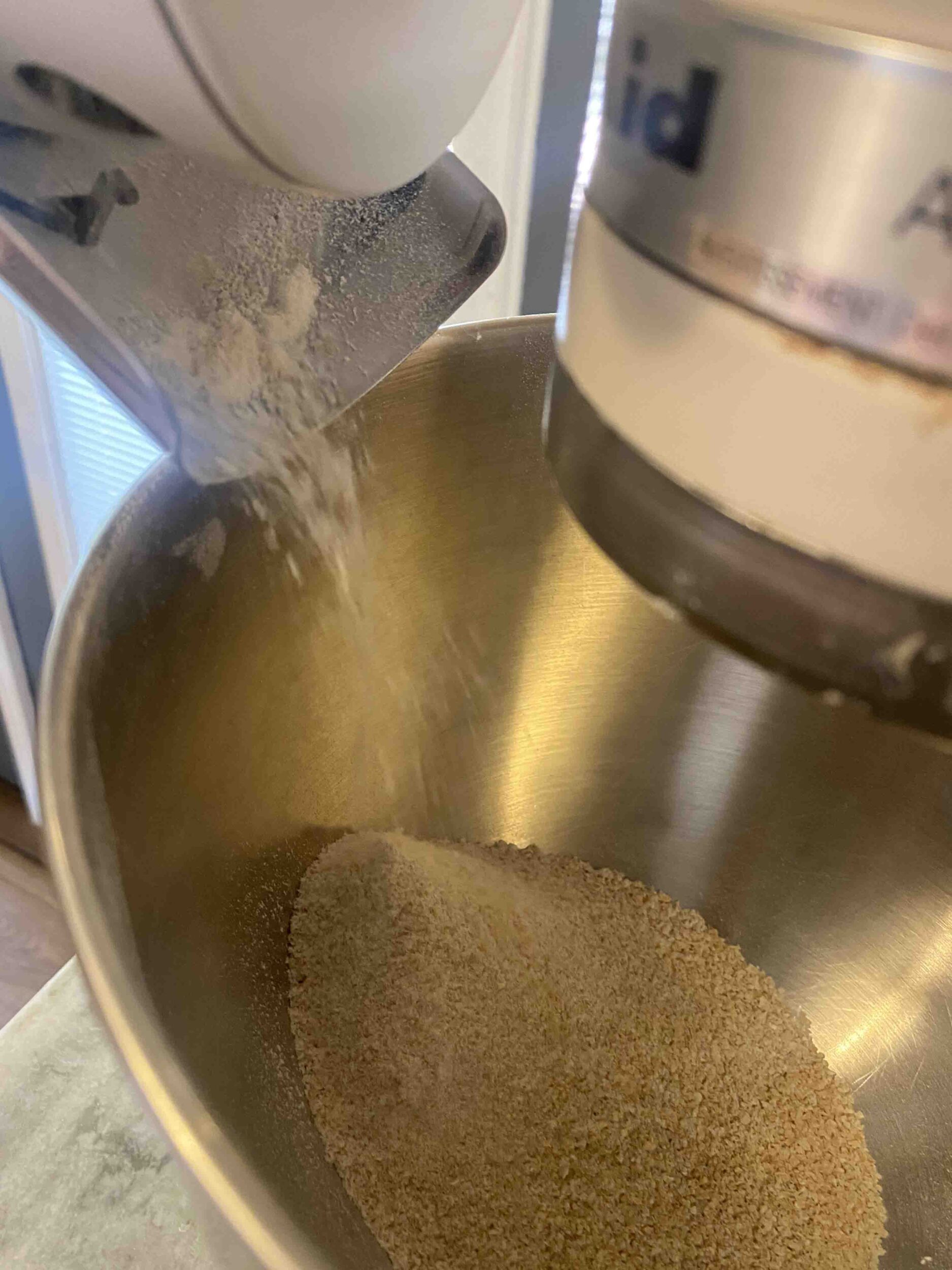 You're ready to bake with your flour!
To use a coffee grinder, simply add your wheat berries to the coffee grinder on the finest setting and grind. You may have to do this more than once to reach your desired fineness.
To use a high speed blender, add your wheat berries and blend at the highest speed for about a minute. Stop the blender and scrape down the sides, stir everything up, and blend for an additional minute.
How long does home milled flour stay fresh?
Freshly ground flour in a sealed container is good to use at room temperature for up to 5 days. Or, keep in the refrigerator and use within 2 weeks. The quicker you use it, the more nutrients it retains.
The reason home ground flour perishes more quickly than store bought flour is because of the healthy oils present in the flour, which cause it to oxidize more quickly.
How to make all purpose flour
If you need a recipe for all purpose flour that's super light and white like store bought, just add one additional step: sift your flour!
Simply sift your freshly ground flour through a fine mesh sieve to separate the heavier bran and germ.
Just remember that's where most of the nutrients are, so sneak the wheat germ into another dish like under the sauce on sourdough pizza or added to yummy muffins!
Tips for baking with freshly ground flour
You can basically sub freshly ground whole grain flour cup for cup in any recipe you currently love. But there are a few things to keep in mind as you embark on your fresh flour baking:
Density differences. Due to the bran & germ being present, freshly ground flour is a little more dense/heavy than store bought flour. You don't really notice it in recipes like cookies and muffins, but it's more apparent in breads and cakes.
Taste differences. Fresh flour is so much sweeter, nuttier, and more delicious than tasteless all purpose flour! Once you savor the taste freshly ground flour, you won't want to go back. It seriously adds such a delicious hearty element to all your baked goods.
You may need to add more flour to a recipe. Store bought flour settles over time, where freshly ground flour does not. This means that one cup of store flour is going to contain more (by weight) than a cup of freshly ground, and this may change the texture of your recipe. So, you might need to add a little more fresh flour to reach the desired consistency. One to two tablespoons per cup is usually all that is needed. This is one reason I enjoy using a digital kitchen scale – when you measure by weight, you always get the exact amount needed. Measuring by volume is a bit more tricky when it comes to subbing freshly ground flour in recipes.
Soaking/Sprouting/Souring is still beneficial. Even when freshly ground, it's still best to soak or ferment your flour (sourdough) neutralize anti-nutrients in the grains. Although I admit I don't always do this, its a good practice to start implementing into your real food kitchen. Read more about why you want to pre-digest grains to get the optimal nutrition in this post.
Want a fresh milled flour bread recipe (sourdough) using 100% whole grain flour? I couldn't find any recipes online, but I'm publishing one very soon so stay tuned!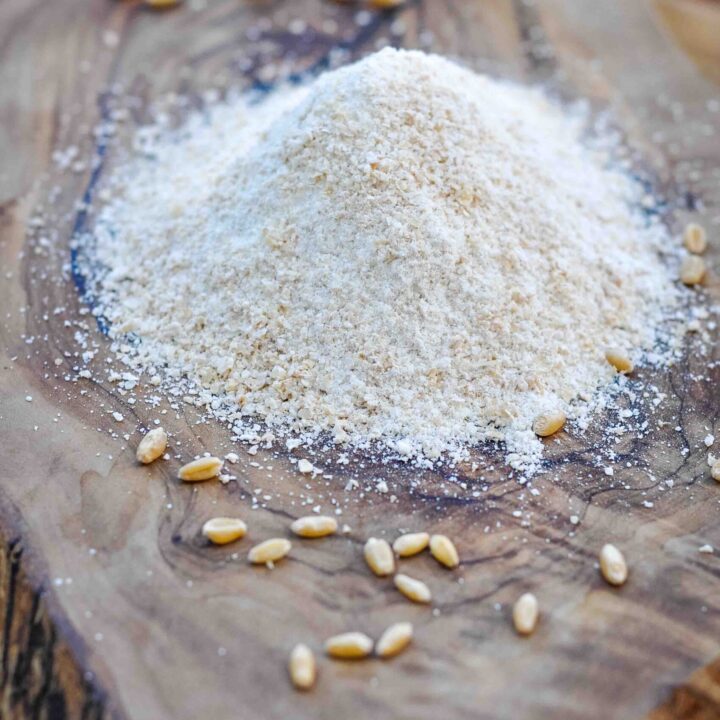 Yield: 2 cups
How to Make Freshly Ground Flour
Active Time: 5 minutes
Total Time: 5 minutes
Difficulty: Easy
Make your own whole grain flour at home with this easy method! All you need is a grain mill, coffee grinder, or high speed blender and some whole wheat berries.
Materials
Instructions
To make 2 cups of flour, add 1 3/4 cups whole wheat berries to a grain mill. A smaller amount of whole grain will yield a slightly larger amount (by volume) of flour.
Check the settings on your mill and select how coarse or fine you want your flour. Turn on the grain mill on a the lowest setting and increase the speed. Allow the mill to fully grind the berries into flour before turning off.
If grinding in a coffee grinder, you may need to process more than once to reach your desired texture.
In a high speed blender, blend wheat berries on the highest setting for one minute. Scrape down the sides, stir, and blend for an additional minute.
To make lighter "all purpose" flour, sift the flour to remove the bran and germ (however, this will remove much of the nutrition).
Store in an airtight container and use within 5 days. Or, store in the fridge up to 2 weeks and the freezer up to 6 months.
Recommended Products
As an Amazon Associate and member of other affiliate programs, I earn from qualifying purchases.
Recipes for using fresh ground flour
You can sub freshly ground flour for all purpose flour in any recipe, as previously stated. If you need super light, fluffy, white flour, you may sift it first (but nutrients will be missing). Here are some recipes I love using freshly ground flour in:
Will you try making freshly ground flour? What's your favorite thing to bake?
PIN IT!