These healthy cowboy cookies are more filling and nourishing than your typical chocolate chip. Filled with oats, nuts, and coconut oil with zero refined sugar to help you power through your day!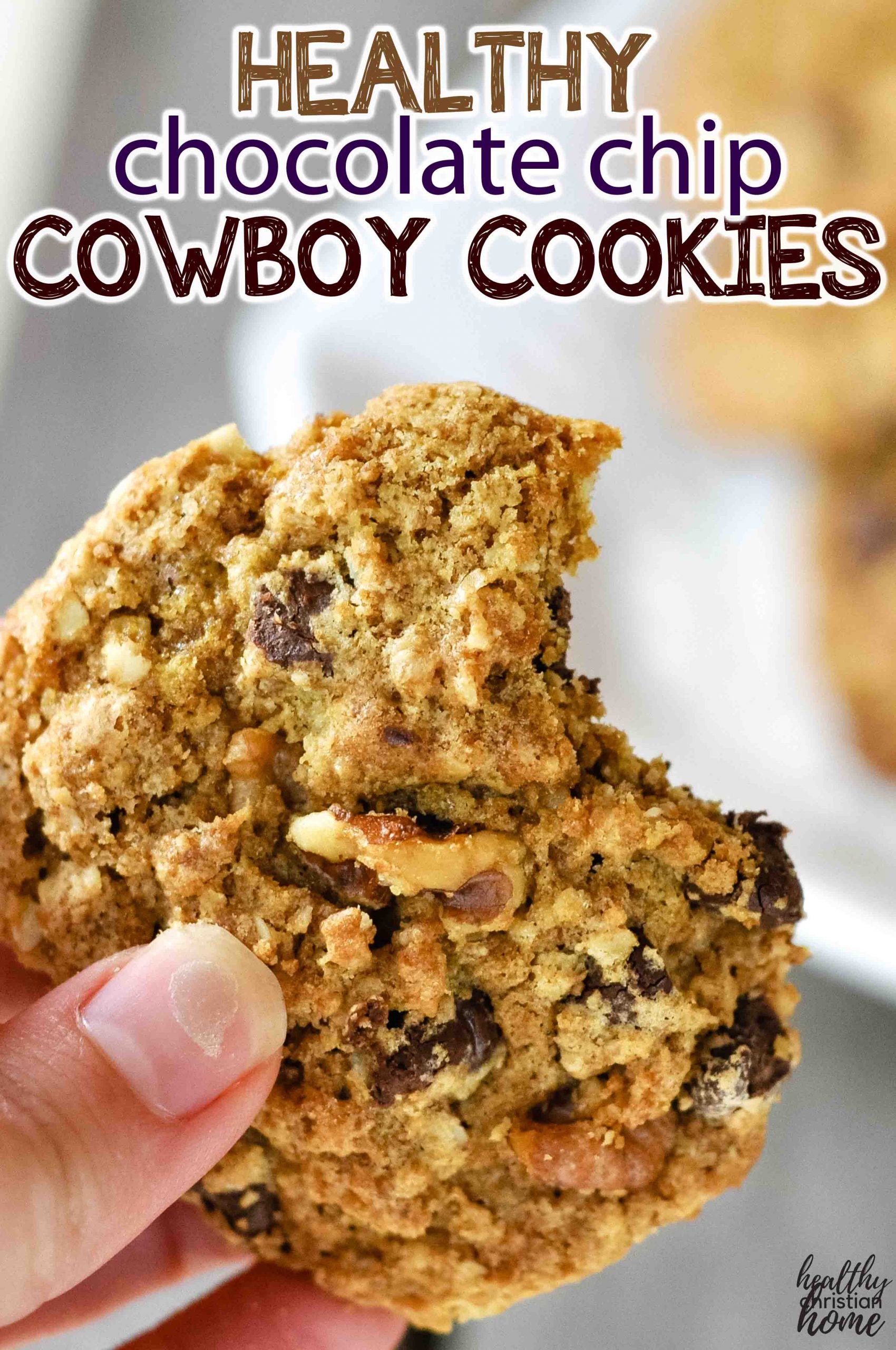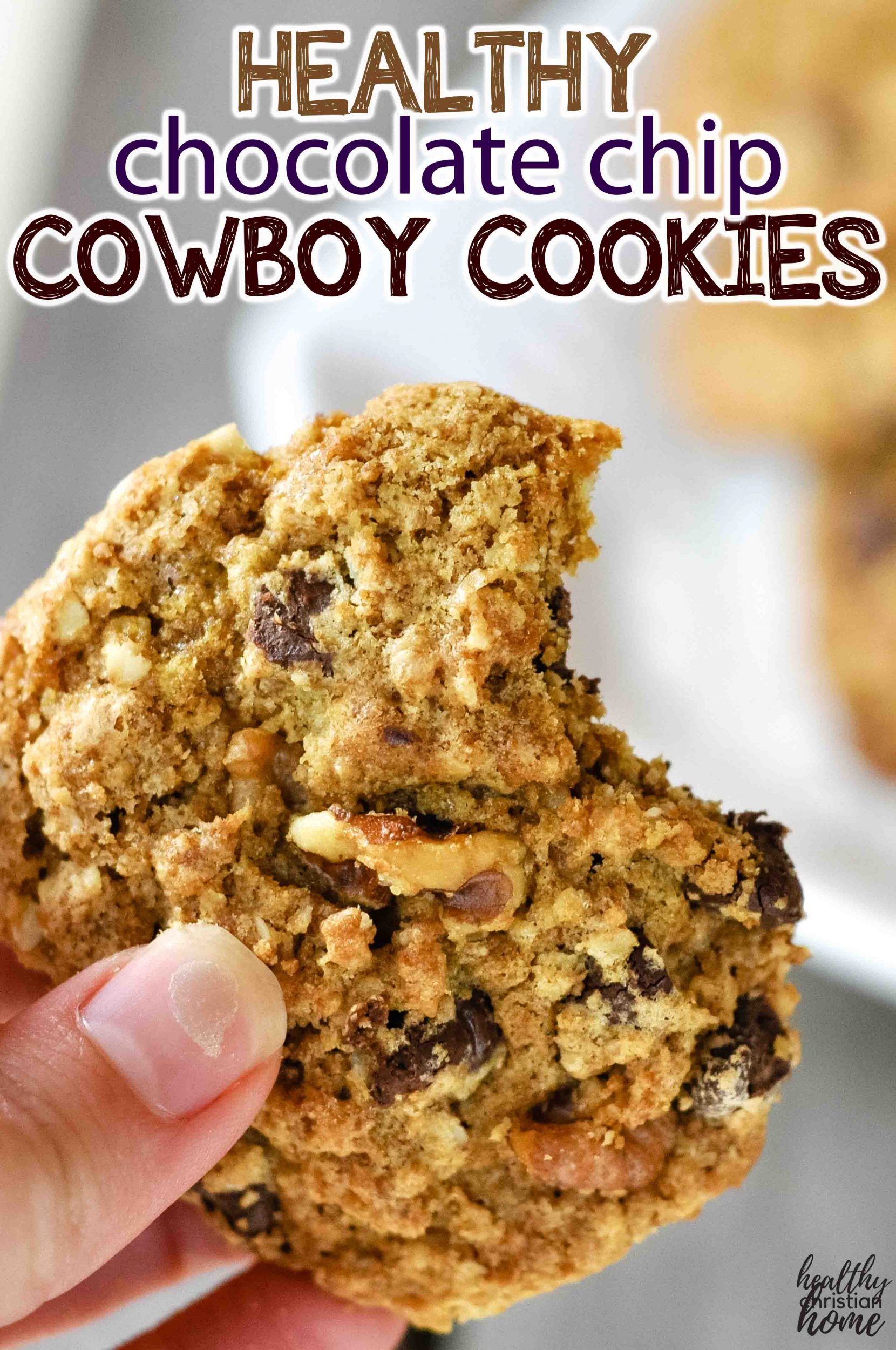 I know our family's chocolate chip cookie recipe like the back of my hand. As a teen, my brother only had to hint that he was hungry and I'd be whipping up a batch of them along with a grilled ham & cheese sandwich (cooking is my love language).
Honestly, I never thought I'd find another cookie that compares with classic chocolate chip. But, I didn't feel good about sharing our chocolate chip recipe since it is absolutely LOADED with refined sugar.
Enter, healthy cowboy cookies.
My mom started making these chewy, best ever cowboy cookies a couple of years ago. They became a fast favorite and replaced our typical refined sugar-laden chocolate chip. We love them just as much, but they are SO much better for you!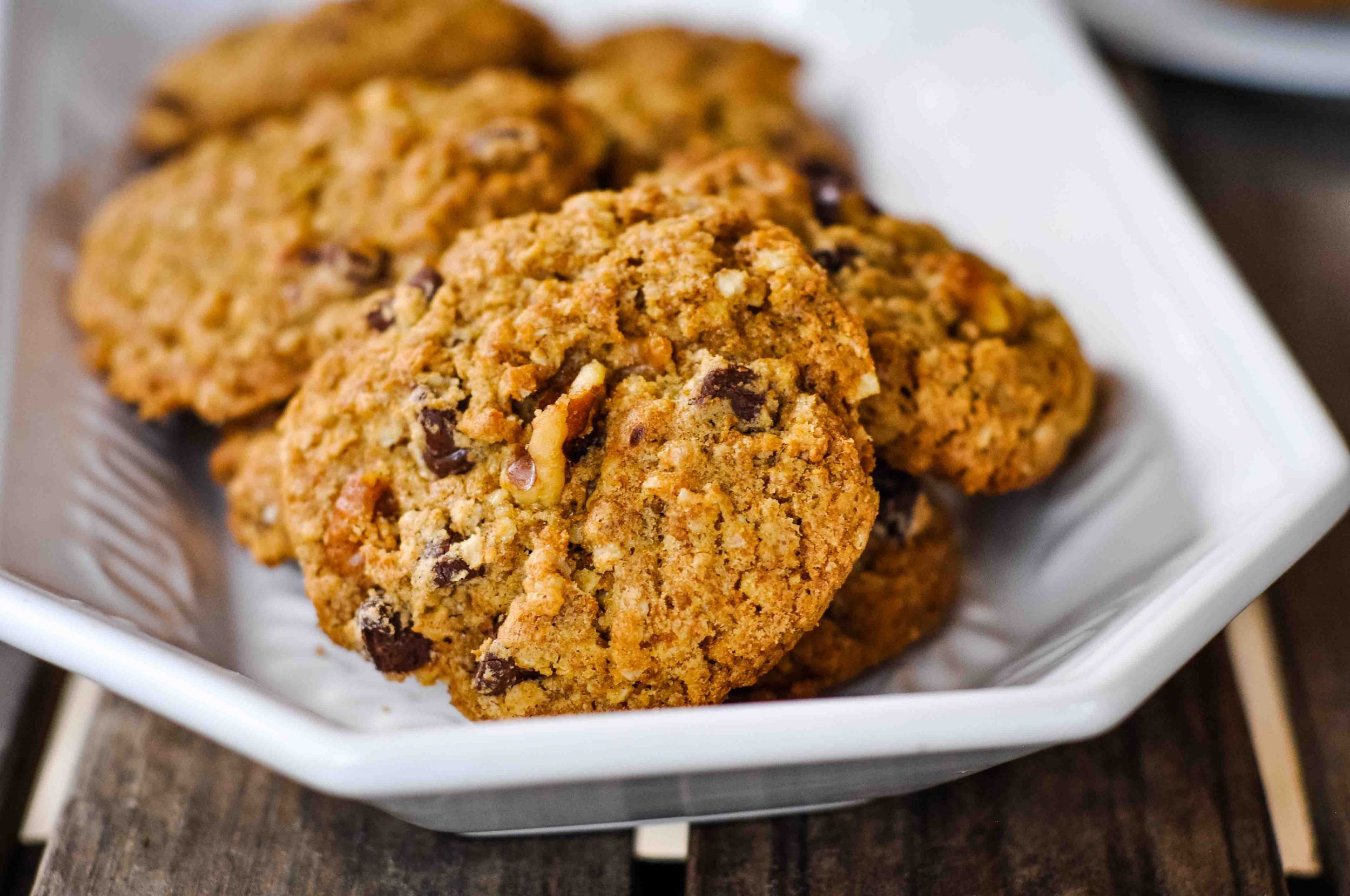 How did cowboy cookies get their name?
From what I understand, this type of cookie got its name because due to being more filling and satiating. There are so many ingredients thrown into the batter!
It's the type of cookie a cowboy would need to power through his hard work on the ranch.
With healthy add-ins like oatmeal, nuts, and coconut oil, these cookies are more nourishing and provide longer-lasting energy without the crash. No more post-cookie let down!
This recipe is also well-known for being based on Laura Bush's original Texas recipe, hence the "cowboy" name. During the Bush-Gore presidential race in 2000, Laura Bush submitted a cowboy cookie recipe that won against all the candidates' wives in a magazine contest.
This recipe is based on the ever-popular original, with a few changes to make it healthier.
More healthy desserts you'll love: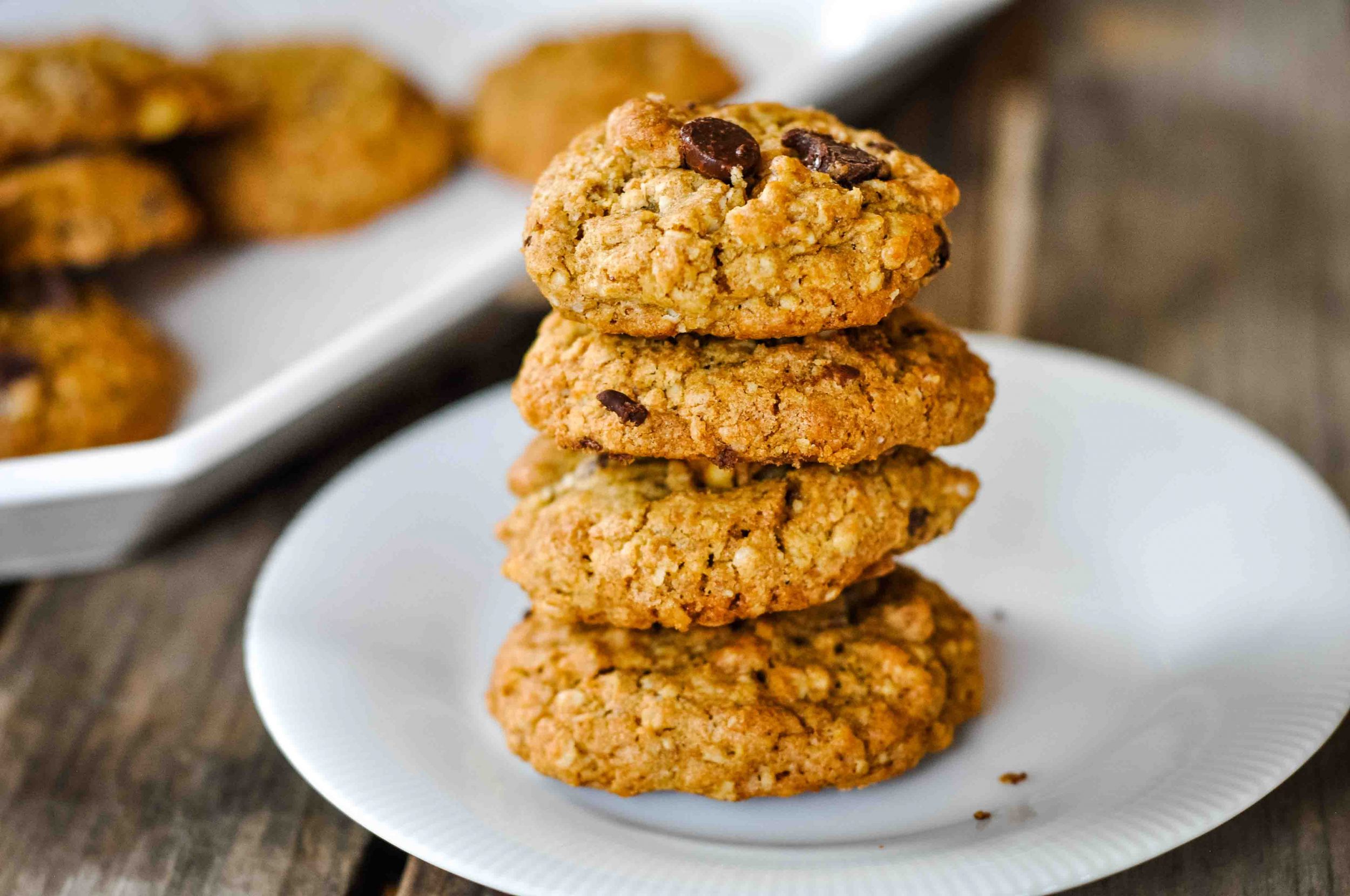 How to Make Cowboy Cookies
This cookie recipe is easy to make – just grab a big bowl and spoon and you're set!
First, cream together the coconut oil, butter, Sucanat (evaporated cane juice), and vanilla until smooth. Add eggs and mix thoroughly.
Add dry ingredients one at a time (I usually start with the smaller quantity ingredients like baking powders), making sure everything is mixed together thoroughly.
Last, mix in your add-ins like chocolate chips, nuts, shredded coconut, etc.
Bake them in a 350 F oven for 12-15 minutes, making sure not to over-bake.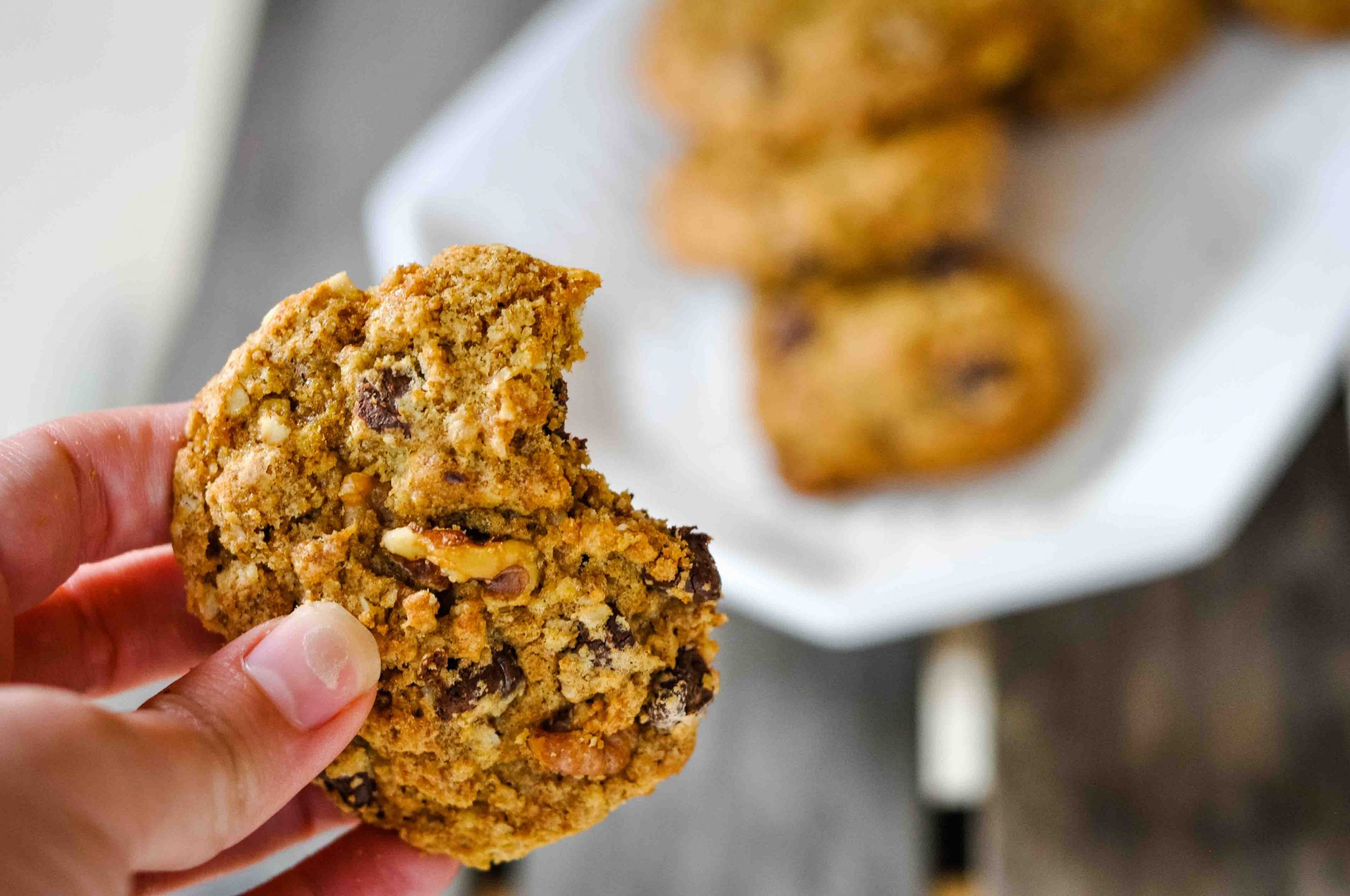 Add-Ins to Use for Cowboy Cookies
There are lots of options for add-ins with this recipe. What makes this type of cookie so special is that just about anything goes!
Another affectionate name for them would be 'kitchen sink cookies', because you really can customize them to whatever you have on hand.
Our grandma's cowboy cookies keep things simple with just chocolate chips and nuts, but I've seen other creative ideas such as:
Shredded coconut
A variety of nuts (pecan, walnut, macadamia, almond, etc.)
Rasins
Peanut butter
Bran or corn flakes
Sunflower or pumpkin seeds
Get creative and leave a comment telling us what you add to your cookies!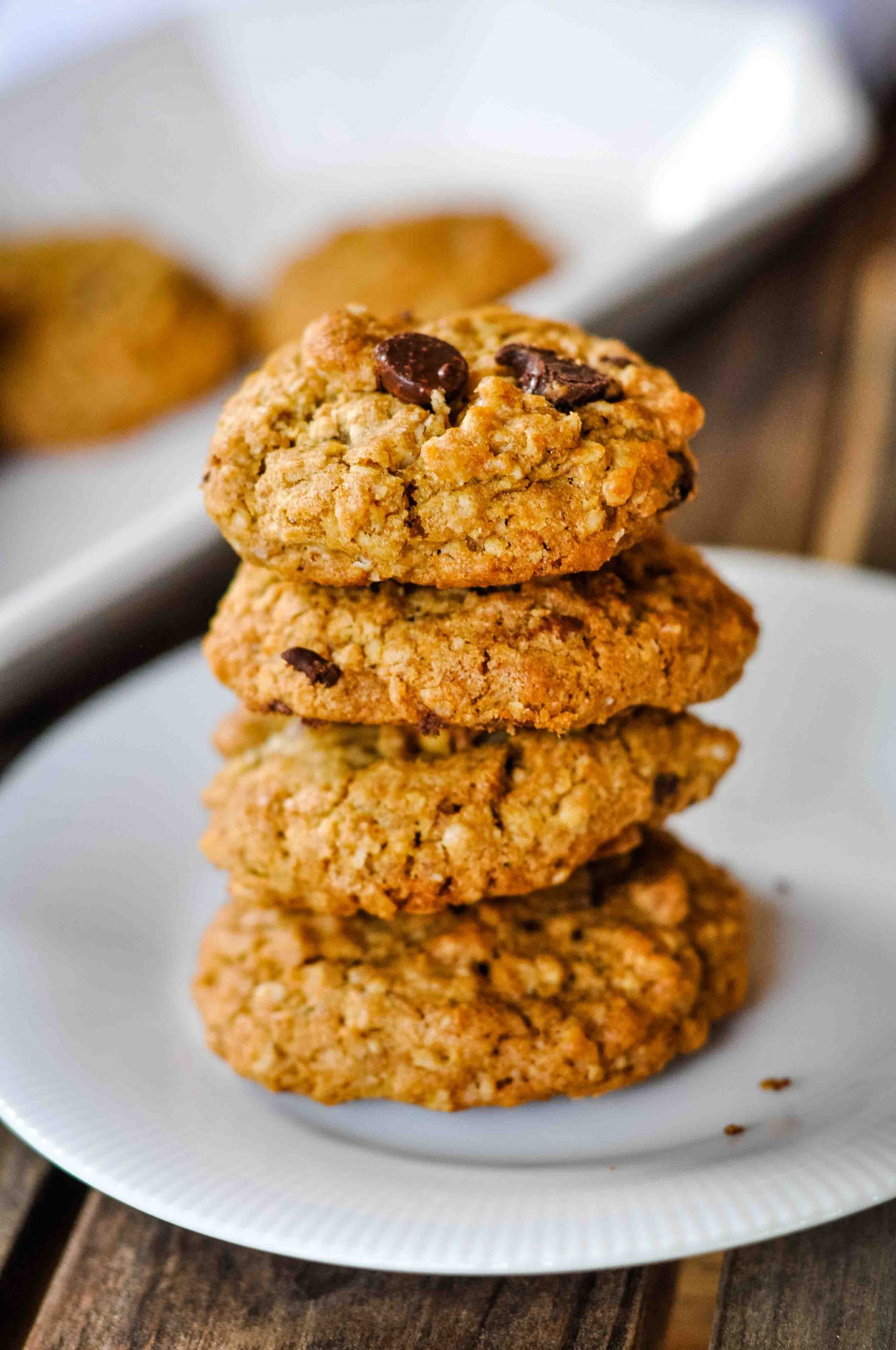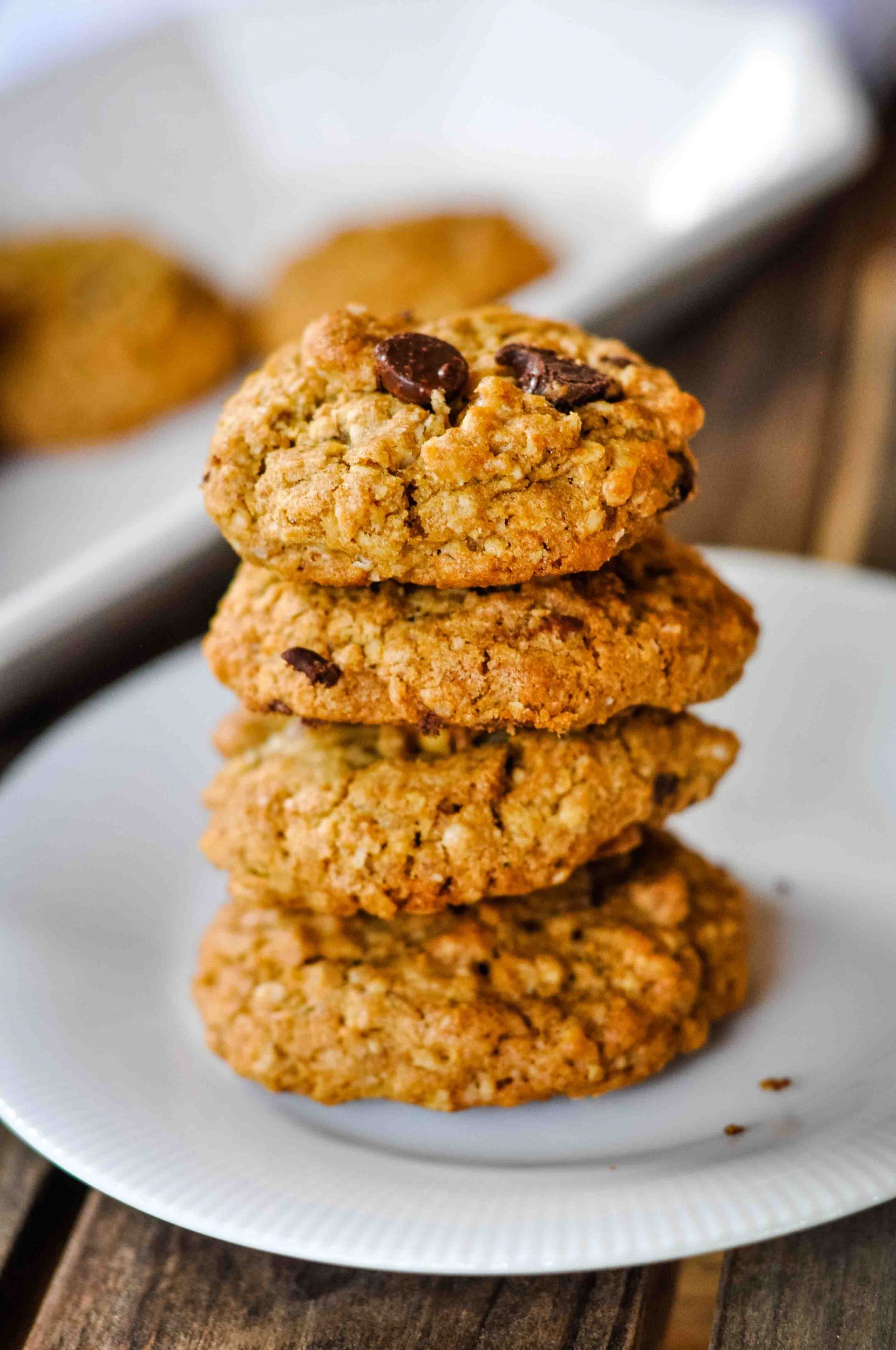 Cowboy cookie special dietary needs & variations
I always like to give options for different dietary needs with my recipes, and this one is no exception. Here are a few ways you can modify this recipe:
For gluten-free, replace whole wheat flour with your favorite GF flour blend.
For sugar free, try a granulated sweetener like erythritol. I use unrefined sugars in my recipes, which is why I love Sucanat. It's simply evaporated cane juice that hasn't been refined or processed like regular sugar (still has all the minerals intact). You could also use honey, just keep in mind that this will change the texture of the cookie somewhat.
For extra digestibility, make the dough the day before baking and let it sit in the fridge. This will 'soak' the oatmeal and flour, reducing phytic acid and making the cookies easier to digest.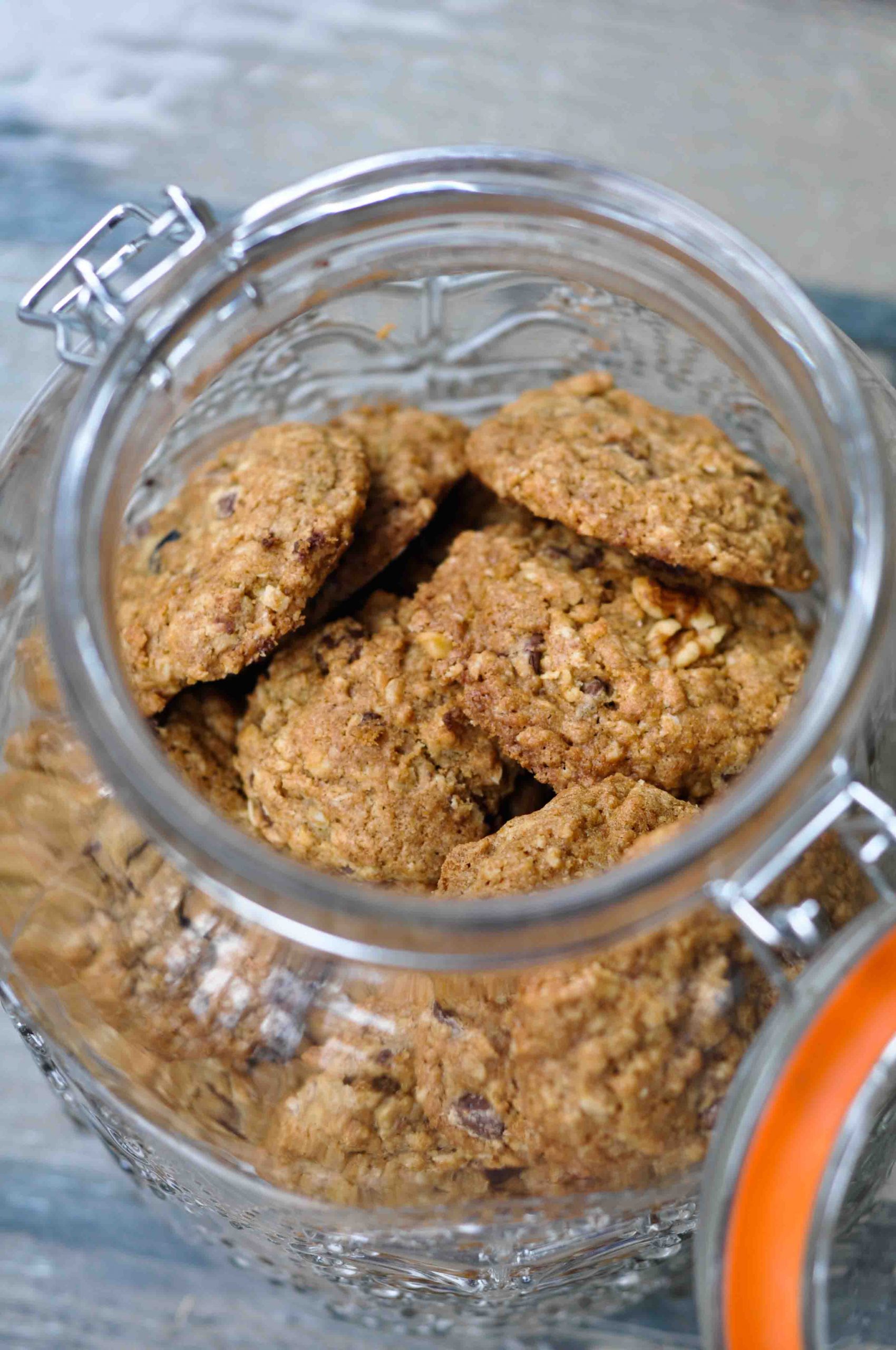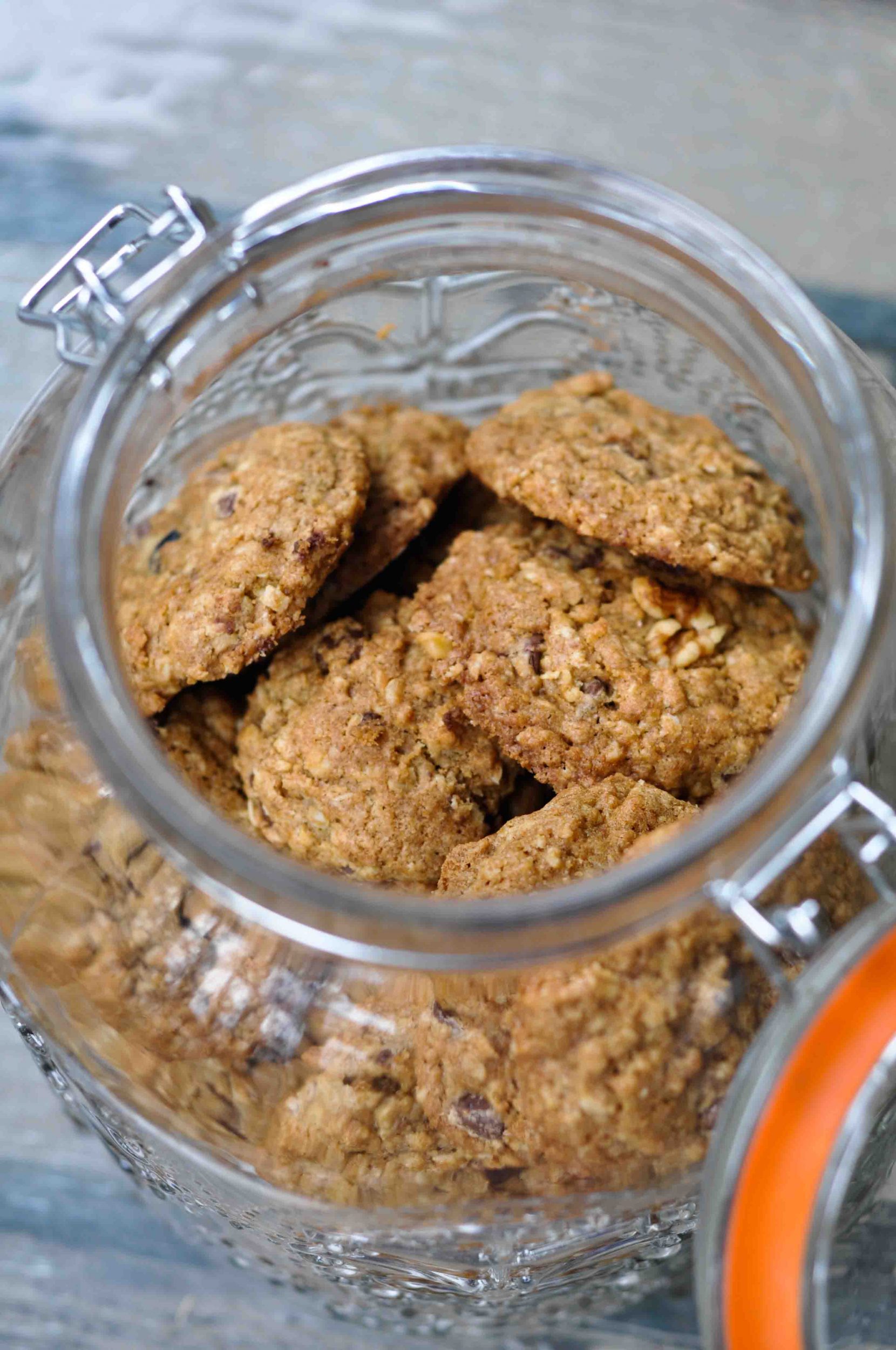 Tips for the Perfect Batch of Cowboy Cookies:
Want to know how to make cowboy cookies thicker & taller? Make dough ahead of time, shape into balls, and refrigerate or freeze. It's convenient, and also yields a thicker & taller cookie.
It's best to slightly under-cook these cookies. You want them soft & chewy, and if you cook them too long they'll be crispy instead. Take them out of the oven when the edges just start to set. The residual heat within the cookie will finish cooking them after they are removed from the oven.
You can swap the amounts of coconut oil and butter, as they are pretty interchangeable. Although, I think using at least some butter is important in the final taste of the cookie. I like using half butter, half coconut oil.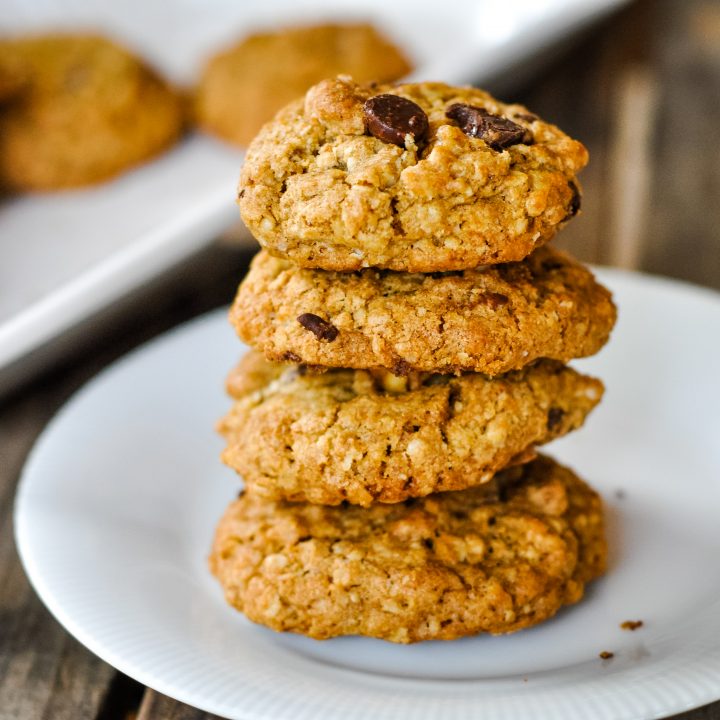 Yield: 3 dozen
Healthy Cowboy Cookies (refined sugar free)
Prep Time: 10 minutes
Cook Time: 13 minutes
Total Time: 23 minutes
These healthy cowboy cookies are more filling and nourishing than your typical chocolate chip. Filled with oats, nuts, and coconut oil with zero refined sugar to help you power through your day!
Ingredients
1 stick butter, softened
½ cup coconut oil, melted
1 tsp. vanilla
2 eggs
1 tsp. baking soda
½ tsp. salt
½ tsp. baking powder
2 cups oatmeal (quick cook or old fashioned)
1 cup chopped pecans or walnuts
Instructions
Melt coconut oil. Cream together coconut oil, softened butter, Sucanat (or other granulated sweetener*), and vanilla in a large bowl. Add eggs and mix until smooth.
Add dry ingredients, stirring with a spatula to combine.
Mix in chocolate chips, nuts, and coconut (if using).
Drop onto a cookie sheet and bake at 350 F for 12-15 minutes.
Dough may be shaped into balls and refrigerated or frozen before baking.
Notes
* You may sub other sweeteners, including white or brown sugars or a sugar free erythritol.
** To fit your dietary needs, you may use Lily's stevia sweetened chocolate chips or Enjoy Life's dairy free chips.
Recommended Products
As an Amazon Associate and member of other affiliate programs, I earn from qualifying purchases.
Nutrition Information:
Yield:
36
Serving Size:
1
Amount Per Serving:
Calories: 136
Total Fat: 10g
Saturated Fat: 6g
Trans Fat: 0g
Unsaturated Fat: 4g
Cholesterol: 19mg
Sodium: 108mg
Carbohydrates: 9g
Fiber: 2g
Sugar: 3g
Protein: 2g