These double chocolate pecan bars are gluten-free and can even be made Paleo or Vegan. Loaded with two kinds of chocolate and filled with decadent crunchy pecans, you won't believe this easy dessert is actually healthy too!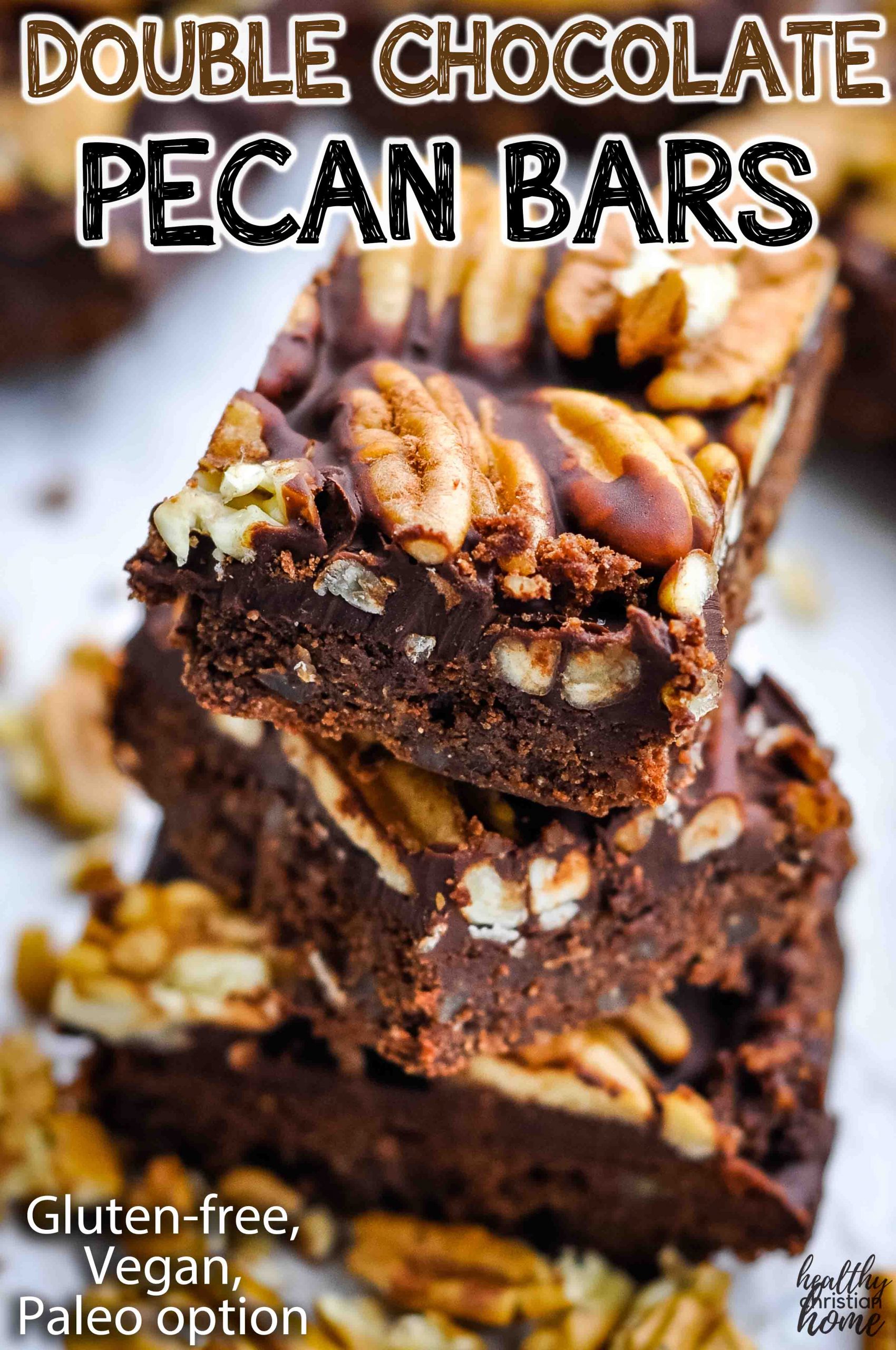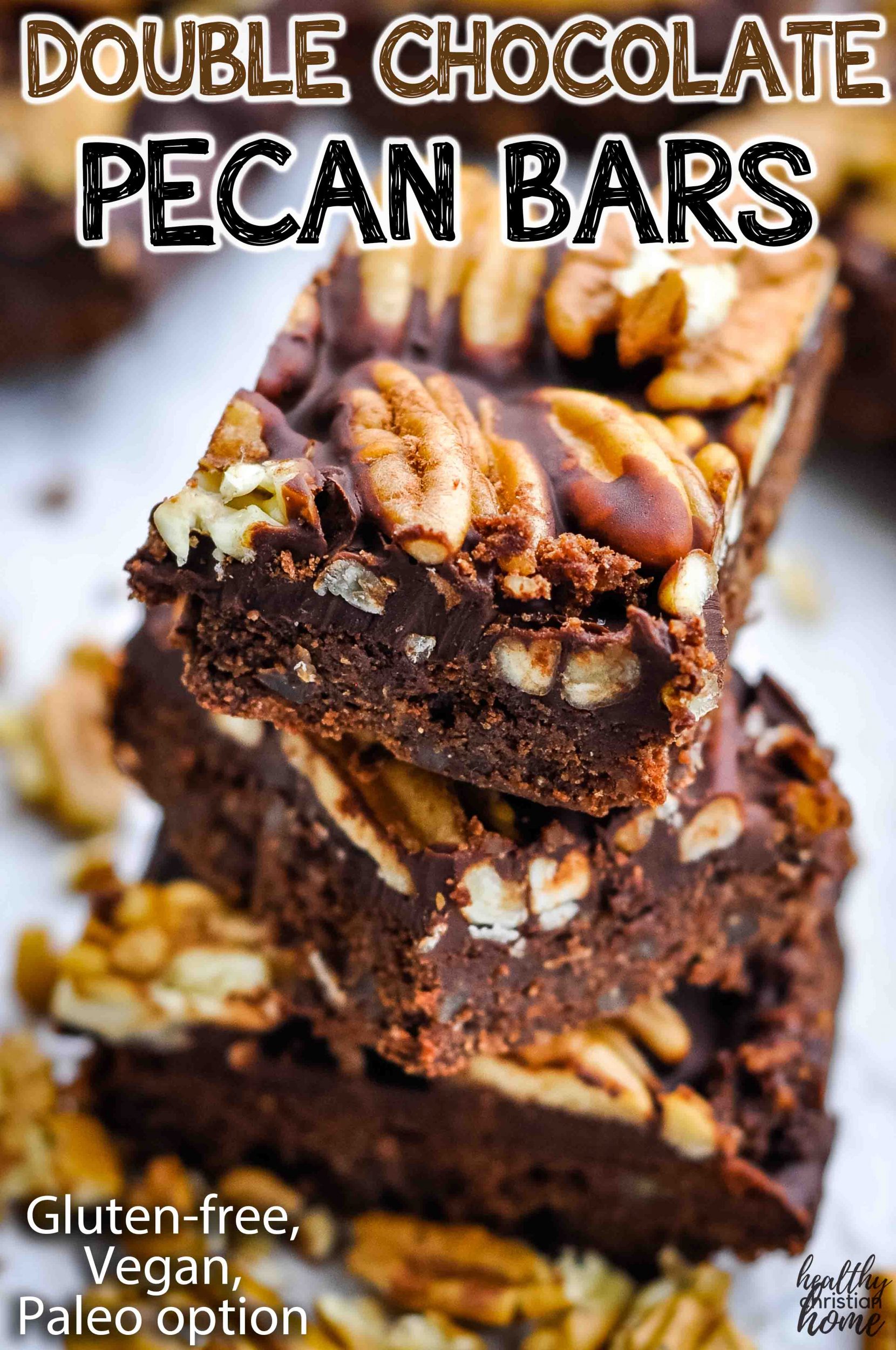 Pecan Gathering as a Labor of Love
While we were in Arkansas for Christmas, Dad spent a good chunk of time shelling fresh pecans. He and my Papa Junior collected a bunch of pecans in Missouri a couple weeks before Christmas.
Papa and Dad go pecan collecting at the farm of a 90-year-old lady who has known my Papa for years. They have an "agreement" that he can pick up pecans there, and when my dad showed up at her door to ask if they could collect, she said "Nope! I already have a gentlemen who has dibs on these pecans!"
After a quick explanation, they realized that she was talking about my Papa and that he was, indeed, there to collect them also. So, he and dad proceeded to collect over 100 pounds of pecans over two weekends!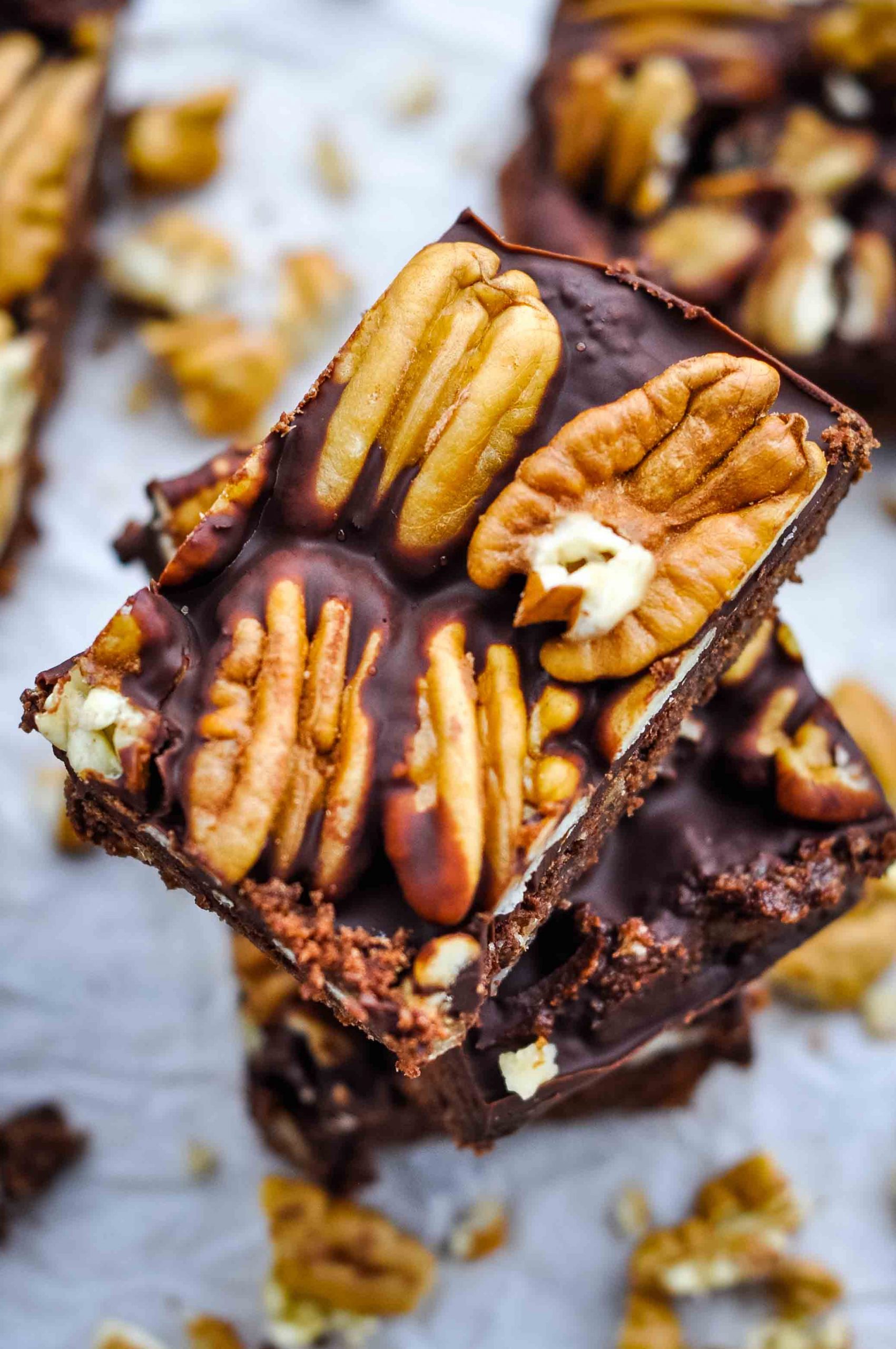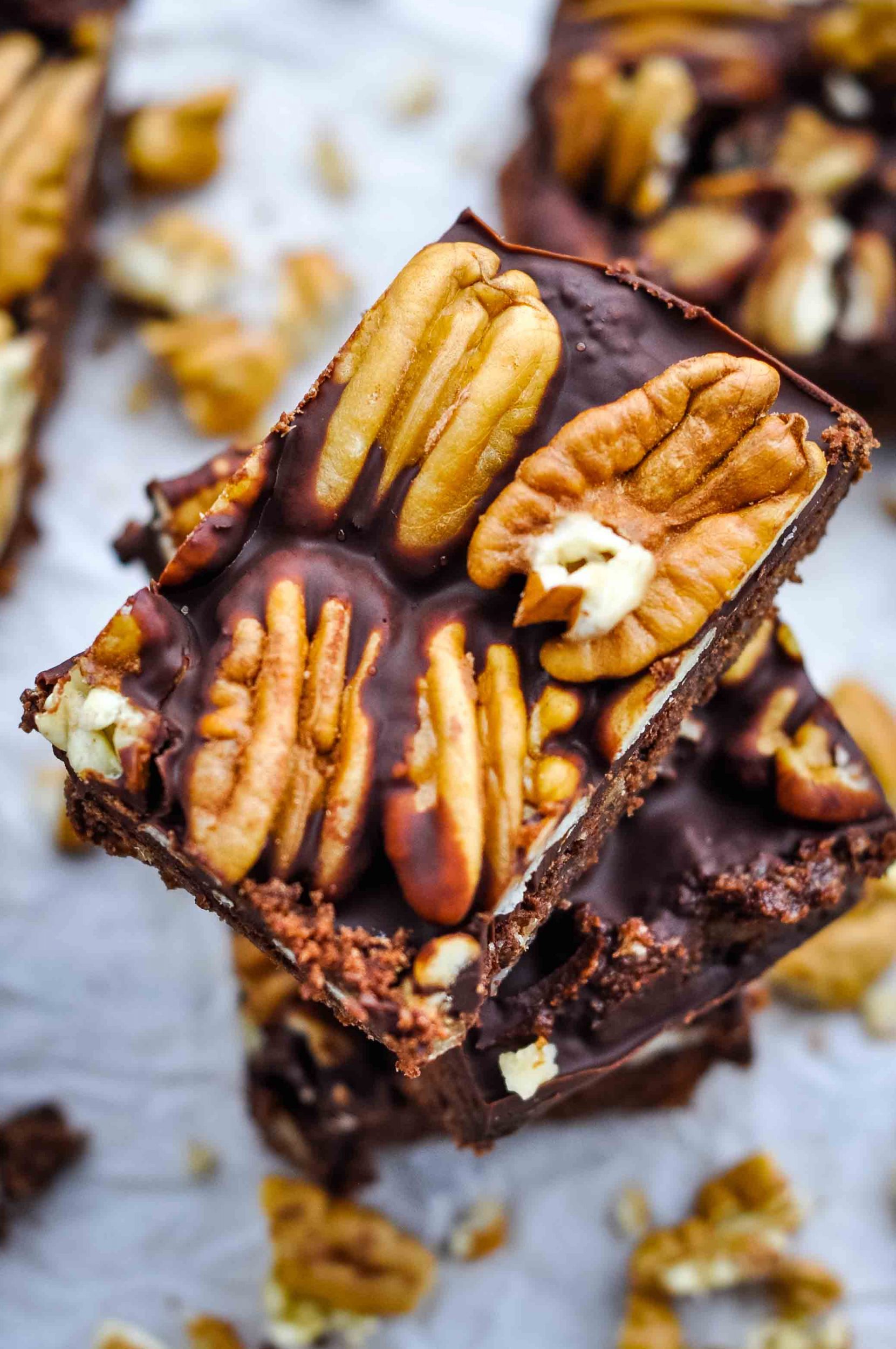 Apparently, there is general protocol for harvesting pecans, too. The person harvesting the pecans will ask for permission from the land owner, and the general agreement is that the harvest will be shared equally between the land/tree owner and the harvester.
Thanks to their efforts, we were sent home with a gallon-sized bag of these babies after Christmas. I couldn't wait to use them!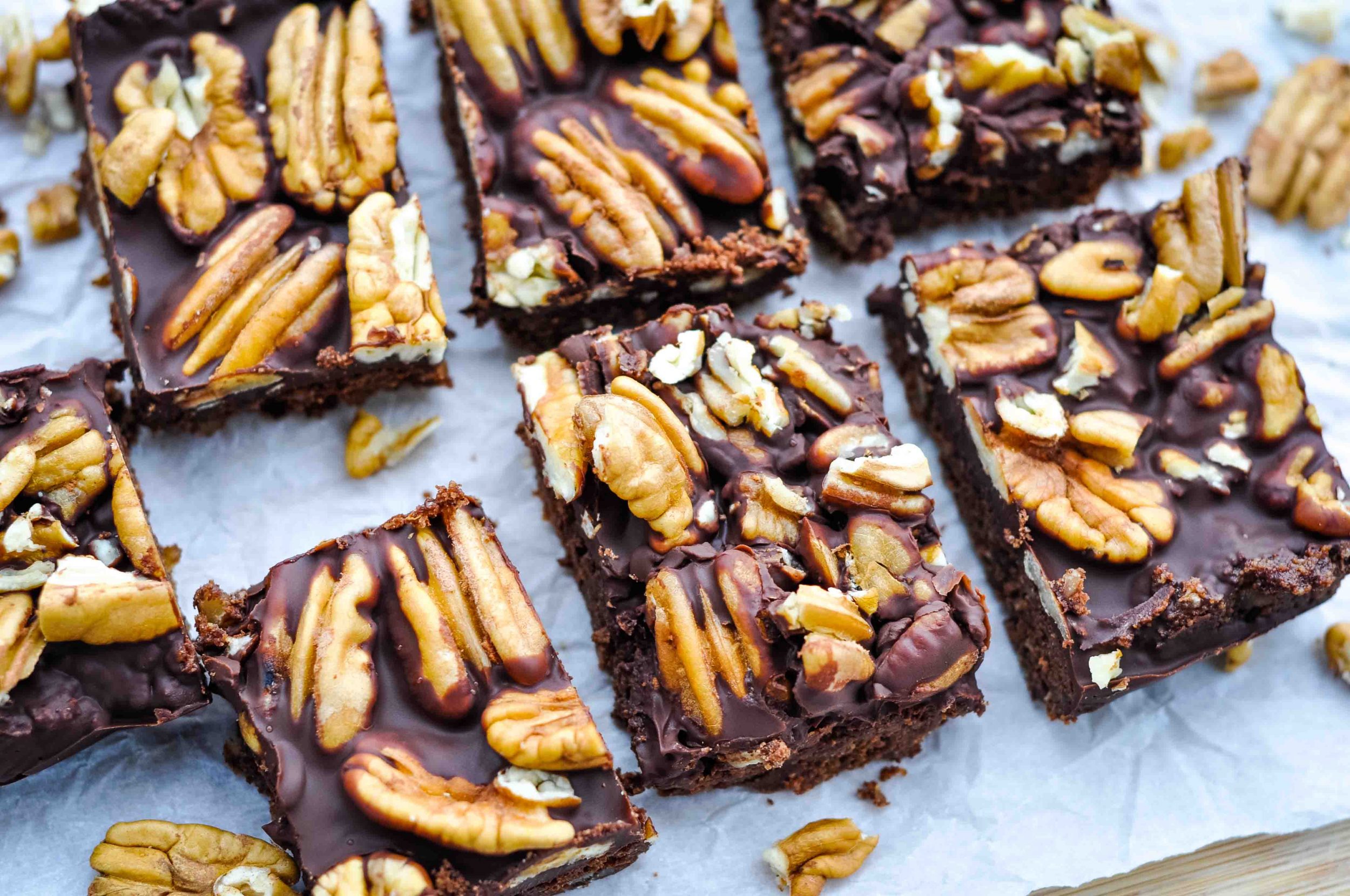 Chocolate + Pecans = A Match Made in Heaven
Pecans are a prized food, and quite expensive when bought in grocery stores. Knowing how hard Papa and dad worked to harvest and shell these, I wanted to do something special with them.
Apparently these pecans are a special variety, also. They are called the Stuart variety, which is a medium sized pecan. Stuart are often preferred over the paper shell variety for consistency and great taste.
Since I'm always in the mood for chocolate, I decided to create these double chocolate pecan bars. I'm all about easy (which this recipe definitely is) and like to reduce sugar wherever I can. These bars tick both boxes nicely!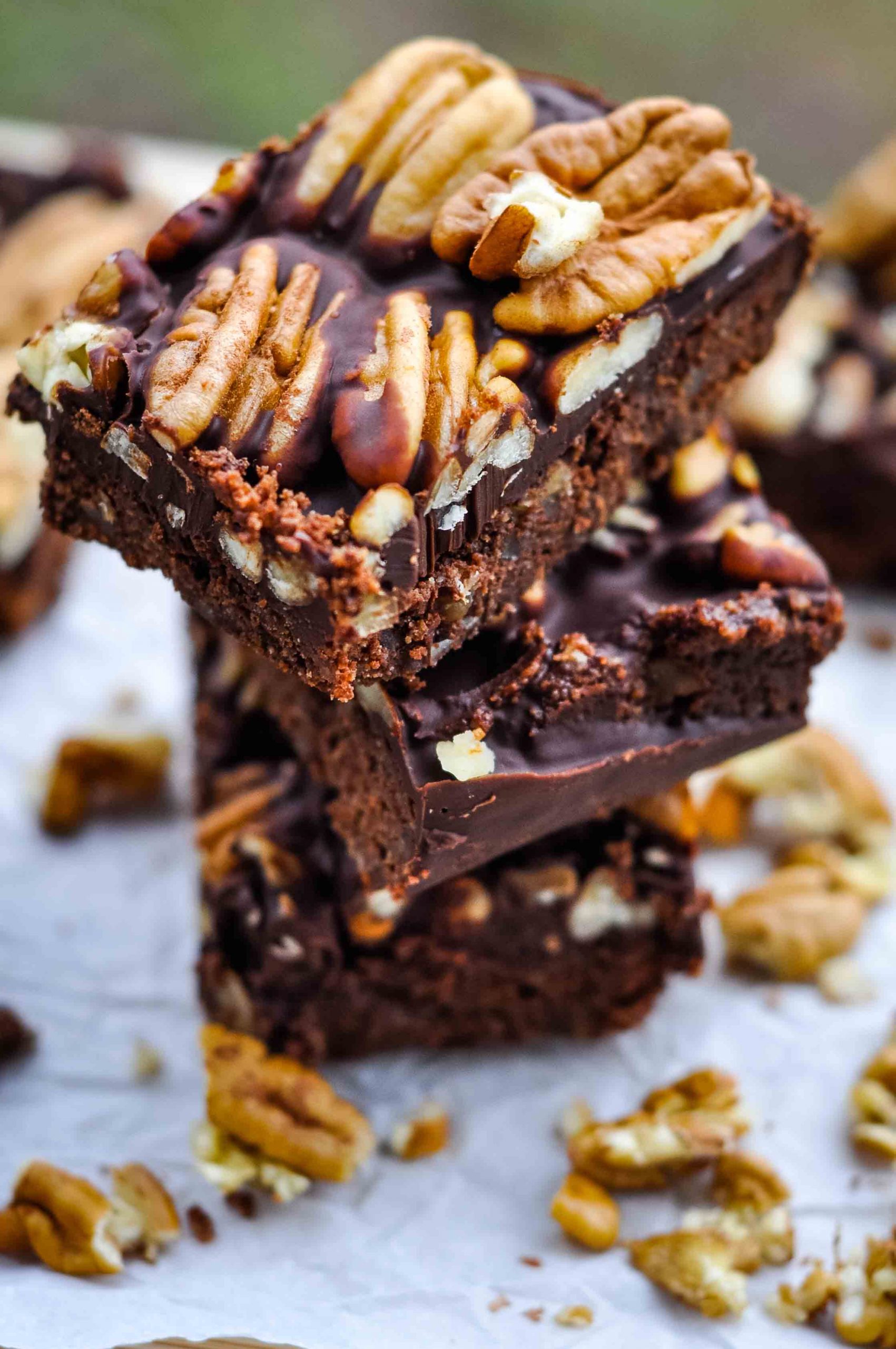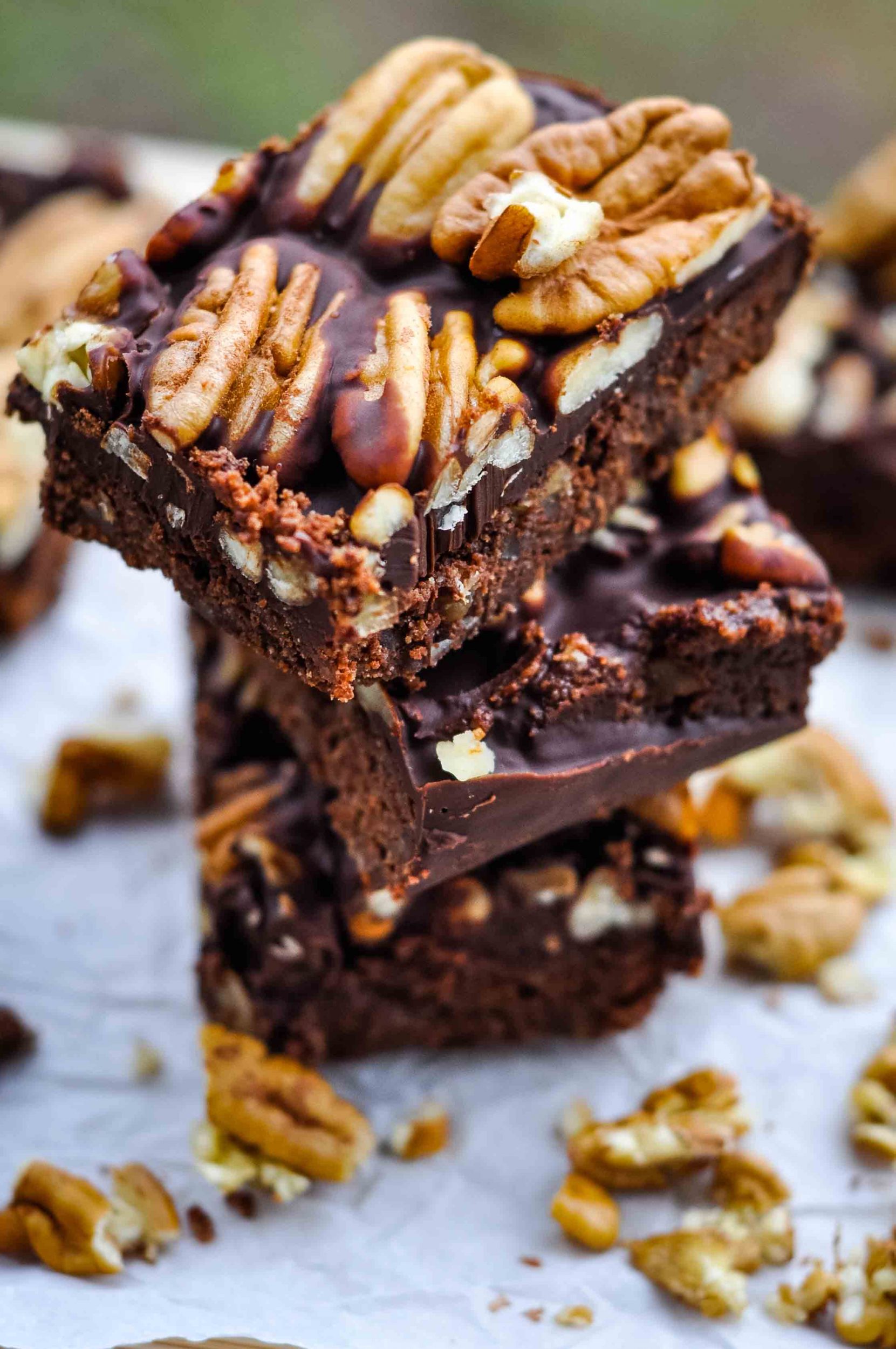 Can you even think of a better way to enjoy pecans than to drench them in chocolate?? I can't.
Even better, they are gluten-free and can even suit my Paleo friends by simply swapping the butter for coconut oil!
These bars have just the right amount of natural sweetness, without being too sweet. And HEAVY on the chocolate — just the way I like them!
More healthy treats to try: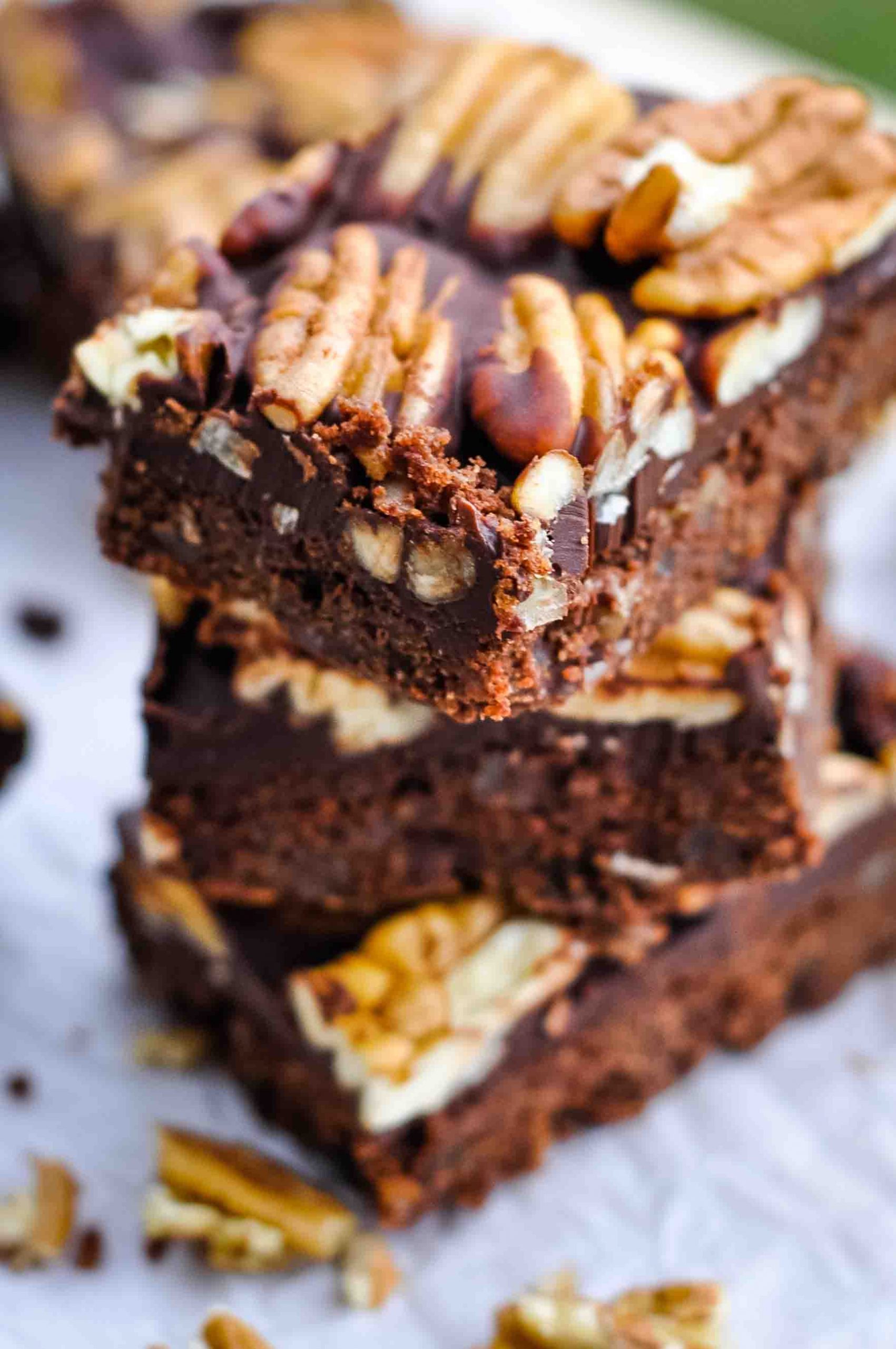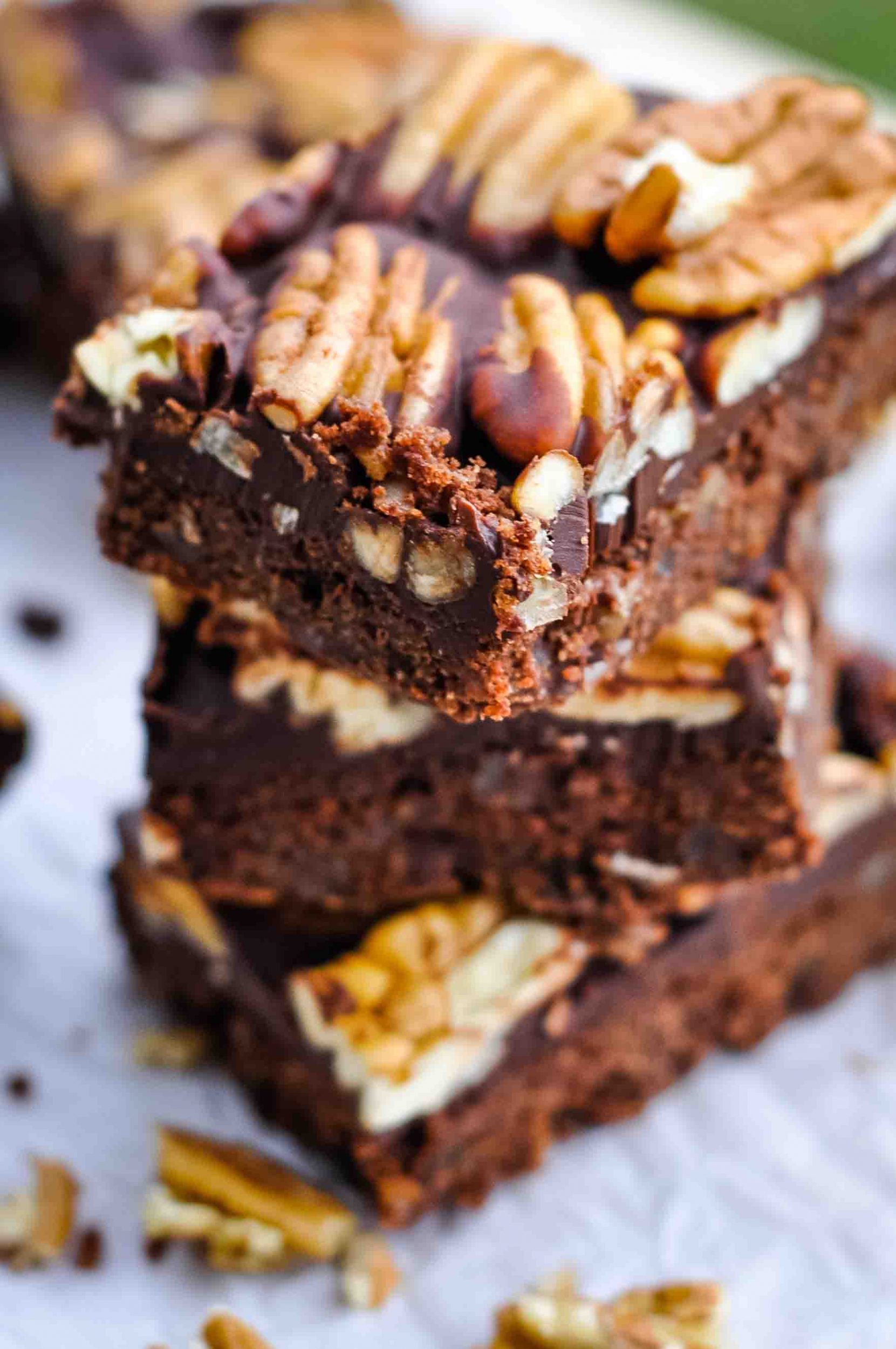 How to Make Double Chocolate Pecan Bars
These chocolate pecan bars are so easy to make! Only a few minutes of prep time and you've got the perfect healthy dessert or snack.
Crush pecans (I processed mine in my Blendtec) and mix with butter, coconut flour, raw cacao powder and a couple other special ingredients. Then, press the dough into a 9×9 square dish lined with parchment paper before baking.
Next, melt dark chocolate chips with coconut oil and spread the chocolate layer evenly on top.
Finally, press a good helping of pecans into the top of the chocolate layer before transferring to the fridge to harden. Once chilled, just cut into bars and enjoy.
Decadent, chocolate-y bliss! I love sinking my teeth into the smooth chocolate and getting that awesome crunch from the pecans.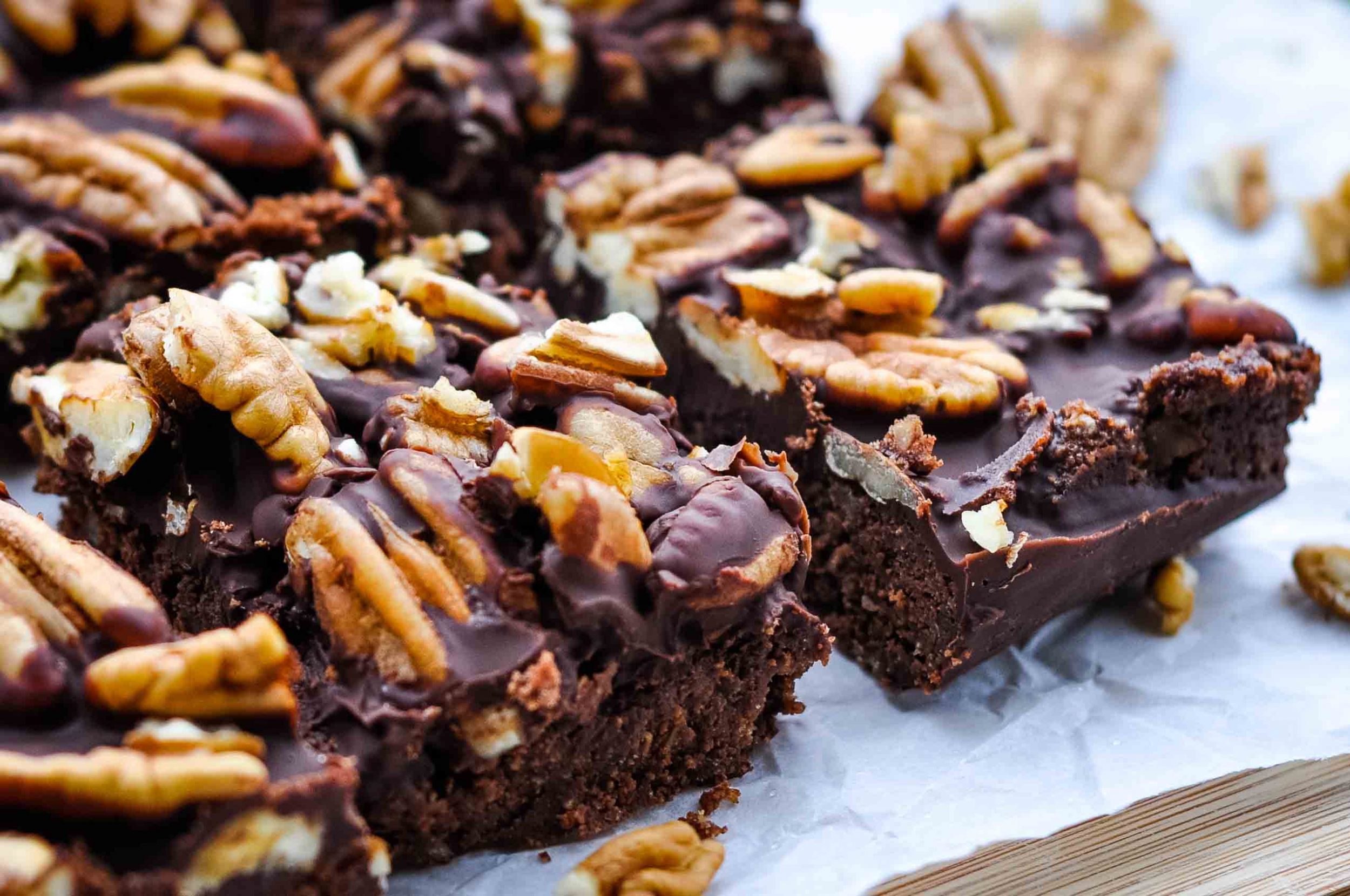 Chocolate Pecan Bars Baking Tips
Here are a few simple tips to ensure a successful treat:
Use parchment paper if possible to make these bars super easy to remove from the dish and cut.
Store in the fridge if your home is warm. Since the topping is made with coconut oil, I like keeping these in the fridge to ensure the chocolate doesn't melt.
You may use a double boiler to melt the chocolate topping, but I simply melted it in a saucepan while stirring frequently. You could even make the topping in the microwave!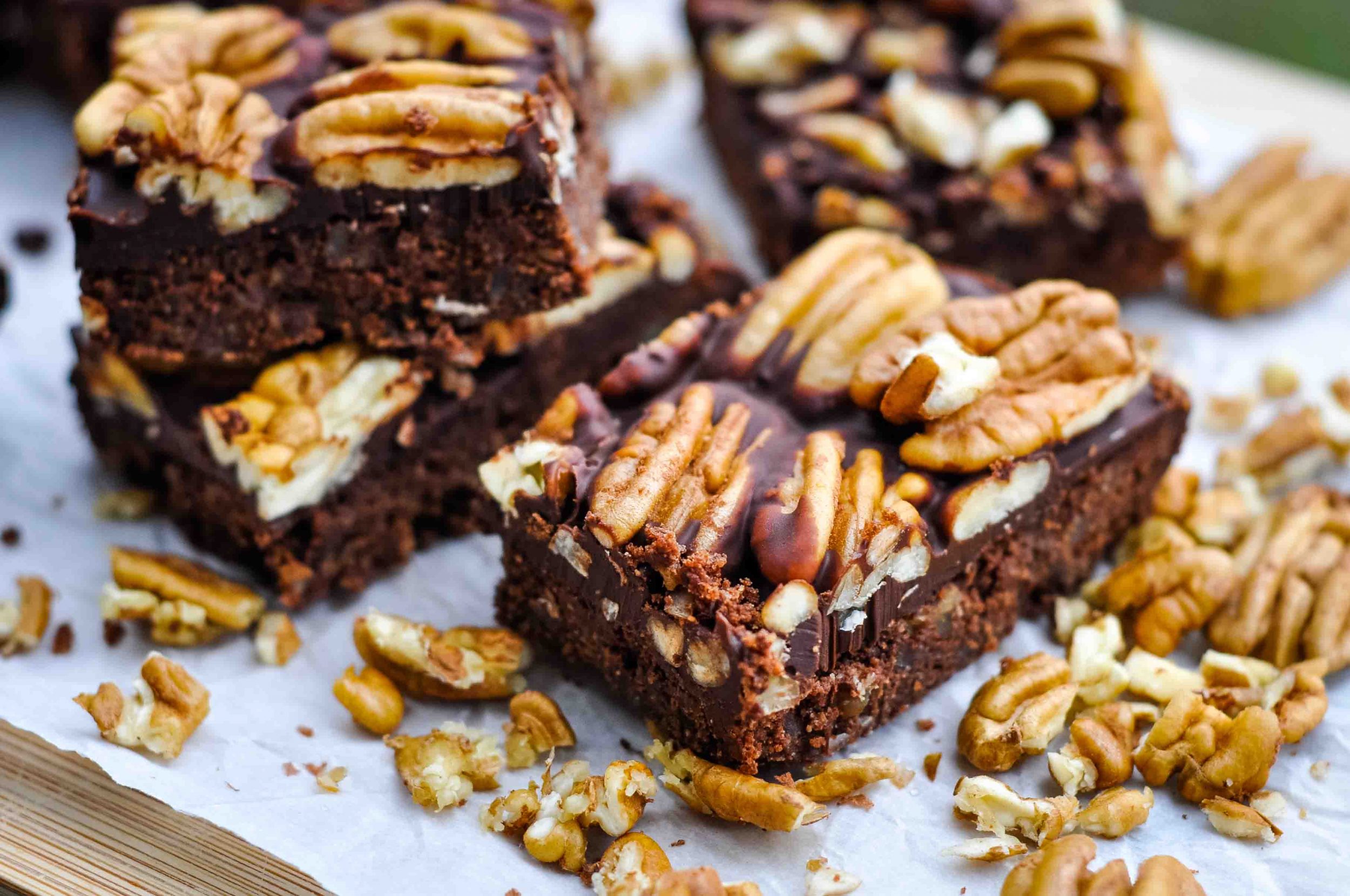 Double Chocolate Pecan Bars Recipe Variations
Here are a few ways you can dress up or alter the recipe to suit your liking:
Roast the pecans beforehand to give this healthy dessert a richer flavor. Here's a great tutorial on how to roast pecans.
Sprinkle these bars with sea salt to enhance the flavor of the pecans and chocolate.
Use coconut oil instead of butter in the cookie layer, especially if you're vegan or Paleo.
Sub any type of flour for the coconut flour.
Swap the sucanat organic sugar for coconut sugar or another healthy granulated sweetener of your choice.
Leave a star rating and comment how your recipe turned out! And, snap a photo and tag @healthychristianhome on Instagram so I can see the yummy-ness.
PIN IT!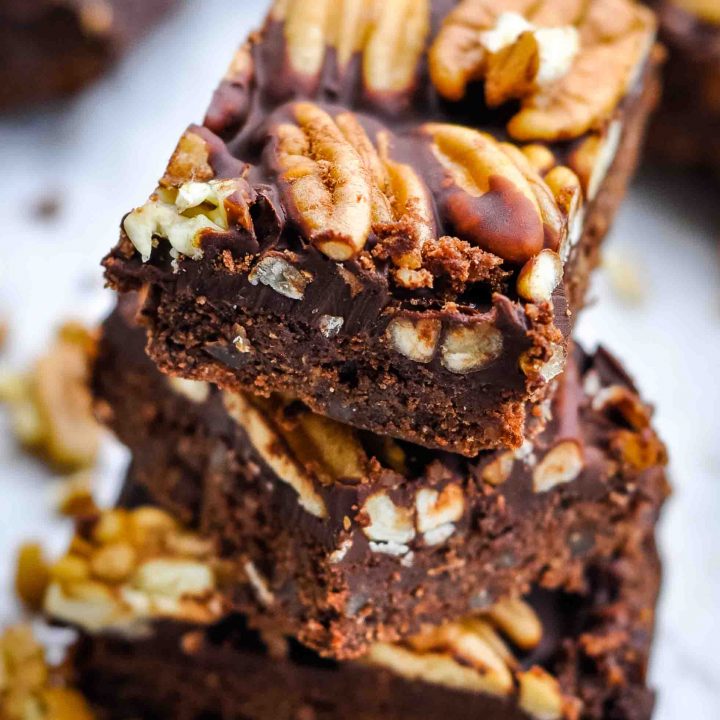 Yield: 9 bars
Double Chocolate Pecan Bars (Gluten-free, Vegan, Paleo option)
Prep Time: 10 minutes
Cook Time: 20 minutes
Additional Time: 1 hour
Total Time: 1 hour 30 minutes
These double chocolate pecan bars are gluten-free and can even be made Paleo or Vegan. Loaded with two kinds of chocolate and filled with decadent crunchy pecans, you won't believe this easy dessert is actually healthy too!
Ingredients
1 cup crushed pecans (I used a food processor)
½ cup butter, softened (use coconut oil for paleo/vegan)
2 eggs
1 tsp. vanilla extract
1/4 tsp. salt
Chocolate topping
Extra crushed or whole pecans to press on top (for decoration)
Instructions
1. First, make the cookie layer. Preheat oven to 350 F and line an 8x8" square baking dish with parchment paper.
2. Crush pecans in a food processor until they are in small pieces, about the size of coarse oatmeal.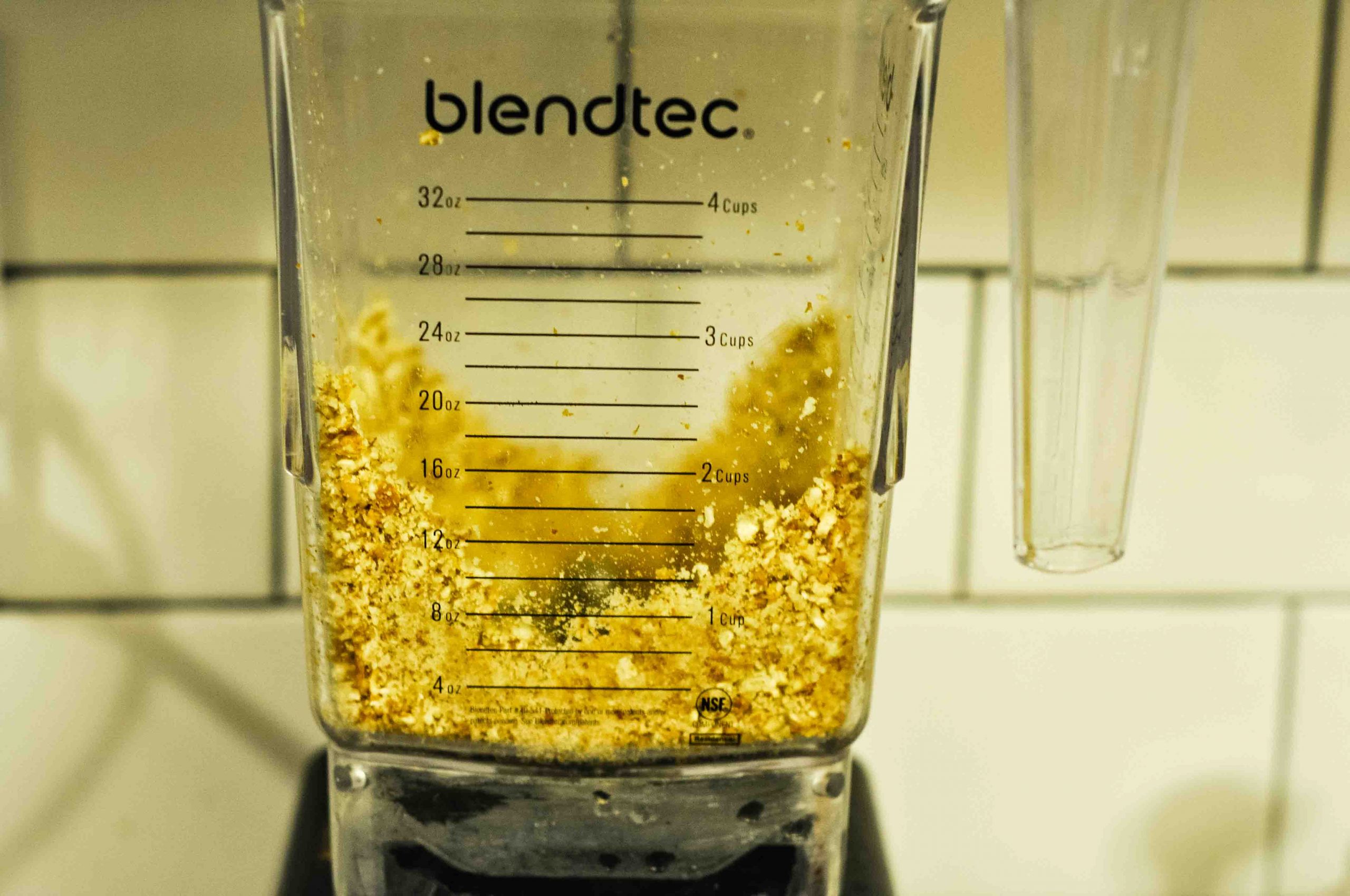 3. Mix butter, sweetener, eggs, and vanilla with an electric mixer until creamy.
4. In another bowl, stir together crushed pecans, coconut flour, cocoa powder, and salt. Stir mixture into wet ingredients until fully combined.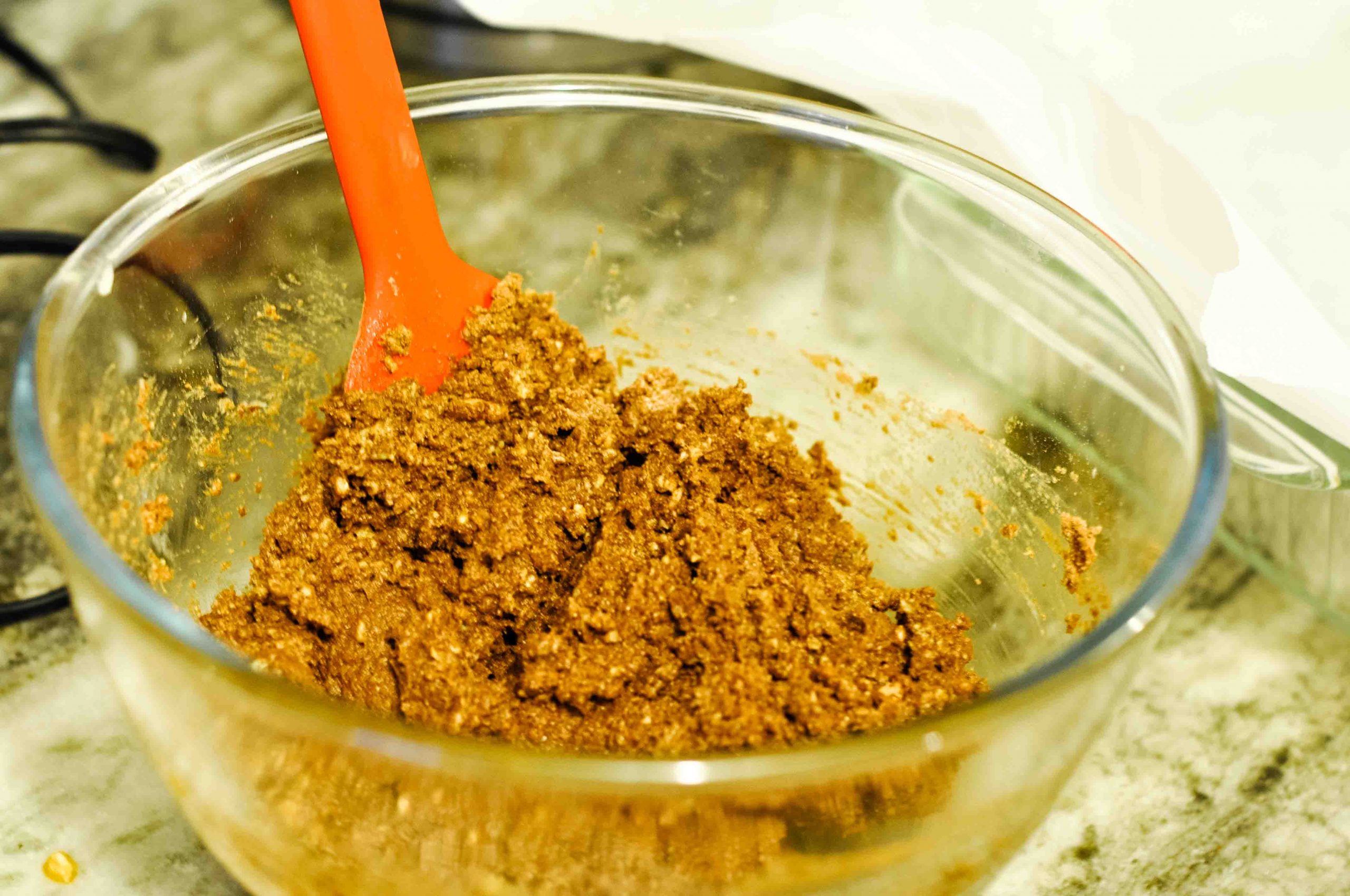 5. Press cookie dough (it will be sticky) evenly into the bottom of your 8x8 dish.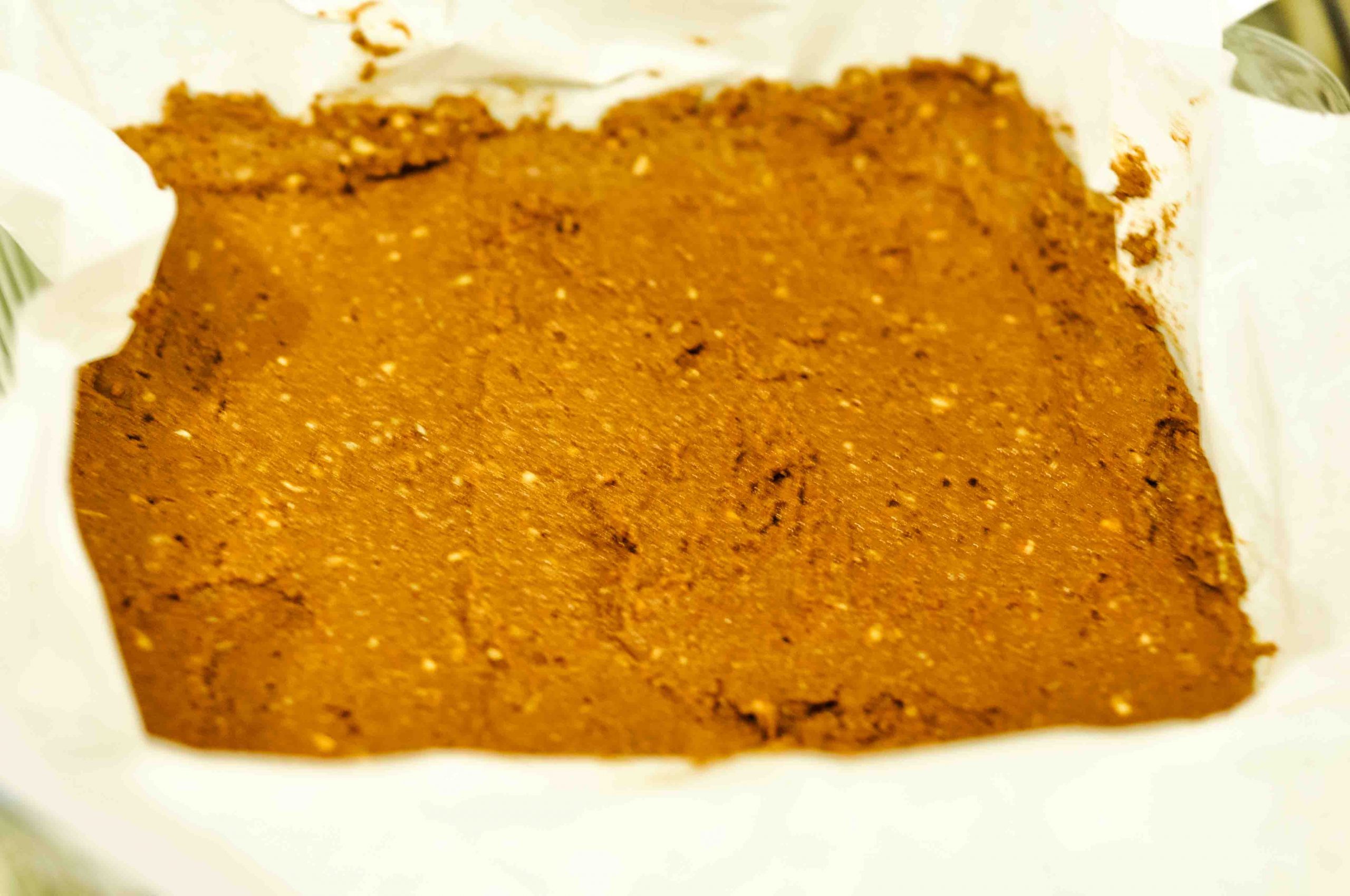 6. Bake in preheated oven for 15-20 minutes until toothpick inserted in center comes out clean.
7. While the cookie layer is baking, make the chocolate topping. In a double boiler or small saucepan over medium heat, melt chocolate chips and coconut oil together. Stir frequently until chocolate topping is smooth.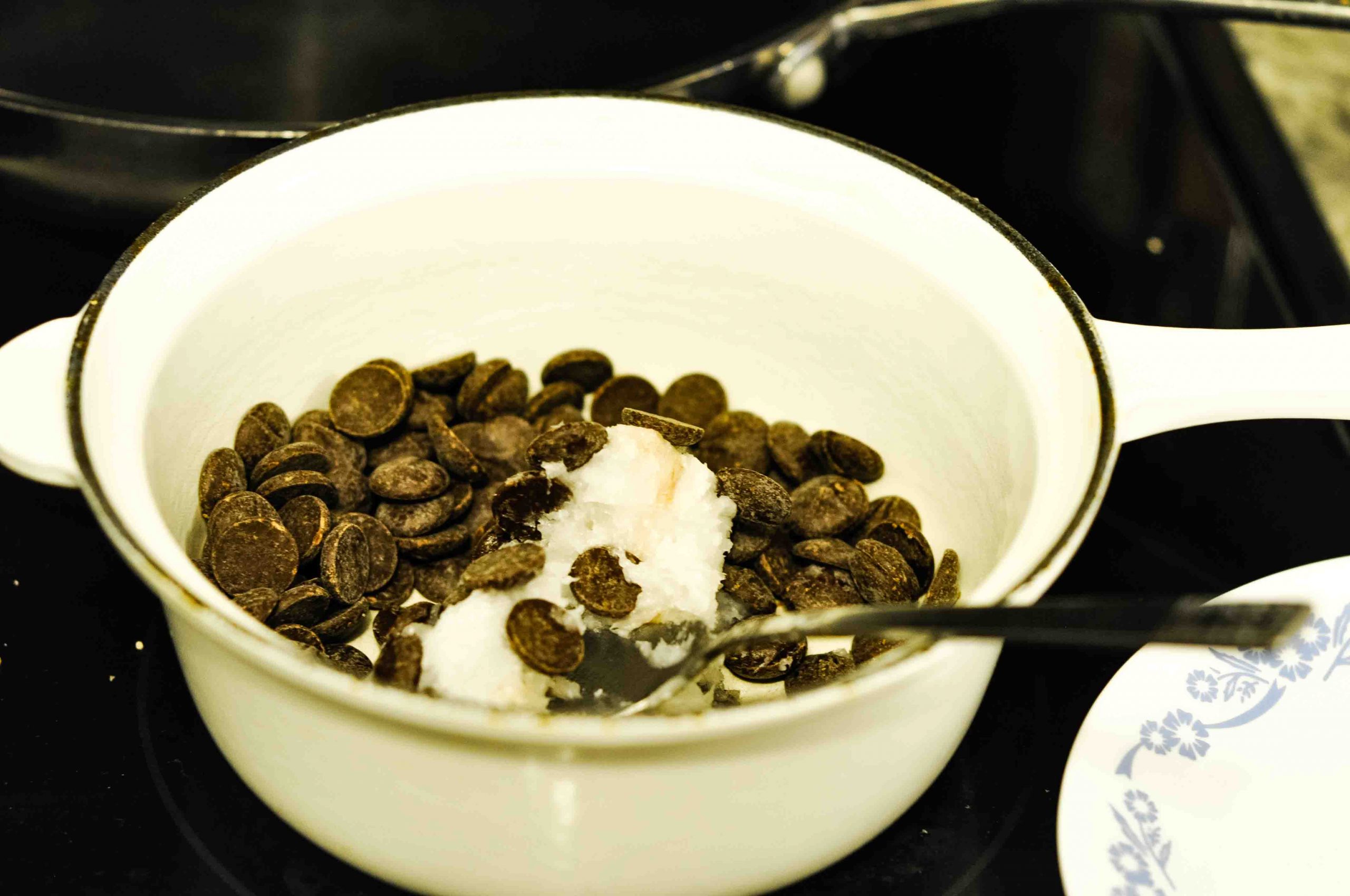 8. Pour chocolate topping over cookie layer and spread evenly. Top with a layer of chopped pecans or pecan halves.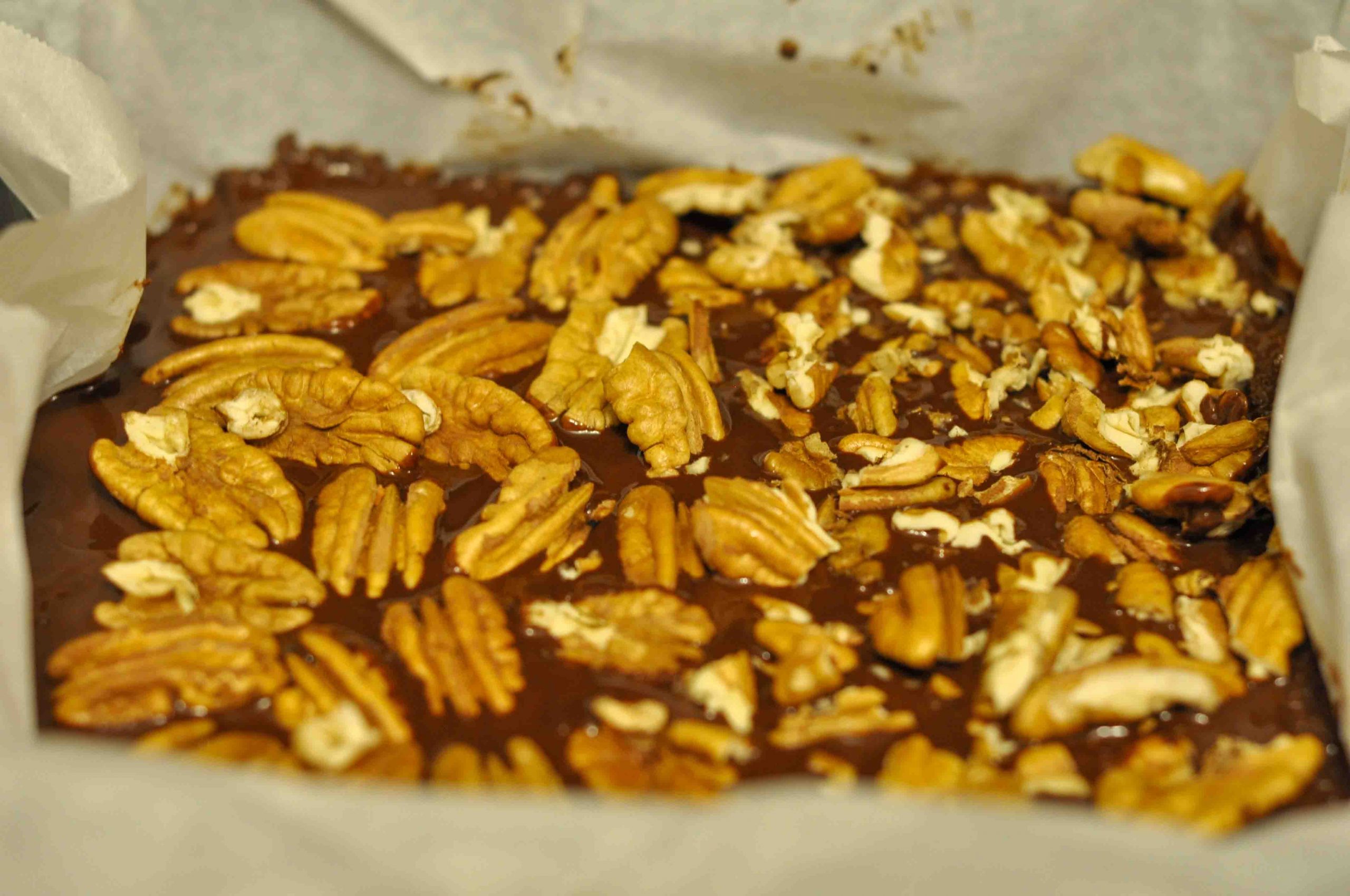 9. Allow to set in the fridge for at least one hour, or until chilled. Cut into bars and serve.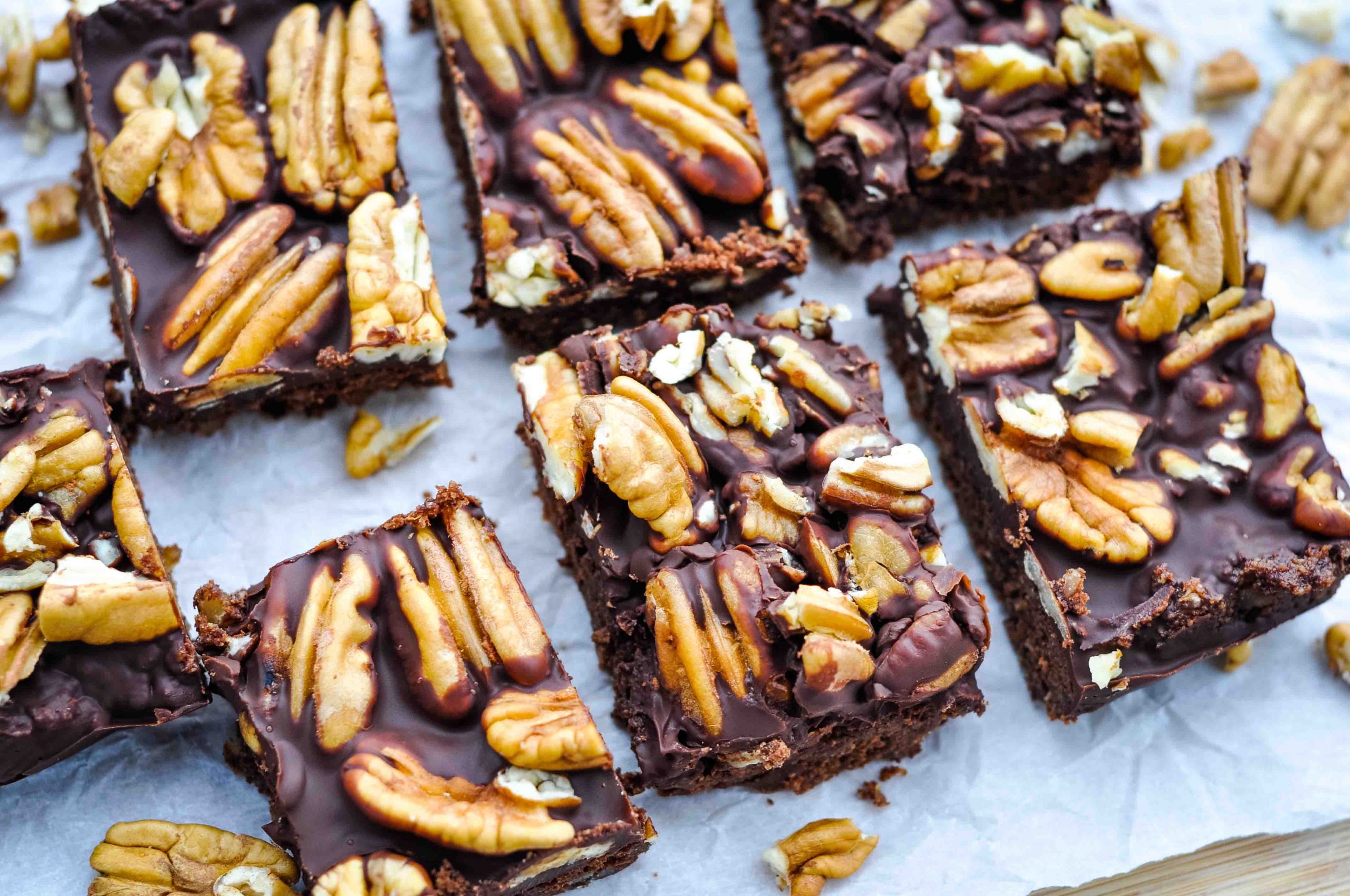 10. Store remaining bars in an airtight container in fridge to ensure the topping doesn't melt.
Notes
* You may sub coconut sugar or any other granulated sweetener of choice for the sucanat sugar.
** You may sub other types of flour for the coconut flour.
*** Use Lily's stevia sweetened chocolate chips for sugar-free, or Enjoy Life's chocolate chips for dairy free.
Recommended Products
As an Amazon Associate and member of other affiliate programs, I earn from qualifying purchases.
If you're on Instagram, share a photo of your recipe and tag @healthychristianhome so I can give your post some love! Follow Healthy Christian Home on Facebook and Pinterest too for more healthy delicious recipes!
What's your favorite chocolate-y treat?
PIN IT!