These roast beef gyros with tzatziki sauce are the best way to use up leftover roast beef! Filled with all your favorite Greek flavors and smothered with tangy creamy tzatziki, these gyros take mere minutes to assemble.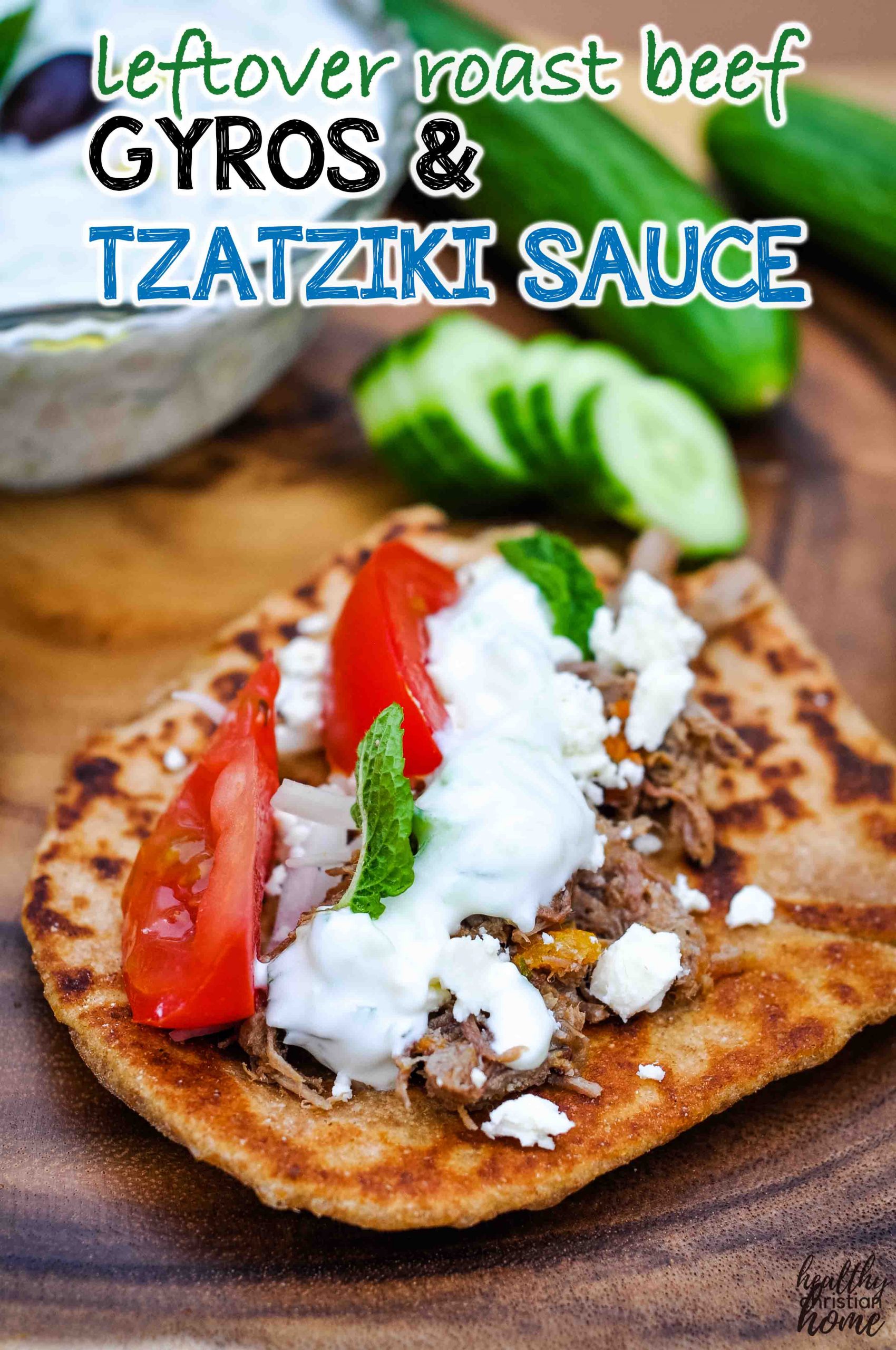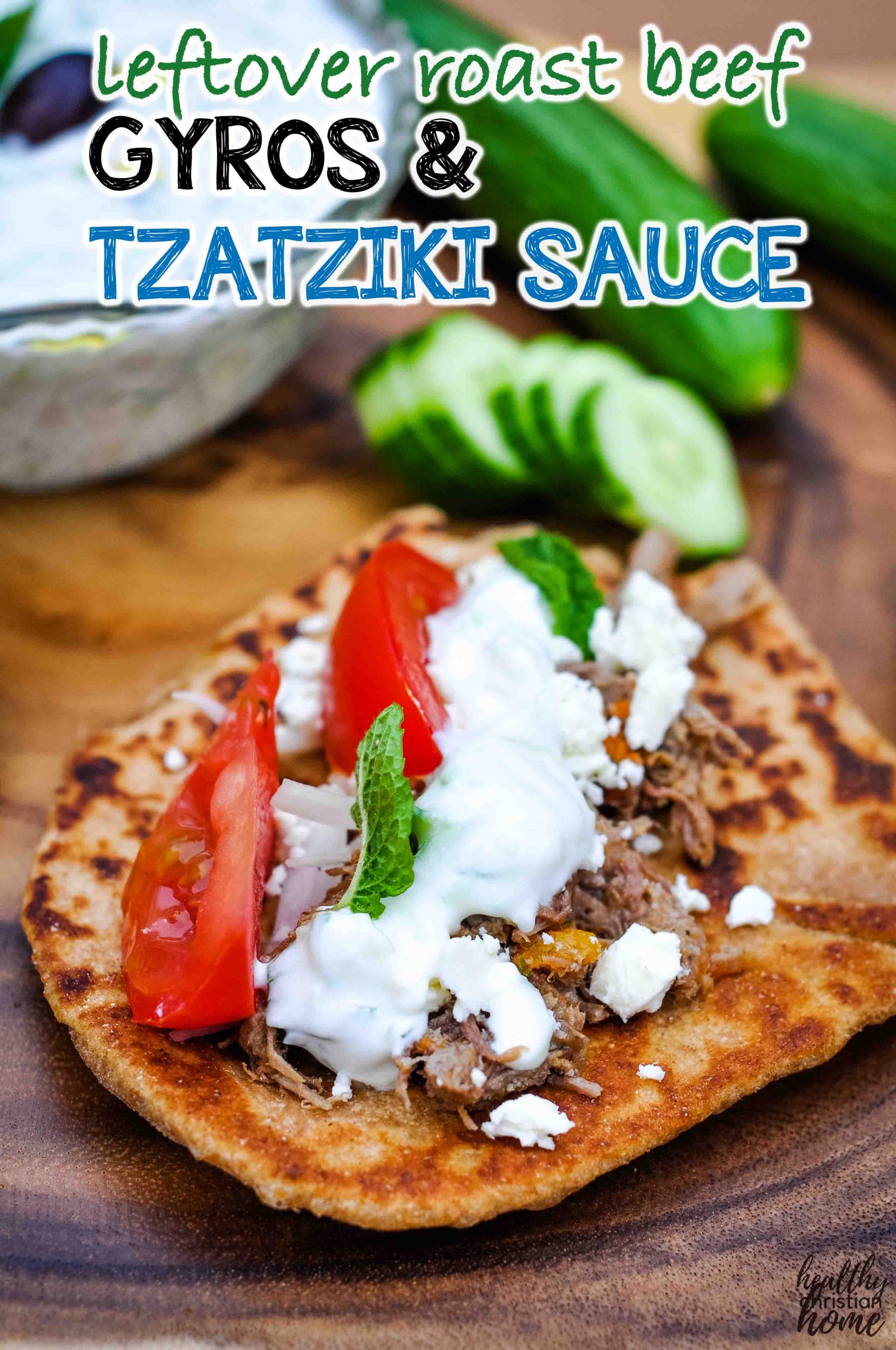 Turning leftover roast beef into Greek gyros
I like a good roast now and again (especially my savory Italian roast), but I usually have tons of leftovers and not much idea what to do with them. After eating a traditional roast beef meal, I've had my fill and want to do something exciting with the leftover meat.
That's when these leftover roast beef gyros were born!
They're perfect because the meat doesn't have to have any specific flavor to work in gyros. Gyro meat is pretty versatile because it's not strongly flavored.
The unforgettable flavor of gyros comes from the toppings: olives, feta cheese and most importantly tzatziki sauce.
What is tzatziki sauce?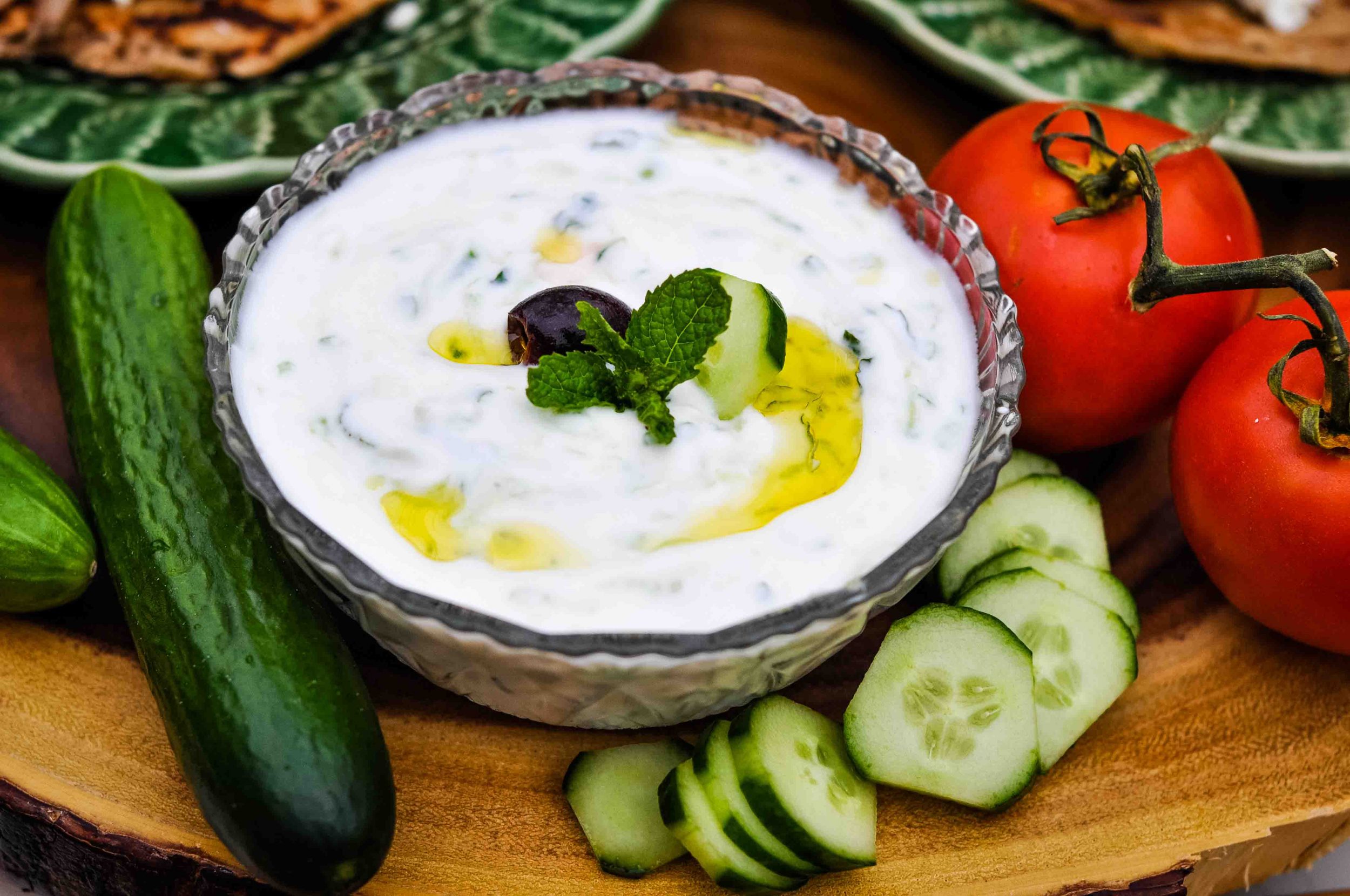 This post is sponsored by Pure Flavor. All opinions are my own.
Tzatziki sauce (here's how to pronounce it) is a traditional Greek sauce made from yogurt, cucumbers, and yummy herbs.
One reason I love it is that it's full of flavor, but is low in calories compared to sauces like mayo or ranch. So I have free license to slather on as much as I want!
The true star of tzatziki sauce is cucumber. Along with the yogurt, it's SO refreshing. Cool, crisp, and savory — the perfect dip for any wrap, sandwich, or side.
This sauce is even better since I used Pure Flavor mini gourmet cucumbers as the base. These little guys have so much flavor (hence the name), and they're so crunchy too! I love using them for this recipe.
How to make authentic tzatziki sauce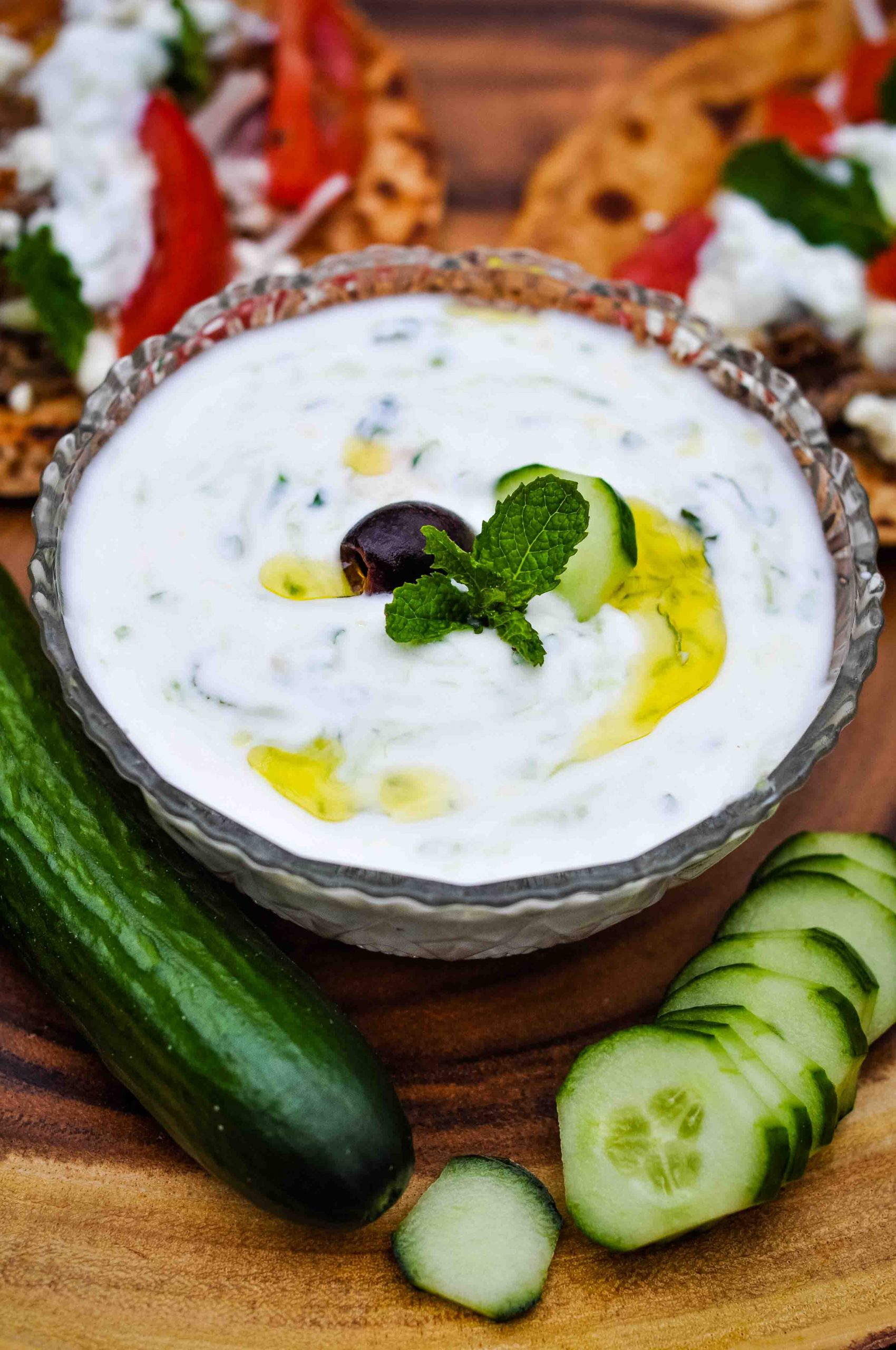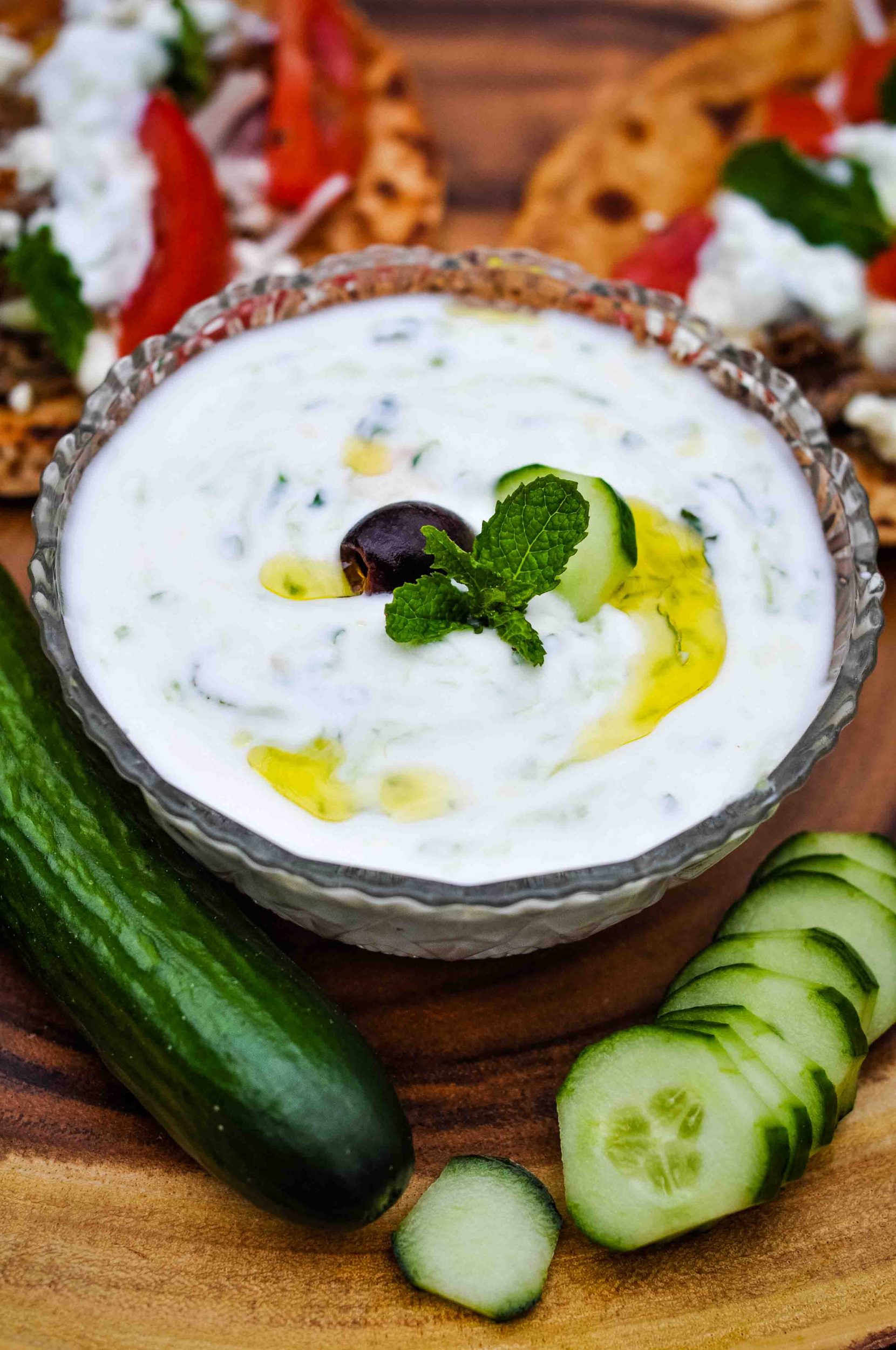 For best results, grate your cucumber with a box grater. Then squeeze out excess water from your cucumber using your hands or a sieve over a bowl. This step is important to ensure your tzatziki isn't watery.
Then add your plain yogurt (Greek is best), garlic, lemon juice, and the final must have ingredient – FRESH herbs. They must be fresh. This is key to the sauce's flavor!
Traditionally, tzatziki sauce can be made with either fresh dill or fresh mint. I've always had it with mint, and that's what we have in our garden, so I used mint. You can use a mix of both, if you prefer.
Why use roast beef for homemade gyros?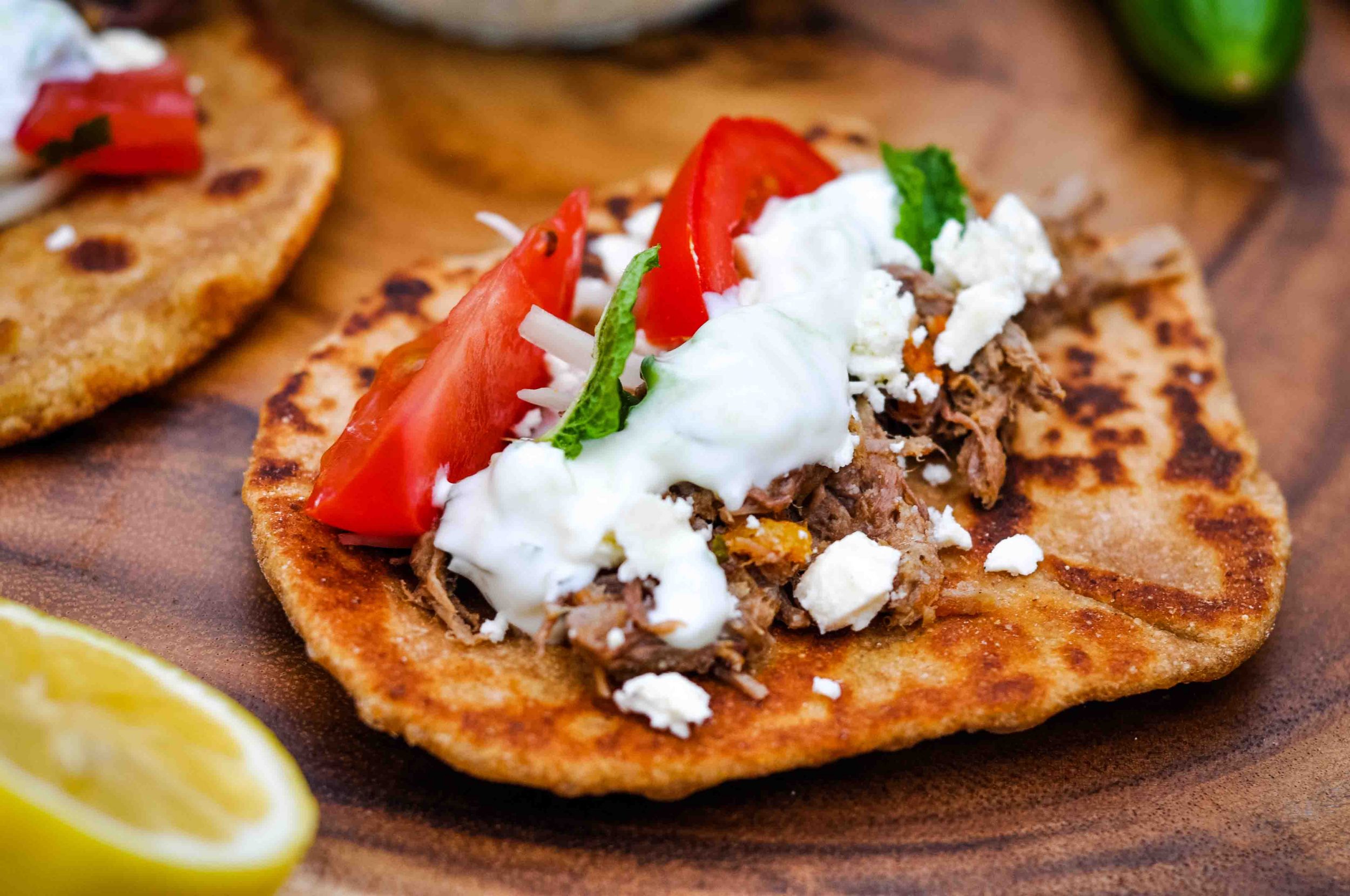 Okay, so traditional Greek gyros are made with shaved lamb meat which has been roasted on a rotisserie for hours. And they have AMAZING flavor.
But is this regular home cook realistically going to roast lamb over a spit in the backyard? Sadly, no. Maybe if I teleport myself into My Big Fat Greek Wedding. That would be cool.
But since we're all about simple and time-saving in our house, I prefer to make this meal when I have any leftover meat to use up. These work great with leftover chicken, pork, turkey – honestly anything you have on hand!
Since leftover roast beef is usually the meat that's left hanging around in our fridge without a purpose, we love using it for gyros.
If you want to add an extra Greek 'zing' to your meat, try adding a few herbs like oregano, basil, dill…. or even mix up a batch of this homemade Greek seasoning blend!
Assembling the roast beef gyros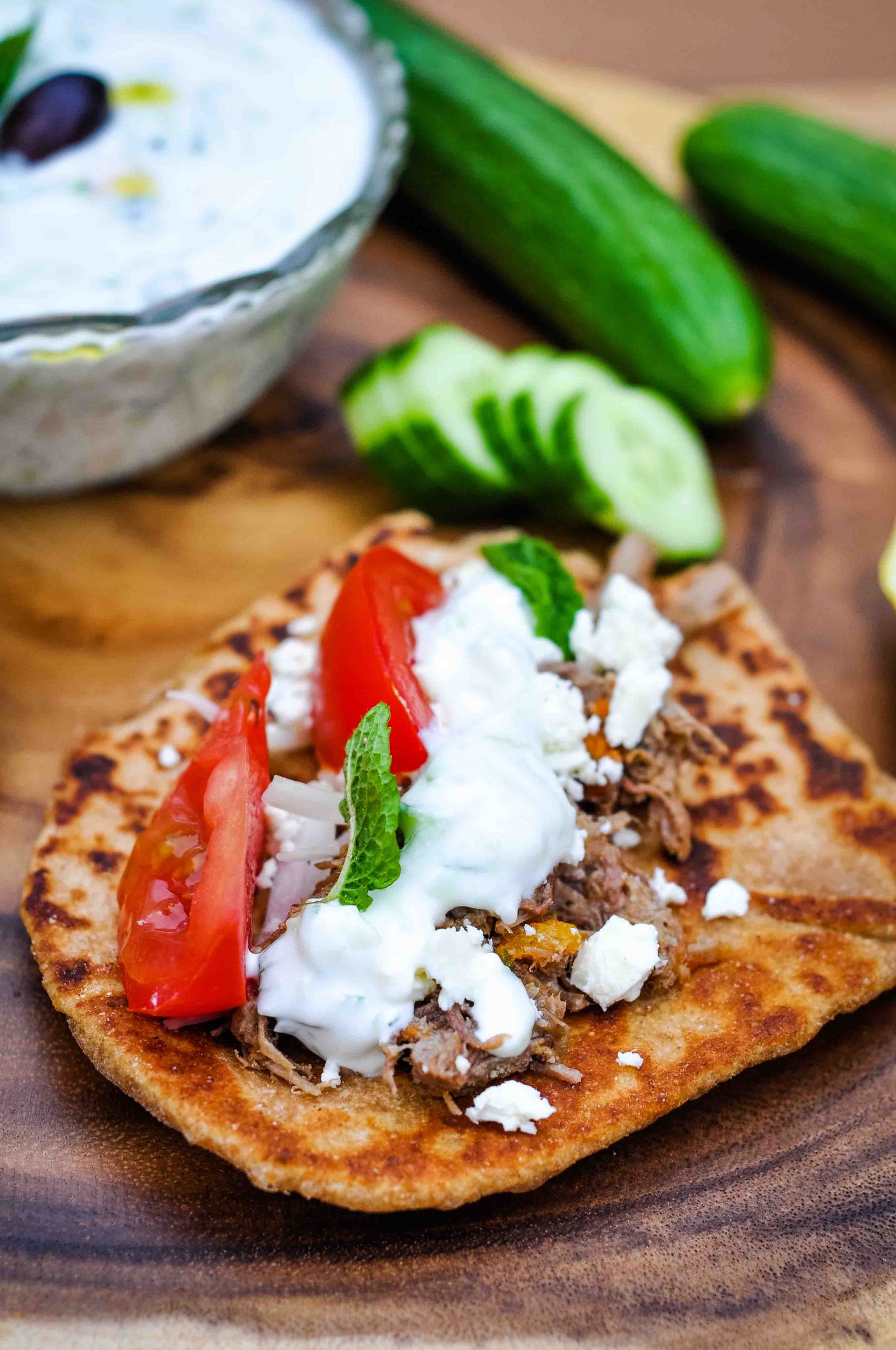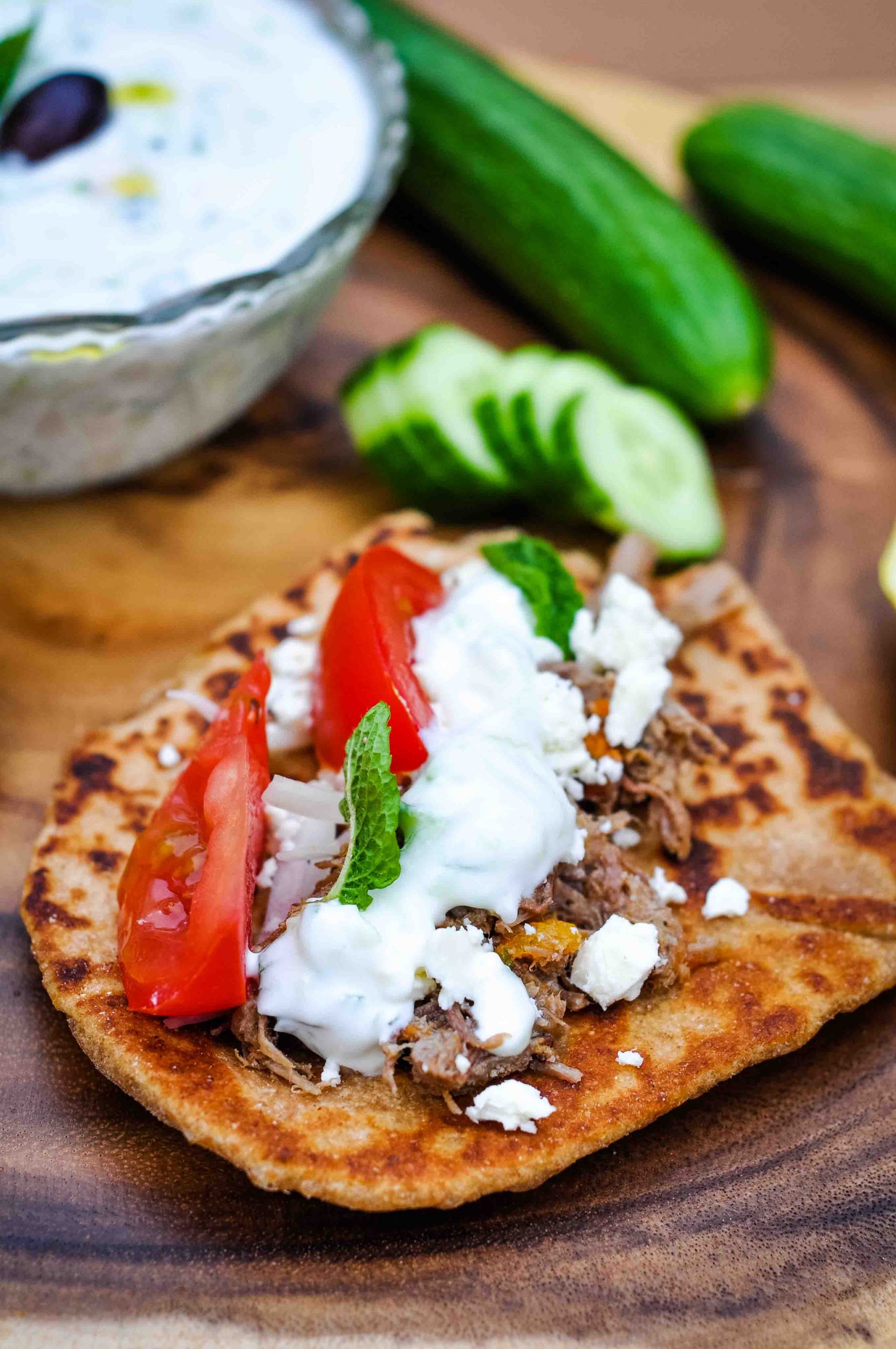 As far as the wrap goes, you can literally use any type of pita wrap or tortilla you like. I tried making homemade pita bread recently, which was a hit!
After adding your meat to the pita bread, pile on the toppings. Must-having gyros toppings include thinly sliced onions and tomatoes, feta cheese, and perhaps kalamata olives. And don't forget a generous dollop of tzatziki sauce!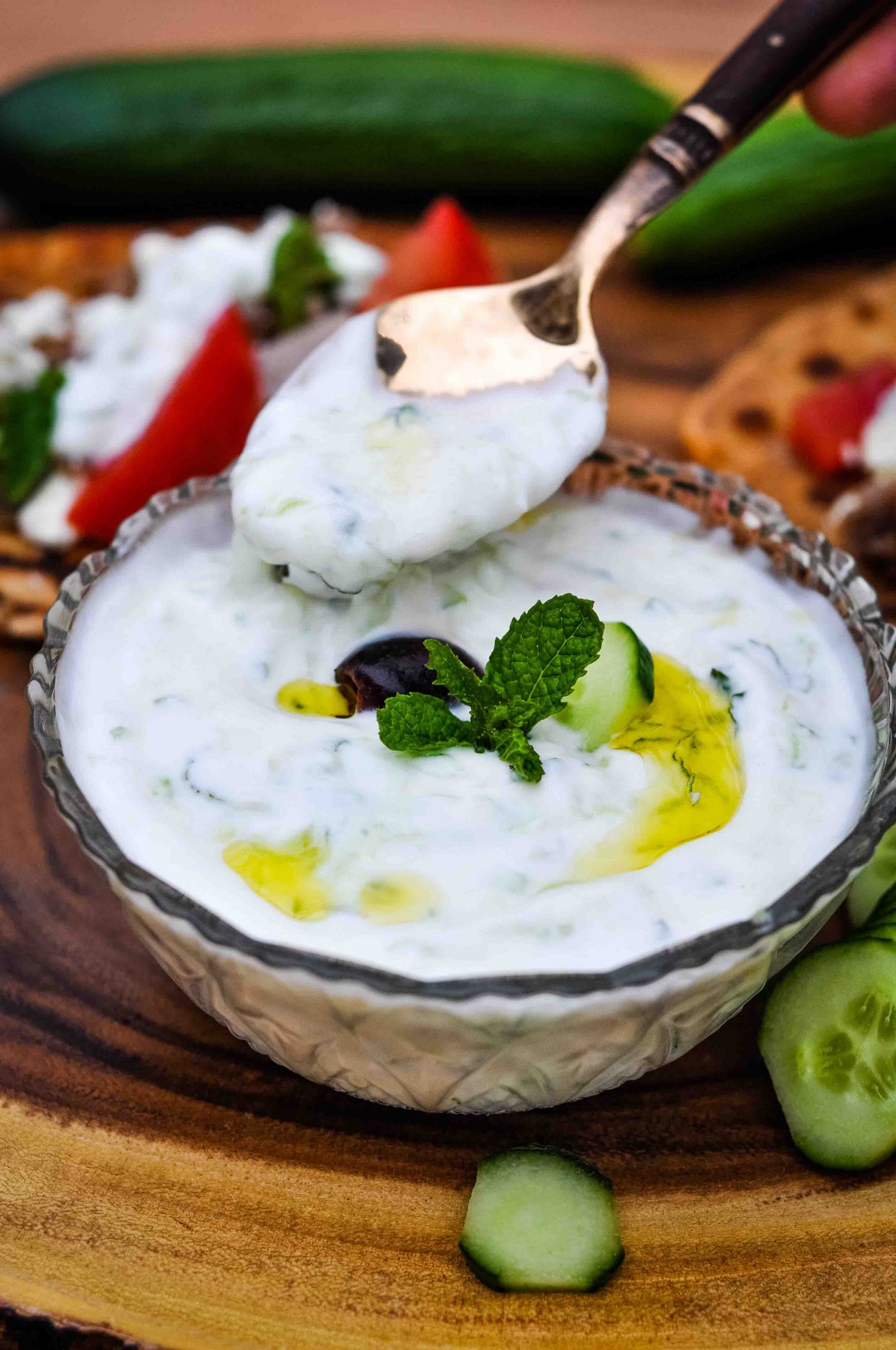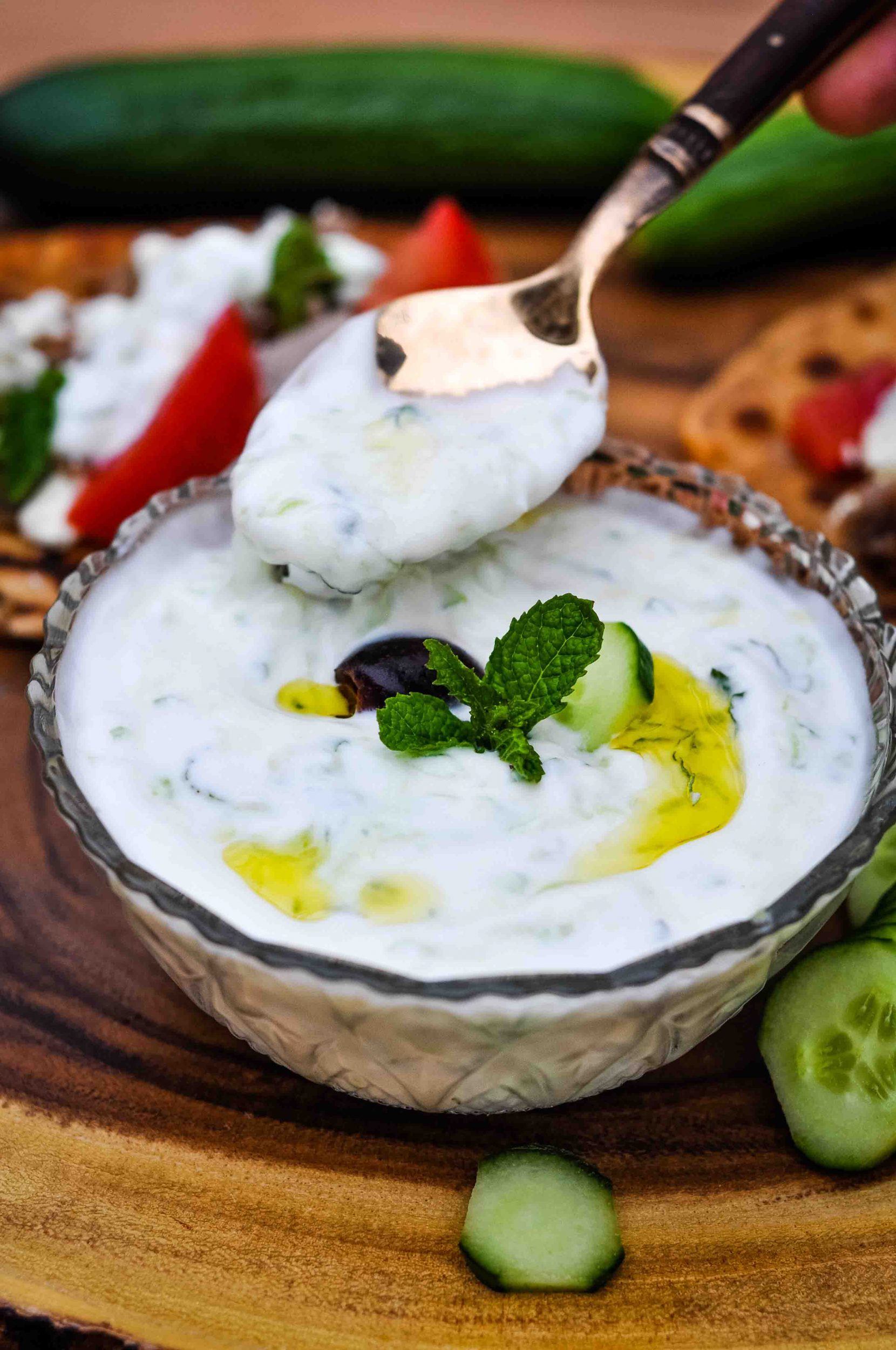 What to serve with homemade gyros
You can serve these with any sides you like, but I always make a batch of oven fries to go with them. When I went to Athens, they actually served fries inside the gyros itself. So fries and gyros seem to go hand in hand to me.
These would also be delicious with a batch of hummus, tabbouleh, and of course my favorite greek salad with classic greek vinaigrette. Yum!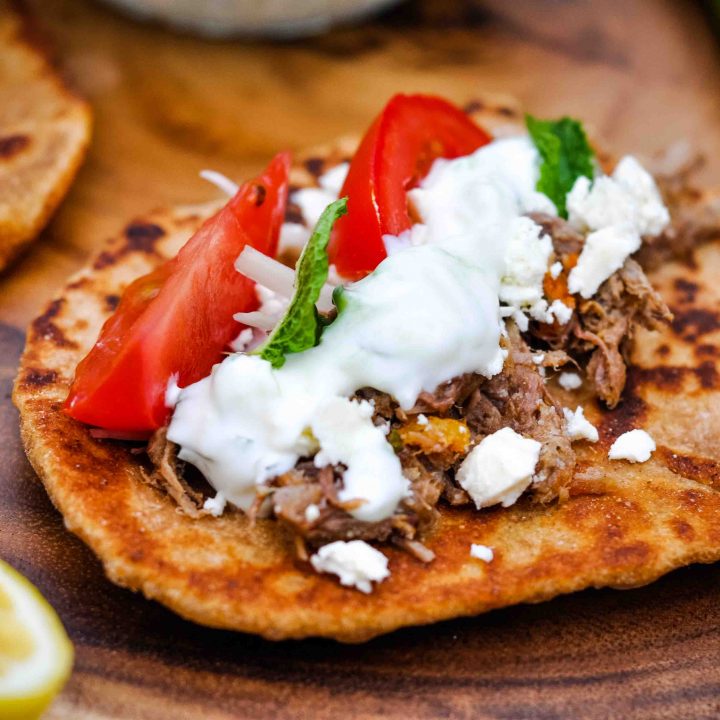 Yield: 8 servings
Leftover Roast Beef Gyros with Homemade Tzatziki Sauce
Prep Time: 15 minutes
Total Time: 15 minutes
Filled with all your favorite Greek flavors and smothered with tangy creamy tzatziki, these gyros take mere minutes to assemble.
Ingredients
2 cups shredded leftover roast beef (or any meat of choice)
8 pita wraps
1 cup feta cheese, crumbled
1 onion, thinly sliced
2 tomatoes, diced
Tzatziki Sauce
2 mini Pure Flavor gourmet cucumbers (or 1 regular cucumber)
2 cups Greek or whole milk plain yogurt
2 Tbsp. extra virgin olive oil
2 Tbsp. lemon juice
3 garlic cloves, minced
½ cup fresh mint, chopped
1 tsp. salt
Instructions
To make the tzatziki sauce, grate cucumber with a box grater.
Gently squeeze out excess water using your hands or a strainer over a bowl to prevent a watery sauce.
To a medium bowl, add cucumber, yogurt, olive oil, lemon juice, garlic, mint, and salt. Stir well to combine.
Next, assemble the gyros. Choose any leftover cooked or grilled meat, like roast beef. Reheat if desired.
To each pita bread, add meat, feta cheese, tomatoes, onions, and olives. Slather with plenty of tzatziki sauce. Serve with oven fries.
Nutrition Information:
Yield:
8
Serving Size:
1
Amount Per Serving:
Calories: 378
Total Fat: 13g
Saturated Fat: 5g
Trans Fat: 0g
Unsaturated Fat: 6g
Cholesterol: 53mg
Sodium: 1313mg
Carbohydrates: 43g
Fiber: 2g
Sugar: 8g
Protein: 22g