Stinging nettle tea is an impressive herbal drink that boosts your vitamin & mineral intake, is anti-inflammatory and has a variety of health benefits. It's very easy to make and incorporate into your wellness routine.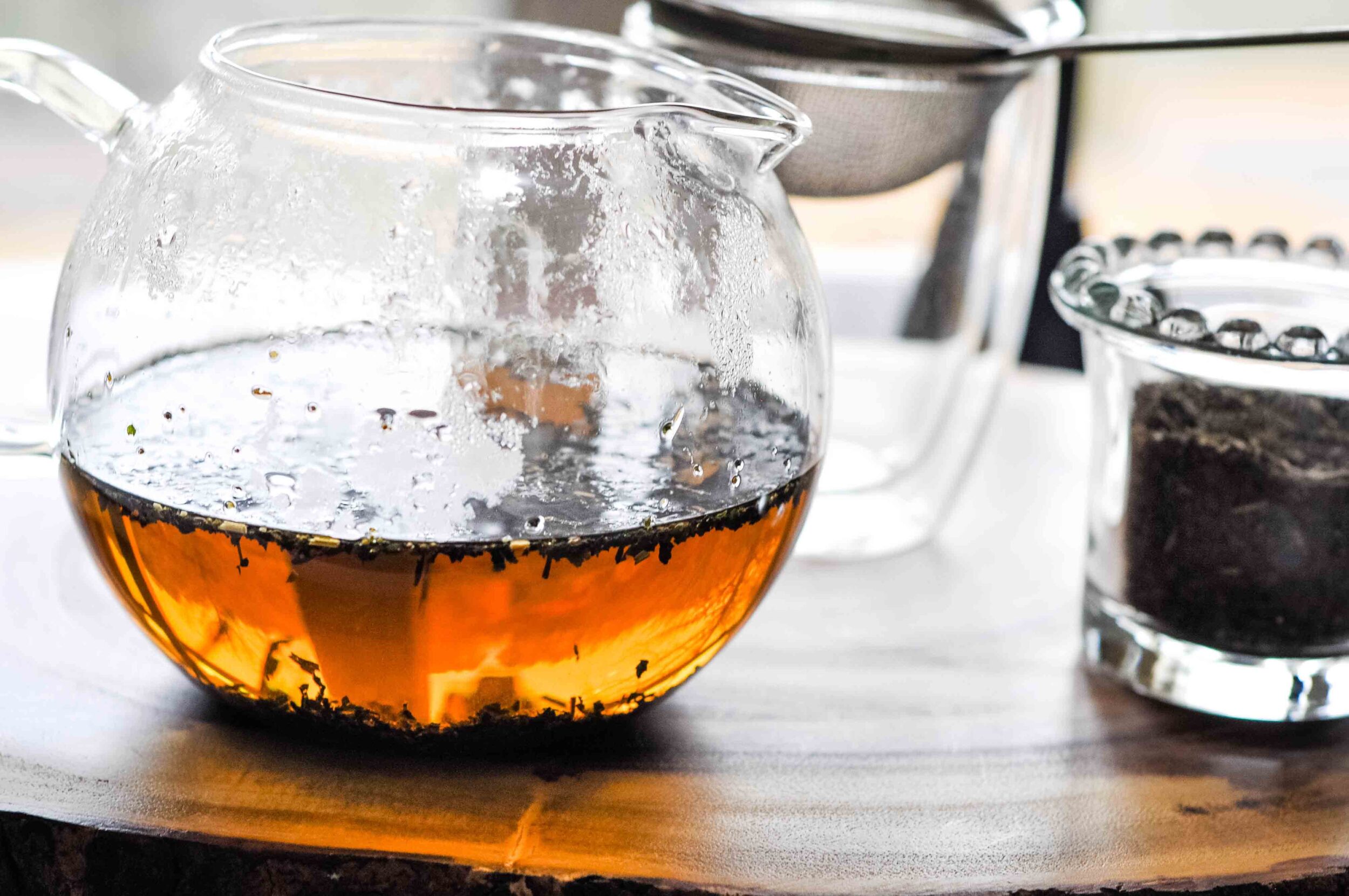 Lately I am diving into the world of herbalism. I've always been a big herbal tea fan, but never knew until recently how powerful herbs are for the body.
There is a wealth of nutrition and health benefits waiting in nature through the multitude of beautiful herbs God created for us. One popular herb that is abundant and easy to find is Stinging Nettle (Urtica Dioica).
It may be off-putting if you encounter it in the wild — it's hairs do sting! Nettle is truly a blessing in disguise.
Our family loves making it into a tea with honey, or an herbal infusion (steeped overnight) for increased nutritive qualities.
Nettle is also known as a restorative herb – it's great to drink when recovering from an illness or stress, as it provides a wide array of nutrients and benefits to the body.
I'm trying to drink nettle tea daily, or at least several times a week, while I recover from chronic illness.
Read next: Calendula Tea Benefits & Recipe
Side note: I love learning about specific herbs through Arielle de Martinez' Instagram account. If you're interested in herbalism, check it out!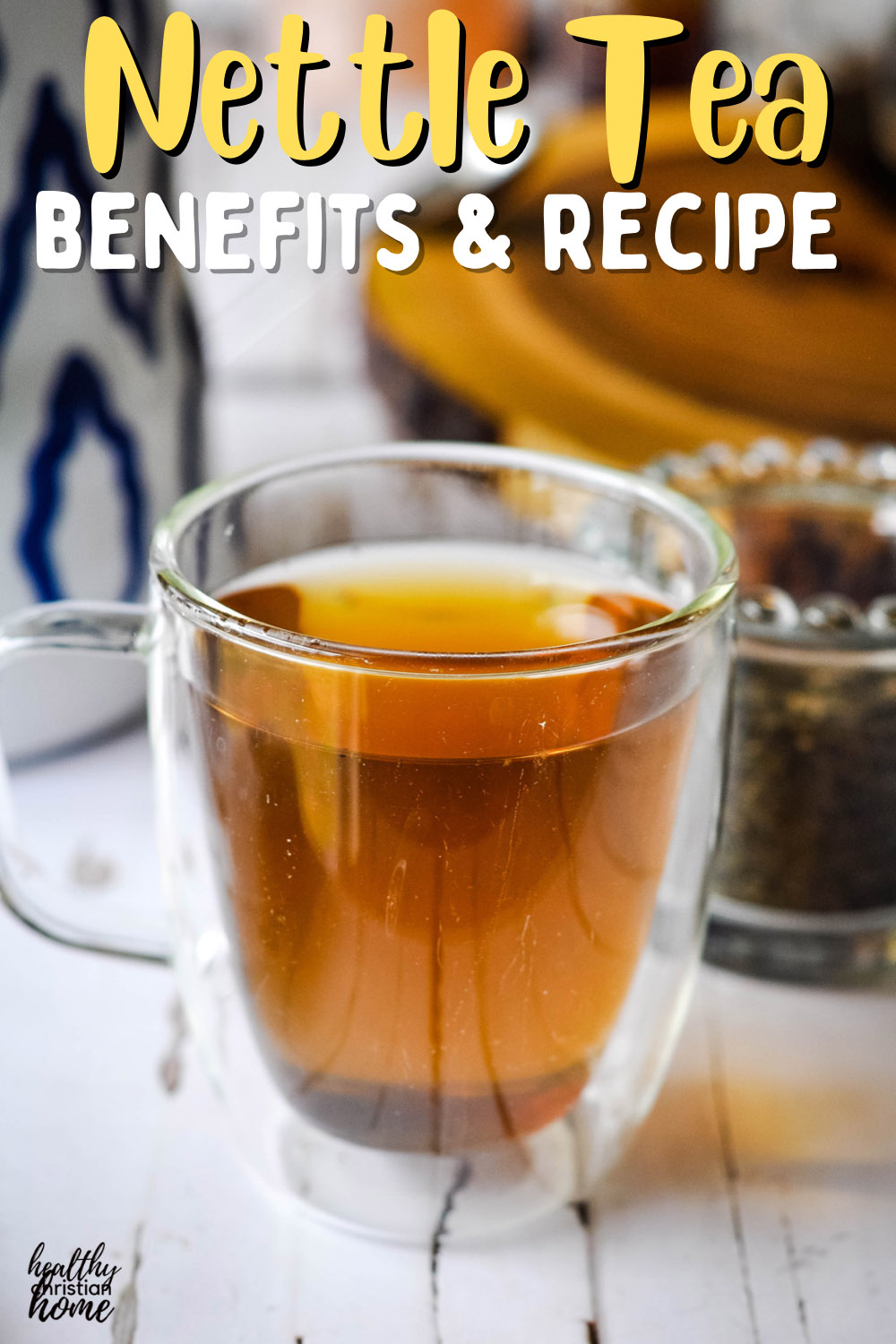 Nettle Tea Benefits
Here are some of the main benefits of nettle tea — these may encourage you to give it a try!
1. Anti-inflammatory
Stinging nettles have compounds which help reduce inflammation, specifically quercetin (1).
2. May reduce seasonal allergies
There is research to suggest that consuming nettle tea may reduce symptoms of hay fever or seasonal allergies since it's a gentle anti-histamine. It's a great natural remedy to try if you struggle with allergies, and especially effective if used daily (2).
3. May strengthen the immune system
Nettle appears to have anti-bacterial and anti-viral components, and also strengthens the immune system thanks to the nutrition it provides.
4. May help prevent anemia
If you struggle with anemia or iron deficiency, stinging nettle may help. It's rich in iron, and also contains vitamin C which aids absorption.
5. Restorative & strengthening
If you have been through an illness or trying to recover from an injury, nettle tea is great to add into your routine because it helps strengthen the body systems due to the nutritional compounds it contains.
6. Aids detoxification
Because nettles contain chlorophyll, they can help cleanse the digestive tract and reduce bloating.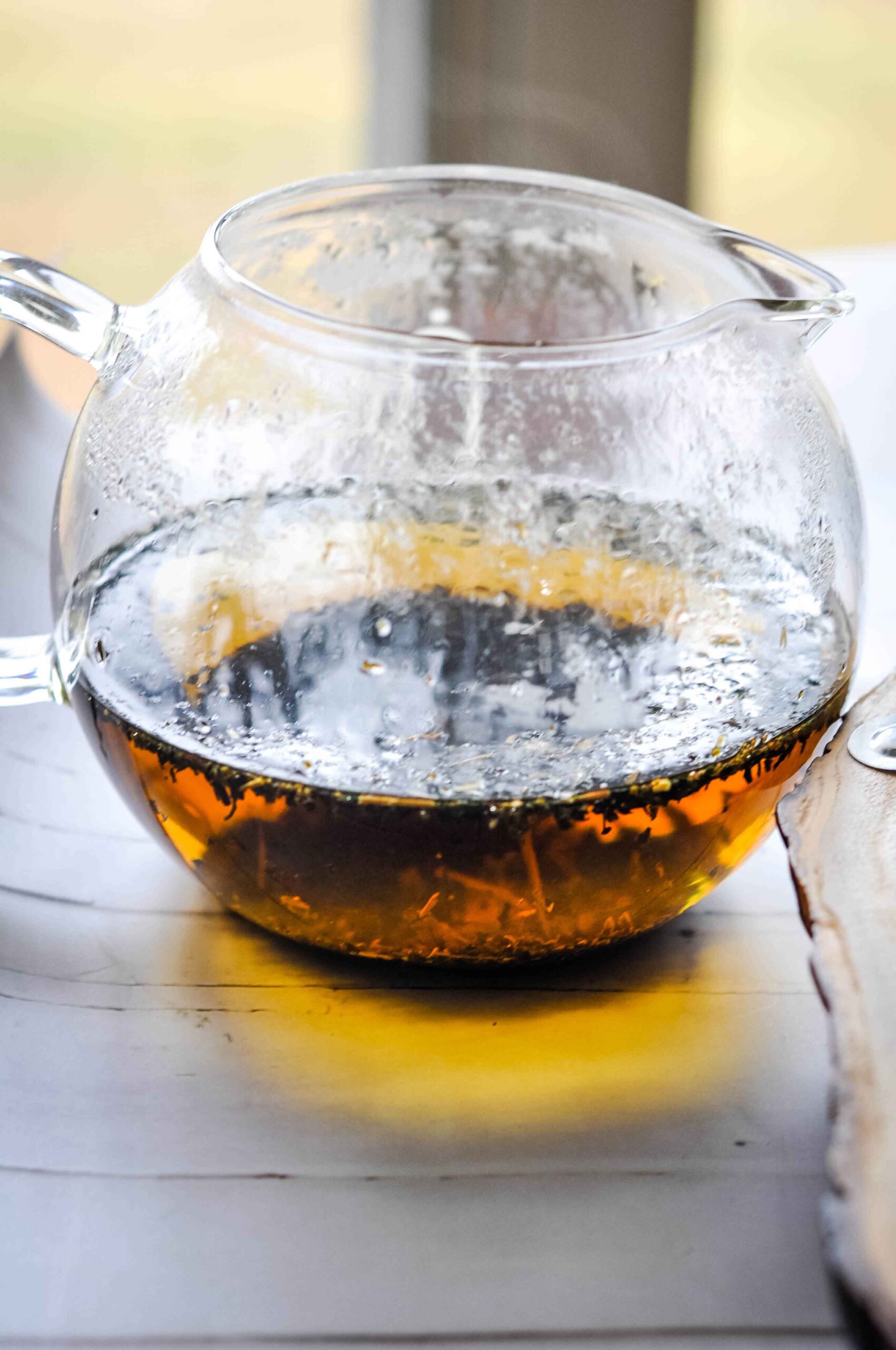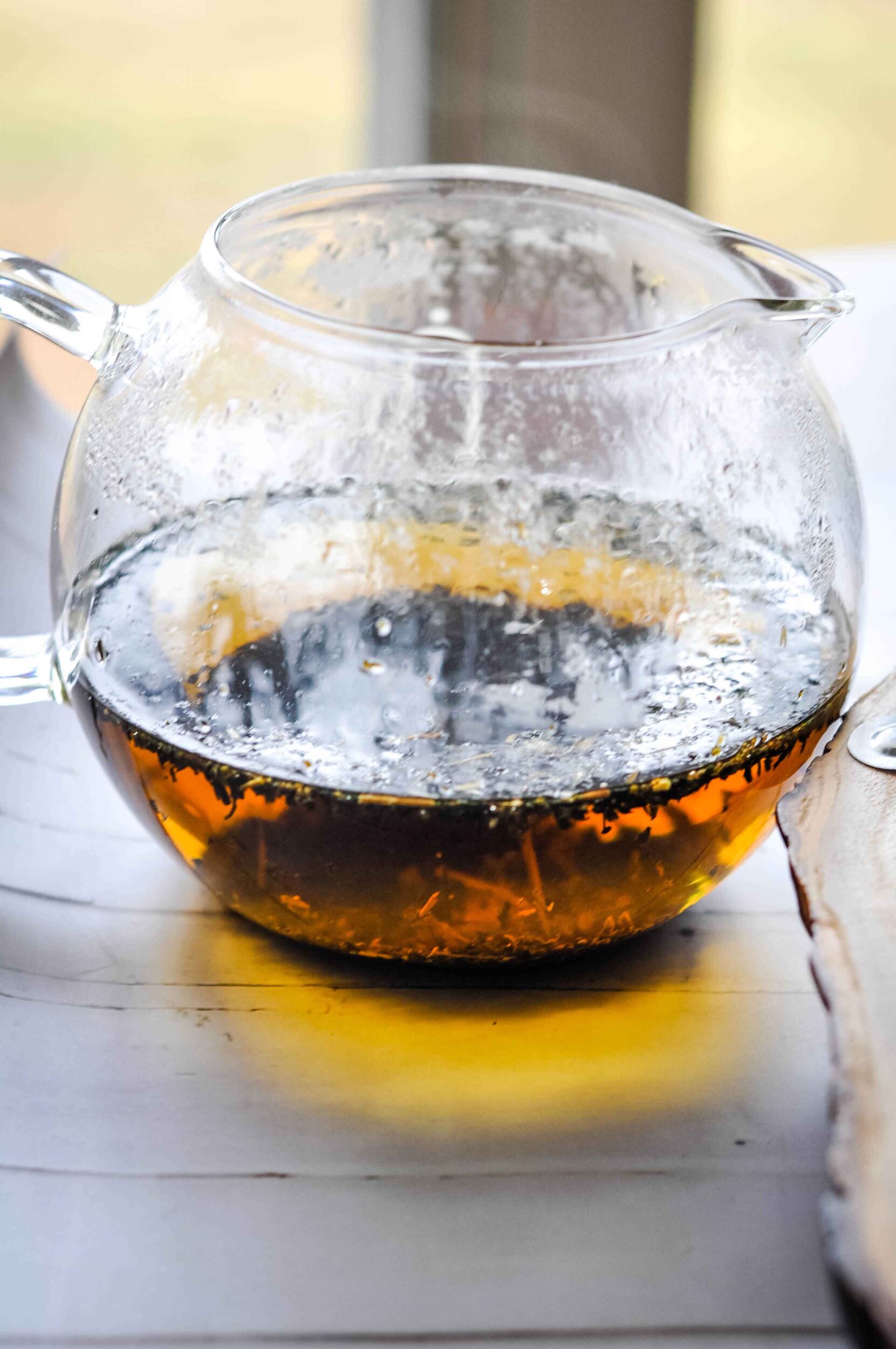 Nettle Tea Nutrition
Nettles are a great source of nutrition and contain the following vitamins: A, D, E, K (fat soluble) plus C & B (water soluble).
They are also rich in iron and other minerals such as magnesium, calcium, zinc, phosphorous and potassium (3).
What does nettle tea taste like?
Nettle tea has a definite grassy, earthy taste — but it is very pleasant. This balances out nicely with some raw honey if you prefer it sweet.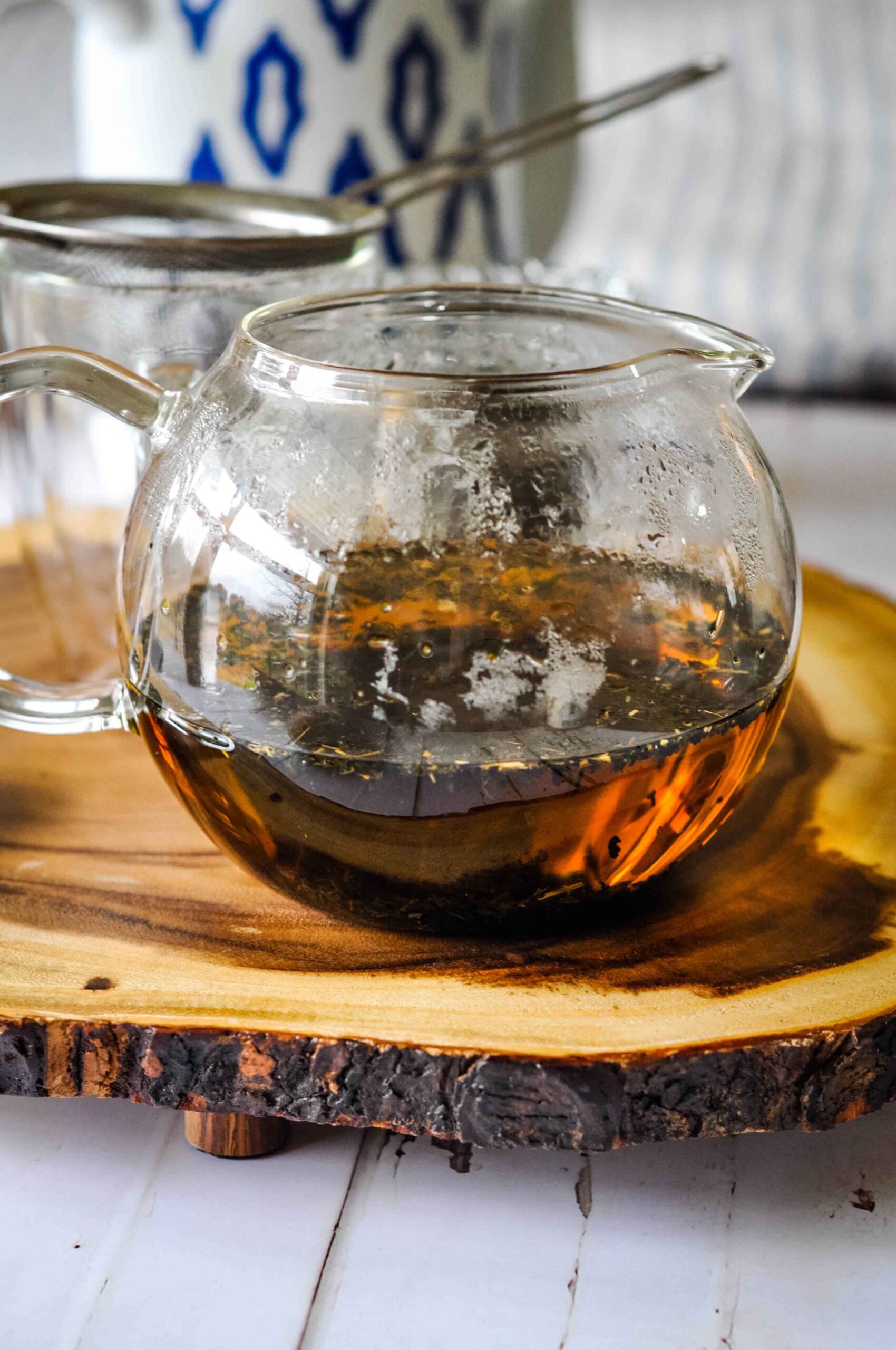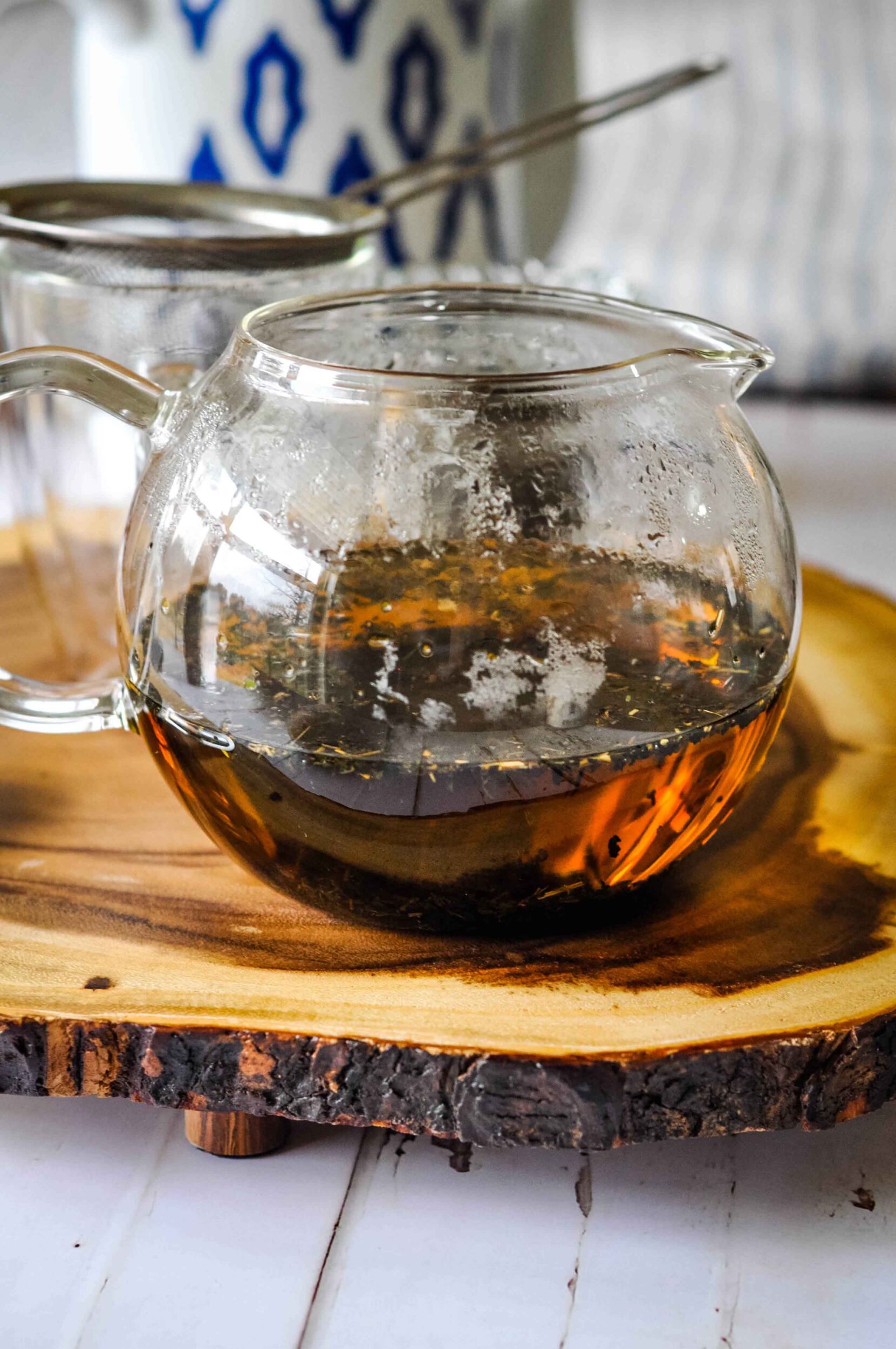 Where to find nettle tea
Stinging nettle may grow in the region where you live. It is prevalent in the moist climate of the Pacific Northwest, but you can find it in many shaded & damp areas, such as along river banks.
Where I am located in Alabama, we don't have a lot of stinging nettle. But thankfully, it's easy to find dried nettles online — my favorite source for quality organic herbs is Mountain Rose Herbs.
Is it safe to drink nettle tea everyday?
Usually, if you drink a moderate amount. Nettles are a rich source of vitamins and minerals as listed above, so it can even be used as an all-natural alternative to a multivitamin.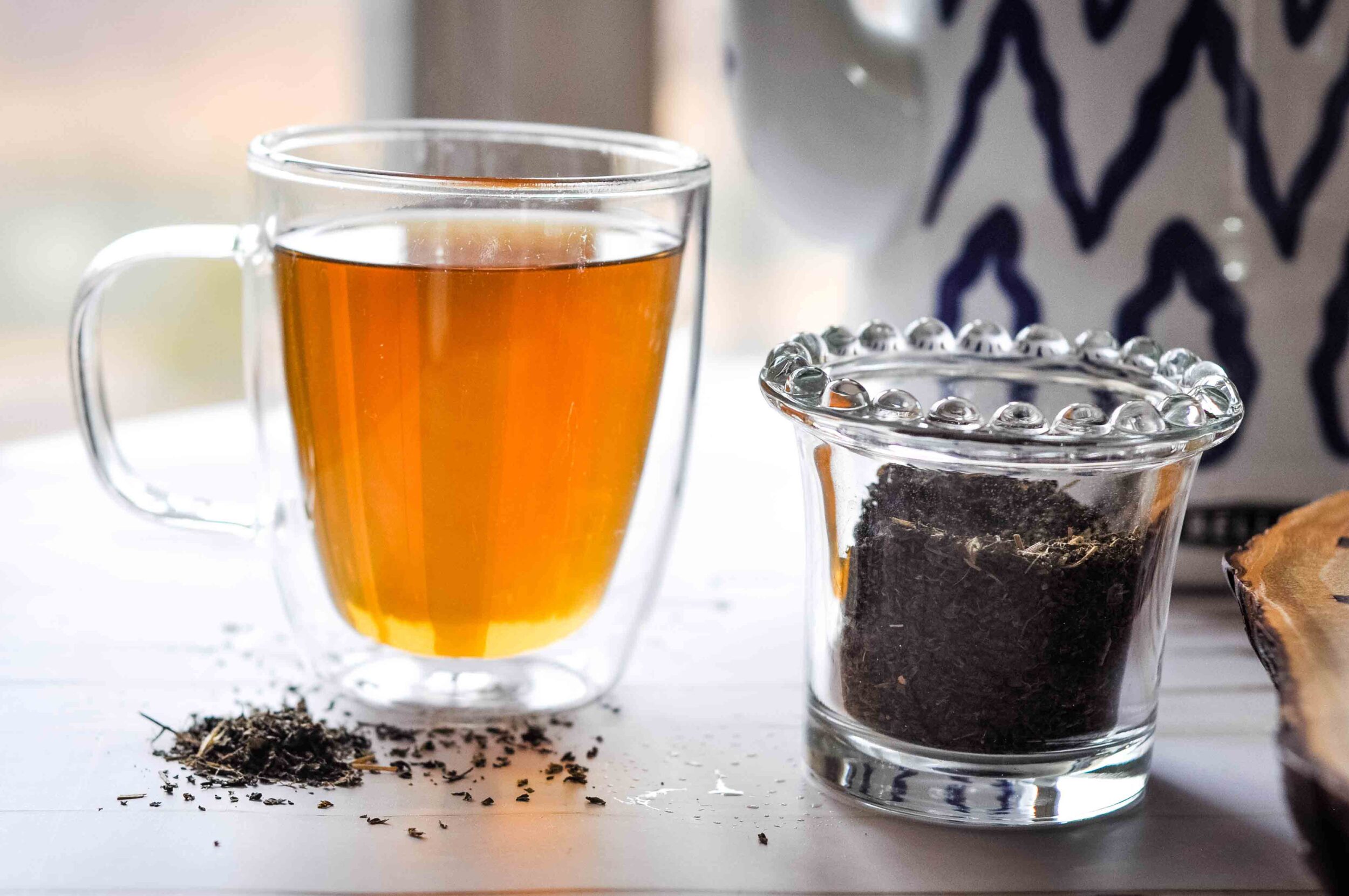 Who should not drink nettle tea?
If you are pregnant, do not drink nettle tea as it may increase risk of miscarriage. Otherwise, nettle tea is safe for most people.
Note that there is a lack of research of the use of nettle tea in children under 12. Furthermore, if you have a health condition or take medication, consult your doctor before use. (3)
It's rare, but a few people have allergic reactions to nettles.
When should I drink nettle tea?
You can drink nettle tea any time of day! Morning or mid afternoon are great times, because nettle tea may provide an energy boost due to the nutrients it contains.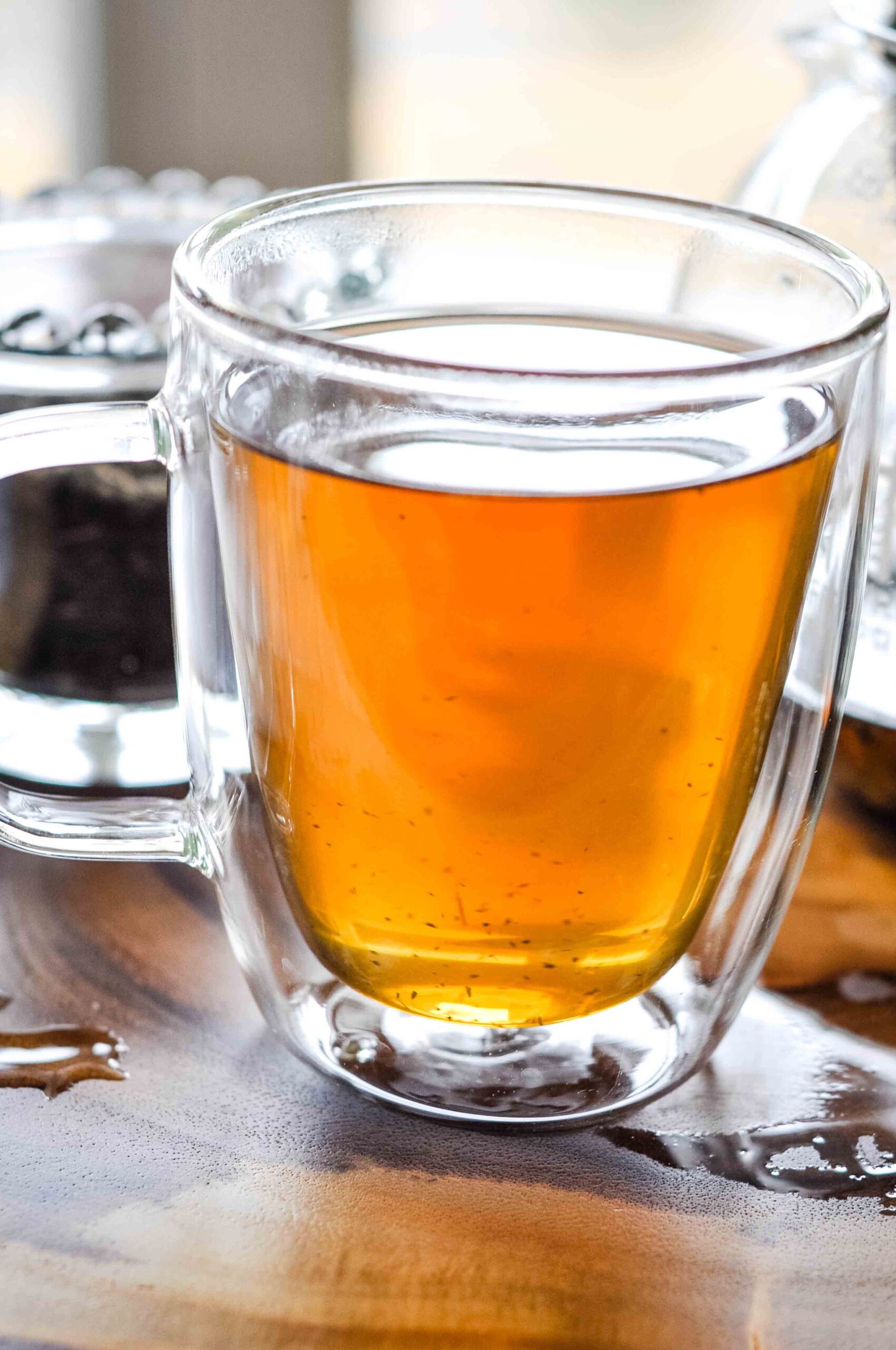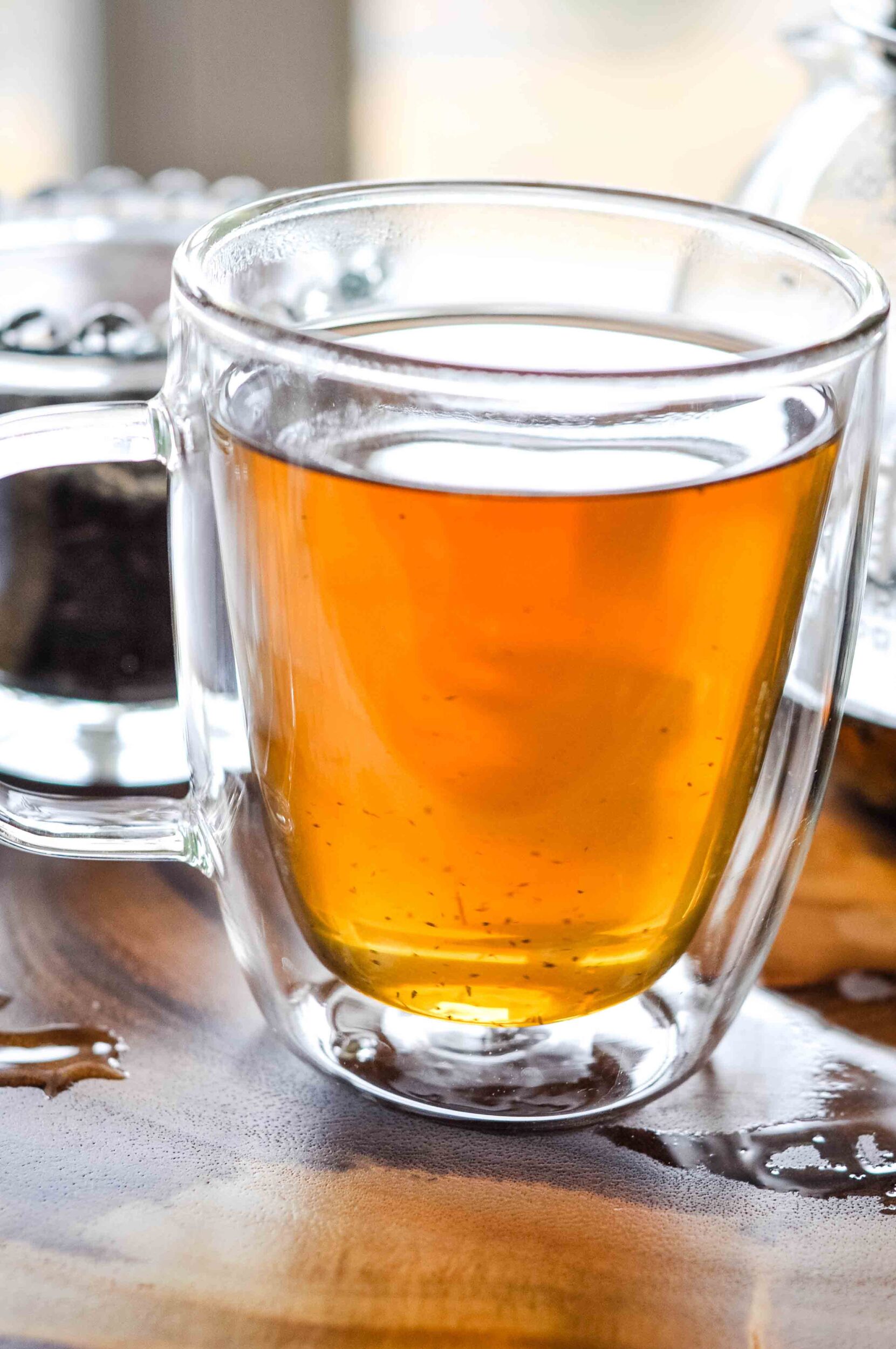 How to Make Nettle Tea (3 Ways)
There are 2 common ways to consume nettles: tea or infusion. Tea is nourishing and fast, while an infusion has more nutritive benefits as the leaves steep for a much longer period of time.
If you can identify stinging nettles and they are abundant where you live, you can forage for fresh nettles. Here's a handy guide on identifying and foraging for stinging nettle. Otherwise, purchase dried nettles from a high quality organic source such as Mountain Rose Herbs.
🍃 Dried Nettle Tea 🍃
Add 1-2 tablespoons dried nettles to a teapot or tea infuser ball. Pour over 8 ounces boiling water and allow to steep for 3-5 minutes. Add honey or other sweetener to taste, if desired.
🍃 Fresh Nettle Tea 🍃
Add 1 cup fresh foraged nettle leaves to small pot along with 8 ounces water. Bring to a simmer and cover with a lid, simmering for 3 minutes. Turn off the heat and allow to steep for 3 additional minutes. Strain and add to a mug, along with honey or sweetener if you like.
🍃 Nettle Infusion 🍃
Add 1/4 cup dried nettles or 2 cups fresh nettles to a quart or half gallon mason jar. Fill with boiling water, stir, and cover loosely with a lid. Allow to infuse 8-12 hours, or overnight. Consume 1 cup daily to enjoy its nourishing qualities.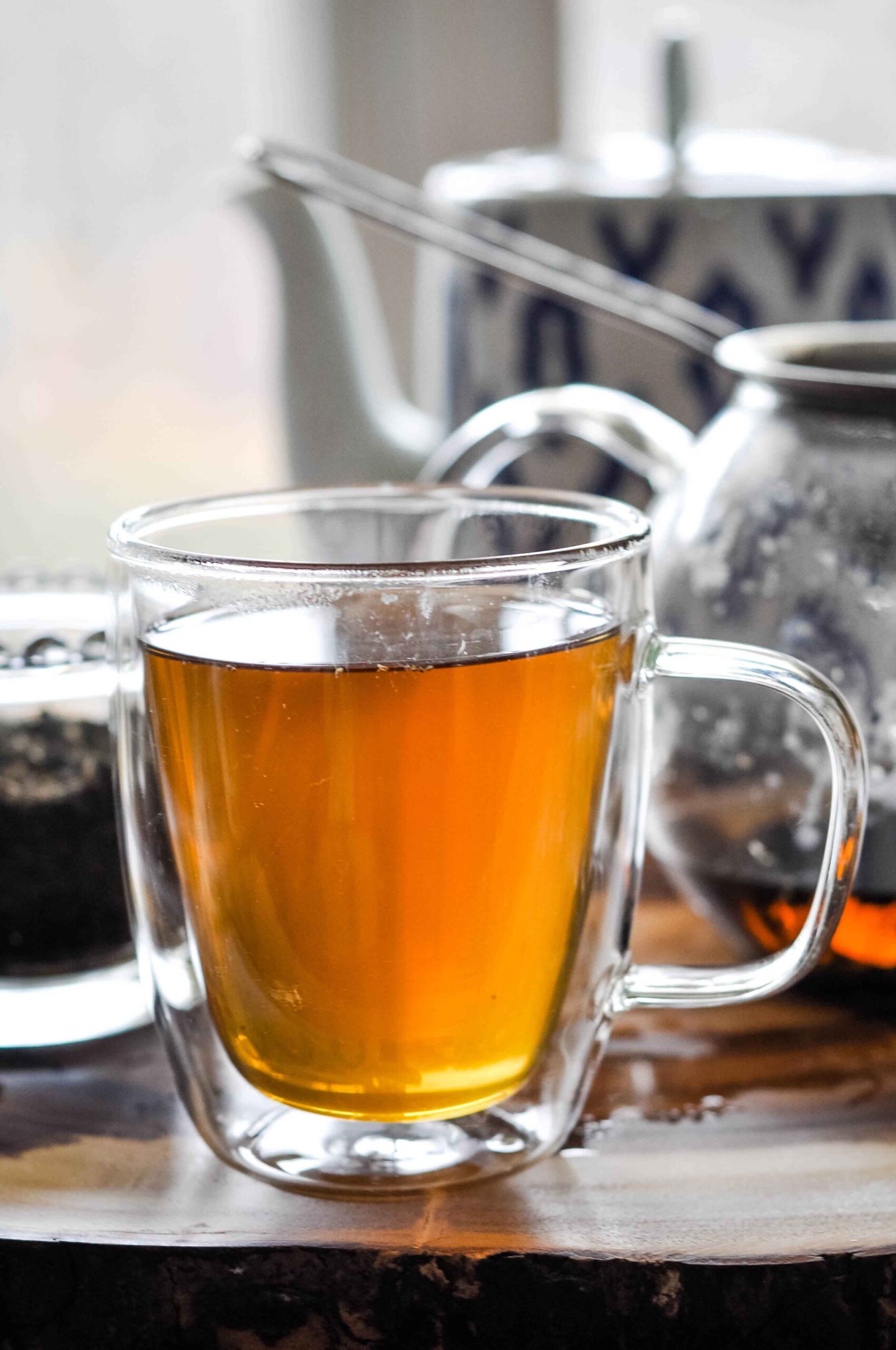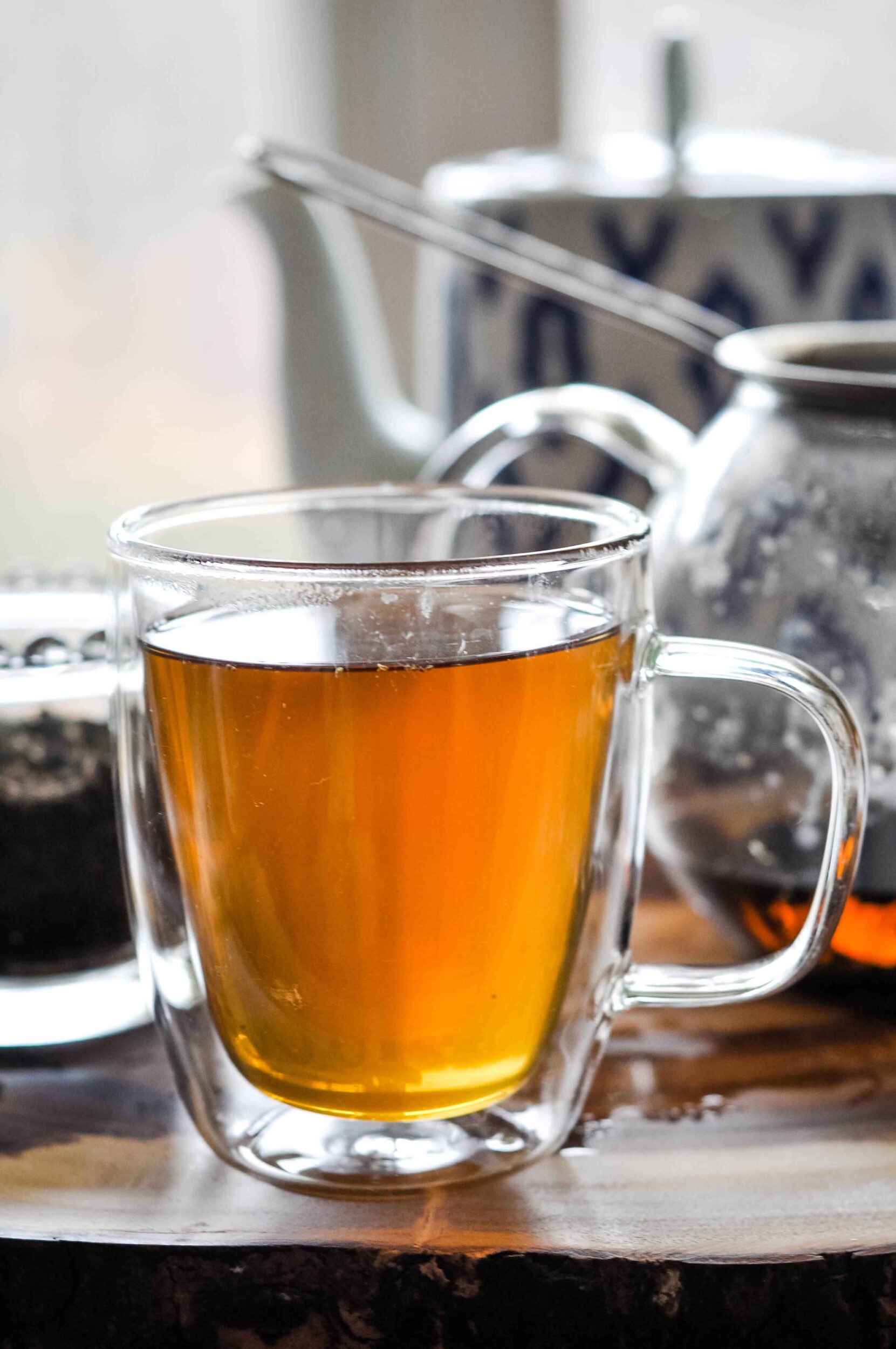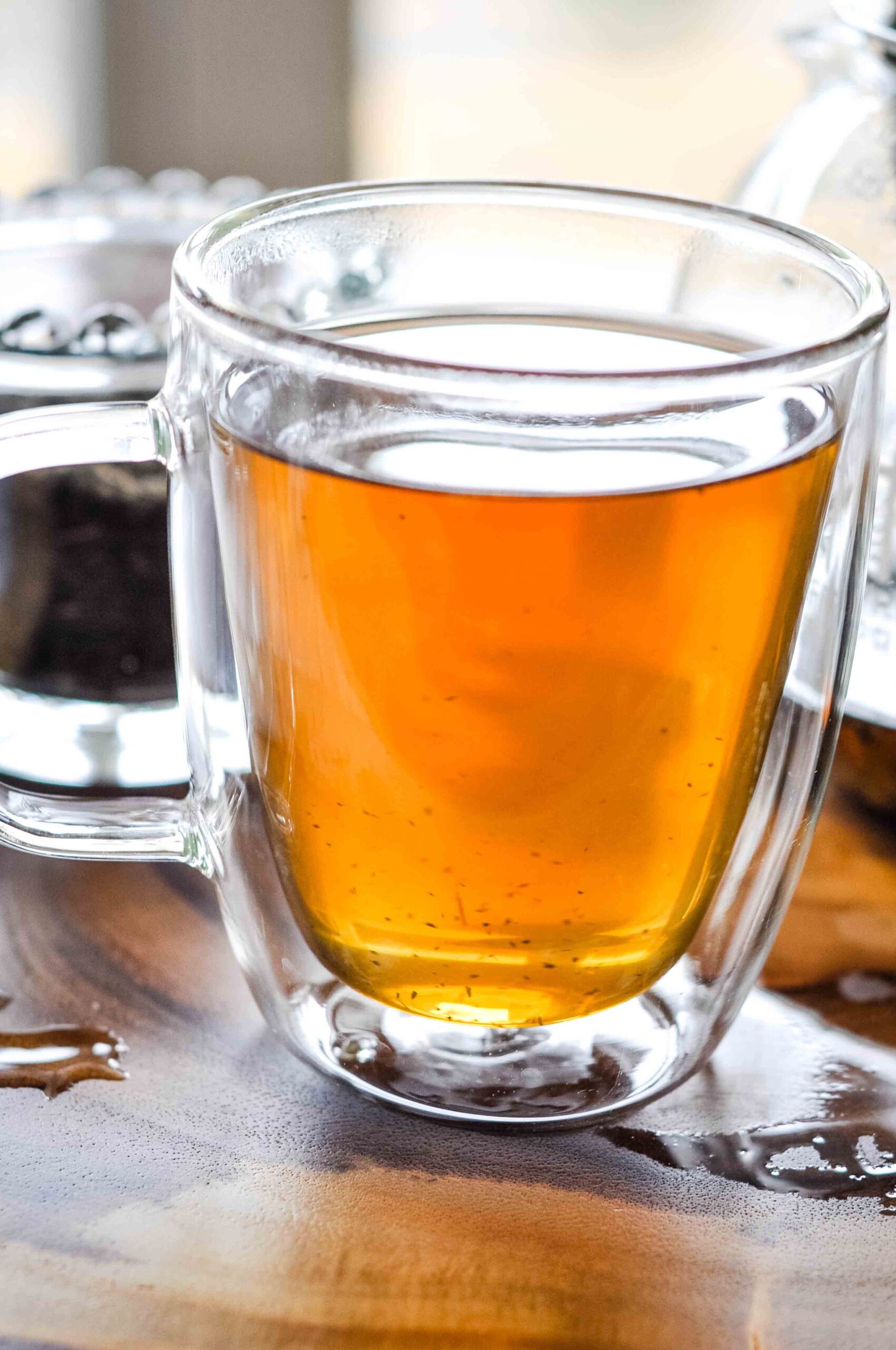 Yield: 1 cup
Nettle Tea (3 Ways)
Prep Time: 5 minutes
Total Time: 5 minutes
Stinging nettle tea is an impressive herbal drink that boosts your vitamin & mineral intake, is anti-inflammatory and has a variety of health benefits. It's very easy to make and incorporate into your wellness routine.
Ingredients
8 oz. boiling water
1 Tablespoon raw honey (optional)
Instructions
If using dried nettles: Add dried nettle leaves to a mug and pour over 1 cup boiling water. Allow to steep for 3-4 minutes, strain, and add honey if desired.
If using fresh nettles: Add fresh nettle leaves to a small pot along with filtered water and bring to a boil. Simmer for 3 minutes and remove from heat. Cover with a lid and steep for an additional 3 minutes, then strain and add honey if desired.
To make an herbal infusion: Add nettles to a jar or teapot and pour over boiling water. Allow to infuse overnight before using. This method draws out more vitamins and minerals.
Recommended Products
As an Amazon Associate and member of other affiliate programs, I earn from qualifying purchases.
Nutrition Information:
Yield:
1
Serving Size:
1
Amount Per Serving:
Calories: 69
Total Fat: 0g
Saturated Fat: 0g
Trans Fat: 0g
Unsaturated Fat: 0g
Cholesterol: 0mg
Sodium: 11mg
Carbohydrates: 18g
Fiber: 1g
Sugar: 17g
Protein: 0g
Other Ways to Use Nettles
Besides nettle tea, there is a myriad of ways you can use this nutritious herb. Here are some creative ideas:
Make sweetened nettle tea into popsicles – you can even add your favorite juice.
Use leftover nettle tea as part of the liquid in your favorite gummy recipe (such as elderberry gummies or kombucha gummies).
If you'd rather eat your nettles, try this delectable Stinging Nettle Omelet with Sharp Cheddar!
Stinging Nettle Spanakopita is an impressive pastry recipe with a Greek flair.
Add nettle tea to a smoothie, such as this Clear Skin Smoothie.
Easily make your own superfood green nettle powder and add to all your favorite recipes, smoothies, salad dressings, and more!
This DIY pain relief salve is wonderfully soothing to minor skin irritations like bug bites, eczema, and more.
These crispy nettle chips are a snacktime revelation!
Try Green Shakshuka with nettles for an ultra nutritious breakfast.
For a refreshing sweet cold drink, try stinging nettle cordial!
I like mixing nettle & oatstraw loose leaf tea together, which makes a restorative blend which is especially good for exhaustion and burnout. Oatstraw is a great for the person who, according to the herbalist and teacher 7Song, "pushed and pushed and now feels tired, out-of-sorts, or just plain disconnected much of the time no matter how much they rest or sleep."
PIN IT!