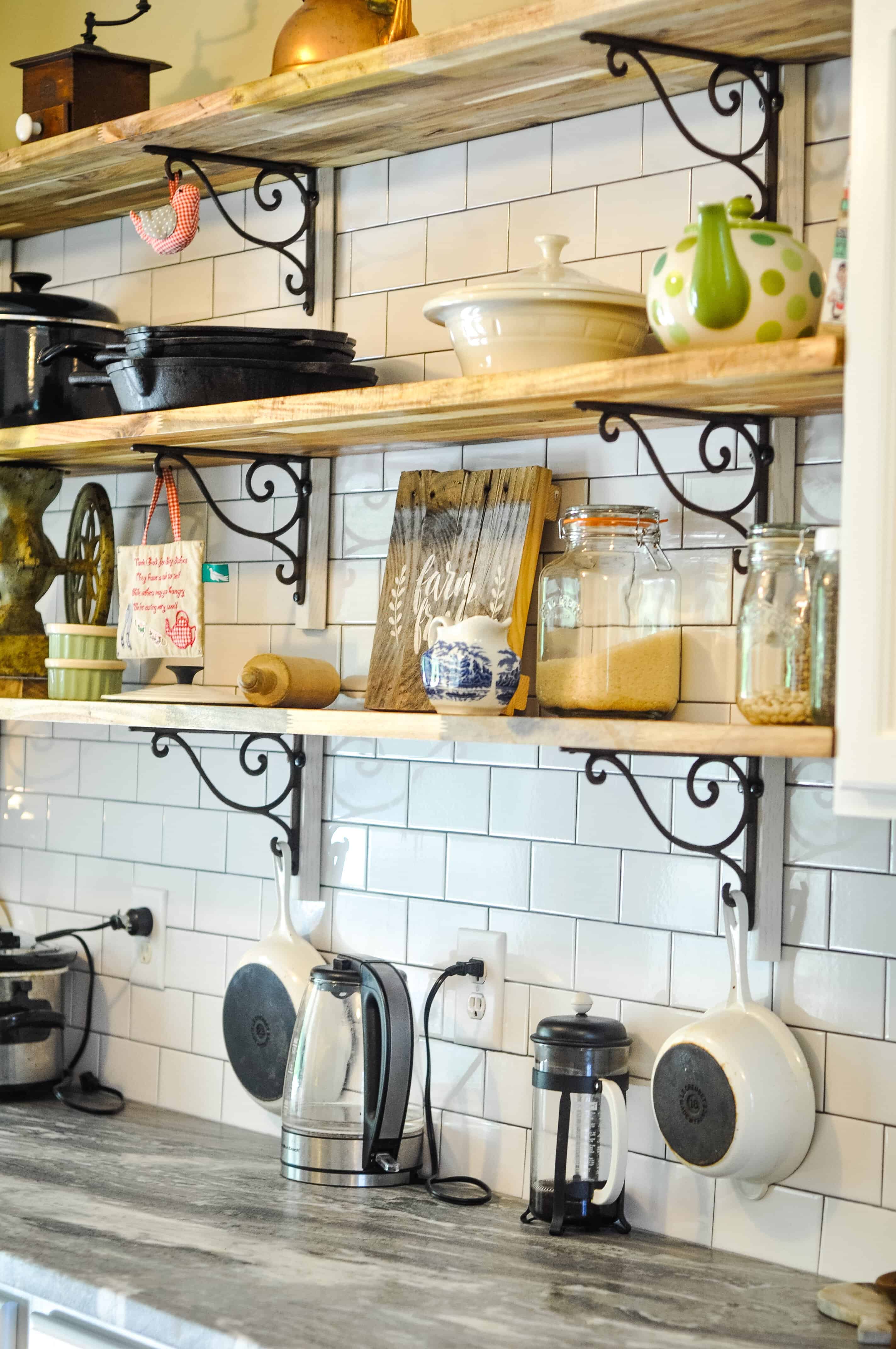 This blog post topic deviates a little bit from the norm around here, in that it's not a real food recipe or faith-based musings. And I definitely don't claim to be any sort of home design expert (leave that to my favorite home decor blog The Handmade Home).
But I'm so happy with how this country kitchen turned out, how true it is to the way we live, and the cozy country feeling it gives — I had to share it with you anyway 😉
This is Healthy Christian Home, after all. The "home" part has to count for something, right?
When we moved in our house in the country this spring, it was just about perfect…. except for the kitchen. Orang-y stained cabinets and laminate countertops that had some sort of half-chipped, cigarette-burned, DIY sponge paint job which attempted to look like stone.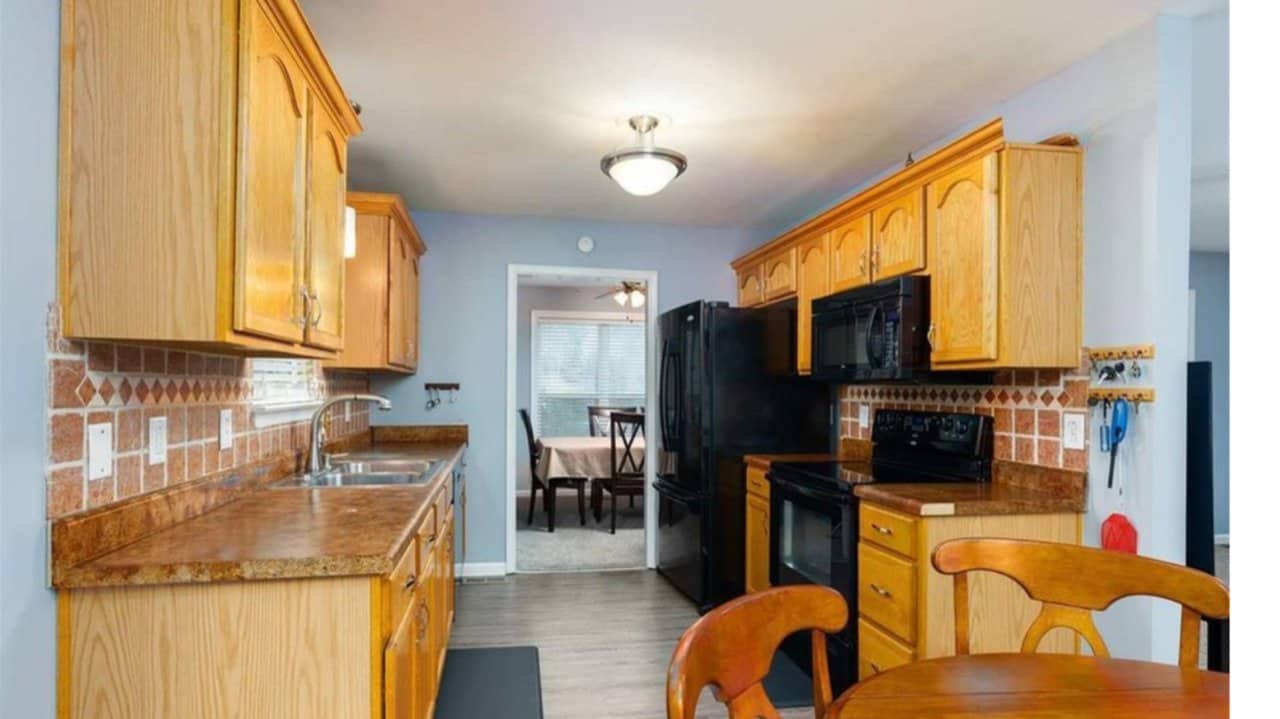 There wasn't much counter space to speak of, and considering that we use our kitchen a ton, a complete (almost) gut job was in order. Since we spend a huge chunk of our waking hours in here, it seemed worth the investment.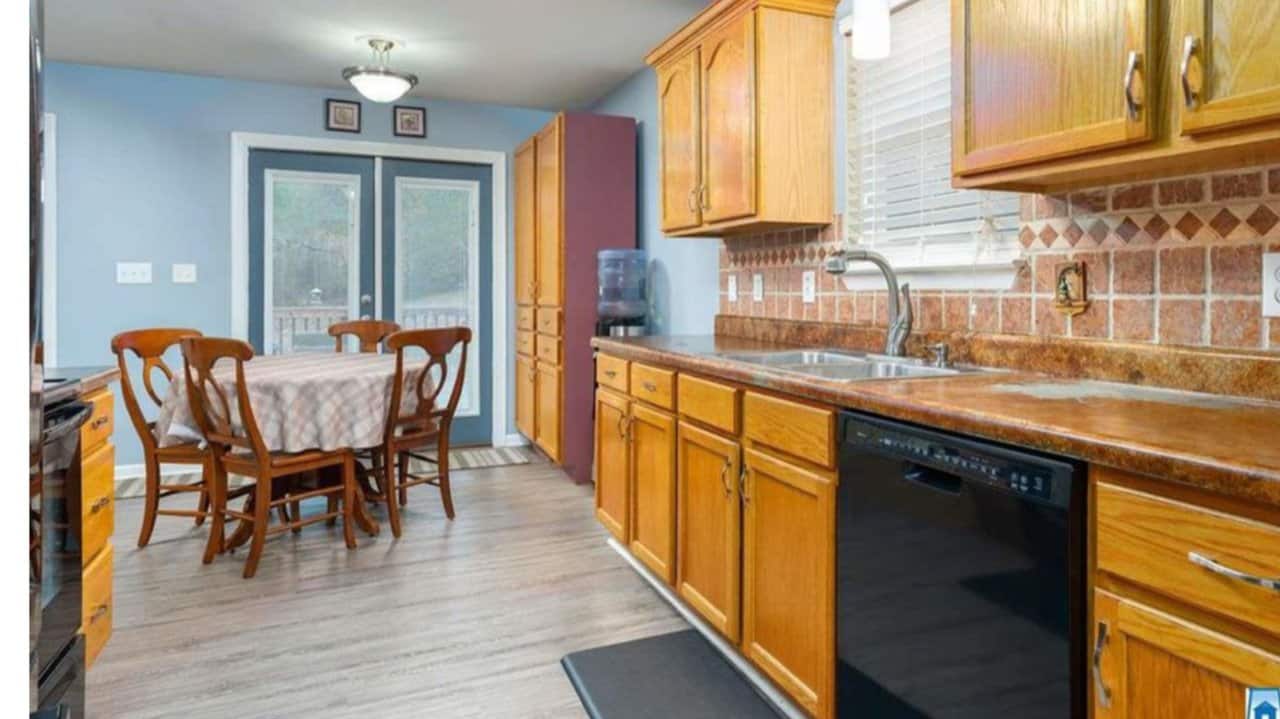 First off, we painted the entire main living area, including the kitchen, with the same creamy color with a touch of yellow.
Since the real wood cabinets were in good shape (just the wrong color), we had a professional paint them with an oil based off white (Marshmallow). I'm so glad we spent a little bit more to get an expert to tackle this job – I'm confident it will last for years to come.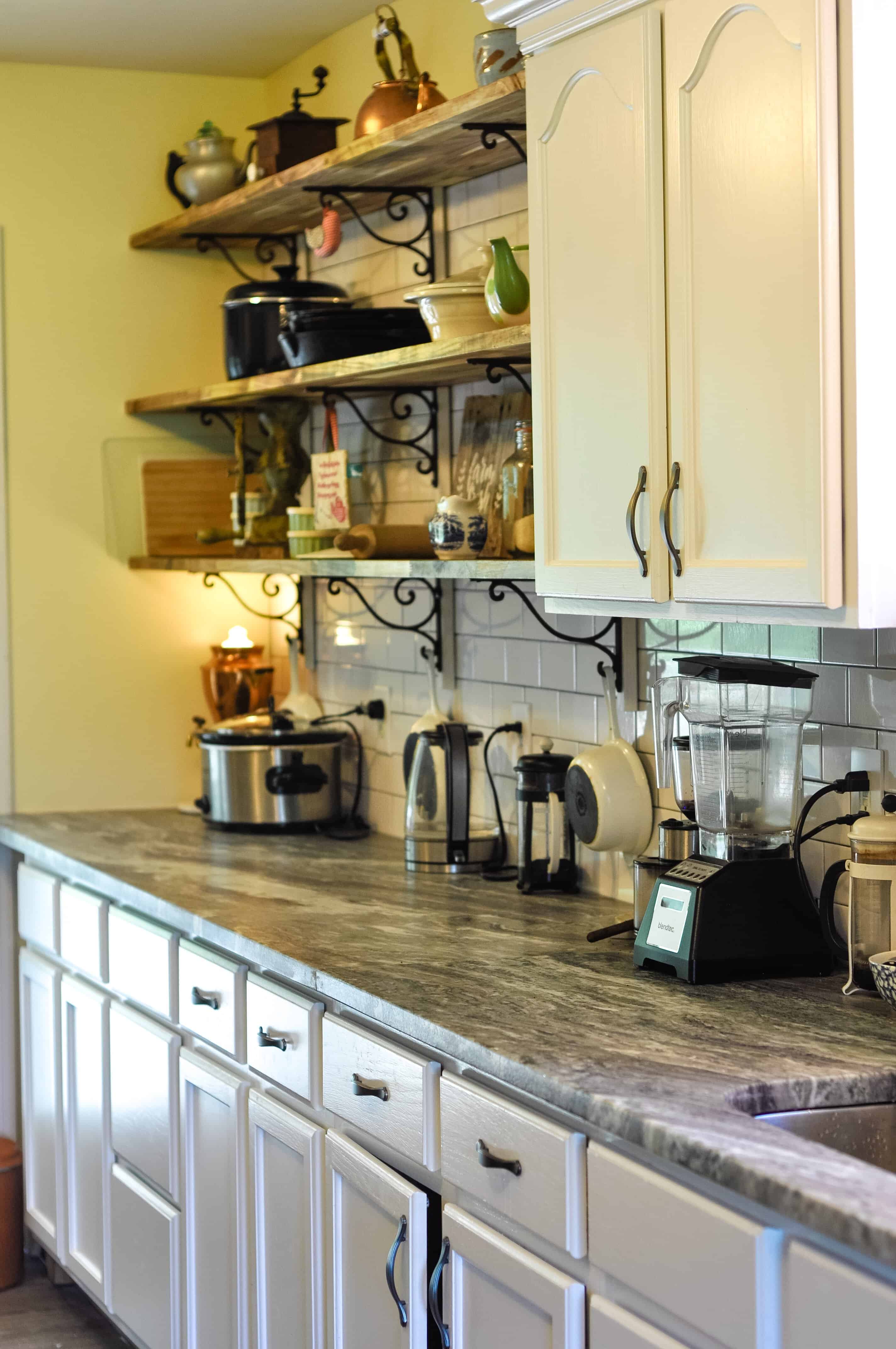 Next, we had the tough job of choosing countertops and getting them installed. What an ordeal!
We originally wanted butcher block worktops. I love the country look and feel of butcher block, but we are SO rough on our kitchen. Practicality won the day, so and we went down the rabbit hole of choosing some sort of natural stone.
I'm not sure if it was the company we chose, but they were difficult to get in touch with and coordinate everything… long story. But finally chose our stone and got it installed, and we're super happy with how it turned out.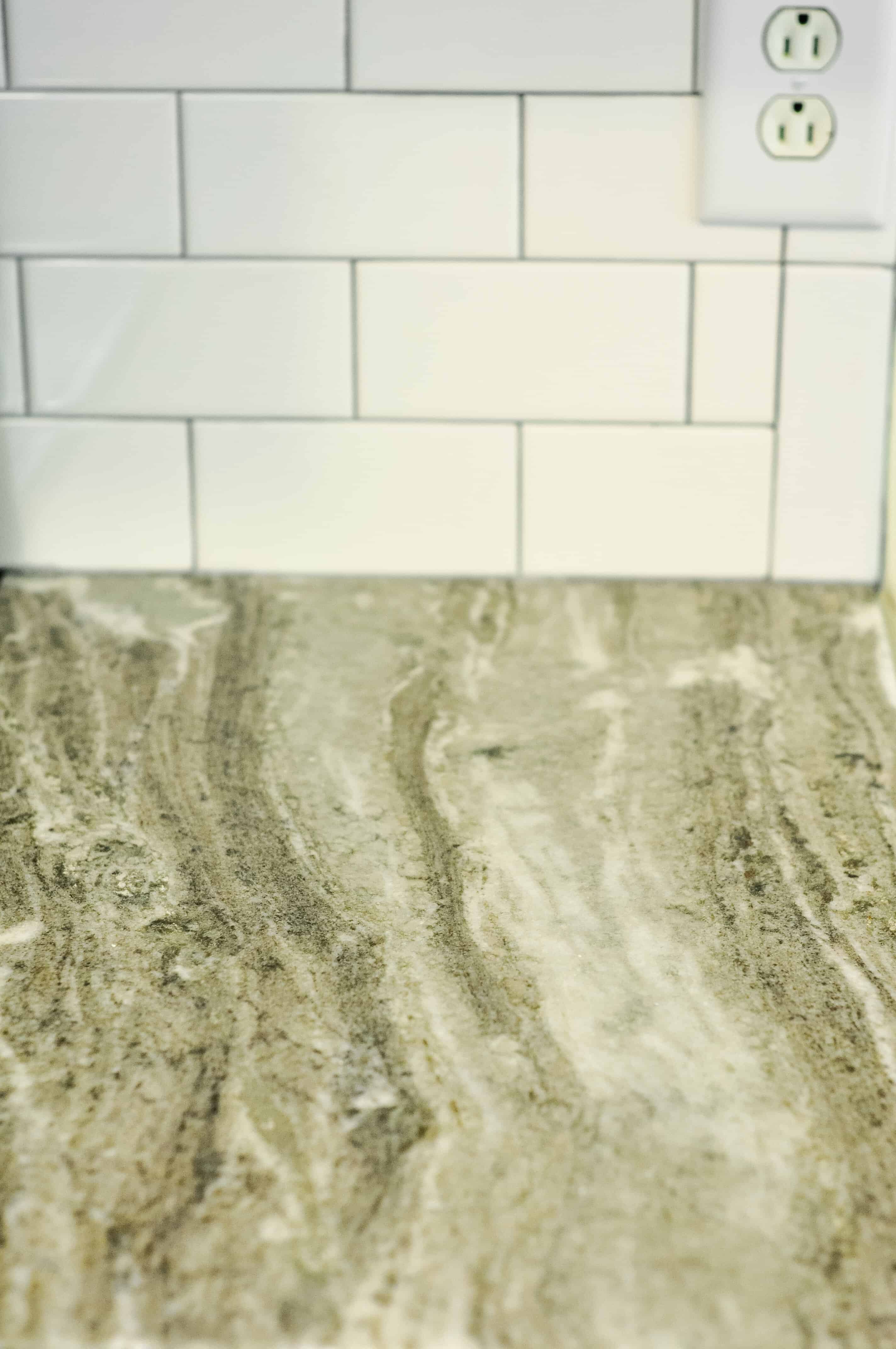 The stone slab we chose is called Fantasy Brown (although it looks a lot more gray with just a tiny bit of brownish streaks). It's technically a marble (although cheaper than most marble stones) and apparently has the durability of a granite.
We chose a leathered finish instead of polished, which adds to the vintage, imperfect, laid back country look we are going for.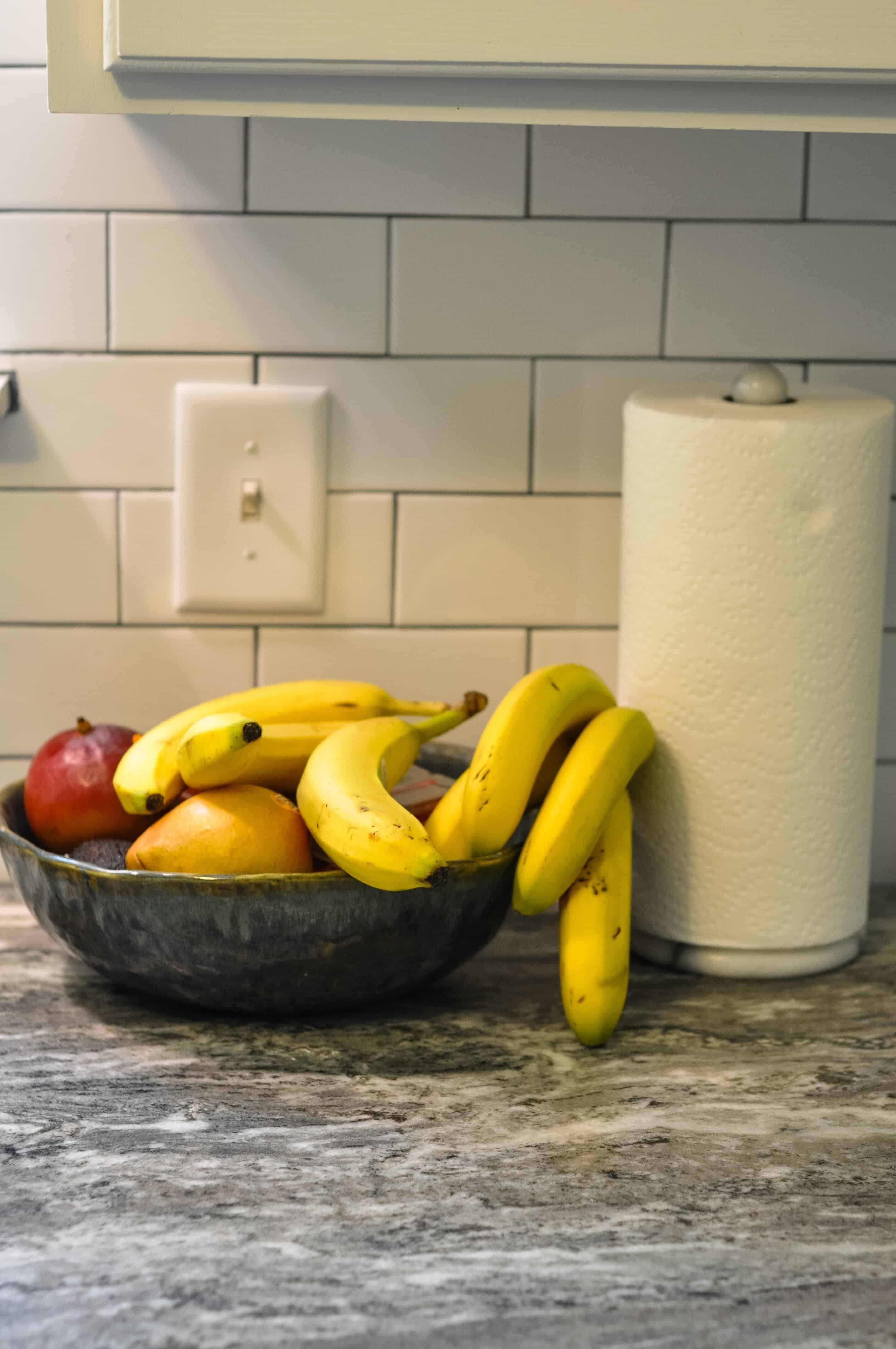 For the backsplash, we chose plain white subway tile with a dark gray grout. We mainly picked this backsplash since it's budget-friendly, but I also think it's perfect since there's a lot of other stuff going on in here. Anything else would have looked too busy.
Now for my absolute favorite part of this kitchen renovation. The open wood shelving!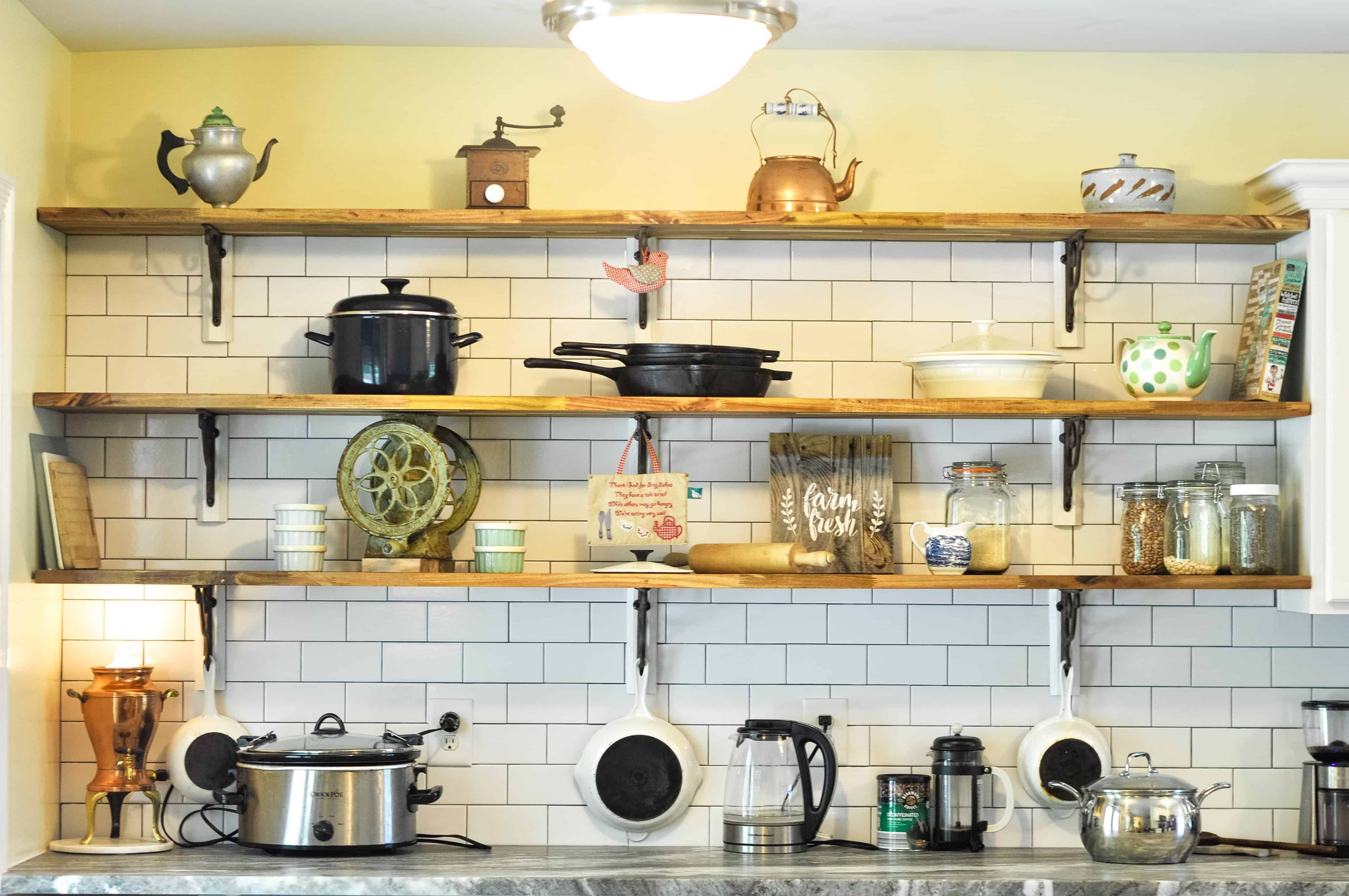 Doesn't it just scream "country kitchen"?
These shelves are made from the acacia wood butcher block we originally wanted to use for the countertops, and a church friend helped us cut them lengthwise so we could used them as shelves instead.
Richard found the cast iron corbels on eBay, and I think they add so much charm. We also use them to hang skillets from.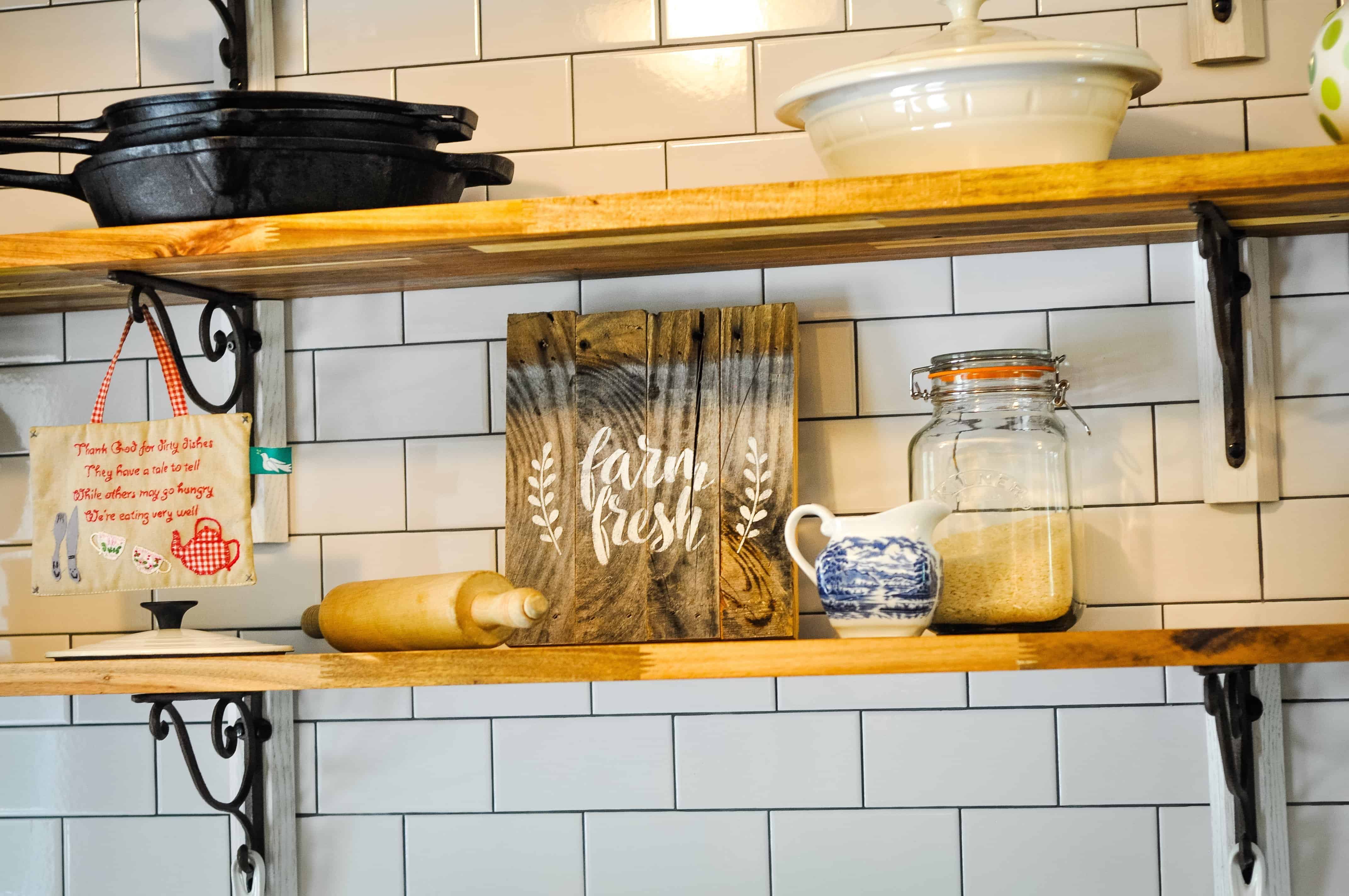 I'm having so much fun arranging all the elements on these shelves! I'm trying really hard to combat the clutter monster… not my strong point. I really want the shelves to look styled, not cluttered. Any suggestions are appreciated!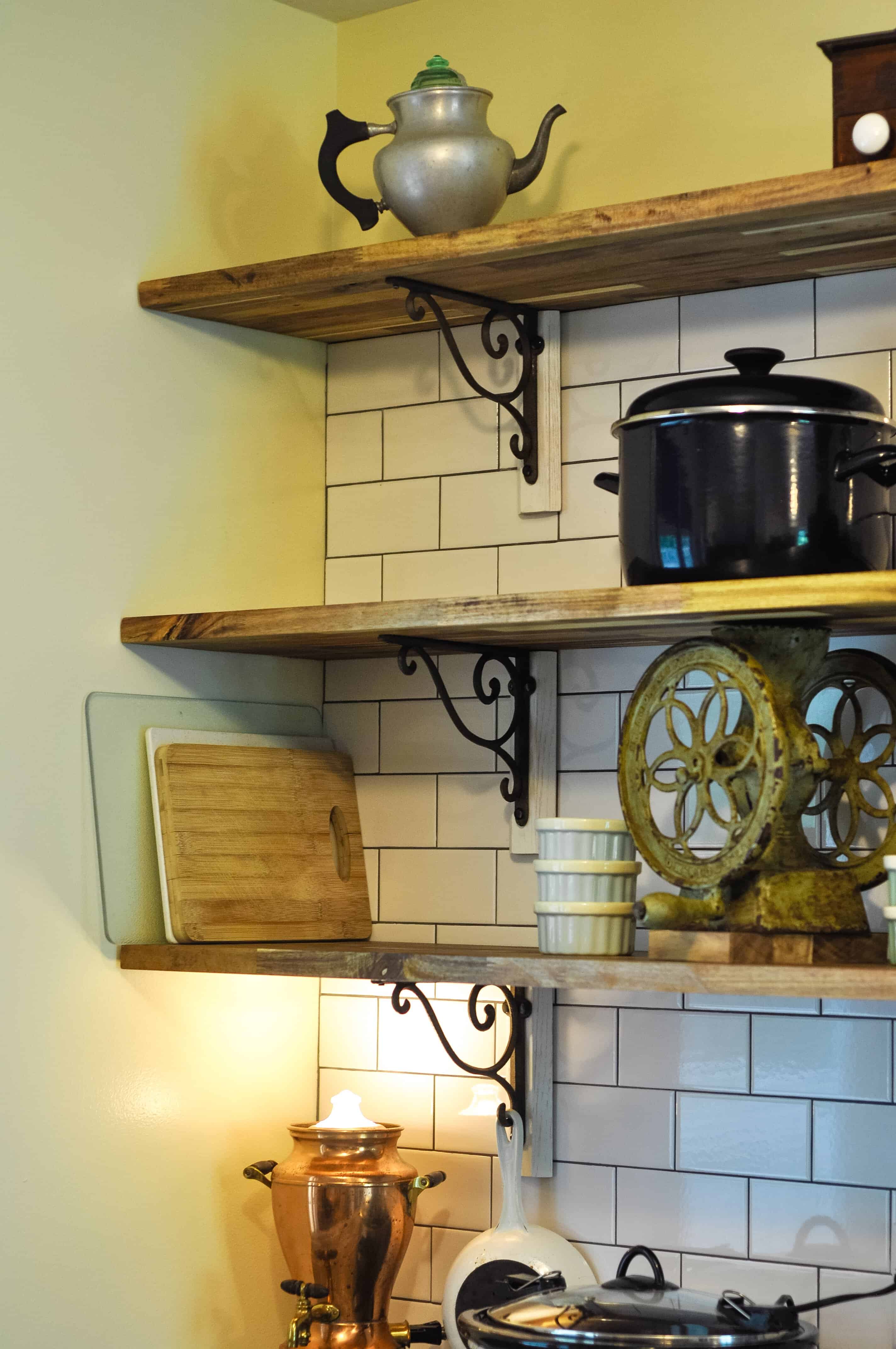 It's also a fun way to display our random collection of antique kitchen items – like coffee and tea pots, mint green cast iron coffee grinder, and the copper vessel-turned-lamp. (Did I mention Richard makes lamps out of basically anything?)
I desparately wanted one of those big, white, ceramic farmhouse sinks. But we found it simpler and more practical to get this undermount stainless steel one, and I'm not sorry. It will definitely be easier to keep clean.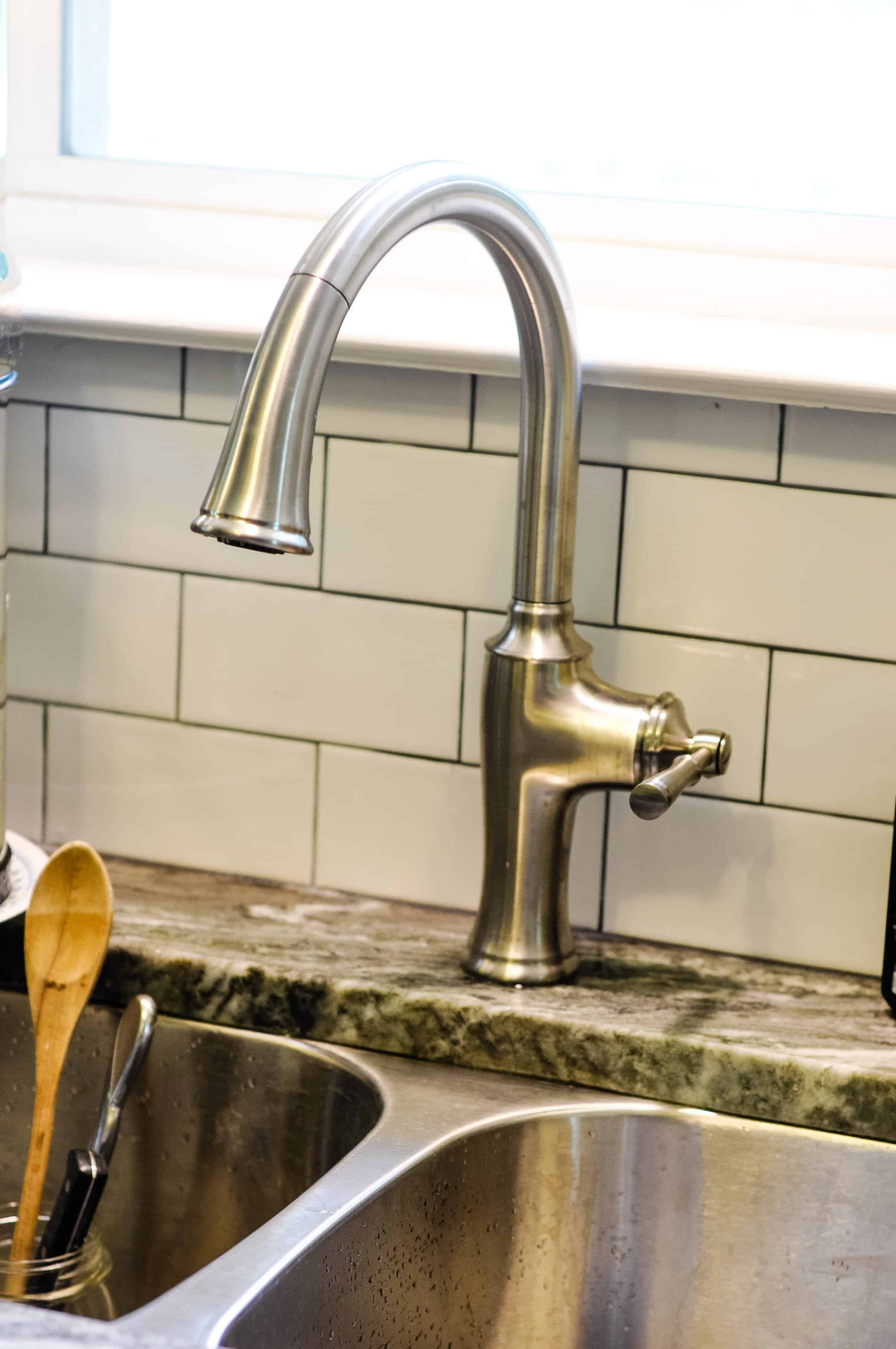 And I'm in love with our new Moen faucet – not too modern, with a bit of a vintage.
Our kitchen is always a little messy, cluttered with various appliances and usually at least a couple things cooking or soaking at any given time.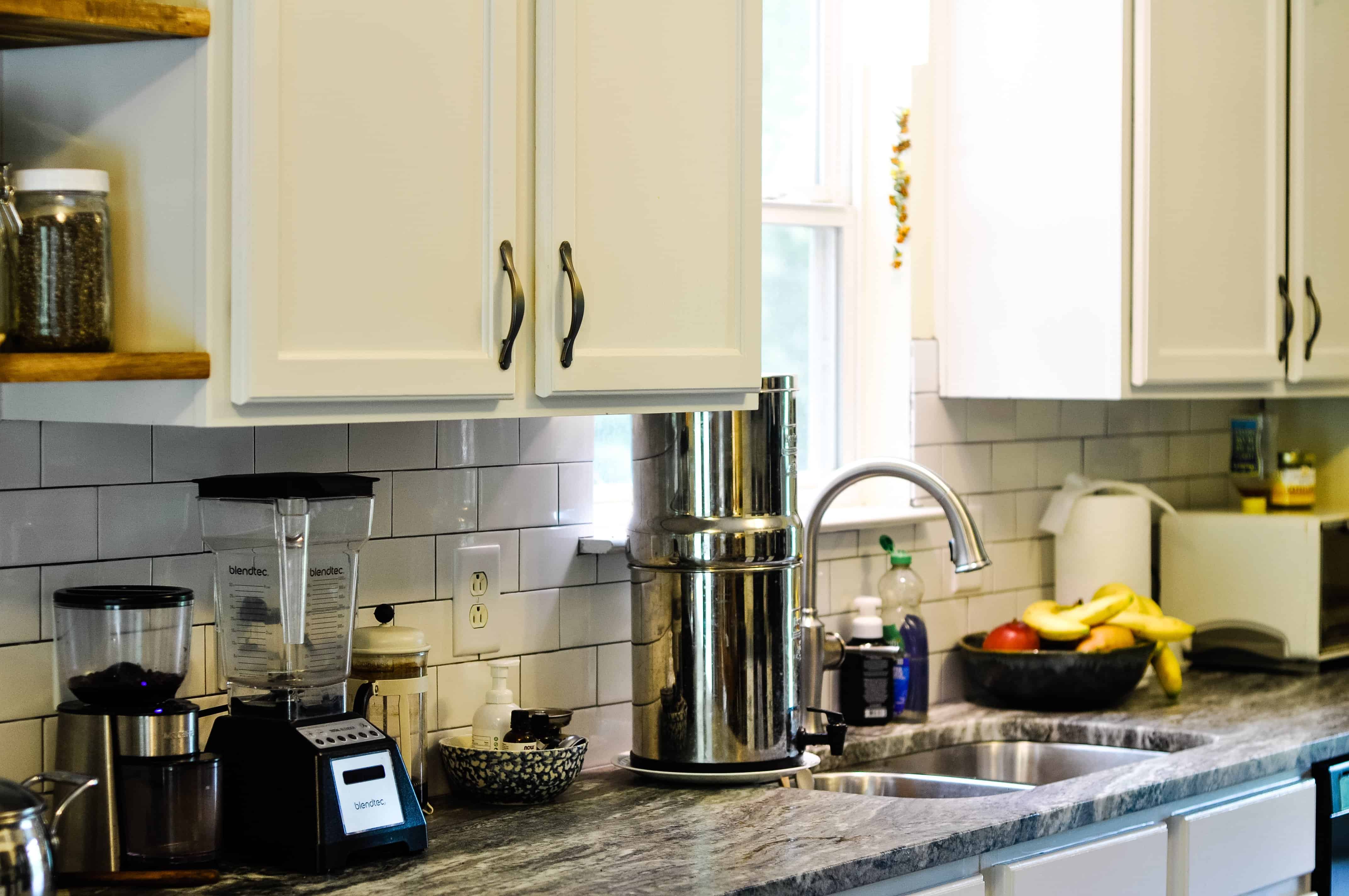 But hey, that's us. That's home.
My favorite country recipes to make in my new kitchen:
What does your dream kitchen consist of? Any "country kitchen" decorating ideas to share?
PIN IT!