Be prepared to make this roasted broccoli salad over & over again once you try it! Roasted broccoli combines with salty crispy bacon, crunchy pecans, sharp red onion, and the most delightful tangy-sweet dressing to keep you coming back for more.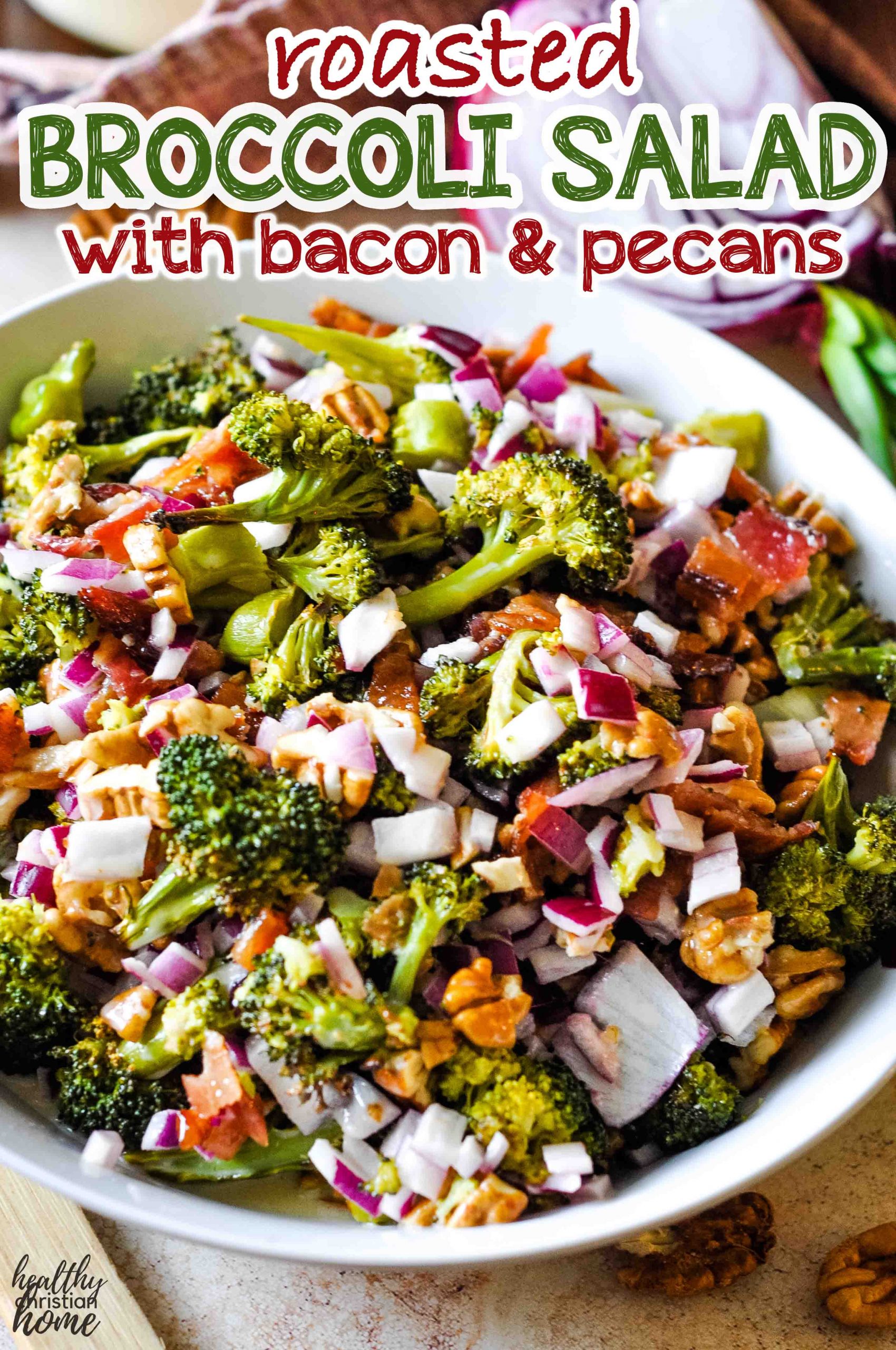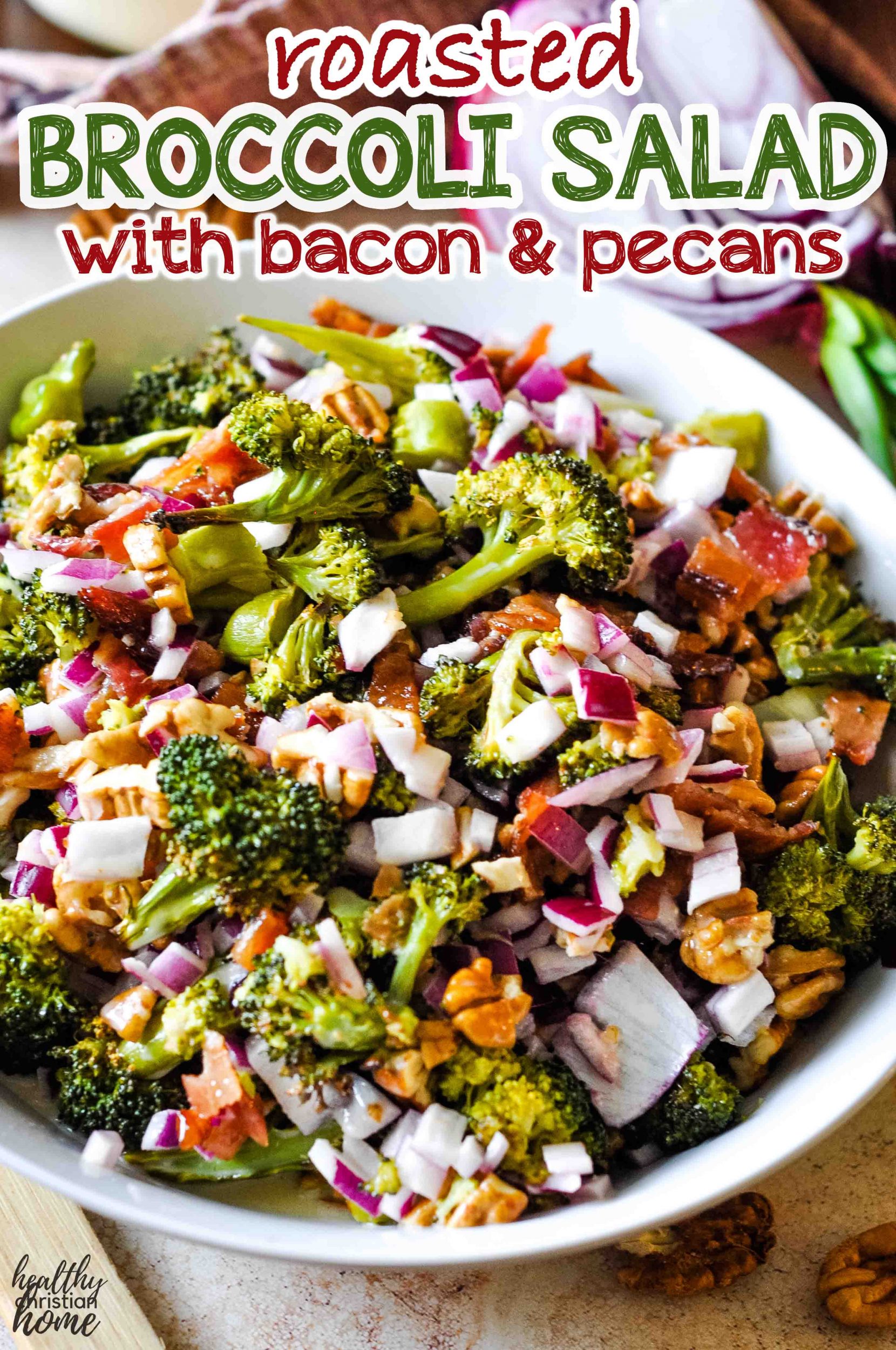 It's pretty unusual for me to go back for seconds at a church potluck meal. My plate is typically so loaded down with homemade casseroles and the like, and by the time I'm finished, I'm too full to eat more.
But one day, I tried the most divine broccoli salad made by a sweet lady in our congregation, and it has to be one of the best salads I've ever eaten. So of course, I had to go back for seconds.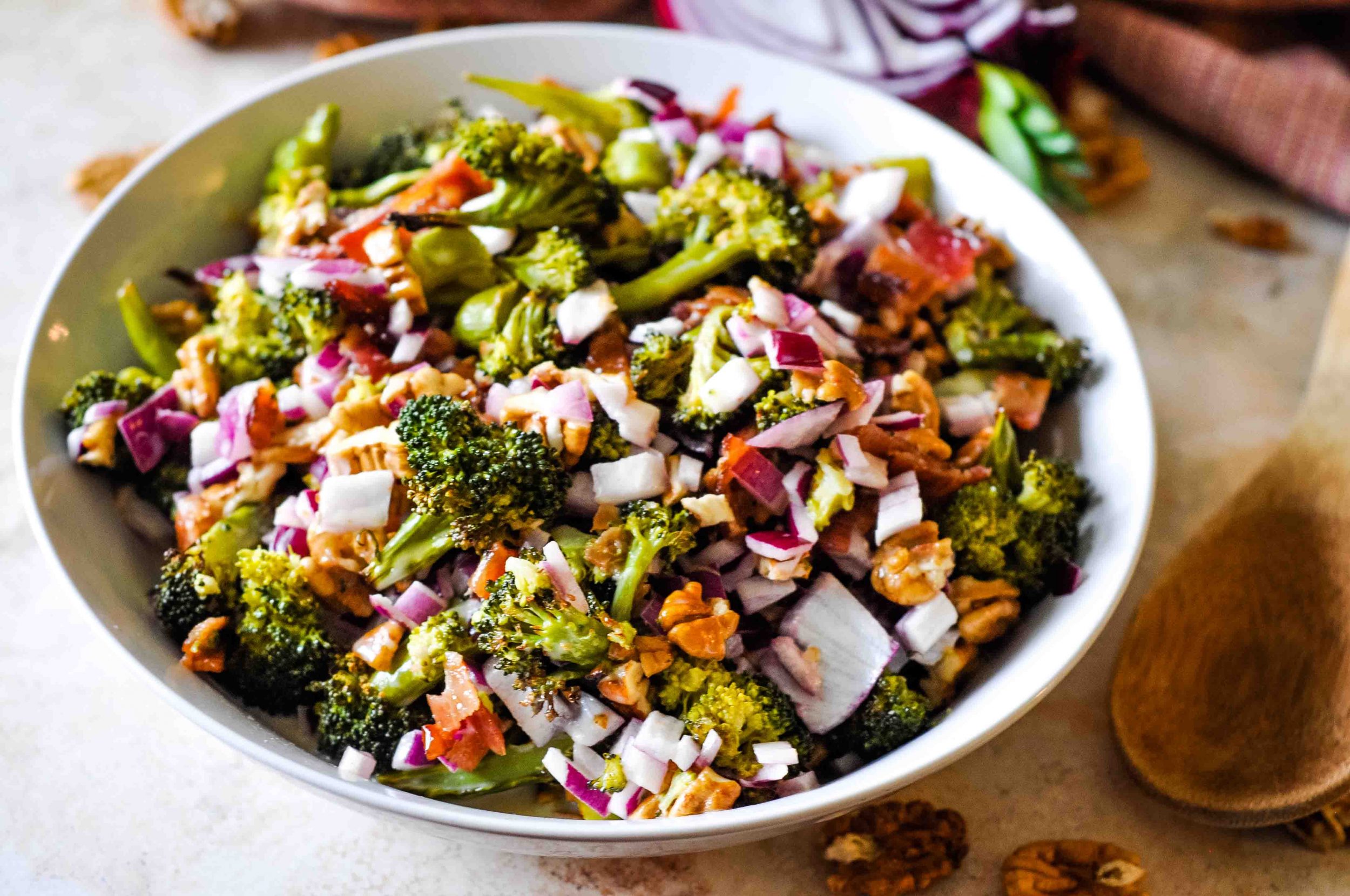 I mean, it's salad, so that makes it okay. Right??
And then of course I had to ask her for the recipe, because I couldn't do without this salad in my life. And neither can you.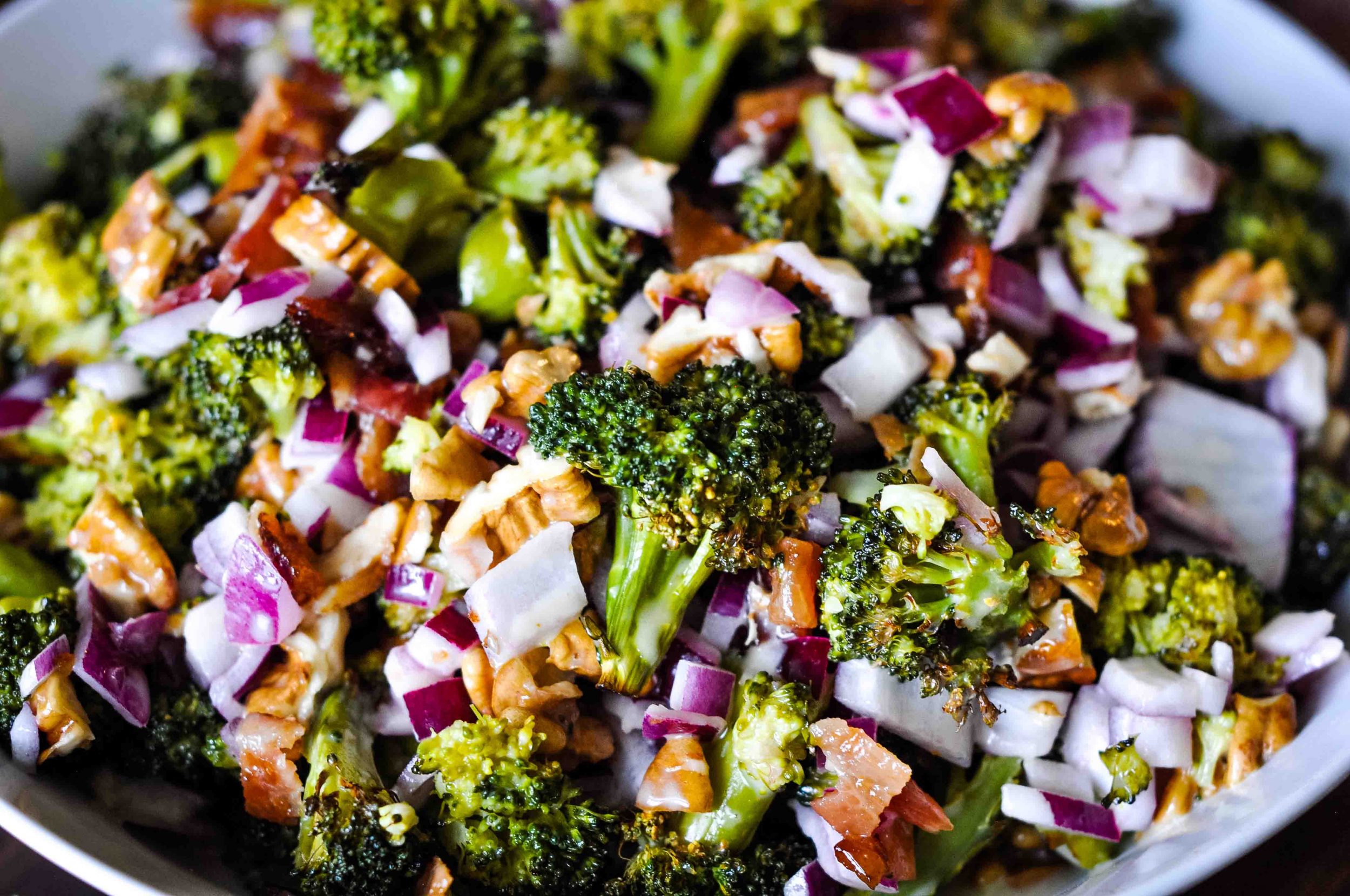 Simple Swaps for a Healthy Broccoli Salad
I did make a couple of tweaks to the original recipe to make it a tad healthier.
The base original broccoli salad recipe includes broccoli flowerets (obviously), purple onion, pecans, and bacon. These ingredients remain unchanged, with one small tweak.
While many broccoli salads use raw broccoli, I prefer roasted or cooked broccoli to make it even healthier. Since broccoli is a goitrogen (contains chemicals that may suppress thyroid function in sensitive individuals), these chemicals are deactivated when cooked which makes it the healthiest way to consume broccoli.
Plus roasting gets the broccoli all crispy and caramalized and smokey, adding such a wonderful flavor element to the salad. Simply delicious!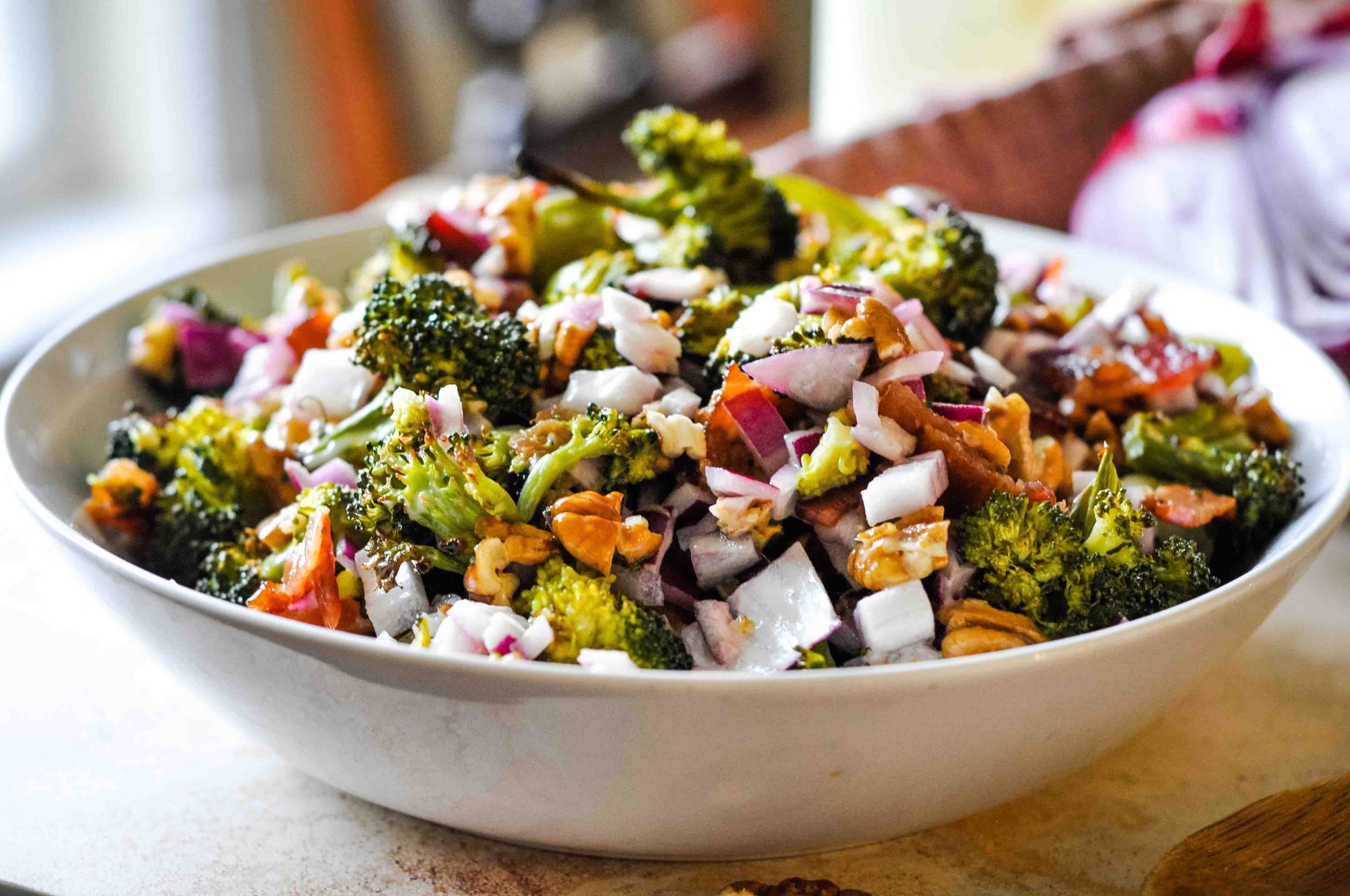 The original dressing for the broccoli salad is made from mayonnaise, sugar, and apple cider vinegar. To health-ify it, I did the following:
Homemade mayonnaise. Typical store bought mayo is loaded with inflammatory vegetable oils (to learn more on why these oils are bad for us, read Deep Nutrition by Dr. Cate Shanahan.) I absolutely love the homemade mayo recipe from Don't Waste the Crumbs – it's made using light olive oil, takes 2 minutes to make, and tastes incredible!
Honey. Anytime I can use honey instead of sugar, I always do! It's so much better for you and is filled with minerals and enzymes. You can also use less of it since it's a bit sweeter than sugar.
I also reduced the amount of mayo and sweetener in the dressing, because I felt the didn't need a ton of dressing (it's already so flavorful). This reduces the caloric load.
Another thing I love about this dish is that it's a great winter salad, perfect for serving in the colder months when fresh lettuce and tomatoes aren't as abundant.
More salad recipes to try:
How to Make Roasted Broccoli Salad with Bacon & Pecans
The star ingredients in this salad are broccoli and bacon, obviously. And both of these guys get roasted together in the oven to make prep super simple.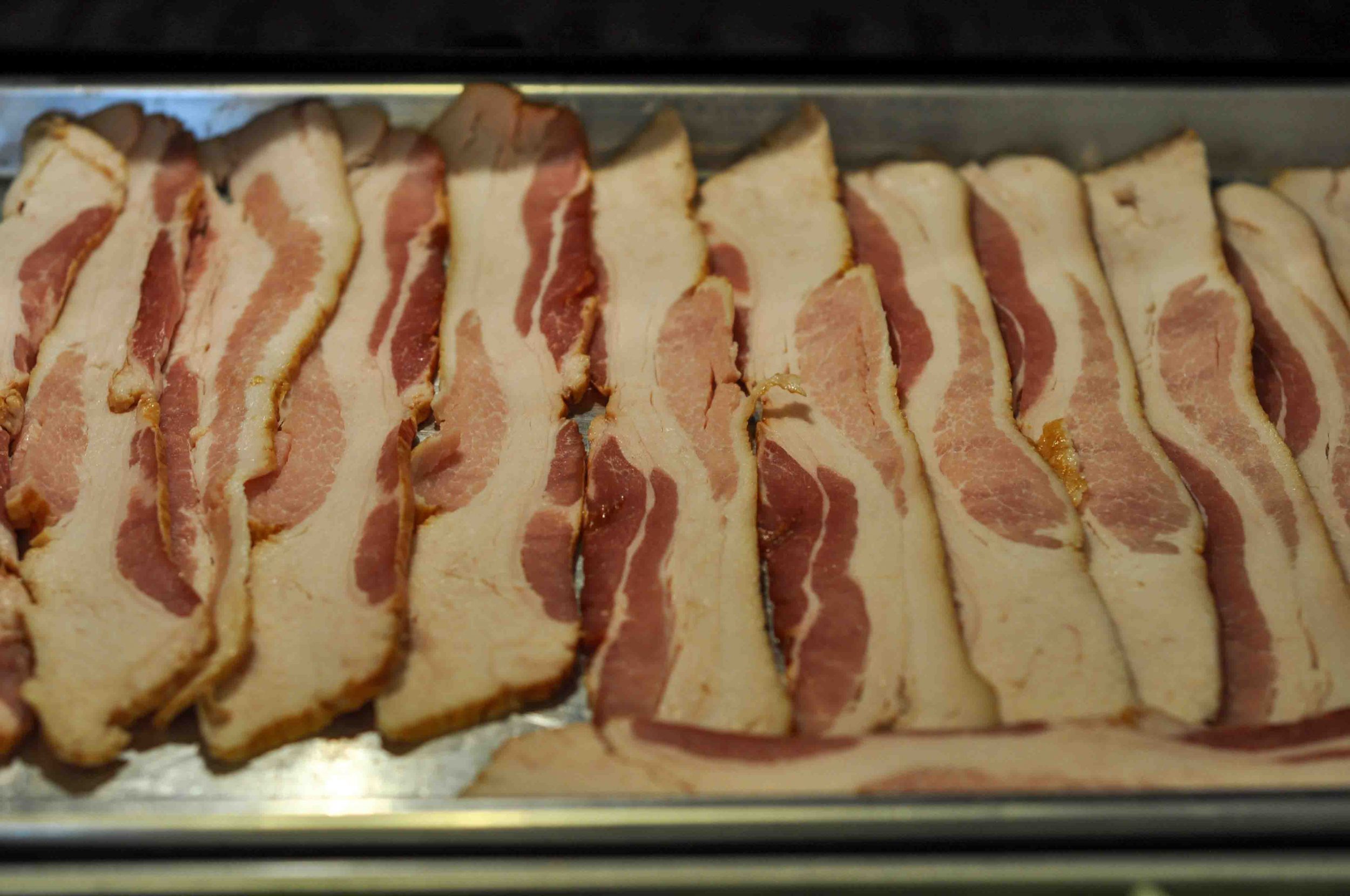 In my opinion, the easiest way to cook bacon is to lay it out on a large baking sheet and bake until crispy. No standing over a hot skillet and stirring or flipping. But if that's your preferred method, go for it.
Alongside the baking sheet of bacon is another baking sheet filled with chopped broccoli flowerets. I used 2 heads for this recipe, drizzled with olive oil and a sprinkle of salt.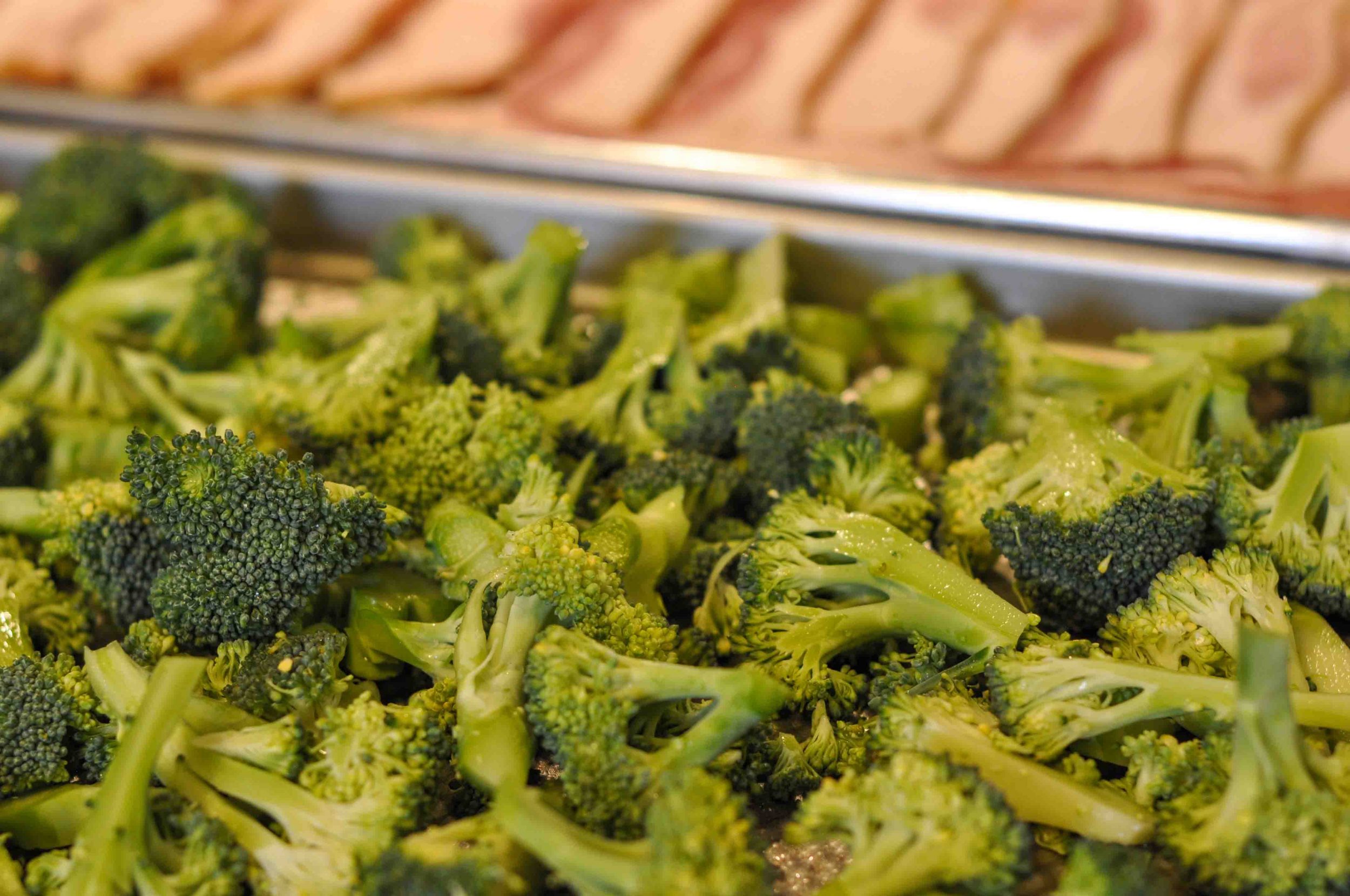 Roast the broccoli and bacon for around 20 minutes, or until it's starting to look slightly brown and the edges are crispy and the bacon is looking crispy too. Allow to cool.
While it's cooling, you're going to make this incredible tangy-sweet dressing. It really takes this salad over the top!
Add mayonnaise, honey, and apple cider vinegar to a bowl or jar and whisk until combined. Remember, I love using Don't Waste the Crumbs homemade mayo.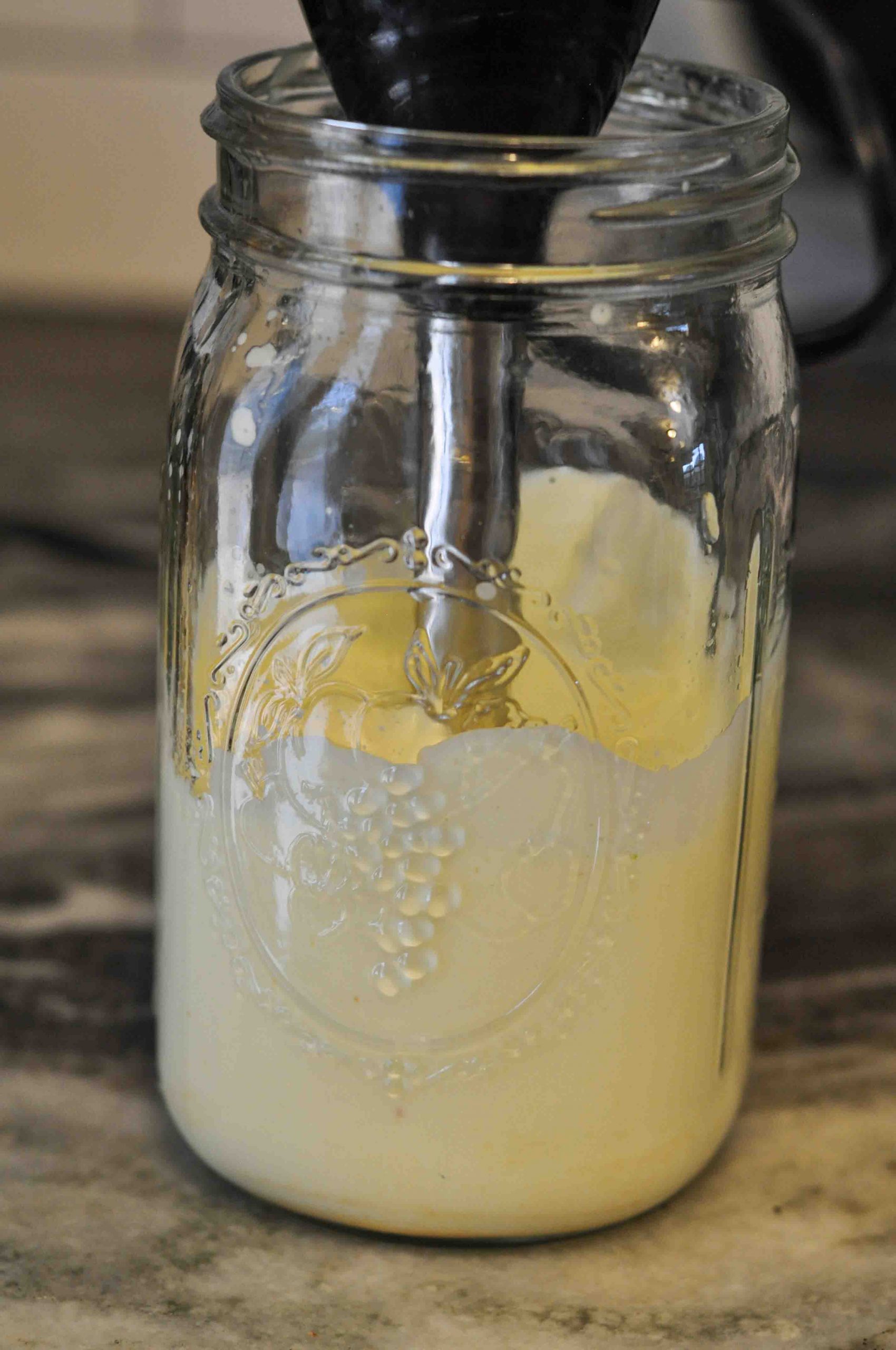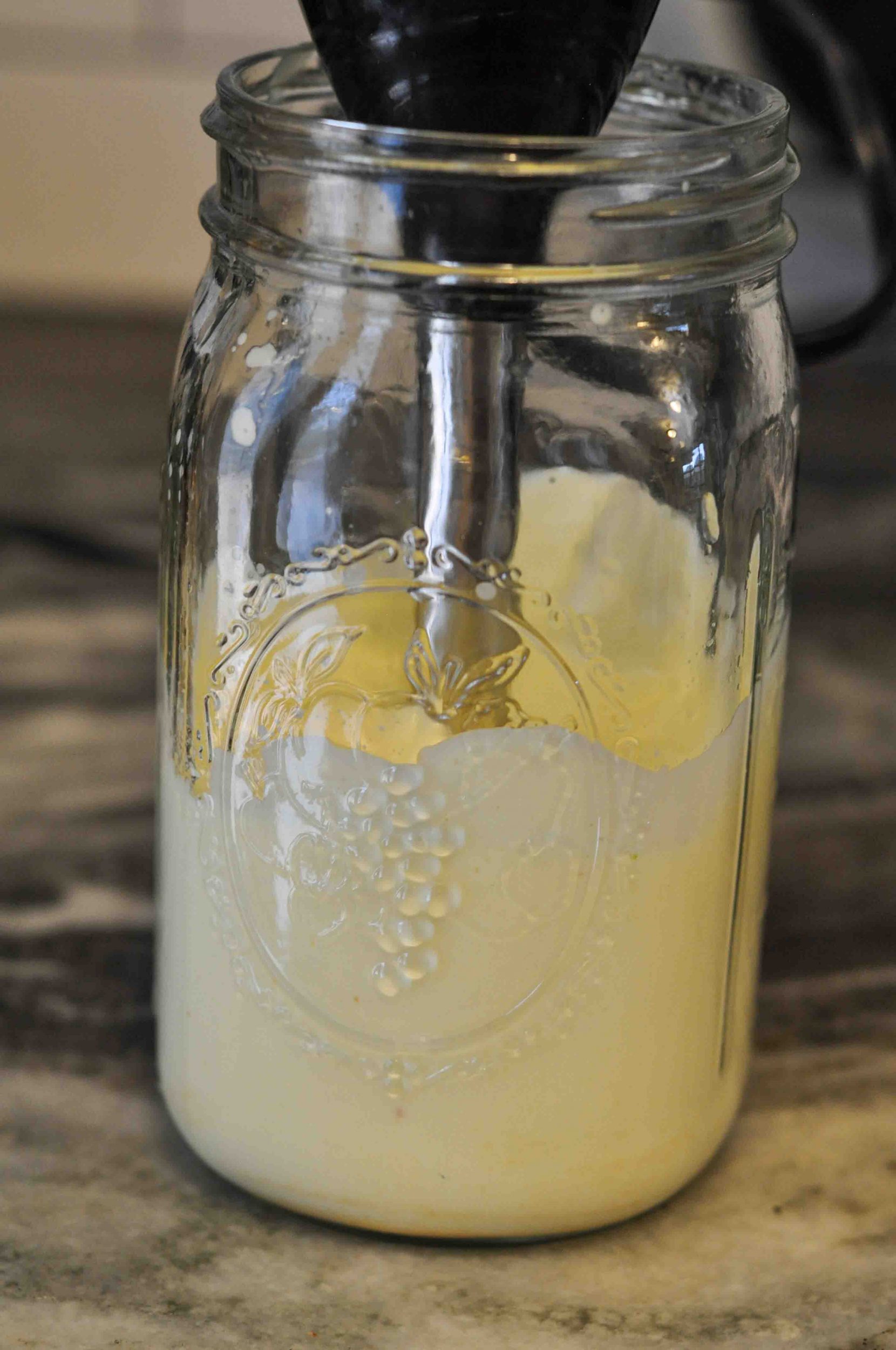 Then, chop some red onion and pecans and add to a large bowl. If you like, you can toast the pecans beforehand (just throw them on the baking tray with your broccoli). I chose to leave mine raw.
After broccoli and bacon have cooled, add them to the bowl, chopping or crumbling the bacon into small pieces.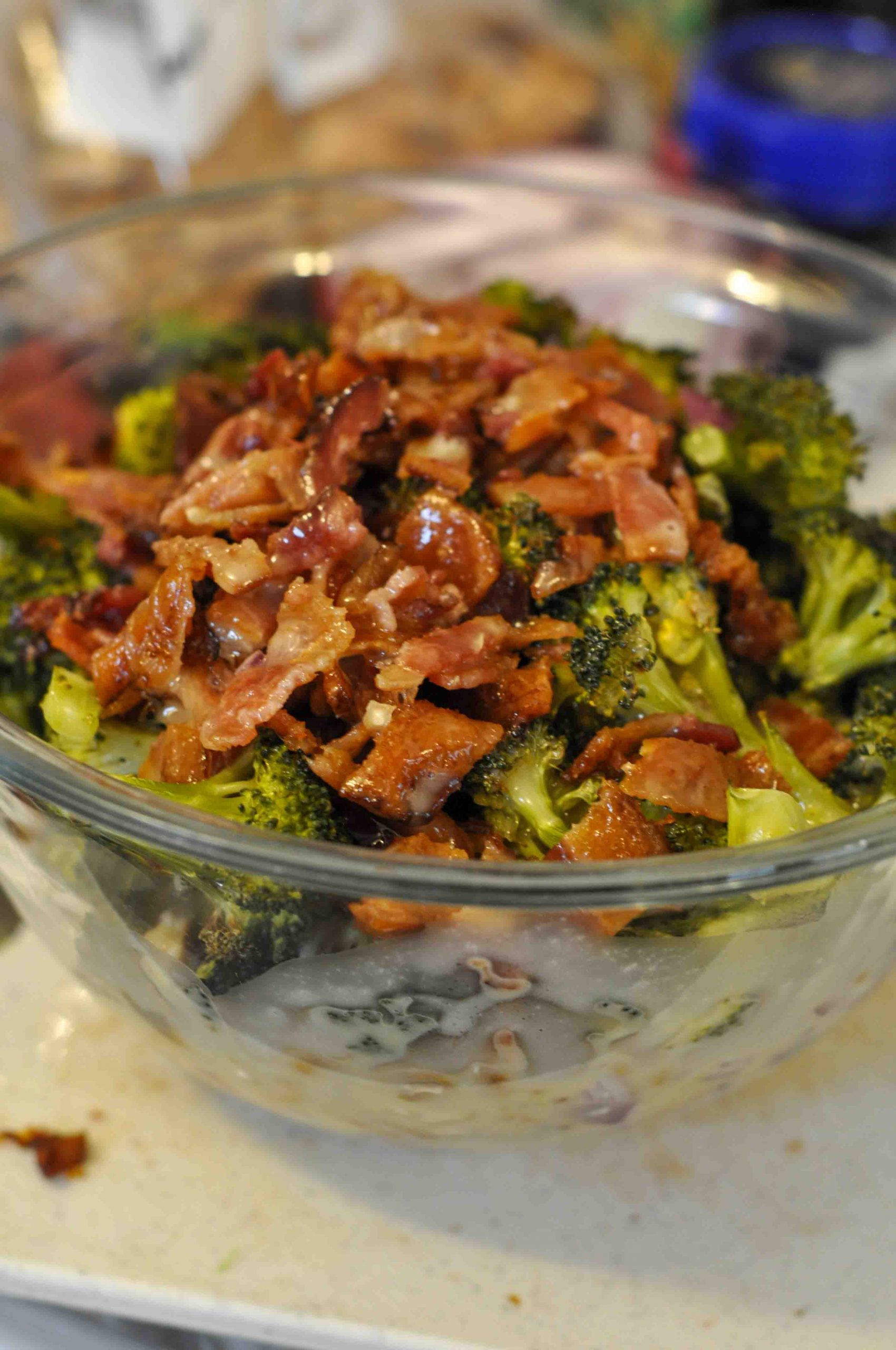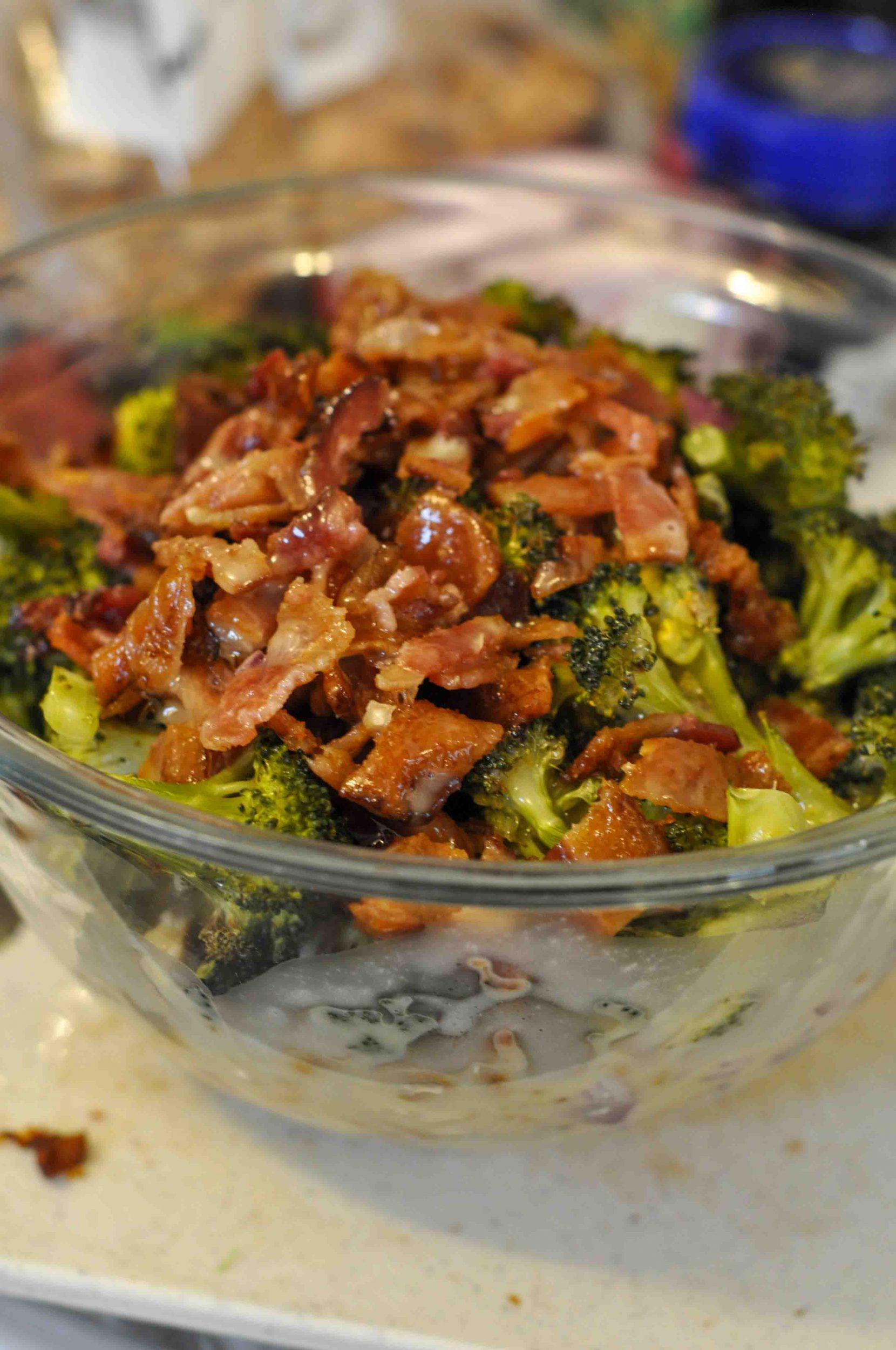 Pour the dressing on top of the salad and toss everything together. Remember not to add the dressing until just before serving to prevent the pecans from getting soggy.
Enjoy! This will be a huge hit at your next church potluck or family gathering.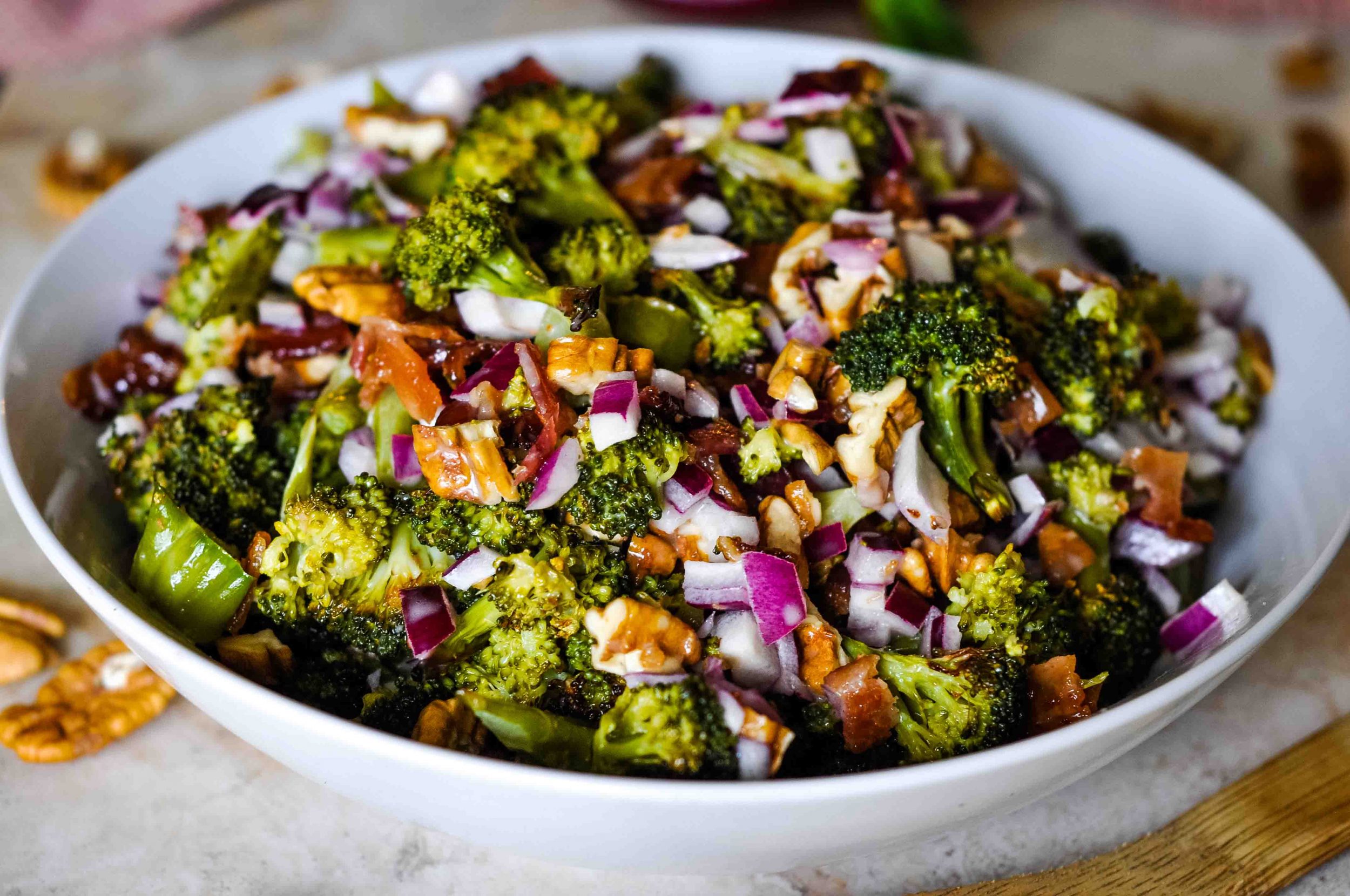 Best Broccoli Salad Recipe Variations
If you're feeling creative, here are some fun ways to change up this recipe:
Add different toppings to the salad. Pine nuts, crumbled feta cheese, dried cranberries, or pomegranate arils complement this dish beautifully.
Make this a keto broccoli salad by omitting the honey from the dressing.
Add 2 cups of your favorite cooked pasta to make a roasted broccoli pasta salad.
Make a roasted broccoli and cauliflower salad by adding a head of chopped cauliflower to the roasting pan too!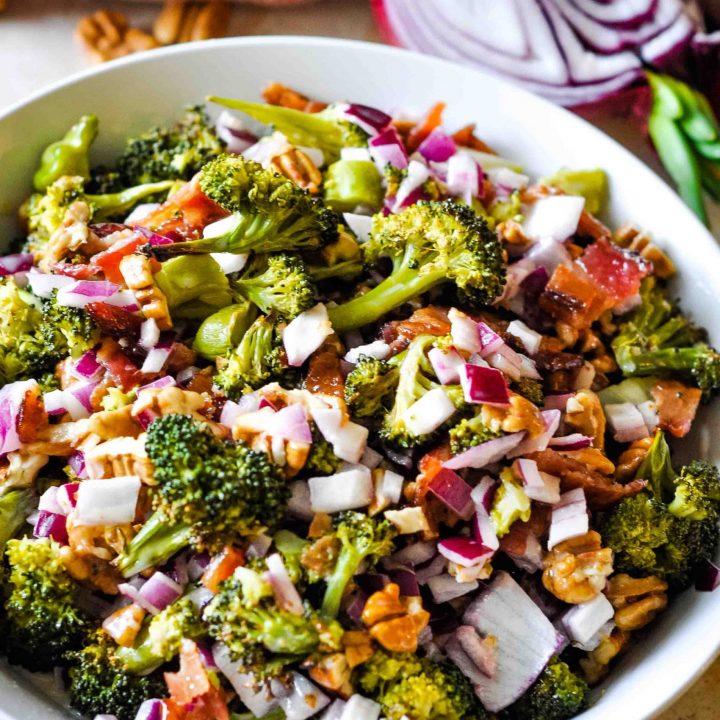 Yield: 10 servings
Roasted Broccoli Salad with Bacon & Pecans
Prep Time: 10 minutes
Cook Time: 20 minutes
Total Time: 30 minutes
Ingredients
2 heads broccoli flowerets, chopped
½ purple onion, chopped
1 cup pecans, chopped (raw or toasted)
7-8 slices bacon
Tangy Sweet Dressing
3/4 cup mayonnaise (preferably homemade) *
1/4 cup honey
2 tsp. apple cider vinegar
Instructions
Preheat oven to 400 F. On two separate baking trays, arrange bacon slices and chopped broccoli. Drizzle broccoli with olive oil and sprinkle lightly with salt & pepper.
Roast bacon and broccoli for 20 minutes, until bacon is cooked and broccoli is starting to get lightly brown and crispy. Allow to cool.
Chop purple onion and pecans, set aside.
In a bowl or jar, whisk together mayonnaise, honey, and apple cider vinegar to make the dressing.
To assemble the salad, layer broccoli, bacon, chopped onion and pecans in a large bowl. Pour dressing on top and toss to coat.
Serve immediately. If storing for later, keep dressing separate and add to salad just before serving.
PIN IT!