Learning how to trust God is tough, especially when your feelings are going haywire. Find out three lies we often believe that are often based on feelings, and how to start trusting God instead.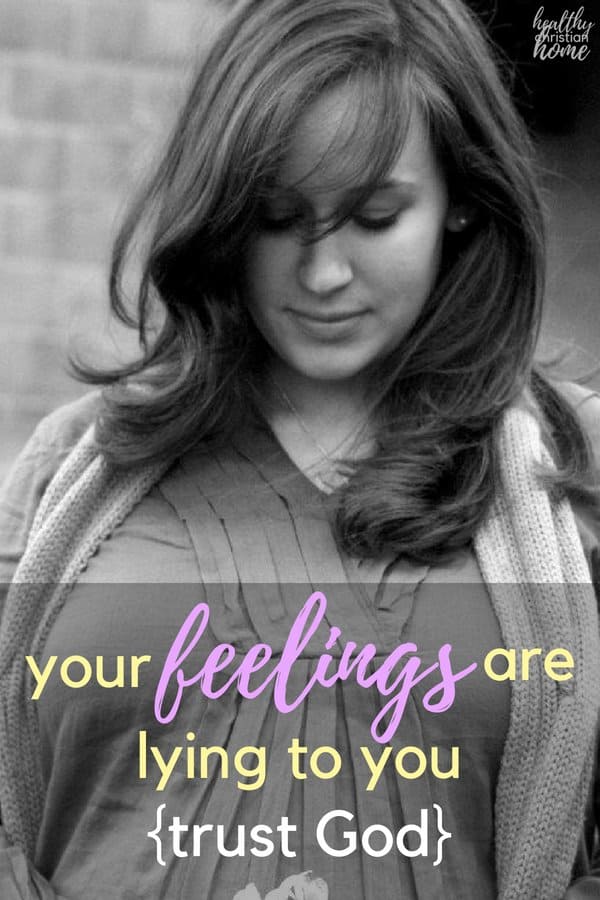 Your feelings are lying to you.
You feel like the world is flat, but it is round. You feel like you are standing still, but you're spinning lightning fast into space.
How feelings lie to us as humans
In like manner, feelings about life can be deceiving. Being wrong feels the same as being right – until you know better.
It might feel okay to hurt someone because you've been hurt. It might feel okay to lie, depending on the situation. It's easy to see how letting feelings run our life can quickly run it into the ground. Sadly, we see evidence of this every day in the news – people hurting other people because, to them, it feels right.
If you have no basis for what truth is, your entire life will be spent making decisions based on feelings.
But our feelings cannot be trusted by themselves. In fact, Jeremiah 17:9 says, "The heart is deceitful above all things, and desperately sick; who can understand it?"
If you don't have a guidebook for life, how can you know what is true and what is not? It is much easier to not let your feelings guide you when you trust God and are spending time in His Word, the ultimate truth. "Sanctify them by the truth. Your Word is truth" (John 17:17).
Related post: How to Really Trust in the Lord with All Your Heart
It's so easy to let the emotions we feel to become our reality, but we need to be careful! Satan can use them to discourage us or endanger us spiritually.
Instead, we must allow God's Words to inform our feelings.
Examples of Feelings vs. Truth in Scripture
Let's explore a few feelings we experience in life that are actually lies – and what God's truth is to replace these lies.
"I'll never get out of this mess. Things will never change."
If you're in the middle of a personal crisis – whether physical, mental, or emotional – it's hard to imagine being on the other side of it. We tend to think based on how we are feeling in the moment, but God wants us to base our thoughts on His words.
God says we can do all things through His strength, that nothing is too hard for him, and that He has great plans for us. "Is anything too hard for the Lord?" (Genesis 18:14).
You never know the plans God has for you, or how He is working in your life! Keep on keeping on.
"I keep trying but nothing is working. There is no hope for me."
Have you been there? That moment when you have tried so many methods to fix a problem and are out of solutions, with no end in sight to the suffering?
The writer of Lamentations was in a place of wanting to give up. He says, "My soul is bereft of peace; I have forgotten what happiness is." The only thing he has to cling to is his hope in the Lord — but what a thing to cling to! He goes on to say,
But this I call to mind, and therefore I have hope: the steadfast love of the Lord never ceases, His mercies never come to an end. They are new every morning; great is Your faithfulness. "The Lord is my portion" says my soul, "therefore I will hope in Him."
We must choose to hope in the Lord even when we cannot see or fathom an answer to our problem.
When we have exhausted all the avenues we know of to fix our problem and come to the place where it's hard to remember ever feeling good – trust God. He is there.
He is all-knowing and already has the problem worked out. He alone can provide the peace that passes understanding.
"I'm happy, so I must be doing the right thing. God wants me to be happy."
True, God does want you to experience happiness. Jesus said, "I came that they may have life and have it abundantly" (John 10:10). But more than temporary happiness in this life, Jesus is interested in your eternal happiness.
If you're a parent, you understand the concept of temporary vs. long term happiness perfectly . What's more important to you – your child's temporary happiness eating junk food every day, or their long term health and happiness by denying the cravings and eating healthy?
It's the same with us and God. We may feel happy doing something in the moment, but if it's gonna hurt us long term, God doesn't want that. Measure your life against the pages of Scripture. Are you living in a way that promotes your eternal happiness?
Let's look at an example of how feelings can deceive in the Bible, Matthew 7:21-24.
Not everyone who says to me, 'Lord, Lord,' will enter the kingdom of heaven, but the one who does the will of my Father who is in heaven. On that day many will say to me, 'Lord, Lord, did we not prophesy in your name, and cast out demons in your name, and do many mighty works in your name?' And then will I declare to them, 'I never knew you; depart from me, you workers of lawlessness.'
Jesus says that at the judgment, there will be people who feel like they are so close to Him – yet he does not know them. Why? Look at the next verse. He specifies those who will be on a firm foundation: "Everyone then who hears these words of mine and does them will be like a wise man who built his house on the rock."
Who will be safe eternally? Everyone who hears Gods words and does them. Trust God by obeying what He says – it's that simple!
Take a moment to evaluate your life. Are you feeling stuck? Ignore it – God says He has great plans for you. Are you feeling hopeless? Remember, God promises to meet all your needs. Maybe you are the opposite – you feel happy, so you assume you are right with God. Spend time reading the Bible and make sure it's actually true!
9 Scriptures On Managing Emotions
Although I've included several examples of common feelings which are lies many people struggle with, your feelings are unique to you. The encouraging thing is, no matter what your feelings are, there are Scriptures to address them.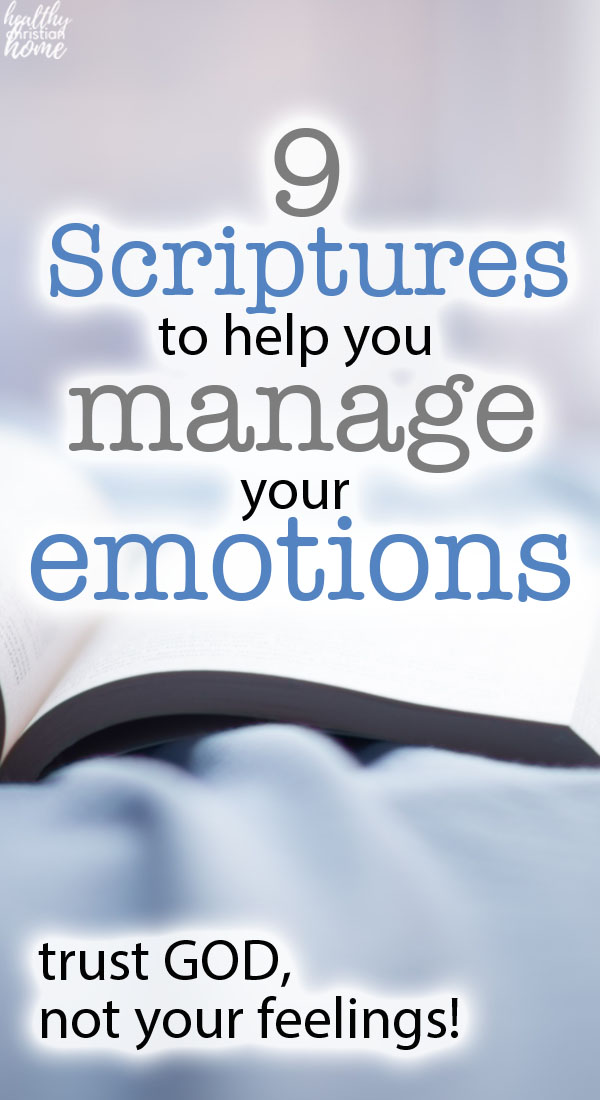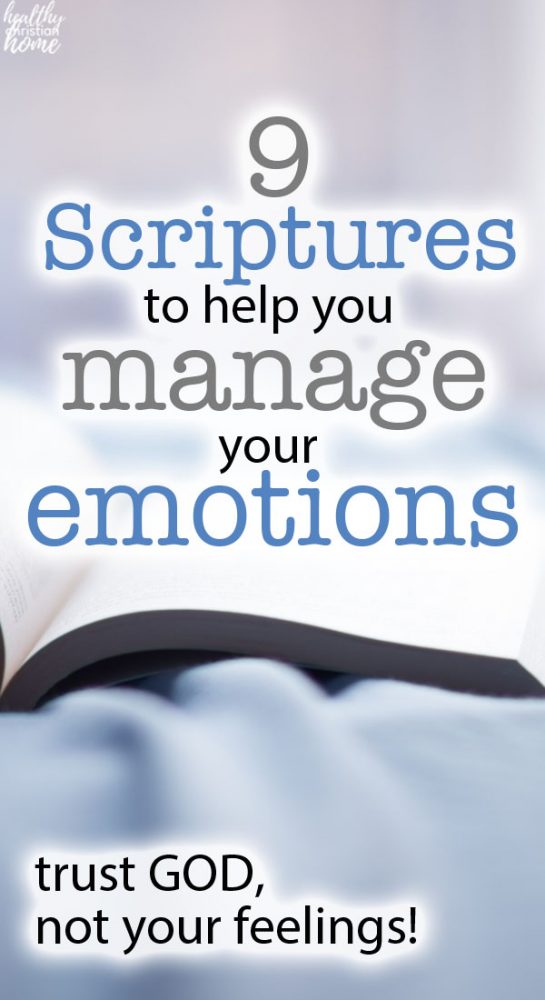 Dive deep into the bible and find out what God says about what you're struggling with! And, realize that God helps us manage our emotions through Scripture. Here are some encouraging verses to show this:
2 Corinthians 12:9-10
But he said to me, "My grace is sufficient for you, for my power is made perfect in weakness." Therefore I will boast all the more gladly of my weaknesses, so that the power of Christ may rest upon me. For the sake of Christ, then, I am content with weaknesses, insults, hardships, persecutions, and calamities. For when I am weak, then I am strong.
Romans 8:1-2
There is therefore now no condemnation for those who are in Christ Jesus. For the law of the Spirit of life has set you free in Christ Jesus from the law of sin and death. 
James 1:2-5
Count it all joy, my brothers, when you meet trials of various kinds, for you know that the testing of your faith produces steadfastness. And let steadfastness have its full effect, that you may be perfect and complete, lacking in nothing. If any of you lacks wisdom, let him ask God, who gives generously to all without reproach, and it will be given him.
James 5:10-11
As an example of suffering and patience, brothers, take the prophets who spoke in the name of the Lord. Behold, we consider those blessed who remained steadfast. You have heard of the steadfastness of Job, and you have seen the purpose of the Lord, how the Lord is compassionate and merciful. 
1 Peter 5:5-7
All of you, clothe yourselves with humility toward one another, because,"God opposes the proud but shows favor to the humble." Humble yourselves, therefore, under God's mighty hand, that he may lift you up in due time. Cast all your anxiety on him because he cares for you.
Colossians 3:1-5
Since, then, you have been raised with Christ, set your hearts on things above, where Christ is, seated at the right hand of God. Set your minds on things above, not on earthly things. For you died, and your life is now hidden with Christ in God. When Christ, who is your life, appears, then you also will appear with him in glory. Put to death, therefore, whatever belongs to your earthly nature: sexual immorality, impurity, lust, evil desires and greed, which is idolatry. 
Galatians 5:16-17
So I say, walk by the Spirit, and you will not gratify the desires of the flesh. For the flesh desires what is contrary to the Spirit, and the Spirit what is contrary to the flesh. They are in conflict with each other, so that you are not to do whatever you want.
Psalm 121:1-4
I lift up my eyes to the mountains— where does my help come from? My help comes from the Lord, the Maker of heaven and earth. He will not let your foot slip— he who watches over you will not slumber; indeed, he who watches over Israel will neither slumber nor sleep.
2 Thessalonians 2:15-17
So then, brothers and sisters, stand firm and hold fast to the teachings we passed on to you, whether by word of mouth or by letter. May our Lord Jesus Christ himself and God our Father, who loved us and by his grace gave us eternal encouragement and good hope, encourage your hearts and strengthen you in every good deed and word.
My top tip for how to live for God, not your feelings?
Start a journal. This is my favorite way to process and understand my feelings and inform them with truth. For me, sometimes I don't know what's bothering me or what lies I'm believing until I write my feelings down.
Prayer journaling really helps me see the big picture and what to pray/study about. I always write down my prayers, as if I'm writing a letter to God. Alternatively, you could also write journal entries of your thoughts.
Read my ultimate guide to prayer journaling to learn the process step-by-step!
This journal is perfect if you're a free-spirited writer and just want blank pages on which you can freely express your feelings.
This journal is great for those who want a more structured approach to a prayer journal. If you struggle to write down your feelings, this journal provides helpful prompts for you to do so.
Want a resource to encourage you as you learn how to trust God instead of your feelings?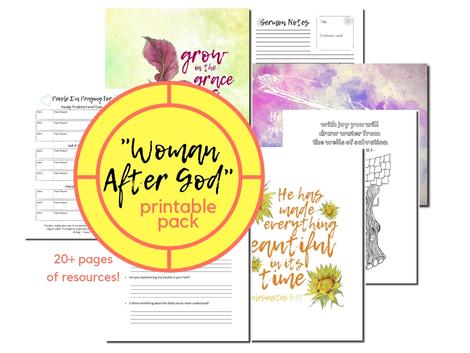 If so, I know you'll benefit from the "Woman After God" printable pack. It is the perfect resource for any woman who is chasing God.
With 20+ pages of resources, you'll learn to study the Bible effectively, answer deep burning spiritual questions, dive deep into the realm of prayer, and be encouraged with inspirational Scripture art.
This printable pack includes the "What Should I Study?" guide, which holds your hand teaches you exactly how to create a study plan based on your questions. Also included is a real-life study example, so you can watch the process unfold step-by-step.
It also includes prayer resources that will spark your communication with God and keep your dialogue going throughout the day.
If you ever think, "I want to grow closer to God, but I have no idea where to start," this printable pack will absolutely help.
When you live your life based on the Word of God instead of your feelings, "the truth will set you free" (John 8:32). You will trust God and be at peace despite your circumstances, because you know God's got your back.
Do you have any tips on how to trust God instead of your feelings?
PIN IT!