Do you have sensitive skin, or are you interested in learning how to make soap yourself? Try out one of these 30+ soothing homemade soap recipes! Each of these recipes is made with natural ingredients (no dyes or perfumes) that won't irritate your skin.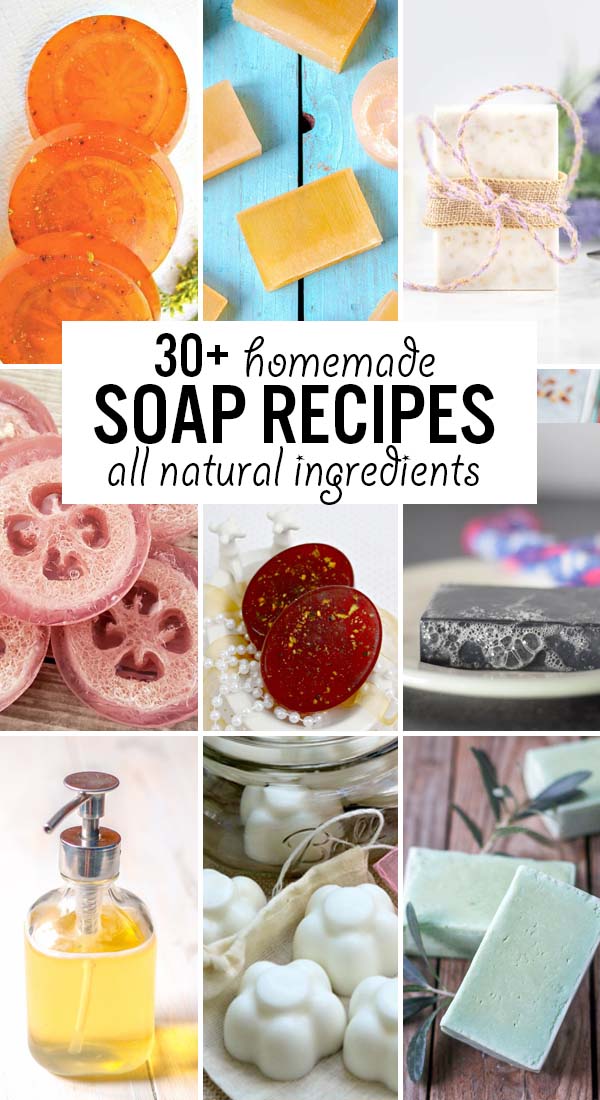 Why make your own homemade soap?
Shampoo. Conditioner. Shaving Cream. Soap. Body Wash. Face Wash. Shower gel. Is your shower stall as cluttered as mine? Buying each of these products on a regular basis can be pricey, especially if you like high-end products!
And if you've never looked at the ingredients on the shampoos, body washes, etc. that you buy, now is the time to start. Most of the commercial bath products in stores are chock full of parabens, sulfates, and other chemicals that disrupt your health.
Did you know that very few of the ingredients used in these products are checked for safety by the FDA? (source). And your skin absorbs these chemicals into your bloodstream. Ick.
This begs the question, are all those bottles of chemicals and tubes of creams really necessary? In many cases, all you really need is a good bar of soap with all natural ingredients. Even better if it's homemade!
I love a good homemade soap. We are blessed to have a neighbor who makes soap with milk from the goats on her small homestead and adds wonderful flavors and scents like lavender and even coffee!
And, although I love making DIY beauty products like homemade deodorant, magnesium body butter, and body lotion — I haven't yet dabbled in the world of homemade soap making.
So, I wanted to round up a group of wonderful homemade soaps from some of my favorite blogger friends for you to try. You're sure to find something to love in this post!
What is the soapmaking process like?
Basically, soapmaking involves combining the elements of fats (animal or vegetable) with a strong alkaline (usually lye) which creates a reaction called saponification.
The resulting product known for its ability to lather and cleanse is what we know as soap! But, there are different kinds of soapmaking ranging for super easy recipes (involving a melt and pour base) to more advanced (using individual oils and lye). If you decide to use lye, be careful because it can burn so you must follow the correct safety precautions.
Soapmaking supplies you'll need
To make your own soap, you'll need some basic supplies at the ready. Here are some good ones to have on hand:
All Natural Homemade Soaps
These soothing homemade soaps are made with all natural ingredients with no artificial dyes and perfumes. They're sure to leave your skin soft and clean with no irritation!
Best natural soap if you're not ready to DIY
Not sure if you're ready to make your own soap? Let me introduce you to my favorite source for all natural lather – Bend Soap Company's pure goat milk soap.
Here are the ingredients. Fresh raw goat's milk, Saponified Coconut, Olive, and Palm Oils, & essential oil. That it!
If you buy from their fragrance oil section, these will have a small amount of synthetic fragrance added. I try to stick to their Essential Oil soaps, as these are 100% pure.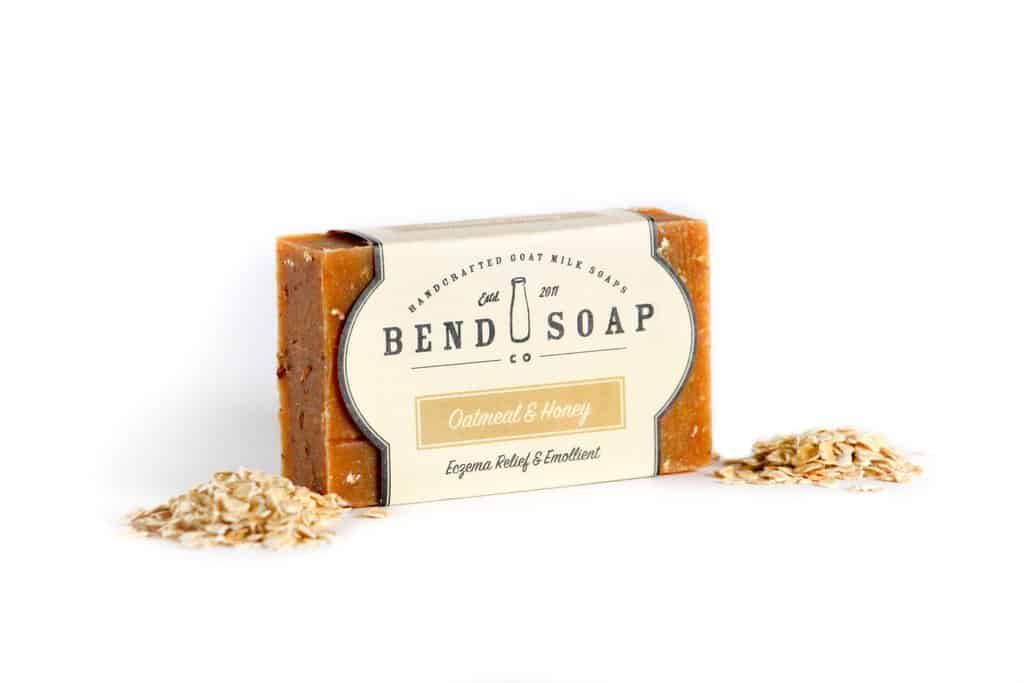 When I first found this soap, I was looking for something gentle to try as a shampoo. You see, I had been doing the "no-'poo" (no shampoo) method for several months, in which you use baking soda and apple cider vinegar to cleanse your hair.
I loved how much healthier my hair was (commercial shampoo strips hair of its natural oils), but since baking soda can be drying, it is only recommended to use every 4 days or less.
My hair would look great for a couple of days, and then…. well…. let's just say I got pretty good at putting my hair in a bun. So I decided to give goat milk soap a whirl, since one of my favorite bloggers had been using it as shampoo with great results.
Wow. I mean, wow. My hair was shiny and soft after the first wash, and has been ever since. And it lathers like a dream! Since this cheap all natural soap is so moisturizing, I don't need to worry about using it too much and drying out my hair.
Update: Since moving to different state, our new home has extremely hard water. Using the soap as a shampoo didn't quite cut it anymore, much to my disappointment. If you want to find out how I switched up my hair care routine, you can find out here.
I also decided to try this as my new face wash. I usually have pretty clear skin, but once a month I would break out. Using this soap, this is no longer a problem! My skin stays clear and NEVER feels dry!
Needless to say, I just LOVE the simplicity of only needing to pack one item in my shower bag when I go on a trip. And no more endless bottles cluttering up the shower. Click here to check out Bend Soap Company's goat milk soap!
By switching to all natural soap (either homemade or handmade from a small company), you will be healthier and save money on all those different concoctions you are buying. Double win!
What bath product can you not live without?
PIN IT!