Mega-spicy & savory with plenty of hot peppers, yet balanced with the addition of onion, garlic, & carrot, this fermented hot sauce will make your taste buds sing. Even better, it's filled with probiotic goodness since it's naturally fermented.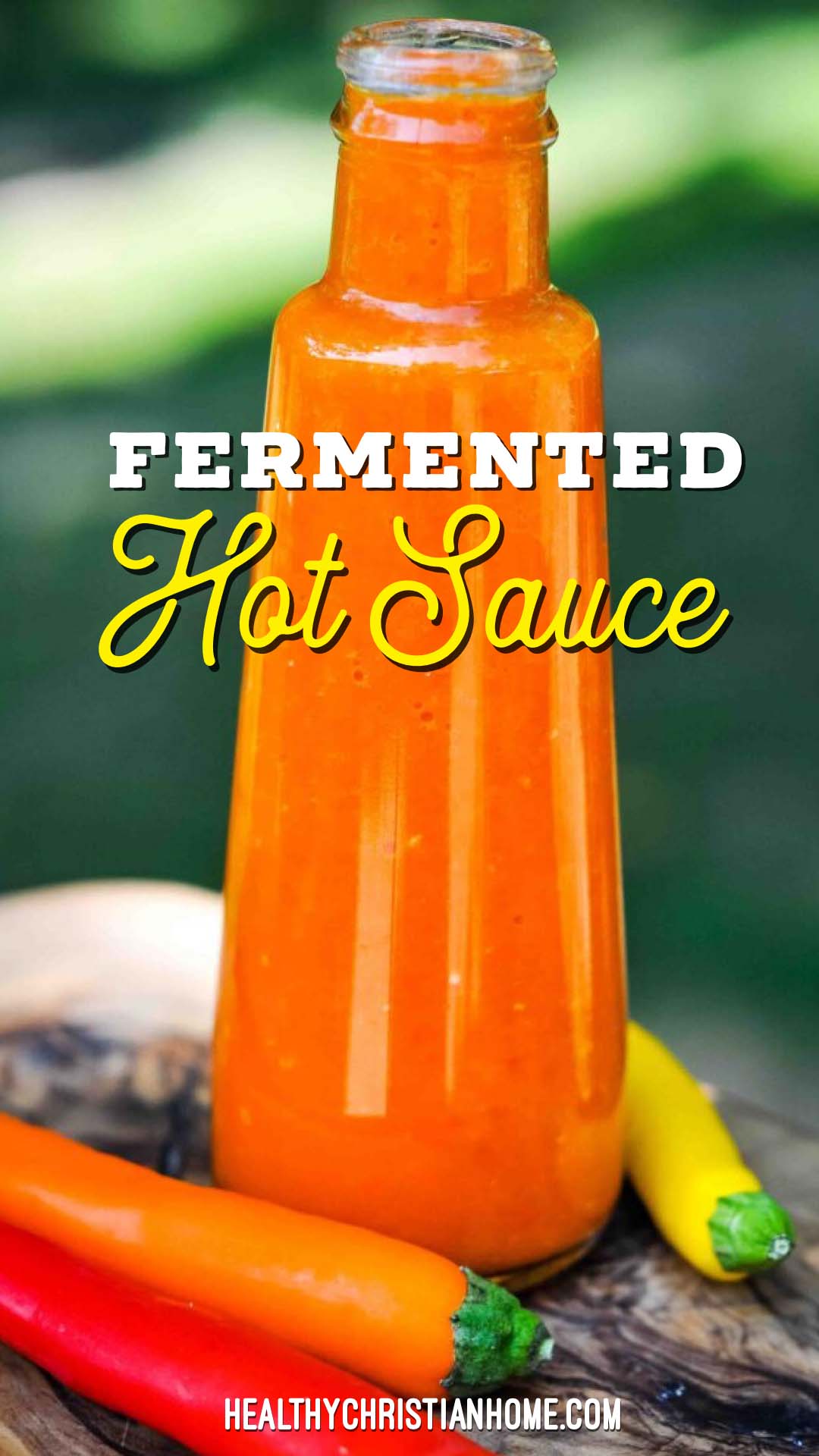 New journey of adding fermented veggies to our diet…
Our family tries to eat the Nourishing Traditions way as much as possible, and in the past couple of years we've learned to make homemade kefir, kombucha, and sourdough. It's been great for our gut health!
One thing that was missing? Fermented vegetables.
I'm not sure why saved this diet upgrade for last. Maybe I was a bit intimidated to make them? Afraid they'd go moldy? Turns out, there was nothing to be afraid of.
Fermented veggies are insanely easy to make, not to mention delicious. And, they go way beyond basic sauerkraut.
Since our family goes through hot sauce like gangbusters (wings night is a weekly occurrence in this house), I thought a big batch of fermented hot sauce was in order.
And let me tell you, this fermented hot sauce recipe does not disappoint!
It's so spicy, savory, and delicious, I'm definitely planning to make this regularly! Plus, I love that we get the added benefits of probiotics while slathering this sauce on our homemade chicken wings.
Why do you ferment hot sauce? Is fermented hot sauce better?
Let's talk fermented vs. unfermented hot sauce. As far as health benefits, fermented sauce is so much better for you than the vinegar-y heat processed kind.
This is because all the beneficial bacteria and heat-sensitive vitamin C are killed during the canning process with all the vinegar and boiling at high temps.
In contrast, fermenting the peppers actually enhances their vitamin content AND increases all the gut-friendly probiotics. Double win!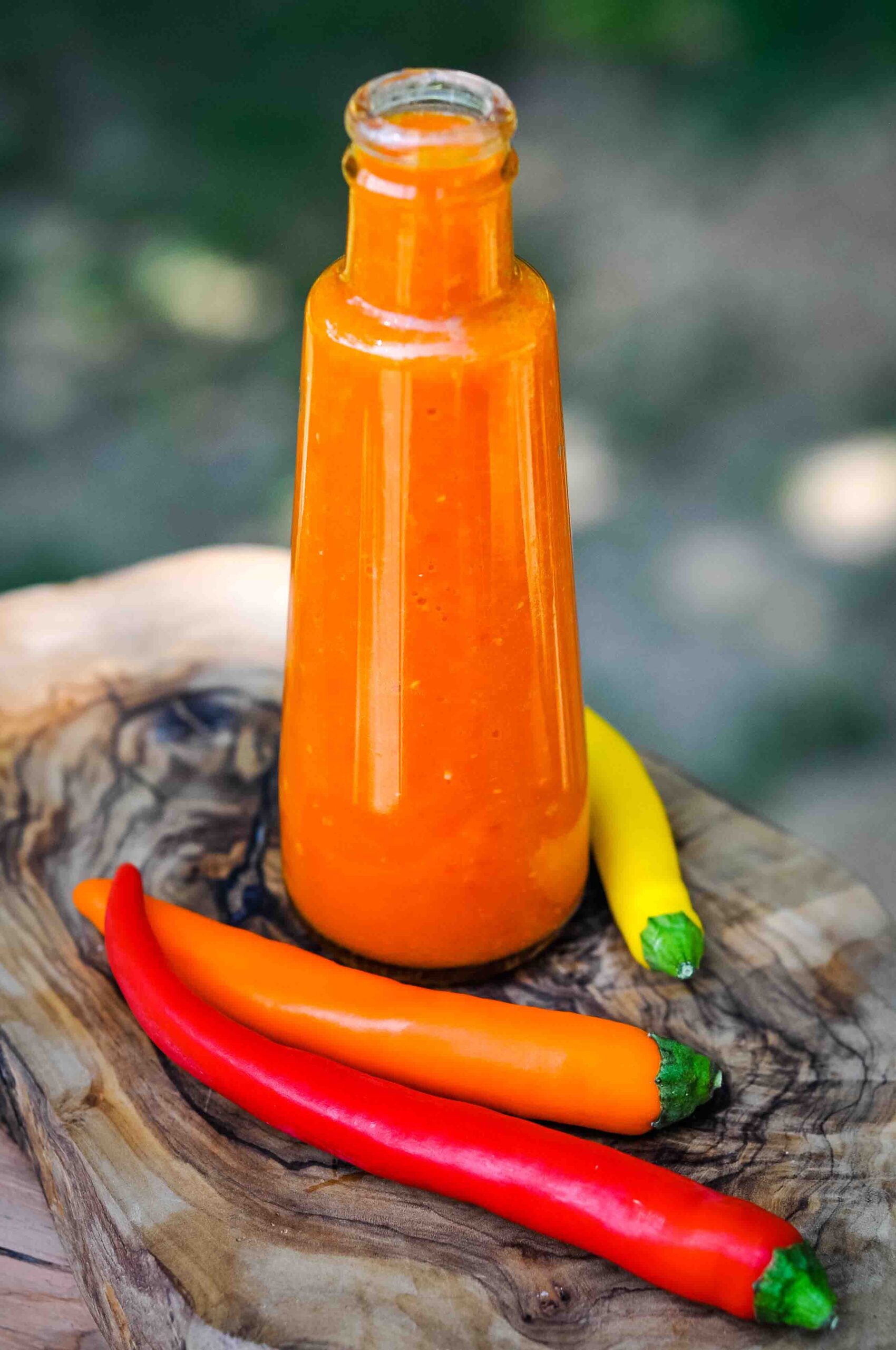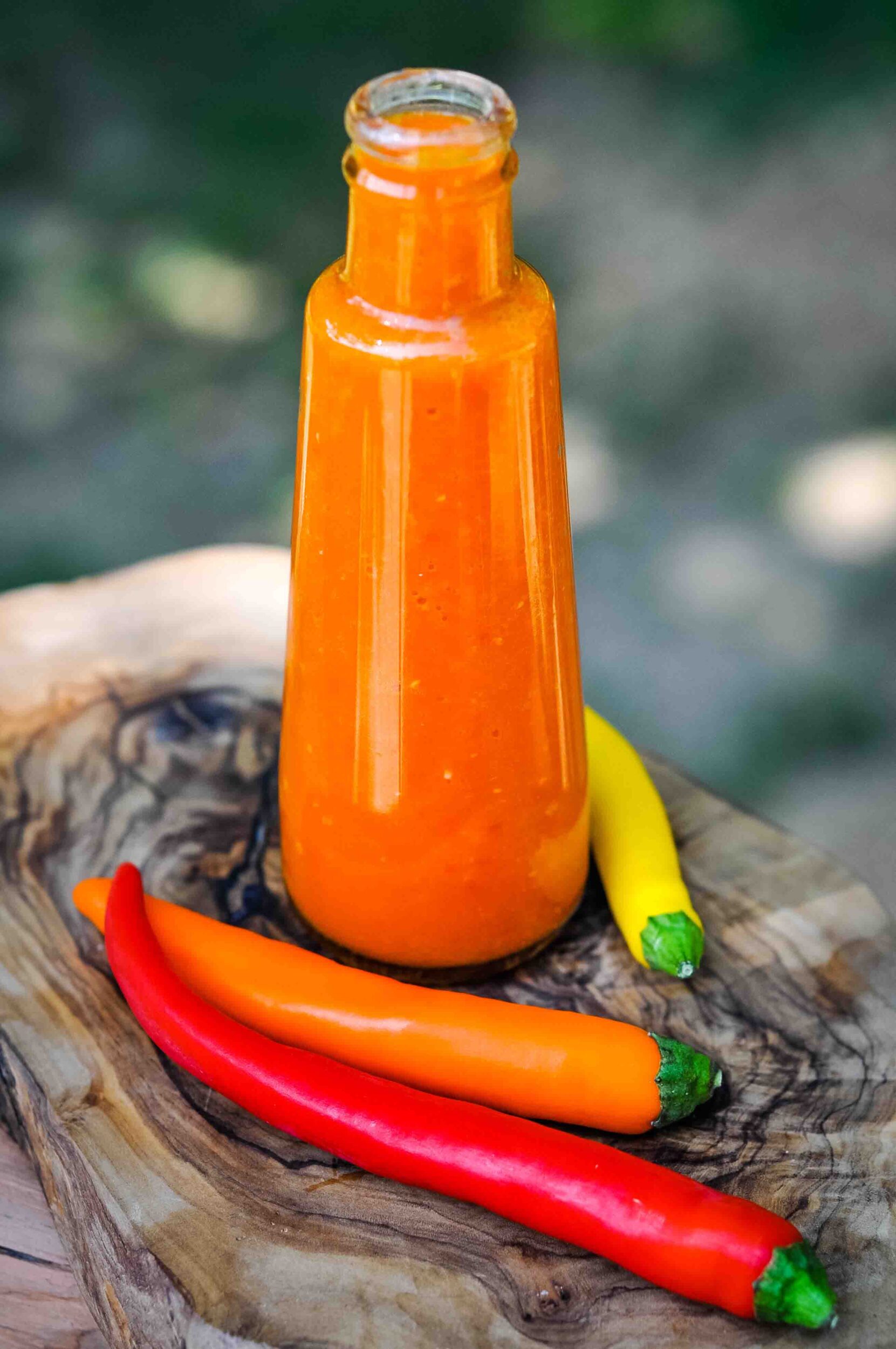 The lactic acid present during the fermentation process safely and naturally preserves the food, keeping bad bacteria from forming.
A lot of people also love the complex flavor of fermented hot sauce. It really has a rich, incredible taste. Whereas store-bought hot sauce is extremely vinegar-y (which can be nice too), fermented hot sauce really allows the taste of the peppers to shine through.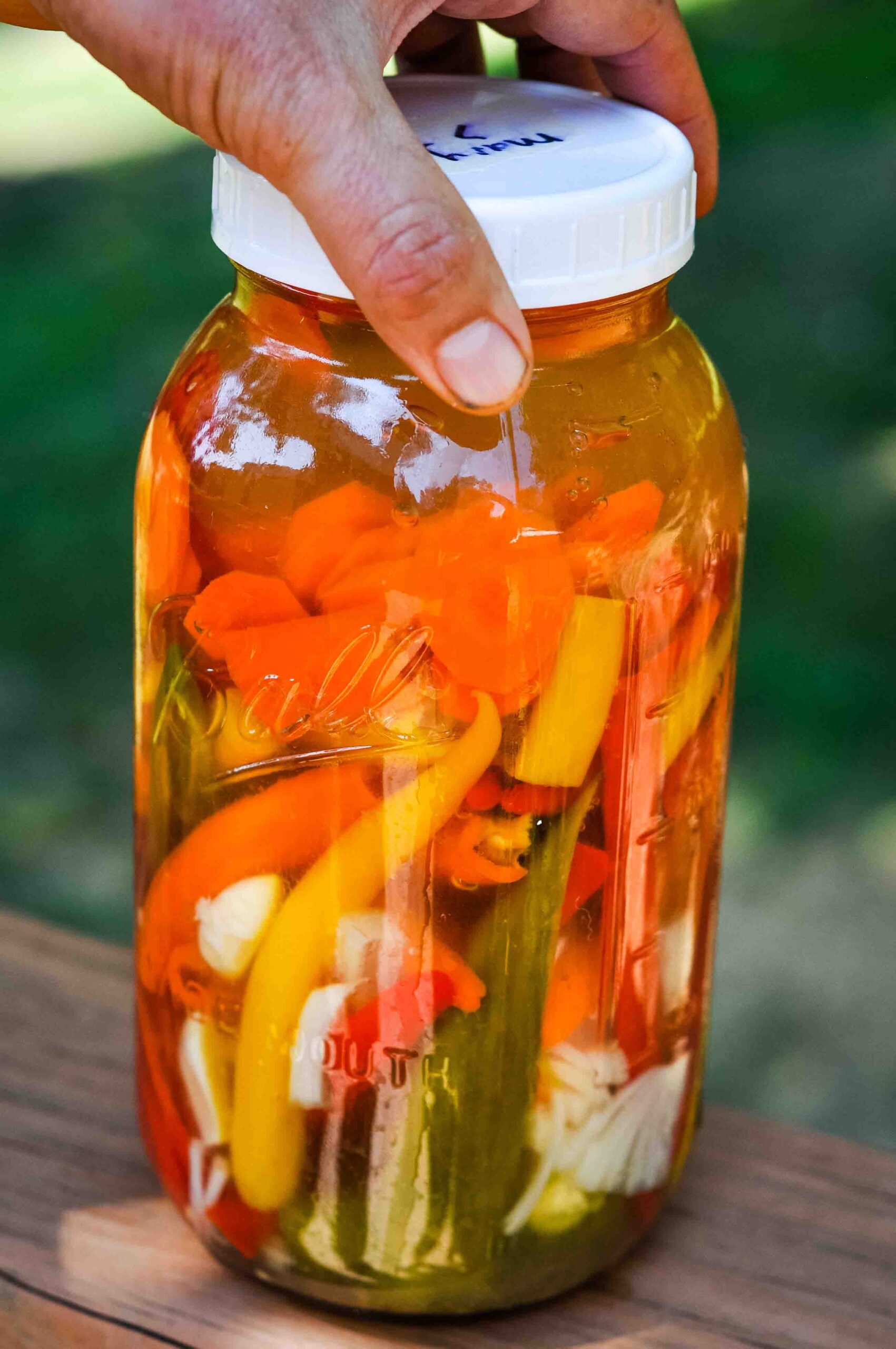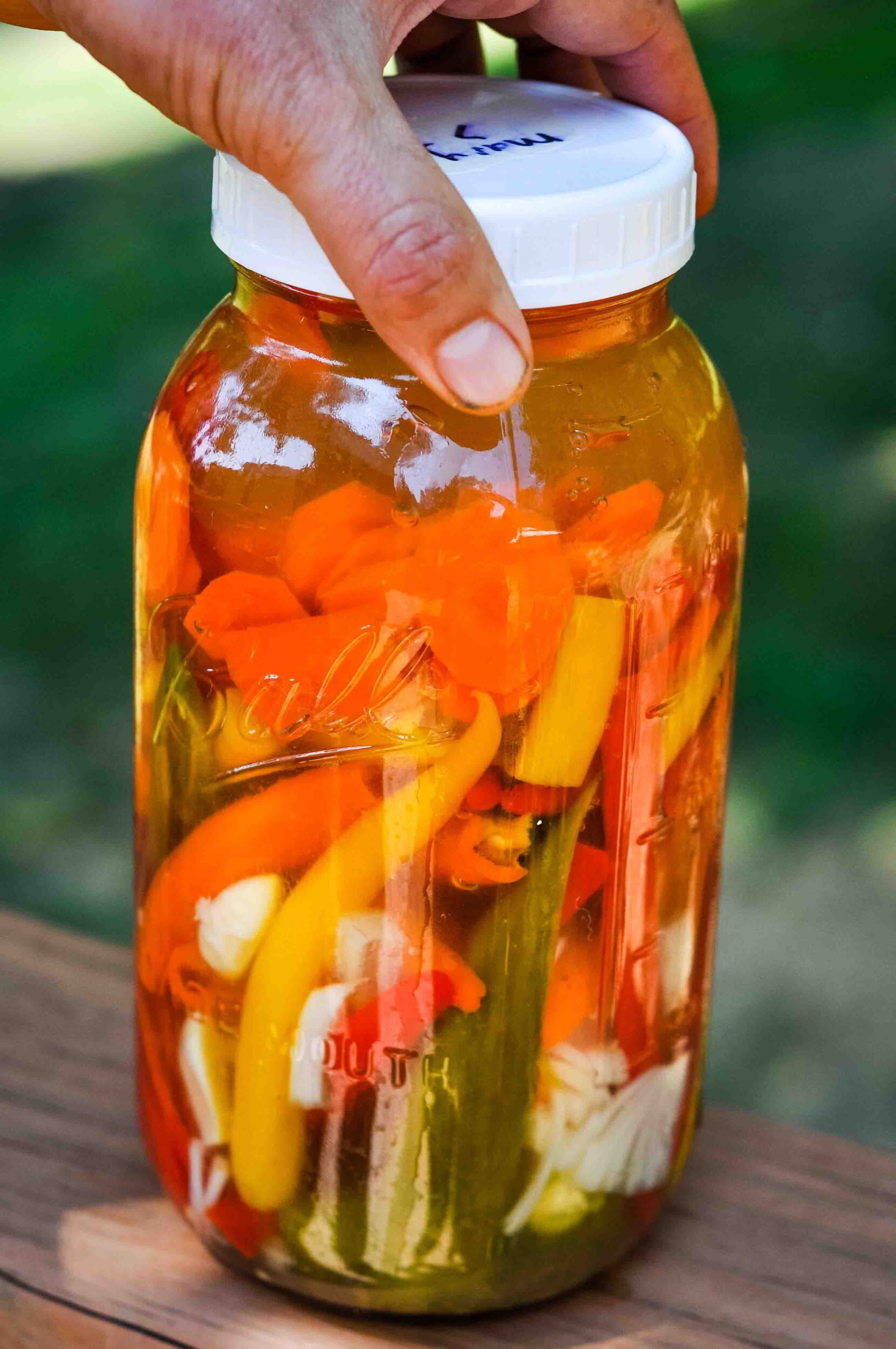 This post is sponsored by Pure Flavor. All opinions are 100% my own.
What kind of peppers should I use for homemade hot sauce?
There are so many options to choose from, it can be overwhelming! Serranos, habaneros, jalapenos, ghost peppers, chiles — the possibilities are endless.
My advice is to choose a hot pepper you are familiar with and experiment with new types as you get more familiar with the fermenting process. Use the Scoville scale to learn more about the spice level of the peppers you want to use.
I love using these Stingray hot peppers from Pure Flavor! They definitely bring the heat, but have a hint of sweetness to them as well. Plus, the colors are so vibrant, which makes for a gorgeous finished sauce.
These peppers are available now at several places including at Rouses Markets, so definitely check them out!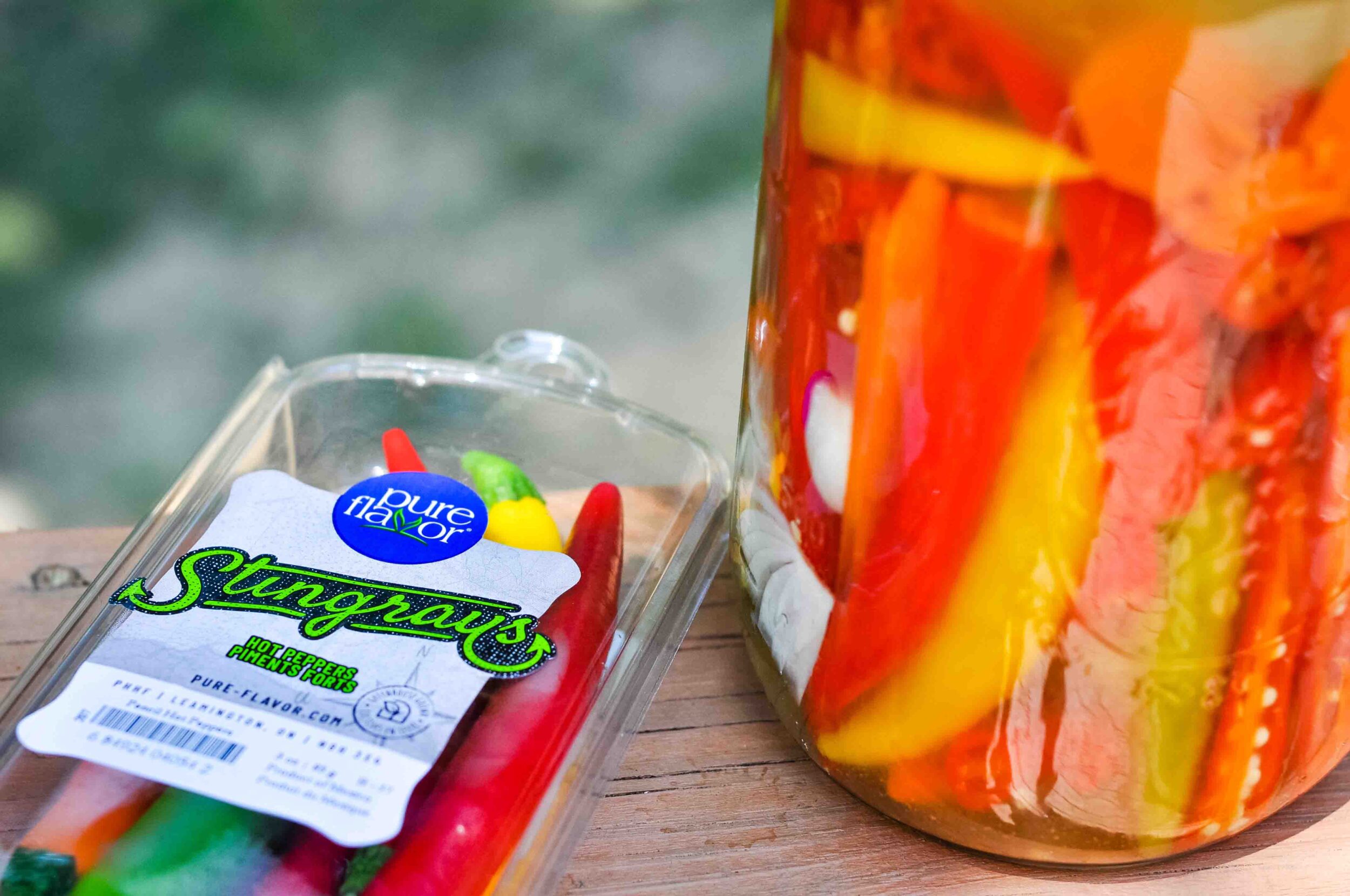 I like using mostly red, orange, and yellow to end up with a bright orange sauce (I snuck a couple green ones in too and the color is still beautiful). They're perfect for this recipe!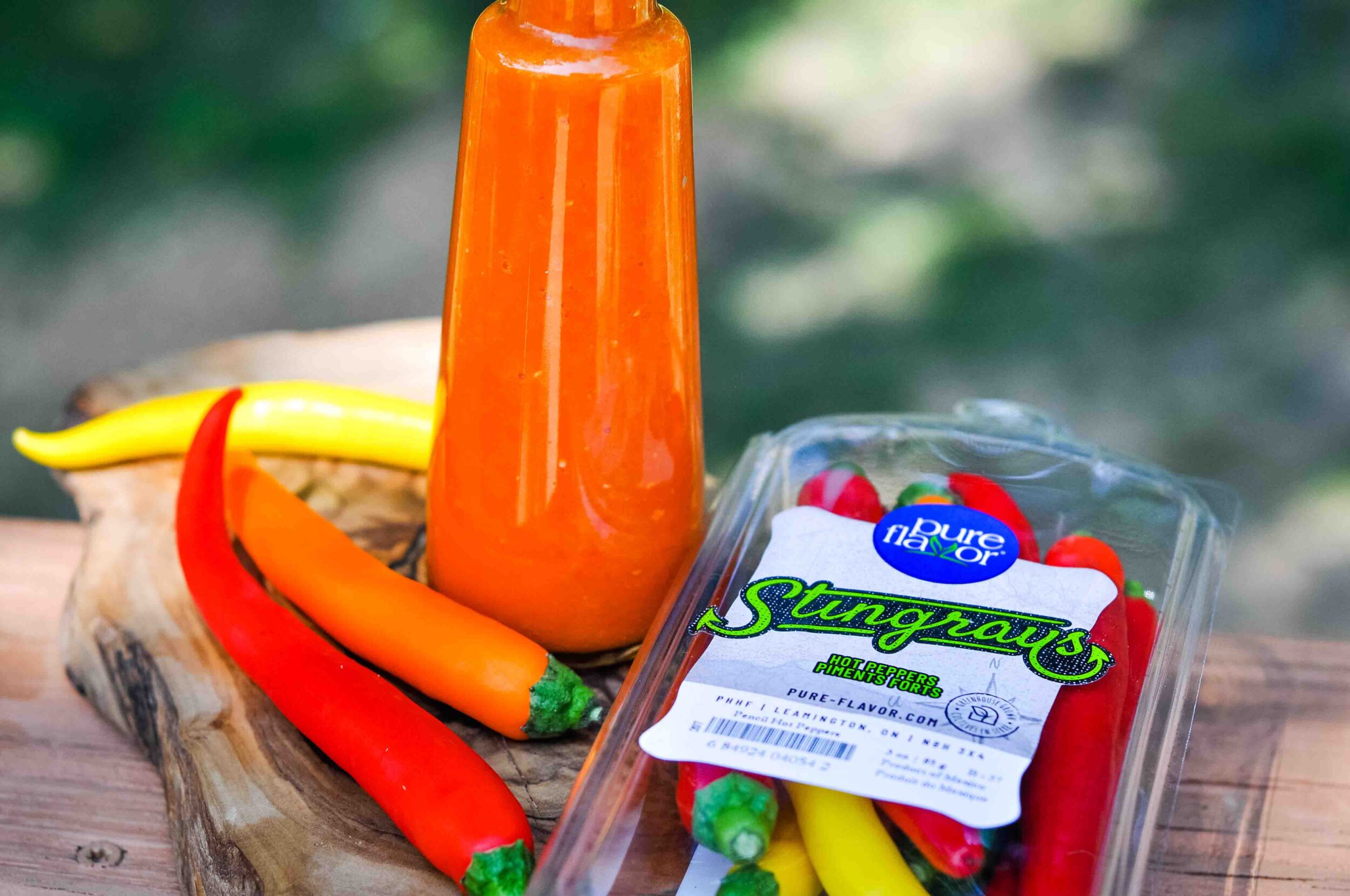 Equipment needed:
A large glass jar – I'm using a half gallon jar for this recipe, which could also be made in 2 quart size jars. You can easily scale the recipe up or down depending on how much hot sauce you want to make.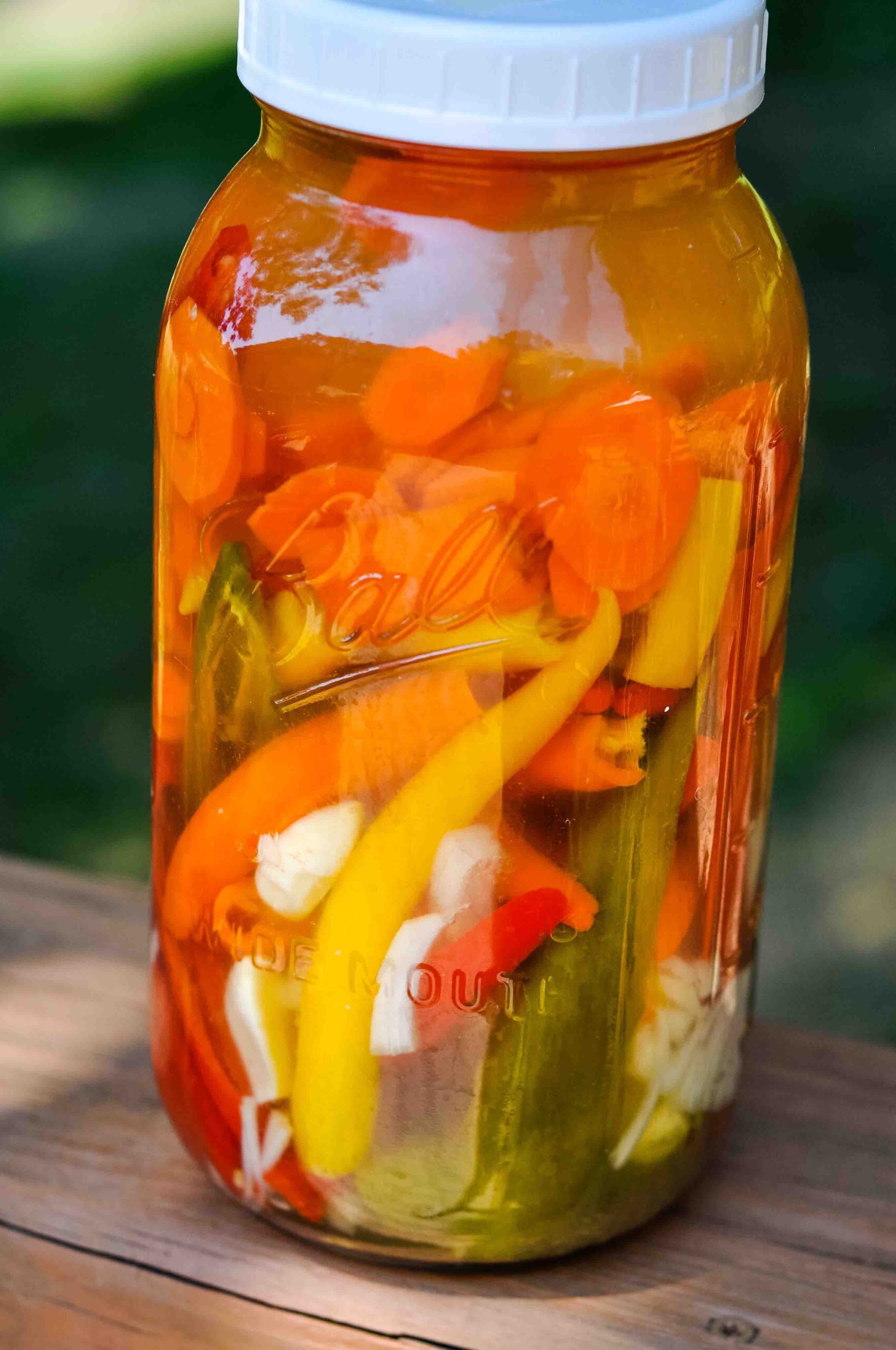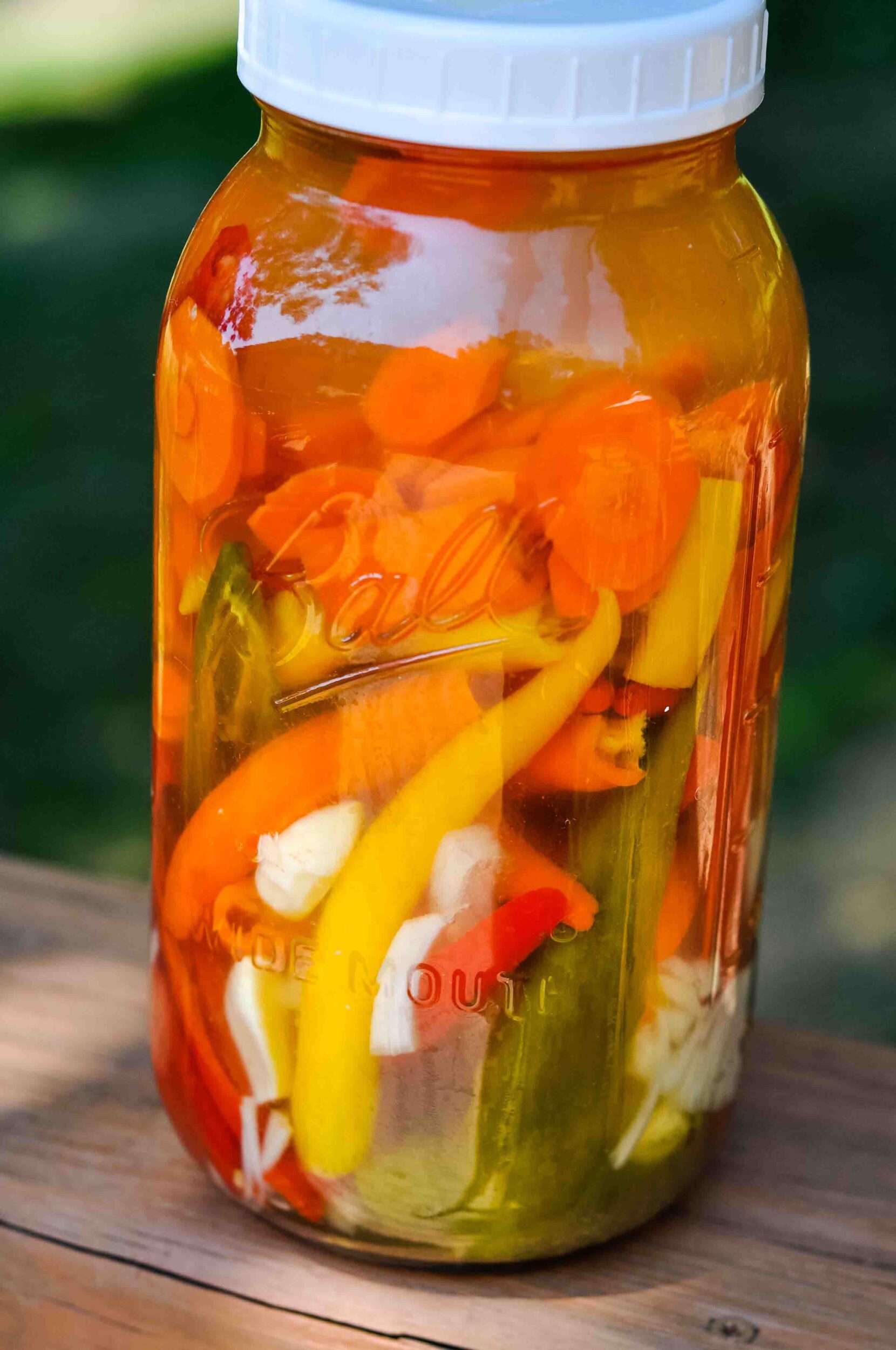 Pickling weights or airlock lid – This is optional but very helpful. These glass pickling weights are great! Just press one on top of your veggies and it will keep them submerged under the water. You want to prevent air reaching the peppers, as that is what causes mold formation. If you just want to wing it, you can even use a plastic baggie with a bit of water sealed inside as a makeshift weight.
Half gallon glass jar – To me, these large half gallon jars are the perfect fermentation vessel! But honestly, you can ferment in anything glass or even a ceramic crock (I would definitely avoid plastic containers).
Strainer – To pour the fermented peppers into while reserving the brine for later. You can add just a little brine or a lot to the sauce, depending on how thin you like it.
Blender – Any type of blender will work, but a high speed blender is recommended to ensure a smoother sauce.
Bottles for storage – You can use any type of recycled bottles you have lying around, but make sure it's airtight for storing in the fridge which will help it last longer. These glass swing top bottles are really beautiful.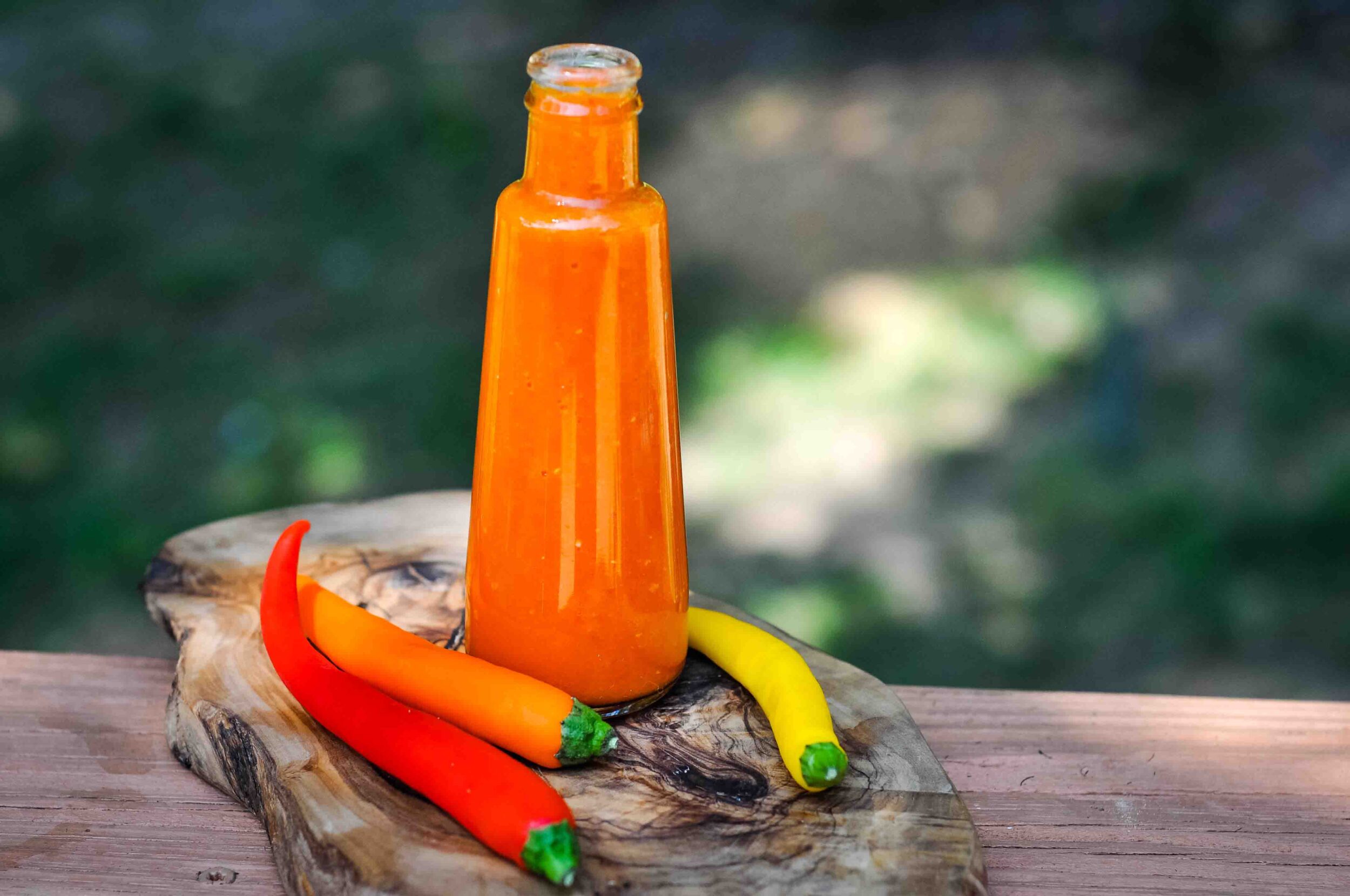 How to make fermented hot sauce from scratch
First, gather your equipment listed above and make sure everything is really clean.
Next, wash your peppers and pack them into the jar. There's no right or wrong way to do this. I like slicing them lengthwise; you can also just do a rough chop and even leave some whole. I packed as many peppers in the jar as I could, while leaving a couple inches of room at the top for my brine to cover them and add my weight to the jar.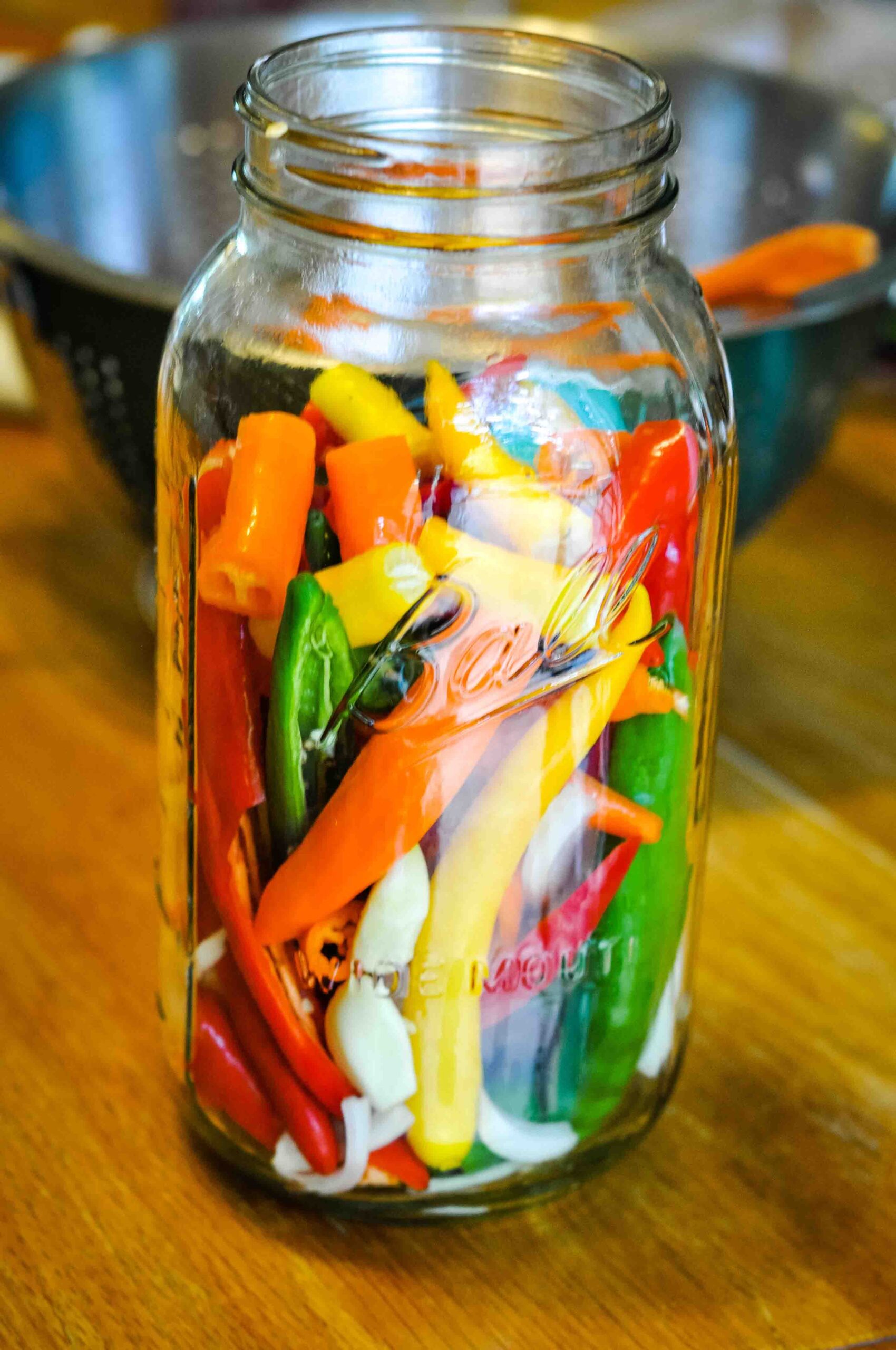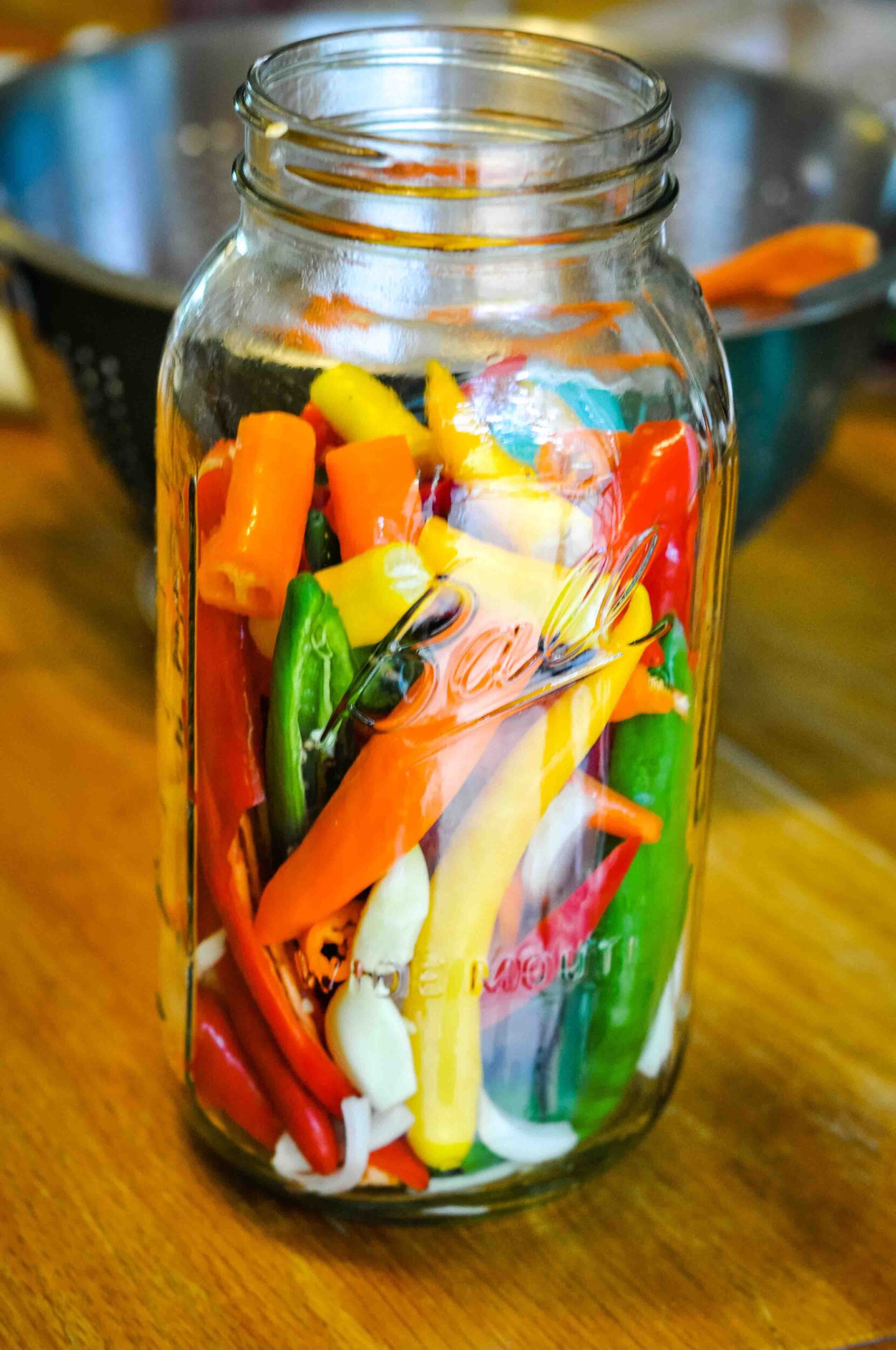 Add a few "extras" for flavor if you like. I used several cloves of garlic, one sliced onion, and a couple of sliced carrots. The carrot helps temper the heat a bit and also adds nicely to the color and flavor.
Next, make your brine. For safe fermentation, you need to use 1 tablespoon of salt for every 2 cups of water. In this case, I'm making a half gallon of peppers, so I used about 2 tablespoons of pink himalayan salt dissolved in 4 cups of water.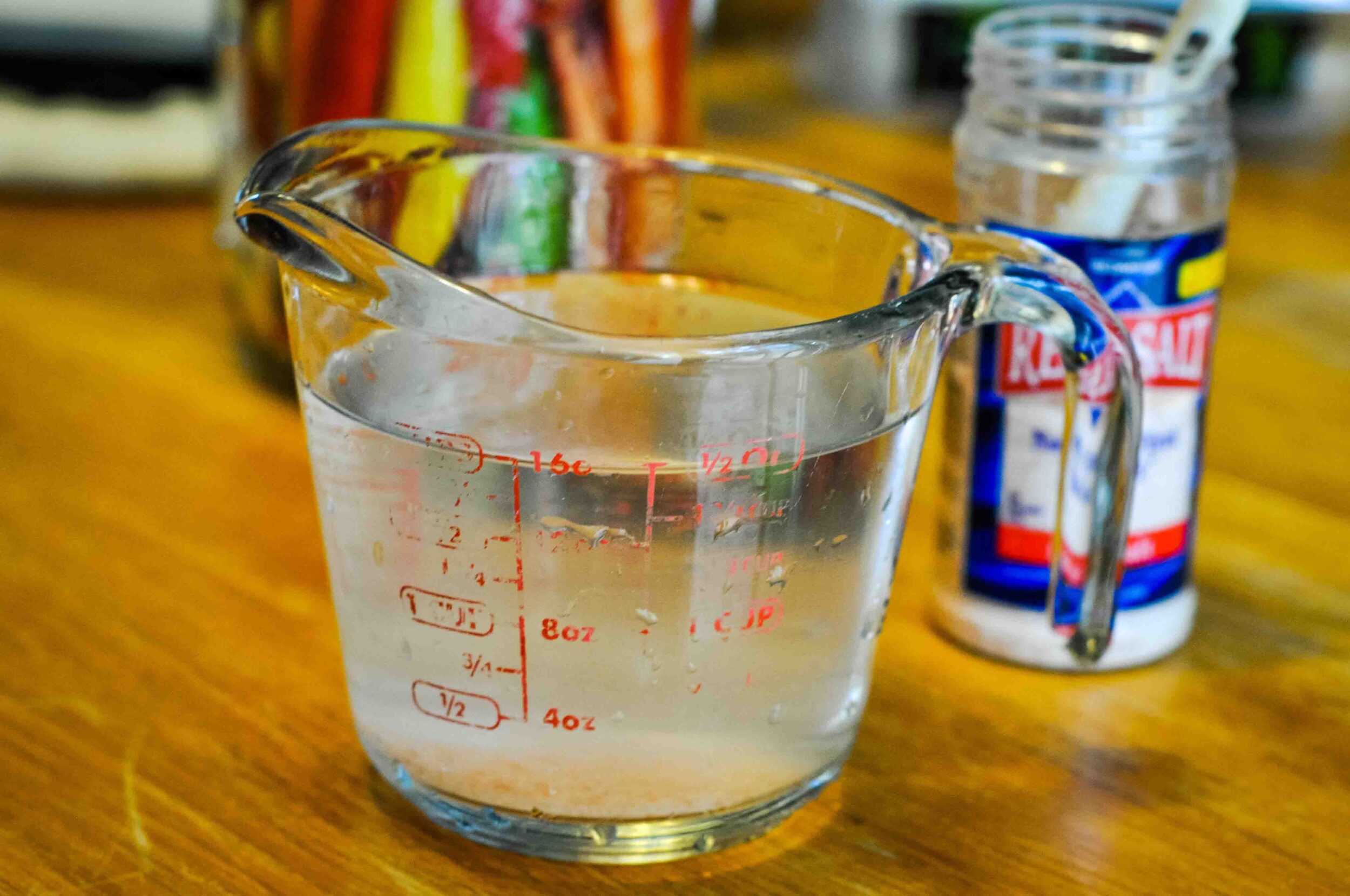 This was enough to cover my peppers. You may have to use more or less brine, depending on how many peppers you use and how tightly they are packed into the jar. For more info on the salt to water ratio for fermenting peppers, here's a thorough guide.
All vegetables have natural good bacteria (lactobacillus) on the skins, the salty brine help these good guys multiply over time.
Use warm water to mix with the salt in order to dissolve the salt fully. Once the salt is dissolved, you want to allow this brine water to cool before adding it to your peppers to ferment. Heat can mess with the fermentation action, which you don't want.
After adding the brine to your peppers, add your pickling weight on top and press down, making sure the brine isn't overflowing out of the jar.
The main thing to remember here is to keep your peppers fully submerged in the brine, without any stragglers floating to the top. Check your jar every couple of days to ensure this. I'm not big on fancy or technical airlock lid devices, but some people really like using them for ferments. I'm more of a simple gal.
Now, place a lid on lightly. You want the fermentation gases to be able to escape. Just loosely screw on the lid, and check the jar every couple of days to make sure there is no buildup of pressure.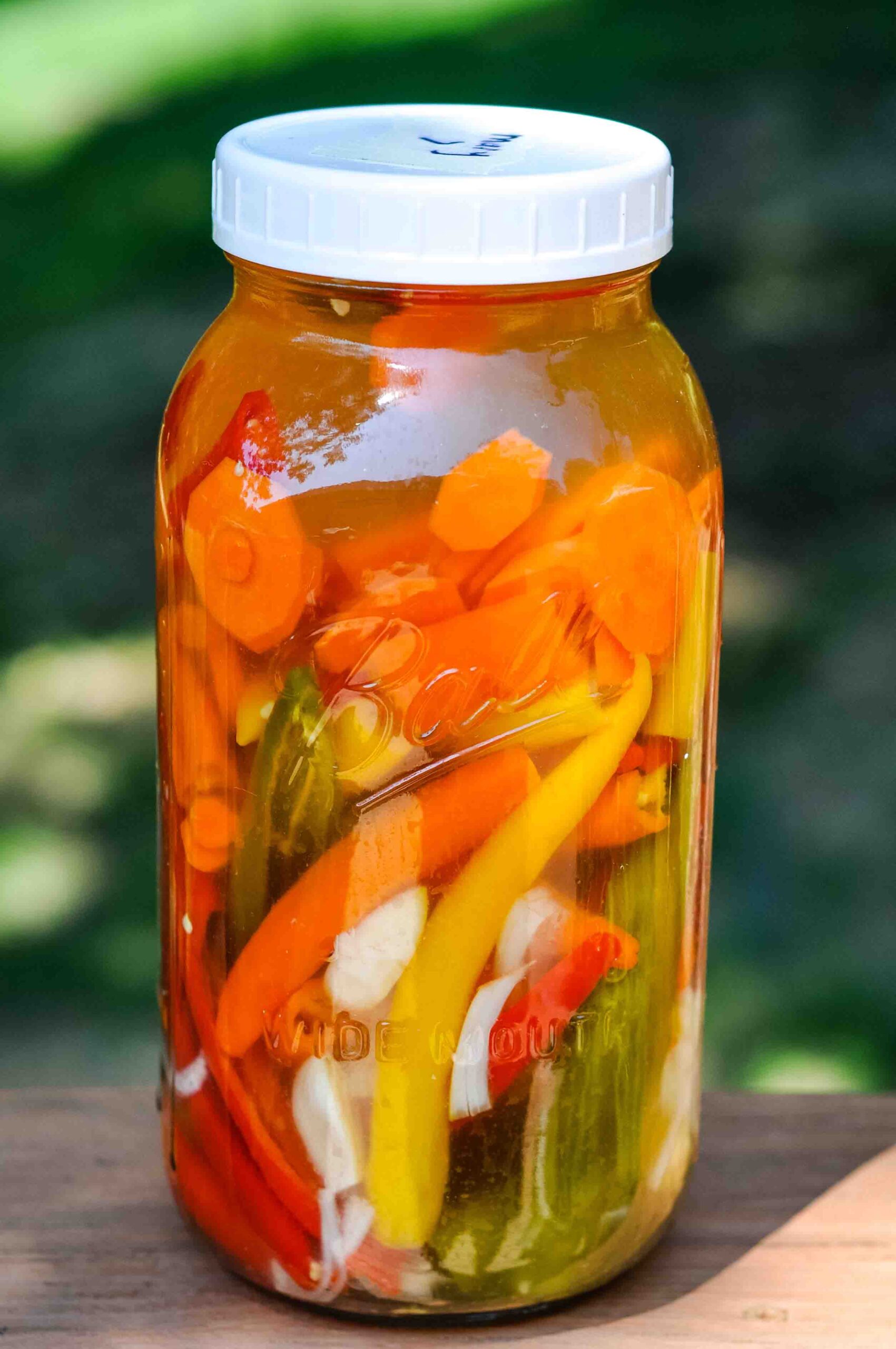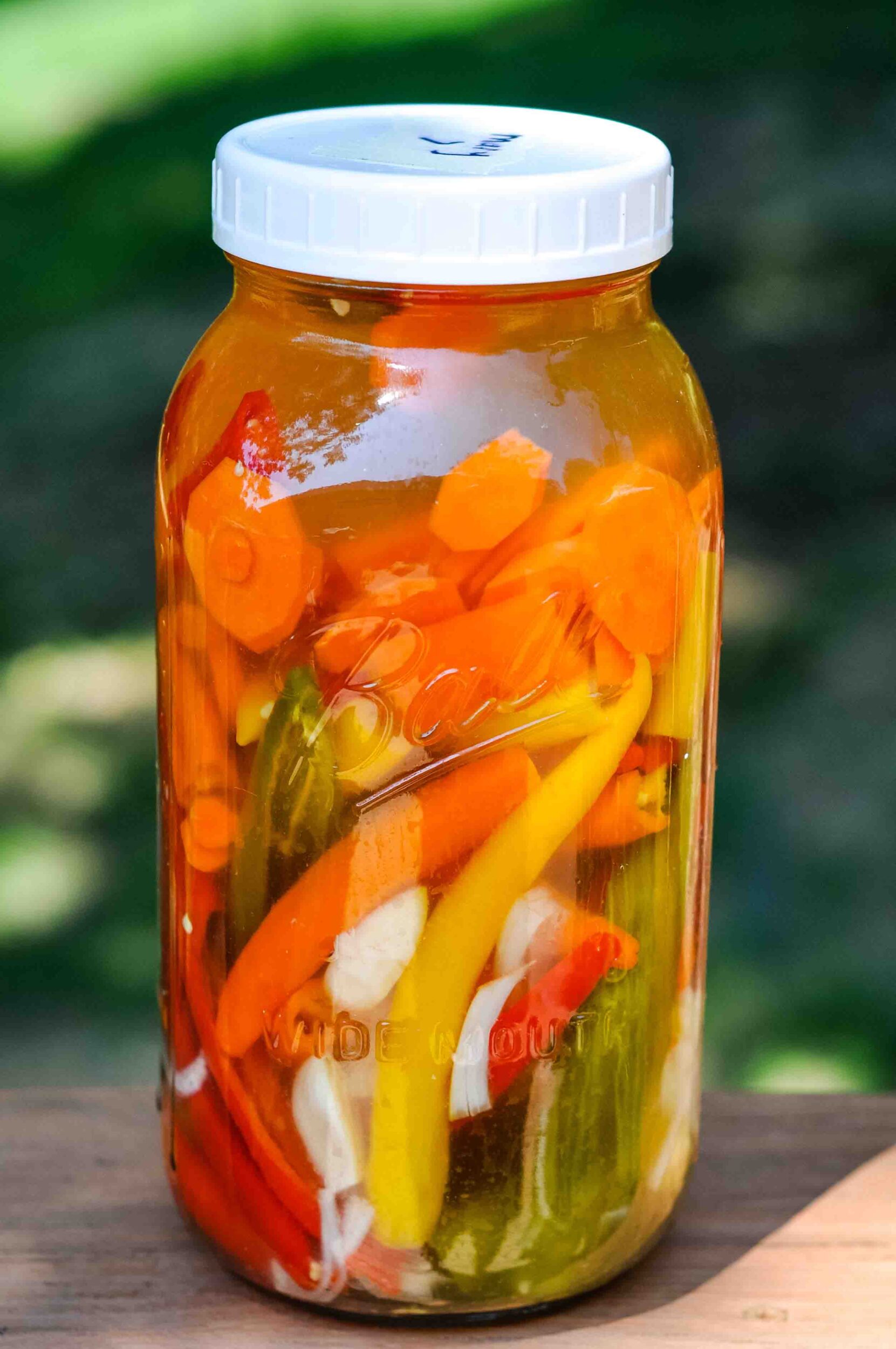 You don't want an explosion of hot peppers! You may even want to put your jar on a plate in case of any overflow of brine caused by the fermentation process.
You want to ferment your peppers in a cool-ish place (between 65-75 degrees F) out of direct sunlight. You don't want them too cool, or the fermentation doesn't take place and mold can form. You also don't want them too hot, otherwise kham yeast is more likely to be an issue. Regular room temperature is basically perfect for this!
Perfect fermentation time seems to be 5-7 days. 6 days was perfect for me.
The brine will start to get good and cloudy and the colors of the peppers starts to fade somewhat. You will likely see some bubbling action after a few days of fermenting, especially if you tap or move the jar.
This is great! It means your peppers are fermenting away nicely.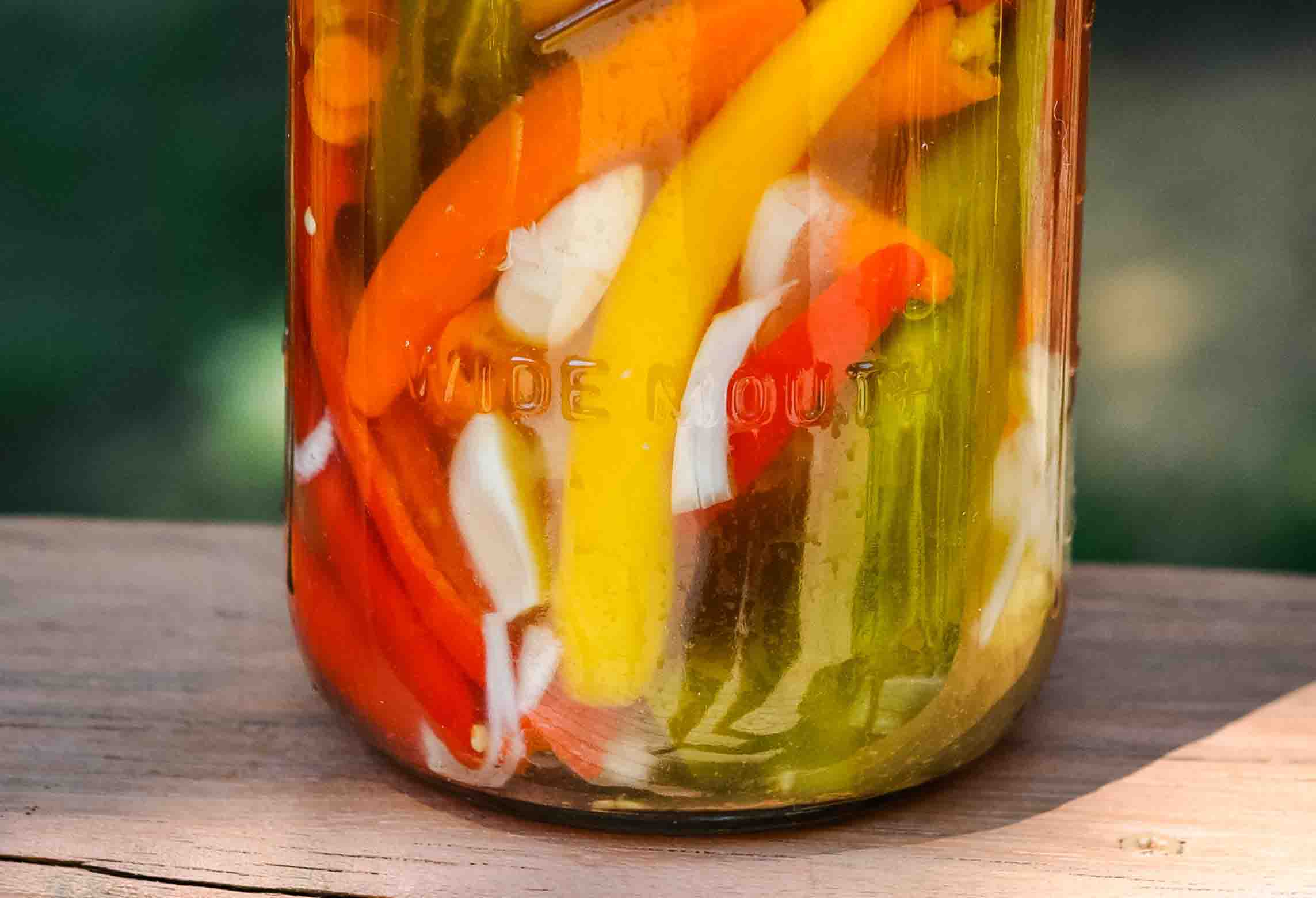 Some people notice a small white film form inside the jar or on top of their fermented vegetables. This is called kham yeast and it's relatively harmless. If you see it, just scoop it off. This usually happens when you allow your veggies to ferment for longer periods or at higher temps.
After 5-7 days have passed, your peppers are ready!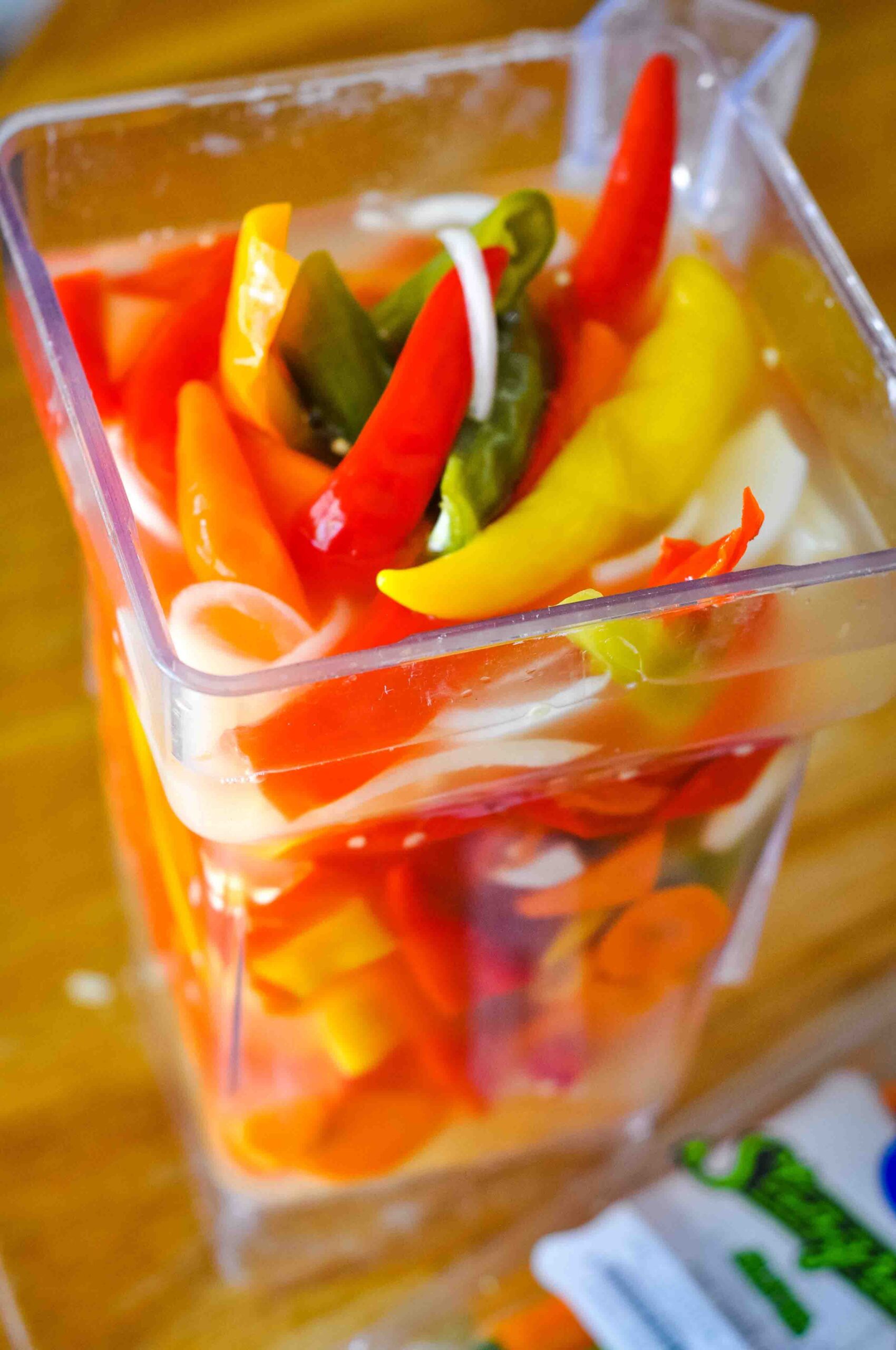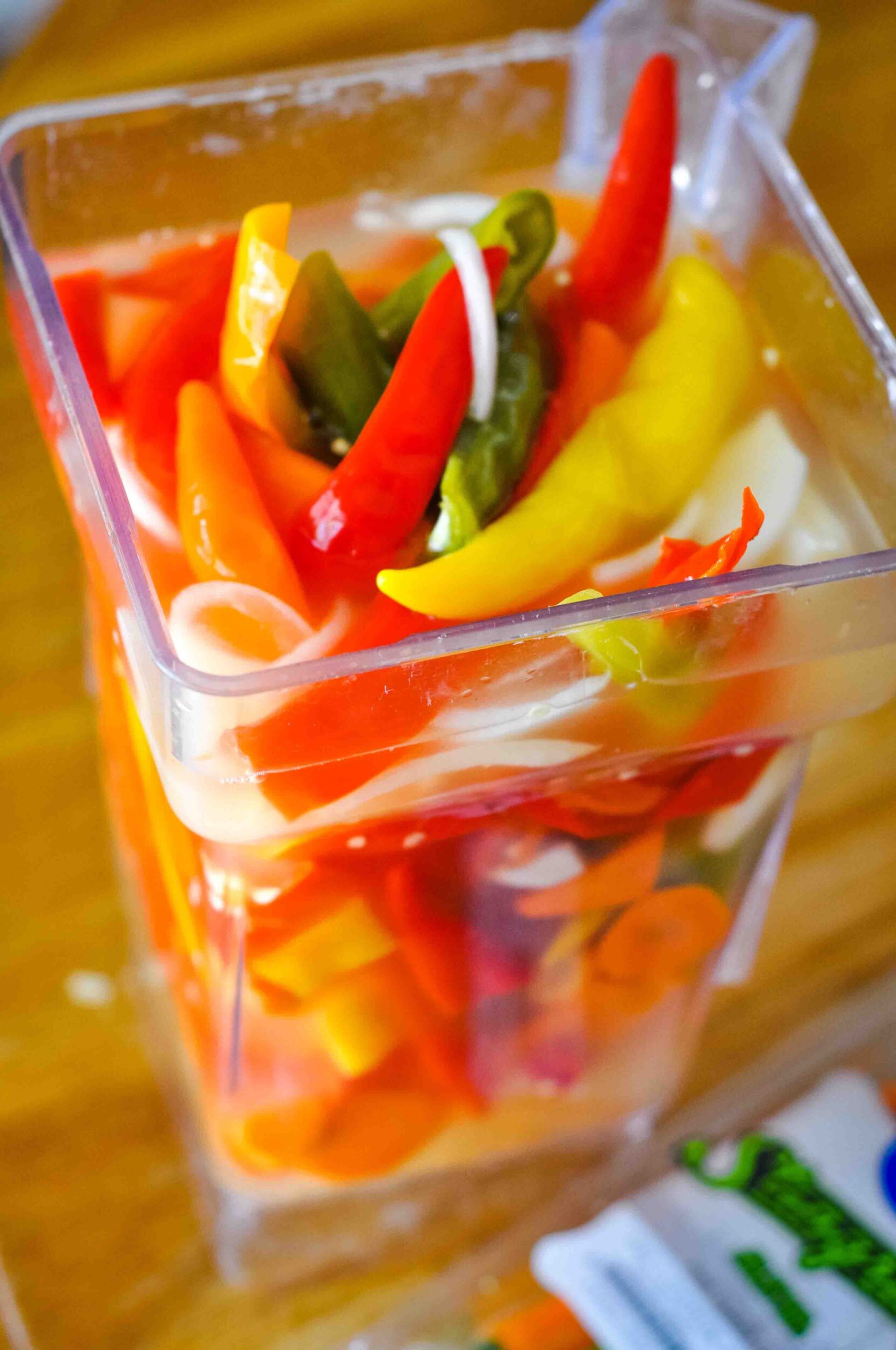 Go ahead and strain the peppers over a bowl or jar to catch the brine (save this, you will need it).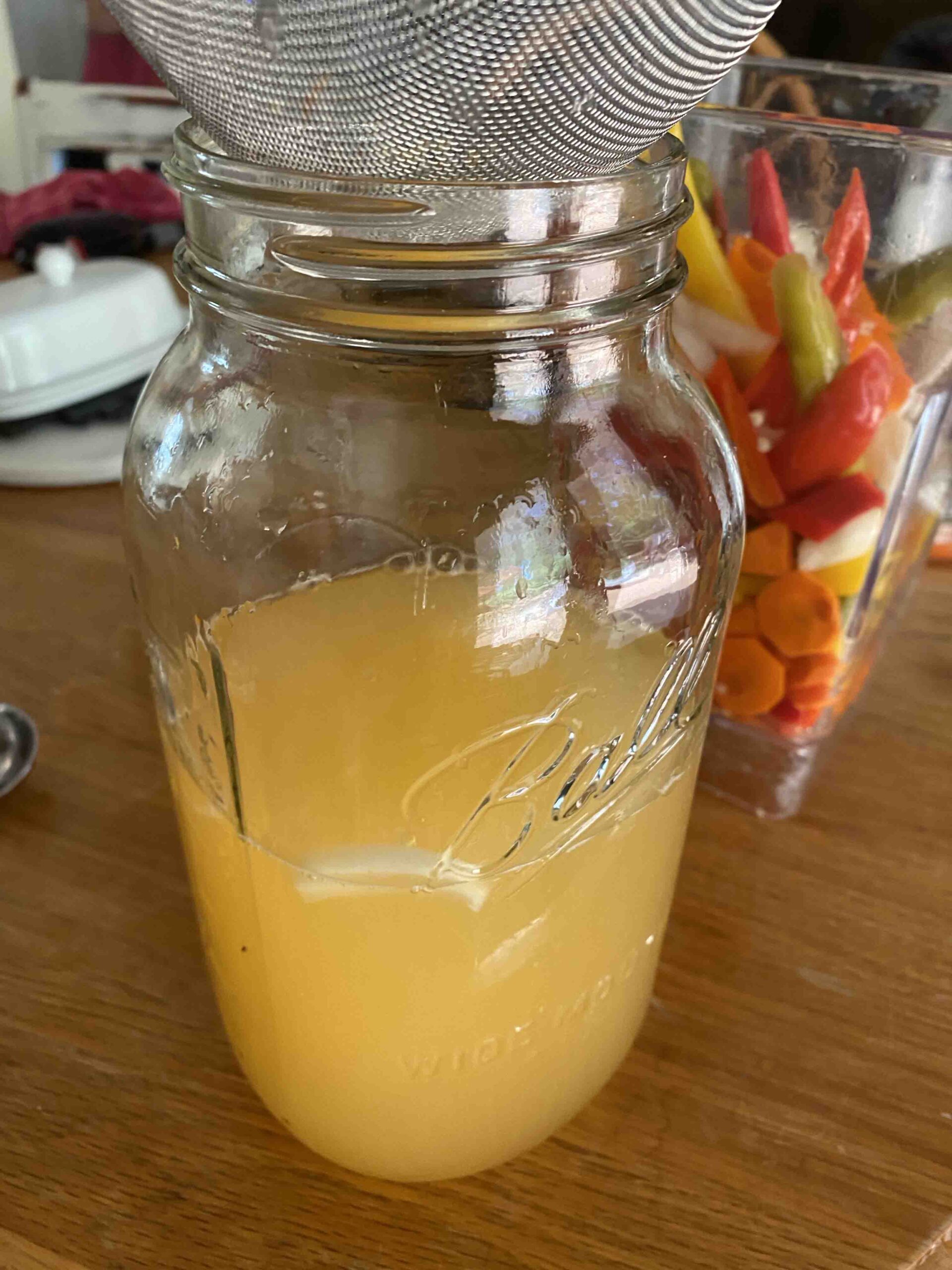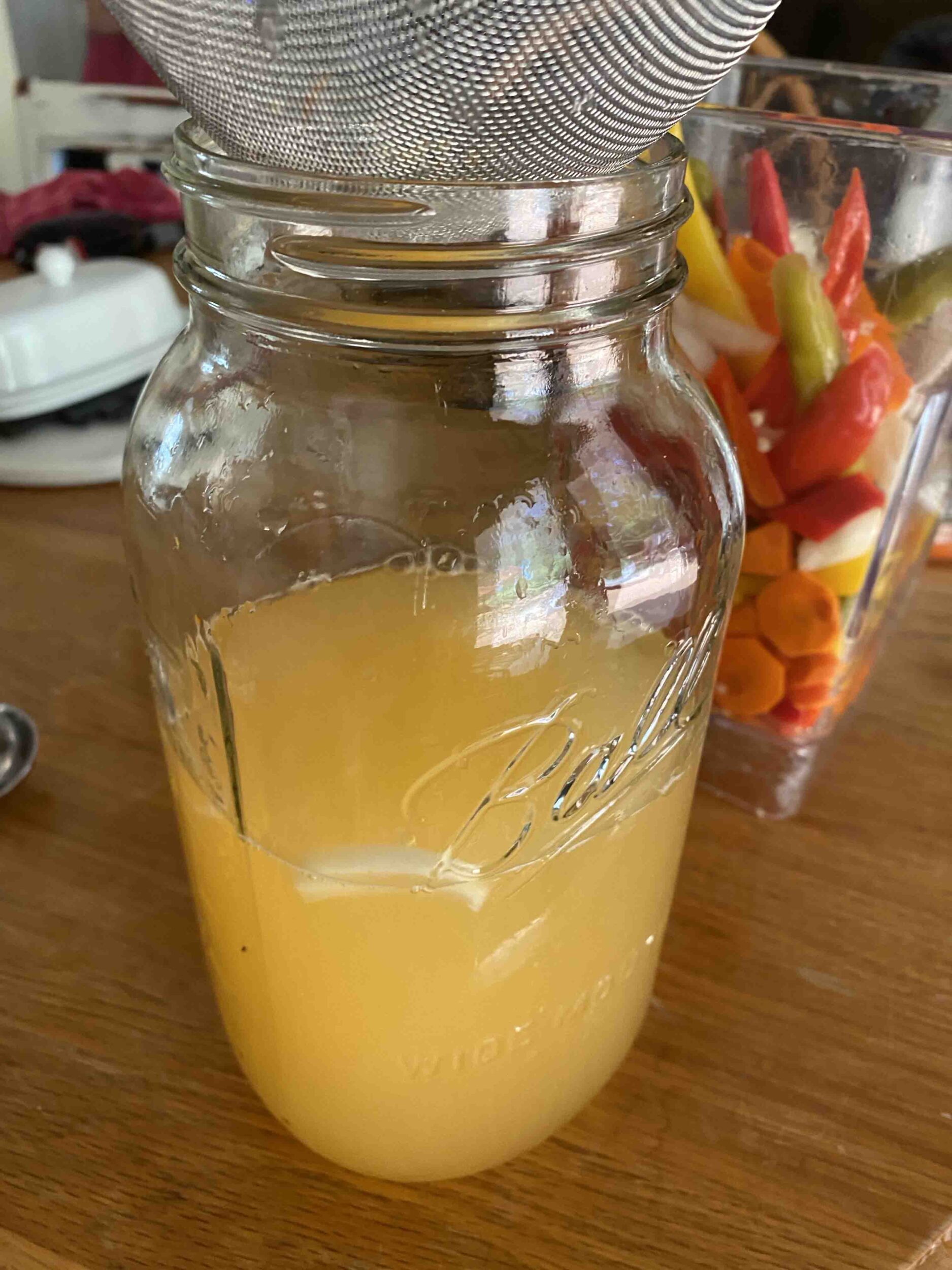 Add the strained peppers and one cup of brine to the blender.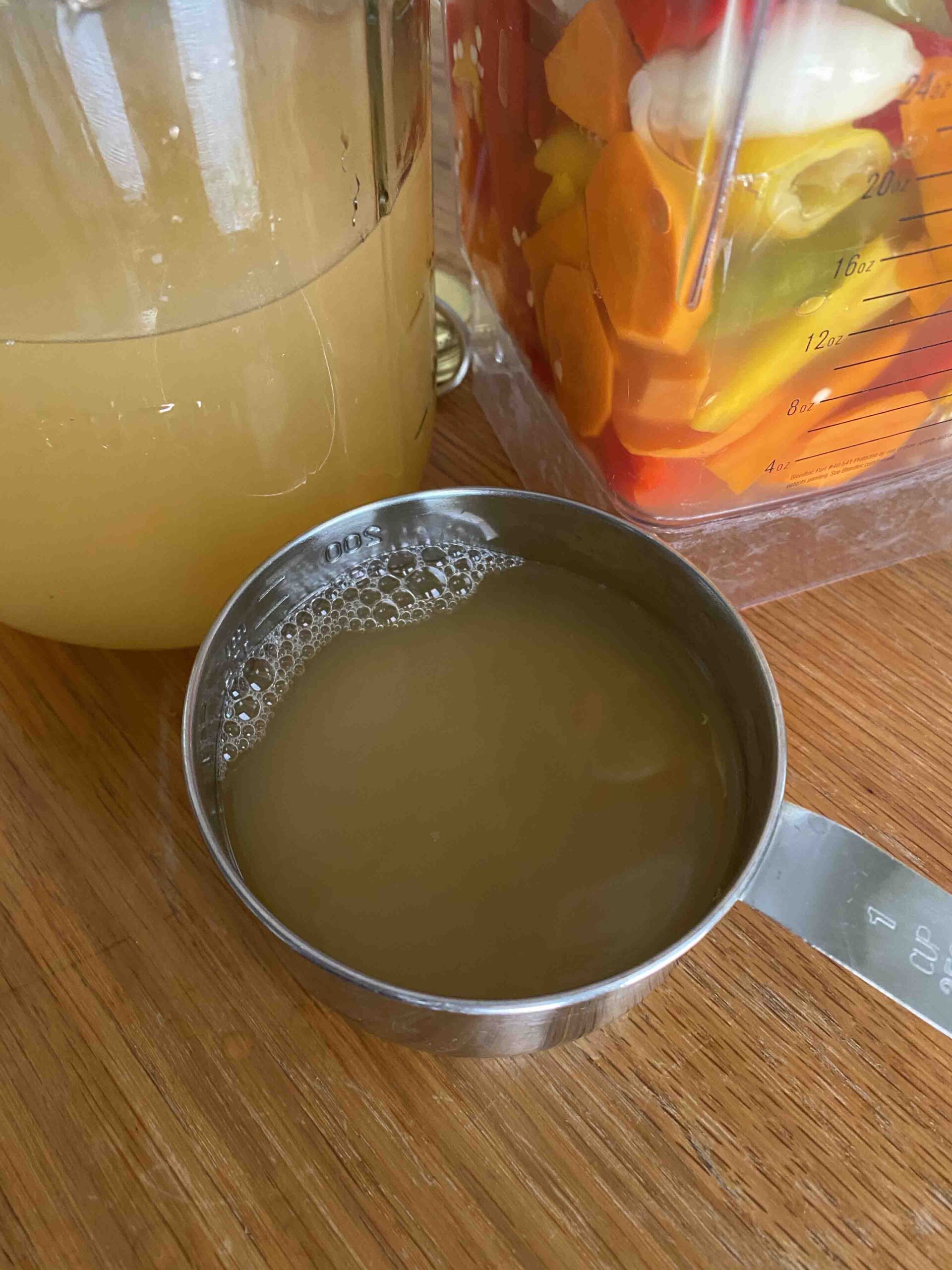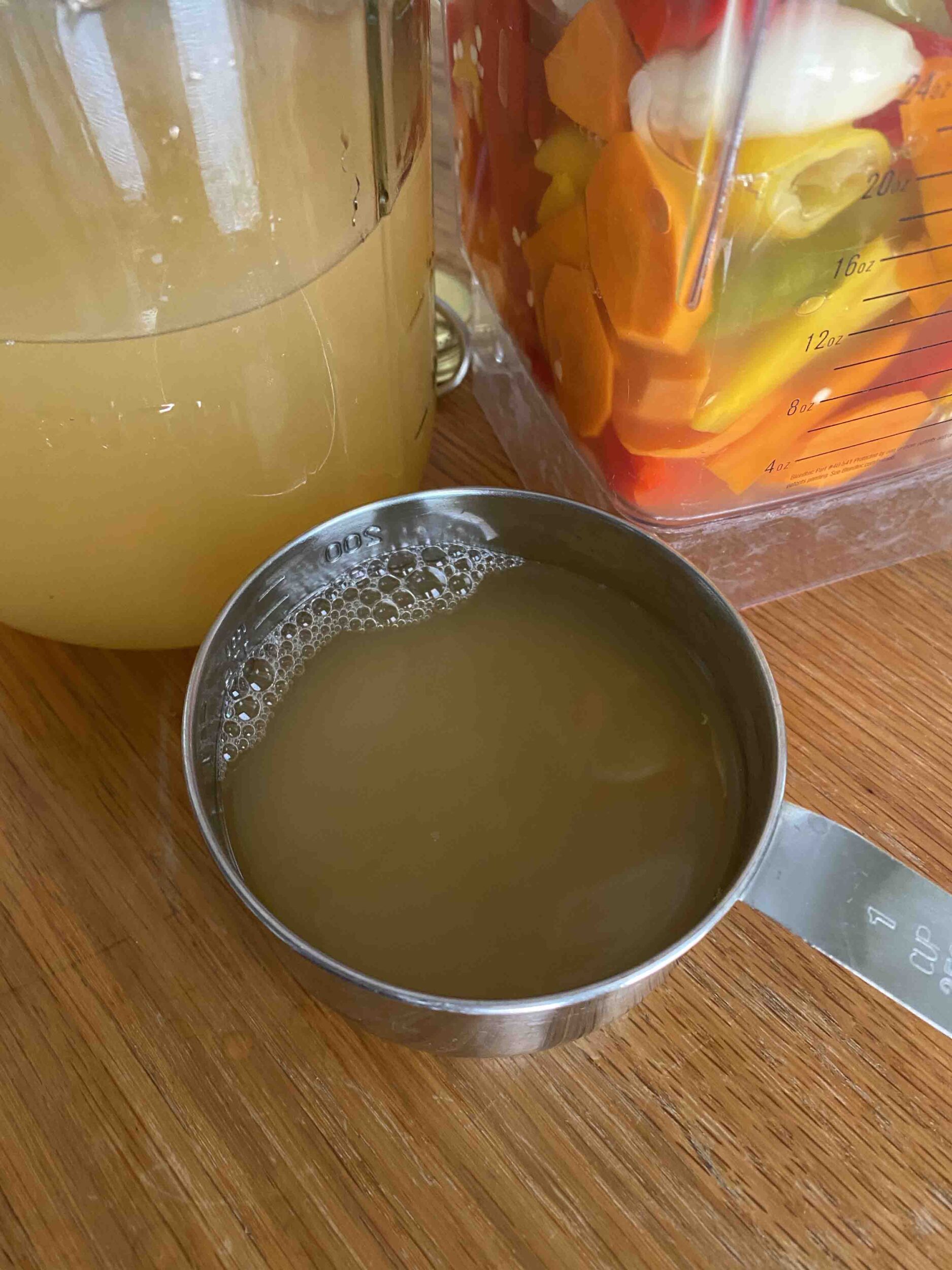 I also like adding a couple tablespoons of apple cider vinegar. It gives a nice tang to the hot sauce, but you can omit it if you prefer.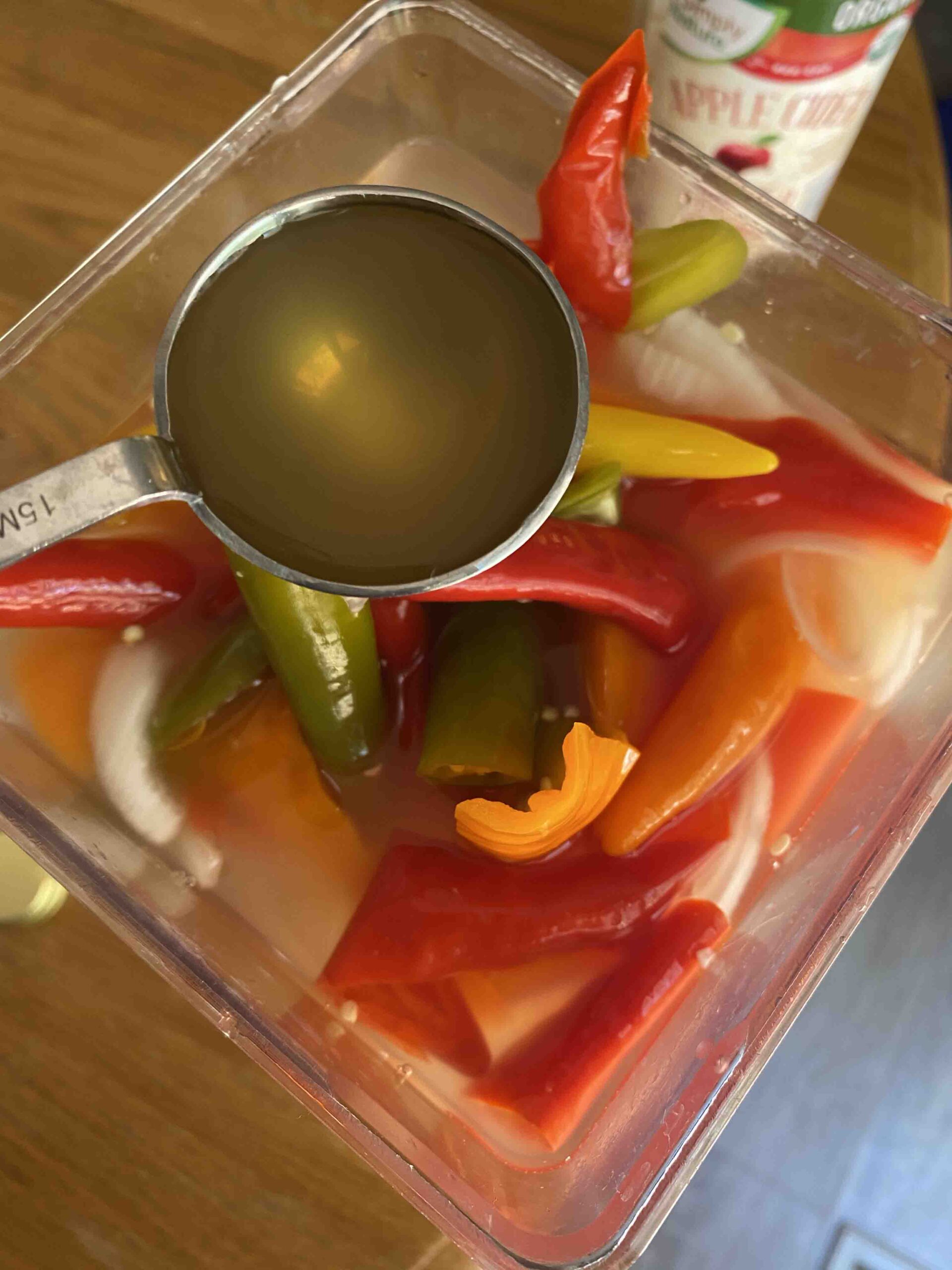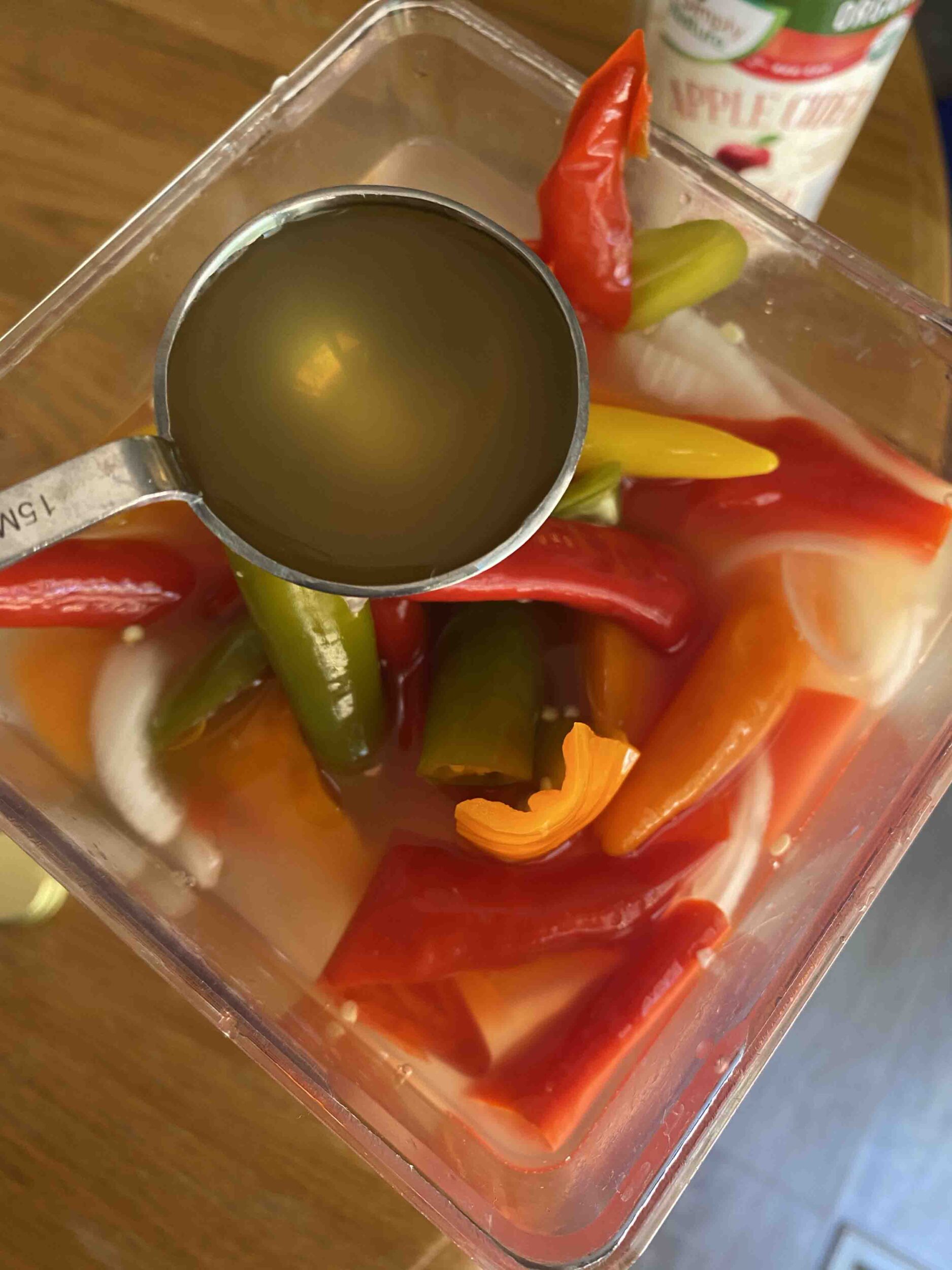 Blend everything thoroughly until smooth.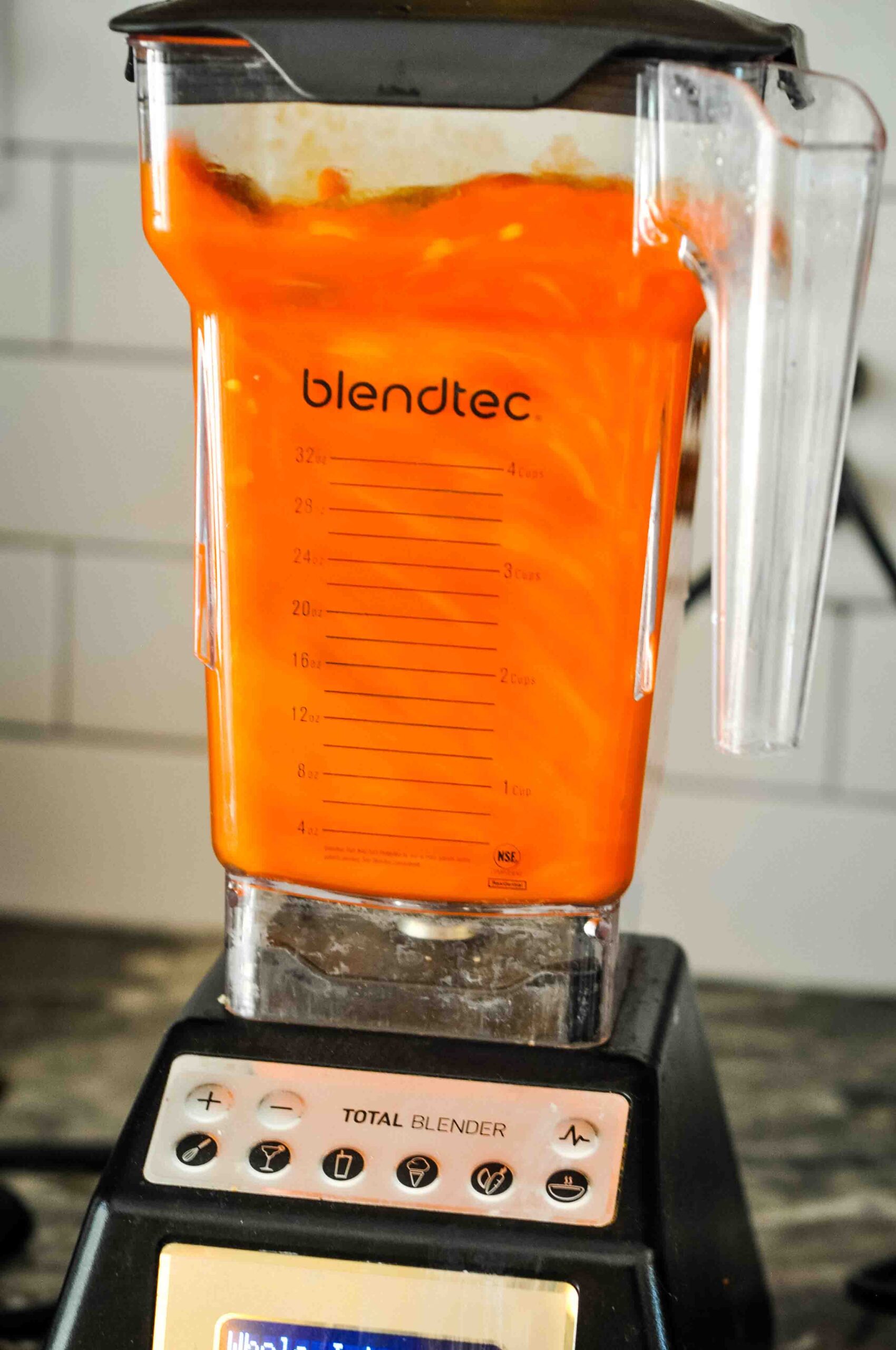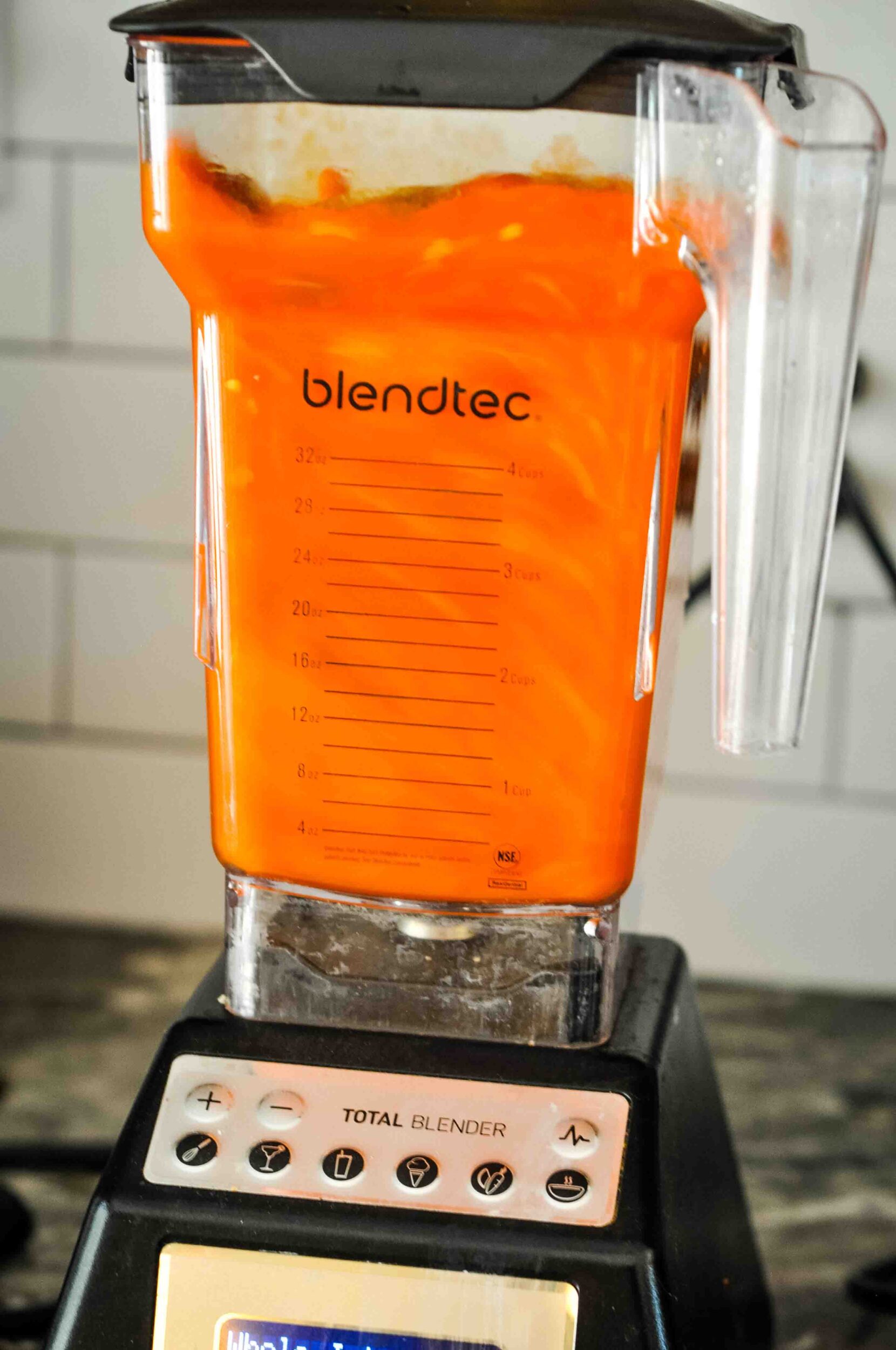 Check the texture of your hot sauce. Do you like it thinner? Add more brine and blend again. Taste it. Does it need more salt?
Once your hot sauce is exactly how you like it, it's ready to bottle and store!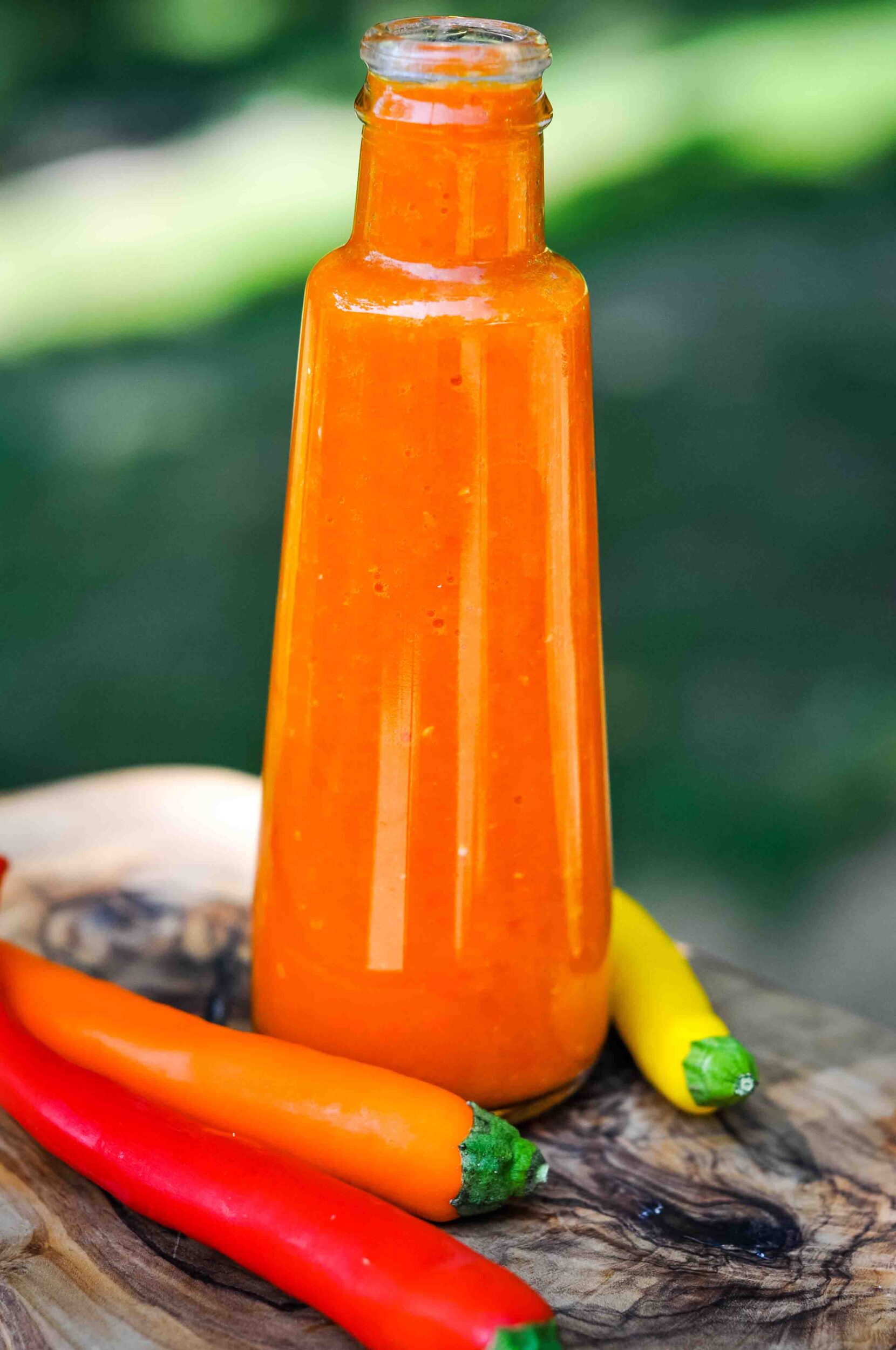 Refrigerated, this hot sauce keeps at least 6 months in an airtight jar. It naturally separates after sitting in the fridge. This is fine; just shake and use.
Fermented hot sauce is the perfect homemade food gift that is sure to impress your friends! Make a big batch, add to snazzy leak proof bottles and give as gifts.
Perfect for that dad or uncle that you never know what to buy. You can even get these cute hot sauce bottles on Amazon that are great for gifting!
Fermented hot sauce tips
Wash your fermenting vessel/jar and weight really well with hot water before use to minimize germs as much as you can. We often boil a kettle of water and pour in the jar to sanitize before making ferments.
If you're worried about your sauce being too spicy, you can add a sweet bell pepper to the mix to tone down the heat. I also add a chopped carrot to my sauce! Customize it to your liking.
Wear gloves while chopping the hot peppers. Unless you're too lazy like me, and you don't mind feeling a tingling sensation on your skin for the next couple of days (or in your eyes if you wear contacts – ouch!).
Since you will likely have some spicy salty brine left over, use it! It's great in homemade salad dressings and marinades. We marinated some chicken pieces in the leftover brine and grilled them, then topped with more hot sauce. Divine!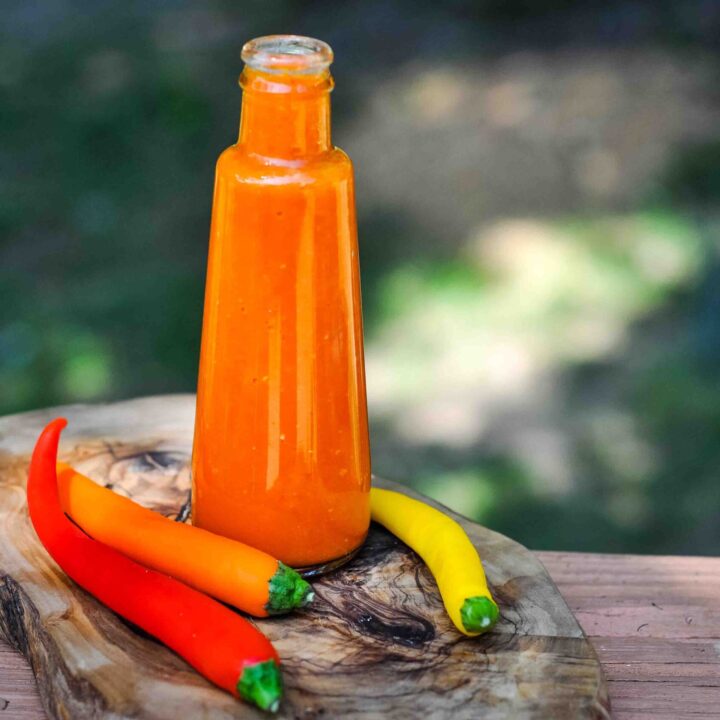 Yield: 5 cups
Easy Fermented Hot Sauce
Prep Time: 20 minutes
Additional Time: 6 days
Total Time: 6 days 20 minutes
Mega-spicy & savory with plenty of hot peppers, yet balanced with the addition of onion, garlic, & carrot, this fermented hot sauce will make your taste buds sing. Even better, it's filled with probiotic goodness since it's naturally fermented.
Ingredients
Hot Sauce Vegetable Mix
1 pound (around 7 cups) fresh hot chili peppers, sliced
2 carrots, peeled and sliced
5 cloves garlic, sliced
1 onion, sliced thin
Salt Water Brine
2-3 tablespoons salt
4-5 cups filtered water
Optional:
2 Tbsp. apple cider vinegar (for tang)
Extra salt to taste
Sweet bell pepper to tone down the heat (if you don't like it too hot)
Instructions
In a clean half gallon jar, layer all the peppers and additional vegetables, packing down as you go. If you don't like your sauce too hot, you can adjust the veggies and use bell peppers along with your hot peppers.
To make the salt water brine, stir the salt into filtered water and heat until dissolved. Allow brine to cool.
Pour brine over vegetables until they are fully submerged. Add a pickling weight on top to ensure no veggies float to the top and get exposed to air (this ensures no mold will form). Alternatively, you can use a special air lock lid for fermentation.
Screw a lid on lightly to allow gases to escape. Check on your ferment every couple of days to ensure no veggies are floating to the top.
Allow to ferment in a cool, room temperature environment away from direct sunlight for 5-7 days.
After fermenting, strain the peppers, reserving brine.
Add pepper mix to a blender with one cup of brine, along with apple cider vinegar.
Blend until smooth.
Add additional brine if you wish to make your sauce thinner. Add additional salt to taste.
Bottle and store in the refrigerator for up to 6 months.
Recommended Products
As an Amazon Associate and member of other affiliate programs, I earn from qualifying purchases.
Nutrition Information:
Yield:
40
Serving Size:
1
Amount Per Serving:
Calories: 3
Total Fat: 0g
Saturated Fat: 0g
Trans Fat: 0g
Unsaturated Fat: 0g
Cholesterol: 0mg
Sodium: 497mg
Carbohydrates: 1g
Fiber: 0g
Sugar: 0g
Protein: 0g
Have you made any fermented veggies? What's your favorite ferment?
PIN IT!