Tomato casserole is a summertime staple, an ideal side dish for any gathering or as a stand-alone vegetarian meal. Sweet cherry tomatoes, gooey cheese, fresh basil, white beans, toasted wholemeal bread — it's like a savory bread pudding!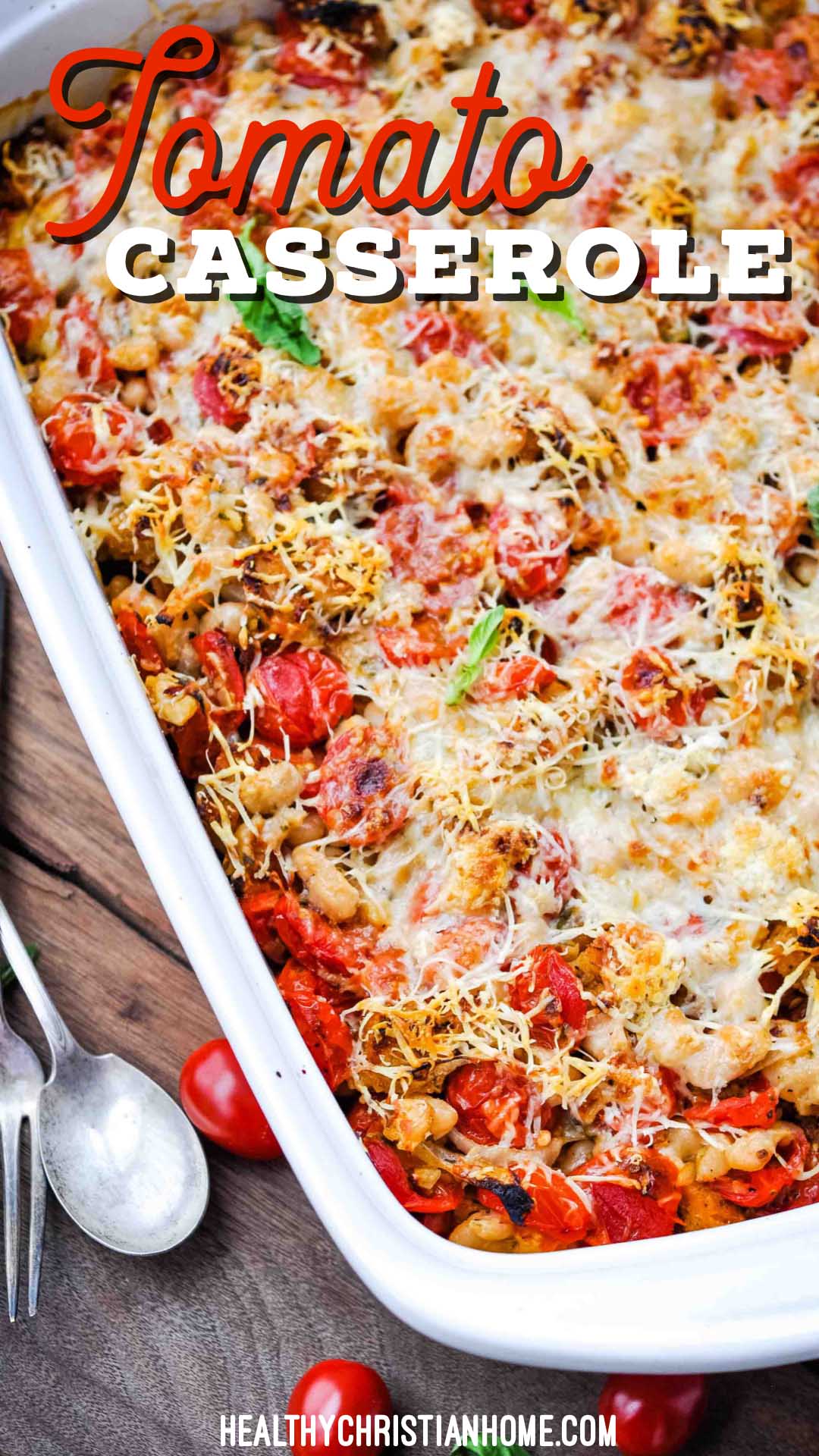 Tomatoes Deserve to Be the Star
Tomatoes are definitely my favorite vegetable (maybe because they're technically fruit?). But you and I both know, they totally go in the veggie category taste-wise.
I often eat salads with more tomatoes than greens, like this caprese salad or tomato cucumber onion salad — and I'm 100% okay with that.
So, I completely believe that tomatoes deserve to the the STAR of a special casserole dish. So I give you, tomato casserole.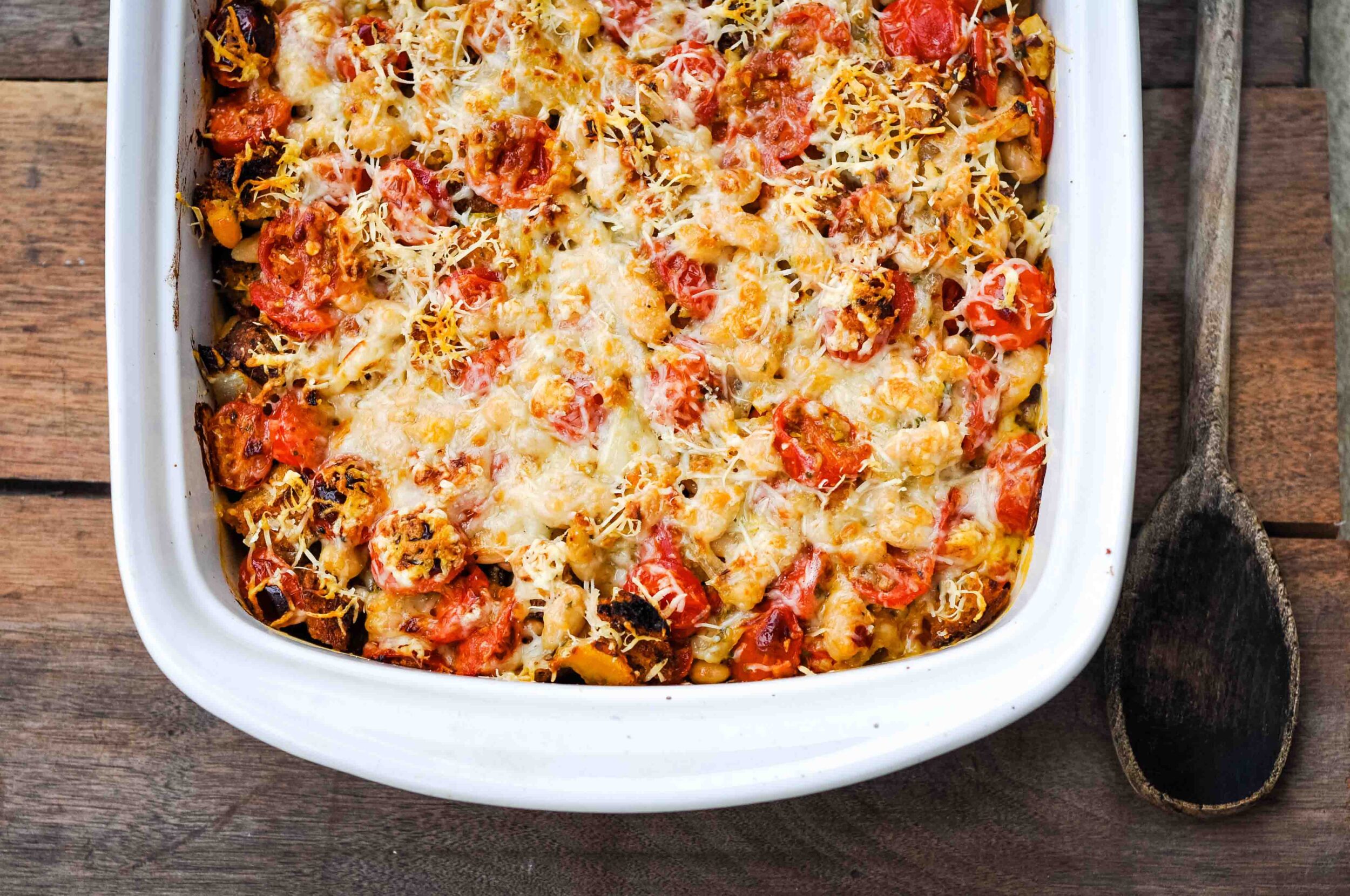 Think a tomato casserole sounds weird? It's not!
Think of it as an Italian-inspired, savory bread pudding with toasted bread, lots of cheese, flavorful tomatoes, white beans and fresh herbs. It's heavenly.
Not only does it taste heavenly, it's also very good for you!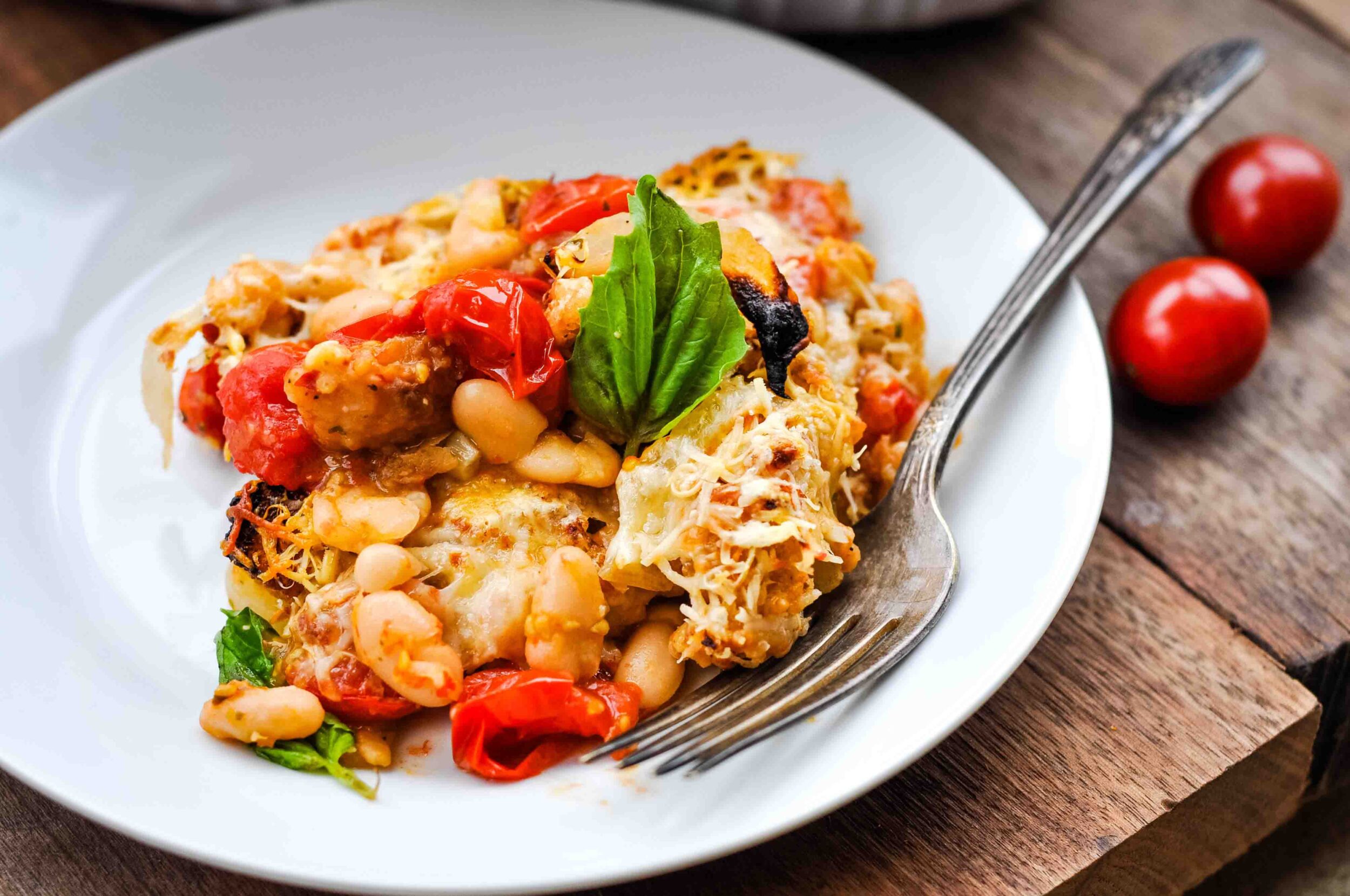 What's so great about tomato casserole?
When you want a light dinner. Ya know those days when you've overeaten and don't want anything heavy for dinner? This is the perfect meal to make.
It's vegetarian. I'm not vegetarian, and I think animal protein is essential for everybody. But sometimes, you need a meatless meal to cleanse and reset, and this one's perfect.
Side dish everyone loves. Bring this one to your next potluck, BBQ, fish fry, or summer gathering. It will go fast! Plus, it pairs well with just about anything. It's also beautiful and impressive-looking!
Tomato Casserole Nutrition
This dish is incredibly good for you. No guilt here!
The tomatoes are rich in the antioxidant lycopene, vitamin C, and potassium.
The white beans are packed with folate, phosphorous, manganese, iron, and magnesium.
Whole grain bread contains selenium and B vitamins
Fresh basil contains vitamins A and K
Cheese is a great source of calcium, fat soluble vitamins, and just makes this dish taste great!
How to Make Tomato Casserole
This post is sponsored by Pure Flavor®. All opinions are my own.
First, find some really great quality wholegrain bread. This is kind of the base of the dish and binds everything together, so don't use cheap loaf bread for this.
Cut a few slices into 1″ cubes, until you have around 2 cups of bread cubes. Lay them on a baking sheet along with some sliced onion. Drizzle everything with extra virgin olive oil, tossing evenly to coat.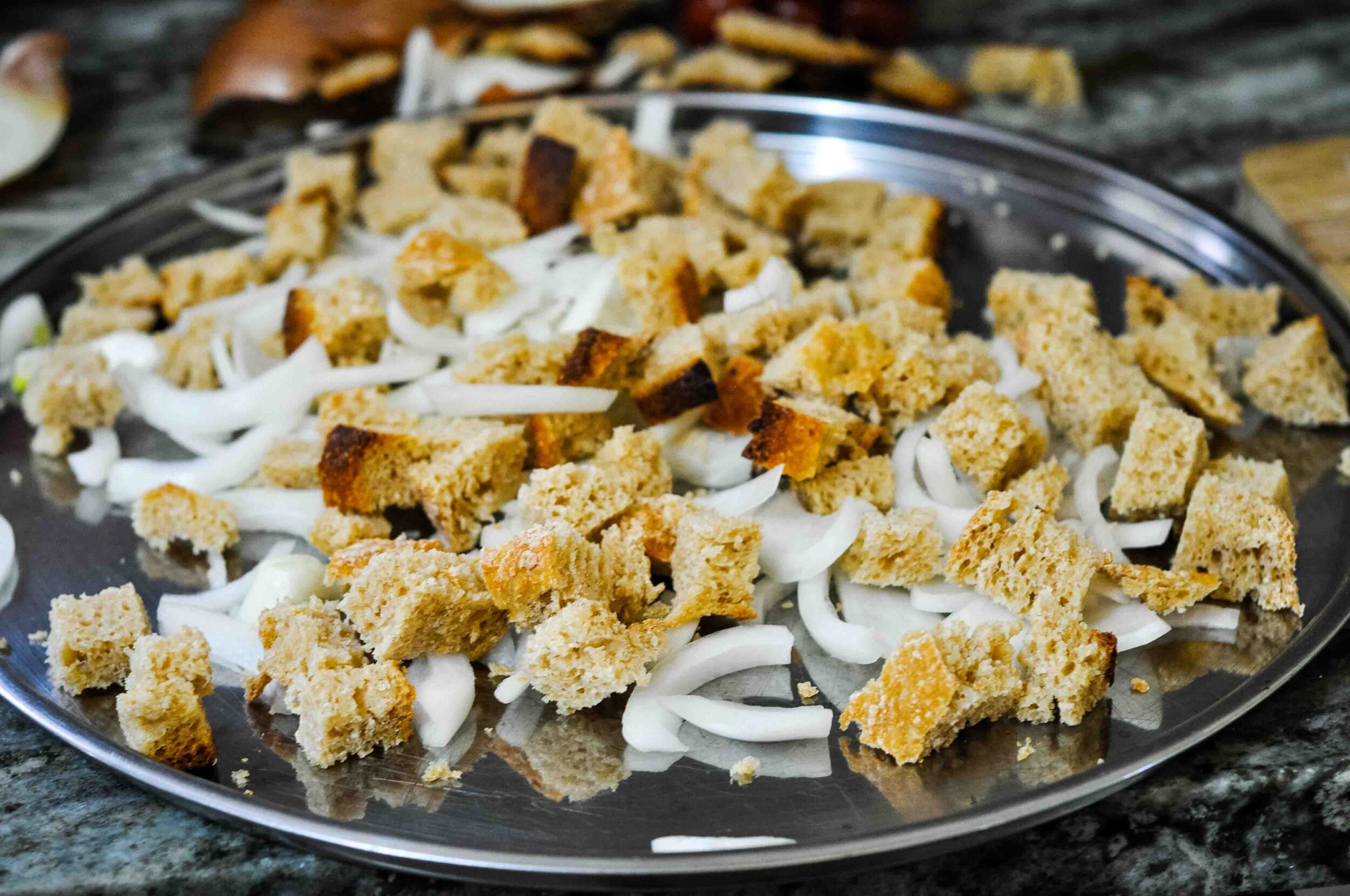 Bake for 8-10 minutes until toasted, and stir halfway through.
While the bread cubes are toasting, combine the other ingredients in a large mixing bowl. First, the tomatoes.
If you use large tomatoes, cut them into 1″ cubes. Or, opt for high quality grape tomatoes (I'm using Pure Flavor® Cloud 9® Tomatoes). I like slicing some grape tomatoes in half and leaving some whole. Add to the bowl.
Also add 4 cups of white beans like Great Northern or Cannellini, preferably soaked overnight and home cooked. In a pinch, you can used canned. If using canned beans, rinse them thoroughly.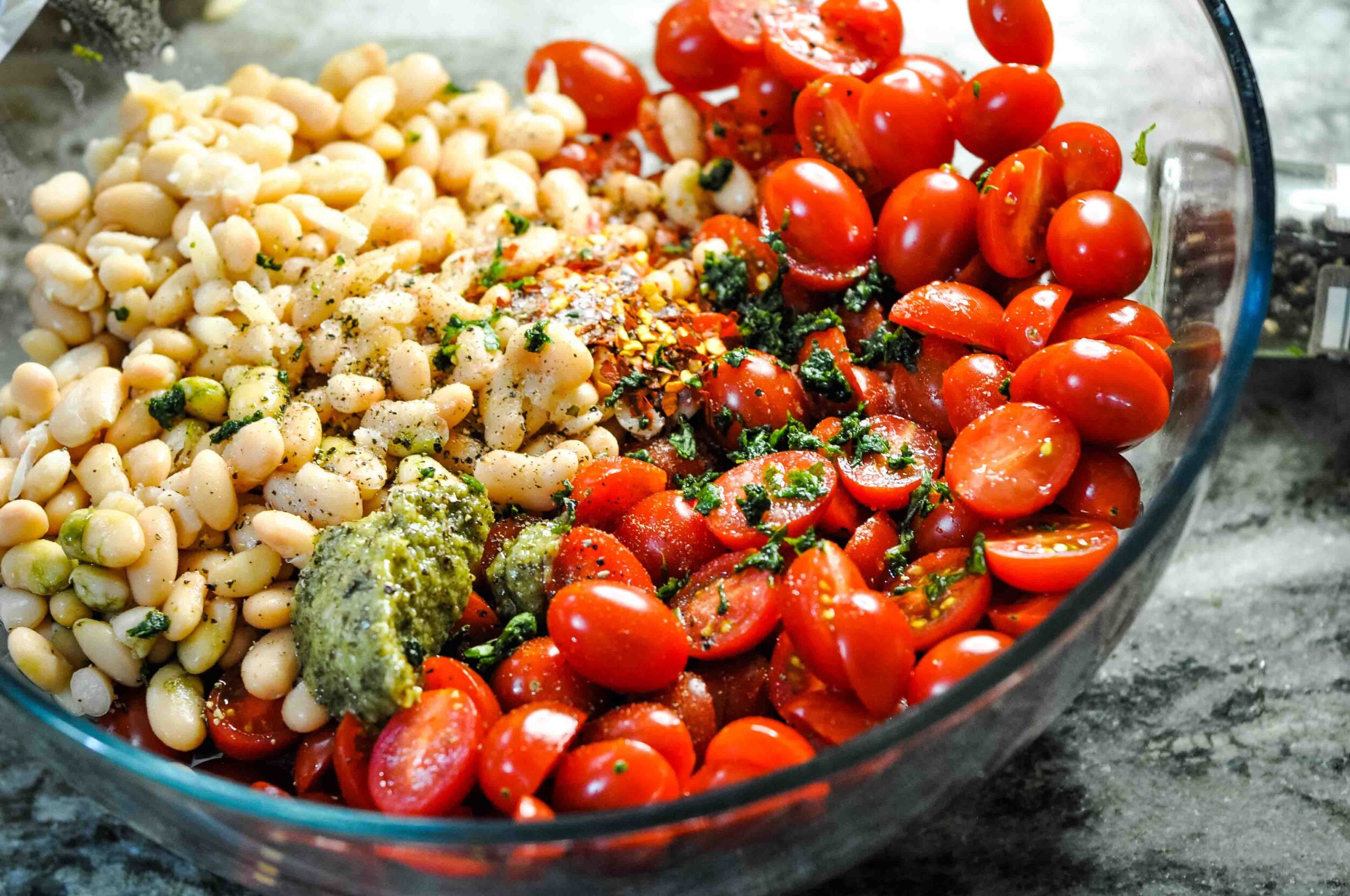 Also add the pesto, basil, seasonings, and garlic to the bowl. When the bread & onion mixutre is ready, add it too.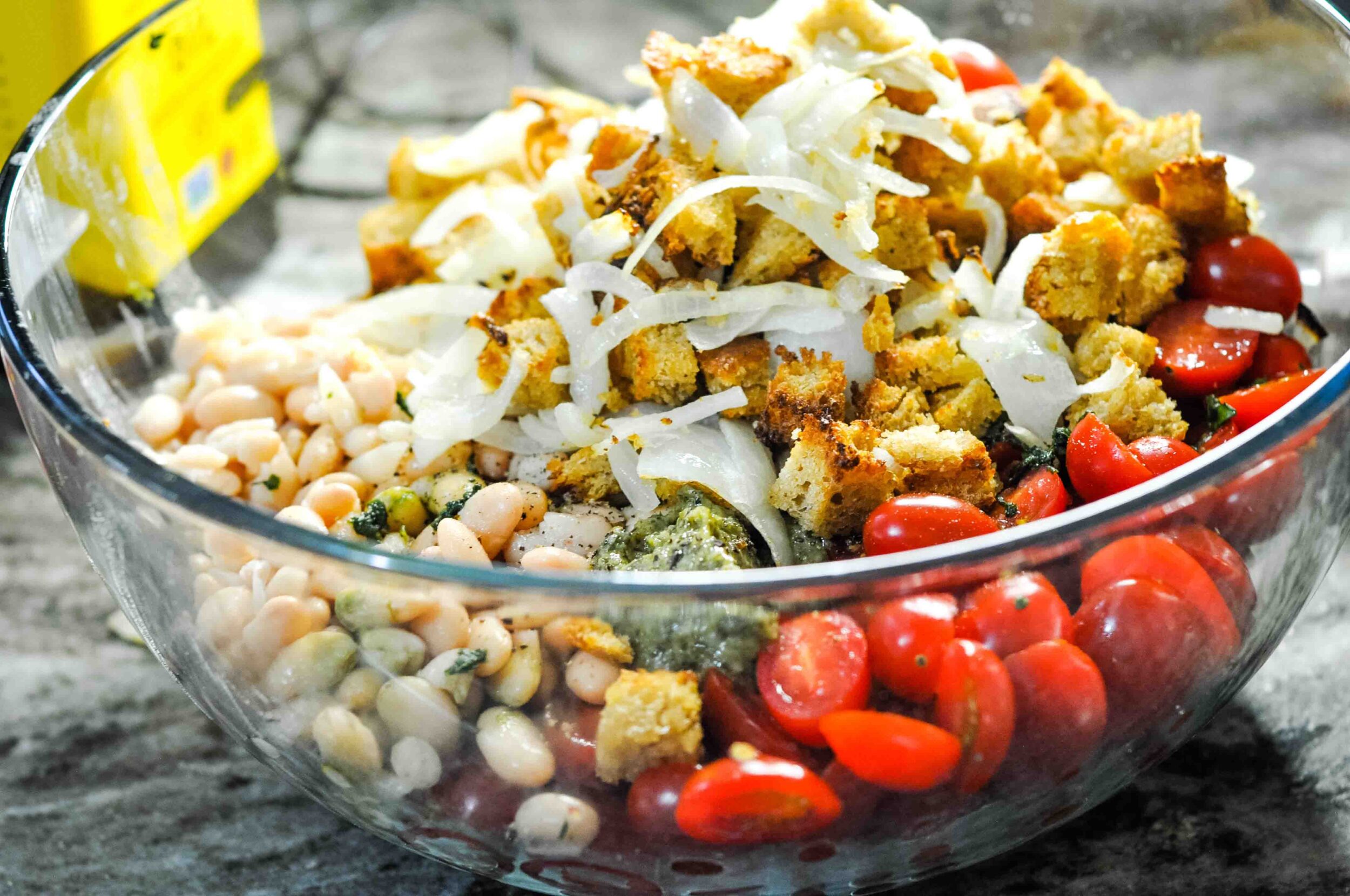 Mix everything together thoroughly and pour it into a 9×13″ casserole dish.
Top generously with grated parmesan (or other cheese of your choice).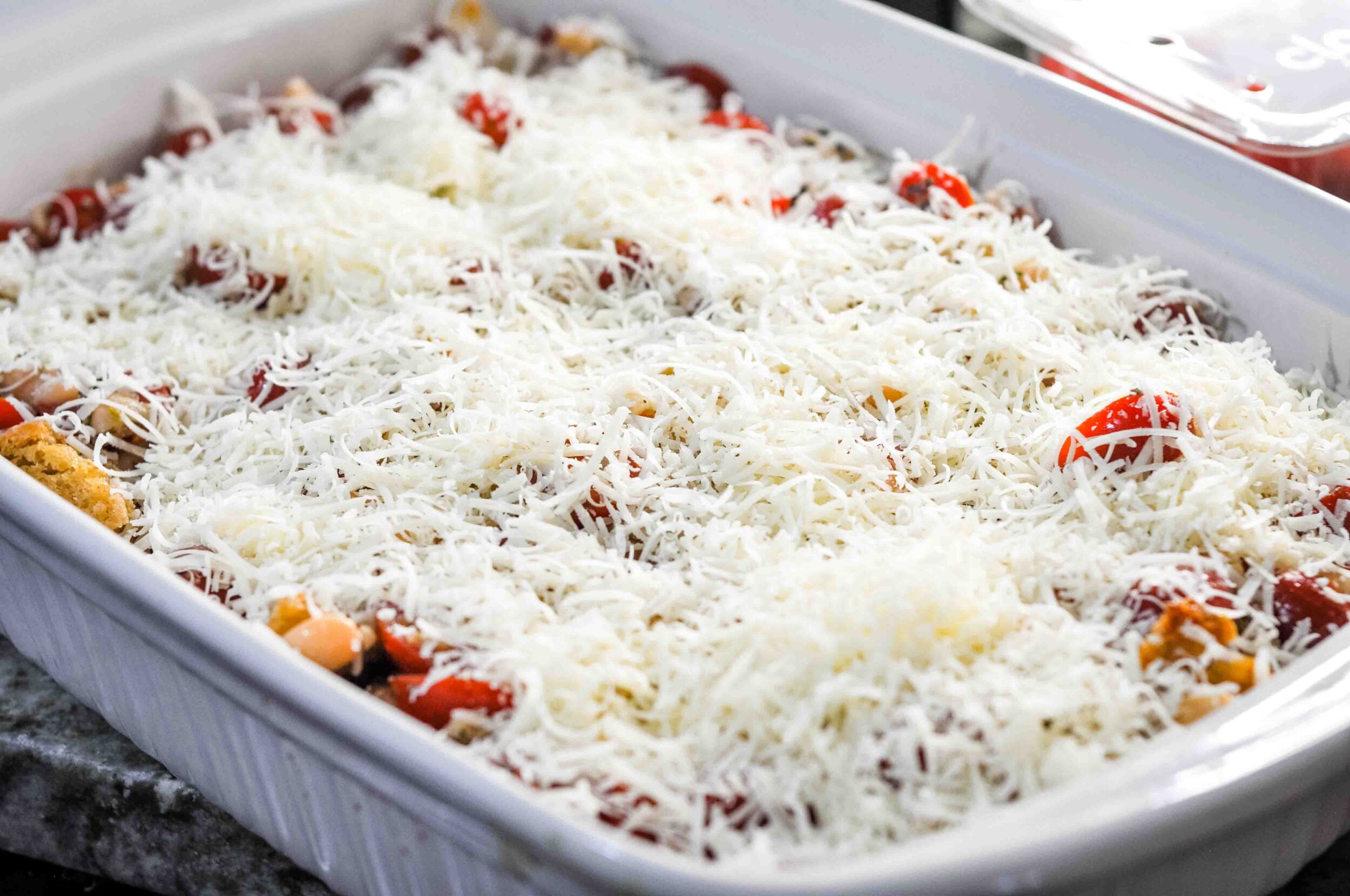 Bake until golden brown & bubbly, around 35-40 minutes.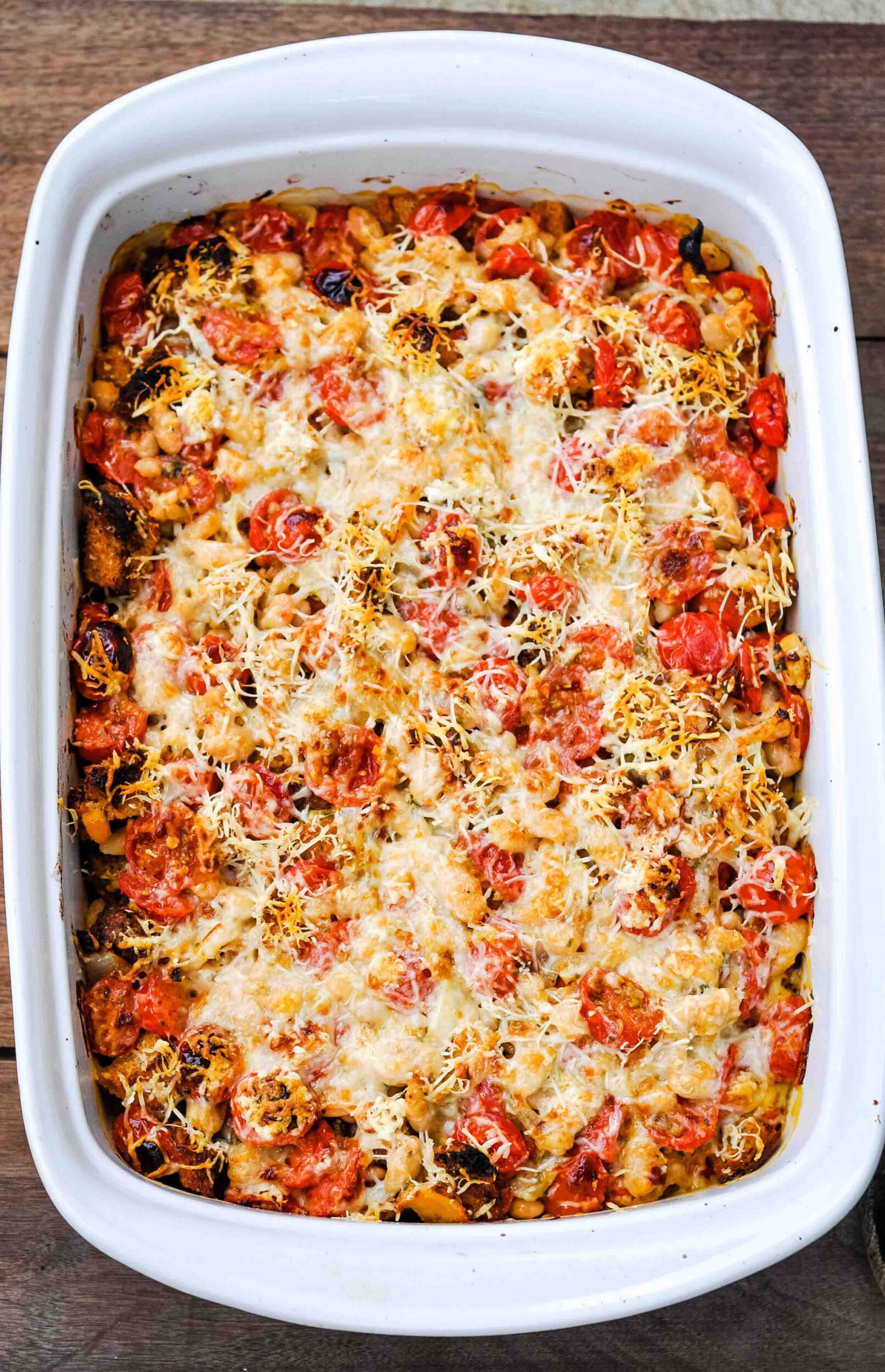 Top with more fresh basil if desired and enjoy!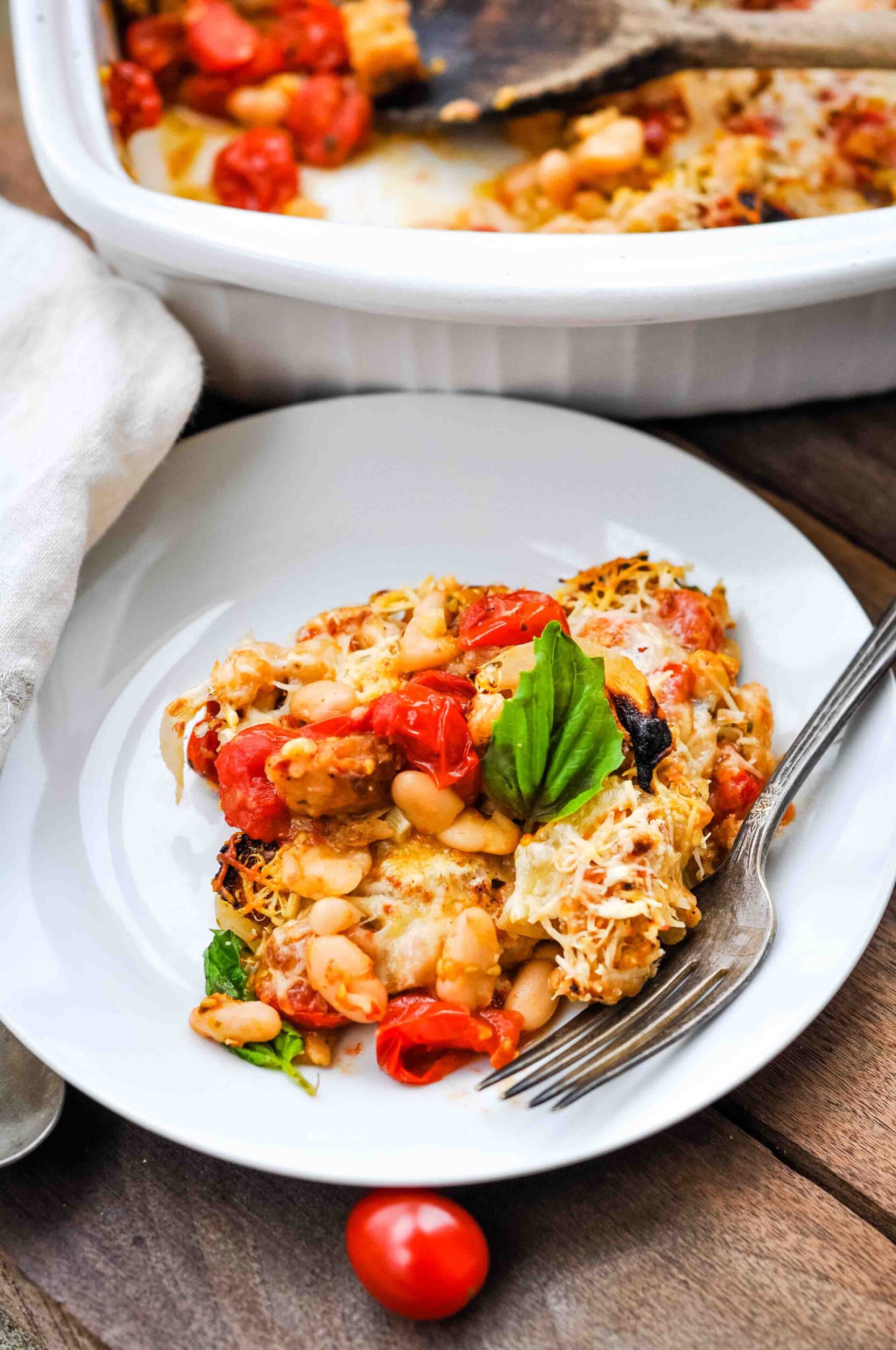 Baked Tomato Casserole Tips & Tricks
Grab a crusty, seedy loaf at your local bakery, or if you make your own sourdough bread this is a perfect way to use up a loaf that's starting to dry out. That's what I'm using.
Quality tomatoes are REALLY important in this recipe. Garden tomatoes in the height of summer are perfect, or in the off season try delectable Pure Flavor® Cloud 9® Bite-Sized Fruity Tomatoes! They honestly taste as good as home grown and are bursting with flavor.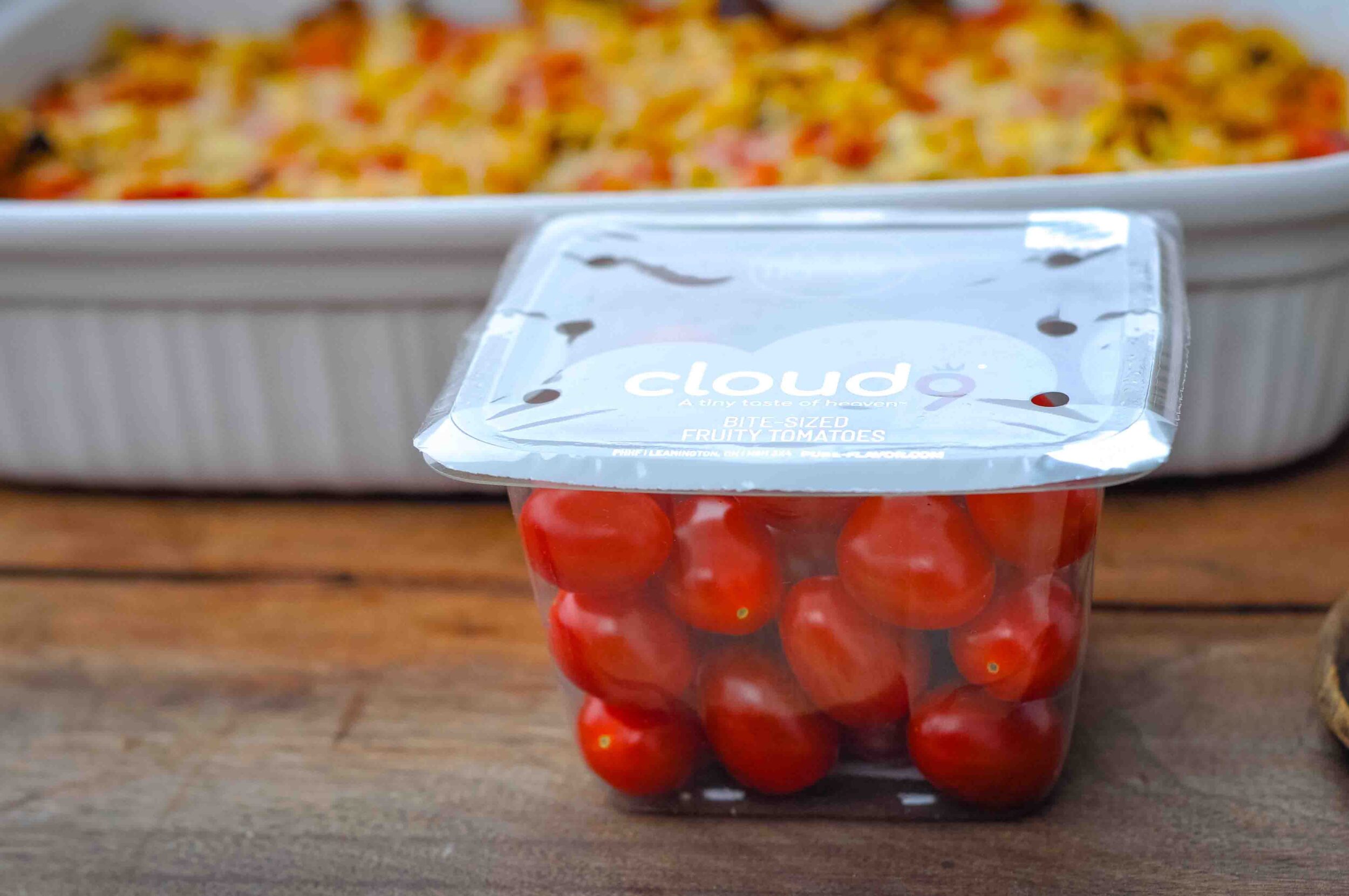 To have properly prepared beans on hand for recipes like this, batch cooking is the way to go. I like making huge batches of soaked beans and freezing them in jar-size portions for recipes in the future. Not sure why properly prepared beans matter? Read this.
Any store bought pesto works great for this recipe, but if you're keen to try making your own, this walnut & goat cheese pesto is delicious!
Parmesan complements this recipe so well, but feel free to use any cheese your heart desires to top this casserole! Cheddar, blue cheese, mozzarella…. so many options.
This dish is best eaten fresh, but can be kept in the refrigerator for up to 4 days and reheated.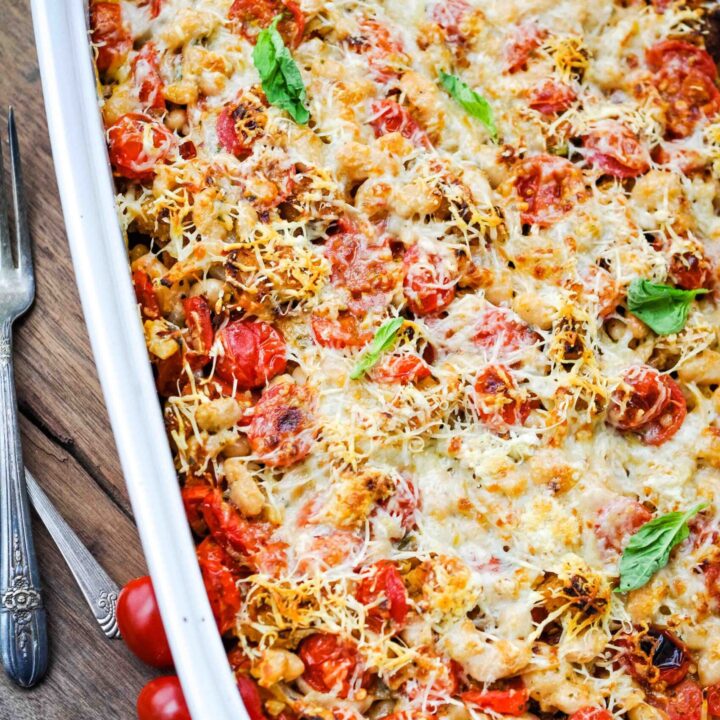 Yield: 8 servings
Savory Cheesy Tomato Casserole
Prep Time: 20 minutes
Cook Time: 35 minutes
Total Time: 55 minutes
Ingredients
1 onion, thinly sliced
2 cups quality whole grain bread, cut into 1" cubes
2 Tbsp. olive oil
3 dry pints grape tomatoes, like Pure Flavor® Cloud 9® tomatoes (or 6 cups regular tomatoes cut into cubes)
4 cups Great Northern or Cannellini beans, drained & rinsed
3 cloves garlic, minced
1 tsp. salt
1/2 tsp. pepper
1/4 cup packed fresh basil, chopped
1 Tbsp. pesto
1 tsp. crushed red pepper flakes
1 cup parmesan cheese, grated
Instructions
Preheat oven to 400° F. Cut bread into 1" cubes and slice onion. Arrange bread and onions on a baking tray and drizzle with olive oil, tossing to coat. Bake 8-10 minutes, stirring halfway through, until golden.
In a large mixing bowl, combine tomatoes, beans, pesto, basil, garlic, and seasonings. When bread/onion mixture is toasted, add it to the bowl also. Mix everything together thoroughly.
Pour into a 9x13" casserole dish. Top generously with grated parmesan cheese (or cheese of your choice).
Bake for 35-40 minutes, or until casserole is bubbly and golden brown. Top with additional fresh basil if desired and serve immediately.
Notes
If using grape tomatoes, you can cut some in half and leave some whole.
Make sure to use quality whole grain bread, not cheap loaf bread.
Nutrition Information:
Yield:
8
Serving Size:
1
Amount Per Serving:
Calories: 295
Total Fat: 9g
Saturated Fat: 3g
Trans Fat: 0g
Unsaturated Fat: 5g
Cholesterol: 11mg
Sodium: 855mg
Carbohydrates: 40g
Fiber: 10g
Sugar: 8g
Protein: 16g
Have you ever tried tomato casserole? What's your favorite way to enjoy fresh tomatoes?
PIN IT!