Fresh and sweet, this blueberry compote is the perfect concentrated fruit topping for pancakes, waffles, oatmeal, or yogurt. Or, simply enjoy a bowl of it with a big dollop of whipped cream!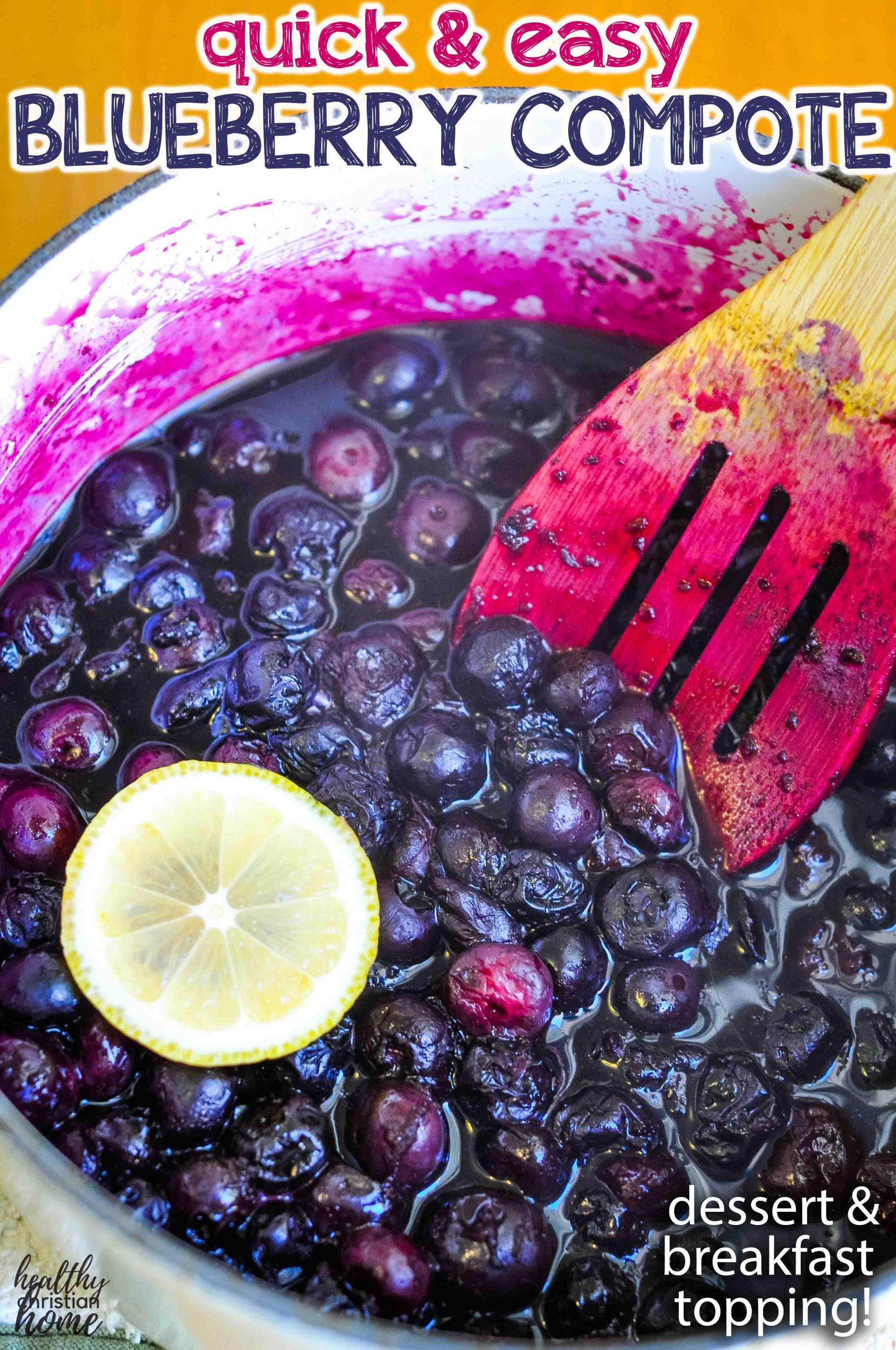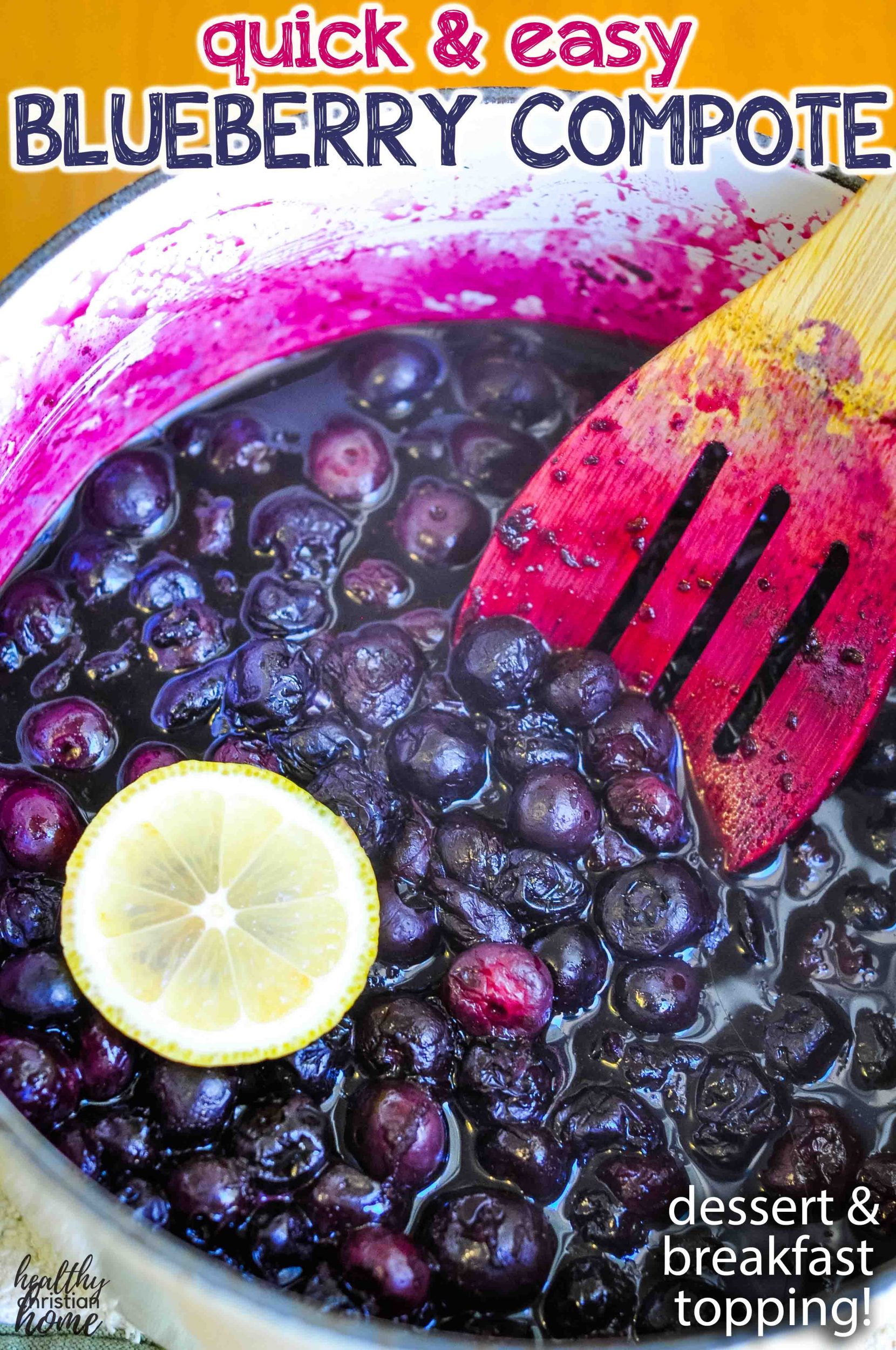 Everything my mom makes is cozy, but compote is one of my favorite recipes of hers. For the past few years when we visit, she whips up a saucepan full of special fruit 'compote' that tastes like heaven.
She usually makes it with whatever fruit she has lying around: apples, frozen mixed fruit, frozen berries, or peaches.
It's so good on top of pancakes, waffles, oatmeal, yogurt, and more. But my favorite way to eat it (and the way we enjoy it at mom's house) is to serve in a bowl with a BIG dollop of homemade whipped cream.
Did I say heaven?
So today, I decided to make blueberry compote just like mama's. This recipe is so quick and easy, you might have just discovered your favorite go-to easy, healthy dessert!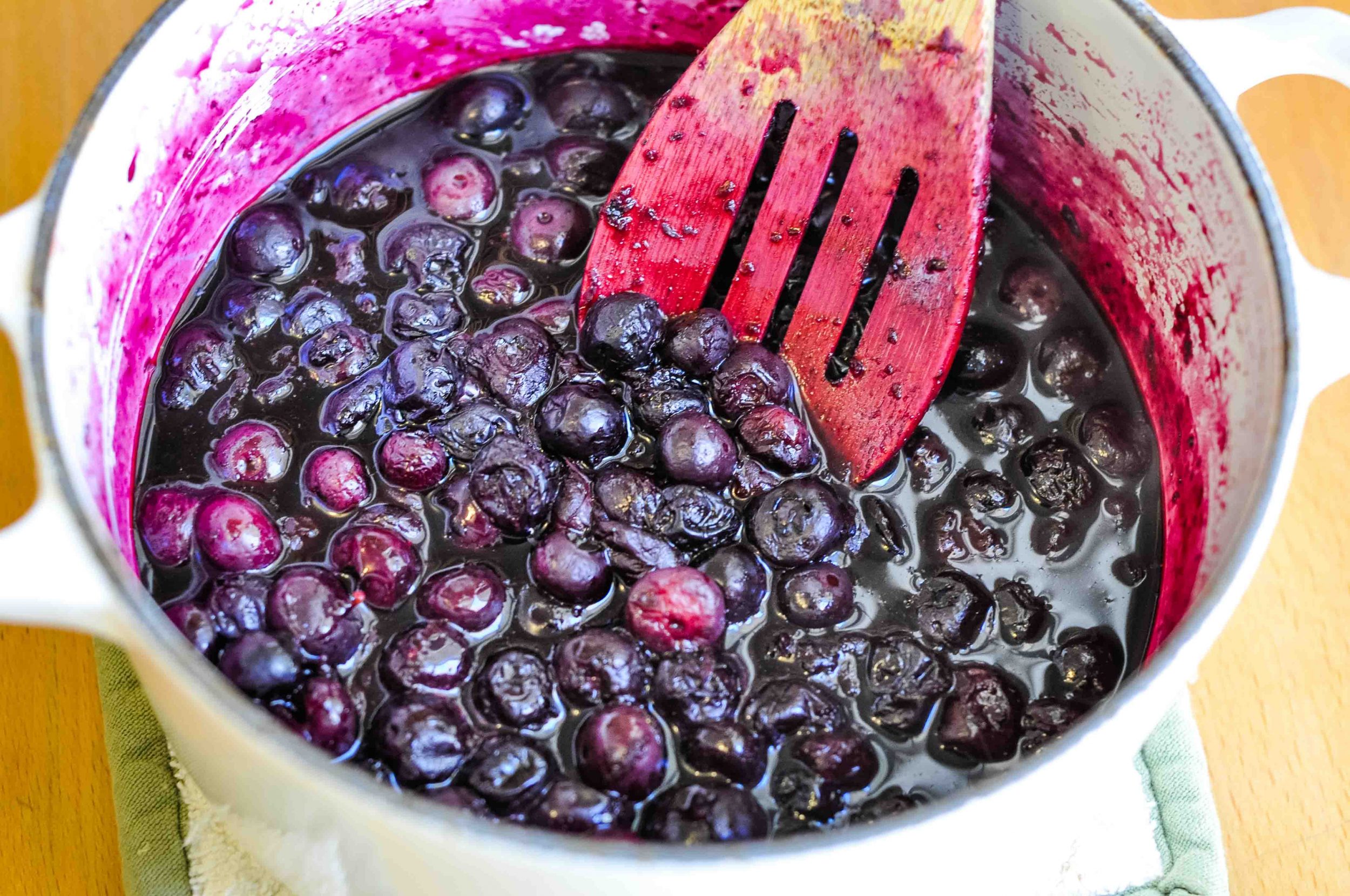 What is a fruit 'compote'?
When mom first introduced us to compote, we used to giggle at what a funny-sounding word it is. But what is a fruit compote?
Compote is basically stewed fruit with some sweetener added to thicken and make it rich. Another defining factor is that compote is chunky, while a smooth pureed fruit sauce is called coulis (source).
Compote is also the perfect 'in-a-pinch' healthy dessert recipe. For last minute guests, you can whip up this compote in minutes with minimal effort. Top with whipped cream and a sprinkle of nuts (maybe a few fresh berries too), and it's sure to impress!
How to Make Blueberry Compote (or any fresh fruit compote)
This recipe is SO simple! Just add 1 pound (16 ounces) fresh or frozen blueberries to a saucepan. If you're using another type of fruit, just swap the blueberries for your fruit of choice.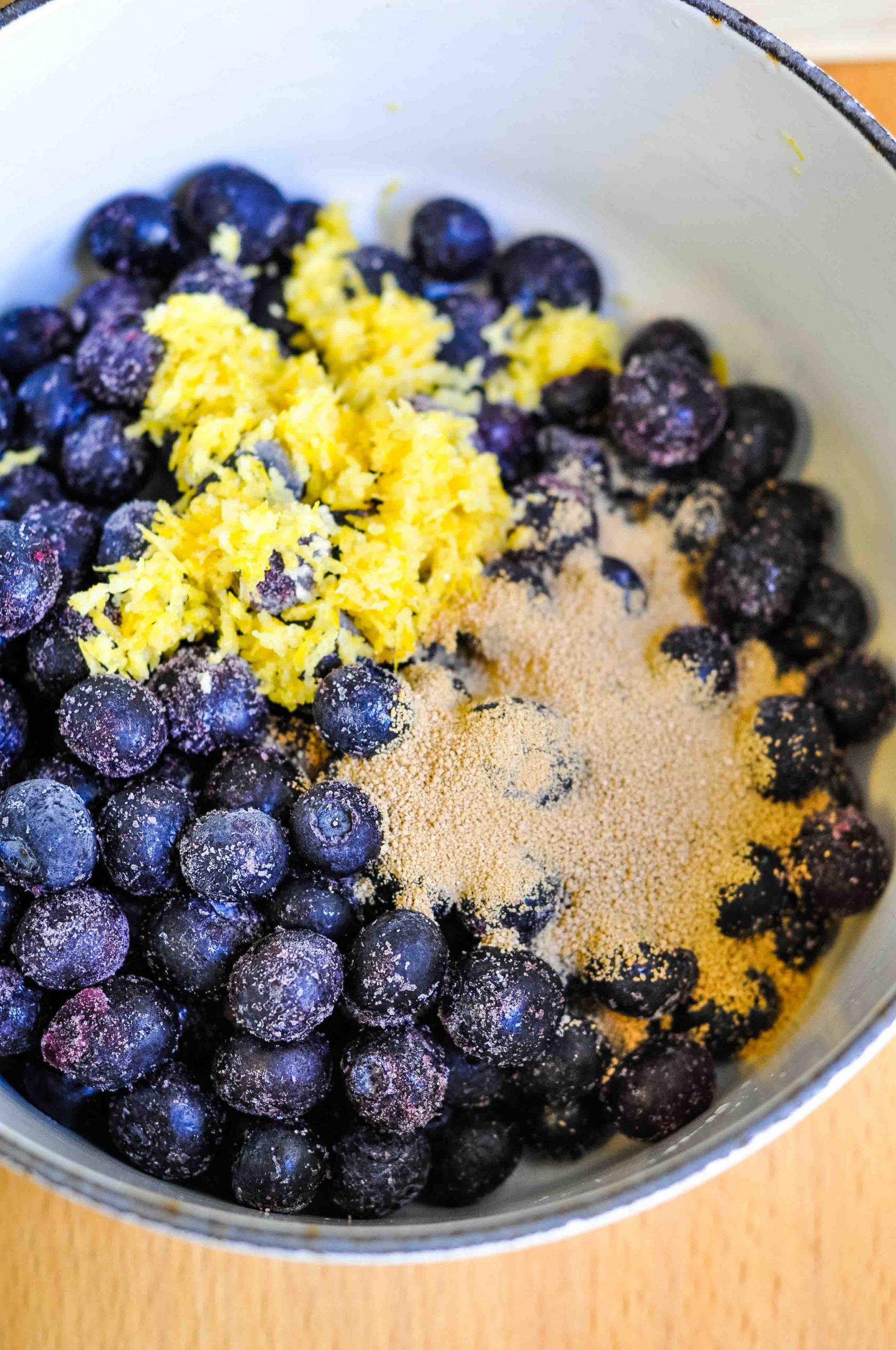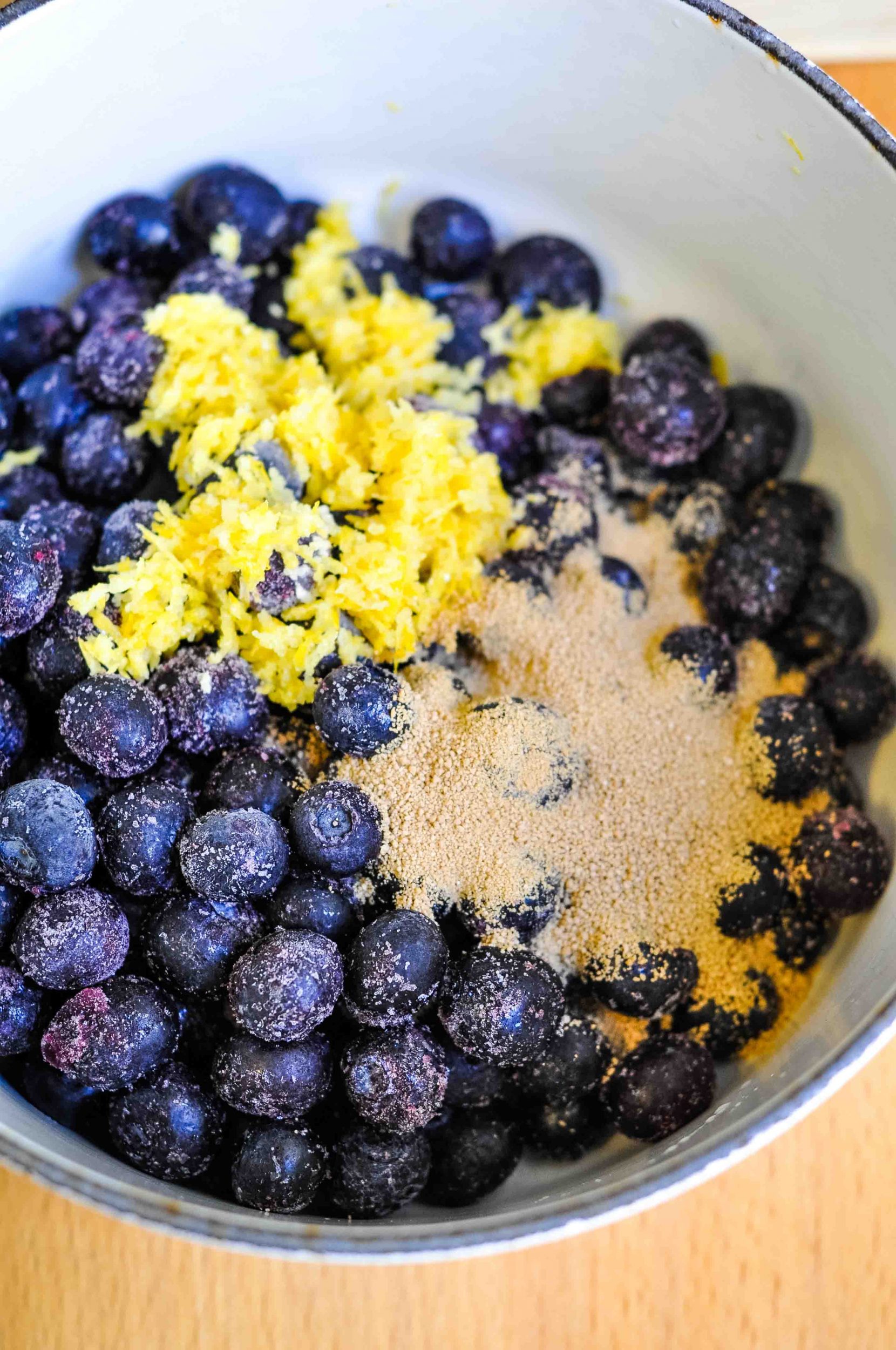 Add the juice of ½ lemon (around 1 tablespoon juice) and a tablespoon of water to get things going. Resist the urge to add more liquid. You don't want your compote to be too thin.
Next add some lemon zest – I used around 2 teaspoons zest. It really brightens up the flavor and complements the blueberries so well. If you don't like lemon, try orange or simply omit it and use water instead. The berries will also release their juice as they cook.
Then, add your sweetener of choice to the saucepan – I wrote a section on which types of sweeteners to use in the next section. Stir the mixture together.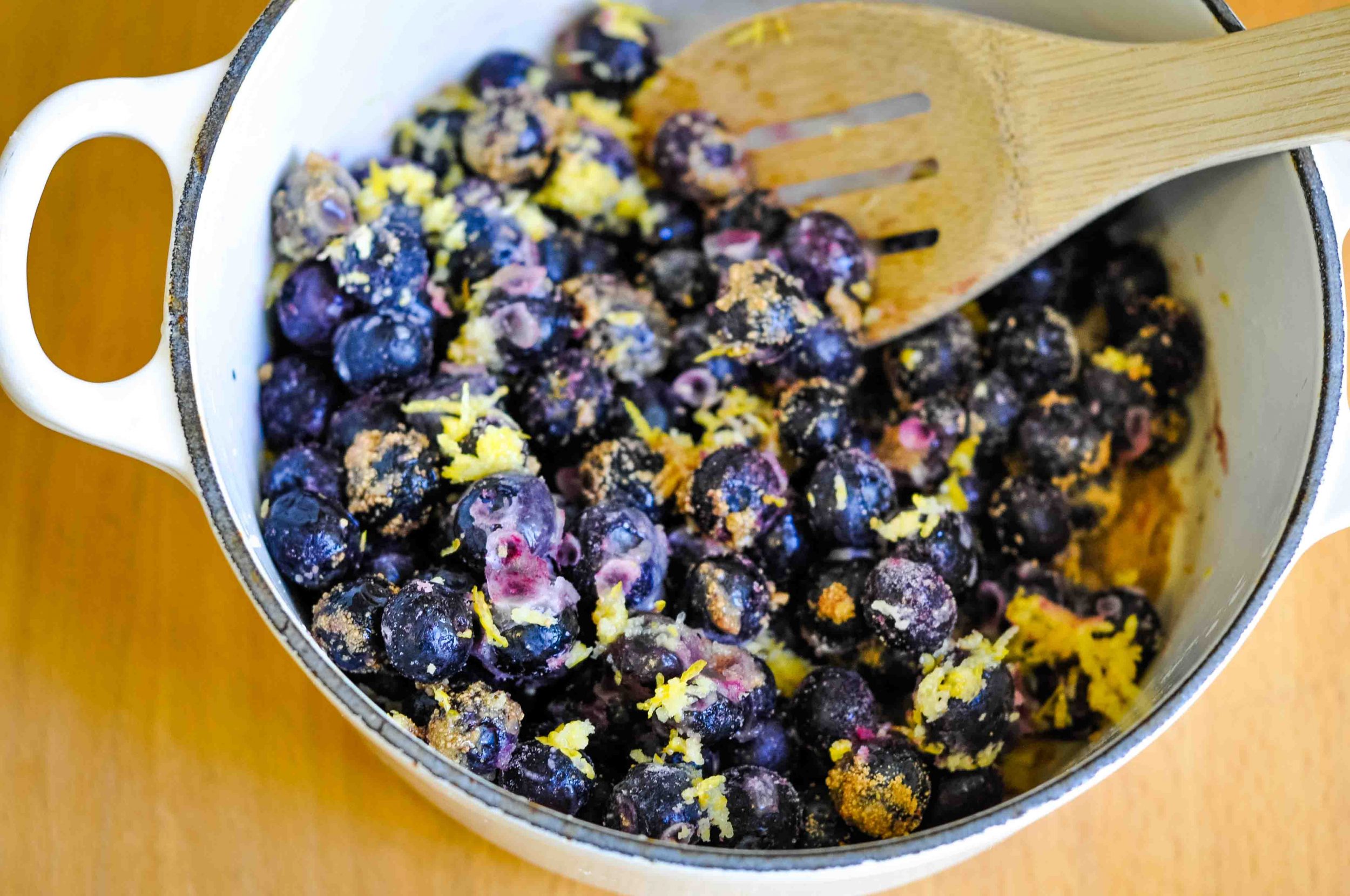 There's no need to add a thickener like cornstarch, since the naturally occurring pectins in blueberries help to thicken the compote on their own.
Turn the saucepan on medium heat, and cook for around 15 minutes, stirring occasionally. Remove from heat. As it cools, the compote will thicken.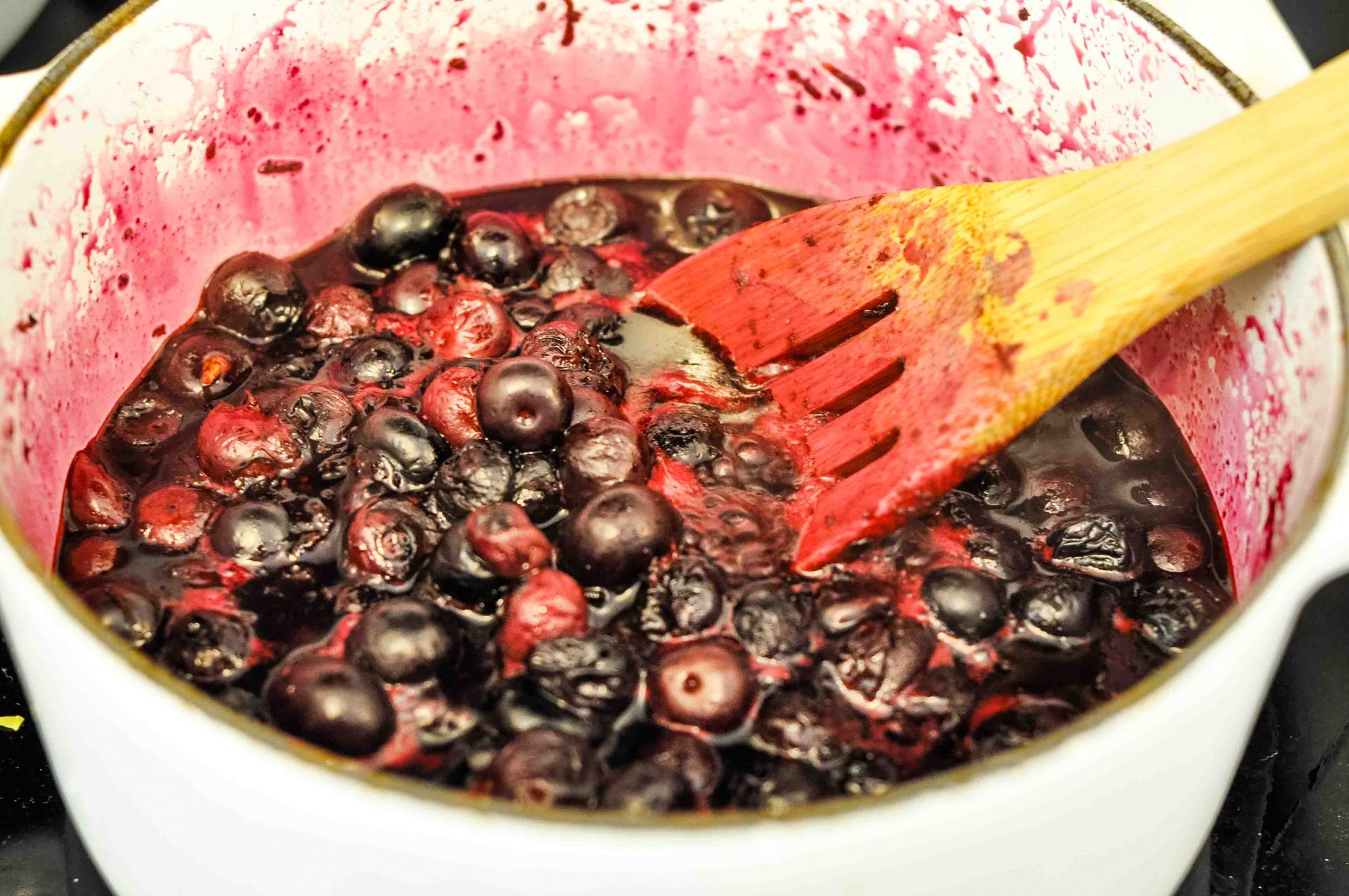 If you like, you may add a dash of vanilla and/or cinnamon to the finished compote.
If you're making another type of fruit compote (such as peach, apple, mixed fruit, etc.) – follow the same basic format. A pound of fruit, a couple tablespoons liquid, and sweetener. Cook on medium heat until thickened.
A note on sweeteners
This compote recipe is so versatile, and you can use just about any type of sweetener you prefer as long as there's a substantial amount. It's even possible to make blueberry compote with no sugar!
However, avoid alternatives like Stevia that only use a tiny amount of liquid or powder. You need a good amount of granulated sweetener or honey/maple syrup to help thicken the compote.
Today, I'm using my favorite unrefined sugar called Sucanat, which is evaporated cane juice that retains its minerals. Here are some sweeteners that work well for this recipe:
Honey
Maple Syrup
Agave
Granulated sugar (organic preferred)
Erythritol
For Paleo blueberry compote: Use honey or maple syrup
For Keto blueberry compote: Use erythritol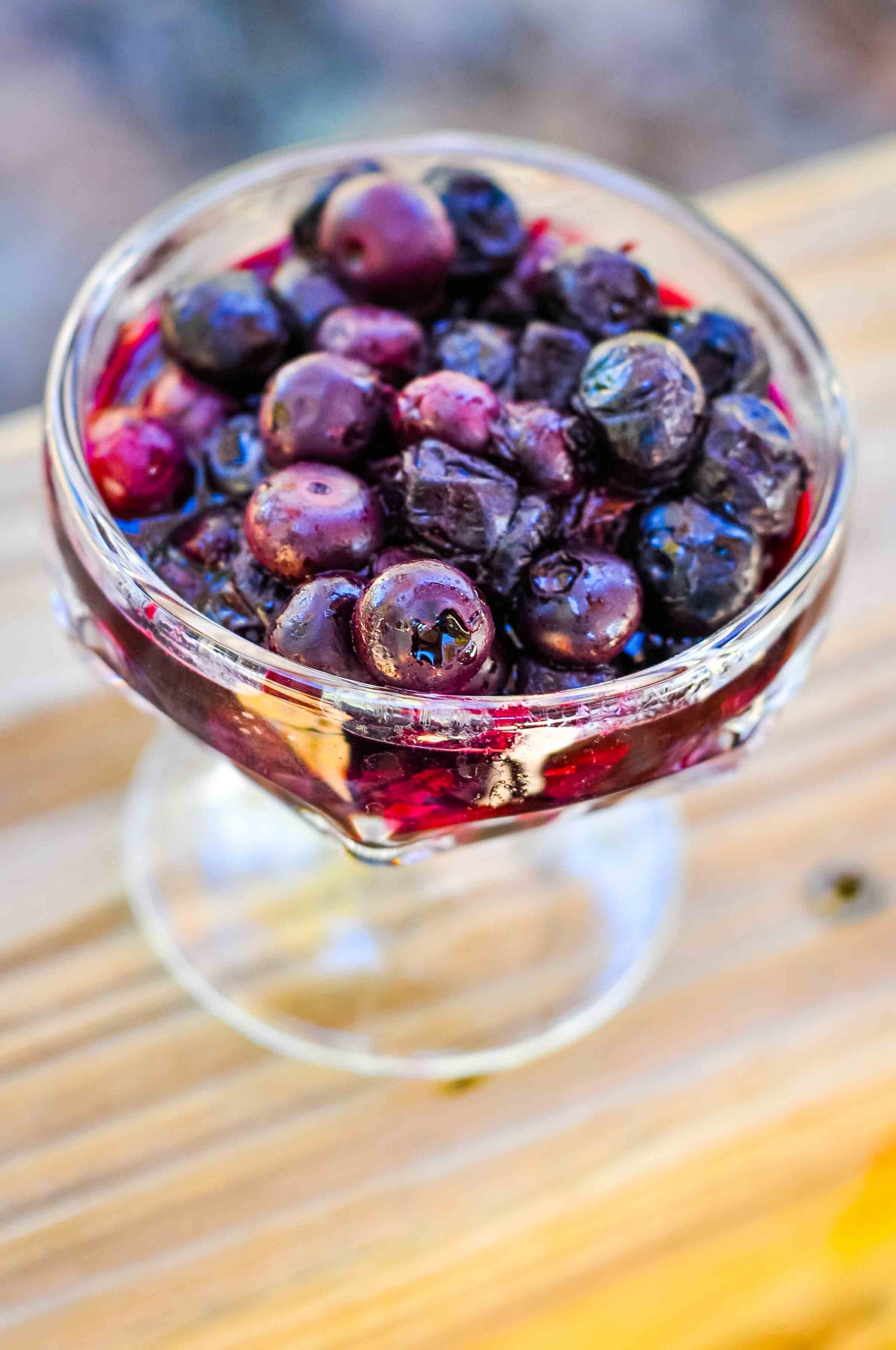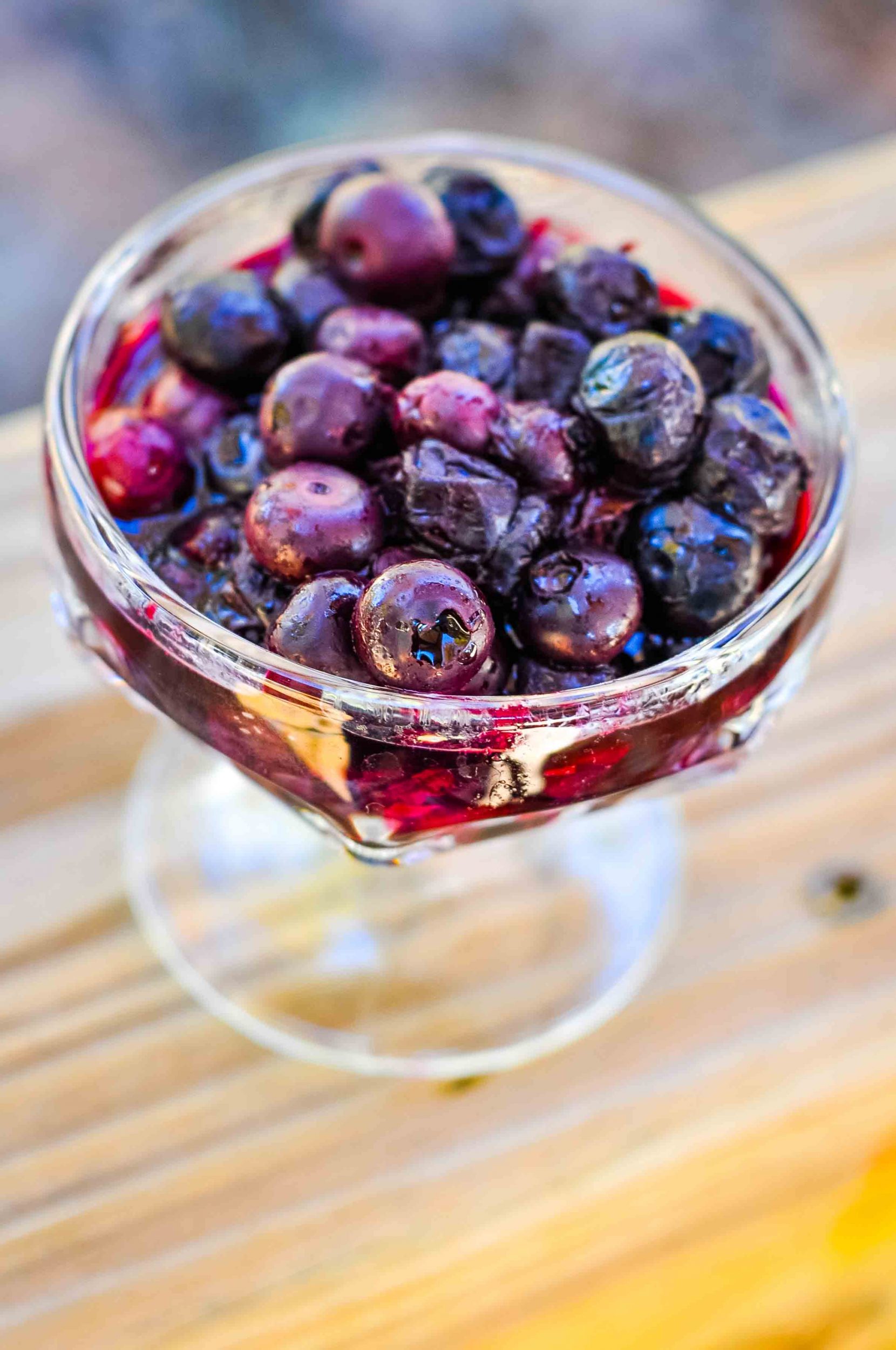 Tips for the perfect blueberry compote:
Use fresh berries if possible. Since it's almost winter here, I used frozen blueberries for my compote. But if you have access to fresh blueberries in season, this compote is even more flavorful!
Don't add too much liquid. You might want to add a tablespoon or so of water to get things going, but resist the urge to add more liquid. The berries will release their liquid during cooking, and you don't want to end up with a compote that's too thin.
Add an extra 'bite.' If you want to add an extra fresh blueberry 'bite' to your compote, stir in a few fresh blueberries to the finished compote. This will add texture and juiciness to really take your compote over the top!
Play with the flavors. Try adding a dash of cinnamon or vanilla extract. Or, swap the lemon for orange to create a blueberry orange compote!
Add some crunch. Blueberry compote tastes even better with a sprinkle of nuts like walnuts!
Storage. This compote stays fresh in the fridge up to five days, and will thicken even more as it cools in the fridge. You may be able to freeze it too, but I haven't tried this yet.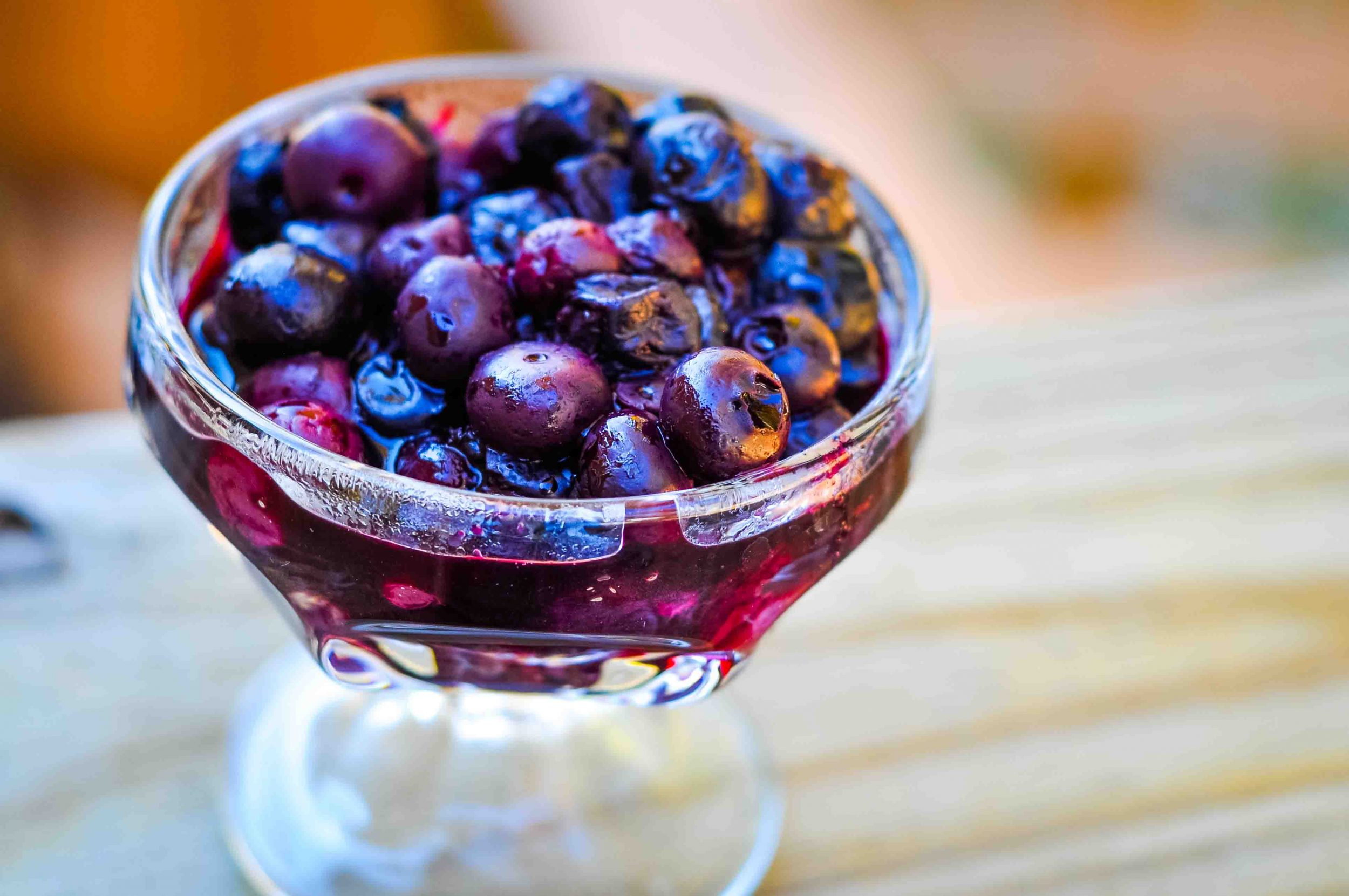 Serving ideas for blueberry compote
There are so many ways to enjoy this amazing blueberry compote! Here are some easy ideas:
Stir into yogurt
Topping for ice cream
Syrup alternative for pancakes, waffles, or french toast
Spoon blueberry compote over homemade cheesecake (or any cake)
Stir into oatmeal
Or just add to a bowl and top with homemade whipped cream! It tastes like a crustless cobbler.
Here's the recipe card! If you enjoy this recipe, please leave a star rating so more people can find it. Thank you!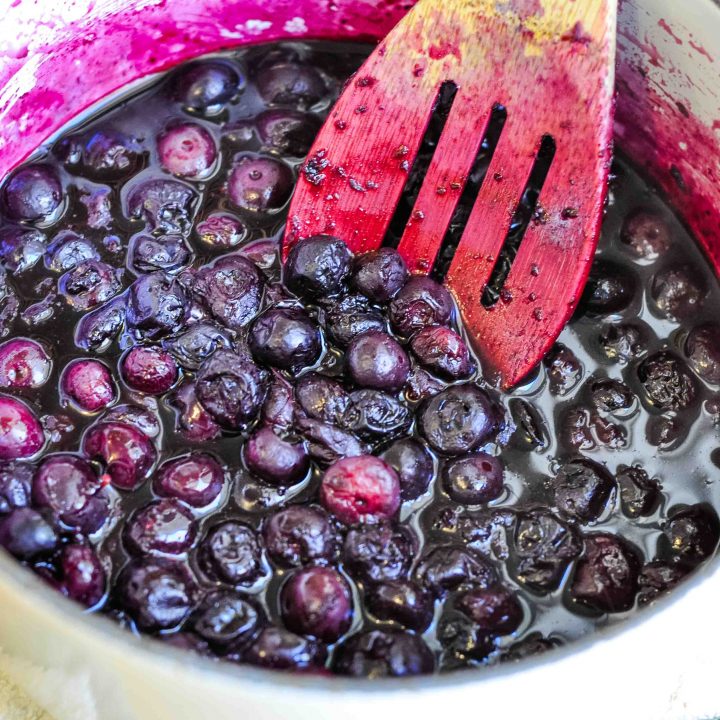 Yield: 2 cups
Easy Blueberry Compote (or any fruit)
Prep Time: 5 minutes
Cook Time: 15 minutes
Total Time: 20 minutes
This bright & sweet concentrated blueberry topping is perfect for a myriad of desserts or breakfast items like pancakes & waffles! Adjust the sweetener to fit your dietary needs.
Ingredients
1 pound (16 oz.) blueberries, fresh or frozen
1 Tbsp. fresh lemon or orange juice
1 Tbsp. water
2 tsp. lemon zest (optional)
Instructions
Add blueberries, juice, lemon zest, water, and sweetener to a medium saucepan. Mix thoroughly.
Cook on medium heat for 15 minutes, stirring occasionally, until blueberries are soft and bursting.
Compote will thicken as it cools.
For an even thicker compote, cook even longer to allow more liquid to evaporate.
Notes
* Feel free to use any type of healthy sweetener, such as maple syrup, honey, agave, erythritol, or granulated sugar. Avoid alternative sweetening drops or powders such as stevia, as these will not help the compote to thicken.
Recommended Products
As an Amazon Associate and member of other affiliate programs, I earn from qualifying purchases.
Nutrition Information:
Yield:
4
Serving Size:
1
Amount Per Serving:
Calories: 29
Total Fat: 0g
Saturated Fat: 0g
Trans Fat: 0g
Unsaturated Fat: 0g
Cholesterol: 0mg
Sodium: 1mg
Carbohydrates: 7g
Fiber: 0g
Sugar: 5g
Protein: 0g
More healthy desserts you'll love:
Alternate cooking methods
You might be wondering, "Is it possible to make blueberry compote in the slow cooker or Instant Pot?" The answer is yes!
Keep in mind that these methods prevent any liquid from evaporating during cooking, so you might end up with a thinner compote. To correct this, you can add a slurry of cornstarch and water after the fruit is cooked.
Simply add blueberrries (or other fruit), lemon juice, and sweetener to slow cooker and cook on low for 2 hours. For the Instant Pot, add the same ingredients plus 1/4 cup water to prevent burn error, lock the lid, and cook for 15 minutes on high pressure.
After fruit is cooked, simply combine 1 tablespoon each water and cornstarch to make a slurry. Stir in to fruit mixture and allow to cook on low heat until thick.
Have you ever tried fruit compote? What's your favorite easy & healthy dessert?
PIN IT!