Looking for a unique way to serve white beans, or all out of chickpeas to make hummus? Never fear! This Mediterranean white bean hummus is just what you need. The flavors are over-the-top amazing with marinated veggies, beef, and feta cheese toppings.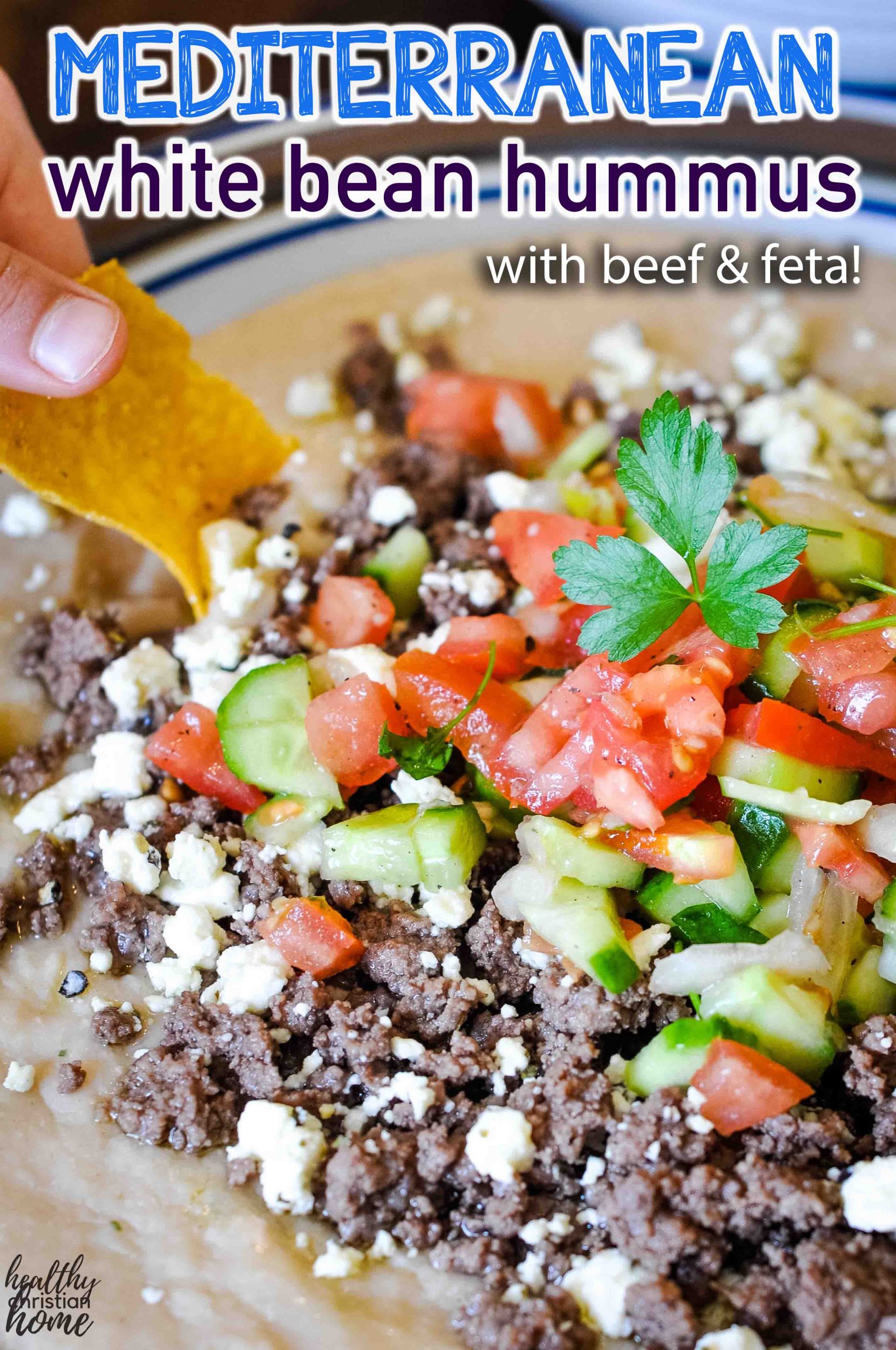 The other day, I saw an Instagram recipe I just had to try — mediterranean hummus with beef and feta cheese. My mouth started watering just looking at it. My affinity for greek food is real, people!
Just ask my greek salad and roast beef gyros with tzatziki.
But there was one problem when it came to making this recipe. I had no chickpeas!
But, I DID have a pantry full of white beans languishing on the shelf. White bean hummus to the rescue!
This recipe turned out so amazing, we've made it several times since and it's on our regular meal rotation now.
It's such a fun and simple way to use ground beef too, besides spaghetti and tacos, kind of like Scottish mince and tatties and beefy lasagna mac.
Is hummus healthy? What kind of beans is hummus made from?
Hummus is a long-loved middle eastern staple packed with plant based protein. Typically made with chickpeas (a.k.a. garbanzo beans), traditional hummus has tons of manganese, copper, and folate.
This white bean version is extremely nutritious too – it's also a rich source of iron, potassium, magnesium, and zinc! Beans are a truly underrated and amazing source of nutrition.
What can I substitute for chickpeas in hummus?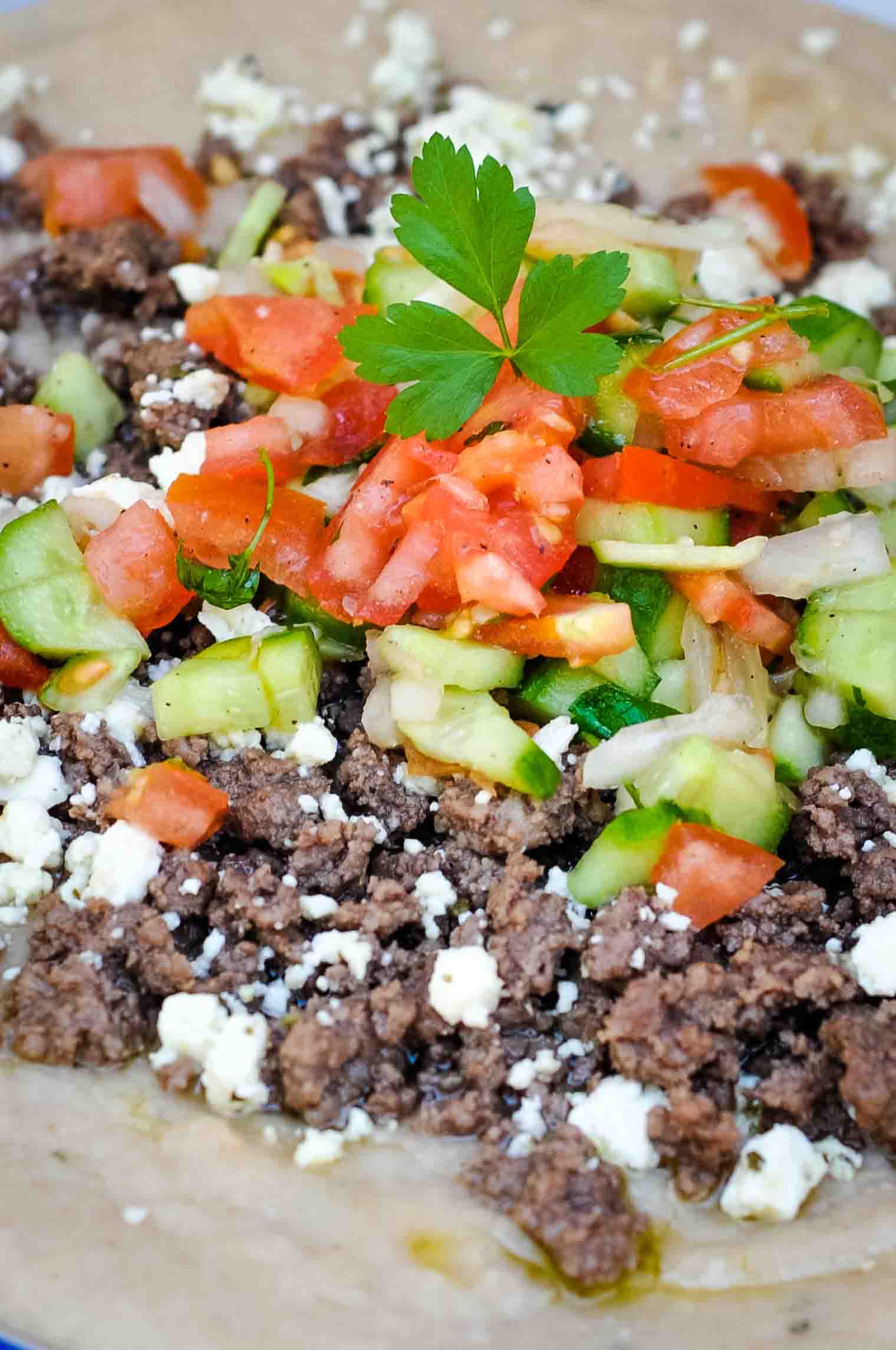 I'm using white beans today, which are a perfect sub for chickpeas. They have a nutty, mild flavor that tastes delicious with all the other seasonings added.
There are several different kinds of white beans, the most common being cannellini. Another common type is navy beans, which are slightly smaller. Great northern beans are another type I like using.
You can use any type of white beans in hummus interchangeably. If you don't have white beans on hand, you can even use pinto beans – I've done it before! They're not quite as mild, but still delicious.
Although bean alternatives for hummus aren't quite as creamy, this is easy to compensate for by adding a bit of aquabafa (cooked bean liquid) to the hummus to help smooth it out.
Do I need tahini for this hummus recipe?
Tahini is a paste made from toasted sesame seeds. It imparts a rich, nutty flavor to hummus that tastes great. However, it's not 100% necessary.
To be honest, I never have tahini on hand so I just make do without it. I'm adding several flavor elements to this hummus which more than make up for it having no tahini.
White bean hummus ingredients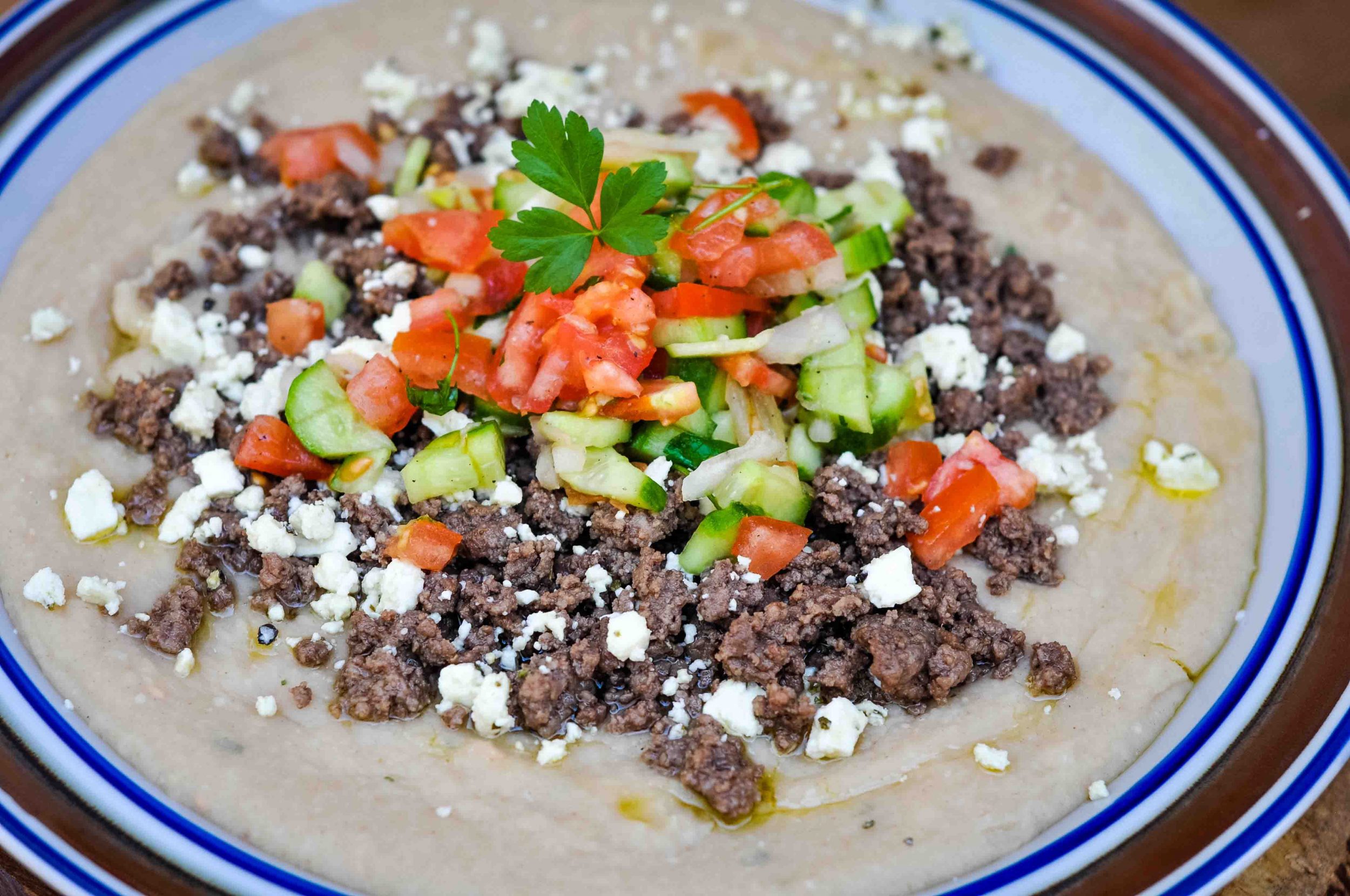 There are some special add-ins that really make this hummus sing! Here's what you need:
White or cannellini beans
Lemon zest & juice
Garlic
Cumin
Parsley
Quality olive oil
Salt to taste
How to make white bean hummus from scratch
This white bean hummus is so simple to make! Here's the step-by-step process.
First, soak some white beans overnight (at least 8 hours) in tepid water with a splash of apple cider vinegar. This helps makes the beans more nutritious and easier to digest.
After soaking, add 1/2 chopped onion to the beans and cook on medium high heat until boiling. Reduce heat to a simmer, and allow to cook until beans are soft, around 1 hour.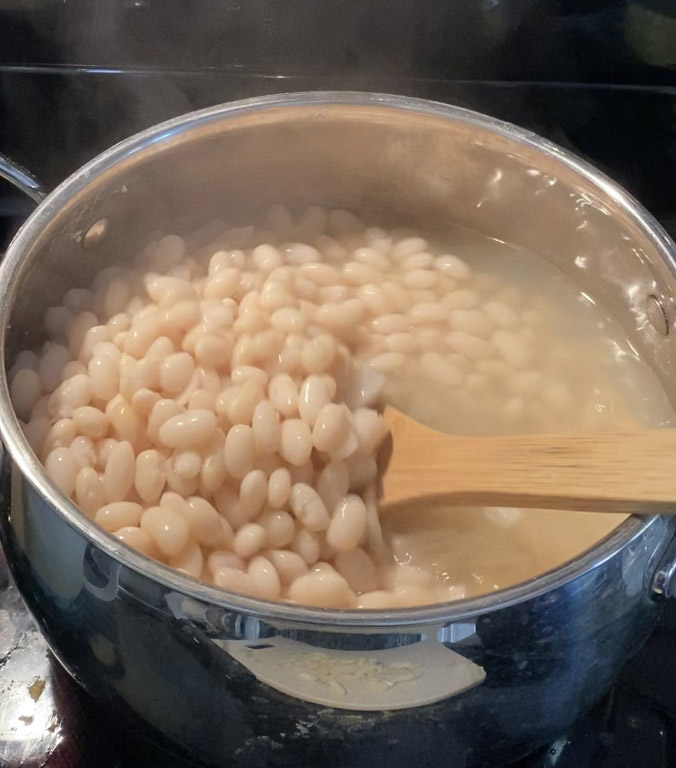 Meanwhile, make the marinated vegetables. Chop cucumber, onion, and tomato and add to a bowl. Dress with red wine vinegar, olive oil, salt, pepper, and 1 clove crushed garlic. Stir well and allow to marinate while you finish making this dish.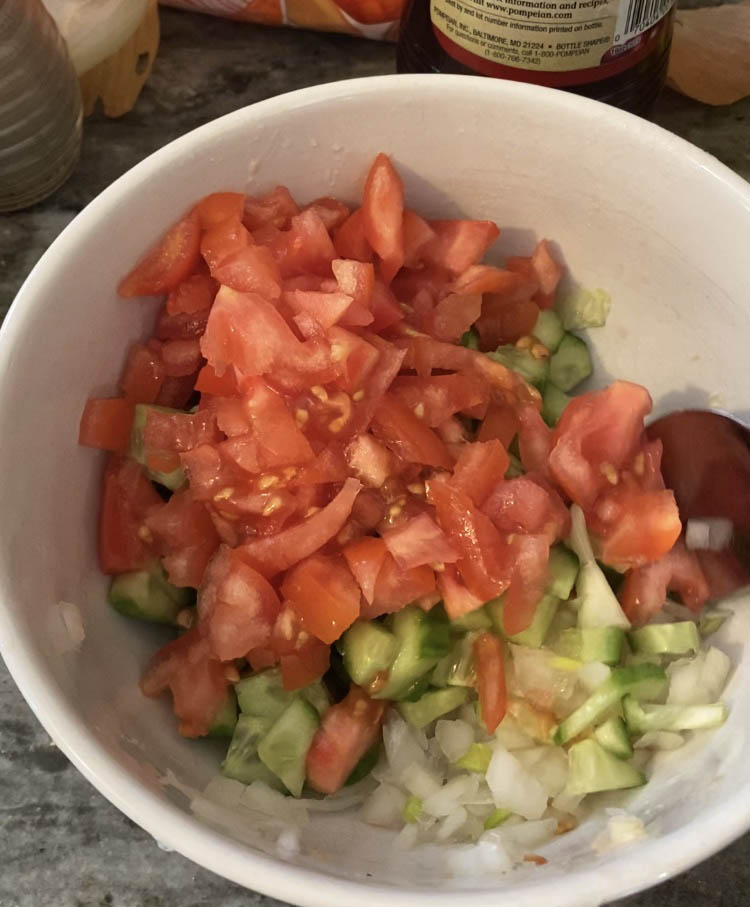 Next, brown one pound of ground beef in a large skillet on medium heat. Add salt to taste. No other spices or seasonings are necessary – there are so many yummy flavors going on in our hummus! When beef is browned, drain and set aside.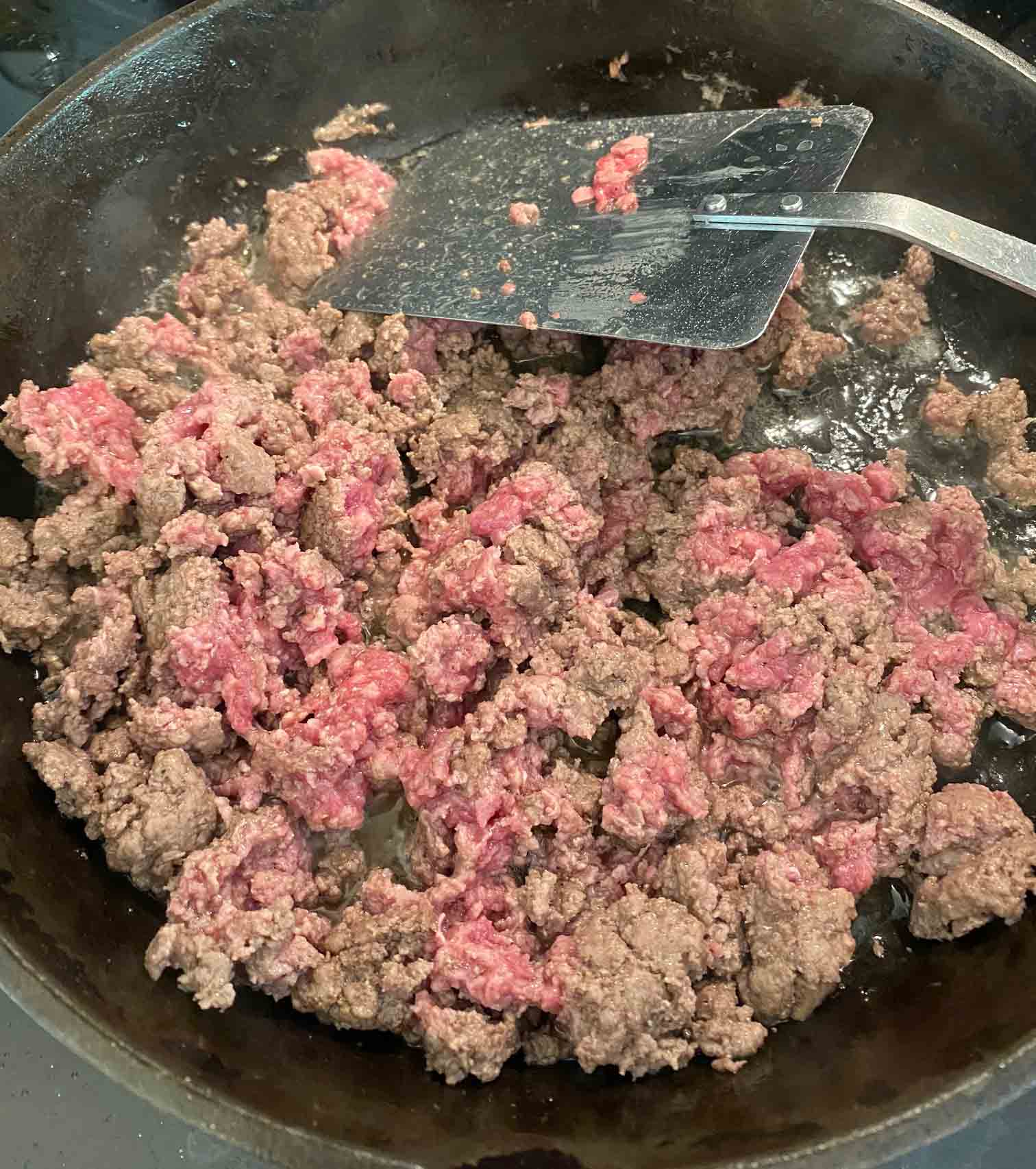 Once beans are soft, drain bean liquid (a.k.a. aquabafa) into another container. You might need some of this liquid later on.
To the beans, add your cumin, lemon zest & juice, minced garlic, parsley, olive oil, and salt to taste.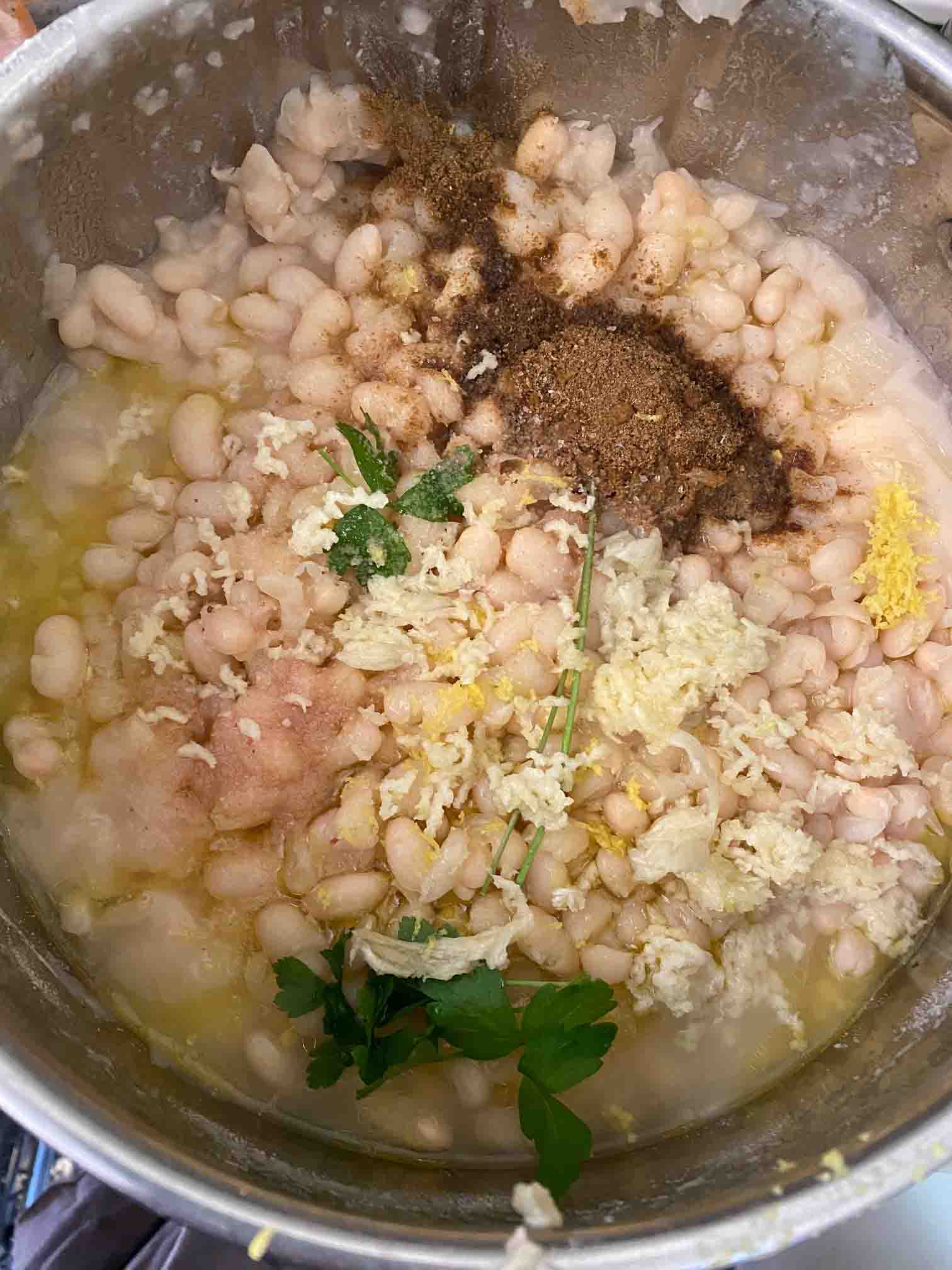 Puree with an immersion blender (or another blender or food processor). I like using a stick or immersion blender since it makes cleanup super easy.
If the hummus is too thick, you can slowly add some of the reserved bean liquid to reach the right consistency.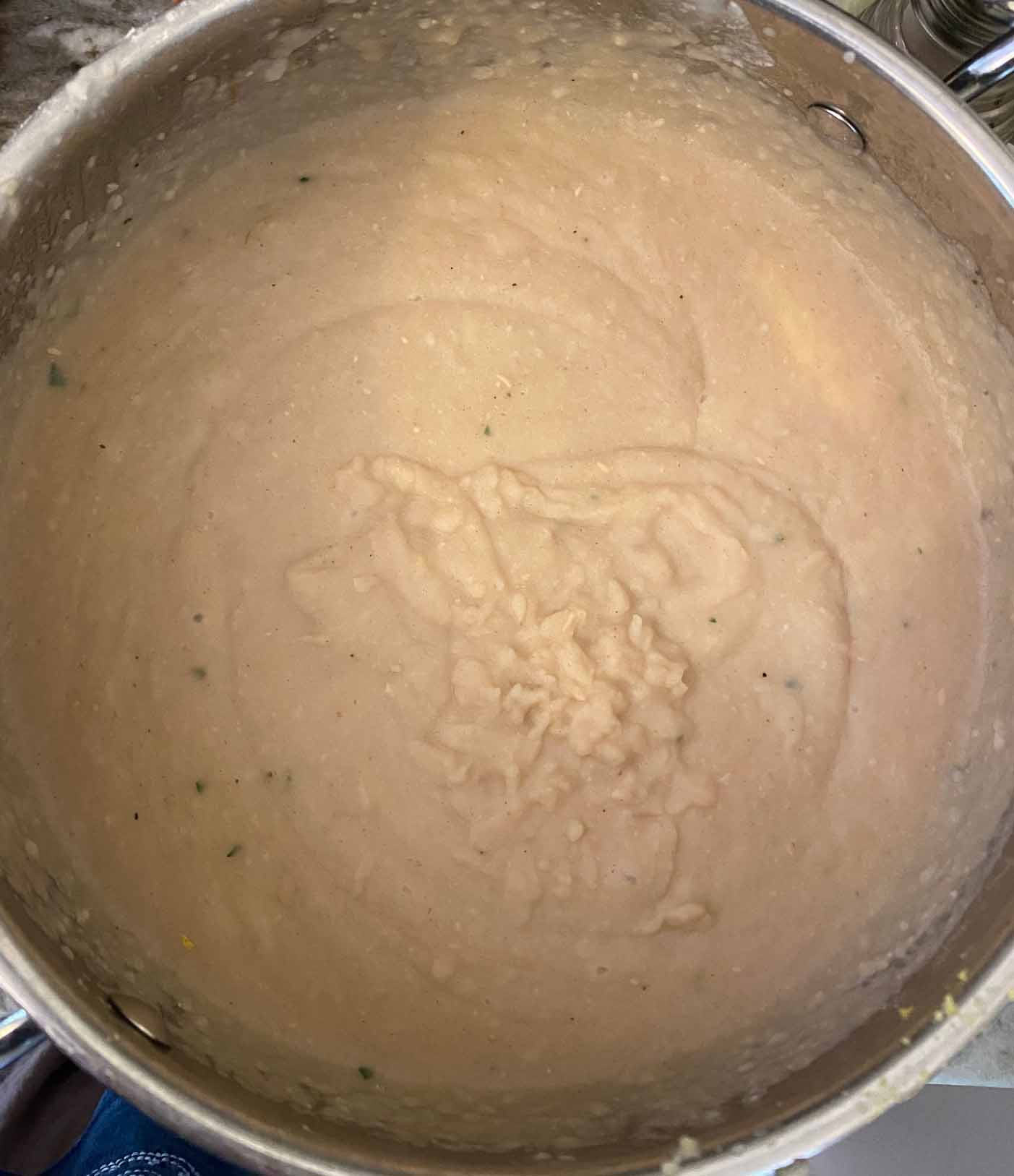 Pour and spread hummus onto a large serving platter and top with ground beef, crumbled feta cheese, and marinated veggies. I like to drizzle the whole platter with a little more olive oil. Serve with pita bread or tortilla chips of your choice.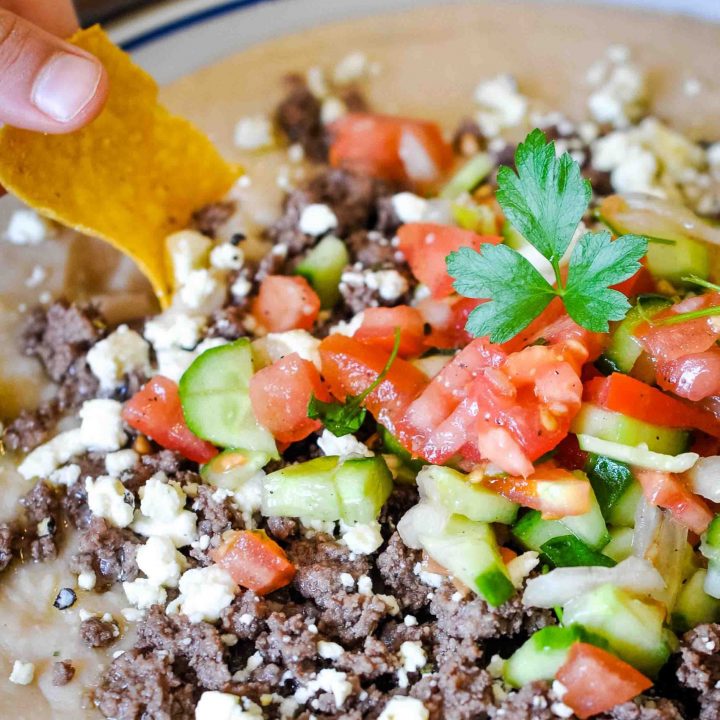 Yield: 4 servings
Mediterranean White Bean Hummus with Beef & Feta
Prep Time: 25 minutes
Cook Time: 1 hour
Total Time: 1 hour 25 minutes
Need a unique way to use white beans, or all out of chickpeas for hummus? This Mediterranean white bean hummus is topped w/ veggies, beef, and feta cheese!
Ingredients
1 pound ground beef
4 oz. feta cheese, crumbled
White Bean Hummus
3 cups white or cannellini beans
1 Tbsp. apple cider vinegar
1/2 onion, chopped
1 Tbsp cumin
1 lemon, zested & juiced
2 cloves garlic, minced
1/2 cup parsley
Salt to taste
Marinated vegetables
1 cucumber, diced
2 tomatoes, diced
1/2 onion, diced
1 clove garlic, minced
1 Tbsp. olive oil
1 Tbsp. red wine vinegar
Salt & pepper to taste
Instructions
In a large pot, cover white beans in plenty of water with a splash of apple cider vinegar. Allow to soak 8-24 hours.
When ready to cook, bring beans to a boil and add diced onion. Reduce heat to simmer and cook until soft, about 1 hour.
While beans are cooking, make the marinated veggies. To a medium bowl, add chopped cucumber, tomatoes, onion, and garlic. Dress with olive oil, red wine vinegar, and salt & pepper to taste. Set aside and allow to marinate.
In a large skillet, brown ground beef until fully cooked. Drain and add salt to taste. Set aside.
When beans are fully cooked, drain bean liquid into a separate container. To beans, add cumin, lemon juice & zest, garlic, parsley, and salt. Puree with an immersion or other blender until smooth. Add back some of the bean liquid to reach desired consistency.
Transfer white bean hummus to a large serving platter. Top with cooked beef, crumbled feta cheese, and marinated veggies. Drizzle with olive oil if desired. Serve with pita bread or tortilla chips.
Recommended Products
As an Amazon Associate and member of other affiliate programs, I earn from qualifying purchases.
Nutrition Information:
Yield:
4
Serving Size:
1
Amount Per Serving:
Calories: 639
Total Fat: 30g
Saturated Fat: 12g
Trans Fat: 1g
Unsaturated Fat: 14g
Cholesterol: 126mg
Sodium: 603mg
Carbohydrates: 43g
Fiber: 10g
Sugar: 5g
Protein: 49g
The best toppings for white bean hummus
You don't have to top your hummus with beef, feta, & veggies like I'm doing today (though I highly recommend it). There are lots of yummy ways to serve hummus!
Try some of the following topping ideas:
roasted red peppers
roasted garlic
basically any roasted veggie
a myriad of cheeses, whatever is your favorite
stir in some pesto
green or black olives
fresh herbs
pomegranate arils
fresh tzatziki
corn, black beans, & Mexican spices
pine nuts or any crushed nuts or seeds you like
Or, just serve this hummus plain and dip away! It's great all by itself.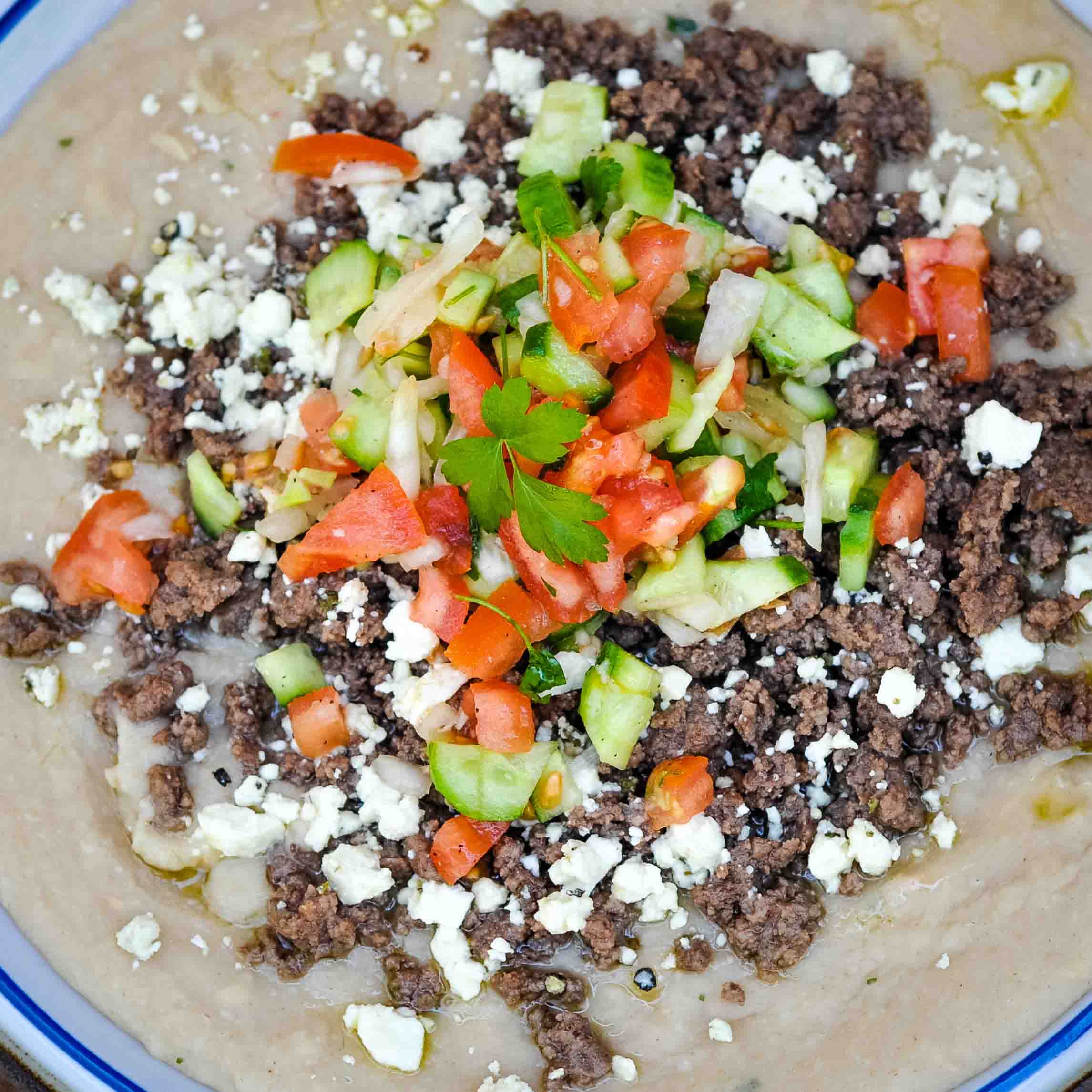 What to serve with hummus
With all the toppings we're adding today, this hummus dish is a stand-alone meal. All you need to add is some pita bread or tortilla chips for dipping.
Alternatively, you could use some large sliced vegetable sticks like carrot or zucchini to dip, or homemade sourdough crackers!
This hummus would also be wonderful on top of a green salad, or as a spread on a special sandwich.
How will you serve this yummy white bean hummus?
PIN IT!