Quick banana oat blender pancakes are an amazing thing to have in your real food arsenal, and they're also gluten free. Made with oats, bananas, yogurt, eggs, and other real food ingredients, these healthy blender pancakes will supercharge your morning!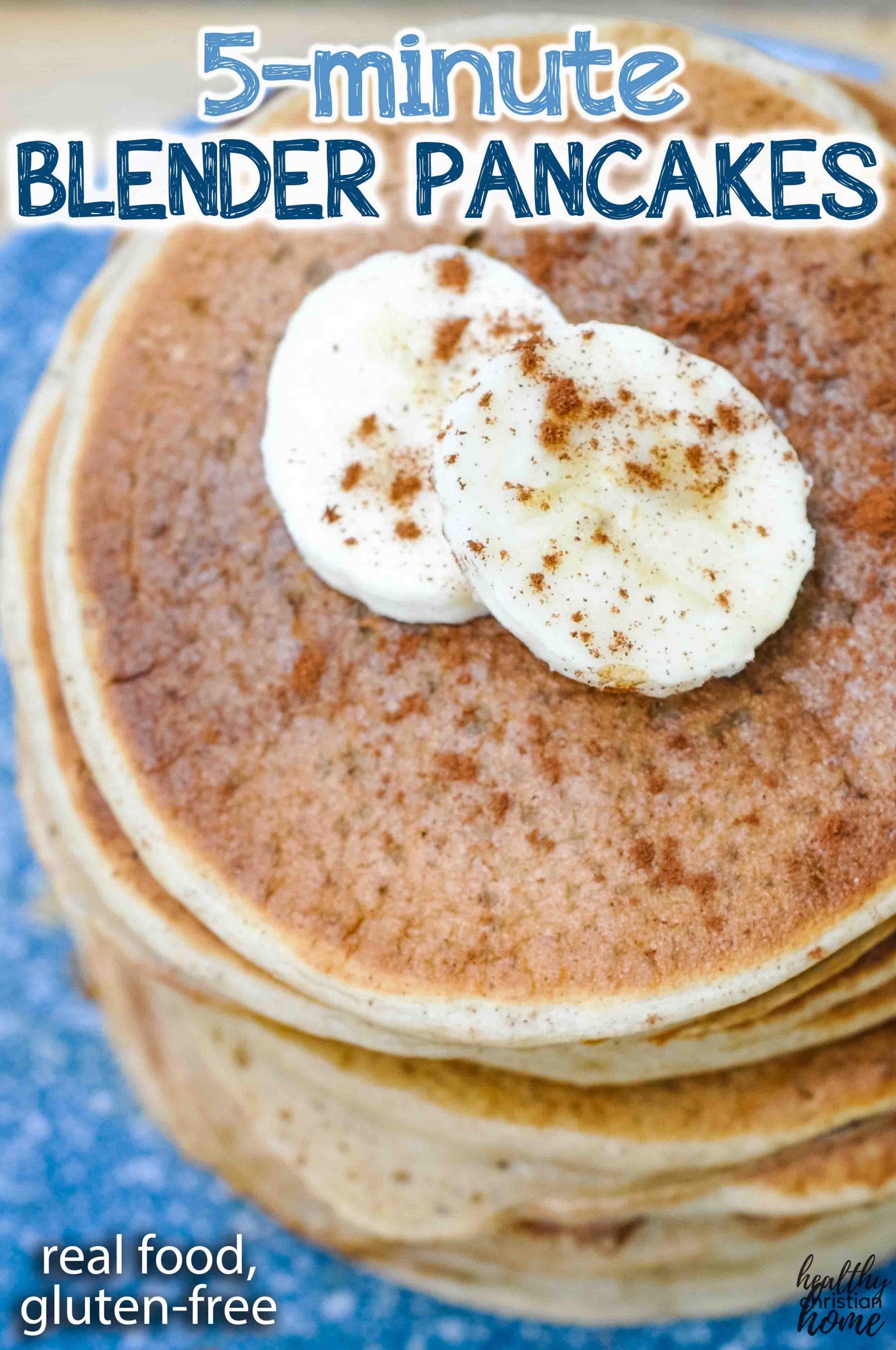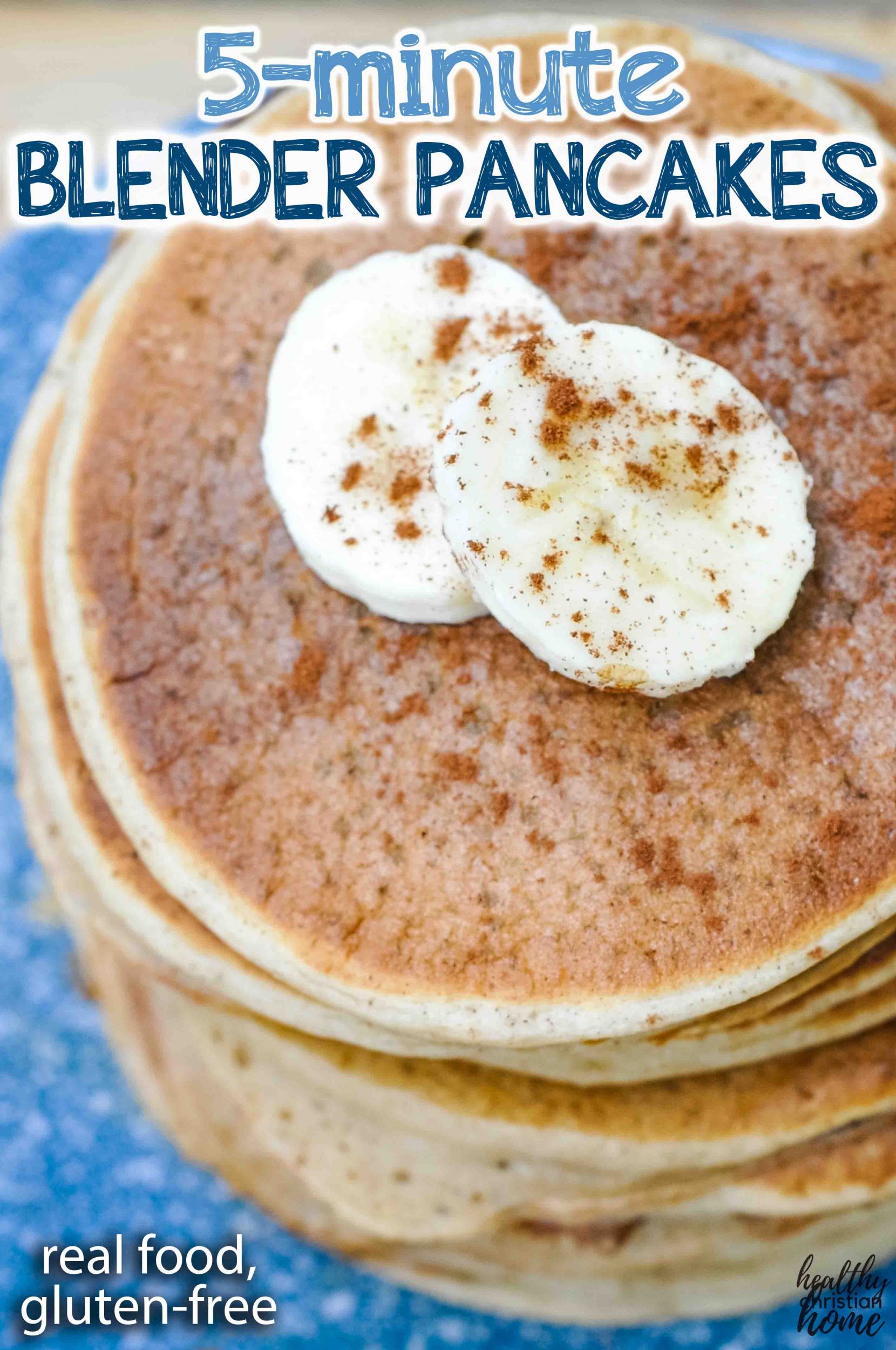 Why blender pancakes are the perfect easy breakfast hack
Makin' banana pancakes...
Ahh, the smell of pancakes and coffee upon waking. Nothing else quite sparks that "cozy" feeling the same way. Who doesn't love pancakes – or any breakfast food, for that matter.
But having a REAL cooked breakfast, especially on a busy morning, is a rare occurrence in our house! Our usual breakfast is usually a quick smoothie with oatmeal or toast.
But, with this simple breakfast recipe for blender pancakes, a cooked breakfast is possible any day of the week. It's a great recipe with banana and oatmeal that has lots of fiber and protein.
I am so excited about how easy, healthy, and TASTY these blender pancakes are! They are gluten-free and need no sugar, since the bananas act as a natural sweetener.
Needless to say, we've been having cooked breakfasts a lot more often in our house! It's also a great recipe when you need a fast dinner with some bacon on the side. Mama friends, this will save you some serious time!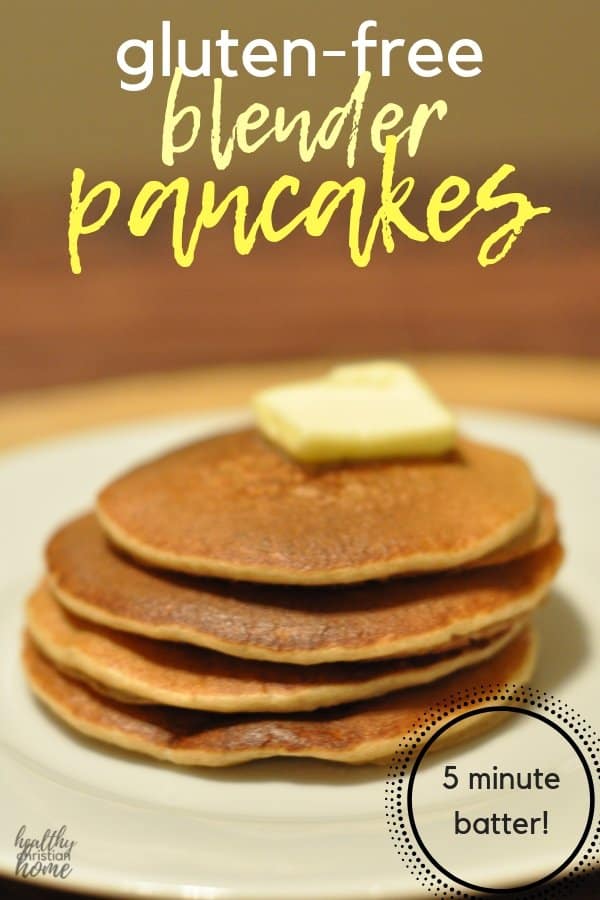 What equipment do I need to make blender pancakes?
You need a good blender, obviously!
The blender we love using is made by Blendtec. It's a high-powered one that can do absolutely everything and grinds the oats super fine.
It essentially turns the oats into oat flour. I also love the ease of pouring the batter out of the four side jar onto the griddle. But, any blender works for this recipe.
The batter for these blender pancakes can be whipped up in a matter of a few minutes, and cooking them on an electric griddle makes it even quicker. We like this ceramic one that's teflon free.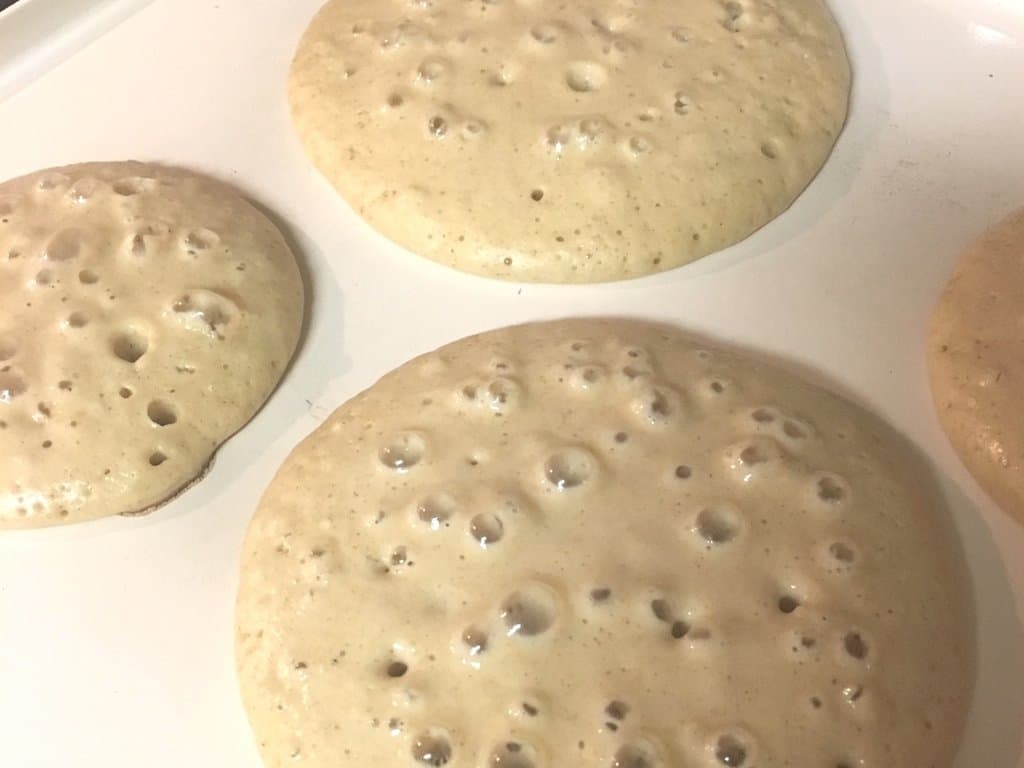 More Yummy Breakfast Recipes: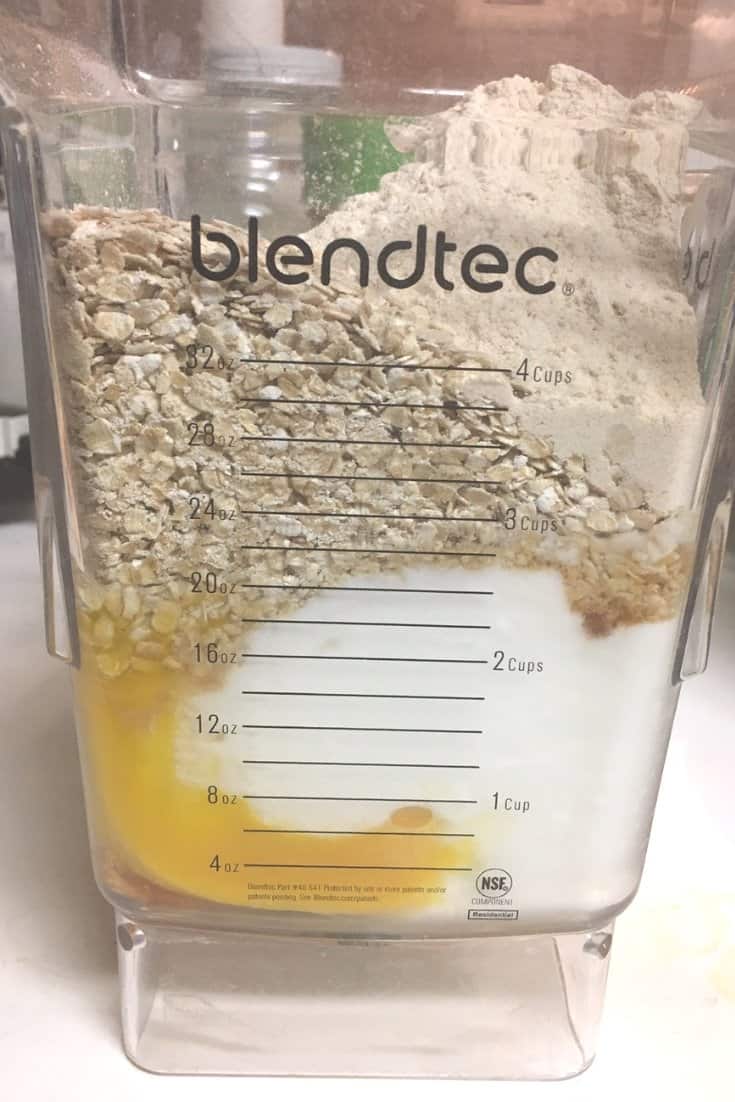 Quick Oatmeal Blender Pancakes Ingredients
Here are the nutritious ingredients we are using for this easy pancake recipe. Each of these contribute some serious energy-boosting qualities!
Oatmeal – The oatmeal grinds to a fine powder in the blender and creates the perfect gluten free flour substitute. Oats are a great complex carbohydrate, providing energy and nutrients like phosphorus, Thiamine, and iron (source).
Bananas – The perfect amount of sweetness in this pancake recipe comes from bananas. They are an awesome source of energy as they are a healthy starch, and provide nutrients like potassium, B6, and magnesium (source).
Cinnamon – This gives a nice flavor to these pancakes and compliments the banana well. Not only is cinnamon delicious, it's also amazing for oral health, skin health, allergies, and also inflammation and blood sugar stabilization (source).
Eggs – This recipe includes 3 eggs, which is pretty substantial and adds a hefty dose of protein. Eggs are an amazing food based source of vitamin D as well as B6, B12, zinc, iron, and more (source)!
Yogurt – In this recipe, yogurt thickens the pancake batter and adds protein. Yogurt also has an insane amount of vitamin B12 (source), as well as calcium. You may use greek or plain yogurt (we like the full fat kind).
Milk – You may use any type of milk for this recipe: cow, coconut, almond, cashew, etc.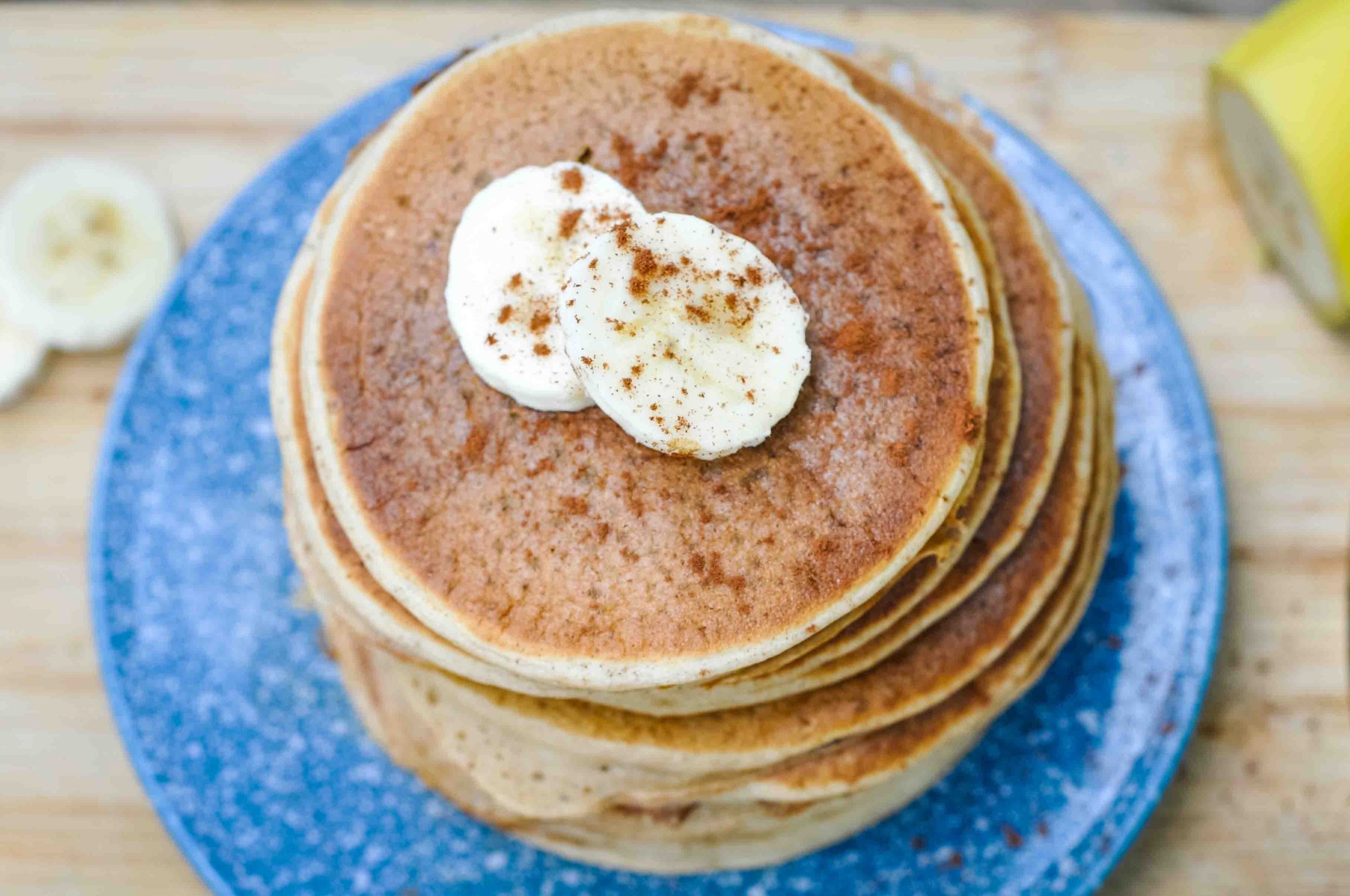 Blender pancakes cooking tips
For optimal nutrition, I recommend soaking the oats in the yogurt/milk overnight. This helps break down anti-nutrients in the oats and make them easier to digest. You could also blend this batter the night before and leave in the fridge to cook in the morning.
I've played around with this recipe a little bit and found that if you miss the fluffy pancake texture, you can substitute one cup of healthy flour (this kind is great) for one cup of the oats.
My husband likes the oatmeal and wheat flour mix better, but I think both versions are delish. You can also add any additions of your choice like blueberries, chocolate chips (my fave), etc.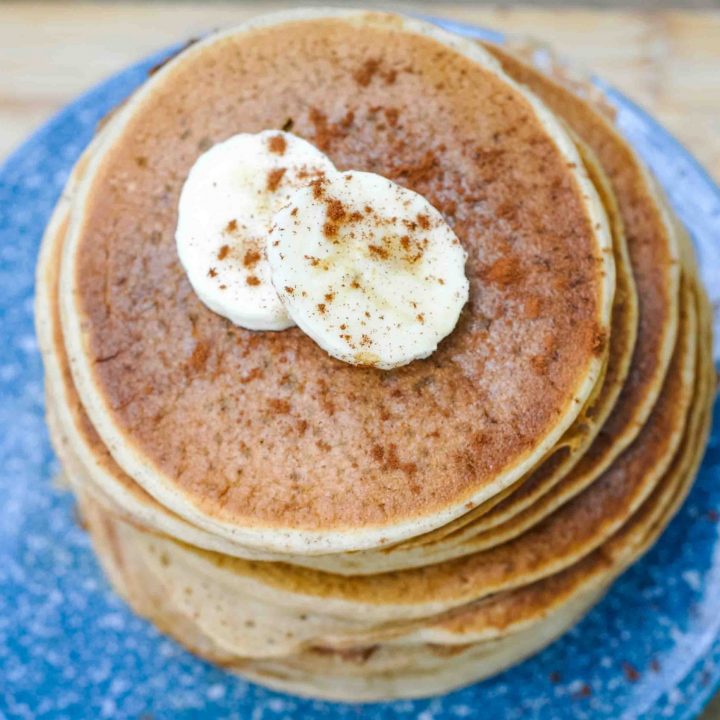 Yield: 8 servings
Banana Oat Blender Pancakes (gluten-free)
Prep Time: 5 minutes
Cook Time: 15 minutes
Total Time: 20 minutes
These blender pancakes are so simple to whip up, and are filled with healthy ingredients like oats, bananas, eggs, and yogurt!
Ingredients
2 bananas
3 eggs
1 cup plain yogurt
4 Tbsp. milk
2 tsp. vanilla extract
2 cups oats, quick cooking or old fashioned
2 tsp. cinnamon
2 tsp. baking soda
1 Tbsp. chia or flax seeds (optional)
Instructions
Heat and grease an electric griddle or skillet.
Add all the ingredients to a blender. I like adding the wet ingredients first - it makes for an easier blending experience.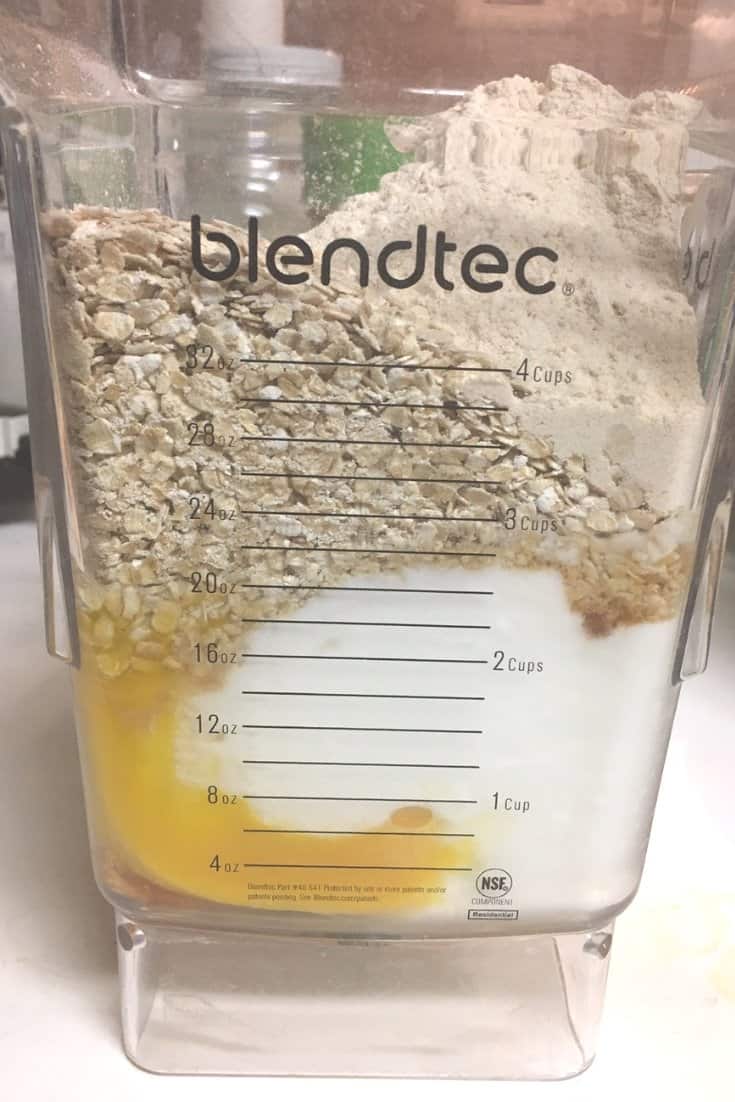 Blend on HIGH for 1 minute, or until the oats are ground up and all the ingredients are mixed smoothly.
Cook pancakes, flipping after the bubbles form on one side.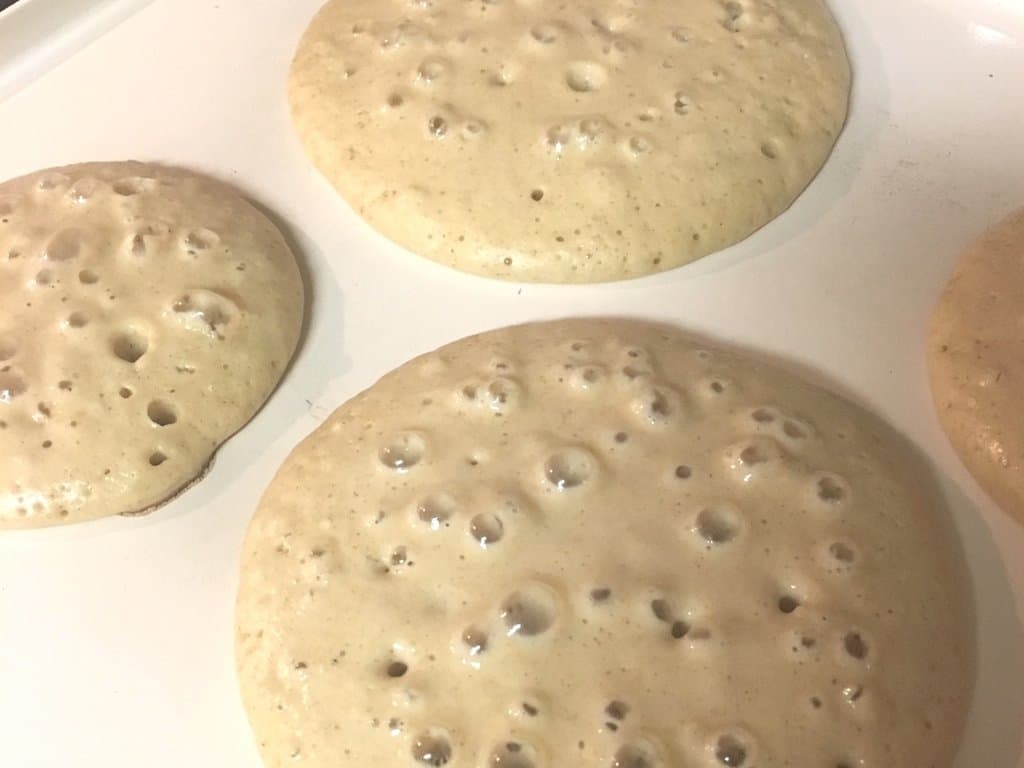 Recommended Products
As an Amazon Associate and member of other affiliate programs, I earn from qualifying purchases.
Nutrition Information:
Yield:
8
Serving Size:
1
Amount Per Serving:
Calories: 193
Total Fat: 5g
Saturated Fat: 1g
Trans Fat: 0g
Unsaturated Fat: 3g
Cholesterol: 72mg
Sodium: 367mg
Carbohydrates: 26g
Fiber: 4g
Sugar: 7g
Protein: 8g
What to serve with blender pancakes
Here are some yummy breakfast recipes to serve with these pancakes: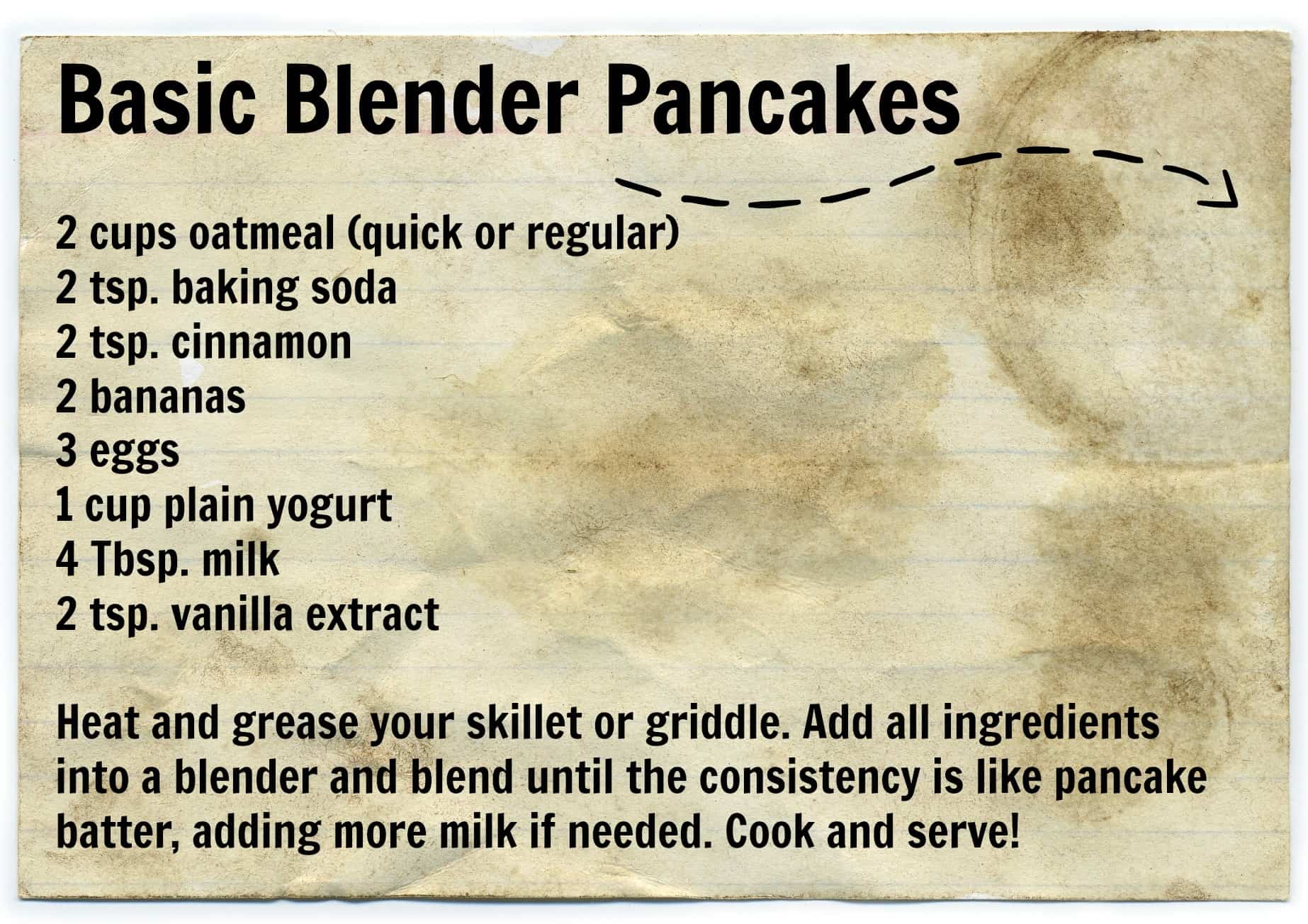 Do you have any easy, quick breakfast recipes to share?
PIN IT!