This yummy blueberry smoothie is blended with fresh ginger and probiotic-rich kefir or yogurt to boost your immune system. What better way to start your day?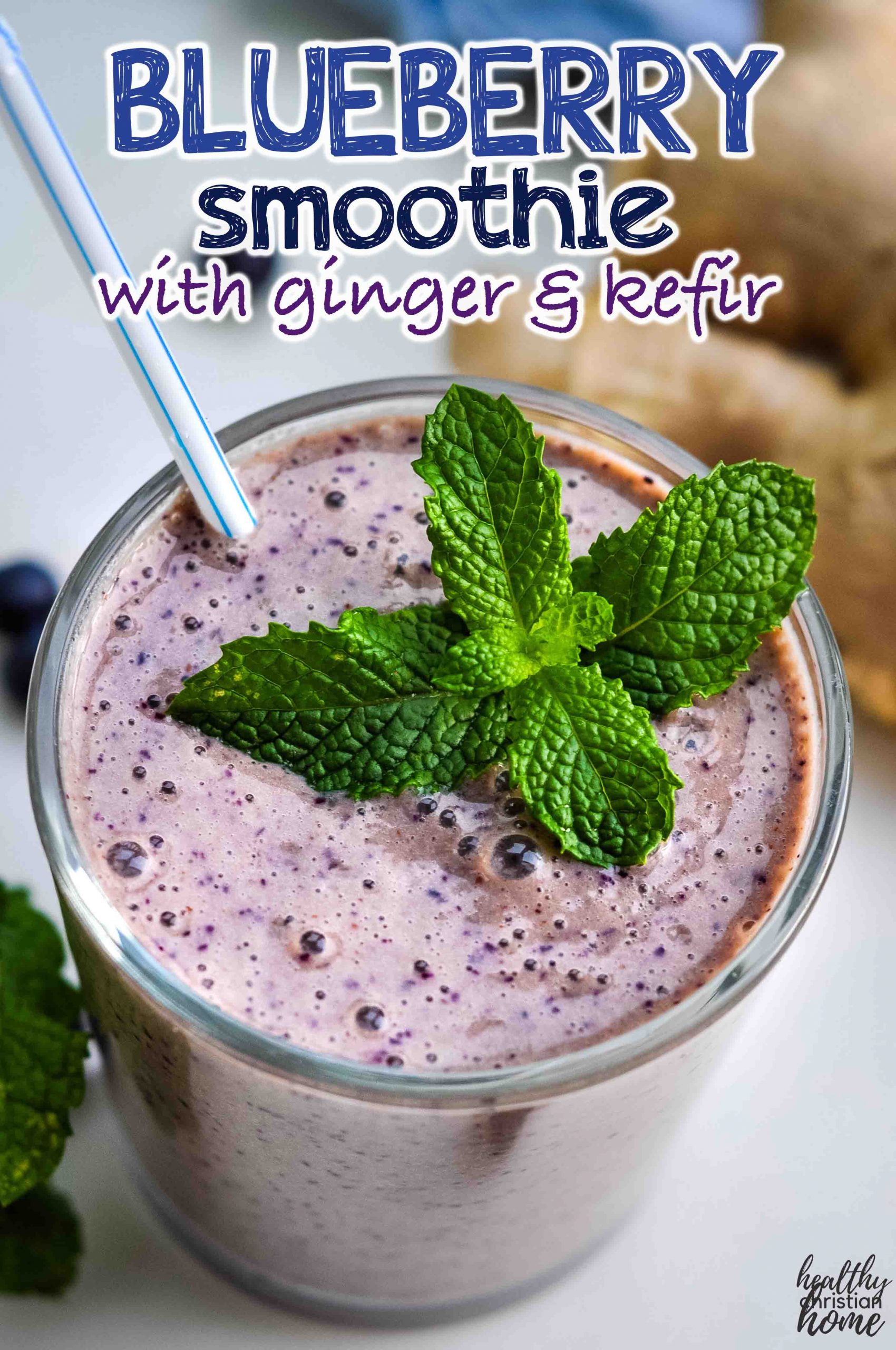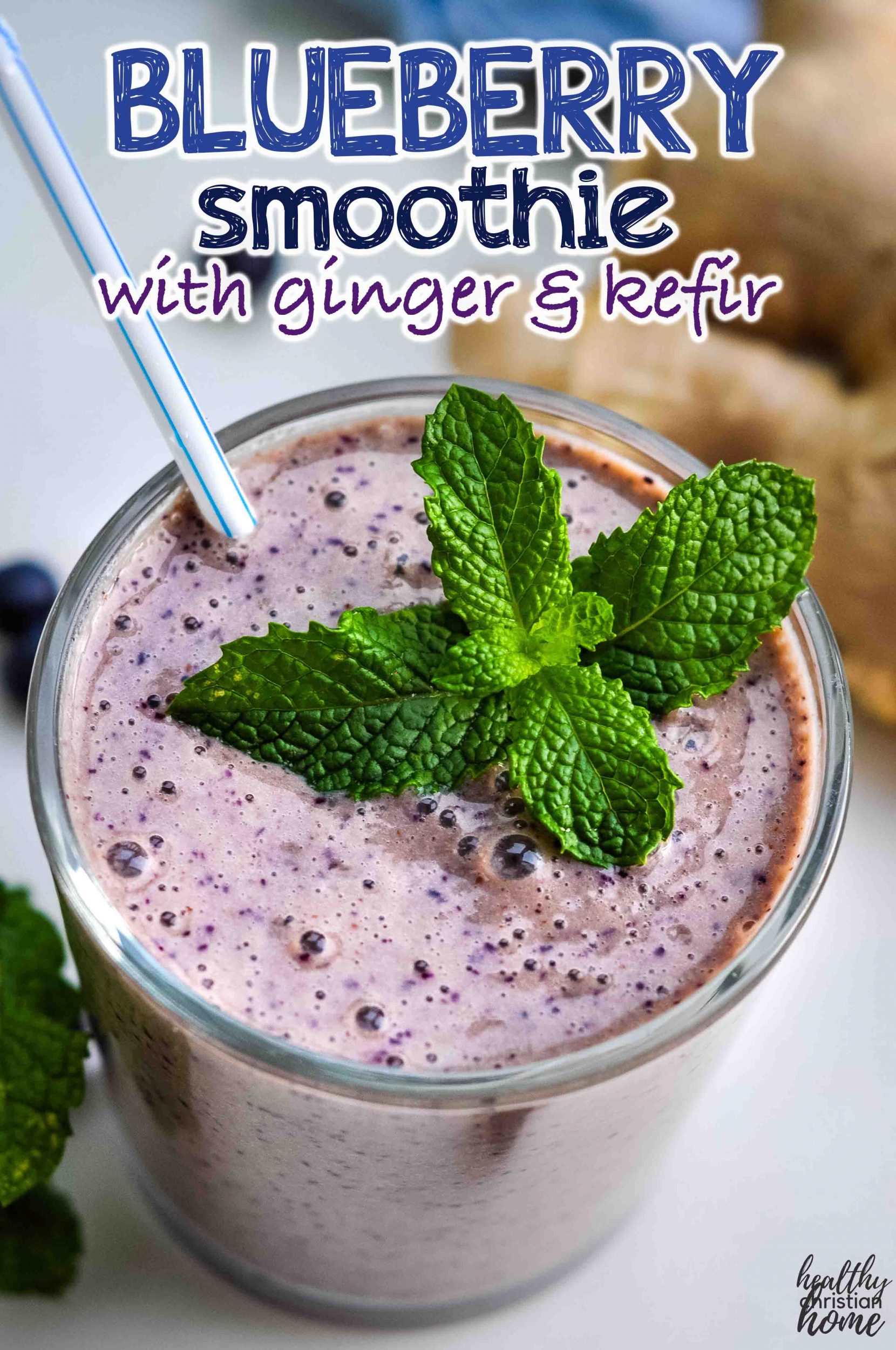 Let me introduce you to our current favorite immune boosting drink – blueberry ginger kefir smoothie!
One of my friends gave me a bag of freshly picked blueberries this week, and I couldn't decide whether to make this blueberry ginger smoothie or an easy cobbler.
Okay, okay, the smoothie is definitely healthier. But it ranks pretty close to cobbler in deliciousness factor.
Each of the ingredients in this refreshing drink are suuuuuuper amazing for a strong immune system. Not to mention, they taste incredible together!
Are blueberry smoothies good for you?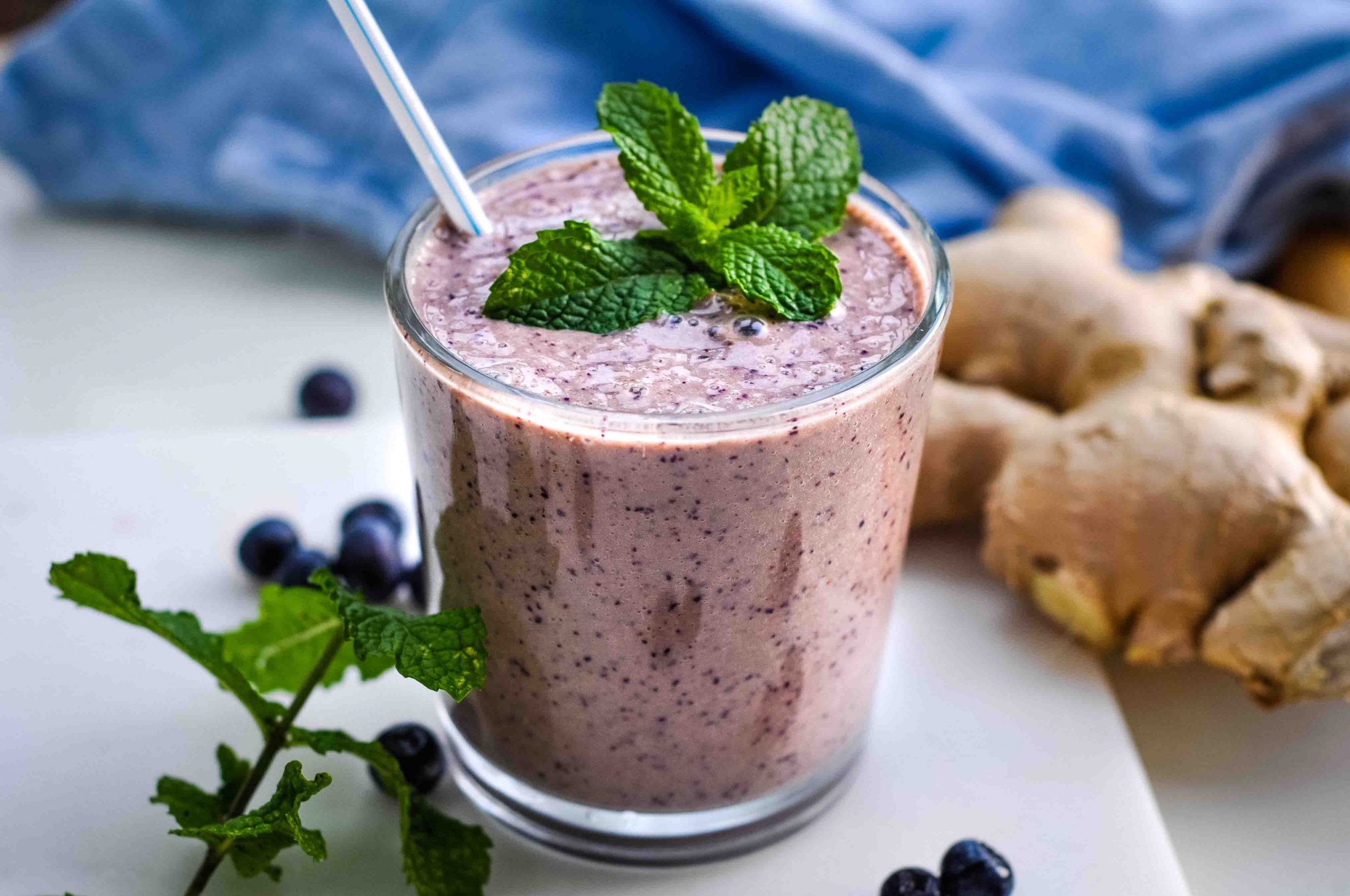 This blueberry smoothie is one of the healthiest you can drink. Why? Because the health benefits of blueberries are incredible. They are packed with antioxidants which protect your system.
Plus, they have lots of vitamin C, vitamin K, and manganese. They also have important minerals to help build healthy bones and support the entire body.
Not only does this smoothie feature blueberries, it also includes some great immune-boosters – kefir & ginger. Kefir is known to be one of the most powerful probiotic sources around, and ginger is an amazing spice that can help fight infections and viruses. It's also wonderful for digestion.
Why blueberries + ginger together?
I'm not sure who started the trend, but blueberries & ginger are B.F.F. They taste incredible together! And since they both have so many amazing benefits for the body, why not combine them in this powerful smoothie?
How to Make the Best Blueberry Ginger Smoothie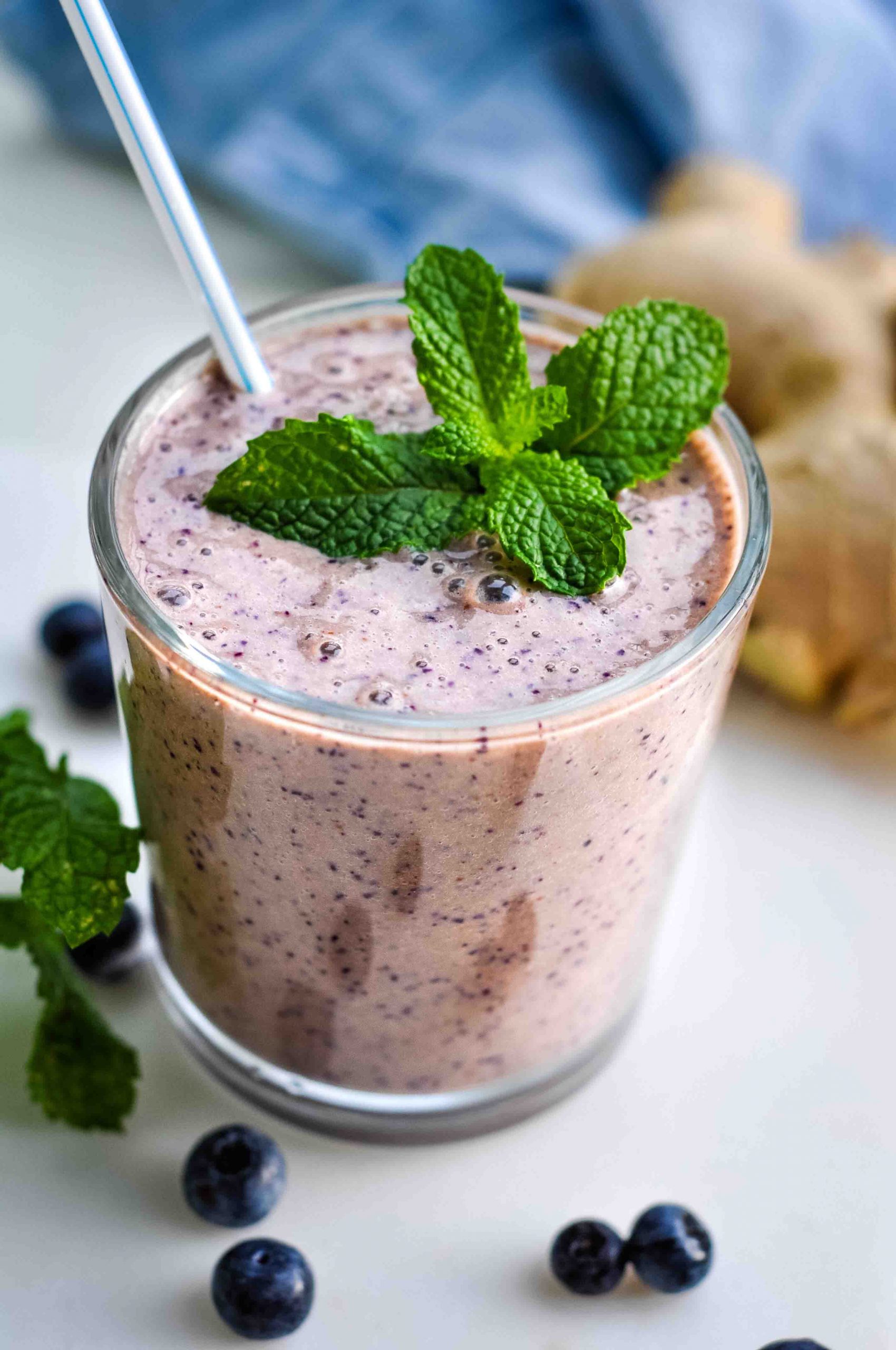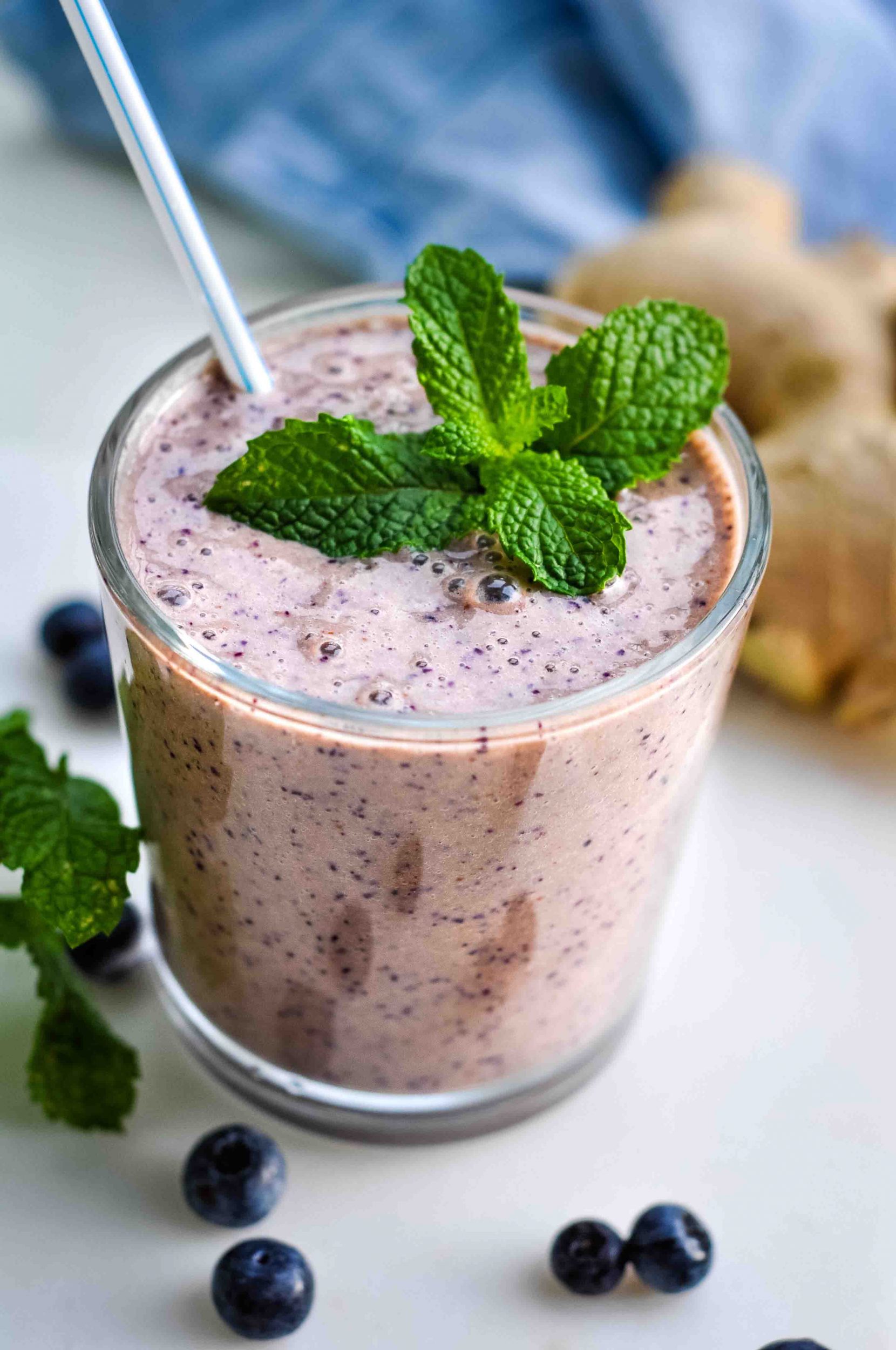 This smoothie is so simple to make. Start by adding kefir (or yogurt) to a blender.
Next add blueberries and banana. The banana is important for adding sweetness (plain yogurt or kefir can be pretty tart), but you may omit it if you prefer.
Add the sliced ginger. Ginger can be a bit stringy even after blending, so you may choose to grate the ginger first.
At this point, I also like to add a mild veggie like peeled carrot or handful of spinach. Smoothies are the perfect way to sneak in extra veggies!
Next, I add my 'power-ups' which give an extra boost of nutrition. These are totally optional. Our favorites are a spoonful of organic coconut oil, chia seeds or flax seeds, and grass fed collagen powder.
Last, I add little water to make it more blend-able. Blend on high for around a minute until smooth. Enjoy!
Blueberry Smoothie Variations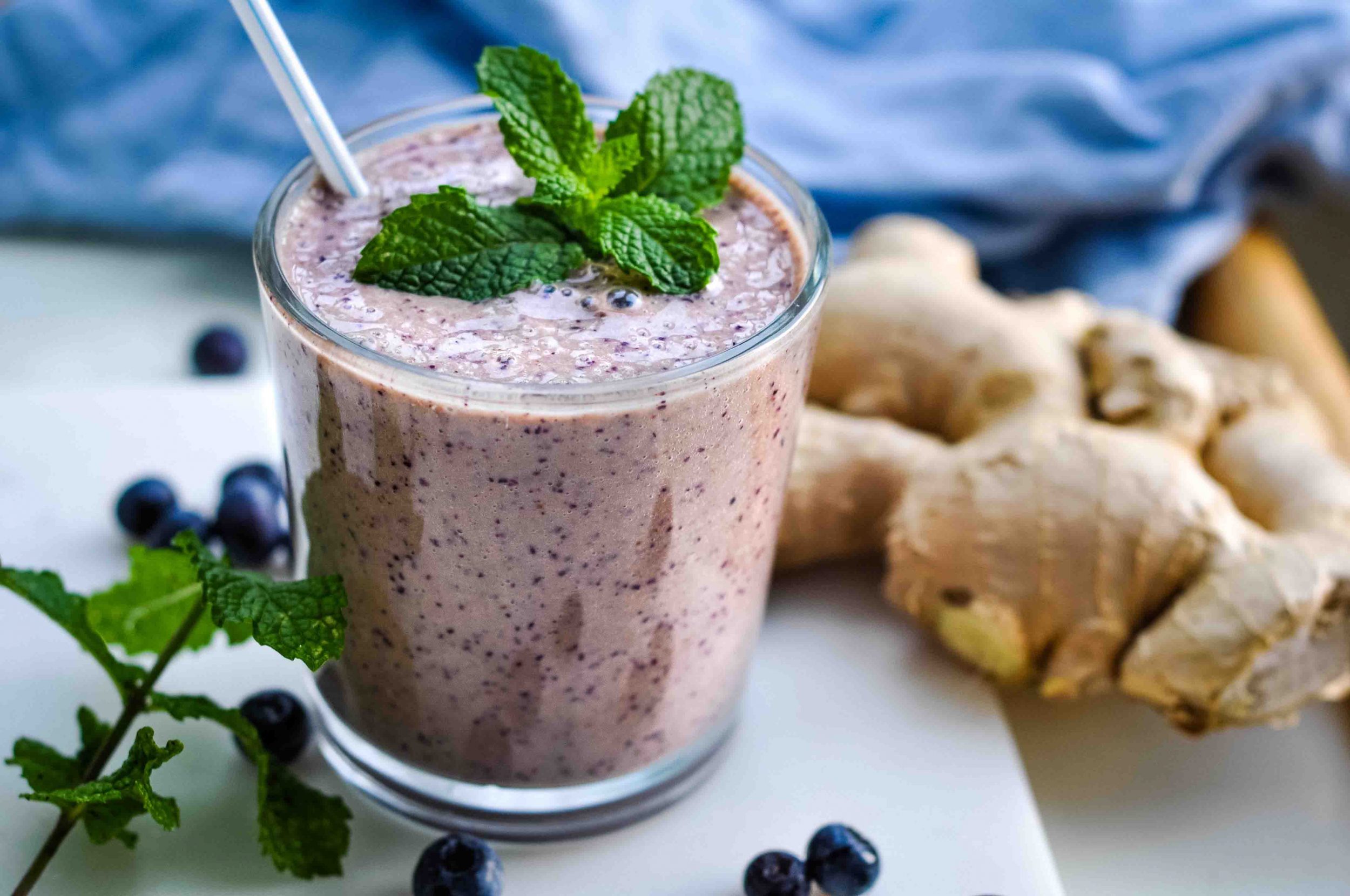 Here are some possible variations for this smoothie recipe. It's so customizable!
Use plain yogurt instead of kefir as the base
Use frozen blueberries instead of fresh
For a blueberry smoothie without banana, simply omit it, subbing another type of fruit if you like
Add mild veggies like cauliflower, carrot, or spinach. A blueberry carrot smoothie is one of my favorites!
Add mint leaves for a refreshing flavor
Use non-dairy yogurt or milk, like almond or milk, or coconut yogurt
Use a variety of seeds like sunflower, flax, pumpkin, or sesame
Skip all the add-ins and simply use blueberries, ginger, and kefir!
Foolproof smoothie-making tips
Here are some tips for making the best smoothies.
Do you put ice in a smoothie?
Not usually, especially if all my ingredients are refrigerated or frozen. One way to thicken your smoothie and make it really cold is to add frozen banana.
If you like your smoothie super cold, you can use ice instead of water before blending.
Do I need a high-speed blender?
Not necessarily. You can still make delicious smoothies with any type of blender. But if you're using crunchy or hard ingredients, you may need to grate or chop them fine first.
I really love our high-speed blender because I can add nuts or seeds and even crunchy veggies like a whole carrot, and it pulverizes everything into a pure liquid. Very convenient for busy mornings and sneaking extra veggies into my kids.
How do you make a smoothie?
The basic process is adding a base of fruit and something creamy, like coconut milk or yogurt. Then you can add whatever mild veggies or seeds you like – the sky's the limit!
Then add just enough liquid to thin everything out so it will blend smooth. I sometimes like using chilled herbal tea or juice for extra flavor.
Then you can add optional add-ins or powders. Here's a post on how to make the best smoothie booster powder mixture.
More smoothie recipes to try: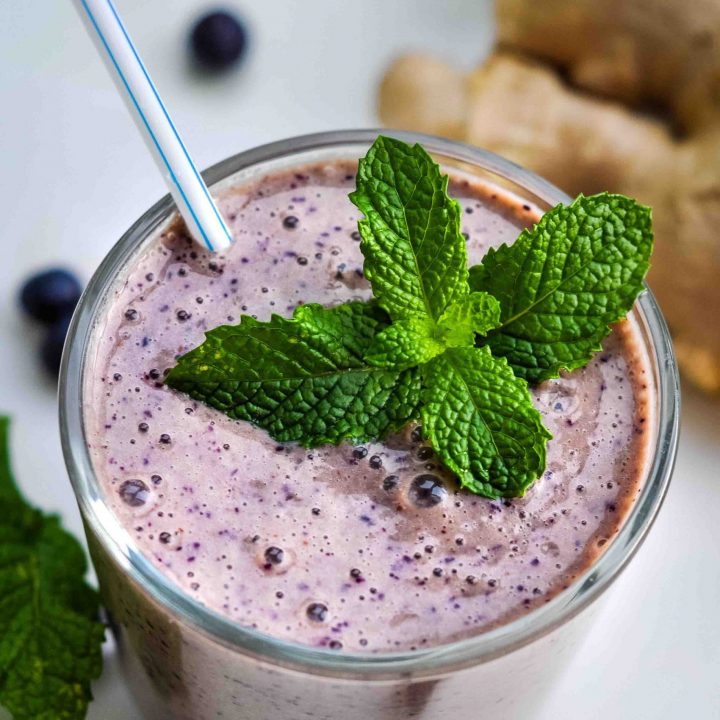 Yield: 2 servings
Blueberry Ginger Kefir Smoothie
Prep Time: 5 minutes
Total Time: 5 minutes
This blueberry ginger kefir smoothie is not only delicious, it's full of antioxidants and immune-boosting properties. It's one of our favorite smoothie recipes ever!
Ingredients
1 cup blueberries, fresh or frozen
1 banana
1 knob ginger (around 1" piece, peeled)
1/2 cup water
Optional add-ins (carrot or spinach, seeds, collagen, coconut oil, etc.)
Instructions
Add kefir or yogurt to a blender, then add all other ingredients.
If you're not using a high-speed blender, chop any crunchy ingredients into small pieces first. Grate the ginger to avoid any stringy bits.
Blend on HIGH for around 1 minute until smooth. Enjoy!
Recommended Products
As an Amazon Associate and member of other affiliate programs, I earn from qualifying purchases.
Nutrition Information:
Yield:
2
Serving Size:
1
Amount Per Serving:
Calories: 205
Total Fat: 3g
Saturated Fat: 2g
Trans Fat: 0g
Unsaturated Fat: 1g
Cholesterol: 10mg
Sodium: 302mg
Carbohydrates: 36g
Fiber: 3g
Sugar: 26g
Protein: 11g
Leave a star rating and comment how your recipe turned out! And, snap a photo and tag @healthychristianhome on Instagram so I can see the yummy-ness.
PIN IT!
If you're on Instagram, share a photo of your recipe and tag @healthychristianhome so I can give your post some love! Follow Healthy Christian Home on Facebook and Pinterest too for more healthy delicious recipes!
PIN IT!