Sourdough sausage balls are a great healthier alternative to Bisquick sausage balls! They are meaty, cheesy, tangy, savory bites everyone will adore.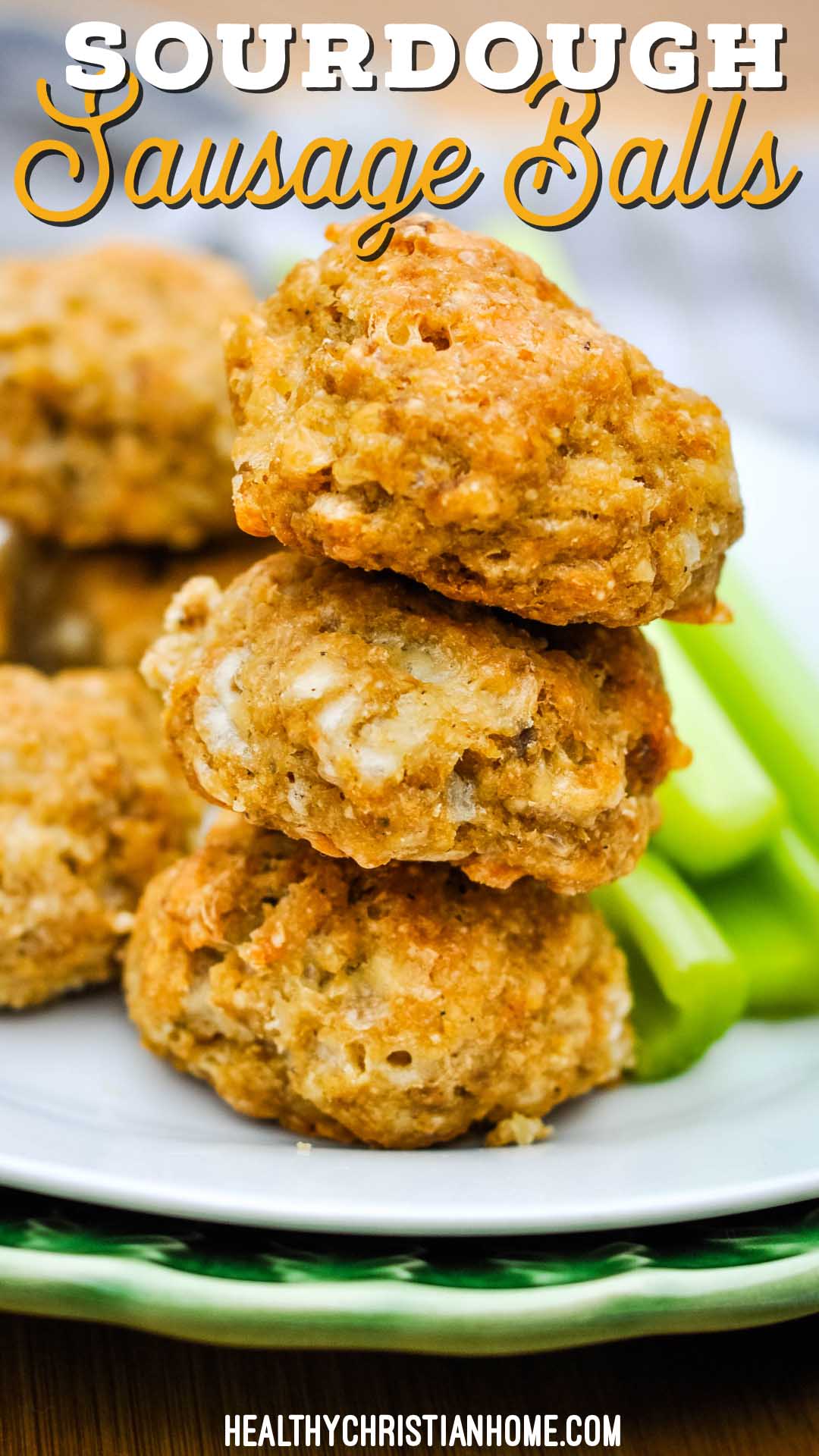 Sausage balls without Bisquick recipe
Sausage balls always make me think of the holidays. At Christmas, my Grandma always made a big plate of these along with soups and other buffet items. It was the best.
Everyone loves sausage balls! They are a total crowd pleaser, perfect for parties, potlucks, or a game day.
While most recipes feature processed baking mix, I'm proud to say these sausage balls are made without Bisquick!
As with all of the other recipes on this site, I love taking tried-and-true family favorites and making them healthier.
YES, it's easy to make sausage balls without Bisquick. Believe me, you really want to avoid Bisquick as it's filled with inflammatory vegetable oils and preservatives.
While you can totally make these with just flour and baking powder, I love incorporating sourdough starter discard into the mix!
Using the sourdough starter eliminates the need for any baking powders, gives the sausage balls a lovely tang, and is a fun way to use your sourdough discard. It also makes them feel more like old fashioned sausage balls.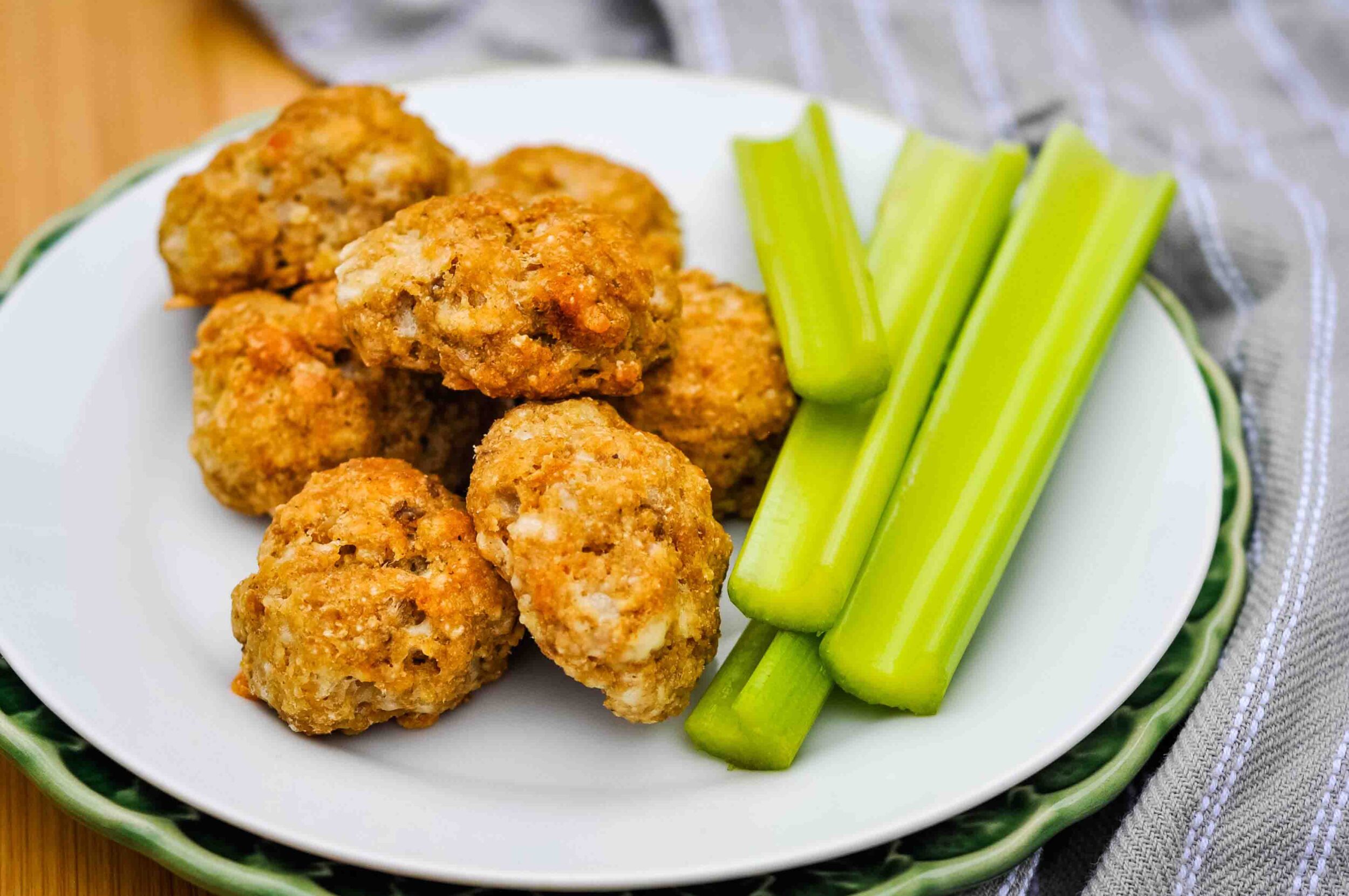 Can I adapt this recipe if I don't have sourdough starter?
Yes, you can! Simply add an additional 1/2 cup of flour to the recipe, along with 1 Tablespoon baking powder.
How do you make sausage balls from scratch?
These sausage balls are super easy to make! Simply mix all the ingredients in a large bowl, shape into small balls, and bake until golden brown.
Yes, it's really that easy!
I even heard of someone throwing all their sausage ball ingredients into a gallon ziploc bag and kneading everything together with their hands. Using a small ice cream scoop also makes the process easier.
(Side note: I run a food blog, yet still don't have a small ice cream scoop. What gives?)
You can also add whatever additional seasonings you desire: grated onion or garlic, paprika, red pepper flakes, etc. I chose to keep mine simple and classic.
More sourdough recipes to love:
Can you use a KitchenAid mixer to make sausage balls?
Yes, you can. I tested this and it works well.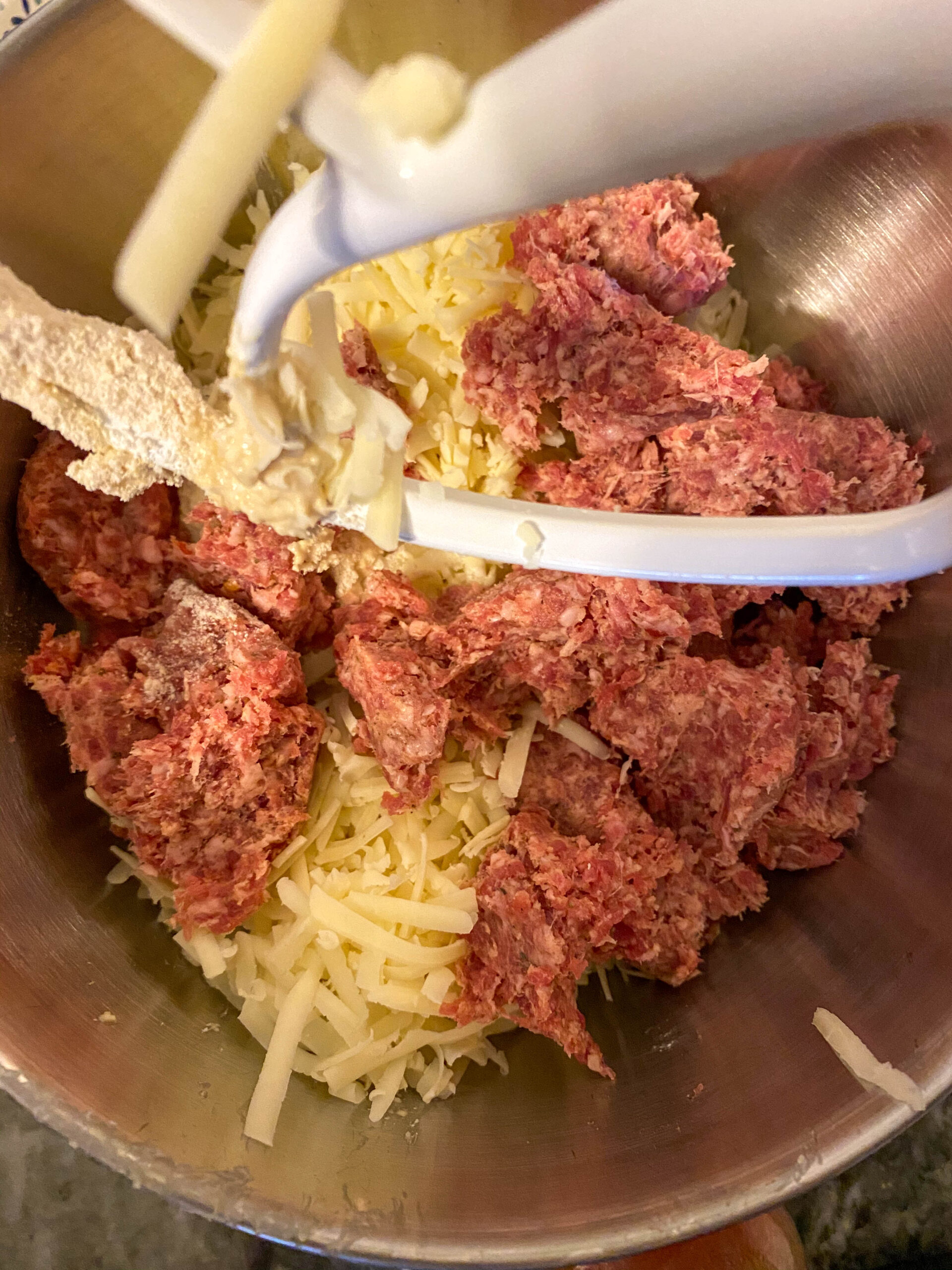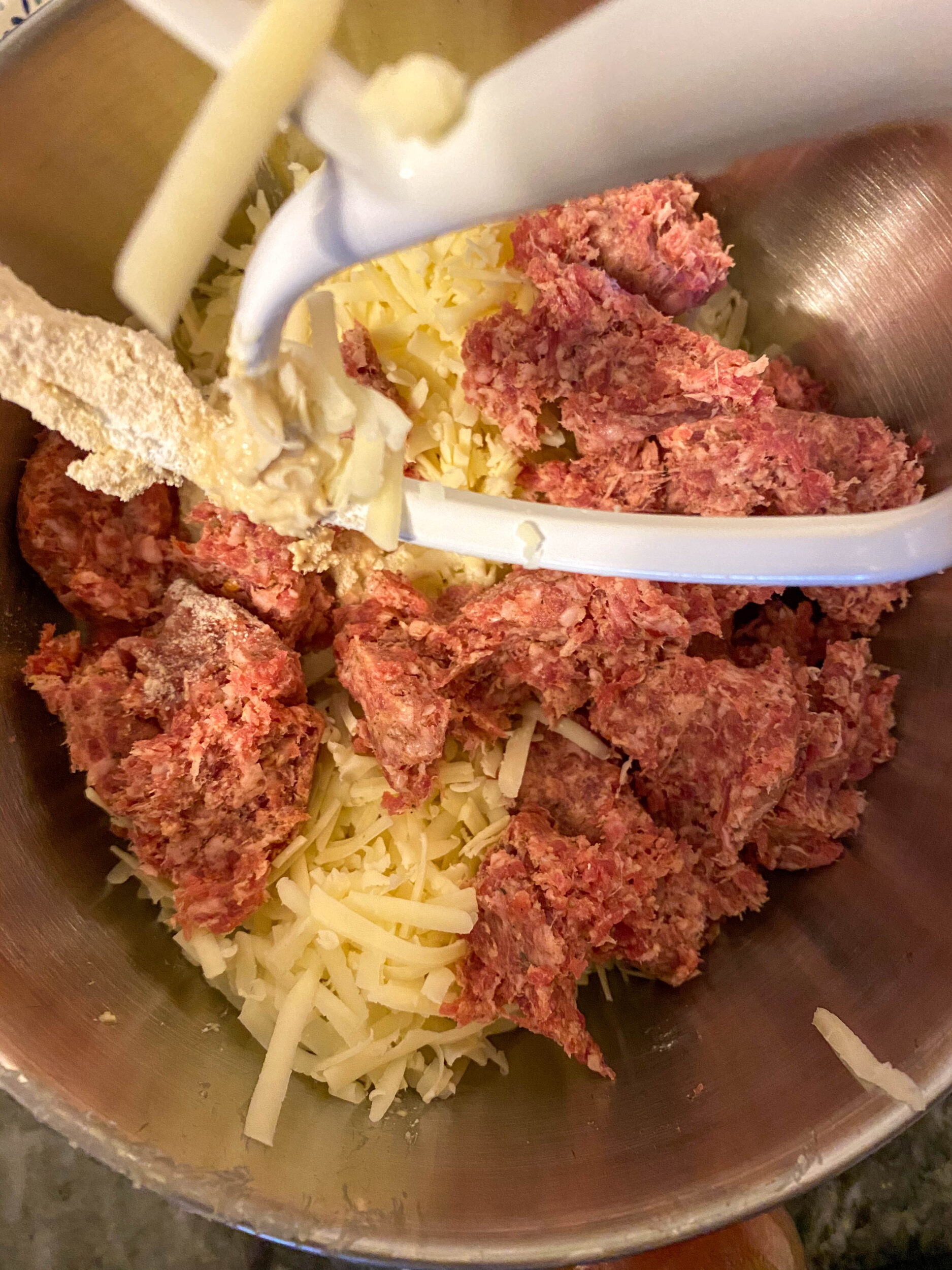 The only caution is that your bowl gets pretty full, so you need to stand over it while it's mixing to ensure all of the mixture actually stays in the bowl and doesn't fly out. Mixing on a low speed and locking the mixer in place also helps with this.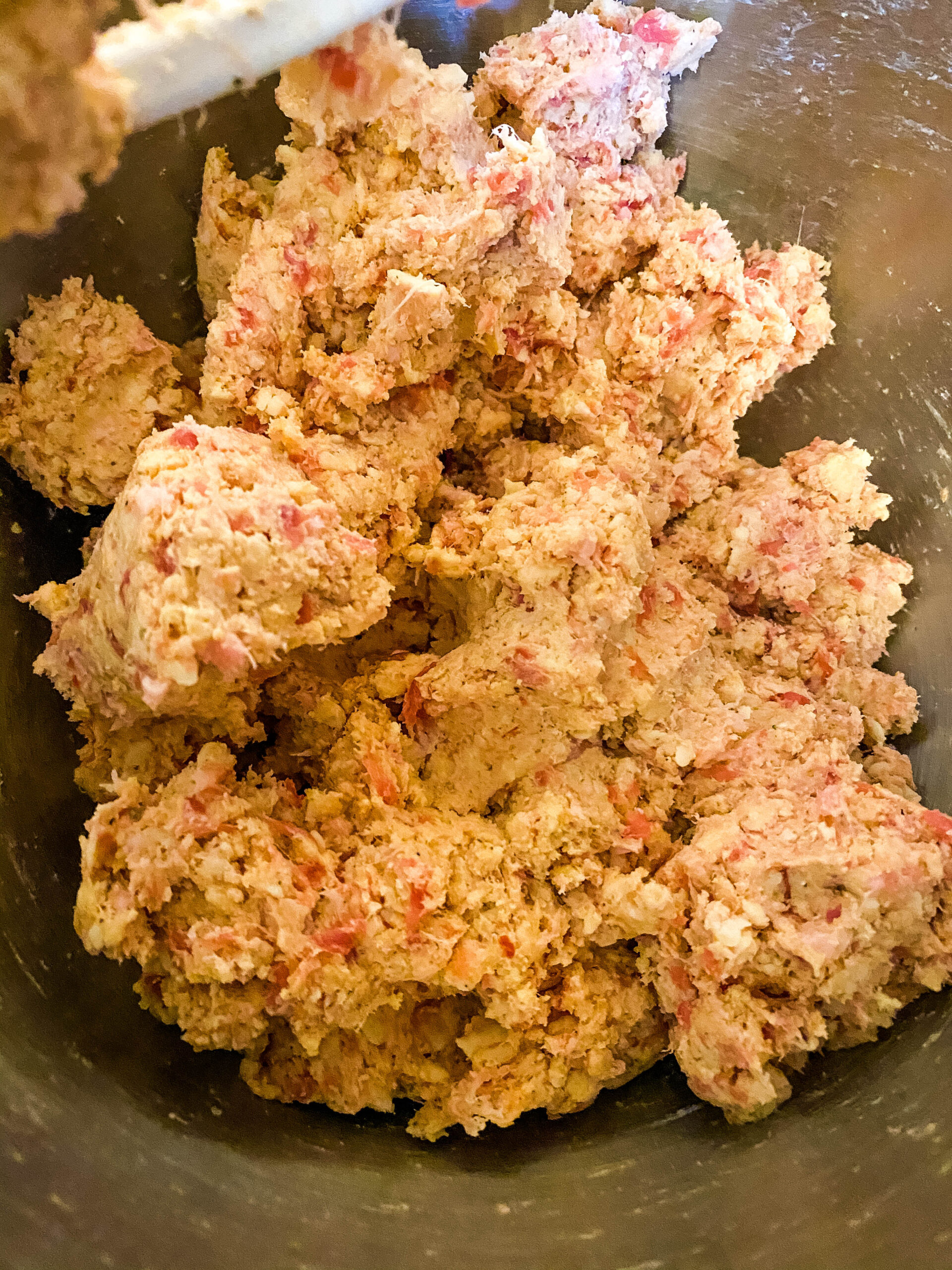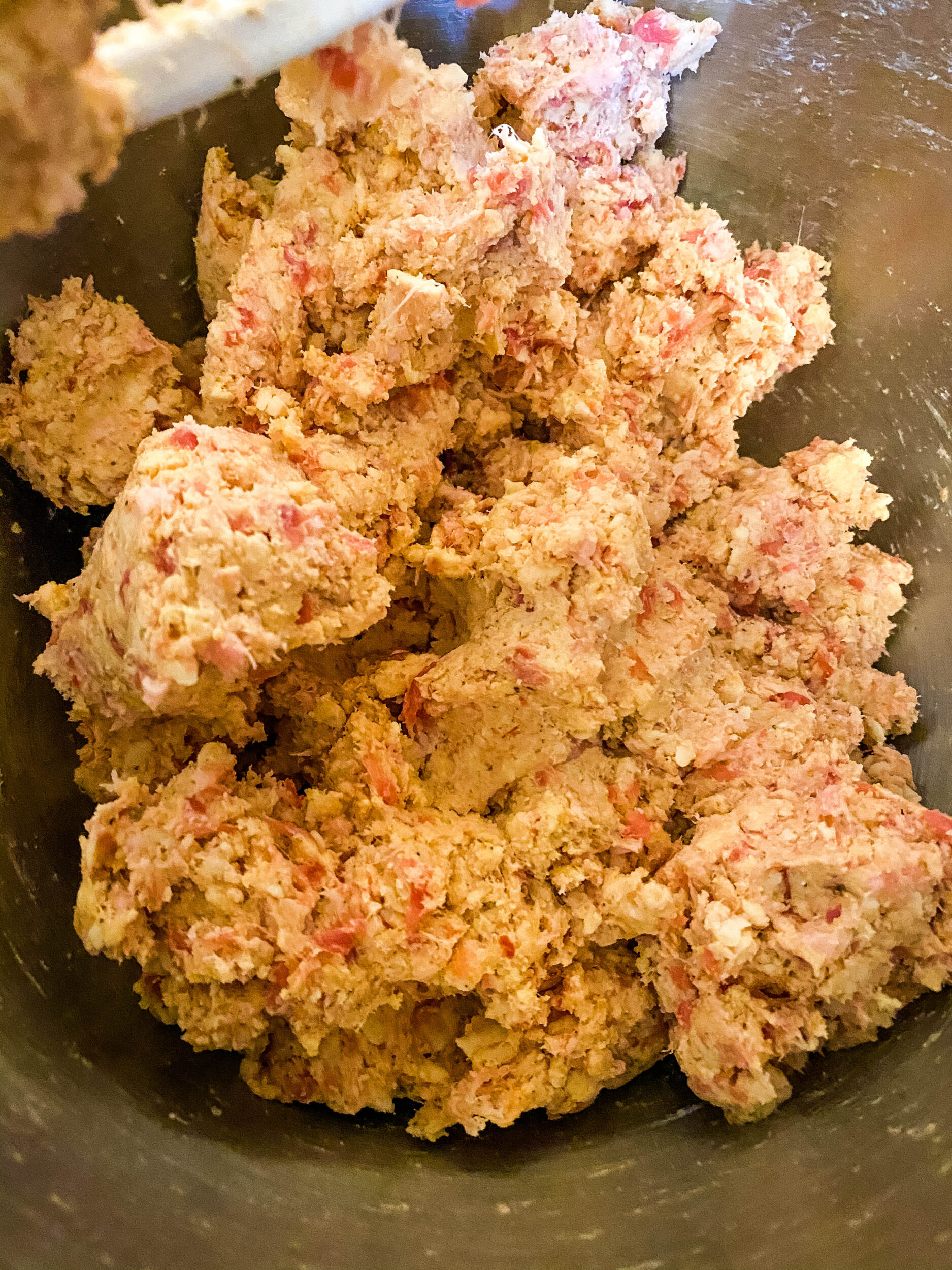 How do you keep sausage balls from sticking to the pan?
Place the sausage balls on a large baking sheet lined with parchment paper to make removal and cleanup a breeze.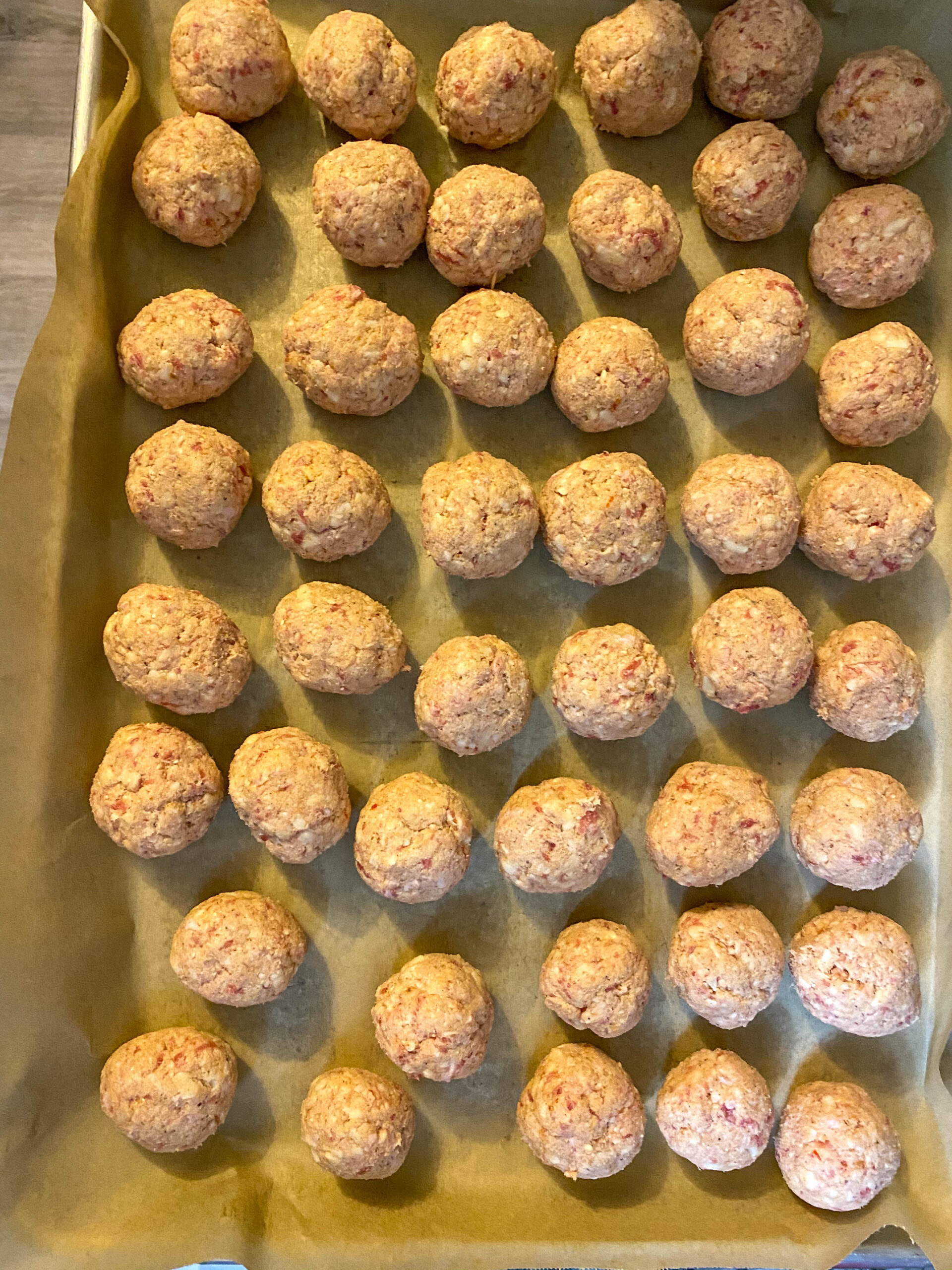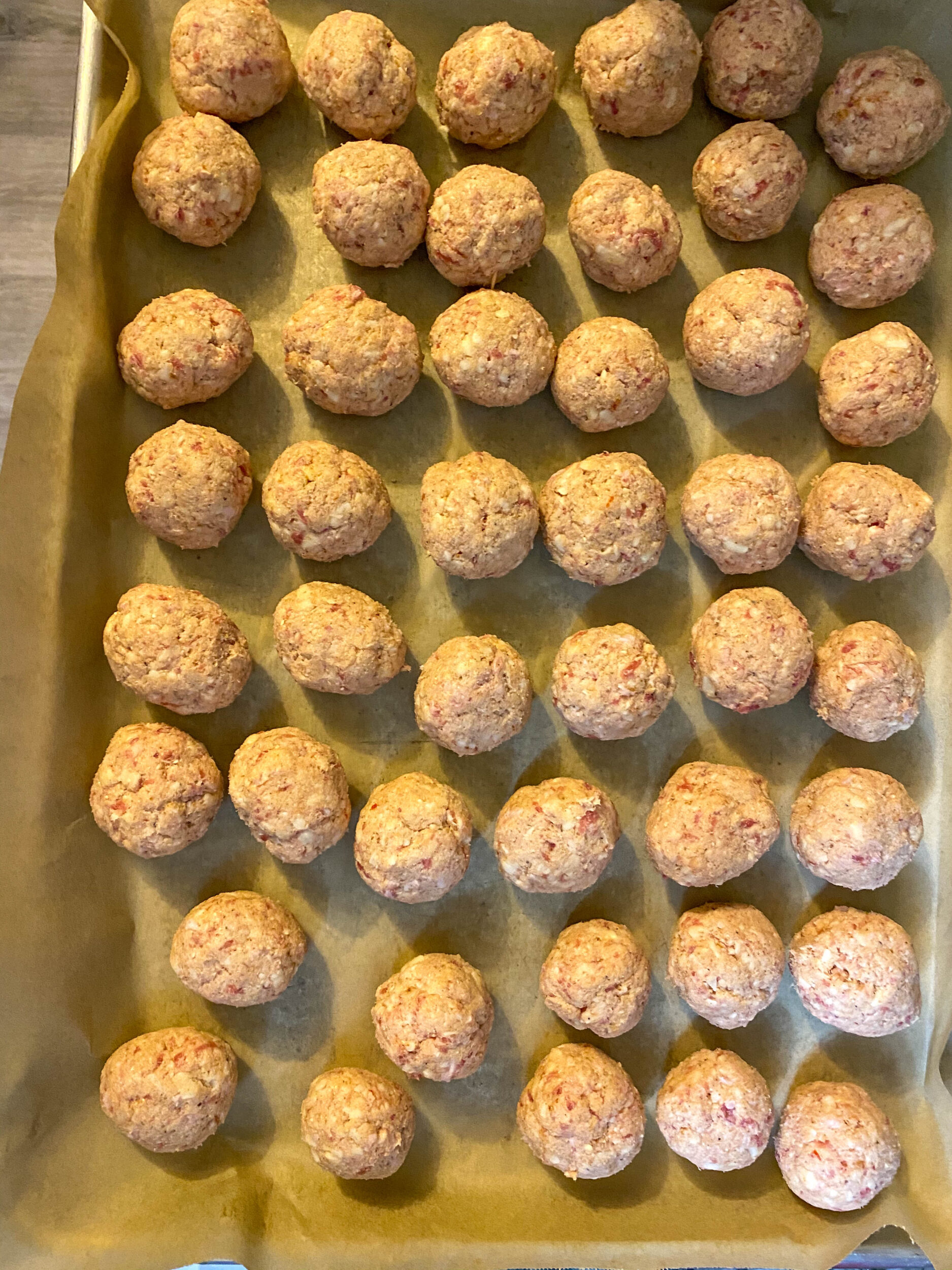 Although, even if you don't use parchment paper these aren't likely to stick since they have a good amount of oil from the sausage, cheese, & butter.
Sausage ball ingredients suggestions
To make this recipe as healthy as possible, I recommend the following ingredients:
Preservative-free sausage. Most prepackaged ground sausage in grocery stores includes preservatives. One brand we love is Swaggerty's Natural, which only contains pork, water, salt, spices and sugar. I get mine at Sprouts. Even better, source some pork sausage from your local farmer!
Real cheddar. Definitely grate your own cheddar, as pre-grated won't work well. Raw cheese is a wonderful option, and we also love Cabot cheese.
Why did my sausage balls go flat?
This shouldn't be a problem, as long as you roll them into a true ball shape and follow the recipe. Also, using pre-shredded, bagged cheese may affect the final result.
I always avoid pre-shredded cheese anyway since it's coated in cellulose to prevent clumping. This isn't great for us and can also affect how shredded cheese behaves in recipes.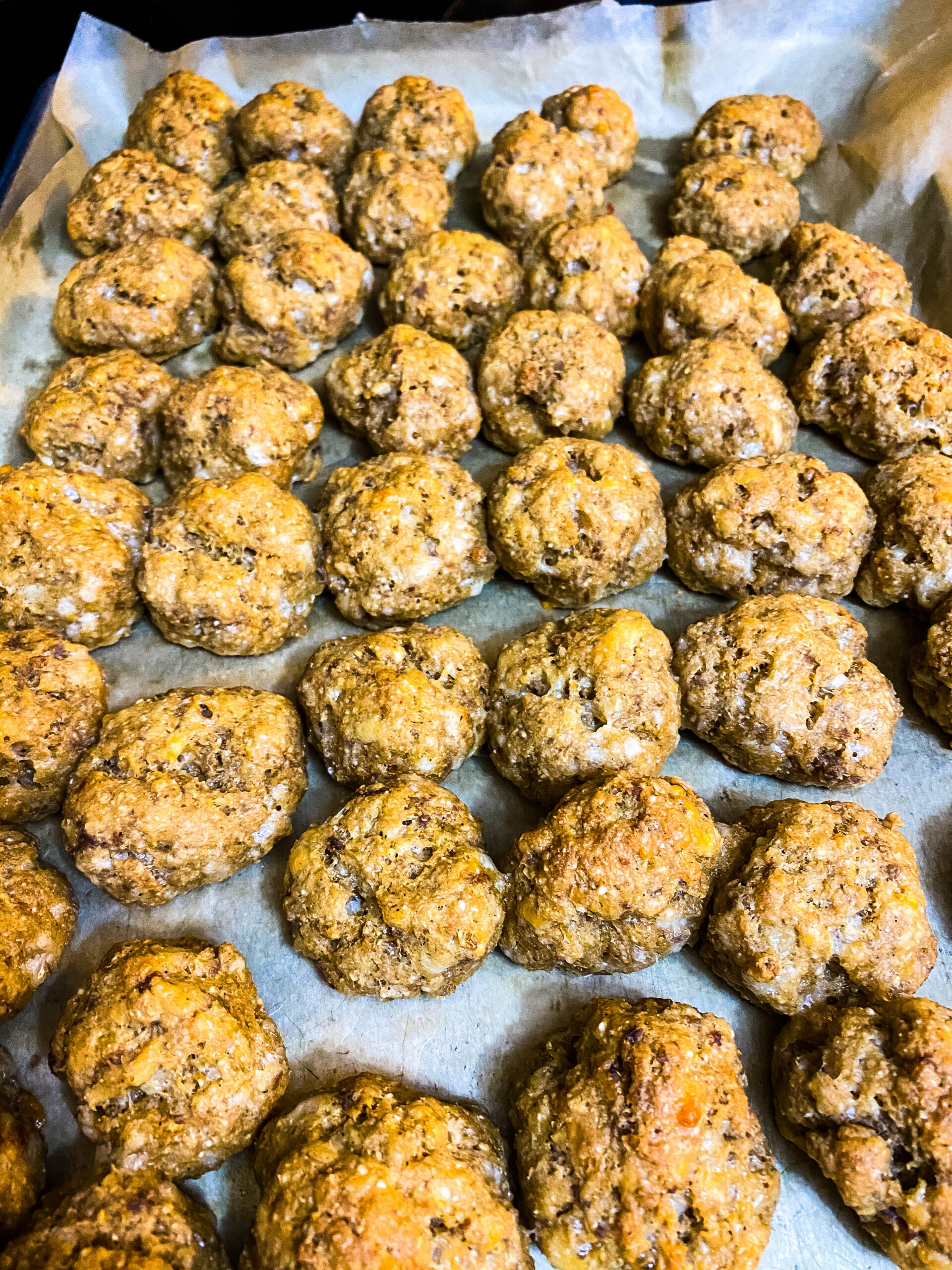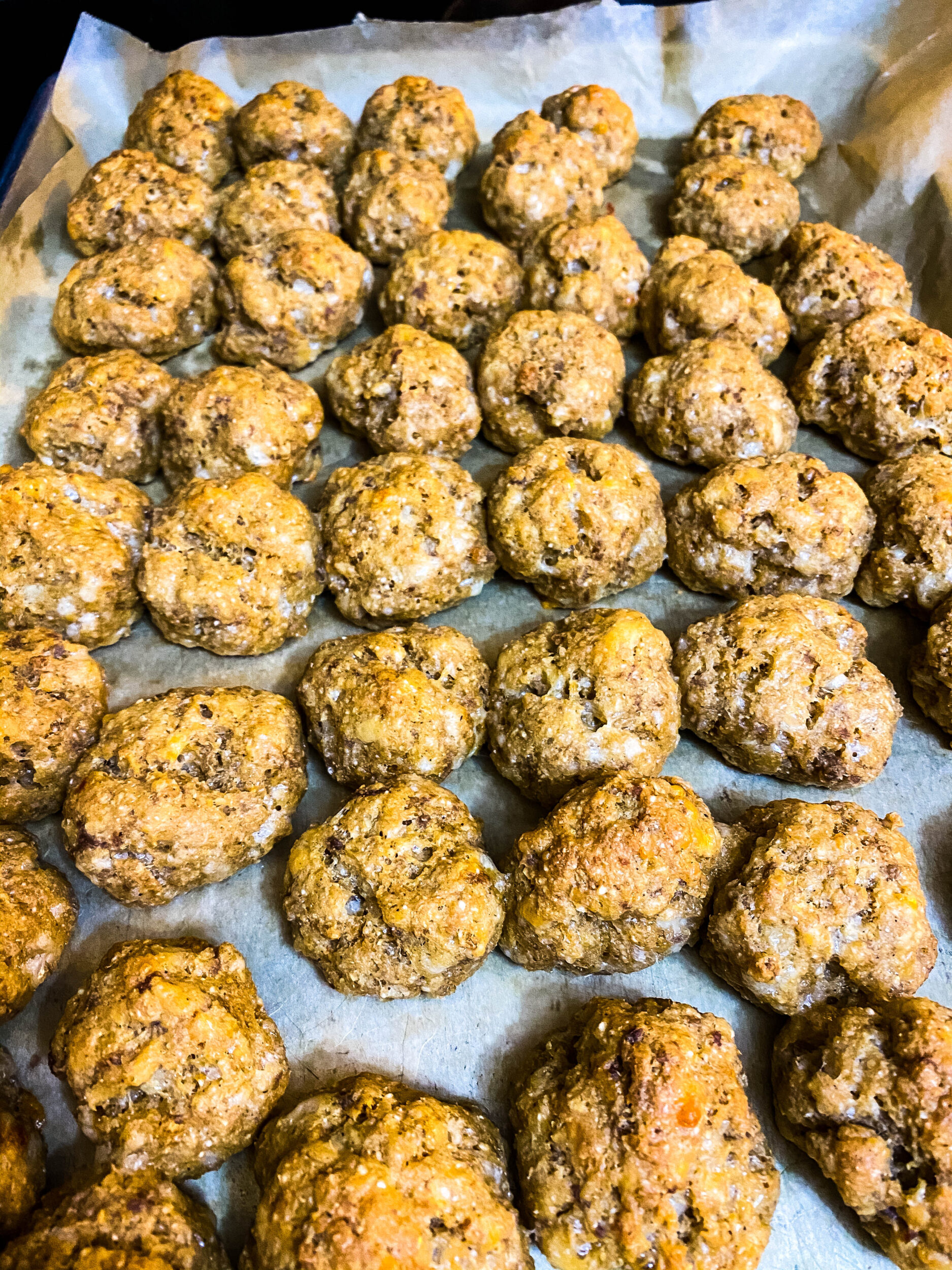 How long do sausage balls last in the fridge?
They stay fresh around 5 days in an airtight container. Reheating them in a toaster oven or regular oven at 350° F for 5-10 minutes is the best way to eat leftovers.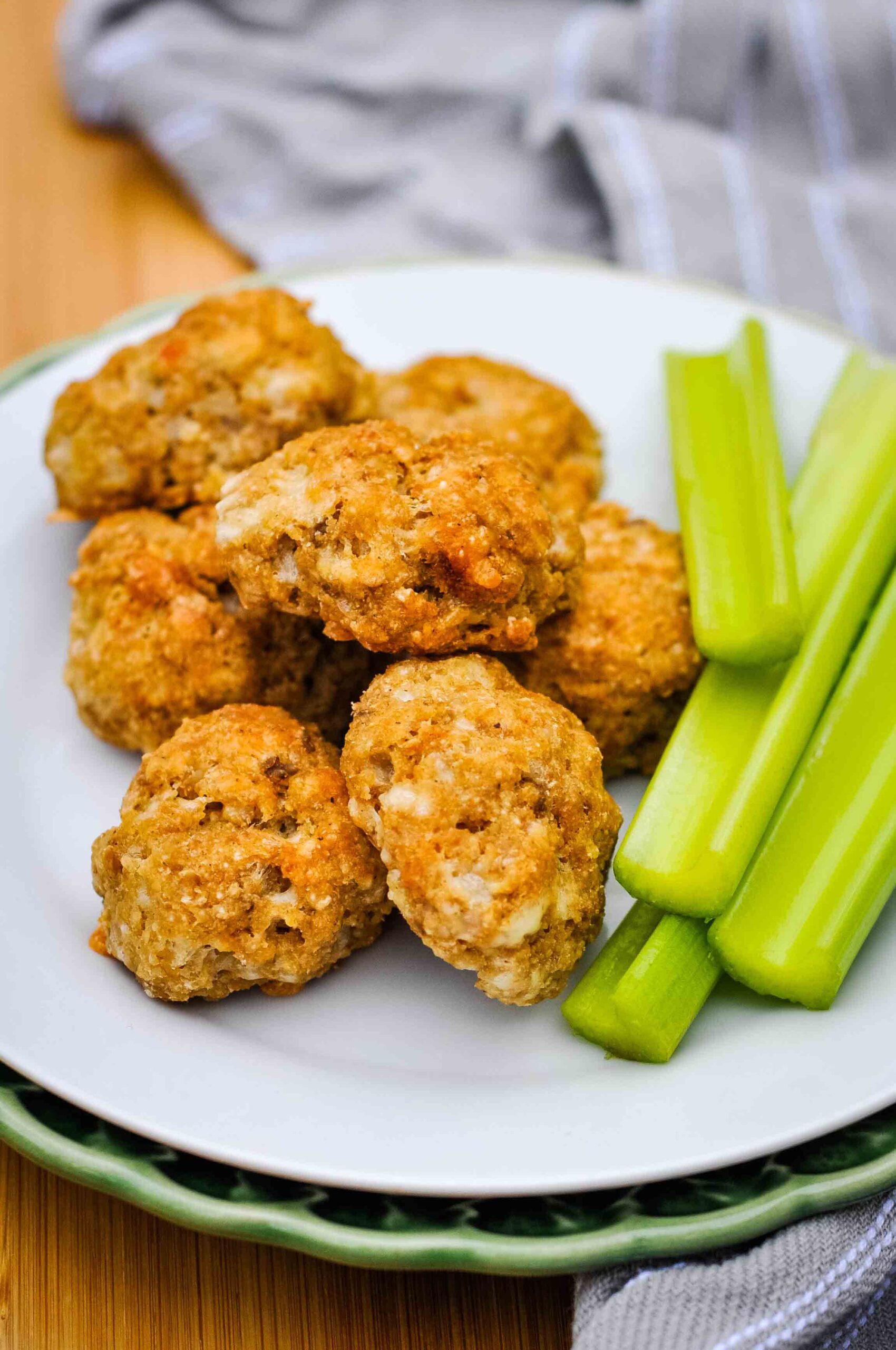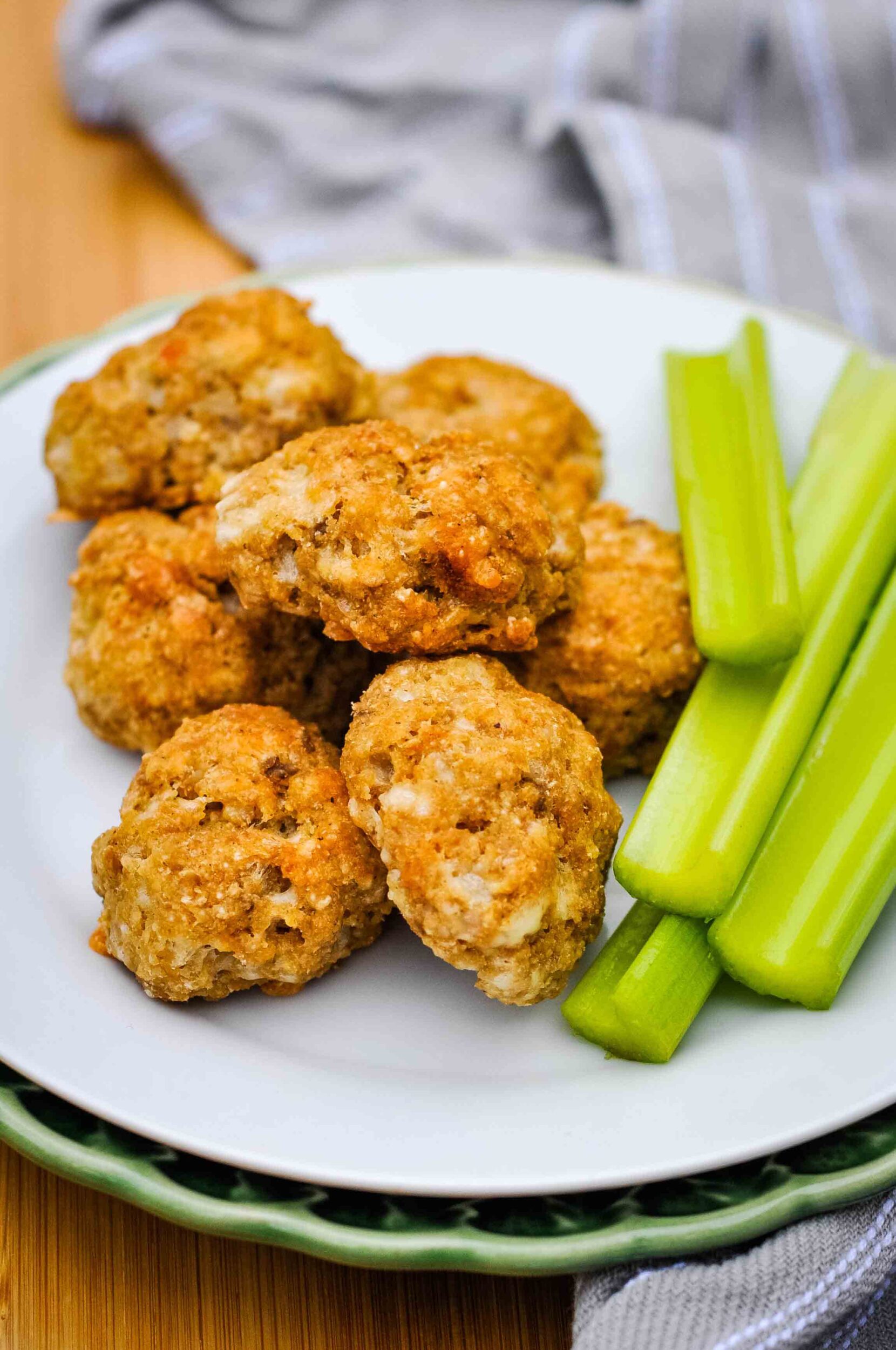 Can you freeze cooked sausage balls?
YES! This is a great idea, in fact! I made this recipe the week before Christmas and froze half of the sausage balls.
Then, on Christmas Eve I was able to pull them out to reheat with a simple soup. It was a perfect quick and festive meal so we could focus on fun stuff like looking at lights, drinking cocoa, and watching Elf.
Sausage ball dipping sauce ideas
There are lots of yummy dips to serve these sausage balls with and take them to the next level. I love making a homemade ranch, or you could even dip them in homemade basil pesto or fermented hot sauce!
For more ideas, here are over 55 real food homemade sauces for your dipping needs.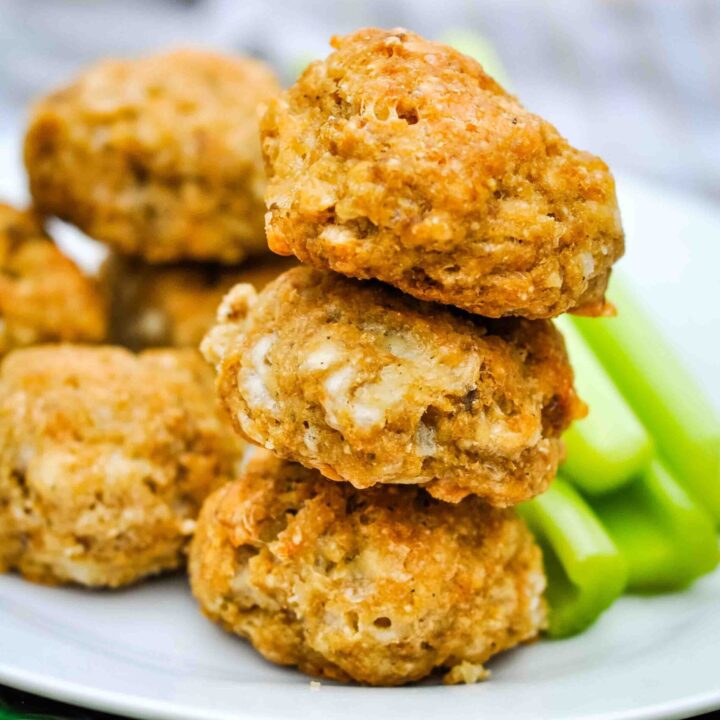 Yield: 24 balls
Sourdough Sausage Balls
Prep Time: 5 minutes
Cook Time: 20 minutes
Total Time: 25 minutes
Sourdough sausage balls are a great healthier alternative to bisquick sausage balls! They are meaty, cheesy, tangy, savory bites everyone will adore.
Ingredients
1 pound pork sausage, like Swaggerty's natural
1 pound (about 4 cups) sharp cheddar cheese, grated (not the pre-grated bagged kind)
1/2 cup sourdough starter discard *
1 1/2 cups flour
4 Tbsp. butter, melted
Splash of milk (optional, if needed)
Additional seasonings like grated onion, garlic, or paprika (optional)
Instructions
1. Preheat oven to 400° F and line a large baking sheet with parchment paper.

2. In a large bowl or stand mixer, combine sausage, sourdough discard, flour, cheese, butter, and additional seasonings if using.

3. Mix until everything is thoroughly combined and comes together like a "dough." If the dough needs a bit of additional moisture to come together, add a splash of milk.

4. Form into small 1 Tbsp. balls and place on the parchment lined baking sheet.

5. Bake for 15-20 minutes until golden brown.
Notes
If you don't have sourdough starter, you can use an additional 1/2 cup flour and 1 Tbsp. baking powder instead.
To make the grains more easily digestible, mix the dough early and let sit in the fridge for 8-24 hours before baking.
Nutrition Information:
Yield:
12
Serving Size:
1
Amount Per Serving:
Calories: 246
Total Fat: 15g
Saturated Fat: 6g
Trans Fat: 0g
Unsaturated Fat: 8g
Cholesterol: 45mg
Sodium: 355mg
Carbohydrates: 17g
Fiber: 1g
Sugar: 1g
Protein: 10g
Will you try making these sourdough sausage balls? What's your favorite sourdough recipe?
PIN IT!